If you intend to undertake any long range shooting, you will certainly need a riflescope to make cleaner shots. Whether you plan to shoot at great distances during a hunt or at the range, you'll need a mounting system to attach your optic to your rifle. This is where a rifle scope ring comes in handy. 
In this article. I will show you some of the best 34mm scope rings available in the market. Before now, 30mm scope tubes were the standard; however, the 34mm tubes are quickly becoming the industry standard. If you opt for this size of scope tube, you'll need a 34mm scope ring to accommodate or attach the tubes to your rifle.
Although there are scopes that come with a set of scope rings; however, there are also a few riflescopes that do not. As a result, you will have to purchase a separate scope ring for the same scope tube size. Choosing the best scope rings might be difficult, especially if you have little to no knowledge of how it works. 
We'll provide some information on a few possibilities for 34mm rings in different pricing ranges.
Most of the information you'll find here will be beneficial to everyone. In actuality, most scope rings manufactured nowadays are available in a number of diameters. Even if you're not going to be using this size of ring (34mm rings), feel free to stay, as you will need the information in the future. 
Here are our top 10 best scope rings for 34mm tubes:
Are you ready to select the best 34mm scope rings for your rifle? Let's get started with some of the factors you need to consider before getting this ring and then proceed to each scope review.
Guide to Buying 34mm Scope Rings
Finding the appropriate scope ring can be a difficult task because there are a lot of things to consider before you make your choice. The reason for the choice difficulty is that there are so many scope rings in the market that a buyer may be forced to try if he doesn't know what to look for.
A 34mm ring is clearly designed to accommodate a 34mm tube. It is also well known that the rings cannot be used on all types of rifles. For instance, a ring meant for a Picatinny rail may not be good scope mount rings for a Weaver base or other bases. Aside from that, there are additional variables to consider when purchasing scope rings. 
The following is a checklist to assist you in locating the best 34mm rings for short, medium, or long range shooting:
Hopefully, this guide will help you make an informed decision.
Compatibility
The first thing you should look at when choosing a scope ring that matches the tube diameter of your scope is compatibility. And this speaks to the rifle and tube size combination you will use for your hunt. The diameter of scope tubes ranges from 1 inch to 30mm, with a few even as large as 34mm in diameter. Depending on the type of elevation and shooting range you will be undertaking, you should select a scope ring that is suitable for your scope tube.
Scope Base 
The next thing you should look at is the base. There are different scope bases that have specific scope rings that they are compatible with. Some bases include inbuilt mounting rails with various lengths, such as a Picatinny rail or weaver rail. There are others with mounting points on the exterior of the base. Whatever the case, you must ensure that the scope ring you want to use will match the base that attaches it to the rifle.
Reliability
It is crucial to keep this in mind while choosing scope rings. The bulk of materials used for scope mount rings are made of aluminum and steel, and the quality varies depending on the manufacturer. If you're looking for a ring with materials that will last longer, then those made of heavy-duty aircraft-grade aluminum or steel are the finest choice. They are highly reliable, and they can withstand anything your rifle throws at the rings.
Height
Is height necessary for a scope ring? Yes, height is a very important consideration when choosing a scope ring, and that is why you should ensure that the scope ring height is ideal for your scope's objective lens. Always get the best scope ring you can afford to guarantee you have the best field of view and shooting range feasible. 
There are different scope ring heights that you can choose from. We have; low rings, medium rings, high rings, and in some cases, extra high rings. The size of the objective lens usually determines the height of the ring to be used. 
Warranty
Next, go over the warranty information provided by the firm that made the rings. A High-quality ring should come with a reliable guarantee that protects buyers from product flaws or failures. Check the manufacturer's online reputation through their website and other platforms. Also, check that the design has been validated and the company is known for keeping its word.
Eye Relief
It is fairly usual for rookie rifle users to overlook the issue of eye relief because they have little knowledge of the importance of this feature. A ring setup can sometimes limit adjustment, and as a result, the degree of eye relief is also limited. That is why it is good to always consider if the rings you've chosen have the potential to affect your eye relief.
Mounting Design
Always check the kind of mounting rail on your rifle before purchasing a scope ring. Consider it a must-check aspect! It is critical to double-check because some rings are designed to accommodate different mounting rails. If a set of rings is designed to install on a Weaver rail or Picatinny rail, it can only be used for that rail. This also means that if you have a Dovetail rail, for example, it cannot be used interchangeably with the standard Picatinny rail.
Some manufacturers, however, now produce scope rings with universal mounting bases. As a result, you may use the rings on whatever rifle rail you desire.
Best 34mm Scope Rings Detail Reviews
Scope tubes range in diameter from 1 inch to 30mm and then 34mm. Most modern scope rings on the market have the highest elevation adjustment range, allowing a shooter easily take a long-range shot. It is not simple to choose the ideal ring set for steady performance.
That is why we have put together a list of the best scope ring for 34 mm tubes.
1. Vortex Precision Matched Rings
Before we begin, let us state that Vortex scope rings are among the most popular riflescope rings on the market. Why shouldn't it be? These Vortex rings have all of the characteristics that we would anticipate in a high-quality scope ring.
To begin, remember the Aircraft grade durability we discussed in the last review? These Vortex scope rings have the same kind of durability. Vortex rings, like other high-quality rings in the market, uses 7075 T6 Billet Aluminum to ensure that the rings can withstand harsh environments as well as impacts of heavy recoil in a high caliber bullet. This material also allows them to be exceedingly lightweight; how light? Only 3 ounces!
These Vortex Optics rings are equipped with hex bolts that keep the optics firmly in place even on tough terrain. The pack comes with a hex wrench, so no extra equipment is required to attach the rings.
They are additionally serialized, hand-bead blasted, vibratory tumbled, and have a hard coat anodize finish. These rings, on the other hand, are particularly intended for use with Picatinny rails. As a result, if your firearm has a Weaver rail or other types of mounting rail bases, you won't be able to install them.
Can these Vortex Optics rings be used on a 50mm objective lens scope? Yes, they will operate with 50mm objectives, such as the Savage Model 10.  In this case, it is best you use a medium or high ring height so that you can have enough clearance.
The rings may be readily installed on a Ruger Precision using the Viper Optics PST 6-24×50 rifle scope. However, you need to make a minor elevation adjustment in your cheek pad to ensure optimal eye alignment.
2. Leupold Mark 4 Riflescope Rings
This is yet another pair of rings meant to fit on a Picatinny rail. These rings are made of steel, and they are extremely tough and can survive heavy recoil or harsh situations.
When taking long range shots, it is critical that the scopes stay in position and do not lose their alignment in the event of a high recoil. Keeping this in mind, Leupold designed the rings to ensure the scope's stability in a variety of conditions.
These high-strength rings are simple to install; simply use a 1/2 nut driver and apply the appropriate tension. They are also available in a variety of heights, allowing you to select the best 34mm rings with the desired height.
The product's sole flaw is that it does not suit well on some hunting rifles.
This is because they are somewhat heavy to attach to these rifles. The steel construction makes them heavy. However, if you have military or tactical specifications, you will definitely be impressed with their use.
Will these work with weaver rail? These scope rings are meant to mount on a Picatinny rail, but they may also be mounted on Weaver bases. However, be certain that the bolts are torqued properly.
These rings will also fit the Rem 700 long action's Leupold Mark single-piece base
 because they are compatible with a Picatinny rail. However, remember to verify the height of the ring for proper fitting.
3. Seekins Precision Scope Rings 34mm
The Seekings scope ring brand provides you with a tough ring that meets all of the requirements that make the ring high-quality. To begin, the ring includes four cap screws that aid in holding the scope firmly in place, even in intense or stressful settings. Furthermore, you don't have to bother about using it during the rainy season because the strong anodized coating prevents moisture from harming the parts.
The ring's durability is what we enjoy best about it. So, how long can we expect it to last? Aircraft quality! The ring is made of 7075-T6 Billet, which is a strong aluminum alloy used in a variety of high-end industries such as aerospace. This aluminum makes the ring tough as a nail.
The ring's only disadvantage is that it's not as lightweight as we expected. If you own a hunting rifle, we recommend looking for a lightweight scope ring because you might need to carry your firearm for a long distance while stalking a game animal. 
These Seekins rings perform admirably on rifles with Picatinny specifications. As a result, if you have military requirements with this standard, don't hesitate to make the purchase! The rings will be better suited to Picatinny rails. As a result, unless your guns already have these rails, you should avoid purchasing them.
What is the minimum ring height required to attach a 50mm scope?  For these Seekins rings, you would need a high height for a smooth mounting of your 50mm objective lens scope.
4. Nightforce X-Treme Duty Ultralite Ring 
Our next best 34 mm ring is the Nightforce Ultralite ring. These rings have numerous qualities, but what makes them stand out and one of the top recommendations in this list are their many attributes, such as compatibility, durability, and installation technique. Consider them to be a combination of all the required desirable attributes you search for in a heavy-duty pair of rings.
The rings are composed of 7075-T6 hard anodized titanium and aluminum, making them both sturdy and lightweight. As a result, they can assure the stability of the scopes in high-recoil circumstances without adding an extra weight to your rifle.
When it comes to compatibility, they work well with both long-range shooting rifles and tactical or military-grade weapons. Next, we are confident that you will like the mounting system.
The 6-screws keep the rings securely in place even in the worst-case scenario; neither the scopes nor the rings move. Furthermore, they are quite simple to install; simply grab a wrench and twist it to 100 in-lb. And it's done! Your firearm is now ready for use.
Can these be used with a rifle equipped with a 56mm objective lens? Yes, you may use these rings on your rifle even with a massive 56 objective lens diameter scope as long as it comes with a 34mm scope tube and it has a 1.5-inch ring height. However, before purchasing them, make sure there is sufficient space between the scope bell and the barrel top.
How do you confirm that the ring height is correct? The procedure of measuring height is really straightforward. All you will need are tools like a caliper or measuring tape. 
There is some dispute about this rail problem, but they appear to match properly on both a weaver and Picatinny rail. However, they are said to operate better with Picatinny rails than a weaver.
5. Athlon Optics Precision Ring 34mm
The Athlon rings are designed specifically for precision rifles. The nicest thing about the rings is how they were made. Because the pieces are made of Aircraft Grade Aluminum, they are strong enough to withstand heavy recoil and severe terrain while remaining lightweight. Furthermore, the rings' strong anodizing coatings can provide wear resistance in any weather condition.
The rings also have a recoil lug to prevent ring displacement in weaver and Picatinny slots. They are built with the enhanced surface area so the rings can keep the scope snugly in place without lapping.
If you want a great scope ring bargain for any precision rifle, this set is ideal. However, keep in mind that it comes as a medium-height ring; if your optic is not compatible with the height ring, you should look into other options.
Will these be compatible with a 56mm objective lens scope? The objective lens size is less important and secondary when choosing the ring than the size of the tube itself. If your scope's tube diameter is 34mm, then the rings will perfectly fit; however, you might need to consider a high-height ring because of the objective bell of the scope.
Is it possible to use scope rings of the same height for 50mm and 56mm objective riflescopes? No, you cannot use the same ring height always. Depending on the manufacturer's standard, a 50mm Objective lens scope might need a medium or high ring height. A 56mm scope, on the other hand, must be mounted with a high ring height.
6. Burris Optics Tactical Scope Rings
These Burris rings can fit any rail because of the rapid detach attachment technique. 
One feature of the ring is the ability of the ring to hold the optics in place. Another useful feature is that the ring allows you to employ the backup iron sights while still retaining sufficient eye relief. As a result, the set rings check all of the relevant boxes that makes it a great 34mm ring.
The setup of the rings might limit the amount of flexibility in the eye relief. However, these rings are excellent at giving ideal eye posture for viewing your target from a great distance.
Is lapping the rings essential before you mount the scope? If a ring needs lapping, the instructions will be included in the description. However, it depends on the shooter's desire, so if you want to lap your scope rings before installation, go ahead, but keep in mind that it's not always necessary.
7. Leupold Weaver-Style Scope Ring
This Leupold mounting device is a pair of 34mm high-height scope rings. These rings work with any Picatinny rail platform as well as Leupold QRW bases. If you're searching for a good ring for your Picatinny or Weaver mount, this ring could come in handy.
These rings are highly recommended to beginner shooters who utilize inexpensive scopes on their rifles. Mounting the optics on the rings makes it harder to bolt down.
As a result, if you're not careful enough, you may scratch your scope while trying to mount the rings. But, not to worry, once correctly installed, they remain in place.
Furthermore, because of their steel structure, they are heavily weighted, which is good for novice-level shooters to practice, but expert shooters may choose a less weighted and high-quality ring.
Overall, this is a good set of rings for cheap scopes and beginner shooters, but experienced shooters should search for better choices.
8. Warne Mountain Tech Rings 34mm
These Warne scope mounts are a delight of a ring. You can hold your scope firmly to your rifle with this ring. This ring help shooters ensure the highest accuracy possible.
Don't gamble with your hunt because you only have one shot. You can rely on this Warne Mountain ring when it counts. These are quite sturdy while being lightweight.
The rings are machined using 7075-T6 aluminum to provide long-term durability and lightweight. Additionally, these Warne Riflescope Rings have a hard anodized coating and Mil-Spec requirements, offering excellent corrosion resistance, so you can practically use them in any region or weather situation.
9. Aero Precision light Ring 34mm
The next scope ring on our list is the Aero precision ring. This awesome mounting device is made of 6061 T6 aluminum. It is a very durable and lightweight scope mount. It has a 34mm diameter, as expected, and it can perfectly accommodate any 34 mm scope tube. When mounting this scope attachment, the mounting rings would have to be pushed forward with about 2 inches to ensure better eye relief. 
The Aero Precision rings mount perfectly on a Picatinny rail base, and you can be sure of a firm grip on your scope no matter the recoil from your rifle. It also has a Type III black anodize hard coat that protects the body from the elements. 
10. Badger Ordnance 34mm
The last 34mm scope ring on our list is the Badger Ordnance ring. This brand might sound somewhat new to you, but they have been producing military-grade riflescope ring mounts for more than 3 decades. The rings are made with steel, and they are built like a tank, meaning they can withstand even the heaviest recoil from a rifle. The rings have a Black Oxide finish that protects the body from the elements. 
The rings are high quality, and they can be mounted on a Picatinny base. These Badger 34mm rings are best used with long-range scopes. Just get a rifle scope with a 34mm tube and you're good to test the reliability of this ring.
FAQ
Are all riflescope rings compatible with any scope tube?
No, not all scope rings to match, just any scope tube. Scope rings work with a variety of scope tubes. Compatibility is determined by the diameter and the design of these devices. Rings will only be compatible with scope tubes of the same diameter, and they can only be mounted on bases that they are designed for.
How can I be sure the scope ring I selected will fit my firearm?
It is, after all, very simple. You must first determine the diameter of the ring and the tube, then check the base on your rifle platform to see if it would be a nice fit.
How do I mount a 34mm scope ring?
To begin installing a scope ring, remove the bolts or screws from the rings and split them in half. Insert the scope tube into the lower half of the ring and add the other half to close the ring. Check this page to learn more about how to mount a scope ring.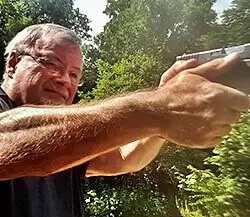 Mike Hardesty is a published freelance gun writer. He also possesses specialized expertise in rifle scopes With dozens of articles and reviews published in Pew Pew Tactical, Snipercountry.com, and TTAG (The Truth About Guns), Mike is considered a firearms expert. His special area of expertise is handguns.
Mike is a long-time shooter. He has been punching paper targets, taking deer and other game and shooting at competitions since about 1975. Other related pursuits include reloading and bullet casting. He currently reloads for over 10 calibers, both handgun and rifle. His reloads, particularly for 9mm, were in great demand during the height of the ammo shortage among family and friends. He donated hundreds of rounds to informal shooting sessions. He was quoted as saying "I do not sell my reloads but I sure will help my guys shoot 'em for free!". He has a few cherished firearms that he has inherited or otherwise procured — those are his favorites.
He earned B.S. and M.S. degrees from Indiana State University in 1974-1975.
He's a firearm experts and is the founder of mhardesty.com.