Choosing a good scope mount for your AR rifle is not an easy task because there are so many models produced by different manufacturers out there. Many AR rifle owners are curious about the best AR scope mount choices for their weapons. We can help you narrow down your options and provide you with a comprehensive guide so that you can make an informed decision.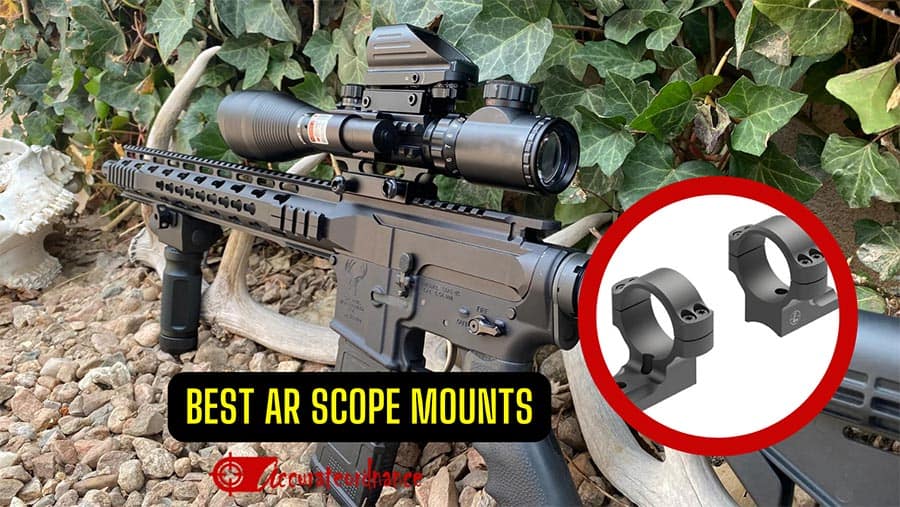 The kind of scope mount you want to use for your AR rifle is often determined by the rifle platform. Many AR shooters prefer a one-piece cantilever scope mount when they want to mount their scope. We recommend that you utilize a scope mount built by the same firm that built your scope. This will help to ensure that the scope mount and optic are compatible.
There are so many other factors to consider when selecting the best AR scope mount for shooting applications. The type of scope you've picked, your typical shooting patterns, and your individual preferences must all be considered. When choosing a scope mount for an AR rifle, do forget to consider quality, longevity, and accuracy.
Here are our top picks for AR-style mount:
The Heart of AR Rifle Accuracy Is A Scope Mount
No matter how precise a rifle's action and barrel are constructed, or how clean and clear an optic is, the entire excellent features can collapse if the scope mount is not up to par.
A good scope mount is very important as a connection between the rifle and its optical system. Any aspect that is incorrect in this connection may cause a halt in performance, resulting in an inaccurate setup.
Every time I see a shooter or hunter at the range having trouble zeroing a scope, the issue is usually traced back to the installation errors of the scope or failure of the mount itself.
Nowadays, you can purchase scope rings, scope bases, and cantilever mounts from many low-quality, low-cost manufacturers who produce poorly-machined scope rings and base pairs with very low-quality screws that can easily break or fail. These types of scope mounts can result in poor attachment that would make your scope quickly lose its zero and become inaccurate.
When it comes to AR optics, a bad scope installation can lead to poor performance fo the system. When trying to get a mount for your new scope, you do not need to spend a fortune to get the best scope for your rifle. You should rather consider what you want to use the rifle for and how much precision you will require; this will help you know the features to go out for.
The finest AR scope mounts are required for competition, hunting, or as defense rifles.
How to Choose the Best AR 15 Scope Mount
When it is time to select the best scope mount for an AR platform, there are some factors to consider, and they are;
High-Quality Construction
The kind of material that is used to make a scope mount is very important, and it will go a long way to determine the reliability of the scope and rifle combo. Many shooters seek for cheaper mounts, and these low-cost mounts constructed of low-quality aluminum and pot metal will always disappoint.
If any manufacturer decides to cut corners on components and finishing of the mount, the machining and screws on the interior of the rings might cause problems.
Going for a device manufactured in the USA is a good idea; however, it is also not a guarantee that the quality will be reliable. Likewise, because a mount was made outside the USA does not make it inferior. One of the easiest ways to get a quality scope mount is to go for brands that are reputable in mounting system production.
Materials, as well as finish, are important in a mount. In general, hard coat anodized materials are preferable. What you're looking for here is something like a 6061 aluminum, which is used for Picatinny mounts.
Clamp Diameter
This may sound simple, but ensure that the cantilever mount has a clamp that matches the scope tube diameter. So, if your scope comes with a 30mm main tube diameter, you must purchase a matching 30mm mounting system. Same thing if the scope tube is 1 inch. Check that everything is the correct size.
Mounting Interface
A high-quality scope mount is useless if you cannot mount it on your rifle platform securely and correctly, so make sure you choose a scope mount that is compatible with your rifle.
Picatinny rings do not usually function with ARs since the handguard and receiver are two independent parts. Instead, you should use a cantilever mount, such as the Vortex Optics Cantilever mount.
Height and length of the scope
Even after having the right scope mount and scope base, you have to ensure that you height is as accurate as possible to guarantee overall comfort and accuracy.
Make that the scope does not come into contact with the rifle's barrel or any other part of the weapon.
Weight
A good AR scope mount must be small and light. It should be noted that the majority of them are constructed of steel or aluminum. The extra weight will be ineffective since it will impair performance and accuracy, in addition to being difficult to transport.
Ease of Use
As an AR rifle shooter, you most likely would not want to purchase a scope or scope mount in which you have to make use of mathematical formulae just to mount a scope.
A good scope mount will give correct forward scope alignment, sufficient eye relief, and the right posture for targeting.
Installation
Installations are typically difficult if the mount is incompatible with the scope. If they fit properly, you may even connect them with a flat screwdriver lever.
As with other gadgets, you should be able to simply attach or detach whatever part that is removable using the right equipment, if necessary.
Best AR Scope Mount
As previously stated, there are a plethora of AR scope mount manufacturers, and compiling a complete list would be almost impossible. However, we have top our selections just for you, and they come in different designs and styles. We strongly advise you to make your own comparison before making a decision to ensure the scope mount you select matches your needs.
1. Burris AR Tactical Scope Mount
Burris offers their Tactical scope rings in four different configurations.
The four variants available have tube sizes ranging from 1-inch tubes to 30mm tubes. Among these scope mount options, you can also choose between the Quick Detach or normal mount.
Whatever you pick, you are sure that it will be made to the exact specifications you desire. You will also benefit from the strong and durable cantilever mount.
These Burris mounts have a beautiful matte finish and will look great on your firearms. Mounting an optic on this mounting system is very simple, and once done correctly, it will give you the needed clearance.
What does the acronym PEPR mean?
This abbreviation means Proper Eye Position Ready. Most shooters sometimes refer to it as a Pepper Mount! The PEPR is an excellent AR mounting solution with excellent eye relief and a wide field of vision.
We're going over the most common alternatives (1-inch or 30mm diameter). The mount also has a 34mm standard model. This is constructed with a 20 MOA built-in cant.
As previously said, both the 30mm and 1-inch tube diameters are available in QD variants, so let's look at the advantages of choosing a QD type…
Quick Detach is a mount that can easily be attached or detached and it is not for everyone.
Those who possess only one rifle may choose to permanently attach their scope. This means your optic and firearm will last longer due to lesser wear. A high-quality mount fitting should also enable shooters reliably retain zero.
A Quick Detach mount, on the other hand, provides versatility for individuals who have more than one firearm. This design provides for ease of attachment and detachment without any equipment. A good QD mount should keep your zero intact. Another thing to remember is to remove your optic while performing firearm cleaning and maintenance, which is very easy with QD mounts.
2. American Defense AD RECON Scope Mount
The next scope mount we will review is the American Defense RECON mount. Using this mount, I've made use of at least 3 different riflescopes in a single range day.
The AD-RECON mount is a high-grade American-built mount for AR-style rifles that has a lot of nice technology.
It has a proprietary Auto Lock Lever, which I'll look at later, and a cantilever to fling the ar optic out front for good eye relief.
It is not much of a lightweight scope with a weight of 8.4 oz. when it does not have a scope attached to it, but it's also not too heavy.
American Defense produces high-quality stuff, and this mount is proof of that. Their scope mounts are offered at an affordable price.
These AD-RECON mounting systems are not only fitted with cutting-edge technology but also built to withstand heavy recoil.
The precisely machined aluminum body (6061 T6) has a hard-coated anodize T3 Mil-Spec finish, guaranteeing that the mount is scratch resistant and durable. Not to mention, how well it fits any FN AR-15 rifle.
The setting up of the AD-Recon is fast, simple, and forgiving. If you mount it on an AR platform, the sights are high enough and far enough forward to provide enough eye relief.
AD manufactures a range of additional alternatives, so ensure you browse around to find the right clearance height for your specific need. Also, take measurements of the optics you want to employ.
The Quick Detach Auto Lock system can work with a standard and non-standard rail. It provides for total scope and rail tolerance and allows for repeated installation.
The design is supposed to give a budge-free and flexible mount.
When installing, I recommend that you leave the top screw and tighten the screws at the bottom first so you can have a nice mount.
I also recommend a dab of Loctite to guarantee that everything remains in place and the screws don't rattle during usage.
You don't need any tools when you want to make adjustments, just release the lever and carefully spin the back nut until you achieve the desired tightness.
Tension adjustment is very simple. It has 8 points available for rotation. The back lever is usually difficult to spin immediately after purchase, but it will loosen up with time.
This mount is the most straightforward mount for leveling a sight.
The AD mount is a strong, flexible attachment for an AR-style rifle.
It's an excellent complement for any shooter that has the intention to use so many AR optics on one AR rifle platform.
This mount is highly valuable; it should last much longer than many others.
If you're debating whether the American Defense mount is the right mount for you, I suggest you go for it. You will not be let down.
3. Aero Precision Ultralight Mount
Looking for a well-designed, made-in-American scope mount? Take a look at the Aero Precision Ultralight scope mount.
Aero Precision is proud of the quality of engineering used in its manufacturing process. The brand has adapted the low-tolerance principles learned from aviation machining to produce its mounts and receivers.
This AR 15 scope mount is extremely light and sturdy. Let's find out how…
This mount is very light.
It has half the weight compared to competitors, with a little above 3 ounces. This Ultralight riflescope mount is built with aviation-grade aluminum and without any extraneous components. Its construction is simple and straightforward.
The scope mount is well-made and extremely robust.
I discovered that the anodized hard-coat finish is difficult to damage and scuff.
Aero Precision focuses so much on quality control of all their products. They created their complete manufacturing system, and all machining is done in-house and not outsourced.
The final product is a superb quality mount that is reasonably priced.
This mount is a good fit for AR platforms equipped with a Picatinny rail. It won't fit bolt-action rifles because the scope mount will be very high, and it will be difficult to maintain a strong cheek weld.
The Aero Precision mount has a scope base and scope ring assembly, and this single-piece mount comes with all that you need to mount a scope on the Picatinny rail.
It might be challenging leveling the scope since the screws are placed vertically instead of horizontally as you are used to in other mount manufacturers.
The scope shifted to the right when I tightened the ring screws.
The mounting technique was difficult, and I used several attempts to get the scope leveled.
The torque of this Aero Precision mount was not clearly stated in the mounting paper. After researching Amazon, I found the torque needed was 15 in/lbs.
Do not overtighten it; if you do, the rings will crack.
The rings will not necessarily shatter straight away when you mount them wrongly; it will shear after a few uses in the field. Take caution when tightening the screws so you won't do more than required.
Aero Precision stands by its products, even if they disappoint due to faulty assembly. If you have any issues, contact them so that they can send you a replacement.
4. Vortex Optics Pro Series Scope Ring
If you're searching for a high-quality riflescope mount that won't break the budget, this Vortex Optics Pro is the way to go.
Do you want to learn more about this Vortex Pro? Continue reading…
This scope mount sits comfortably on a weaver and Picatinny rail, and they are also made in a variety of diameters and heights.
I have used these mounts to attach a Vortex scope, and it was quite simple to properly position the scope.
The rings are incredibly light without sacrificing quality.
This matte black anodized mount looks fantastic and is manufactured with the best machining quality, making them extremely durable and strong.
Aside from that, they are also very accurate and do not require lapping!
It also includes an incorporated recoil lug that is useful for preventing stress or movement on the screws.
I've already fired more than a thousand rounds, and I've never observed any movement. The rings are quite durable.
It is very quick and simple to install.
The mount comes with two rings, a torque-style T-25 wrench, and screws. They also include two additional screws in case you run into any trouble.
The T-25 cap screws are more durable than socket screws I've previously used on other installations. They are not as easily stripped as the others.
You should bear in mind that you will need to purchase the correct height and size for your AR 15 rifle and scope combo.
Fortunately, they are available in 1-inch or 30mm sizes, so they will suit most riflescopes. They also feature low, medium, and high rings, allowing you to choose one that is suitable for your AR 15 rifle and sight.
One of my favorite features on the mount is the torque setting inscribed on them. This eliminates confusion and prevents damage to the tubes.
5. Primary Arms Mount
This Primary Arms rifle scope mount brand is another well-known name in the optics industry, particularly when it comes to low-cost solutions that nonetheless get the job done neatly. The Primary Arms Mount costs less than $30 and is ideal for low-budget projects.
It readily attaches to any flat-top receiver that has a Picatinny rail and can handle 30mm or 1 inch scope tube by using the provided shim.
The overall structure is a high-quality matte black hard-coated aluminum that will not peel out. This rifle scope mount is not a QD mount, but you can attach it with a single bolt, making it easy to change a rifle.
6. Warne Scope Mount
With many years of experience evaluating and testing weapons, sights, and ammo, another go-to scope mount is the Warne mount.
I have recommended this mount to many shooters over the years. But you might wonder, why this mount is highly recommended when it is not among the popular scope brands. Well, it is popular in the mounting device section of the industry.
Warne was a pioneer in the development of cantilever scope mounts. These are excellent solutions for mounting a rifle sight on a rail—these suit the AR optics upper receiver as well as any other rifle platform.
The bases of the mount are made of aircraft-quality aluminum and secured with Torx-style fasteners. This high-quality mount does not fail with time, as other lighter materials do.
In my personal ranking system, I can give this mount a 5 over 5.
7. Trijicon 30mm Scope Mount
When it involves firearm equipment, we're getting closer to the pro level with the Trijicon Quick Release Mount. This firm has supplied the military with mounts and sights for its M-4 platform guns for over 25 years.
The mount design is basic yet useful as a quick-release single-piece mount. The Trijicon mount can be relied on to function in combat or target shooting competitions.
The lock system includes its unique BLAC lever mechanism, which eliminates the need for manual adjustments.
In essence, it is one of the greatest ar 15 mounts on the market today. Trijicon is the way to go for the best quality. Their mounting systems and sights never fail to astonish me.
I've utilized their items while competing in long-range shooting tournaments. I've also taken part in traditional coyote hunts using the same mount. Some of the shooting was done in dangerously bad weather, but the Trijicon gear was able to withstand everything.
F.A.Q
What Is The Best Ring Height?
When choosing an ar scope mounting system, the height of the rings are very important. There are so many styles and types of scope rings, so it is critical to pick one that is right for your shooting application. Some hunters like high rings because they provide a larger field of view, but others go for low rings because they provide shooters with a compact aiming point. There is no hard rule when it comes to choosing a ring height; just go for one that best meets your needs.
Why Should You Use A Cantilever Mount?
A cantilever mount is an excellent choice for shooters that want to keep their firearm low. The mounts are meant to be attached directly to your rifle's barrel, reducing the amount of wobbling when shooting. Furthermore, these mounts are often lightweight, making them easier to transport.
What is the best scope mount for AR-15?
The best types of mount for AR are the one-piece bases. These bases give the most stability.
How High Can I Mount An AR scope?
Mounting an optic as low as feasible without blocking access to other weapon parts is the best. For a comfortable shot, most AR-15s incorporate a cheek rest. If you position the riflescope too high, you'll have to elevate your cheek from the rest to see your target. This will result in an extremely sore neck and an unpleasant shot.
If you have a larger objective lens diameter (50mm or 56mm), you can get a high riser mount.
Where should I attach my scope?
Place the mounting hardware of the scope on the upper receiver. Mounting it on the floating rail and the upper receiver is not recommended since it may produce tube difficulties. It is also critical to ensure that your eye relief is okay and that you've mounted the optic comfortably.
What effect does scope height have on accuracy?
Having a wrong scope mount height will not directly affect your shooting accuracy, but it will make aiming and seeing through the scope very difficult. You will not be able to shoot in a comfortable position.
How far away from your eye should the scope be after mounting?
This is determined by the eye relief of the scope. If you choose the conventional eye relief, the usual measurement is between 3.5 – 4 inches, which provides the greatest magnification attainable.
Are Picatinny and Weaver mounts interchangeable?
A Picatinny rail is somewhat wider and has deeper slots with uniform spacing that runs along the whole rail's length. A Picatinny rail also features a larger surface area for the mounting ring. A weaver rail could just contain 1 or 2 slots.
How much space is required between the barrel and the scopes?
There is no specific clearance range for mounting a scope. Just make sure the scope does not touch the barrel!
However, we recommend that there is at least 1/8 inch of space between the barrel and the objective lens.
Is Every AR Scope Mount The Same?
Without a doubt, the answer is NO. We evaluated the capabilities of different AR mounts, and there are several variables that determine the overall performance of each mount.
All the manufacturers may have comparable aims when it comes to providing items to clients, but the actual products differ due to the materials they use, the designs, the production method, and many other things.
You must take the time to double-check every detail on the mount before making a purchase. Every mount has some unique features and would also lack a few features that are present in others.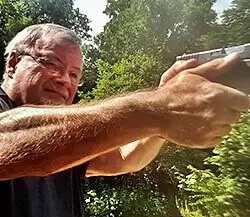 Mike Hardesty is a published freelance gun writer. With dozens of articles and reviews published in Pew Pew Tactical, Snipercountry.com, and TTAG (The Truth About Guns), Mike is considered a firearms expert. His special area of expertise is handguns.
Mike is a long-time shooter. He has been punching paper targets, taking deer and other game and shooting at competitions since about 1975. Other related pursuits include reloading and bullet casting. He currently reloads for over 10 calibers, both handgun and rifle. His reloads, particularly for 9mm, were in great demand during the height of the ammo shortage among family and friends. He donated hundreds of rounds to informal shooting sessions. He was quoted as saying "I do not sell my reloads but I sure will help my guys shoot 'em for free!". He has a few cherished firearms that he has inherited or otherwise procured — those are his favorites.
He earned B.S. and M.S. degrees from Indiana State University in 1974-1975.
He's a firearm experts and is the founder of mhardesty.com.