Are you looking for a good low power scope for target shooting at close ranges and other shooting applications? We have compiled a list of the best 1-4x scope here for you. In this article, we will start with what a good1-4x scope is, features that make it a good scope, a comparison with red dot sights, and some factors to consider when choosing your 1-4x scope.
Here are our top picks:
What exactly is a 1-4x scope?
In a nutshell, it is a magnifier with a maximum magnification of 4x and a true 1x magnification which some people call zero magnification.
When you turn down the magnification of this scope, you get some added capabilities. One of the perks you get from this scope is the quickness of a red dot sight or iron sight, but it also allows the user to reach out a little further than the red dot sight and iron sight.
4x magnification is enough to take down a man-sized target from 100 yards to about 500 yards. Although it also depends on the shooting ability of the user, nonetheless, a man-size target is not difficult to take down and does not require the magnification range by competition target shooters.
There has been a lot of debate about the use of a red dot vs. 1-4x scope for home/self-defense. This is a choice that might either save your life or cause you harm.
The 1x magnification setting on this scope allows shooters to utilize their optics just like they use an ACOG scope or a red dot. The 4x is there to help you with mid to long-range shooting. Let us go a bit deeper.
What Features Make a Good 1-4x Scope?
Reliability, durability, and ease of use are essential features of any decent sight, but a good 1-4x scope should also be able to meet the needs of the particular shooter.
When I went shopping for my scope, I was primarily concerned with the sight image and how the reticle appears on a target. A close-quarters combat optic must have a fast target acquisition without being bogged down with unnecessary features, so a simple dot will work wonderfully.
If a scope allows for long-range shooting, a mil-dot or other optical aids may be useful, although they can clog the sight image. An illuminated sight image can never go wrong. Since your batteries will not last forever, having a simple reticle to fall back on is useful.
People get caught up in different situations, and they may need different features on the scope; however, there are some features that are very important in a 1-4x scope. There's no one-size-fits-all solution; there are so many options in the market you can choose from to make the scope suitable for your need.
1-4x Scope vs. Red Dot Sight
There are so many excellent optics in the market. It's difficult to know which to spend your hard-earned money on. Let us start with red dots.
Red dot sights
Red dots are fantastic. These optical devices are one step higher than iron sights and hence have the same restrictions. First, there is no magnification in a red dot. Another major disadvantage is that they need batteries to illuminate, and whenever the batteries die, the optics is rendered worthless.
On the bright side, a green or red dot provides faster target acquisition than an iron sight or a black reticle optics.
Magnification may be added by using a basic or a flip-down magnifier. Extra batteries may be carried with a red dot without adding much weight.
1-4x scope
The distinction between a 1-4x scope and a red dot is that most of the add-on functions are built within the 1-4x scope itself.
When powered by a battery and the battery goes off, most 1-4x scope still has a working black crosshair. Magnification may be readily changed by adjusting the knob, and the entire scope fits on top of your rail. Unlike other high magnification range scopes, the simplicity of the 1-4x scope is what makes it shine.
The biggest disadvantage of a 1-4x scope is that it has a limited eye relief, which is a major factor to consider for faster target acquisition.
There is a debate on whether a 1-4x scope is slower in target acquisition compared to red dot sights. I think this is where shooting skills come to play. Parallax might also be a concern with some 1-4x scopes, but the effect varies depending on each scope build and the shooters' skills, so it is difficult to say whether or not this is a problem. Parallax difficulties will automatically disappear after you become used to focusing the black ring around the image.
The actual comparison, in my opinion, comes down to usage. A high-quality red dot is ideal for firearms when magnification is not required, such as a handgun or crossbow.
Qualities to consider when choosing a scope
Coatings
Always check for the words "fully multicoated" on the scope. This implies that all the lenses have excellent coatings, allowing more light to get through and providing clearer vision at dusk or dawn.
Capped Turrets
Some makers of low-power scopes may cut corners while building the scope. Ensure that the turrets used to change your aim point are capped to protect them from bangs and bumps in the field.
Scope Rings
A strong scope ring is needed for a solid scope mount. If a scope's stability is important to your shooting accuracy, then you want to ensure that the mounting hardware is a perfect fit.
Parallax Correction
Parallax describes how items that are closer to the eye move differently from ones further away. Since the reticle is significantly closer to what you're aiming at, parallax may be introduced. The wonderful thing about contemporary scopes is that you can adjust the reticle's parallax to match any distance you're shooting at.
Reticle Illumination
Reticle lighting has two major colors: green and red. The red-illuminated reticle is best for low-light circumstances. Green-illuminated reticles are mostly used at night, although it can also be used during the day.
Image Clarity
Low-power scopes, such as 1-4x riflescopes, make it easier for scope manufacturers to obtain great image quality and brilliant pictures. High magnification scopes usually make it more difficult to achieve sharp and bright sight images. That isn't to say there are no 1-4x scopes with poor image quality; we have so many of them; it only means you'll have so many affordable options with good image quality.
SFP versus FFP
Reticles in modern scopes are typically etched on the first focal or second focal plane. No hard or fast rules regarding which is superior. Both work well, especially with 1-4x optics. However, understanding the distinctions between these two designs will enable you to make a better decision. Choosing between an SFP scope and an FFP scope is a matter of preference.
Since the 1 – 4x scope is a short-range shooting optics, it is preferable to get an SFP scope. Another reason is affordability. SFP scopes are cheaper than FFP scopes.
Best 1-4x Scope Detail Reviews
1. Vortex Optics Crossfire II 1-4×24
The 1-4x scope we would look at in this scope review is the Vortex Crossfire II scope. If you're looking for a good short-range target shooting optic that can withstand a beating in competition, I've got one for you. This lightweight and accurate optic will meet all of your requirements.
The image produces by this Vortex Crossfire II scope is very bright and clear. When I looked through the scope, there was no haziness across the whole magnification range. The image that reaches the shooter's eye is sharp and well-defined.
While it may not have the brightness or clarity found in most high-end scopes, it is very good for the price. You can't expect greater quality without spending a lot more money.
Vortex Optics equipped this Crossfire II riflescope comes with a fully multi coated lens that also has anti-glare properties.
In combat or hunting scenarios, the anti-glare coating of a scope keeps reflections away from the scope's objective lens and hides the shooter. The anti-glare coating prevents the scope from revealing your position. Furthermore, anti-glare coatings direct more light to the shooter's eye, resulting in a brighter image.
I'm using a Vortex Crossfire II model with a second focal plane V-Brite reticle. This reticle is made of a wire crosshair with a central illumination. An illuminated reticle combined with variable magnification greatly improves efficiency in three-gun contests.
In strong sunlight, the illuminated reticle proved difficult to see; however, the basic crosshair remained easy to operate.
The eye box of the Crossfire II is highly forgiving, and the eye relief is 4 inches. This implies that you can fire efficiently from odd postures. You don't need to align yourself behind the optic to place successful shots. You can improve your shooting time by sighting your target as you bring your gun up to a shooting position. This is made possible by the eye relief and the red dot-reticle.
During hunting or target shooting events, your rifle may take a serious battering. It is critical to get an optic that can hold zero regardless of the abuse meted out on it.
You don't need to be bothered about your Crossfire II breaking because it is highly durable. I've thrown mine around, hit it on walls, and so on, and it always held zero.
Zeroing this scope is a piece of cake. I was able to zero mine in less than four rounds. I've dropped, battered, muddied, and mistreated it, and there is still no need to re-zero yet.
The scope has been nitrogen purged, so it will not fog up on you. It has an o-ring seal that prevents water or moisture from entering it. It is also shock resistant and nearly indestructible. If your scope or lens fails, Vortex offers a "No Questions Asked" guarantee. They will either fix or replace it.
Many shooters do not like to re-zero their scope, especially if it has capped turrets. This scope retains zero so well, so a capped turret would not be a problem. The finger-adjustable turrets are very small and difficult to turn. They're not as tactile as I'd like.
For contests, I would prefer a larger and uncapped turret. At this price range, you can't expect this to be your dream scope.
2. Athlon Talos BTR 1-4×24
Most hunters are hard on their optics. When tracking a deer, the scope gets trapped in bushes, hits hard surfaces, and even gets plunged into the water.
It would be very painful if you spend a lot of money on the scope and the lens cracks or breaks on your first outing. That is why you need to get a scope that can take a lot of beating and remain functional. No matter how careful you are, you will still smack the scope on a hard surface. The Athlon Talos BTR scope is a durable scope, and you should consider this 1-4x magnification optic for your rifle.
The scope has a multi-coated lens that improves the clarity of the glass. It offers one of the best light transmissions, which makes the reticle stand out. At 500 yards, it is simple to spot and identify a target from this scope.
This scope shines in any low light condition, such as late evening and early morning shooting. It has a glass-etched, illuminated reticle that is positioned on the SFP.
The Talos BTR scope has 3.5 inches of eye relief which is long enough for every hunting rifle. The scope also has a large eye box.
I was quite pleased by how strong and durable the scope proved. It's quite weighty at 18 ounces, but that's not surprising, given how durable it is.
The scope was made with a single piece of aircraft-grade aluminum, and it has been sealed and nitrogen purged to make it fog-proof, shockproof, and waterproof.
This scope has been smacked against stones, scratched against trees, and even thrown in the water, but it always comes out unhurt. Not only has it remained totally functional throughout, but it also hasn't received a scratch.
This sight features exposed turrets, which may be an issue for some users. They're very solid despite being simple to turn; I've had no problems making adjustments with them.
The windage and elevation knobs feature a zero return option, which is useful when moving between magnifications. The scope also has adjustable fingertip turrets with an audible click. Overall, nothing is out of the ordinary, but the turrets serve their purpose.
This Athlon BTR scope has a magnification range of 1-4x, and the objective lens diameter is 24mm. The quality of this Athlon scope is crazy for its price.
3. Vortex Viper PST Gen I 1-4×24
I got this scope quickly since I wanted something simple and affordable for precision and rapid shooting. I don't regret my purchase. Continue reading to find out why…
This Vortex scope has an excellent glass clarity, far superior to most low-priced scopes I've tried. The vision is quite good, making it simple to utilize the sight quickly.
The edges have a fish-eye look, which is most noticeable at a low magnification. However, the ability to sight images with both eyes open compensates for this shortcoming.
The lenses are made of extra-low dispersion glass, which improves glass clarity and provides a brilliant image. They are additionally protected by a number of anti-reflective coatings.
Also, the 30mm main tube contributes to the clear and bright image of this Vortex Viper scope.
I like the control knob used for illumination regulation; it can be turned off with a simple click between each setting, meaning you won't have to turn the light all the way down to zero before it goes off. The illumination isn't brilliant in direct sunshine.
The lighted reticle is extremely useful in low light circumstances or when there is minimal target contrast. The reticle is MOA and MRAD. The reticle's second focal plane position retains its size in all magnifications.
The center dot is also incredibly fine, allowing for exceptionally accurate shots even at a distance. The eye relief on the Vortex PST scope is 4 inches, and it permits shooting with both eyes open.
I've never been disappointed by Vortex's scope durability. The Viper PST boasts a tough structure that is shock-resistant, fog-resistant, water-resistant, and ready for anything.
It's completely O-ring sealed to keep moisture, debris, and dust out of the tube. The one-piece design also assures waterproofness. It is also argon gas filled to maintain its fog-free ability across different temperature ranges.
The ArmorTek coating also enhances its scratch-resistant ability. The scope can survive a drop since it is made of 6061-T6 aircraft-quality aluminum. Furthermore, the lifetime warranty assures the shooter's long time use.
The windage and elevation knobs change with steady, audible clicks of 0.5MOA. The turrets feature a 90 MOA adjustment range.
The Vortex Viper offers a 1x-4x magnification range, making it an excellent optic for short to long-distance shooting. It is not a true 1x scope, and most costly optics are rarely so.
This scope's innovative reticle design makes it a flexible optic for rapid target acquisition and precise shooting.
It would be an excellent choice for 3 gun contests or close range hunting of about 100 yards.
4. Trijicon AccuPoint 1-4x24mm
The next best scope for 1-4x range shooting we will review is the Trijicon Accupoint. The scope is flexible, light, and simple to operate. Trijicon's AccuPoint Riflescope performs admirably in different conditions, and it also has a lot of useful features that make it a superb addition to the armory of any short-range shooter.
There are several reasons why you should select this AccuPoint Rifle scope. To begin, it magnifies from 1-4x and has an objective lens diameter of 24mm with a fully multi coated lens that increases light transmission and minimizes image distortion.
This scope also has a fiber-optic lighted reticle. The reticle uses a tritium phosphor lamp to light up the aim point, so you need not worry about batteries dying or a non-functional reticle in low light condition.
This illumination type has the added benefit of not causing glare on the lenses, which reduces the probability of missing your target.
The scope is constructed with a tough, lightweight aircraft-quality aluminum. One of the downsides of the scope is that the elevation and windage turrets are not properly marked. So you have to practice before using the scope on the field.
Even with these drawbacks, the AccuPoint Scope remains an excellent choice. The exterior's hard anodized coating will boost its longevity, and the lightweight means you can easily mount it on any firearm or transport it.
5. Bushnell Optics 1-4x Rifle Scope
The Bushnell scope is the next 1-4x scope on our list. This scope is a low power variable optic that is ideal for budget-conscious shooters. The Bushnell scope line is of high quality. They have a number of features that make them a great buy. Bushnell is well-known for producing some of the best affordable low power variable optic on the market.
This Bushnell Optic is built exclusively for AR-15 rifles. This high-quality sight is ideal for a 16-inch barreled carbine. The reticle is tailored to the 223 cartridges.
This reticle automatically accounts for the 223 round's bullet drop. There are multiple indicators on the reticles that provide aiming points to about 500 yards.
The Bushnell scope also has target turrets for easy and quick MOA adjustments on the go. You do not need any tools, and after you are dialed in, the turrets can always reset to zero.
This Bushnell optics also have a rapid-focus eyepiece, which, when paired with the illuminated reticle, magnification adjustment lever, and 3.5 inches eye relief, results in an optics that is exceptionally fast on target.
The reticle is basic and does not distort or obstruct your view. It will give you a wide FOV, allowing you to sight and focus on anything you aim at. The view is ideal for maintaining a high level of situational awareness.
This 1-4x scope is quite appealing due to its inexpensive price. Furthermore, it has nice features, and it is a great scope for people that are new to the concept of low power scope.
6. Primary Arms Classic Series
This Primary Arms scope is the last on our list of best scope for 1-4x shooting range, and it is a budget-friendly scope. This scope line is made of tough and dependable models, and they are offered at a reasonable price.
This 1-4x Primary Arms Classic model is small and lightweight, weighing about 16 ounces. This high-quality scope has a main tube diameter of 30mm. The reticle of the scope is found on the second focal plane, and it has a long eye relief ranging from 3.5 to 3.8 inches, depending on the magnification.
The scope has a basic duplex dot reticle that is easy to operate.
The center dot serves as your quick-fire dot. A standard duplex crosshair surrounds it. This straightforward design is typical of Classic scopes.
The scope is ideal for sport shooting and hunting when you dial it in at 4X. When the lighting system is turned off, the reticle is just a plain glass-etched dot.
The scope is fog proof, shockproof, and waterproof.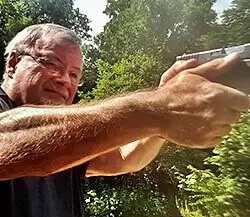 Mike Hardesty is a published freelance gun writer. He also possesses specialized expertise in rifle scopes With dozens of articles and reviews published in Pew Pew Tactical, Snipercountry.com, and TTAG (The Truth About Guns), Mike is considered a firearms expert. His special area of expertise is handguns.
Mike is a long-time shooter. He has been punching paper targets, taking deer and other game and shooting at competitions since about 1975. Other related pursuits include reloading and bullet casting. He currently reloads for over 10 calibers, both handgun and rifle. His reloads, particularly for 9mm, were in great demand during the height of the ammo shortage among family and friends. He donated hundreds of rounds to informal shooting sessions. He was quoted as saying "I do not sell my reloads but I sure will help my guys shoot 'em for free!". He has a few cherished firearms that he has inherited or otherwise procured — those are his favorites.
He earned B.S. and M.S. degrees from Indiana State University in 1974-1975.
He's a firearm experts and is the founder of mhardesty.com.