Are you looking for the best ACOG scope in the market? Do you need a real ACOG or ACOG clone? Let us help you find one!
Here is a list of our top picks for ACOG scopes.
The review covers four ACOG scopes from Trijicon and two scopes from other brands (ACOG clones). Let's start with what an ACOG scope is before we move on to the scope review.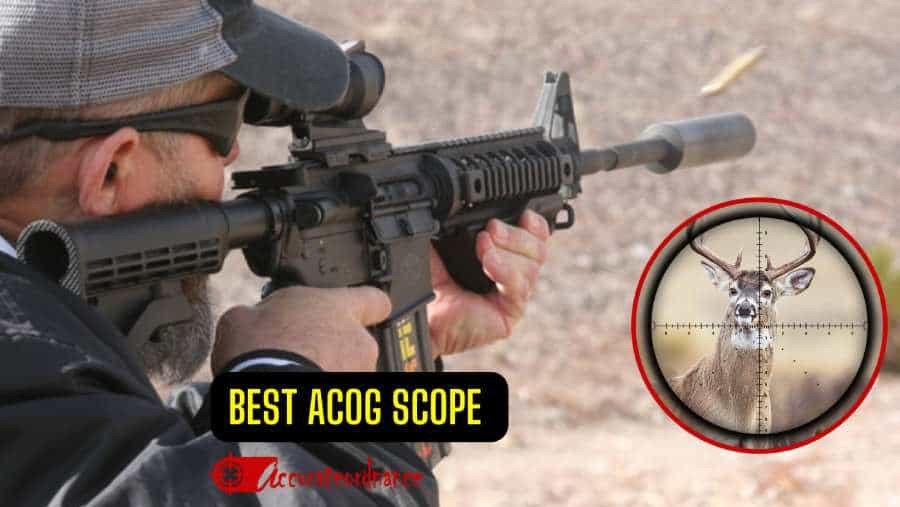 What Exactly Is An ACOG Scope?
If you have been in the shooting world for some time, you must have had people talk about the ACOG scope.
ACOG is an abbreviation for Advanced Combat Optical Gunsight, and it refers to an entire family of optics manufactured by Trijicon. Trijicon invented the initial model, the TA01, in 1987, and they have improved on it since then.
Trijicon has since become one of the major optics of the United States Special Forces and Marine Corps.
Although the first set of ACOG scopes was designed for M4 and M16 carbines, Trijicon has subsequently produced attachments that may be used with other rifles. Trijicon optics have a well-deserved reputation for being extremely sturdy, long-lasting, and simple to mount and operate.
They are very popular amongst shooters.
However, they are also quite expensive. You can get an ACOG clone scope if you want a scope that is almost as excellent but not as expensive. They are, nevertheless, well worth the money, and you will not be disappointed with their quality.
Continue reading to learn all you need to know about this iconic optic line.
There are so many ACOG models out there, and you can get one for almost any rifle you possess. Every ACOG has a fixed magnification, unlike the variable magnification found in other scopes. Their magnification usually ranges from 1.5x to 6x.
Although this range may not be ideal for everyone, it is a brilliant design from a scope manufacturer that is focused on longevity and simplicity.
By using just fixed power, the number of moving parts is reduced, making this sighting system almost unbreakable. the scope does not have little parts that can break, leaving you with an excellent medium-range scope that will almost never require maintenance.
These scopes have been battle-tested, so they are waterproof, shock-resistant, fog proof, and weatherproof. There are even stories of bullets passing through these ACOG scopes and still operating fine and retaining zero.
The Fiber-optic and Tritium lighting reticles are very impressive. Almost all ACOG scopes are battery-free and will last at least 10 years without the need for a replacement.
The Tritium is incredible because it makes the illuminated reticle fully visible even in the darkest hours. There will be no button pressing or checking to see if the battery is charged. The reticle generates its own light immediately after you pick it up, allowing for precise and super-fast target acquisition.
The multi-coated glass is incredibly robust and stunningly clear, allowing you to easily distinguish between targets. These optics will perform well in every shooting environment.
What is an ACOG Clone?
As earlier mentioned, the optics manufacturer Trijicon made these scopes popular. They are usually fixed scopes, but you'll find a few variable ones.
ACOG clones are scopes that are Trijicon replicas.
You may ask why you would bother yourself with getting a Trijicon clone. When we talk about body and technology, popular-brand models are usually the best bet. However, even the most affordable genuine Trijicon ACOG scope is very expensive and that is why most shooters go for the clone. If you want to use the best scope, you must be willing to pay more.
ACOG Clone Buyers Guide
Material
ACOG scopes, whether from Trijicon or other ACOG clones, should be small and long-lasting. When attaching an ACOG scope to your rifle, there is a potential that it will be banged around during transit or combat. You'll need a scope material that can withstand weather damage. It also has to be light. The most popular and recommended material is aircraft-grade aluminum, or you can consider magnesium alloy.
Magnification
The majority of ACOG clones feature fixed magnification. Most ACOG clones have a magnification of 1X. There are numerous variants available with increasing magnification. Nonetheless, it seldom reaches 5X. What you desire relies entirely on the scenarios you believe your firearm will encounter. 
If you're going to be shooting very close, a 1X lens will provide you with the greatest and broadest field of view. Finally, if the bulk of your rounds will be medium or long-range, you might need a greater magnification ACOG.
Battery Life/Brightness
ACOG clones will not be able to modify brightness using tritium. The power supply is provided by some type of lithium battery. Take note of the battery life promised by the manufacturer. The majority of clones worth purchasing have a battery life of about 100-500 hours. A lighted reticle is significant, and so also is the battery life. These are two of ACOG's most essential characteristics.
Ensure you get a clone that has a reticle with a wide range of brightness and a long-lasting battery. If a clone lacks one, it is not worth purchasing.
Size and weight
Any extra weight on your rifle will weigh you down and delay you on your journey. A lightweight ACOG clone is perfect for aiding the mobility of a mobile shooter.
If, on the other hand, you shoot in a fixed position and need a riflescope with all of the capabilities, a heavier one may be ideal for you.
Suitability
The compatibility of a riflescope with your firearm determines its suitability. ACOG-style scopes typically have mounting bases for different rail systems. If your ACOG clone does not come with a mounting device, you may need to invest a few dollars to get one.
Check the characteristics of your optic and your rifle to confirm they're compatible with one another. When purchasing a scope, it would be great if you could personally inspect both the optic and your rifle to verify that the two are a perfect match.
Field Of View
For enhanced target acquisition, a Trijicon ACOG scope requires a wide field of vision. When the magnification is increased, the FOV often drops. The finest ACOG clones provide a wide field of view without sacrificing magnification. Remember that a good FOV lets shooters take more accurate and precise shots, so consider this carefully before purchasing any scope.
Warranty & Brand
Brands are excellent predictors of what is good and bad. Not everything, however, centers on the brand.
Trijicon ACOG is one of the greatest military scopes available. The remaining manufacturers listed are among the top rifle scope clones available on the market. Choosing scope brands that offer warranties is another guarantee that they produce high-quality optics.
Rail Compatibility
Rails for shotguns, pistols, and rifles are available in a number of styles. Some scopes come with pre-installed mounting bases. If your scope did not come with a scope base, you might have to spend extra for one.
Durability
An authentic ACOG Scope is virtually indestructible. They're tough, made to withstand extreme conditions and nitrogen-purged for fog prevention. Because long-term combat engagements are infrequent, here is the best place to strike a bargain. A high-quality aluminum or aircraft-quality aluminum are the best options.
Price
If the scope you want to buy costs up to a thousand bucks, spending that much money on a clone is not a good bargain, so why not purchase the real thing?
Is it better to use fiber optics or batteries?
ACOG scopes have traditionally employed fiber optics for their reticle illumination. Fiber optics enable easy illumination without the usage of batteries. They utilize ambient light in the area to illuminate your scope's reticle.
A battery-powered ACOG scope, on the other hand, works more like a regular red dot. Using an illumination dial, you may choose your preferred brightness level. Battery-powered devices are also brilliant, regardless of the lighting conditions.
Best ACOG Scope Detail Reviews
1. Trijicon ACOG 5.5X50
The Trijicon ACOG 5.5×50 offers the finest features among the ACOG scope I've set my hands on.
I tested this scope myself to see whether it would live up to the hype, and it surprisingly did. Do you need proof? Continue reading to find out more.
This ACOG 5.5×50 scope has an excellent glass quality, and it provides shooters with a crystal-clear and distortion-free view.
The glass of this scope is fully multi-coated; it excels at absorbing ambient light, ensuring that the shooter always sees a sharp and brilliant image.
One of the finest features of the lighted reticle in this scope is that there is no need to worry about battery failure in an emergency. With this scope, you are guaranteed illumination for about 15 years; thus, you would only worry about powering the scope in the distant future.
The lighted reticle of this scope adjusts automatically based on the available light in the environment. For the period I used this scope, I never had reasons to manually change the brightness settings, and it was always set to what I required regardless of the ambient light.
The etched reticle is solid, and it was designed to compensate for bullet drop as well as aid in quick target acquisition.
The scope has a small eye relief of about 2.2 inches which is sufficient for a typical ACOG scope.
After hours of usage, eye tiredness was not an issue, as I had anticipated. After purchasing this Trijicon ACOG scope, I expected to experience eye fatigue, but that was not the case even after using the scope for hours. The glass is very clear, with no eye strain or distortion.
There is an ample eye box, and centering my image was simple.
This ACOG scope was built with the Bindon Aiming Concept (BAC) in mind, meaning it is intended to be used with your two eyes open. This kind of scope greatly increases the situational awareness of a shooter and makes switching targets easier.
When it comes to durability, this Trijicon ACOG scope is one of the toughest riflescopes I've ever used.
Even after dropping, battering, and immersing in water, this scope came out unharmed. Despite the rigorous usage and testing, it retained the zero without a hitch.
How did it manage to handle everything? I guess it was built for advanced combat, so it should be sturdy enough for any form of abuse. Since it is a fixed-power scope, it has few moving parts that may be harmed by any type of impact.
It was designed with a military-grade metal casing, making even cosmetic damage impossible. It is also entirely waterproof and can operate in high temperatures. Because it has been nitrogen purged, there is no risk of fogging or moisture seeping inside.
The scope's low turrets provide clear, loud clicks anytime you make an adjustment. The turrets are not capped, but they are sturdy, and I haven't had any problems with them. There has never been a case of knocking the turrets out of position by mistake.
Finding my zero with this scope was a piece of cake. It only took ten rounds, and the zero stayed for over 200 rounds without a need to re-zero. The scope has a fixed parallax and a fixed 5.5x magnification.
Since it is an ACOG scope, long range shots are not its strong point. There are significantly superior hunting scopes available, and I would only use this for target shooting or combat situations.
Close range is not often the best range for a Trijicon ACOG; however, it is possible when you use the Bindon Aiming Concept. Despite its fixed magnification, this scope's adaptability and efficacy at different shooting ranges is a big advantage. This ACOG scope is a little pricey, but it comes with its own scope mount.
The flattop scope mount that comes with this scope is TA51. This is advantageous in that you do not need to purchase one separately. If you're searching for a good ACOG scope that stands out from the crowd, this Trijicon ACOG 5.5x BAC scope will do.
The cost is actually cheap for all the features the scope provides. Even when comparing other ACOG scopes, the glass of the scope is much better, and the durability is difficult to match.
You may need some practice to shoot the BAC technique, but few other scopes enable it, and it truly pays off with this scope. It was designed around it, and all of its characteristics support this style of shooting.
2. Trijicon ACOG 3.5×35 
The second ACOG scope we would review is another Trijicon ACOG. Why? ACOG scopes generally provide the ideal balance between an LPVO and a red dot sight, but the Trijicon brand always has added quality on their scopes which is why they stand out among all ACOG scopes.
I was apprehensive about investing my money in an ACOG sight, but after using the Trijicon ACOG, I'm glad I did. Do you want to find out why? Continue reading…
This Trijicon ACOG's glass is incredibly clear. In fact, I was delighted to see the excellent quality of the scope's glass in practically every lighting scenario. So why the excellent reticle illumination? The reticle is illuminated using tritium or fiber optic. This automatically changes your brightness settings based on the surrounding light. The tritium operates at night to light your reticle, while the fiber optic functions in the daytime.
The greatest thing about the scope is that there's no need for a battery, and you don't have to worry about running out of illumination during a hunt, whether day or night. This dual illuminated chevron reticle is designed exclusively for 5.56 rifles and has a bullet drop compensation range of about 875 yards!
Also, the tritium or fiber optic lighting makes the dual illuminated chevron reticle visible in both daylight and at night.
The chevron draws your eye to the target's center, allowing fast target acquisition. Although it is not as fast as a red dot sight, but it is close. And it is unquestionably quicker than LPVOs when it comes to target acquisition. As a result, it's an excellent intermediate between the two sorts of scopes.
Most ACOG scopes, including this ACOG 3.5×35, provide very little eye relief.
Fortunately, I discovered that this one provides a little more eye relief among the ACOG I've encountered. With the extended eye relief, you may install this scope further away from yourself while still getting a correct sight image.
You may also buy the Trijicon eyepiece, which makes the eyecup considerably more comfortable. The eye box is one of the largest of any ACOG, making it ideal for target shooting.
Furthermore, the Trijicon ACOG employs the Bindon Aiming Concept, allowing you to utilize this scope while your two eyes are opened. This improves your field of vision. This is a major advantage in close-quarters fighting, and it also speeds up target acquisition. This, together with the chevron reticle, makes it simple to stay on target, which is very much needed for critical shots. It's also useful when you need to take rapid shots at a moving prey.
The Trijicon 3.5×35 scope is tough and almost indestructible. It is built of aircraft-grade aluminum that is nearly impossible to deform or destroy. I've dropped the scope several times and smacked it on a tree with no damage.
It is also filled with dry nitrogen, so it will not fog up, and it is waterproof to about 100 feet. I don't advise you to submerge yours, but I am sure it will survive the rain and still work well. Also, Trijicon provides a limited lifetime guarantee, so if there is any issue, they will assist you in resolving them.
The windage and elevation knobs of this scope are simple to adjust, and they feature a tactical adjustment with a maximum of 40 MOA for both windage and elevation. They make an adjustment of 1/3 MOA per click.
This scope's zeroing procedure at 100 yards was like every other scope, quick and simple. I'm harsh at handling scopes, and this Trijicon 3.5×35 has been through so much abuse, yet it still maintains its zero.
This scope's magnification is set at 3.5x. This magnification can be used to shoot close ranges between 30-50 yards. You can make highly precise shots at a range of 200-300 yards. The ideal or sweet spot for this 3.5x magnification scope is between 100 and 150 yards.
Another feature that distinguishes this Trijicon 3.5x as one of the finest ACOG scopes for target shooting and combat situations is that it is parallax free if you use it correctly. You could notice a slight side-to-side parallax, but vertical is parallax free.
When you buy the ACOG 3.5×35 rifle scope, you'll get a bunch of extras, such as a flat-top mounting adapter. It also comes with a scope coat, a big Pelican case, a lens pen, a branding sticker, and an instruction and warranty card.
If you want to be concealed while hunting, you might want to acquire this Trijicon to decrease glare and keep your position hidden.
3. Trijicon ACOG 3×30 
When it comes to high-quality, trustworthy scopes, Trijicon is unrivaled. They've been a mainstay in the scope business since 1981, and their brand is well-known worldwide.
They developed the ACOG family of scopes, which are now utilized by US Special Forces. They are not cheap scopes, but they provide the clearest, toughest, and most durable glass.
It has a fully multi-coated lens for maximum light transmission. When I aim with the scope or take a shot, there is no distortion, and the image is so crisp that I can see and differentiate my targets from almost 500 yards away.
Even in low-light circumstances, the in-built tritium and fiber optics lighting allow for outstanding target acquisition. The scope has a BDC reticle which I love so much. It has a variety of reticle shapes to pick from, but my personal favorite is the plain old crosshair. You can see the reticle during the day and at night. It also has a built-in rangefinder and the ability to establish aiming points.
The scope has an eye relief of 1.9 inches which is very small for rifles that have a heavy recoil. The eye box is spacious. To enjoy this scope, I strongly suggest researching the Bindon Aiming Concept. It takes time to perfect, but once you do, you won't look back.
The scope is the epitome of toughness. It is made of aircraft-quality aluminum alloy and is filled with dry nitrogen.
It is waterproof, fog-resistant, shockproof, and very much proof against anything you can think of. The scope is battery-free, so you'll never have to worry about failing batteries when you need them the most. The scope is powered by fiber optics that absorb light during the day.
The in-built Tritium lamp is activated at night/dark settings, providing the needed illumination. This results in an extremely bright reticle regardless of the hour of the day.
There are no knobs on the scope. They're actually redundant with the BDC reticle.
With the established targeting positions, you can predict the exact spot your bullet will strike. It has an in-built rangefinder with the hash marks getting shorter as the distance increases. With these qualities, you can easily strike targets that are 800 yards away.
It is a fixed magnification scope and it has an objective lens diameter of 30mm with a magnification of 3x. The fact that Trijicon chose a fixed magnification for the ACOG series scopes means that they are almost unbreakable.
The scope is compact and light because it has no moving parts, unlike variable scopes.
It comes with the TA6O flat top mount but also works with Picatinny mounts if that's what you desire.
The scope is fantastic since it weighs only 7.7 ounces. It is quite light because it lacks all the extra functions found in high-tech rifle scopes.
It may not be the best sight for everyone, but if you want a scope that will get you through hell and back, this Trijicon 3×30 will.
4. Trijicon ACOG 4X32 Dual Illuminated Reticle
How is this scope intended to be used tactically? This ACOG 4 x 32 scope has an illuminated reticle powered by Tritium for those who want to fire at night, while fiber optic provides some daylight lighting. Because of this function, you no longer have to worry about battery-powered reticles.
This 4 X 32 Scope has 4x magnification that is not adjustable. This may be discouraging for some shooters. But it is a good optic for anything between the 4x and 6x range.
Long-range shooters, on the other hand, will have a different perspective, since they like to fire with a magnification level of 10x or greater. And we all have the right to our own ideas. But, gentlemen, you must remember that this model is a tactical scope. You will need a lower magnification lens since it has a larger field of vision. With a larger FOV, you can stay on target without straining.
The Bindon Aiming Concept came to mind as we discussed the scope's capacity to focus on a target. This feature is responsible for speedy target acquisition. Surprisingly, that is not even its primary function.
You've certainly heard different shooters mention that the ACOG 4 X 32 Illuminated reticle has a bullet drop compensator that extends to 800 yards. That is actually true.
The ACOG 4X32 Dual Illumination Scope features coated lenses. In reality, the images produced are extremely detailed and clear due to the coated Anti-Reflective lenses.
What about durability, you may wonder? You'll like the tough aluminum casing in this scope. Although aluminum is one very light material, it is almost indestructible,
They were also gracious enough to provide us with an exit pupil of 8mm. For shooters who are unfamiliar with the function of the exit pupil, it affects the amount of light transmitted to the eye. If your scopes exit pupil is greater than 7mm, you will have more space to place your eye in relation to the optics.
Unfortunately, there is a drawback. The disadvantage is that you may find yourself in a position where the available light is too strong for your eyes to manage. This is a common complaint among users who use exit pupils diameters of 7mm or more.
Another characteristic that you'd enjoy is the fog-resistant, waterproof and shockproof capability. This 4X32 ACOG model is not the type of riflescope that will absorb moisture as soon as you set it down or when hunting in the rain. It can also withstand any harsh bump.
5. Vortex Optics Strikfire II Red Dot
Here's a little lower-priced ACOG sight made by Vortex brand. Based on the overall quality and cost, this ACOG sight is suitable for sporting purposes. It has a single-piece aluminum housing, enabling the shooter to choose between two distinct reticle illumination choices, and has up to ten different brightness levels. These features make the sight ideal for low light or poor light shooting.
This ACOG model has an offset cantilever mount, which allows the shooter to adjust the sight in order to employ an extra magnifier. This device operates on a CR2 battery, which is widely accessible nowadays.
This Vortex Optics is fully multicoated. It is also nitrogen purged and o-ring sealed to make it fog proof and waterproof.
6. Sig Sauer SOR71001 
Sig Sauer provides a red dot sight that is comparable to law enforcement in that it is of higher quality and engineered to withstand abuse in the field.
This scope is a 1X30MM red dot sight with an external graphite finish that is primarily used for hunting. It has a battery life of 62,500 hours. Elevation adjustments have a total of 220 MOA, and the windage is 150 MOA.
The power system of the scope is activated by motion. Any movement activates the system. This sighting system still has 9 different brightness levels, which allows the sight to be adaptable and function at night.
This Sig scope maintains coatings and complex circuitry used in the company's more costly systems.
Mike has been shooting, reloading, and bullet casting for over 40 years. He lives in rural Indiana where he has a backyard target range. Married for almost 40 years, Mike and his wife teach adult education in their home county and have four sons with their families, totaling 10 grandkids.