Are you looking for the best AK 47 Scope that can match your shooting needs? You've come to the right place! Let us help you make an informed decision as you mount a scope on your AK 47 rifle.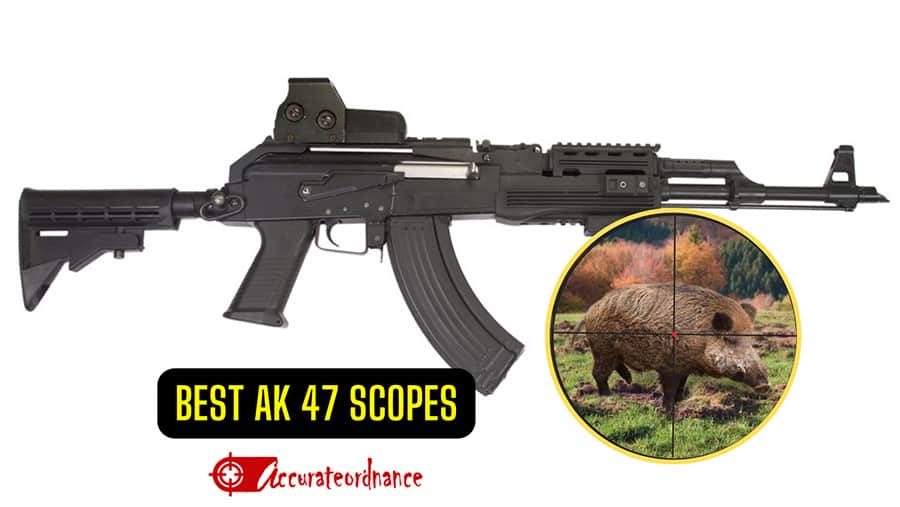 AK-47 is a very popular rifle that is used in almost every part of the world. Many people believe that this rifle can only be used for combat purposes only. But it has proven to be useful in different shooting situations.
The AK-47 rifle can serve as a hunting rifle. This is because it uses a 7.62X39 cartridge that is quite successful against mid-sized game animals like antelope and deer. Finding the best AK 47 scope that meets your particular shooting need is key to converting it to a more precise weapon, whether you want to use it as a war rifle or hunting rifle.
Understanding the weapon and the ammunition are the first stages in locating a good scope with the characteristics that will allow you to get the most out of your rifle. Defining and selecting the ideal sight for an AK-47 is not an impossible task if you have a good knowledge of your weapon.
Here are our top picks for the best AK 47 scope
AK 47 Scope Vs. Red Dots
If you're confused about the kind of AK optic that you should use, there are various factors to consider to make your choice.
Technology
First and foremost, let's define red dots and riflescopes.
A red dot sight is an optic that has LED in the middle. These sights are lightweight and easy to use and can be used with both eyes open when taking a shot.
Riflescopes are magnified optics. As a result, you may zoom in on distant things. You may even lower the magnification power to shoot short-range targets since these optics are capable of doing both.
Speed Test
Here is the exciting part: comparing distance and speed! I tried both AK optics at a range. The setup had targets set at 50, 100, 150, and 200 yards. I was interested in determining which AK optic was quicker for each distance.
And now for the results:
The red dot sight outperformed the riflescope at the short-distance targets. However, the riflescope had its superiority beyond 100 yards distance. It beat the red dot with around 30 seconds. This does not imply that one is always superior to the other.
Riflescopes are built for long-range shots. Similarly, red dots work better and faster for close-range targets.
Reliability
So, how trustworthy are riflescopes and red dots?
People with astigmatism and other eye problems might have a major difficulty with red dots. Astigmatism causes your eyes to see a blurry view of the red dot. This is a big issue that would render the red dot ineffective.
Fast target acquisition is a major concern with riflescopes. Magnified optics require a longer time to aim.
Now that we've covered the essentials, which of these optics should be used? There's no rule that says one is better than the other; it just depends on the shooting application or personal preferences.
When Buying AK Optics, What Should You Consider?
Choosing a scope might be overwhelming since, among other things, it is critical to select one that is appropriate for your rifle. Furthermore, the high price is a consideration that could put people under pressure to make the proper selection on the first try. You may become confused with all of the technical jargon used to describe the many models available, especially if you're new to this domain. I'll make things easier for you with some essential factors to consider while selecting an AK optics for your AK-47 rifle.
Purpose of Use
People use AK optics for one of the following reasons; Combat, short-range, long-range, and competition. As a result, the shooting purpose has a significant influence on your selection because some scopes serve a specific purpose. For example, if the purpose is long-range use, you should think about a higher magnification capability. A rugged scope will be better suited for battle.
Accuracy
Precision and accuracy are the primary reasons for purchasing a scope. The fundamental use of a magnified optic is for long-distance targets, allowing you to be more confident while taking distance shots.
Magnification
This is a component that helps you to see a target even from a far distance. Magnification capabilities are probably on top of the list of features when selecting a long-range scope for battle. A magnified optic brings your target closer than it actually is.
Size and weight
The AK-47 may be affordable, but that is because it is constructed of cheap and heavy materials. As a result, adding a heavy scope would make the combo heavier. Evaluating the size and weight of the optic is a good idea because those parameters will influence how you handle the weapon. However, the size and weight features should not be evaluated in isolation. It is preferable to contrast your selection with other variables. For instance, a bigger tube or objective lens is preferable, even if it adds weight to the scope.
TOP 7 Best AK 47 Scope Reviews
1. Vortex Optics Crossfire II 2-7×32 RifleScope
The AK-47 rifle is designed to be utilized in a variety of settings, even in the harshest conditions. If you plan to install a general-purpose riflescope on your AK47 rifle, then it should be a scope that works well in a variety of situations.
The Vortex Crossfire II is a scope you can rely on for your multi-purpose shooting with an AK 47 rifle. This scope can offer the shooter a fast target acquisition because it has a BDC reticle and a fast-focus eyepiece.
The Crossfire II scope can meet all your requirements, and it comes at a fair and affordable price. With this scope, you are sure to get all of the excellent features the Vortex brand is known for.
Vortex has an outstanding reputation among shooters. This is because of the quality of customer service, the performance of their products, and warranties. This Vortex scope model is on the list of the Best AK-47 Scope because of the extensive features it has.
The Vortex Crossfire II series of scopes is available in a variety of magnification settings, allowing a shooter to have the option to select the ideal magnification range for the rifle and shooting conditions.
For this scope review, I picked the 2x – 7x magnification version. Having a higher magnification than these is not necessary, considering the effective range of an AK-47 rifle and its 7.62X39 round. The 2x magnification enables close-range shooting, while the 7x magnification enables shooting targets beyond the practical, effective range.
Vortex offers different versions of second focal plane reticle. I picked the one that has a reticle with Bullet Drop Compensation for my AK-47 rifle. Range estimate and holdover are two of the most difficult aspects for many hunters to master. The BDC reticle simplifies these tasks, enabling more precise shoots.
Mounting a sight on the AK-47 rifle might be difficult. In many cases, regardless of the AK scope mount, you will need a scope that has more eye relief to offer. The Vortex Crossfire II has greater eye relief, which might be advantageous when installed on your rifle. It has a 3.9 inches eye relief, a 32mm objective lens diameter, a length of 11.5 inches, and it weighs about 14.3 ounces.
Vortex Optics uses a multi-coat technique to protect the lenses of its scopes from scratches. This multi-layered covering also decreases reflections and glares, which may make precise shots difficult.
The Crossfire II riflescope has finger adjustable and capped turrets, meaning the elevation and windage changes in the field requires no equipment. Turrets can also be easily set to zero for faster and more precise field corrections. Each click makes a 1/4 MOA reticle adjustment.
Vortex scopes are built to be tough and durable in any environment. These riflescopes are made of a single-piece main tube of aircraft-grade aluminum that has been nitrogen purged and O-ring sealed. These Vortex Scopes are, therefore fog proof, shockproof and waterproof.
The Vortex Crossfire II riflescope is a decent investment, which is why it is on top of the list of Best AK 47 Scope. This sight is ideal for the general shooter who loves target shooting and plinking. If you hunt deer on a regular basis, this scope will meet all of your needs as well. This scope, like the AK-47 itself, is tough and can withstand as much damage as the rifle.
2. Athlon Optics Talos BTR 1-4×24
The Athlon Talos is another nice scope for the AK 47 rifle. Many shooters prefer the illuminated reticle version of the scope. The Athlon BTR scope model works great because it has one of the finest illuminated reticles. Although Athlon may not be a household brand for many shooters, I've had nothing but good experiences with their scopes.
This second focal plane optics includes capabilities that many other entry-level scopes lack for shooting at a midrange target.
Athlon Talos' range of scopes is adaptable scopes that may fit into a variety of categories and applications. When these scopes are mounted on an AK-47 rifle, it has a nice appearance. This scope's characteristics and specs are ideal for the AK-47.
Don't let the low price of the Athlon scope fool you; it is packed with all the remarkable features you would need in an average optics. When you compare your expectations and shooting needs to the features provided by this scope, you won't find anything missing.
This second focal plane scope has its reticles etched on the glass for maximum clarity and precision. The mil-dot reticle features thick black outer legs and a crosshair with mil-dots in the middle. The markings are crisp and precise, resulting in a precise shot.
With numerous brightness levels, the Athlon scope is a fantastic hunting sight for both short and long range shooting. The scope has an illuminated reticle that allows you to fire for longer periods of time while hunting at dusk or dawn. If the lighting conditions are not as favorable, the brightness of the illuminated reticle can be changed to compensate. Most shooters consider an illuminated reticle to be a major advantage in many situations.
The Athlon Talos riflescope's glass quality is very outstanding for such a budget-friendly scope. The sight images are clean and sharp, and there is little or no distortion when you look through the lenses. To preserve the lens's quality and decrease glare, the glass surfaces are extensively multi-coated. Light transmission is improved to provide the greatest low-light performance.
While building the scope bodies, Athlon used only the best quality aircraft-grade aluminum material. The Athlon BTR scope is constructed with a 30mm main tube for rigidity and durability. For fog proof and waterproof capabilities, the scope is gas-purged and properly sealed. It is also built to be shockproof.
The Athlon scope picked for this scope review has a magnification range from 1x to 4x. This magnification range is ideal for the AK-47's ballistic properties. The majority of hunters and shooters take their shots at mid-range, less than 300 yards. A 4x magnification can take care of shots at such a distance.
The Athlon BTR scope has more than enough eye relief for an AK rifle. It has an eye relief of 6.26 inches at the lowest magnification and an eye relief of 3.5 inches at the highest magnification level.
The Talos sight, unlike others in this category, has exposed and tactical style elevation and windage adjustments. Each turret click results in . 2 mils of adjustment.
Athlon scopes were introduced to me not too long ago. I am sure I would have gotten more of their optics if I had discovered them sooner. Athlon makes a great set of scopes for the money, in my opinion, and the Athlon Talos BTR is a unique scope.
3. Primary Arms SLX 4-14x44mm Riflescope
The majority of shooters utilize their AK-47s for close-range tactical encounters or target practice. However, a significantly longer range scope may be used to extend the effective range of this rifle.
That is exactly what the Primary Arms SLX scope offers: increased effective range. It has magnification capability ranging from 4x to 14x, as well as a 44 mm objective lens diameter that is broad enough to capture enough light for any shooting purposes.
Because it is first focal plane, the size of the holdover point of the reticle may change significantly when you change the magnification. Each hashmark will continue to be correct in relation to your destination. This style of reticle takes some getting accustomed to, although it's very effective if you get used to it.
Even better, the reticle on this sight is illuminated and has six brightness levels. It is powered by a simple but durable battery; you should be able to use it for thousands of hours before replacing it. The lighted reticle will greatly assist you in identifying targets in tactical situations.
It is also a pretty strong scope, which is important because most AK-47s rattle a lot and have a lot of recoils. This Primary Arms scope is fog-resistant and waterproof, and it comes with a 3-year warranty for manufacturing faults.
Additional turrets are provided to let you adjust the scope for elevation and windage. I also enjoy that the opposite side has a parallax adjustment knob. As a result of this, you can compensate for long distance shots, which is necessary if you're using a scope with more than 10x magnification.
Ultimately, Primary Arms Optics is an excellent choice for AK-47s and other long-range tactical and urban fighting rifles. This very inexpensive scope has a lot of value to offer, especially considering the guarantee and the accompanying extras cleaning cloth and lens covers that come with it.
4. SightmarkWraith Night Vision Riflescope
You will understand the idea of owning the night vision scope better if you happen to be one of the hunters who lawfully stalk animals such as coyotes or feral hogs at night. Every year, an increasing number of hunters discover low-cost night vision equipment on the market to help in their nocturnal hunting.
The Sightmark Wraith scope is one of the cheapest night vision scope on the market today. This Night Vision scope is ideal for low-light conditions on assault rifles such as the AK-47.
Unlike other night vision optics, this digital scope can be used both during the day and at night. The digital idea also allows for numerous capabilities that would be practically hard to find in a traditional optical sight. This provides a whole new aspect to an AK scope at a reasonable price.
Introducing digital technology in the night vision field significantly expands the features and possibilities accessible to hunters and shooters. You will not only get better image quality, but you could also record, broadcast, and share your shooting experiences with friends.
Unlike regular scopes, which merely transmit collected light back to the shooter, digital scopes utilize electronic technology when capturing images, improving them, and showing them to the shooter along with ballistics data. As a result, the scope may work as both a night vision device and a daytime scope with equal adaptability.
Many choices are accessible with a digital scope that are not available with an ordinary scope. The Wraith's 4K images may be recorded or captured on onboard data cards. Colors in the image may be modified to the user's preference, and magnification could range up to about 32x without image distortion or clarity reduction.
You may customize the reticle selection of your sight to meet the needs of the situation. There are 10 distinct reticle styles to choose from, with 9 different color selections. You may pick a reticle that meets your demands and adjust the color and light intensity to match the lighting conditions.
On the memory card, you may save up to four distinct configurations. Your computer may be reset for a different condition or caliber with the press of a button.
Each Wraith scope has an infrared illumination, which may be used as a spotlight or mounted to the scope for hunting purposes. The IR illuminator lasts 90 minutes. This optic-mounted light is a welcome addition for evening hunting. The SIghtmark IR illumination improves long-range visibility at night and has an outstanding battery life.
You don't have to be bothered about the electronics getting damaged in the field. This Sightmark night vision optic is waterproof to IPX5. The scope is made of a durable aluminum tube, and it is gas-purged and properly sealed to prevent fog, water, and shock from damaging the scope.
The provided USB cord is used to charge the lithium battery. Each full battery charge will provide you with 8 hours of power.
The scope has a large objective lens diameter of 50mm and a small eye relief of 2.4 inches. The color options available are black, white, blue, red, green, orange, cyan, yellow, and magenta. The scope is 10.5 inches long and weighs 36.3 ounces.
Night vision appears to be more popular nowadays. Unfortunately, getting into the nocturnal hunting game used to be expensive. Mounting a night vision equipment on your weapon might cost thousands of dollars. The Wraith puts night vision in most shooters' budgets and does a good job for less than the cost of others. This is an excellent night vision equipment that will meet the demands of the majority of AK47 rifle owners.
5. Aimpoint Pro Red Dot Rifle scope
We'll start with the Aimpoint Pro on our list of best red dot scopes for AK 47 rifles. This red dot sight is useful in a wide range of shooting applications.
Aimpoint provides a high-quality red dot sight that may be utilized for a wide range of shooting purposes. This sight will be handy in less rugged shooting, rigorous tactical, and hunting adventures.
It features a semi-matte appearance and is made of hard anodized aluminum alloy. This Aimpoint red dot sight is built to endure everything you throw at it. It has been proven to work in temperatures ranging from -49 to 160 degrees Fahrenheit, and it can survive underwater to about 150 feet.
The scope has a 1x magnification with an objective lens diameter of 38mm, and it comes with an illuminated 2 MOA dot reticle. The scope has an anti-reflex multi-layer lens coating that delivers exceptional clarity and visual image to shooters.
The flip-open lens covers (front and back) help to safeguard your optics. It also has a threaded lens opening at the front that serves as an anti-reflective device. In addition to these characteristics, the transparent back cover allows for emergency usage.
Any shooter seeking a perfect first shot and faster target acquisition is on the right track. Another advantage worth mentioning is that it can be used with a night vision gadget.
It has an unlimited eye relief that is unrestricted (no worries about getting a scope bite!). This scope is one of the best red dot scope you'll find, with a 5.1 inches length and a weight of 11.6 ounces.
This red dot sight has one of the best scope mount for the AK-47 rifle. The QRP2 AK scope mount is a versatile mounting mechanism. The fitted riser is suited for a number of weapons, including the M4, AR-15, and M16. It can also be lowered for shotgun usage. However, it is ideal for AK platform guns, and installation is a breeze. So if you're looking for the best scope mount for an AK platform, this would be your best bet.
Another noteworthy feature is the inbuilt torque-limiting knob. Many scope manufacturers frequently neglect this, which can result in weapon damage if shooters mistakenly over-tighten a scope when mounting it. How does it function? Turn the torque-limiting knob 3 times after determining the mount location. The optic is then precisely locked on your weapon.
Everything is fine! The integrated DL 1/3N battery lasts for an amazing 30,000 hours, which translates to leaving the scope up and functioning for about three years. Another advantage is that you don't have to bother about battery replacement schedules.
To top it all off, Aimpoint Pro stands by its high-quality red dot optic. This is demonstrated by a 10-year warranty.
6. Vortex Optics Strikefire II
People own a rifle for different reasons, and many use it for multi-purpose. Using an AK rifle for self-defense or during combat makes sense. So the next deal is to choose a scope for the rifle meant.
The Vortex Strikefire II is another sight we would review in our list of best red dot scope. This sight has a faster response time for close-range shooting.
A self-defense rifle is utilized in a totally different way from other shooting applications. In a self-defense situation, there is a need for speed. as a result, the rifle and scope combo must have fast target acquisition, mobility, and lightweight size. The Vortex Strikefire II combines all these features in a small and affordable package.
There aren't many features that Vortex Optics scopes don't have. Even this simple red dot sight has a slew of surprising capabilities. It might be difficult to find a red dot sight that performs at this level and price.
You can switch between the green and red dots with a simple button. You may choose the best brightness settings for your current light circumstances by using the 10 brightness adjustments for each color.
There are numerous brightness levels available for the Strikefire II red or green dot with a lower 1/3 co-witness attachment option.
All glass surfaces of the Vortex Strikefire II are multi-coated for optimum light transmission and scratch resistance.
Unlimited eye relief allows you to quickly acquire targets, aim with both eyes open, and mount your scope anywhere you like. If you require magnified optics, move the scope forward to make a place for a magnifier at the back of the scope.
Vortex Optics manufactures its scopes using aircraft-grade aluminum. The single-piece chassis is tough and long-lasting, and it is also lightweight.
The Strikefire II sight is nitrogen-purged and O-ring sealed to ensure that it is waterproof, shockproof, and fog resistant.
Windage and elevation turret adjustments are available on the Strikefire II scope. The lighted reticle controls are situated at the back of the red dot sight for convenient access in any setting. The waterproof button controls provide rapid access to light and color options. The Strikfire II is powered by a CR2 battery that can be easily replaced.
This scope may work in tandem with the iron sight of an assault rifle. The process of using an iron sight and scope on your assault rifle is called co-witnessing.
7. Aimpoint Micro T 2
The last type of optic we would review on our list of best red dot scope is the Aimpoint Micro T-2 Reflex Sights. These Reflex Sights come with a normal rail mount, as opposed to the typical red dots. The long battery life of this superb optic is a distinguishing feature.
Its CR-2032 battery can run continuously for about 50,000 hours. Its accuracy is unrivaled—the gadget has a sophisticated objective lens designed to decrease parallax error.
It has 8 daylight brightness levels and 4-night vision brightness settings, as well as unparalleled optical clarity. The optical clarity is a result of the 2 MOA dot and other innovative features.
Its strong and well-designed construction makes it suitable for all weather situations. It has recessed lenses and a case made of hard-anodized aluminum alloy.
If you want the best optic for AK 47 that is also beginner-friendly, go with the Aimpoint Micro T-2 Reflex Sight. The standard rail mount makes it simple to install and operate.
FAQ
Who should purchase these scopes?
These scopes are recommended for everyone who wants to increase the efficiency of his AK 47 for self-defense or in modern warfare. There are no age restrictions for these scopes. Although this indicates that a shooter must be of legal age to wield or own an AK 47 rifle.
Although some are recommended for young or newbie shooters and others primarily for adults and may be used by both men and women. I've seen people ask whether there is a unique item that favors right-handed users over left-handed shooters and vice versa.
I couldn't make a final judgment because I am right-handed. So, I got reviews from left-handed shooters. According to the evaluations, these scopes may be used by both right-handed and left-handed people.
Can the AK-47 rifle be used as a scoped sniper rifle?
Yes, if no other alternative is available, this setup would look more like a homemade sniper rifle.
Why is AK-47 rifle so popular?
You'd think that the AK-47's appeal stems from its pinpoint accuracy. However, this is not so. The key selling point of the AK-47 rifle is its ability to resist punishment from recoil. The AK rifle was designed to be easy to use, maintain, and repair.
When Was The AK-47 Rifle First Used?
The AK-47 rifle was developed in Russia in 1945. After being submitted for formal military tests in 1947, the fixed-stock model was put into active service in 1948 for a few units of the Soviet Army.
Was the AK-47 used during WWII?
No. It wasn't. The Soviets created the AK-47 rifle after WWII and distributed it to conscripted troops in the communist army. The design of the rifle, as well as its broad availability, has made it popular among arms smugglers, militants, terrorists, and others. I can easily call it the "cold war AK 47 rifle" because it became popular during the cold war.
Where Did the Name AK-47 Come From?
The Kalashnikov Model 1947 is another name for the AK-47. The letter AK relates to the designer's name Mikhail Kalashnikov. And the 47 comes from the year 1947. This cold war AK 47 rifle came into use after world war II
How Many Rounds Can an AK-47 Load?
The standard AK-47 magazine loads 30 rounds.
What Is the Weight of an AK-47?
An AK-47 rifle typically weighs around 10 pounds to 9.5 pounds.
How Long Do AK-47s Last?
You'll get between 6000 – 12000 rounds before the gun's accuracy deteriorate.
Is the AK-47 still used by the Russian army?
No. Russian soldiers presently use the AK-74M assault rifle.
What kind of ammunition does the AK-47 take?
The AK-47 employs a 39mm long cartridge to fire a bullet with a 7.62mm diameter, sometimes known as a 7.62 x 39mm cartridge. These bullets are significantly weaker than 7.62mm NATO, which is fired with a 51mm round known as 7.62 x 51mm.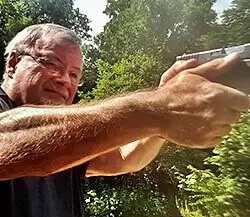 Mike Hardesty is a published freelance gun writer. With dozens of articles and reviews published in Pew Pew Tactical, Snipercountry.com, and TTAG (The Truth About Guns), Mike is considered a firearms expert. His special area of expertise is handguns.
Mike is a long-time shooter. He has been punching paper targets, taking deer and other game and shooting at competitions since about 1975. Other related pursuits include reloading and bullet casting. He currently reloads for over 10 calibers, both handgun and rifle. His reloads, particularly for 9mm, were in great demand during the height of the ammo shortage among family and friends. He donated hundreds of rounds to informal shooting sessions. He was quoted as saying "I do not sell my reloads but I sure will help my guys shoot 'em for free!". He has a few cherished firearms that he has inherited or otherwise procured — those are his favorites.
He earned B.S. and M.S. degrees from Indiana State University in 1974-1975.
He's a firearm experts and is the founder of mhardesty.com.