Are you looking for the best DMR scope for your rifle? Let's help you find a good one!
What exactly is a DMR?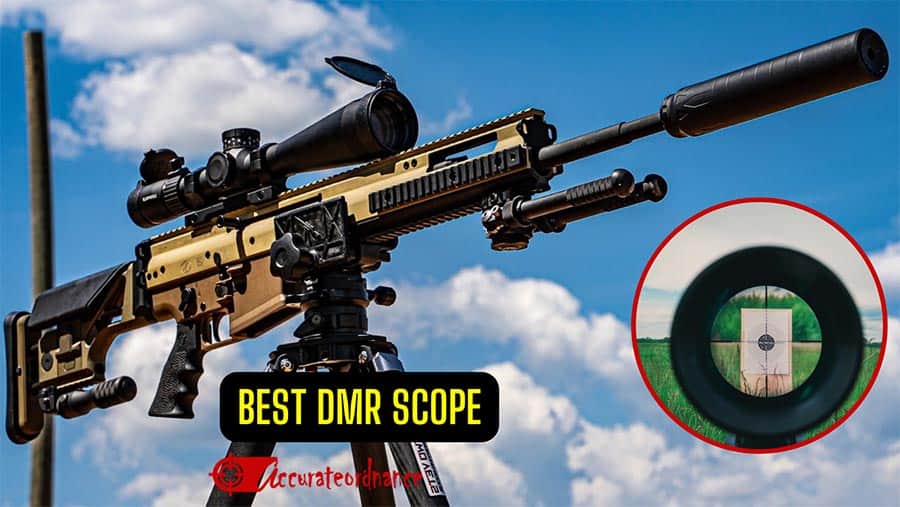 If you've spent enough time around weapons, you've most likely heard other shooters utter the term "DMR" at some point. As a result, you may be thinking, "What exactly is a DMR?" DMR is the short form of Designated Marksman Rifle. This type of rifle is a one-of-a-kind rifle that is often semi-automatic, and it is meant for taking care of mid-range or long range shooting.
DMR firearms are usually used by law enforcement and the military. It became more popular when different squads saw a need for a firearm that could easily take care of targets that were beyond the range of a typical infantryman's assault rifle. These rifles are not expected to replace or shoot far enough like a sniper rifle.
A rifle becomes a DMR when you add a sight, precise triggers, a longer and heavier barrel, and stabilizing bipod that helps to ensure increased performance and stability when you take a shot. The DMR Rifle has a faster rate of fire, greater accuracy, and terminal ballistics that place it between ordinary rifles and specialized sniper rifles.
Nowadays, many civilian gun enthusiasts are eager to own a DMR firearm. Why? Maybe they just want to replicate or shoot firearms that are used by the military. Others might just be looking for a durable, lightweight, and accurate firearm for target shooting or hunting.
(Or, perhaps, it's a young shooter that has played a lot of video games like Modern Warfare or Black Ops Cold War and has an overwhelming desire to recreate their favorite overpowering Warzone loadout.) Whatever may be the reason, getting a DMR rifle is not a bad choice.
Continue reading to learn about the features of a DMR, the caliber, and some best DMRs available.
Top List of DMR scopes:
Features of a DMR
A DMR has the following distinguishing features:
Magnified Scope: 
DMRs have optical sights with magnification settings that are higher than regular rifles and lower than a sniper scope. DMRs frequently have variable optics, letting the shooter locate targets and engage them with precision.
Quality trigger: 
To turn a rifle into a DMR, it should have a two-stage, precision trigger with precise breaks and smooth take-ups. A normal precision trigger should have a break force of 3.5 to 6.0 lbs.
Heavy contour barrel: 
To minimize overheating, DMRs need the finest barrels, especially for long-range and high-volume usage. They usually have heavier barrels to allow shots to be taken within the appropriate range without a large drop. Therefore, a 20-inches barrel is good as a DMR rifle.
Box magazine: 
A boxed magazine is a compulsory feature in DMRs due to its high fire rate.
Bipods: 
DMRs may occasionally need support platforms, which is where an excellent swivel bipod comes in.
Example of DMR 
Here are some DMR firearms 
ARMALITE AR-10 SUPERSASS
HK417
M14
FN SCAR – H
AR-10 SUPERSASS ARMALITE
The ArmaLite firearm is a 7.62 mm NATO semi-automatic rifle with a magazine feed. This DMR has a 20-inch, triple-lapped stainless barrel, Match trigger, and free-floating rail system, all based on the features and design of M4 and M16. It is also SR-25 magazine compatible, making it one of the favorite DMRs.
HK417
This NATO 7.62 mm semi-automatic DMR has a patented gas system. It can withstand up to 15,000 rounds without failing or losing accuracy. It has a retractable buttstock, ambidextrous controls, a suppressor as an option, and a 10-round or 20-round magazine.
M14
During the Cold War, the M14 was widespread in the towns and paddies of Vietnam, and it is still one of the greatest DMRs to this day. It has a fixed front post sight and wings for protection. It also has a rear sight that is adjustable and a two-stage precision trigger rated at 5 – 6.5 lbs. The M14 is an excellent DMR option that is accurate, dependable, and effective.
FN SCAR -H
The FN SCAR is a fantastic DMR intended for fast and precise shooting at various ranges. It is lightweight and very strong, making it a favorite among designated marksmen and sniper teams. The FN SCAR is an all-purpose rifle with controls comparable to the AR-15.
What is the caliber of a DMR?
Despite their special characteristics, DMRs are frequently chambered in regular rifle calibers. This allows the marksman to swap ammo with team members.
The 7.62×51 mm and 5.56×45 mm NATO rounds are the most prevalent, and they are very much available for soldiers and civilians.
Advantages of the 5.56x45mm Caliber
The 5.56x45mm round is compatible with Remington .223 cartridges. It is lighter and has more magazine capacity. It has lower recoil, so a shooter can take precise follow-up shots quickly.
Advantages of the 7.62x51mm Round
The 7.62x51mm round is compatible with Winchester.308 cartridges. It has improved penetration and stopping power. With this ammo, you are sure of a longer barrel life and precision with every shot. The bullet is heavier and more wind-resistant.
What Is the Difference Between Sniper Rifles and Marksman Rifles?
A DMR rifle, as the name implies, is intended for use by designated marksmen, whereas sniper rifles are meant for snipers. Based on the previously described distinguishing qualities of DMRs, we may identify significant distinctions between DMR and sniper rifles.
Here are some of the key distinctions between the two:
Accuracy
A marksman rifle is excellent for accurately shooting at a high rate, while a sniper rifle is best for a single-round precision shooting. 
Caliber
Marksman rifles use the same types of calibers that normal rifles use. A sniper rifle, on the other hand, uses a more powerful caliber that can hit very far targets.
Action
Most marksman rifles come as a semi-automatic firearm, while sniper rifles are mostly bolt-action.
Optics/Range
A marksman rifle can use a low or medium-magnification scope, and it can take accurate shots up to 800 yards. A sniper scope is usually medium or high-power scope, and it can conveniently take shots beyond 800 yards. 
So, what is the key to having the best Designated Marksman scope? Let's go through some of the important factors you should think about before making a purchase.
The Most Important Factors in Choosing a DMR Scope 
Target Acquisition Speed 
A Designated Marksman Rifle is meant to be used in high-stress circumstances when target acquisition speed is critical to the success of the shots. Several things contribute to this, including the scope's reticle design, glass quality, and field of view.
Most decent DMR scopes, like the guns themselves, are hybrids. Hybrids in the sense that they are a good mix of close range, medium range, and long range shooting capabilities. Usually, one should expect a long distance rifle to be slow in terms of target acquisition, but a good DMR rifle should have faster target acquisition, and it would need a scope that can meet this condition. 
DMR scope gives a simple and high-visibility sight image, but they sacrifice a little precision at long ranges in return for the ability to make faster shots (and follow-up rounds) at a close range. When it comes to target acquisition, you should not expect a high-magnification rifle scope to outperform a red dot sight at close range.
Multicoated optics decrease reflections and glares that may reveal the shooter's position. Coated lenses also improve light transmission; it influences how brilliant the image would be and whether the optic can be reliable in low-light settings.
Higher glass, of course, implies a sharper image and better clarity. A nice reticle is also important, although most of it is personal preference—some shooters love an illuminated reticle, while others prefer a sharp classic crosshair.
Since a shooter may be needed to transition between many targets at various ranges or trace moving targets, a DMR with a broad field of view is particularly advantageous.
These kinds of scopes are ideal for hunting, as most high-magnification riflescopes provide a "tunnel vision" effect that makes tracking your game and a follow-up shot difficult if the initial round misses or simply wounds it.
Durability
It is no secret that a scope designed for military usage must be tough, but this is also a feature that hunters and leisure shooters will cherish. A high-quality DMR scope should be fog proof, waterproof, and shockproof, as well as able to withstand the recoil from the DMR rifle it is mounted on.
Fortunately, every manufacturer has a thorough torture testing process for its scopes to guarantee that they will hold up even under the hardest conditions, and most scopes also come with extensive warranties to cover any flaws or damage that occur in the field. You can be confident that any scope on our list will be able to handle anything thrown at it.
Precision
Even when outfitted with a great midrange optic, DMRs are frequently used to shoot at the exact boundaries of the firearms' effective range; therefore, being able to properly place bullets on target at such distances is critical.
Since the shooter would not always have time to perform complex holdover adjustments or account for wind speed, DMR scopes have useful features such as bullet drop compensation (BDC) marks or hashmark reticles for windage, which allow the shooter to rapidly and precisely adjust their aim point.
And, since they are frequently used for both medium range and long distance shots, the vast majority of DMR optics resemble sniper scopes, having a variable magnification that allows them to be used for shooting at any range.
Windage and Holdover Estimations
Unlike snipers, a designated marksman will not have so much time to make adjustments while engaging or aiming at a target. It is critical to have an optic that allows shooters to adapt to estimate holdover and windage adjustments. 
This feature is mostly determined by the reticle design and a shooter's knowledge with the design. There are several reticle designs to select from, so choose the one that you're willing to make use of.
Magnification
DMR is ideal for 4x magnification or less. You won't require more than that. The ideal DMR scope should allow the shooter to fire accurately beyond 400 yards. As long the scope has the needed magnification to hit your target, then it is good as a DMR scope.
A broad FOV (field of vision) is advantageous when you want to switch between targets. The field of view of a scope and its magnification are inextricably linked. As magnification increases, the field of view decreases. That is why it is difficult to track a game animal with a high magnification optic.
Reticle
Having the appropriate reticle for your sight is also very important when trying to choose a scope for your DMR shooting. Make sure the reticle on your DMR sight combines long-range accuracy with rapid target acquisition. 
When it comes to the position of the reticle on a scope, we have the FFP riflescope (first focal plane) and SFP riflescope (second focal plane). The fundamental difference is that a second focal plane reticle size stays the same regardless of the increase or decrease in magnification. When sighting with a first focal plane reticle, the reticle size changes as magnification changes.
There are several reticles to pick from, ranging from Mil-Dot to BDC. Simple crosshair reticles are available and perform admirably. We also have an illuminated reticle and a non-illuminated reticle.
A designated marksman scope should also include night vision features for people who frequently operate in low-light conditions.
Lightweight 
A DMR scope must be light in order to keep the total weight of the weapon low. It can be challenging if you have to carry a heavy rifle with a big scope. As a result, having a lightweight DMR scope makes things easier. It'll also be much easier to keep your rifle steady for accurate shots.
Best DMR Scope Detail Reviews
1. Vortex Optics Crossfire II
Vortex Optics has built a loyal following by offering high-quality, dependable scopes at affordable prices, and this Crossfire II scope is not an exception. It is a popular pick because of its clear glass, robust construction, and long eye relief.
This optic is available in a variety of configurations, and it has different objective lens diameters, but for DMR purposes, we recommend the Dead-Hold BDC reticle with either a 40mm or 50mm objective lens. It all depends on your preference, whether you want a compact and low-profile scope or something with greater low-light performance.
The 3-9×50 Vortex scope allows more light to pass through the scope for easy sighting of the target and faster acquisition. The lenses of the scope are fully multi-coated to protect the shooter against reflection. 
The scope is also o-ring sealed and nitrogen purged to make it fog proof and waterproof. It can withstand the recoil from any 7.62 ammo.
Overall, it's a great alternative for anyone looking to get a DMR scope within budget.
2. Burris Ballistic 2-7×32 Scope
Unlike other scopes on our list, the Burris scope is specifically meant to be positioned ahead of the ejection port as a scout scope.
Because of the unusually long eye relief, you can enjoy fast target acquisition and quick follow-up rounds because you can position the rifle forward such that you fire with both eyes open. It is more like shooting with a red dot sight. The peripheral vision is not impeded, and the shooter can easily maintain awareness of the situation in the environment.
The glass of the Burris scope is clear, bright, and crisp enough for precise medium-range shooting as well as accurate shots at closer ranges. It is a straightforward, long-lasting optic that looks perfectly good on any mid-ranged DMR.
While this sight will function on any rifle platform that has an extended rail or scope mount, it is a particularly good choice for anybody who intends to use an M1A or any other heavy-barreled rifle as the foundation for their DMR.
It is important to remember that scout scopes sacrifice some precision in return for being quicker and more agile at close range – always remember this when selecting a scope.
3. Sig Sauer Riflescope
This Sig Sauer scope is an improved version that the US Army chose as their DMR optic after extensive testing, and I have to agree with them on this. The Tango 6T is a great DMR scope. It has a magnification range between 1x to 6x. This Sig Sauer scope has a 24mm objective lens diameter which is small and might not be effective in low light situations. The scope is made with a durable 30mm main tube diameter. The scope has its reticle in the Second Focal Plane position, making it a perfect scope for mid-range shots.
The illuminated reticle enables both precise long-range shots and rapid, precise shots at medium range. Thanks to the combination of extra-low dispersion and high transmittance glass, you are assured of the best clarity, contrast, and image brightness.
The scope features a big exit pupil, and it is also suitable for night vision. The throw lever provided allows you to switch between magnification with your thumb.
This Tango6T provides a lot of value in a small container, which is why it beat the competitors to secure a military contract.
The anodized main tube (with an appealing matte finish) is shockproof, waterproof, and fog proof and it is even certified for immersion in water to about 20 meters.
Sig Sauer also provides a lifetime guarantee on this DMR scope. If you want a tactical scope for your DMR that is tough and effective, this is the one to get.
4. Leupold VX-Freedom 3-9x40mm Scope
If you are not a newbie shooter, then you should be well aware that Leupold scopes are among the brightest and clearest on the market, and the VX-Freedom maintains that trend.
The scope has an objective lens diameter of 40mm that allows enough light to travel from the target to the shooter's eye. 
The VX-Freedom is available in an almost limitless number of configurations, but for a DMR platform, we recommend the TMR, Tri-MOA, or AR-Ballistic reticles, which offer the best BDC hash marks and crosshairs.
Regardless of the one you select, you can be confident that this Leupold scope will take care of all your shots at different ranges.
Even though it weighs about 11 ounces, the VX-Freedom is very durable. It can withstand everything thrown at it. The scope also comes with a lifetime guarantee. 
5. Sightron SIII 6-24x50mm MOA 
The Sightron 2-24×50 scope features one of the cleanest and brightest optics available for shooters willing to pay a little more for an outstanding DMR scope.
I have a good experience using the scope. The Sightron 2-24×50 scope was able to maintain sharpness and clarity at all the magnification levels. It also has a superb field of view. The turret adjustment knobs are precise, and they have audible clicks. The scope's multi-coating procedure reduces glare on the brightest days and allows more light in low light situations.
The reticle is very sharp, so no more worries about having a crosshair that obscures your target at long ranges. The finger-adjustable knobs are solid and incredibly tactile, making sighting a breeze. The scope has a wide magnification range from 2x to 24x, meaning you can use it effectively for short, medium, and long range shooting.
The scope is constructed like a tank and can withstand harsh weather conditions. It can even be knicked around, and the zero will not change. The 50mm objective lens diameter is also an added advantage to the scope's light transmission.
The one criticism I have for this scope is that it is somewhat heavy – weighing about 24 ounces. This scope is almost twice the weight of some other scopes on our list.
6. Schmidt & Bender 5-25×56 Scope
The Schmidt & Bender scope is another good scope for DMR shooting. This scope has seen significant usage with law enforcement and military units all around the world. The scope is battle tested and very rugged.
The PM II scope is available in eight distinct reticle configurations, all of which are excellent for high-precision long-distance shooting. Some reticles are intended for competition shooting and may be too busy for a specialized DMR. The minimum magnification of the scope is 5x, and this magnification is too high for short-range shots, so this scope will not be convenient for close combat situations. 
My choice reticles are the Gen II XR and LRR-MIL, both of which include BDC markings and subtle windage hash marks that allow the shooter to swiftly and simply place bullets on the target without missing. The scope has an exceptionally high objective lens diameter of 56mm.
The PM II has an excellent design quality, and it is highly durable, which is why so many law enforcement and military officers entrust their lives to the scope. Whatever your requirements are, the Schmidt & Bender is one of the best long-range scopes you can buy.
7. Bushnell Elite Tactical G2 Optics
The Bushnell Elite Tactical scope is one of the best sights in the DMR family. It meets all the standards of a designated marksman optics. The scope has a variable magnification of 3.5-21x, which is well-suited for medium or long-range shooting.
This enormous scope body is made of aluminum alloy. The scope is weather and water sealed, and it has a 34mm one-piece main tube designed to resist field conditions.
The Bushnell Tactical DMR II features a highly sophisticated reticle (G2DMR )that enables precise holdovers at all ranges, making it suitable for close-quarters combat and long-range shots.
This DMR II scope has completely multicoated ED lenses as well as a patented moisture-resisting coating known as RainGuard HD.
The scope has exposed turrets with T-Lok locking technology. This Tactical Rifle Scope from Bushnell features a wide field of vision for improved situational awareness, which is critical in battle or hazardous game hunting conditions.
8. Nightforce Optics SHV 4-14×56 Riflescope
A DMR optic should not be very pricey or have "overbuilt" features. This mostly applies if you're not going to war or don't have an infinite budget. In such a situation, the Nightforce Optics SHV series is an excellent choice. 
All your shooting activities would be covered by the abbreviation SHV, which means for Shooters, Hunters, and Varminters, especially if you choose a high-powered model like this 4-14×56.
The flexible SHV riflescope is intended for use in a variety of shooting activities. Because of the excellent glass quality, budget-conscious shooters may now experience the benefits of maximum zoom capability without image distortion. The scope has fully multicoated lens surfaces that ensure increased edge-to-edge clarity and better light transmission.
To resist all potential hunting eventualities, the SHV scope is designed on a 30mm single-piece body. The body is made of a 6061-T6 aircraft-quality aluminum tube. The scope has an exposed elevation turret, but the windage turret is capped.
The SHV scope is outfitted with a MOAR reticle in the second focal plane. This rangefinder design has lighting and enables precise ranging as well as rapid follow-up shots.
The huge 56mm objective catches enough light to produce brilliant images, which is especially crucial for low-light and general hunting situations.
9. Nikon P-Tactical 3-9×40
Nikon Optics offers another high-quality DMR scope in the classic 3-9x size and an adaptable zoom ratio of 3x. The Nikon Tactical scope is an all-purpose optic that can serve as a competition or hunting scope. The name implies a caliber-specific sight with a specially designed reticle that provides bullet drop hash marks. This BDC600 Reticle has open-circle aim points that are designed for specific calibers.
Although these riflescopes come in a variety of configurations, they all have completely multicoated lenses to improve the clarity, brightness, and contrast of the sight image.
This Nikon 3-9X40 riflescope is made of a tough 1-inch aircraft-quality aluminum tube. The scope is fog proof, shockproof, and waterproof.
This Nikon optics uses a tactical-type windage and elevation turrets with quarter-inch clicks at 100 yards. The scope is designed to give you short – medium-range shooting precision in all weather conditions.
10. Primary Arms SLX 4-14x44mm FFP Rifle Scope
This Primary Arms scope is ideal for individuals searching for the best scope they can use on a DMR firearm. The Primary Arms FFP riflescope has a minimum magnification of 4x for quick, precise close range shots and a maximum power of 14x for longer ranges. 
This SLX scope, with its proprietary ACSS Orion FFP reticle that has holdovers for wind and bullet drop, is ideal for accurate field ranging.
This classic tactical reticle features an illuminated horseshoe and would look great on any AR-15 or other hunting rifle.
The scope is built on a 30mm tube composed of aircraft-grade 6063 aluminum that has been treated for waterproofing, shock proofing, and fog resistance. With an objective lens diameter of 44mm, this scope allows enough light for a bright and clear vision in all lighting settings.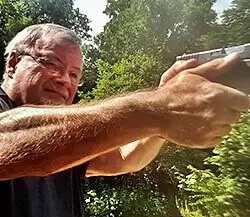 Mike Hardesty is a published freelance gun writer. He also possesses specialized expertise in rifle scopes With dozens of articles and reviews published in Pew Pew Tactical, Snipercountry.com, and TTAG (The Truth About Guns), Mike is considered a firearms expert. His special area of expertise is handguns.
Mike is a long-time shooter. He has been punching paper targets, taking deer and other game and shooting at competitions since about 1975. Other related pursuits include reloading and bullet casting. He currently reloads for over 10 calibers, both handgun and rifle. His reloads, particularly for 9mm, were in great demand during the height of the ammo shortage among family and friends. He donated hundreds of rounds to informal shooting sessions. He was quoted as saying "I do not sell my reloads but I sure will help my guys shoot 'em for free!". He has a few cherished firearms that he has inherited or otherwise procured — those are his favorites.
He earned B.S. and M.S. degrees from Indiana State University in 1974-1975.
He's a firearm experts and is the founder of mhardesty.com.