Do you need a scope for your handgun? Let's help you find one that meets your need!
If you want to hunt a deer or take down the hog population with your handgun, you'll need a nice scope. Similarly, if you want to truly extend the reach of your revolver so that you can take those very far shots, a good scope would help.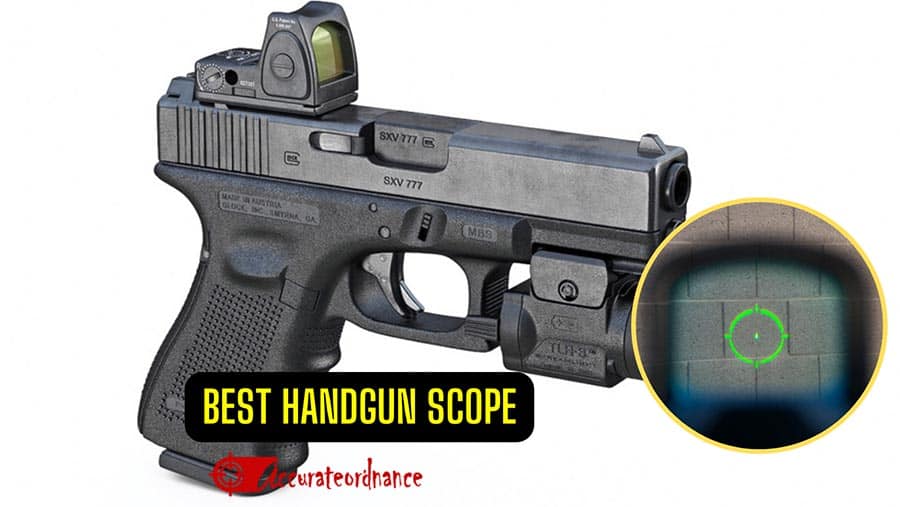 How do you know the type of scope to mount on your handgun? We have made a list of the best handgun scope for your different shooting needs. Are you ready for the most comprehensive handgun scope review on the internet? Continue reading…
Rifle Scope vs. Handgun Scope
Handgun scope
In terms of operation and design, handgun scopes are fairly similar to rifle scopes. However, there are some distinctions. Handgun scopes are intended for pistols. They have several features that allow shooters to stay within the 100-yard shooting range or closer. They are designed for close-range use and mostly lack high magnification.
Rifle Scope
Riflescopes, on the other hand, is intended for use with rifles and shotguns. They let you shoot at distances of up to 300 yards and beyond. As a result, they've been developed for long-range shooting. These scopes have powerful magnification and bigger objective lenses.
Similarities and distinctions
Both scopes are built to achieve the same result. They're both attempting to enhance your field of vision. The sole difference is that rifle scopes allow users to shoot at a target at a considerable distance, whilst handgun scopes are meant to shoot targets at a closer distance. Both are appropriate for target shooters and hunters. The sole difference is that riflescopes have a larger range while a pistol scope has a lower range.
Target shooting with a handgun vs. hunting with a handgun
Target Shooting with a Handgun
The thrill of target shooting lies in the shot. You're aiming at immobile targets at a great distance. You are given all the time in the world to acquire the cleanest shot possible. You're also doing it to improve your hunting skills.
Hunting with a Handgun
Hunting is distinct because the joy is in the hunt, not the shot. You're shooting at some distance away from the animals, and your goal is to achieve a clean hit or take down an animal in one shot. This is where you use all the knowledge you gained throughout your target shooting practice.
Similarities and distinctions
Both of these activities appear to be the same because you're targeting and firing at a target. In actuality, however, these two activities are diametrically opposed. Target shooting features a stationary target and allows you to make the ideal shot.
You're training in target shooting so that you can take a kill shot while hunting wildlife.
Types Pistol Scope
The first thing you should consider when shopping for a pistol scope is what you want to use it for. There are several scope options available, and they excel at various applications.
We go through some of the most popular choices and when you would wish to use them on your handgun.
Red Dot, Laser Holographic, and Reflex Sight
A Red dot sight, holographic sight, laser sight, and reflex sight all do not have the same feature. Each has distinct advantages. They all flourish in similar situations: close-range confrontations requiring quick target acquisition and unrestricted eye relief. That is what these sights provide, although it is done in different ways.
Furthermore, these sights operate incredibly well in low light and allow shooters to take shots from unusual positions. If you have the correct scope, it may provide a plethora of benefits above an iron sight. An iron sight is limited in its accuracy, but a good scope gives more precision. Also, some of these scopes come as open sights. Open sights are red dot sights in which the red dot is not housed in a case.
if you're searching for a more classic scope with some magnification, these sights are not for you.
Traditional Pistol Scope
All of these scopes have magnification, which is appropriate for long-range applications. These scopes can let you hit intermediate targets more easily. They are available in a variety of magnification ranges. While these scopes allow you to shoot longer-range shots, they have severe drawbacks for tactical close-range situations.
Whether you are using one of the sights mentioned above or a traditional scope, any scoped handgun will give better results to your shooting.
Handgun Scopes: What to Look For?
You're going to have some questions while looking for the best scope for your handgun. Reviewers and specialists use a lot of terminologies, and it can be difficult to know which is most important. That is why we created this detailed guide to take you through all you need to know to choose the best sight for your handgun.
What Exactly Is Eye Relief, and How Much Is Needed for Handgun?
The distance between your eye and your scope is referred to as eye relief. In general, the greater the eye relief, especially when using handgun scopes, the better. This is due to the fact that if you do not have adequate eye relief, you will not be able to line your shot properly to strike your target.
So how much eye relief do you need for your pistol? It mostly depends on how you shoot, but you should have at least 12inches of eye relief. Note that scopes with 1x magnification have infinite eye relief; thus, this isn't an issue.
What Is Parallax and Why Is It Important?
Parallax is the displacement that your sight may cause when you view through it. The majority of scopes have a parallax knob, and most pistol scopes are parallax-free to about 50 yards. This is not always the case.
If you're using a scope that is not parallax-free, you'll have trouble lining yourself up correctly behind the scope. Even tiny changes might cause your crosshairs or reticle to go off-target, causing you to miss your shot.
What Magnification Do You Require?
For pistol scopes, there is a lot of disagreement over the amount of magnification needed. There's no denying that pistols are short-range firearms, which is why many shooters advocate either a red dot or reflex sight. You won't have any trouble reaching your target.
A standard scope, on the other hand, can help you spot and identify your target if you require a bit more accuracy. While many handgun scopes have magnification capabilities as high as 8x, you would seldom require more than 5x power. 2x is often enough to achieve a precise shot.
There is no incorrect answer when it comes to the magnification you should use, but keep in mind that additional magnification will not compensate for a poor scope or poor shooting skill.
Mounting Your Scope
It is critical to check that you can put a new sight on your firearm before purchasing one. Picatinny, dovetail, and weaver are the 3 common mounting choices for pistols, but they are not the only ones.
After you've decided on the kind of scope mount, your handgun has, you can narrow down your search for scopes that will easily mount.
Zero Your Scope
It makes no difference if you bought the worst or greatest scope in the world; if you cannot zero in on the scope to make it accurate, the scope will be useless. If you've zeroed in a rifle previously, the method is the same; the only difference would be the distance at which you will zero it. A rifle scope is usually at 100 yards, while a handgun is sighted between 20-30 yards.
Just set your target at the proper distance, take your time and have fun with it!
What Lighting Condition Will You Shoot At?
It makes no difference what you're attempting to shoot; you cannot hit a target that you can't see properly. This is where scope brightness becomes critical.
If you're going to be shooting at night, you'll need a red dot or reflex sight.
This type of light will not illuminate the target, rather, it will make the reticle incredibly visible. However, if you want to use a standard scope, you are not completely out of luck. Some conventional scopes include an illuminated reticle that makes the crosshairs visible in the dark.
Another factor to consider when you're looking for a good handgun scope is the brightness. The scope must allow enough light transmission so that you can easily see your target.
Consider Warranty
Before getting any scope, you should think about the warranty. With that, you're sure to enjoy your scope for years or get a replacement if needed,
Best Handgun Scope Detail Reviews
1. Leupold VX 3 2.5-8×32 Handgun scope
The first scope we will review in our list of best handgun scope is the Leupold handgun scope. You can use different scopes for handgun hunting as a handgun hunter. However, most shooters prefer to have a single optic for all their shooting.
This Leupold handgun scope is the best all-around scope I have used. You can use it as a pistol scope, scout scope, or for other shot-range shooting firearms. I've used this Leupold pistol scope on a number of firearms, and now it is being used on my Super Redhawk Ruger pistol.
This scope's glass is very clear. To enhance light transmission, Leupold employs a wavelength-specific lens coating. It means that this scope can produce sharp, super-bright sights even at dusk or dawn.
This Leupold scope has made my life much easier when it comes to taking down wild hogs from my land. The scope has a standard duplex reticle. This reticle is not like the fancy reticles you'll find in some other scopes, it is very simple, and it still gets the job done correctly without fuss. The duplex reticle, when combined with the rapid focus eyepiece on the scope, makes the shooter have a fast target acquisition.
The eye relief of this Leupold pistol scope is a whopping 15 inches. This is one of the main reasons why this scope is ideal for every type of firearm you can think of. Furthermore, the eye box of the scope is very large. So you can easily aim with this scope without worrying about where to position your eyes.
This Leupold scope is unbelievably durable. It is also quite light, weighing only 10.9 oz. The scope is built of solid aircraft-grade aluminium, and it was Punisher tested by Leupold before being approved.
It has been nitrogen-purged and properly sealed to make it fog proof and waterproof. Many shooters have reported that they had dropped the scope in water-logged places, but it came out as effective as it had been. Mine has also been knocked around, dragged, and dropped on hard surfaces without ever losing zero.
To top it all off, it can withstand whatever amount of recoil you can throw at it. I tried it on a 308 rifle and it handled the recoil smoothly like it wasn't a big deal. Leupold optics are kings when it comes to durability. I have never had a failed scope from this brand.
The turrets of the Leupold VX scope are adjustable by 1/4 MOA per click. The turrets are incredibly smooth and spin effortlessly with the fingertip. They also have an audible click. Windage and elevation can be easily modified, and you can also return to zero with ease. Since it is a short-range scope, sighting at 100 yards would be a breeze.
It has a moderate objective lens diameter of 32mm, and the magnification ranges from 2.5-8x. Because of the fast-focus eyepiece, the zoom is incredibly smooth, and it is still clear at the 8x zoom power. I've had no problems with parallax.
The scope does not come with mounting rings, thus, you will need to purchase these separately. I really like the Leupold Quick Release Rings.
This Leupold scope also comes with a Lifetime Warranty. If something goes wrong, it will be replaced. I could go on and on about how fantastic this scope was when I used it, but you could go check it out for yourself.
2. Trijicon RMR Handgun Scope
If you are a fan of red dot sights, then you might want to consider this Trijicon RMR handgun scope. Red dot sights are the best optics for pistols because of their weight and fast target acquisition; this scope is not an exception! Although pricey, but extremely tough and with added features not found in some pistol red dot sights.
This is the most durable and battle-tested pistol red dot sight. But since it does not have a wide range of magnification, you should expect a narrower viewing window. Although this is not a big problem when you've got both eyes open.
The Trijicon RMR has a long-lasting battery life with about 4 years of continuous use at the level 4 brightness level. If you want to use this scope at a higher setting, I'd recommend changing the batteries yearly.
One disadvantage of the battery of this red dot sight is that it is located at the bottom. As a result, you must dismount and zero each year again.
Buttons are simple to operate (the left side to increase brightness and right side to reduce brightness; you can hold it for a few seconds to turn it off). Adjustments are also highly tactile in nature.
Another significant advantage of the RMR family is the largest range of custom slides that have already been manufactured for them. Alternatively, more general solutions, like the M&P Core, Glock MOS, or dovetail attachments, would be required.
This is one of the few optics on this list that works well in low-light conditions or night vision. All of the others bloom excessively because they are very bright. The red dot is like a laser on the target at the lowest brightness level. When compared to merely using night sights,
The Type 1 will save you money, but this Type 2 features updated electronics that take care of the semi-common problem seen in Type 1.
It also has a manually adjustable brightness model, allowing you to select the optimal option for your situation.
3. Burris Optics Handgun Scope 2x20mm Plex Reticle
The next scope to be reviewed is the Burris handgun scope. Burris hits another home run with this sight. Despite the fact that it is a fixed power scope, this Burris optic was one of the first scopes that provided handgun precision shooters and hunters with the most accurate shots.
The Burris Handgun Scope is a fantastic, high-quality product from this illustrious brand. They come in nickel and matte black finishes, have a 1-inch tube diameter and are composed of aircraft-quality aluminum. It is filled with nitrogen to avoid fogging and to make it waterproof and shockproof.
It has a fancy plex reticle that combines the crosshairs of a conventional duplex reticle with BDC adjustments.
The elevation and windage adjustment turrets are composed of steel and are precision-built to last a lifetime. There are no eyepiece or parallax adjustments, as this is a specialized point-and-shoot optic.
The scope's eye relief measures about 10 inches. It has fully multi-coated lenses, and one of the nicest features is that it only weighs 7 ounces. This optic will be comfortable to hunt with and tote about all day.
Have you seen the shockproof ability? Burris puts these through their paces with full power loads as high as they can go. They put it through a lot of recoil testing to ensure it works on any handgun.
It's not fully recoil-proof, but you won't lose your zero so soon after you have zeroed the scope.
4. Leapers UTG 2-7×32 Handgun Scope
The Leapers UTG Handgun Scope comes next. This scope can be used on any handgun. It has an illuminated reticle and this reticle will return to black when the battery is removed. The side-wheel adjustment allows you to activate green or red illumination and alter brightness levels.
It has a lockable turret and zero set with a 1/4 MOA adjustment.
The fast-focus eyepiece is adjustable, and it has a magnification range of 2-7x with a field of vision of 32mm. This scope has its parallax set at 35 yards, making it a good hunting scope, ideal for shooting deer from a close-in stand.
The scope has a 1-inch tube is diameter, and it is nitrogen filled, making it shockproof, fog proof, and rainproof, and the lengthy eye relief is about 25 inches, allowing even individuals with an extremely broad wingspan to hold the pistol fully extended to shoot.
Another nice touch with this optic is the inclusion of Weaver and Picatinny mounts. It also comes with a flip-up lens cap.
5. Vortex Optics Crossfire II 2-7×32
Vortex Crossfire II is another great scope you can mount on your handgun. Vortex makes a scout riflescope that is ideal for this handgun shooting.
There are a lot of great features of this scope, but let's go over some of the important ones.
The Crossfire II scope has a variable magnification of 2-7x, and when you look through the scope, you'll find that the 32mm objective lens is an added advantage to the quality and field of view you will have.
The scope is made with a 1inch main tube diameter of aircraft-grade aluminum. It is O-ring sealed and nitrogen purged, making it waterproof and fog resistant.
It has a V-plex reticle which is a favorite of hunters, and it is simple to sight a target with the scope. The reticle of this Vortex scope is on the second focal plane. This second focal plane reticle stays the same "in terms of size" as you increase magnification, giving the shooter a superior sight image and making it easier to pick up a near target (handgun hunting ) and follow a moving target.
Since a V plex reticle does not get too big with magnification, the shooter can be sure of a clean and ethical shot placement every time.
The capped turrets are fantastic because they are finger adjustable and zero-resettable.
Both the objective lens and ocular lens are fully multi-coated, which is ideal for a handgun hunter that wants to stalk their target. The coated lenses are anti-reflective and help improve light transmission through the scope.
This Vortex scope is a long eye relief scope; it has an eye relief of about 9.45inches; however, several reviews have stated that they could or have positioned this scope at nearly 12″ and had no change in operations or effectiveness, which is fantastic news!
The Vortex range of scope is designed to be very tough; as a result, they are as hefty as a hammer. This scope weighs 1.5 lbs. When it comes to pistol scopes, all of the options with adjustable magnification will definitely be heavier, especially when mounted on a handgun.
6. Burris Handgun Hunting Scope 2X-7X32mm
The first Burris scope we reviewed in this article is a fixed magnification scope. This time, we would look at a variable magnification scope.
This Burris scope is designed to withstand the recoil of any type of hunting handgun, whether it fires a small or large-caliber round. This Burris is well-built; I used the scope for years and have no reason to regret it.
The sight has a 2x to 7x magnification that allows for mid to long-range calibers.
At 100 yards, you should expect a 27 feet field of view when you look through this scope. This long eye relief scope will protect your face from a scope bite regardless of the recoil from your firearm.
This scope weighs about 12.26 ounces and has dimensions of 9.7 x 3 x 3 inches. The scope has 1/4 MOA elevation and windage adjustment and a strong brilliant outer surface coating for weather resistance. It also has coated lenses that also protect the glass from weather and scratch.
7. Leupold FX-II Scout 2.5×28
One of the best scope I have used with a .22 gun is the Leupold FX-II scope. A gun that hadn't seen much action in years is now a regular in my range-day selection.
This is due to the amazing features that the Leupold FX-II scope can offer to an already stunning firearm. Don't let the low price of scope scare you; it is far from a low-cost scope in terms of features. It has some incredible characteristics that will astound even the most seasoned shooter.
Stay tuned to find out why this scope is a good handgun scope.
The glass clarity of this Leupold Scout scope is among the best I've seen at this price.
The brightness and clarity give me a lot of confidence while trying to aim at any target. It comes standard with a duplex reticle which is basic enough for any shooter.
It's a simple reticle with no frills. Simple and fun to use. This reticle's thinned-out center enables faster target acquisition. The clarity of the Leupold Scout scope has dramatically improved my use of the scope.
The Leupold FX Scout was initially intended for use with a scout rifle. That being said, I've discovered that it fits well on so many firearms I've decided to use it on my handgun. This long eye relief scope has been flawless because I have it placed somewhat forward when aiming with my handgun.
Furthermore, because of the extended eye relief, I don't have to worry about the recoil of any handgun. Although, it is expected that a handgun scope has a long eye relief. I got a black eye from one of my scopes when I started using scopes, so I know the importance of eye relief. Even if it was most likely a human error, I don't want to be in that scenario again!
The scope was well constructed, and it could handle anything thrown at it by any handgun.
This scope has been exposed to wind, sand, dirt, and rain. Nothing has ever hampered Leupold Scout's performance. It is fog proof, shockproof, and waterproof, and it comes with a lifetime guarantee from Leupold.
So far, the windage and elevation knobs on the Leupold scope have performed admirably. They are your usual medium-priced turrets with no flaws but nothing above basic.
They have distinct sounds and movements. My experience zeroing this scope was really simple. The turrets moved perfectly with each turn, and it took about a half hour to get it zeroed. The scope has maintained the zero really well. I haven't touched the knobs since the first time I zeroed.
The scope's 2.5X magnification has been ideal for my hunting needs. I am yet to detect any parallax difficulties.
I always conduct considerable research before purchasing a scope to ensure that I won't have a parallax problem.
The Leupold Scout scope does not include mounting rings; I had to purchase them separately. I chose the Warne 1inch Quick Detach Scope Rings. They look excellent and can be quickly detached. The Leupold FX is a fantastic all-around scope that beats competitors in its same price range. It is undoubtedly one of the best handgun scopes.
8. Crimson Trace CTS-1550
Want to ease your way into the world of mini pistol red dots with the least amount of financial risk? Consider the Crimson Trace scope. In terms of style, this scope is just average.
But I must warn you that it is slightly wider than "normal" micro-compact pistols. As a result, you'll have some shelves hanging off the sides. It does not appear to expose any devices; thus, waterproofness should be enough.
The life of the Battery is more than two years, which is excellent.
A beautifully clean and bright 3 MOA reticle in the middle. One advantage is that it provides a somewhat larger field of view.
9. Vortex Optics Venom Handgun Scope
This is the last scope we would review on the best scope for handgun shooting. The Vortex Venom Red Dot Sight supports rapid target acquisition while offering an accurate point of aim, allowing you to get your shots on target as quickly as possible. The aluminum casing of the Venom scope assures that it will withstand everything thrown at it by your handgun.
This Vortex Venom scope has high-quality and fully multi coated lenses with a clear and broad field of vision. You can select between the 10 brightness settings. The dot intensity controls are easily situated on the scope's left side.
The 1 MOA elevation and windage adjustments are extremely smooth and make zeroing a breeze. The top load method makes changing the CR1632 battery a snap because you won't have to disconnect your sight to do so.
The Venom Red Dot will fit comfortably on your handgun, offering you maximum versatility.
FAQ
Is It Possible to Mount an Optic on a Pistol?
The answer is YES. A scope can be mounted on a handgun. Handgun scopes come in a range of sizes and types to match almost any handgun. However, you have to be mindful for the size of scope because handguns cannot handle heavy scopes.
Why Should You Put A Scope On Your Pistol?
A pistol scope will ensure that you hit a target even if it is located far away, such that your ordinary eyes cannot see. It's useful when you need to hit anything from 75 – 100 yards or beyond.
Is It Possible To Kill A Deer With Your Handgun?
It might be difficult, but it depends on several circumstances. If the deer is between 30 and 50 yards distant, it is possible to shoot and kill it. The caliber that is been used is also important.
What Is the Function of a Handgun Scope?
A pistol scope is a sight particularly developed for handguns. Handgun scopes may be used for a range of activities, including target shooting and hunting.
What Kinds of Handgun Scopes Are There?
There are various kinds of pistol scopes, each with its unique features and advantages. The scope you select will be determined by your individual requirements and preferences. We've put together an article about the top handgun scope. Read and select the best scope for you.
Does the size of the scope tube matter?
The size of your scope tube is crucial as it contributes to the light-gathering capabilities. A wider tube diameter will let more light in, which is helpful in low-light situations. A bigger tube, on the other hand, adds weight to your scope. As a result, these two factors must be balanced.
Is it possible to mount a scope on a revolver?
You can attach a sight to your revolver. It will enhance your shooting accuracy.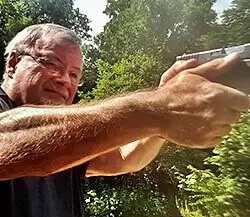 Mike Hardesty is a published freelance gun writer. With dozens of articles and reviews published in Pew Pew Tactical, Snipercountry.com, and TTAG (The Truth About Guns), Mike is considered a firearms expert. His special area of expertise is handguns.
Mike is a long-time shooter. He has been punching paper targets, taking deer and other game and shooting at competitions since about 1975. Other related pursuits include reloading and bullet casting. He currently reloads for over 10 calibers, both handgun and rifle. His reloads, particularly for 9mm, were in great demand during the height of the ammo shortage among family and friends. He donated hundreds of rounds to informal shooting sessions. He was quoted as saying "I do not sell my reloads but I sure will help my guys shoot 'em for free!". He has a few cherished firearms that he has inherited or otherwise procured — those are his favorites.
He earned B.S. and M.S. degrees from Indiana State University in 1974-1975.
He's a firearm experts and is the founder of mhardesty.com.