What's the big deal with LPVO scopes? Which is the best LPVO scope? Why are they dominating the optical market with more instructors, law enforcement, and military forces using them? I'll tell you the answer with one word: adaptability. 
An LPVO or a Low power variable optic is a type of scope that does not provide much magnification because it is meant to provide a small magnification range for close and mid-range shooting. The majority of low-power variable optics have a range from 1x – 6x. Others can go as far as 8x, but anything less than 3x-9x is typically considered an LPVO.
These are frequently compared to higher-powered scopes, although it's more appropriate to compare these scopes with red dots because they're utilized in similar ways. Though some shooters and hunters are beginning to utilize them for long-distance hunting and shooting, they are most needed when you have to reach a target quickly and obtain precise shots at close or mid-range.
Our top picks for the best LPVO scope;
What is an LPVO?
The term LPVO is frequently used without any clarification as to what exactly classifies a scope as low-powered. To give a definition, we'd say  it is an optic with a limited overall magnification range, beginning with 1x magnification 
and extending to roughly 6x or 8x magnification on the other end.
These riflescopes are used on AR-15 rifles and other carbines to provide the user with accurate close-range shooting capabilities as you'll get in a red dot, as well as the ability to increase magnification to quickly reach targets roughly 200+ yards away with a rapidly adjustable lever.
As a result, they are perfect for hunting, 3-Gun competition, and even self-defense.
With that in mind, let us take a look at some reasons why you should use a good LPVO scope and then some features to consider while choosing a scope. 
Why Should I Use LPVOs?
The greatest solution or best optical replacement for a red dot is an LPVO. This is because you will still get all the benefits that you used to get from red dots, and this time, you have an added benefit which is magnification. This invariably means you'd get the best of both worlds.
These optics unleash your rifle's full capability. You will see the benefits more clearly after you've had a firsthand experience. 
Why did the majority of the 3 gun competitive shooters equip their firearms with them? The answer is simple; it is because they operate amazingly well and the technology is improving.
LPVOs have come to stay, and they are the way to go. Red dot sights have their own place, so if what you have is an AR-15 for "do everything purpose," I strongly advise that you mount an LPVO on it. 
As they bridge the gap between high-powered riflescopes and red dots, LPVOs are regarded as the do-it-all optic. A red dot is a non magnified optic that excels in close quarters and delivers fast target acquisition, but a high-power magnified optic excels at long-range scenarios. Many LPVOs are quite versatile; you can easily clear and knock out danger from 200 yards.
Types of LPVOs
Our type classification is based on the type of focal plane of the reticle 
1. First focal plane
First focal plane scopes have the reticle directly in front of the erector. This causes the reticle to expand and shrink as you increase or decrease magnification. Nothing actually expands or shrinks; it is the magnification change that just gives the illusion that it does.
Modern LPVO reticles sometimes include indicators for windage and bullet drop, as well as rangefinders. These markers are commonly measured in MILs or MOA. The advantage of using an FFP reticle is that the measurements remain constant regardless of magnification, making them accurate at any magnification.
2. Second focal plane 
The reticle in second focal plane scopes is located behind the erector. As a result, the reticle remains the same size across the magnification range. Because the reticle remains constant as magnification changes, measurements in MIL or MOA are frequently only accurate at a single magnification. This is usually the highest magnification setting. This can restrict your possibilities with high-powered magnified scopes. 
You will need an FFP reticle for scopes with a 1x-8X or 1x-10X, and sometimes a 1-6X scope might need an FFP reticle, but this is dependent on the design of the reticle. If you utilize a 1x-4X or a 1x-5X scope, an SFP reticle would most likely be enough.
>>> Read more about FFP and SFP
The most significant features in the best LPVO scope
In several aspects, LPVO scopes differ from other sights; it, therefore, means that the main qualities that make the best LPVO scope may not be useful on a typical variable scope. As a result, it's critical to understand a few crucial characteristics of an LPVO.
1. Eye Box
In any sight, eye box is usually the area behind the sight where the shooter can see the scope's full image. The larger the eye box of the scope, the faster the shooter will be able to effectively get the scope and find the target. LPVOs that come with a large eye box makes it easier for you to see your target at low magnification with little or no scope shadow.
Another measurement that we have and can say is close to the eye box of a scope is the exit pupil. A bigger exit pupil means that you would have more space. However, the exit pupil does not provide the complete picture. Different optics can have the same exit pupil, but one could obviously have a bigger eye box.
2. Reticle Design 
LPVOs put scope manufacturers to the test by requiring them to create reticles that perform at close range and mid to long ranges. This frequently leads to an intriguing combination of features.
When a shooter has a scope with high magnification, the shooter will most probably want a more sophisticated reticle to account for windage and bullet drop. To utilize these different reticle designs, you'll need to know the ballistics of the bullet. A triangle-like design with windage measured in MOA or MILs looks like the most difficult.
Because LPVOs are used for both long-range and short-range targets, you'll need an illuminated reticle — preferably one that is brilliant and eye-catching in daylight. More budget-conscious LPVOs sometimes fail to produce genuine daytime bright illumination, which is a characteristic worth paying for.
BDC reticle is the third type of reticle. They are programmed to automatically correct for drops at specific ranges. This feature is tailored to a given caliber loading in a specified barrel length. Any other thing may cause deviation from the expected BDC.
3. Glass Quality
Any discussion of optics must include a discussion of glass. Glass has a significant impact on the overall clarity, and it influences color accuracy or determines the level of distortion on the image. One of the most important characteristics to look out for in excellent glass is having an ED glass (extra-low dispersion). ED glasses produce a clearer image with more accurate color representation.
Lens coatings can also improve light transmission, eliminate glare, and prevent abrasions. To get the best picture, use completely multi-coated lenses.
The origin of the glass also has an impact. Glasses from Japan and Germany are usually regarded as the best. Japanese glass is used by firms such as Nightforce, whereas German glass is used by well-known brands such as Zeiss. Expect Chinese glasses with more affordable alternatives.
4. Magnification
To begin with, these LPVO scopes are not meant for extremely long-range use but rather for near to mid-range situations. The magnification typically ranges from 1-10x.
These scopes are particularly intended to recognize targets in combat and engage as rapidly as possible. This does not preclude them from making precise and accurate shots, but the ultimate purpose of an LPVO is to fast target acquisition.
Red dots have a 1x magnification, and you may use a magnifier to see far targets. This works fine but often restricts you up to 3x, depending on the magnifier you choose.
Because LPVOs are manufactured as a single unit, instead of having a separate magnifier, altering the magnification is significantly easier, especially if you use a throw lever is used.
5. Eye Relief
Another fantastic feature of an LPVO scope is eye relief, which is where these optics truly shine.
The majority of long-range and classic scopes feature a small eye relief window. To acquire a clean image, your eye must constantly be at the proper distance from the scope.
LPVOs are more forgiving, and they can still provide a clear sight image regardless of how near or far your eye is to the glass. This is especially useful in a battle when you or your target is running and shooting from numerous places. With a broader eye relief, you may engage faster and acquire targets faster.
6. Durability 
Another advantage of using an LPVO over a standard scope is the damage it can withstand.
This is an important consideration when firms develop and manufacture them. They recognize that they will need extra strength due to the settings and environments in which they would be employed. LPVOs would take a hit and keep fighting.
7. Light Transmission 
Light transmission or the performance in low light is not as important when it comes to LPVOs because this feature is for a scope with greater magnification ranges. This is due to the fact that when magnification rises, the exit pupil contracts, limiting the quantity of light passing through. However, at 6x or 8x, you can (and probably will) notice a drop in brightness.
Look for scopes with crystal clear image clarity and exceptional low light performance, whether at low or maximum magnification. The greatest 1-6x LPVO scopes will offer near-realistic brightness over their entire range.
8. Image Clarity 
The best LPVO scope will provide pictures with outstanding contrast and sharp image. Clarity is non-negotiable. Dust on the sight, especially if it has an illuminated reticle, could make it considerably difficult to sight.
9. Field of View
We have not discussed it much because these scopes have the same price range; however, the field of view might be a deciding factor when selecting anything to replace an iron sight or a red dot. It may seem counterintuitive, but a riflescope with similar specifications to another scope may have a broader field of vision than the other.
FOV is measured in feet, and it refers to how much of the image can be seen around the center of the sight reticle. Can you sight up to 100 feet? Or is it just 85ft? More is often seen to be better. Don't mix up FOV with eye box; they are very different.
10. Mounts
Many people do not pay enough attention to scope mounts, especially when paired with an LPVO. Think about it. 
A decent sight with a good scope mount equals accurate and reliable shots. Inaccurate performance would be gotten when you pair a quality sight with a poor scope mount on a decent rifle.
An LPVO can be mounted in a variety of ways, including cantilever, fast detach, bolt-on, and rings. The best mount is usually determined by personal preference. It'll be great if you consider the type of scope mount if you still want to use your red dot or backup iron sight.
Best LPVO Scope
1. VORTEX RAZOR 1-6X Rifle Scope
The first scope we will look at in this best LPVO scope review is the Vortex Razor. This Vortex Optic is an excellent scope brand, as we all know, and their Razor Gen II-E model is the greatest LPVO optic you can buy as a short-range shooter. This scope has the ideal combination of magnification, dependability, eye relief, and performance.
The Vortex Razor is competitively priced, and it is my first choice or best recommendation for anyone who is confused about which scope to acquire. This scope model can easily be classified as a mid-tier LPVO. 
This second focal plane scope is ideal for close-range to mid-range battles and functions in the way that a red dot and riflescope will function when combined as one. This represents the finest and best of the two worlds.
The Vortex Razor family of scopes, like its name, provides razor-sharp picture clarity, good resolution, light transmission, accurate color, and sharpness from edge to edge.
This scope's glass quality is excellent, and the kind of clarity you'll get is just exceptional. The quality and clarity is one reason you should give the scope a try. The Vortex Razor riflescope is the nicest I've seen for a real 1x optic. It's such an impressive device.
I'm pleased with the Vortex Razor I got. The glass is excellent, as I mentioned; it has excellent clarity, is quick up close, and it is still quite accurate at great distances. When I observed the weight of the scope, I don't think I'll say it was excessively hefty, and I had no trouble transitioning from close range to more distant targets.
Vortex provides three distinct reticle options in this riflescope model: MOA, MRAD, and BDC. The BDC reticle is very popular and a commonly chosen option. Because it has a second focal plane reticle, it will always be the same size regardless of the magnification setting.
Generally, I am quite satisfied with this low power variable optic I got, and this is a respectable optic that I would suggest to shooters looking for the best LPVO scope or those who prefer to use it rather than using a red dot sight. It's a fantastic SFP LPVO scope that won't let you down.
2. Burris RT6 1-6x Rifle Scope
The Burris RT6 scope is a good value-for-money LPVO scope. Although this Burris RT6 scope is usually used for fun or as a backup scope for home/self-defense, it still provides adequate quality, and it is very easy to use, even for a novice.
Most of the LPVO optics you will find in the cheap scope category will be of entry-level quality and suitable for novice users. The Burris 1-6x scope is one such LPVO. The scope has an all-time classic 1-6x magnification setup, which many consider to be a good balance in the 1x performance and other features like the eye box, eye relief, and focus at maximum power. Since it is an SFP LPVO scope, these features are even more important.
The Ballistic 5X reticle on the RT6 gives holdovers up to around 600 yards. The ring and dot are illuminated, but the crosshair is not. This is an advantage for some shooters and a disadvantage for others. In any case, the reticle is quite visible without illumination, which may be crucial given that it is visible in the daytime but not necessarily bright in daylight.
The scope has capped turrets, and they have 1/2 MOA. The turret in this scope lacks tactile clicks. With the scope's design, I can say it is that kind of set-and-forget scope; although the need to adjust a turret less often might be seen as a flaw, but it is acceptable for those who would not need to make a lot of adjustments or dialing.
Generally, the Burris RT6 is a good low power variable optic that gives an excellent result. It is an entry-level optic with 1x true magnification that you can use with your two-eye-open and some long-shot chances at a reasonable price.
3. Primary Arms SLX 1-6X FFP Scope
The Primary Arms scope brand has established itself over the years and has a reputation for being one of the leading manufacturers of low-cost optics, especially its SLX range of scopes. This FFP LPVO scope gives a shooter the best image possible when aiming at short or mid-range targets.
This Primary Arms LPVO 1-6x magnification scope has a first focal plane reticle, and it's a great one. The Advanced Combat Sighting System ACSS reticle from Primary Arms contains a ballistic drop compensator, and holdover marks up to 800meters.
That is pretty much the maximum range I'd ever try to hit with an AR-15. The Primary Arms ACSS reticle scope is perfect for long range shooting, especially varmint hunting when fast target acquisition is required.
The moving target and windage holdover indications allow you to correct for moving targets, as well as windage of up to 5mph in each direction, without cluttering the reticle or affecting performance at low magnification.
This BDC reticle is one of the best in the market, and it is ideal for AR-15 rifles to hunt prairie dogs and other pests. I have used it successfully for hog hunting, also.
This is an excellent first focal plane scope for hunting at a close range, especially if you have a limited budget. You can choose any BDC reticle for different bullet/caliber weights, and the holds may be excellent for quick draws or follow-up shots. I would gladly recommend this Primary Arms LPVO scope from my experience using the optic.
4. Vortex Optics Strike Eagle 1-6×24
The Vortex Strike Eagle is a reasonably priced choice that comes with a 1-8x variation depending on your needs. Because it is a second focal plane Vortex optic, the BDC will be accurate only at 6x, which is the highest magnification. This should not be an issue because you'll most likely be aiming at 6x magnification for shots that require a bullet drop compensation.
The magnification range of 1-6x allows a shooter to see up to 300 yards clearly and maybe up to 600 yards uncomfortably. This Vortex Strike Eagle model is a medium-range shooting scope that may also perform well at some long-range distances, depending on what you call a long-range. Long range for me is anything over 200 yards, although many other shooters might have a different definition for it.
The scope has a comfortable eye relief with a 3.5inches distance from the eyepiece at 6x magnification; however, it shifts substantially at 1x, making it impossible to maintain a totally constant shooting pattern. The eye box is also very narrow, but for this sort of low-price Vortex optic, that's a reasonable tradeoff. 
The Vortex Strike Eagle scope also offers illumination to shooters. It does everything that a red dot sight can do except that it does not provide unlimited eye relief. This scope provides the magnification needed, allowing a shooter to get out much further if required.
5. Nightforce ATACR 1-8X24
The Nightforce ATACR LPVO scope is renowned for quality and longevity in all the scope versions. The ATACR is designed to the same high standards as other Nightforce scopes, which can take some beating and still remain functional.
This scope easily made the list because it is a strong contender for our top selection. When it comes to clarity, the glass of this scope is very clear and brilliant that you'll forget that you are sighting with a low-powered scope.
At the upper end or higher magnification, there is no aberration; as a result, there is enough light transmission through the scope that early morning and late afternoon hunts will become a breeze.
I have used this scope for more than 4 years, and throughout the period of use, it has never failed me. I have carried the scope on my hunting rifle, and it has been pulled through bushes, bashed around in my hunting bag, fallen inside a poll of water, and I have even mistakenly dropped it on concrete. 
With all this beating and harsh treatment, the scope is still functional. And it is still able to maintain its zero. Aside from minor body scratches, you'd never guess it was not a brand-new scope.
If longevity and durability are your primary concerns, then the Nightforce ATACR scope is an excellent choice. It is probably more durable than the rifle it'll be mounted on.
6. Vortex Viper PST 1-6x
The Vortex Viper Gen II falls somewhere in the center when you compare it with the Strike Eagle, SLx, and Leupold. The Vortex Viper has excellent image quality, and every other thing is practically indistinguishable from other scopes at a far cheaper price. So, if you are prepared to get a quality scope but you don't have the funds, then the Viper PST is an excellent choice.
The spec sheet appears quite similar to some of the scopes that we've already discussed; it features an SFP reticle that has cross-hairs and hash marks that act as aiming locations for holdovers. The scop has a magnification range of 1-6x for mid-range to long range. It comes with an eye relief of 3.8 inches.
This Vortex Optic has an illuminated reticle, and the scope's quality makes it as good as a red dot sight in CQB. Also, this scope can perform at greater distances. When you modify your head position to produce more accurate sight images, you will get very little side distortion.
7. Leupold Mark 6 1-6x20mm Rifle Scope
The Leupold Mark scope is the last scope we will look at in this Best LPVO scope review. This scope has a magnification range of 1-6x, and it comes with a smaller objective lens diameter of 20mm. 
The Mark 6 LPVO scope is a game-changer for the military throughout the world and law enforcement teams here at home because it is exceptionally accurate, small, lightweight, and simple to use. It is not only easy to control but also durable and long-lasting. Even if you drop this scope or run it over, it will still be dead-on accurate.  
This Leupold scope is 10.3 inches long and weighs about 17 oz. It has an extended eye relief of 3.7 inches, meaning your eyes would be protected from a scope bite. The scope is waterproof and fog proof, and like every other Leupold scope, it can withstand some beating because it has been tested with the Punisher. 
This Leupold optic is an FFP scope, meaning it has an FFP reticle. The FFP reticle enlarges with the picture, allowing you to estimate the range at any magnification level. This FFP LPVO scope has a Twilight Max HD Light Management System, which provides about 30 minutes of extra shooting time in low light conditions. It also has the greatest glare reduction in the industry and edge-to-edge lens clarity.
The Military-grade scratch resistance ensures that the lens is protected. 
FAQ
What Does LPVO Mean?

LVPO is an abbreviation for Low Power Variable Optic. They typically magnify between 1x to 10X and offer greater eye relief than standard scopes.

How Long Will An LPVO Last?

Several things influence durability. Specifically, the LVPO's construction and the materials utilized. Most LPVOs are as robust as standard scopes; however, others have a more durable design.

What is LPV?

LPV is simply another word for LPVOs. Just that the "O" was removed.

What magnification does an LPVO work best?

LPVOs usually start from 1.0X or 1.5X and may go anywhere to 10X.

Which is superior, an FFP or an SFP scope?

It completely depends on the work at hand. Optics from 1-4X is normally good with SFP, while anything above that is often better with an FFP.

What is the distinction between a standard scope and an LPVO scope?

Standard scopes have more magnification than LPVO scopes, making them ideal for long-range shooting. They also feature a bigger objective lens, which lets more light into the scope and increases picture clarity.

Is LPVO Safe to Use While Hunting?

LPVO scopes are excellent for hunting; however, they have certain drawbacks. First, the magnification setting of your scope would not exceed 10x. The greater the magnification, the more you can aim farther and see clearly in low-light hunting situations. Another crucial factor to examine is the way the scope handles bright sunlight glare. If you want to use your scope during the day, make sure the brightness is controllable so you can change it to dark settings if necessary.

Is it possible to have too much magnification from an LPVO?

Increasing magnification would lower your FOV, limit light transmission, shorten the eye relief, reduce the eye box, and reduce target acquisition time. On the other hand, some people require higher magnification to see better, and it is almost always required to obtain more precision at larger distances.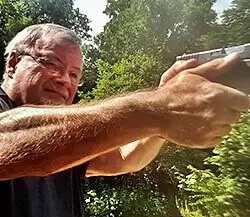 Mike Hardesty is a published freelance gun writer. He also possesses specialized expertise in rifle scopes With dozens of articles and reviews published in Pew Pew Tactical, Snipercountry.com, and TTAG (The Truth About Guns), Mike is considered a firearms expert. His special area of expertise is handguns.
Mike is a long-time shooter. He has been punching paper targets, taking deer and other game and shooting at competitions since about 1975. Other related pursuits include reloading and bullet casting. He currently reloads for over 10 calibers, both handgun and rifle. His reloads, particularly for 9mm, were in great demand during the height of the ammo shortage among family and friends. He donated hundreds of rounds to informal shooting sessions. He was quoted as saying "I do not sell my reloads but I sure will help my guys shoot 'em for free!". He has a few cherished firearms that he has inherited or otherwise procured — those are his favorites.
He earned B.S. and M.S. degrees from Indiana State University in 1974-1975.
He's a firearm experts and is the founder of mhardesty.com.