Are you looking for a good scope to mount on your Springfield Armory Hellcat weapon? We have made a comprehensive list of the best red dot for Hellcat just for you!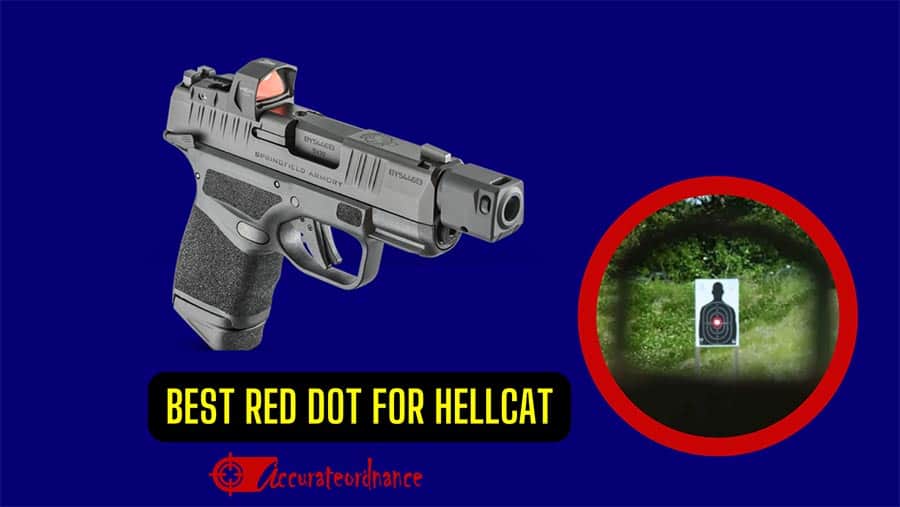 The Springfield Hellcat is a semi-auto pistol made by Springfield Armory. This weapon is quickly becoming the most popular handgun in Springfield's inventory. It is a very tough handgun, and it became very popular because of its continuous dependability, impressive capacity, and plenty of possibilities for upgrading and modding, which includes a pre-cut slide for red dot sights.
If you own a Springfield Hellcat handgun, you already know that it is a strong and accurate pistol. However, no matter how accurate a pistol or rifle is, you will still need to enhance the accuracy with some form of optics.
If you are like the majority of Springfield Hellcat pistol owners that are constantly looking for the best red dot sight to improve their shooting experience, this article will help you find a perfectly matching one.
Whether you're using the Hellcat Micro compact, Hellcat RDP, or Hellcat Pro, there's a sight for you, even if your pistol uses a holster.
Some shooters have a Springfield hellcat OSP pistol option, so they can simply and quickly install a red dot sight by direct mounting. Any regular RMSC optic may also be mounted straight on the Springfield hellcat.
So, what is the finest red dot sight to attach on a Springfield Hellcat? Before we answer that, we want you to know that we have analyzed all the red dots on this list in terms of critical factors, including durability, convenience, and performance.
Here is our top 10 red dot for your Hellcat pistol:
Springfield Hellcat Red Dot Buying Guide
Compatibility and Mounting
Before you proceed with the purchase of a red dot sight for your Springfield Hellcat pistol, you must have checked the compatibility of the sight with your weapon. The red dot that you want to use must perfectly fit the mounting surface in your Hellcat pistol, or at least it must be able to use an adapter plate.
The types of optics that fit in this way are usually knowns as micro red dots. If you're not sure, pick a sight that is narrower in breadth than the pistol slide.
In terms of direct installation, the Hellcat employs the Shield SMSc type of mount, so if the red dot is compatible with it, you'll be good to go straight out of the box.
Durability
The second factor to examine is durability. It is great to have an accurate red dot sight on your Hellcat pistol but what good is the sight if it does not work as it should or hold zero long enough?
Durability is a very important feature in any shooting accessory. Rifles and pistols are known to dish out a lot of punches during use; as a result, the sight must be able to withstand the battering from the shots.
So while searching for a micro red dot sight that is compatible with your pistol, ensure that you get one from a reputed manufacturer that has been tested and trusted. A red dot that has recoil resistance and is water-proof.
The slide of the pistol applies a surprising amount of stress on the red dot; therefore, endurance is critical to maintaining zero.
To prevent the housing of the sight from corrosion and scratches, we recommend shopping for a scratch-resistant body and lens coating.
Reticle
Most pistol red dot sights usually have two major dot sizes that shooters can choose from 6-MOA and 3-MOA. At 100 yards, a 3 MOA red dot will cover approximately 3 inches of target at that distance when you gaze through the sight. Similarly, a 6 MOA red dot will cover a 6 inches circle on the target.
This implies that a bigger dot will be a little less accurate because it would cover too much area on the target, and you will not be able to pinpoint the exact spot on the target that you will hit.
Meanwhile, a smaller red dot is more difficult to locate and trace during recoil. I always propose a 6 MOA red dot for defensive pistols, and it will cover about 1.5 inches when the target is 25 yards away. This is the range where most defensive shoots occur.
Having a bigger dot allows you to hit your target faster, which is frequently more crucial than precise accuracy.
Build Quality
You must select a red dot sight that is well-made. If you get a red dot optic that is made of poor-quality material, it will simply shatter, and you'll have to replace it. As a result, always use a sight constructed of high-quality materials.
If you need a sight that can withstand the harsh conditions you'll be using it in, then you can choose the Trijicon RMR.
Price
After considering some of the features above, you might want to look at the price of the optics next. As we always say, a low-cost optics would not necessarily be of poor quality, although they may not have all the bells and whistles in other high-end sights.
When checking the prices, don't go for a sight that is the cheapest because the majority of them are only for show and do not offer accuracy or reliability. You must be ready to invest a lot of money to buy the greatest pistol red dot sight, for your Springfield hellcat.
The price might seem high now, but it will benefit you in the long term, and your handgun will outperform others. If you're on a tight budget, the ade advance is a good inexpensive red dot.
Zero Retention
Most sights lose their zero after being removed and reinserted to the host weapon, so be sure the sight you chose has adequate zero retention.
The finest zero retention sight for your Springfield hellcat pistol is Holosun 507 K X2. You can check this article on how to sight a rifle scope.
Lens Coating
To enhance the visibility and accuracy of your Hellcat pistol, you have to look for optics that have lenses that are scratch-resistant and anti-reflective. These types of sights allow for high-light transmission through the lens. Long-range or nocturnal targets can be engaged since they are simple to spot in low-light situations with a coated lens.
You can check this article on the best low-light rifle scope
Lightweight
The next consideration is weight. It's pointless to get a hefty optic on a lightweight weapon like the Hellcat pistol because you will have difficulty carrying or using it. The Hellcat pistol weighs only 2 pounds, making it a portable weapon, and it would best fit a lightweight sight.
Accuracy
The sights' accuracy is also vital when making a choice. You must be able to strike your target without missing and this will require mounting an accurate red dot.
Battery Life
Every red dot needs a battery to function, and these batteries are usually watch-style batteries, such as the CR1632 or CR2032. These batteries are light and small, and they can power small red dots for hundreds, if not thousands, of hours.
It's also good to have basic features on the sight that can help you conserve battery, features like an automatic off, motion sensor activated, and other power-saving techniques.
Best Red Dot For Hellcat
If you want to increase the shooting accuracy of your Hellcat pistol, then you'll need a quality red dot. We have made the job easier for you by selecting and reviewing some of the best red dots you can get for your pistol. You can use all these sights for any of the Hellcat models Hellcat Micro compact, Hellcat RDP, and Hellcat Pro.
Let's take a look at them and the special features they offer. We hope that one of these optics will suit your needs!
1. Springfield Armory HEX Wasp
The first optics on our list is the Hex Wasp red dot sight. It should not come as a surprise to you that the maker of the Hellcat pistol also created a red dot, particularly for the weapon. This is enough reason why the sight should be on top of the list.
Springfield Armory, the manufacturer of the Hellcat pistol, thought it wise to craft a suitable optic for their firearm. Since they're the original maker of the pistol and the sight was specially designed for this firearm, one would expect the best results from the pistol/sight combo.
The combo is actually worth it, but let's find out how.
The reticle on this sight is 3.5 MOA, which is a decent, balanced size for shooting a pistol. The reticle of this sight is "always-on," and the brightness of the sight is adjusted automatically. The battery of this Hex wasp sight can last for roughly two years.
The Springfield HEX sight has a modest profile; as a result, it is very easy to co-witness the optic with Hellcat's factory sights. This is a significant advantage of using a red dot designed expressly for Hellcat pistols.
Another significant feature you'll find on this sight is its ability to precisely change elevation and windage. Although most optics have turret adjustments in 1 MOA increments (some even larger), the Springfield HEX comes with a nice 0.5 MOA elevation and windage adjustment.
This Springfield Wasp is well-built with a 6061-T6 aluminum chassis which can survive any shooting condition. It also comes in a black anodized finish, and it is water-resistant to a depth of one meter.
One additional, though less significant advantage of this Springfield Wasp sight, is that, since it was intended and specifically built for the Hellcat handgun, the sight closely resembles the Hellcat pistol itself. This allows the sight to merge in with the handgun for a wonderfully sleek and nice look.
2. Swampfox Sentinel Reflex Sight
The Swampfox Sentinel sight is our next recommended red dot for Hellcat pistols.
The reticle of this small optic is 3 MOA. The size of this dot is wonderful and balanced for both fast target acquisition and accuracy. The sight has an RMSc footprint and can be easily mounted on the Hellcat.
It is available in two variations. The first automatically adjusts the reticle brightness based on the surrounding light conditions. The second type allows a shooter to manually adjust the brightness and set it however at any level.
Each configuration has pros and cons. Some shooters prefer not to be bothered about making adjustments to the brightness settings, while others love to have a little more control over the brightness of the reticle. However, neither form is horrible, so it all depends on your preferences.
Each model is also obtainable with a green or red dot. Again, both have benefits, so it all depends on the shooter's choices.
The Swampfox optics has a battery life of around two years, so you won't have to replace the CR2032 battery too frequently.
The sight is not as tough as some higher-end alternatives, but it's also not as delicate as some very cheap micro red dots. It is made with a 7075 aircraft-quality aluminum chassis with lens coatings that are fog proof, waterproof, and scratch resistant. It is waterproof to a depth of one meter.
In addition, Swampfox manufactures "Ironsides Shield," a stainless steel shield that provides extra protection to the optic. However, the shields for this Sentinel's sight differ. They have a manual and automatic brightness model; thus, if you want to choose a shield for your sight you have to get a shield that matches the version you have,
3. Holosun HS507K X2
There are so many models that match Holosun's reputation for blending price and quality; this 507 K X2 model is not an exception.
The Multiple Reticle System is a significant advantage. Both reticle sizes are in this sight; you may pick between the wider 32 MOA circle or the dotted 2 MOA.
The Holosun optics has 12 adjustable brightness levels (manual), including two for night vision.
Another unique feature on this red dot is the side battery which lets you to switch out the batteries without having to remove your sight from the Hellcat's top. You shouldn't have to fiddle with it too often, though, because this red dot has a battery that can last for about 50,000 hours when you use the six settings.
The Holosun 507K has one disadvantage which is that it cannot be mounted straight away on the factory slide of the pistol.
That implies you'll have to modify the slide or install an adaptor plate. Thankfully, mounting a plate is simple, and there are extremely slender adaptor plates available, so you won't have to add a lot of mass to make this sight function.
The Holosun 507K is heavier than some other red dot sights at the same price point, but the difference is very minor that you'll not notice.
4. Trijicon RMRcc
The Trijicon RMR cc is one of the best dots for Hellcat pistols. It is a lightweight optic, although it is heavier than some alternatives on our list. This is an excellent choice for self-defense guns, especially one that can take anywhere, like the Hellcat handgun.
It has two reticle options: the 3.25 MOA version is best for higher precision, and the 6.5 MOA is better for fast target acquisition or follow-up shots. You can go for any of the two versions; it's a matter of shooting technique and personal preference; however, I prefer the 6.5 MOA because a quick draw and shot might save you compared to a little slow and pinpoint shot in self-defense situations.
To give you a clearer vision, the lenses of this sight are comprised of highly durable tempered glass that has glare-resistant lens coatings and scratch-resistant surfaces.
The entire optic is also watertight to a depth of 20 meters; I don't think any shooter would need to go that deep. The battery life is likewise excellent, with about 4 years of continuous usage. The sight uses a single CR2032 battery like those in your watch.
Overall, if you do not mind a little additional weight for better durability, then this red dot is great for you.
5. Ade Advanced Optics RD3
Our next recommendation for a Springfield hellcat red dot sight is the Ade Advanced Optics. It is a great alternative if you don't want to get the Trijicon RMRcc because it's about half the price and performs similarly!
The Ade RD3 red dot is a dependable and high-quality sight. It has a polymer lens that gives an excellent optical clarity and simple access to brightness adjustments.
The Ade RD3 red dot is a compact and lightweight sight that is suitable for Hellcat shooters searching for a low-cost red dot.
The sight is powered by a CR2032 battery. With the most current technology, it only consumes about 700 microamperes, resulting in a very extended battery life. Furthermore, the brightness can automatically switch between low and high depending on the light of the environment.
This compact configuration also enables Co-Witness to function with the majority of optics ready handguns.
It costs about half and delivers as much as the Trijicon RMR. As a result, this sight offers the best value for money, and they also provide excellent customer service!
6. Crimson Trace RAD Micro Pro
The Crimson Trace micro red dot sight is intended for use with Springfield Armory HDX and Springfield XD handguns. This sight has a 2 MOA dot, and the glass is sharp, giving a clear sight image that is easy to see and adjust. The Crimson trace is built to last with its rugged and durable weather-resistant construction.
The Micro Pro runs on a single CR2032 battery and offers seven brightness levels ranging. There are five control points for the brightness settings: which are 1 (for the lowest), 3, 5 ( for medium), 7 (for the highest), and the last for off. The automatic-off feature shuts down the reticle after 1 minute of inactivity, minimizing battery use.
The big aperture allows you to easily acquire your target while providing enough light so you can see the environment.
Because of the huge viewing area it offers, this sight is ideal for concealed carry or home defense situations when fast target acquisition is crucial. The base of the sight features 4 mounting holes that can accommodate most Weaver-type rail systems.
If you are looking for a good sight for Springfield HDX and Springfield XD handguns, this Crimson Trace should help.
7. Holosun HS407K X2
The Holosun 407K sight is a 1x magnification sight with 30mm objective. This dual tube sight comes with an integrated riser mount. The sight includes an integrated Picatinny riser mount that enables iron sight co-witnessing in close-range shooting and may also be utilized as a solo red dot.
The Holosun 407K also has an integrated weaver mount for use with various weapons. The twin tubes have independent elevation and windage controls, each having a travel range of 20 MOA. The lens of the optic is protected from rain, moisture, and dust by an integrated back cover. The sight is powered by a long-lasting CR2032 battery. it comes with a Flip-up lens cover and a set of hex wrenches.
8. JP Enterprises
JP Enterprises has a solid reputation in the precision and competition shooting field. They are well-known for manufacturing high-quality guns.
The JP Enterprises sight is available in 4 MOA or 8 MOA dot, and it is regarded as one of the best Springfield Hellcat sight. It uses a LED instead of a laser to project the targeting dot. This avoids the possibility of eye damage. The lens is hard-coated and has a light transmission rating of 98%.
This sight weighs less than one ounce; you can mount it on your Hellcat pistol without making your pistol heavy.
The sight is composed of glass-reinforced polymer and can survive recoil forces of up to 5000g. It is capable of operating in a temperature of -13°F to 130°F.
These sights use a single CR2032 battery to operate and contain a light sensor that adjusts the dot brightness. The battery can last from 6 months to a year. I recommend changing the batteries every 6 months.
This sight is covered by a lifetime guarantee from JP Enterprises. The warranty can be passed on to a subsequent owner.
9. Shield SMSc
The Shield Sight SMSc is another great red dot. It is based on the Shield RMSc, which we shall discuss shortly.
It uses a polymer body that makes the sight light without sacrificing durability. This sight is available in 4 variations, 2 polymer lenses that have quartz coating and 2 glass lenses. Each of these categories has both the 8 MOA and 4 MOA dot versions, making this an excellent alternative for people searching for bigger dots.
The reticle is projected by an LED in any version you choose. There is no chance of laser damage because the sight does not use one. This red dot is constantly on and has an automated brightness-adjusting option. Low brightness levels are suitable for night vision.
It uses single CR2032 batteries that can last between 2 to 3 years, although it may live longer.
The Shield SMSc features 4 MOA dots, which is a little bigger than most of the dot sizes we have looked at. This bigger dot aids with rapid sight acquisition. A bigger dot size is a question of personal choice; thus, I wouldn't consider it a drawback.
10. Shield Sight RMSc
The last red dot we would consider is the Shield RMSc red dot. Shield Sight RMSc is a scaled-down version of Shield Sights' flagship RMS. This red dot comes at a very high price, but the premium features make it well worth it.
The whole housing is machined with a single piece of aircraft-quality aluminum, and it weighs just more than a half ounce, which is ideal for a small pistol like the Hellcat. You may also choose between polycarbonate or glass lenses or between 4 MOA and 8 MOA.
Aiming at targets with an 8 MOA dot seems fast, and it's not so large that you won't see your target.
Finally, if you keep the dot on automatic mode, it features an amazingly rapid auto brightness adjustment.
I adore power-saving features like these and think they're a great way to avoid having to replace that fussy tiny watch battery all the time. RMSc would give you enough warning signs before the battery dies.
Frequently Asked Questions
Is it possible to mount a red dot optics on Springfield Hellcat Pistols?
Yes, you can mount any compatible micro red dot on your Springfield Hellcat OSP.
Which Hellcat optic is best?
There's no single best choice; however, the Springfield Hellcat HEX Wasp is particularly engineered to operate with this Hellcat pistol, so we can regard it as the best option.
Is every Hellcat Pistol optics ready?
No, if you need a slide that is optics ready right from the box, you must get the Hellcat Pro OSP version.
Related articles: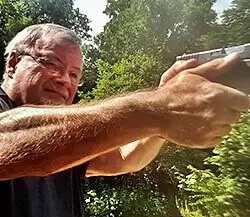 Mike Hardesty is a published freelance gun writer. With dozens of articles and reviews published in Pew Pew Tactical, Snipercountry.com, and TTAG (The Truth About Guns), Mike is considered a firearms expert. His special area of expertise is handguns.
Mike is a long-time shooter. He has been punching paper targets, taking deer and other game and shooting at competitions since about 1975. Other related pursuits include reloading and bullet casting. He currently reloads for over 10 calibers, both handgun and rifle. His reloads, particularly for 9mm, were in great demand during the height of the ammo shortage among family and friends. He donated hundreds of rounds to informal shooting sessions. He was quoted as saying "I do not sell my reloads but I sure will help my guys shoot 'em for free!". He has a few cherished firearms that he has inherited or otherwise procured — those are his favorites.
He earned B.S. and M.S. degrees from Indiana State University in 1974-1975.
He's a firearm experts and is the founder of mhardesty.com.