Are you in search of a good scope for your rimfire rifle? Search no further. We can help you find the best rimfire scope for your shooting application, whether you want to go for small game hunting or target shooting. We are aware that there are so many rimfire scope options in the market, and our duty is to help you narrow down your search. Continue reading to find out more.
Nowadays, most shooters attach scopes that could cost 2 to 3 times the price of their rifle. A rimfire scope could cost up to $4,000; however, there are so many cheaper options with a little less features that could do the job. So as a newbie in the rimfire rifle shooting world, you must get yourself abreast with all the nitty-gritty of choosing the best scope for your rimfire rifle.
Here's a little secret; Whether you want to get a rimfire scope for hunting or competition, you should also know that a good quality centerfire scope can do the same job. Although some scopes are well suited for small-bore, you don't have to spend so much trying to get a good optic. When you want to go shopping for your new rimfire scope, there are some features that you need to put on your checklist to get the best optic. We'll look at some of those features below, but before then, here is a list of our top picks for the best rimfire scope.
Things To Consider Before Buying A Rimfire Scope
Adjustable Parallax
You've undoubtedly observed parallax if you have ever seen a reticle drift about or move out of focus when on a target. This occurs when the target and reticle are not on the same plane in the scope's tube. At extremely near and long target distances, the disparity between the planes becomes magnified, reducing accuracy or obscuring the reticle. There are scopes that can be manually compensated for parallax, but others are built with their parallax fixed at a set range.
Most fixed-parallax centerfire scopes are factory-set around 150 – 175 yards—which is far too distant for most rimfire rifles.
A Fixed parallax scope is often set at around 50 – 60 yards, which is adequate for small game hunting but results in hazy images at 20 or 25 yards.
Most tactical and long-range centerfire scopes feature a parallax adjustment knob on the side of the scope, which is commonly referred to as "side focus," although target shooting scopes sometimes have the parallax control incorporated on the objective bell. It is referred to as AO or Adjustable Objective. When moving between close and far targets inside the same shot string, a side adjustment is easier to use. If you have enough of time, the AO controls work perfectly.
The focal plane
When a rifle scope is constructed, the reticle of the scope can be put in one of two positions inside the scope tube. First Focal Plane is when the reticle moves in toward the objective lens. A Second Focal Plane is when it goes in close to the ocular lens. When you increase the magnification level on an FFP scope, you will notice that the reticle will expand. The reticle with SFP optics will remain the same size regardless of magnification change.
Because holdover values do not vary with scope magnification, most hunters and long-range shooters have switched to FFP scopes.
Simply put, if all the hash marks on the vertical line (primary crosshair line) equals 1 MOA at a low magnification, it will still be equal to 1 MOA at the greatest magnification on an FFP reticle, but SFP reticles do not. This is a significant advantage in precision rimfire events, where targets might range from 20 – 100 yards or more, and the shooter may need to adjust the magnification or holdover throughout the shot. The disadvantage of the FFP reticle is that the crosshairs might be too tiny at low magnification, almost unnoticeable. That is why most hunters prefer traditional SFP scopes. Even with low magnification, a shooter can plainly see the target and crosshairs.
Check this article for the differences between FFP and SFP
Reticle
The reticle or aim point is the part of a scope that has been modified, redesigned, and altered more than any other scope part over the years. A basic duplex crosshair is hard to match when hunting with a .22 WMR. The duplex, invented by Leopold in the 1960s, employs four large crosshair lines that tapers down to thin lines where they meet in the middle. This design allows for quick placement of the crosshairs on targets, and it always delivers a clear sight image.
Bullet drop is a big concern when firing slow rimfire loads, such as the .22 LR. BDC reticles may be highly useful for hunting. BDC reticles have hash markings adjusted to the .22 LR ammunition trajectories, and it shows the bullet impact point at extended distances.
Competition reticles can soon become exceedingly complicated. Instead of hash marks showing probable .22 LR bullet holdovers, each line may indicate a specific amount of MILS or MOA (units for measuring shots). The finer these markers, presumably, the more exact the measurement. However, too many markers can soon clog the sight image, especially for shooters who have spent their whole life using a duplex reticle. This is true with FFP scopes that have low magnification and a convoluted reticle.
When you're lying in a prone position at a distance of 100 yards or more from the target you want to shoot, with a .22 LR ammunition that drops and flutters in a strong wind, the hash markings might be very useful to aim your target. If you choose a sophisticated MILS or MOA reticle for your shooting, ensure you read the handbook and practice thoroughly.
Turrets
There are generally two types of turrets on a scope. It could be an exposed turret or a capped turret. Exposed turrets allowallows manual adjustment or modification on the field, while capped turrets are typically altered once while zeroing a weapon and then left alone. The majority of NRL22 shooters use an adjustable capped turret.
If you are shooting the .22LR rifle with a scope that was zeroed at 50 yards, the crosshairs center will still hold zero accurately for a shot taken between 20 yards to 60 yards or more, depending on ammunition velocity. Beyond 70 yards, the shooter must choose between using the hash markings to hold the target and spinning the turret to keep the target centered.
Most shooters use the same reticle if a situation requires shooting a close-range target, say at 30 yards, then moving quickly to a 100-yard target. When the target is located at 100 yards or higher, it would be great to dial the turrets. Adjustable turrets are useful for long-distance rimfire shooting.
Adjustable turrets are essential for long-distance rimfire shooting, such as the growing sport of Rimfire ELR, or for taking down varmints from a considerable distance. However, when you're out in the woods hunting rabbits or squirrels, turrets would be a distraction because the majority of your shots will be less than 60 yards.
Magnification
Magnification is nice, and it's often the first feature people think about when shopping for optics, but it is definitely the least critical characteristic while hunting with a rimfire rifle. Sure, 30X magnification would be useful when shooting at a small target from a solid rest, and the target is located hundreds of yards away.
In most circumstances, anything greater than 16X is not necessary. Magnification is less crucial when hunting small games, except you're going a great distance for a varmint hunt.
Price
Most individuals do not want to spend money on getting a good scope for their 22 rifles; they see them as a rifle to play with at the range. I never encourage purchasing low-quality items and always strive to have high-quality optics and accessories on all of my weapons. It does not mean you have to spend a fortune on a sight for a 22-caliber rifle, but you should think of getting something nice.
You don't have to break the bank because you want to get a scope. There are low-cost scopes that have the features you would need for your rimfire rifle and shooting need. Do your research, compare features and go for the buy!
Best Rimfire Scope Reviews On The Market
In this scope review, we have selected the top scopes you can use for rimfire rifles.
1. Vortex Optics Crossfire II 2-7×32 Rimfire Rifle Scope
The 22lr is one of the most common rimfire ammunition that you can find with a rimfire shooter. As a rimfire shooter, you want to be sure you have the best scope mounted on your rifle before you go for target shooting. One of the best rimfire scopes you can have is the Vortex Crossfire II series. This scope comes in three different models.
The Vortex Optics Crossfire rimfire riflescope comes with three non-illuminated reticles, all of which are Second Focal Plane reticles. In this scope review, we'll look at some of the features of the V-plex reticle style of this Vortex scope.
This classic rimfire riflescope is made of an aircraft-grade aluminum main tube with an anodized finish. The lenses on the scope are machine-locked. Because it is fog proof, shockproof, and waterproof, it can withstand challenging terrain and inclement weather conditions. This Vortex Crossfire II scope has a 1-inch main tube, and the objective lens is 32 mm. The scope is designed with a variable magnification of 2x-7x.
This Vortex Crossfire II scope produces images with sharp and brilliant contrast because the lenses are fully multi-coated and can reduce glare from the sun. The scope also provides a rimfire shooter with a clear picture even in low-light circumstances. The capped turrets for elevation and windage offer a quick reset to zero feature, which aids in keeping the scope zeroed for a longer period of time. The rapid focus eyepiece enables easy tracking of targets across the whole 2x to 7x magnification range. The scope does not have night vision features.
It measures 11.3 x 3.5 x 1.53 (LxWxH) inches and weighs about 14.3 ounces. The exit pupil ranges from 4.57 to 16 mm, and the field of view at 100 yards ranges from 12.6 to 42 ft. The scope is MOA adjustable, with 0.25 MOA click increments and 60 MOA range. The scopes parallax is set at 50 yards. It has an abundant eye relief that ranges between 3.9 – 4.7-inches.
2. Athlon Optics Ares 4.5-30×56 First Focal Plane scope
The Athlon Optics Ares rimfire riflescope is one of the first optics I found quite interesting to use. Athlon Optics is known for producing high-quality riflescopes that outperform their price tag. Let's find out why the Athlon Optics is a good scope for rimfire rifles.
The clarity of this Athlon optics is mind-blowing. I've owned and used different rimfire rifles and mounted different high-end scopes on them, but many of those cannot compete with this one. Whether you are shooting indoor or outdoor, this scope will wow you. It has exceeded everything in its category. This scope serves my outdoor shooting need, and the image quality has been amazing thus far. I'm not the most precise shooter, but with this much clarity, I've been able to fire some great shots.
The Athlon scope has an illuminated reticle on the first focal plane. The reticle arrangement is ideal for my requirements. The scope has a considerably good eye relief.
I'll agree that when you increase the magnification, it might be tough to locate the sweet spot because of the eye box. However, I have had a good experience with the eye relief. This is the finest optic for any Ruger American rimfire rifle. My rifle is a 22 LR caliber; thus, recoil isn't a problem for me. The scope's eye relief is adequate for any .22 recoil, and it would be equally great with a rifle with far higher recoil. So far, the Athlon 4.5-30×56 scope has been shown to be quite durable. Rifles and scopes are supposed to be able to take some punches without breaking. This scope has been through some real abuse, and it is still intact.
The Athlon optics's turrets are one of the best scopes you would find for long-range shooting or target shooting with your rimfire rifle. Every movement produces an amazing click sound. The turrets on this scope has a click value of 0.25 MOA. Zeroing this Athlon Optic is one of the simplest I've ever had. With 5-10 shots, these optics would be completely and correctly zeroed. This Athlon scope has a maximum magnification of 30X, which I find incredible.
I'm not the most skilled shooter, but the increased magnification has helped me achieve some of my greatest long-distance shots. I haven't observed any parallax, even at the 30X magnification. The combination of magnification, clarity, and absence of parallax makes the Athlon scope a no-brainer.
The scope does not come with rings. You need to get your scope mount accessories. I bought 34mm scope rings along with the Athlon Optics. They perform nicely and give a firm touch to an already nice scope. They were simple to install on my rimfire rifle.
This Athlon scope is not a cheap scope; nevertheless, for the money, you receive a scope of high quality.
3. Vortex Razor HD SFP 1.5-8×32 Scope
As much as I enjoy the bells and whistles or fancy features in a scope, sometimes simplicity is the best option. You won't need some of the extra weight that these scopes carry when hunting. This Vortex Rimfire Scope is unbeatable in certain situations. It has all the great quality you'd expect from the Vortex brand. The scope is lightweight and durable.
If you want a simple, beautiful, and effective scope, read on to find out why this scope is unbeatable.
The glass is crystal clear and gives a very sharp image. The scope has fully multi coated optics, and it has anti-reflective capabilities. The image color is accurate, and the quality is excellent. The scope's clarity is the same even at the highest magnification. When hunting in low light conditions, the anti-reflective coating allows for easy light transmission without obscuring my vision. The BDC reticle, which provides hash markings and a target dot in scopes crosshairs, is an excellent feature. The simple design of the reticle and the scope makes it a dream optic for many hunters.
It has 3.8 inches of eye relief and a large eye box. Regardless of the magnification level, there is plenty of room to move around. While it doesn't offer as much eye relief as other high-end scopes, the eye box has never been found to be tight. This Vortex optic, like other Vortex scopes, is extremely durable. It is constructed from a single-piece aircraft-grade aluminum main tube that has been hard anodized and coated with an Armortek finish. As a result, it is extremely shockproof and scratch resistant. No matter what the scope collides with, it still maintains its integrity without a single scratch.
Furthermore, it is Argon purged to minimize interior fog, which is a major benefit on cold winter mornings. The scope is watertight owing to its O-ring seals, which keep moisture, debris, and dust out. Finding another manufacturer whose scopes are as durable as Vortex's might not be an easy task. Whatever climate or temperature you use the scope, it will work admirably. The capped large turrets make reading your windage and elevation adjustments a breeze. The turrets turn easily with little finger pressure; however, the clicks should have been made a little louder. The click sound can be heard, but it is not loud.
The caps, on the other hand, are a good touch since they keep the turrets from being accidentally moved out of place. It was very simple to zero the scope at 100 yards, and it has held zero for a long time without issue. The scope comes with an objective lens of 32mm and a variable magnification range of 1.5x to 8x. Although the scope's magnification range begins at 1.5x, it seemed like a true 1x to me. It is so near to the true 1x that I can't tell the difference.
You will not have issues with parallax. I didn't notice any parallax until I reached 8x magnification. It was simple to fix and didn't persist long. You'll have to get your scope mount because it does not come with it. Vortex optics are of great quality, and they last long. If none of the features is satisfactory, perhaps the fantastic Vortex Lifetime Warranty should be.
4. Vortex Diamondback BDC Reticle Rimfire Scope
The Vortex brand is a well-known scope producer that has hit the ground running with some extremely nice glass quality that is rated above middle-tier in the scope world. The company produces a 1-inch main tube Rimfire scope alongside the larger rifle scopes and hence carries the recognition associated with the higher quality rifle scopes.
The 35mm reticle of the Vortex Diamondback is appropriate for 22 LR Rimfire usage. The scope is made of a single-piece tube and is intended for harsh field use. Small game hunters sometimes experience field circumstances that defy explanation. I spent most of my life hunting with Rimfire rifles, and they have never disappointed me when combined with this scope.
Rifles and scopes can withstand abuse at night while hunting raccoons or chasing snowshoe bunnies with a dog during winter at below 10 degrees. Vortex creates a Rimfire sight that can withstand a beating and keep coming back for more. The sight is fog proof and waterproof thanks to the argon-purge and O-ring seals. It also comes with a lifetime warranty. It is not night vision enabled.
5. Hawke Vantage 4×32
The Hawke Vantage rifle scope is a small fixed power scope that looks fantastic on a .22 LR rifle. The scope is lightweight and built by a firm best known for producing airguns. The Hawke Vantage scope has the parallax set at 10 yards to infinity, making it ideal for your Marlin, Mossberg, Ruger, or other .22 LR rifles. Furthermore, the large eye box and wide field of vision make it simple to track small and fast-moving objects.
The accurate 1/4 MOA adjustments make the scope very simple to zero with little groups at distances ranging from 50 – 100 yards.
Furthermore, the optic is lightweight (about 13.1 ounces), but it is strong and gives clear and sharp images. It has 11 layers of multicoating that enhance the scope's clarity.
6. Primary Arms 3-9X44MM
The Primary Arms scope represents an optic with a significant increase in features and quality, but not in price. This scope features a 30mm main tube, which is larger than the 1inch tube. When you look through the scope, the larger tube allows more light transmission, and the image appears brighter.
The scope also has an objective lens of 44mm, so you'll have a broader field of vision while gazing through it. This is one of the greatest rimfire scopes you can get. It offers features seen on scopes costing between $300 to $400 but can be acquired for a lesser price. It appears to be a well-made scope. The glass is in fantastic condition. The turrets are easily adjustable. Even so, the visual image is clean and clear even at maximum magnification.
It has a 6063 aluminum construction with a black hard anodized finish You will get a one-year warranty after purchase; if a flaw in workmanship or materials causes the product to malfunction, then Primary Arms will fix or replace the scope.
HOW TO SIGHT A RIMFIRE RIFLE SCOPE
Mounting a scope is not just enough to guarantee the accuracy of your shots. You need to zero or sight in a scope for you to be able to hit your targets accurately at every single shot.
Some instructional guides may suggest that you remove the scope from its mount for specific adjustments, although this is not always necessary.
There is no need to remove your scope from your rifle if it is already mounted properly.
The most important thing to remember is to remain calm while trying to zero your scope. Don't be in a hurry; take your time on each stage of the procedure to ensure accuracy.
Step 1: Get Everything Ready
Set up your target downrange and secure it completely. Make sure you have a strong backdrop to capture your shots. Place your rimfire rifle on a gun vice or any material you want to use as a support for your rifle. Aim the rifle towards your target. The surface on which you lay your firearm should be a leveled one. After that, it is time to wear your protective gear, like your ear protection and shooting glasses. It is entirely up to you how far you want to place your target. I recommend performing it at 100 yards since anything less is insufficiently precise. Placing your target beyond 100 yards is just a way of inviting greater interference from wind and other variables.
Step 2: Aim toward the target.
Align the crosshairs directly on the targets' bullseye and shoot. This is when patience comes into play, as you must take your time and ensure that you do not interfere with the shot in any way. The rifle and sight must do all of the job. Keep track of the spot your shot landed on the target. If the mark is not visible, use a marker to make it visible. If your shot does not hit anywhere around the target, try to find out where it went and modify your aim appropriately.
Step 3: Make Modifications
After you've taken your shot, make every effort not to move the weapon. If it moves, you'll have to redo the previous step. To proceed, adjust the elevation and windage knobs until the crosshairs are properly aligned on your last shot. After that, you may re-adjust the gun such that the sights are pointing at the bullseye. Be careful, so you don't mistakenly touch the turrets when reaiming.
Step 4: Shoot Once More
You'll need to center your sights precisely on the bullseye and shoot once more. In an ideal world, the bullet would strike the bullseye perfectly. In practice, it should be pretty near but not flawless. Repeat the two previous procedures until your shots are fairly near your target. When your shot is near the target's center, maintain your sights on the bullseye and take another shot to ensure there was no human mistake.
Step 5: Allow cooling before repeating.
Your rifle and scope are almost certainly already sighted, but it is always best to be safe than sorry. Allow your weapon to cool completely before shooting again. This is merely a last check to ensure that everything is properly sighted. If the bullet falls in an unexpected location, you might have to repeat the previous stages to ensure that you've performed each one correctly.
FAQ
Are Rimfire Optics Worth The Money?
Rimfire optics are an excellent complement to the 22LR or smaller caliber rifle. They will improve your shooting accuracy as well as range. These optics are worth the money if you get one that matches your rifle and shooting need.
What Makes A Rimfire Optic Unique?
Rimfire scopes are typically parallax-free and have limited eye relief. This is because they are frequently utilized at close ranges when parallax-free performance is sought.
What Does Parallax Mean In A Rimfire Scope?
When the reticle and target are on separate planes within the sight, parallax occurs. It is detected by moving your eye or head while looking inside the scope.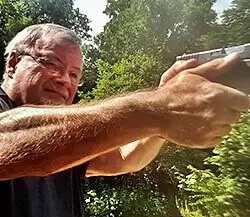 Mike Hardesty is a published freelance gun writer. With dozens of articles and reviews published in Pew Pew Tactical, Snipercountry.com, and TTAG (The Truth About Guns), Mike is considered a firearms expert. His special area of expertise is handguns.
Mike is a long-time shooter. He has been punching paper targets, taking deer and other game and shooting at competitions since about 1975. Other related pursuits include reloading and bullet casting. He currently reloads for over 10 calibers, both handgun and rifle. His reloads, particularly for 9mm, were in great demand during the height of the ammo shortage among family and friends. He donated hundreds of rounds to informal shooting sessions. He was quoted as saying "I do not sell my reloads but I sure will help my guys shoot 'em for free!". He has a few cherished firearms that he has inherited or otherwise procured — those are his favorites.
He earned B.S. and M.S. degrees from Indiana State University in 1974-1975.
He's a firearm experts and is the founder of mhardesty.com.