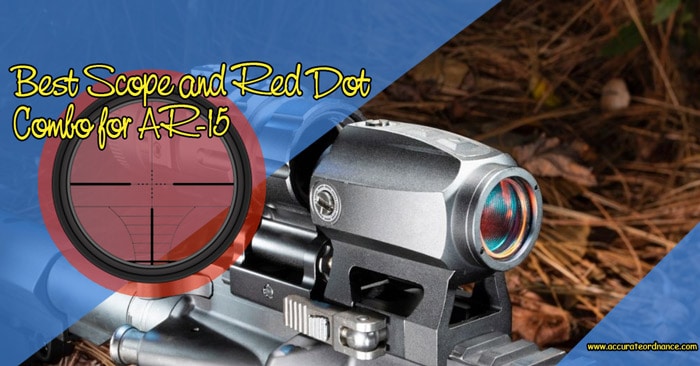 There are several scopes on the market, each with a distinguishing feature that makes it stand out from the crowd. The issue with riflescopes is that they usually have specific applications where they work best. For example, a long range scope is not an excellent optic for close-range shooting and vice versa. Because of this, most gun owners have to purchase numerous scopes that can satisfy the different shooting applications. One of the answers to this problem of getting multiple scopes is having a riflescope and a red dot combination.
In this article, we'll look at some preferred red dot optics that can be combined with regular scopes and fit perfectly on the most common weapons, such as the AR 15 rifle. Before the end of this scope review, you should have found out which scope and red dot combo is the best buy for you.
Why use a Red Dot and a Scope Combo?
Red dot sights mounted to riflescopes are commonly used by IPSC participants. This optic combination has grown in popularity over the years as more shooters and hunters recognize its benefits.
If the distance between a shooter and the target is very close, a red dot sight is the ideal optical tool. Because these helpful instruments have a magnification power of only 1x, you may use them even when you have both eyes open. The 1x magnification makes the field of vision substantially larger than that of riflescopes. Having a red dot sight mounted onto a riflescope is less expensive than purchasing two separate mounting systems.
When firing at 50 m from the target or closer, you have to use a red dot sight for best results. However, if your target is far away, you need to use a riflescope.
When a target is around 20 meters, a red dot sight can be very helpful. Riflescopes are not always the simplest to use for precise aiming in a short distance. By combining the benefits of these two optical gadgets, you'll have a well-equipped tool for any hunting situation.
The Benefits and Drawbacks of a Scope and a Red Dot Sight
The Benefits of Red Dot Sights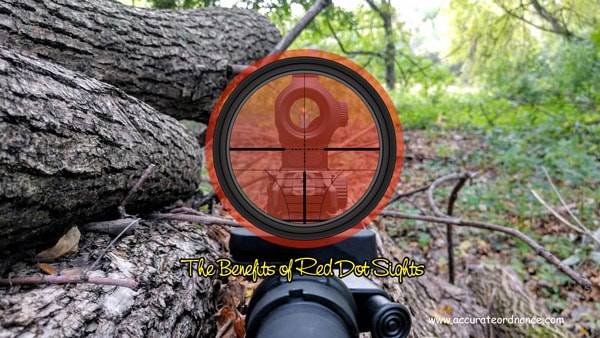 A Red dot sight is an excellent optical instrument for acquiring targets quickly at short ranges. These compact gadgets have a 1x magnification and allow the shooter to aim with both eyes. The field of vision is substantially larger than scopes due to the 1x magnification and thin coating of material that holds the lens.
With the aforementioned properties, a red dot allows the shooter to watch the movement of many animals at the same time. Because these optics are mainly utilized during the daytime, the illumination can be tuned to a brightness appropriate to outdoor lighting. The eye relief is infinite, which means that the shooter's eye doesn't have to be in a certain position to clearly see the dot. Lastly, red dots have no parallax, which means the aiming point is always on the target regardless of where the shooter's eye is positioned.
The Benefits of a Rifle Scope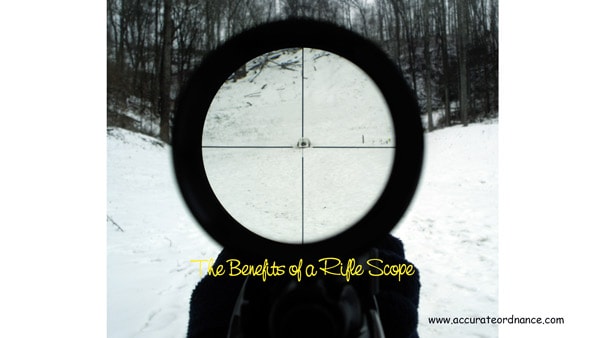 A Rifle scope is an essential tool for a precise shot. They enlarge pictures at a variable or fixed magnification, allowing for a detailed examination of a target. To make an ethical shot, a shooter must first check whether the animal is fit for harvest – at long distances, and this can only be achievable with some magnification. Most modern riflescopes include variable magnification, which allows the operator to modify magnification depending on the target's distance.
Riflescopes, particularly those with large objective lenses (like 56 mm), performs admirably in low light. There are also night vision scopes that can be used for night shooting. Aiming at an animal from 150 meters away with a red dot will not yield results. Riflescopes that have an illuminated reticle often provide better illumination than red dots. With higher magnification scopes, the shooter can make parallax adjustments so that the image stays in focus at that given distance. This method achieves high precision, especially when shooting at distances greater than 200m.
Solutions for Mounting Red Dots
There are two possible ways of attaching a red dot on a scope. It may be installed on top of the scope or at an angle of 45°. IPSC shooters like to install their red dot on the side because 223 rifles create less recoil; thus, the shooter doesn't have to squeeze the butt of the rifle on his shoulder in an optimum way when taking a shot. Both configurations are feasible for hunters, but a red dot on top of a riflescope is far more convenient for hunters. With this setup, you just elevate your head to gaze through the red dot without moving the butt of your rifle from its position.
Why is a Scope and Red Dot Combo Useful?
For hunters, this combo is useful when hunting in sparse and dense forested areas. The riflescope will allow the hunter to take a shot from 100meters upward in a sparsely forested area. Even so, in areas with few trees, a hunter will require magnification to inspect the game before firing.
A riflescope and red dot combo allow the hunter to have more time to choose the animal they want to shoot. When an animal is coming from a densely forested direction, it is difficult to see or aim until it is very close to the hunter. In these scenarios, a red dot is beneficial because it allows the shooter to aim at the animal even when it is 10 or 20meters away. When the target is this close, you'll need fast target acquisition. The red dot's 1x magnification, unlimited eye relief, and lighted dot can help you do exactly that.
The best red dot and scope combo for the Ar-15: Things to consider before purchasing
Now it is time to walk you through a well-researched shopping guide, which contains all of the criteria you will need to locate the ideal Red Dot and Scope Combo for your Ar-15.
Quality
If you are concerned about the product's quality, make sure you look into its certifications or compliances. A product certification assures that the production methods have been followed and the quality is regulated in accordance with the standards. High-quality products are more durable. You should also buy a long-lasting product to avoid the headaches of fixing or replacing it. And it may prove to be cost-effective in the long term.
Features
This is another reason people buy an optic. The main thing to remember here is that you must evaluate the product features to ensure that they are truly aligned with your need. Some optics have an excessive number of features, most of which are unnecessary. So why buy something that isn't going to help you? Be explicit in your needs, and you will find the best product for you.
Price Comparison
When looking for the greatest Scope And Red Dot For Ar 15, price comparison is essential. We frequently stress cost comparison charts since they allow you to compare rates from various providers. A chart like this might help you make an informed purchasing decision and get the greatest value for your money.
Comparing costs will help you select the most competitive alternative because it is crucial to balance cost with other variables such as features, quality, and convenience.
After-Sales Support
After completing your first purchase, you may require after-sales assistance for a variety of reasons. Such as mounting instructions. As a result, ensure that your product's maker or vendor delivers excellent after-sales care. If you are happy with the after-sales service, you will be a satisfied client. That is why a product will earn the worst ratings if they lack a responsive after-sales support team.
Warranty
Although warranty is an indication of a trustworthy optic, many decent optics are not covered by a warranty. However, if you have two options, one covered and another not covered, you must choose the one with a warranty. It assures that there will be a replacement or repair if your optics get damaged in accordance with the provisions of the policy. Some suppliers even have a money-back guarantee if the optics does not meet your expectations within a certain time frame.
Features Of A Good Red Dot and Scope Combo
Finding a scope and red dot combination may be difficult for most people. This guide will help to ensure you make the best choice. We'll look at the most important features and the reason you need them. When making a choice, it is critical to consider some features. Red dot and scope combos are not made equal; there is usually some feature or distinction that makes one stands out from the crowd. Let's start with some features:
Windage and Elevation
Windage and elevation adjustments are critical in any scope. That is because you need to be able to make corrections if the shot appears to be going off. The turrets make things as simple as possible; just turn the knob as needed.
Magnification
If you need to spot a target that is far away, magnification is essential. However, magnification is not a standalone property of red dot optics; it is possible with the help of a magnifier. So whether you want to aim with a red dot with a magnifier or a regular scope with variable magnification, you can always sight far-distance targets.
Objective Lens
The objective lens size will influence your choice of scope. When glancing through a scope, larger objectives will offer you plenty of space. Similarly, a smaller target will have fewer. Remember that bigger objective lenses would allow more light to pass through it. If you're a hunter who starts hunting at dawn and desires better image quality in low-light settings, this might be a helpful feature.
Power
Regular scopes do not need power the majority of the time; however, red dot sights need a battery to function. You may need to purchase additional batteries. Even though batteries are supplied out of the box, it is smart to always have extra batteries.
Reticle size and type
Another factor to consider is the reticle size and type. Reticle designs include chevrons, dots, and other patterns. The sizes vary, but a reticle with a size of 2 MOA or below will not be easy to use and may make an accurate shot impossible. Large dots might be difficult to hit if you want to make accurate shots. The MOA range of an optic can range from 2 MOA to 12 MOA.
Best Scope and Red Dot Combo for AR-15
1. Trijicon ACOG Optic
The Trijicon ACOG is the best rifle scope and red dot sight combo on our list. This scope is highly sophisticated and made of technologically advanced equipment. It is made with aluminum and designed with a matte black/dark color. The scope's objective lens has a diameter of 32 mm and an amber illumination. This scope is available in a red dot or green dot reticle style.
Furthermore, the reticle on the ACOG is an engraved crosshair .223 ballistic design that is ideal for close-range combat. This Trijicon Acog optic is suitable for close range to medium-range shots, thanks to the red dot sight on top of the scope and the fixed 4x powered optic. The bullet drop compensation, which can handle a 5.56 round, is one of the most important features in this Trijicon Acog riflescope and red dot combo.
Surprisingly, this AR 15 optic with an attached red dot has a lot of basic functions. Looking at the features of this ar 15 optic, one could easily say that the small objective lens and 4x fixed power would be an unsatisfactory feature for such a rare dual-purpose. However, those features are actually one of the greatest you can get from a riflescope and red dot sight combination.
The Marine Corps deployed this ACOG ar 15 scope, which prompted a Congressional probe owing to the dramatically increased number of successful headshots. How can anyone be upset with such a result? If the US Marine's results didn't impress you, then the surprisingly pleasant regular features should win you over rather than turn you off. The Trijicon ar 15 scope and red dot combination are one of those scopes with a top-mounted red dot that is truly effective.
The minimum adjustments required are actually added features that make this red dot optic simple to operate. The disadvantage is that it is very expensive. But if you need this optic for professional shooting, there's no excuse not to get it.
If you are using an ar 15 rifle and you need the best ar 15 scope and red dot combination,, this Trijicon optic is your best bet for a successful short-range shot.
2. MidTen Rifle Scope Combo 4-12×50 Dual Illuminated, Laser Sight, Holographic Red/Green Dot Sight, and 20mm Scope Mount
Are you looking for the best ar 15 optics for your particular shooting application that has scopes and red dots? The MidTen Combo 4-12×50 Dual Illuminated Optics is another great optic to consider.
The MidTen scope Combo has a lot of excellent features that make it one of our picks for this scope review. The scope combo has a broad field of vision (15.5 @ 100m) which is provided by the tubeless construction and 33mm reflex sight lens aperture. You can effectively aim to about 100 yards with ease while making use of the adjustable magnification range of 4x to 12x.
The MidTen brand is so confident in the high quality and functionality of this incredible scope that it provides excellent and prompt customer support to protect buyers from loss, fault, or damage on the scope. So you have nothing to worry about; just place an order for yourself or your hunting enthusiast pals! This scope has a high-grade black matte finish, and it is 100% shockproof and rainproof, making it one of the greatest options you can lay your hands on. The multi-coated lens on the scope allows for abundant light transmission through the scope tube.
The scope has a very massive objective diameter of 50mm, and the eye relief is between the range of 3 to 3.4inches. The field of view in the scope is fairly large, it is between 10inches to 27inches at 100 yards. It has an exit pupil between 3.3mm and 10mm. The Windage and Elevation has an adjustable 1/4 audible click value and finger adjustable turrets.
This scope is readily mountable on any rails (Weaver or Picatinny) because of the built-in rail of 20mm. The scope has an illuminated reticle with 5 brightness settings, and the red dot sight also has an illuminated reticle with 5 brightness settings. You would also find 4 sizes of red dots. This MidTen combo also comes with a detachable GREEN laser sight that can reach over 300m; you can be confident that you will succeed with maximum precision and outstanding results always.
If you need the best ar 15 optics on the market, you can get your hands on this scope combination.
3. UUQ 4-16×50 Scope Red/Green Illuminated Reticle, Laser Sight- Holographic Sight
The UUQ is another great scope and red dot combo. This combo has an adjustable objective with parallax from 15 yards to infinity, allowing a shooter to have a very clear and accurate image. The reticle has 5 levels of Red and Green illumination brightness settings. The scope in the combo has a magnification of 4X to 16X.
For easy setup and operation, the reflex sight employs an electronic button control system. The Rat Tail Remote Pad can turn on and off the Green laser sight, which has a range of over 300 meters.
The setup is made of aluminum alloy with considerable durability. It is nitrogen-filled and properly sealed to ensure a fog proof and water-resistant optic; it is also shockproof. Five lighting options have been added as a new feature in the LED flashlights (high/medium/low/strobe/SOS), and they can meet your hunting demands in low-light conditions.
The scope has a universal 20mm scope mount that is removable and fits on a standard 20mm Weaver or Picatinny rail.
4. NcStar Mark III 3-9×32 Scope
The NcStar AR 15 scope is a black matte optic suited for close to medium-range shooting. This scope is extremely lightweight, making it suitable for a wide range of weapons. It has a 42 mm objective lens diameter that is completely multi-coated to ensure a brighter image is seen by the shooter.
The optic has a magnification range of 3x to 9x, and the turrets are fingertip adjustable. There are numerous brightness levels, an illuminated reticle that can flip between green and red, and a glare-reducing sunshade. The red dot in the combo is optional, and it is attached using a specially designed scope ring with a Weaver base. The whole optic is equipped with a quick-release lever.
The NcStar red dot scope has a few characteristics that make it more enticing than other red dots, although it is not our number one pick. I prefer the variable magnification over the fixed 4x magnification in some scopes. The brightness is also outstanding, owing mostly to the bigger objective lens.
This scope is undoubtedly less expensive; thus, we would recommend replacing the red dot function if you meant to use this scope for a long time. If you cannot afford the $2000 top-of-the-line red dot sight for your rifle and you're searching for a low-cost option, search no further than the NcStar scope. It is a very affordable scope that gives you everything you need for fast target acquisition in a close combat situation.
You'd expect cheaper materials in a cheaper scope. This optic is an excellent value for money.
Other Red Dots
1. Bushnell Trophy TRS 25
Our next scope to examine is the Bushnell TRS 25. The Bushnell scope brand does a fantastic job of supplying AR 15 rifle owners with dependable and long-lasting scopes. This Bushnell red dot scope may be your closest buddy during target shooting or outdoors.
With 11 brightness levels, it can be mounted on almost any AR 15 rifle using a Picatinny rail. If you want to add some features to your rifle, installing this scope will make you feel more excited than a kid. It is capable of completing shots in a short range. It has a fast target acquisition. It is incredibly durable, inexpensive, and simple to zero. Consider landing a huge buck with this red dot scope combo. Most users said that installation was simple and that shot groups were tight and consistent out to 100 yards. Whether you are shooting indoor or outdoor, the sharp and noticeable red dot is clear for you to see.
The Bushnell TRS 25 scope is not ideal for long-range shooting, and you cannot mount it on larger caliber guns.
2.Vortex Optics Strikefire II Red Dot
The Vortex optic is a single-piece chassis that is small and lightweight while providing shockproof performance against impact and recoil of the ar 15 and other rifles. This Vortex optic is waterproof and fog proof, and this is a result of the o-ring sealing and nitrogen purging.
The lens is fully multi-coated to give a clear, unobscured field of view. The ability to have unlimited eye relief enables quick target acquisition. The maximum elevation adjustment is 100 MOA. 100 MOA is the maximum windage adjustment. This Red/Green Dot sight is a tough, dependable sight that may be used in a variety of shooting situations. It enables the shooter to simply adjust for changing situations by switching between the dot colors and 10 brightness settings.
The power control is conveniently located on the back of the scope for both beauty and easy accessibility. It is powered by a CR2 battery. A cantilever mount with an offset allows you to shift the sight forward, so you can use it with backup iron sights or a magnifier.
3. Trijicon MRO 1x25mm with 2 MOA Dot
The Trijicon MRO red dot is the last scope on our list scopes. This scope is a durable and lightweight device. It is an excellent optic for fast target acquisition. It is built with aircraft-grade aluminum that is completely sealed to prevent water. It is made of multi-coated lenses that allow more light transmission and superior image clarity.
The scope comes with a 5-year warranty from the year of purchase. It is powered by Lithium Metal batteries.
Question To Ask Yourself Before Purchase
Sometimes, we buy things convinced that we "needed" them, only to discover that it isn't something we'll use again. Before purchasing this AR 15 optic combo, make sure you absolutely need it and ensure that it fits into your long-term needs.
Here are some questions you should ask yourself before purchasing a scope and red dot combo for the AR-15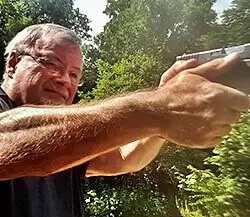 Mike Hardesty is a published freelance gun writer. With dozens of articles and reviews published in Pew Pew Tactical, Snipercountry.com, and TTAG (The Truth About Guns), Mike is considered a firearms expert. His special area of expertise is handguns.
Mike is a long-time shooter. He has been punching paper targets, taking deer and other game and shooting at competitions since about 1975. Other related pursuits include reloading and bullet casting. He currently reloads for over 10 calibers, both handgun and rifle. His reloads, particularly for 9mm, were in great demand during the height of the ammo shortage among family and friends. He donated hundreds of rounds to informal shooting sessions. He was quoted as saying "I do not sell my reloads but I sure will help my guys shoot 'em for free!". He has a few cherished firearms that he has inherited or otherwise procured — those are his favorites.
He earned B.S. and M.S. degrees from Indiana State University in 1974-1975.
He's a firearm experts and is the founder of mhardesty.com.