The 22-250 round is a flat-shooting, high velocity, and long-range cartridge that is popular among varmint hunters, particularly those who go in search of prairie dogs and other varmints as big as a coyote size. Since this cartridge can go as far as the 1,000 yards range, most shooters prefer to choose a riflescope that can go that far so they can take full advantage of the cartridge's effective range.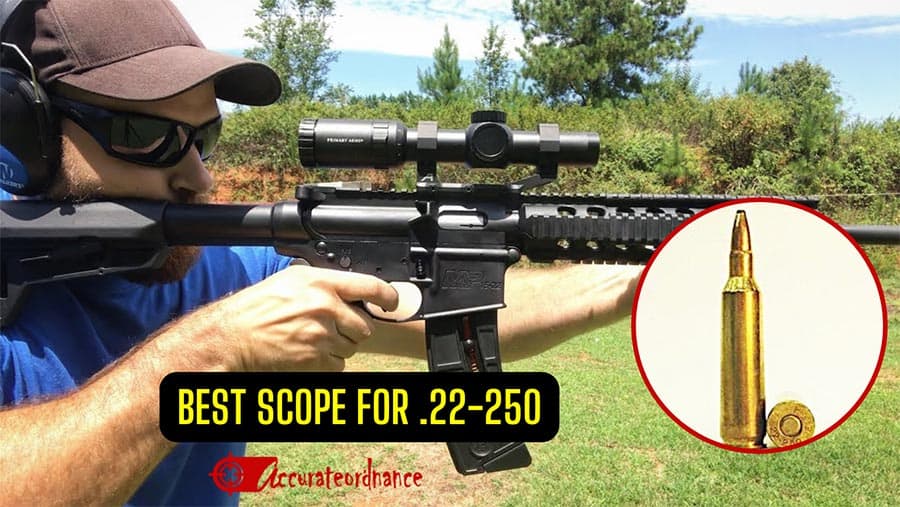 Are you looking for the best scope for 22-250 rounds? We have a comprehensive guide that will take you through some things to know before selecting a scope for this cartridge and some scope recommendations to help you narrow your search.
If you already know so much about the round, you can skip all the technical jargon and statistics and get straight to the scope review for a quick buying guide and the top scopes.
Choosing the Best 22-250 Scope
After reading the scope reviews in this article, you're bound to have some questions about each rifle scope's features and specifications, except you're already a pro shooter with all the basic knowledge. That is why we put together this detailed guide to walk you through all the things you need to know before you buy a scope for your 22-250 round.
Image
One of the most crucial elements to consider when looking for a suitable scope for the 22-250 round is the image quality offered by the scope. However, you should keep in mind that the greater the image quality it can produce, the higher the price.
The glass of your scope is a very important part when it comes to image clarity, so the quality of the glass will have an impact on image quality. A good glass is crucial for obtaining a good sight image. A scope can't be good if the glass is of poor quality. As a result, you might want to stay with scope brands that have a reputation for providing high-quality optics.
Objective lens
Another consideration while purchasing a scope is the diameter of the objective lens. This scope factor influences image quality.
When a scope is adjusted to a high magnification, it should be able to provide you with a clearer and brighter image in low light. If your scope's objective lens diameter is small, you will have difficulty seeing things, and they will appear dim. So, while looking for a great scope, you should carefully consider your selections depending on the diameter of the objective lens.
Lens Coatings
Other essential elements have an impact on the scope visibility. However, another item to look at is the lens coating. As a Varmint hunter that owns a Varmint rifle, if you wish to go varmint hunting, you must compare scopes and pick one with good multicoated lenses.
However, you should be aware that some brands save money on lens coating by using just one chemical. There are firms that utilize a proprietary blend of chemicals to decrease glare and filter the light, which can improve or make your image clearer and brighter.
Durability
If you're shopping for a night vision scope, you should also consider the robustness or durability of the riflescopes you're considering. You have to consider how long it will last and the type of abuse or impact it can withstand.
So, it is crucial to look for long-range shooting optics that can withstand the use and abuse you intend to put the sight through.
Another factor to consider while looking for a great scope is the waterproof and fog proof capability. You should also look for optics that are shockproof and can withstand minor bumps on the field.
Reticle
Aside from longevity, you should seek a quality scope that is appropriate for your skill level and hunting style. For example, some individuals like a sophisticated reticle, while others prefer a simpler one. As a varmint hunter, you want to ensure that you use a scope with a reticle that can match your varmint rifle shooting features while you are varmint hunting.
Nonetheless, it is a matter of personal preference, so select the reticle type that provides you with the best sight image and convenience of usage. You should choose based on what you want on the field or shooting range.
If you want something a little more difficult, you may go with a BDC reticle. However, it will take some time to become used to it. So be reminded of the importance of the reticle when selecting a scope.
Here are some other aspects to consider while looking for a good scope for your 22-250 cartridges.
What Magnification Do You Require?
The magnification or power is one of the most significant considerations when selecting a sight. When the magnification is too little, you will not see your target clearly. Also, a high magnification than needed will make it difficult to strike targets that are close-range.
We suggest a magnification range of 3x – 9x for most hunting situations. The minimal magnification of 3x lets you strike practically any close-range target, while a maximum or high magnification of 9x allows skilled shooters to reach distant targets.
Remember that higher magnification does not automatically mean you can see long-range objects. You must still consider things like FOV, your rifle's effective range, and your skill level. Even the smallest movement might lead to a missed long-distance shot.
Scopes in the First and Second Focal Planes
If you're a new shooter, you may not be familiar with the difference between these two focal planes. When gazing through a scope, the size of the first focal plane reticles does not change. So, whether it's a 3x or 10x magnification, the reticle will occupy the full field of view.
Higher magnifications will make the second focal plane reticles look bigger. This implies that the reticle may be difficult to see at very low magnification.
What Exactly Is Eye Relief, and How Much Of It Is Needed?
Eye relief is the distance between a shooter's eye and the scope such that he can see everything well. It's a critical measurement because, without adequate eye relief, the recoil of your rifle will send the scope straight into your eye.
Furthermore, if you don't have adequate eye relief, you'll have to stand "on top" of your rifle to look through the scope. This might make it difficult to get into the right shooting stance, making the whole shooting experience unpleasant.
We recommend 3.5 inches or more of eye relief, although 4 inches is preferable.
Is an Illuminated Reticle Necessary?
An illuminated reticle is a popular feature in contemporary scopes. But do you truly need it? Depending on the environmental light.
Optics are renowned for darkening the surrounding, and the reticle is frequently the most difficult to view.
A lighted reticle aids in this, but it does not aid in seeing through the remainder of the optic. Remember that certain optics transmit more light than others, reducing the need for illuminated reticles.
Best Scope For 22-250 Detail Reviews
1. Leupold Mark 5HD 7-35x56mm Scope
The first scope we would look at is the reputable Leupold scope. This scope brand is known for its quality and excellent optics. However, there are a few differences between the Leupold and other scopes in the market, particularly when it comes to determining the ideal scope for a 22-250 round.
This Leupold scope comes with a 35mm main tube and a 56mm objective lens diameter, which, when paired with Leupold's unique Twilight Light Management System, means it can gather high-quality light even in low-light circumstances. The disadvantage is that 35mm scope rings are more difficult to locate compared to 30mm scope rings.
The scope has a massive 35x maximum magnification range that provides a larger field of view than other higher-magnification scopes. Simultaneously, this is far superior to scopes with modest maximum magnification. The field of view of this scope is just spectacular and that is why it is on top of our list.
It features eight different reticle options and some have illuminated reticle while others do not. You can look at each reticle carefully in order to select the best one for your particular shooting needs.
This scope uses a tactical turret for making shot-to-shot adjustments. When you're done with sighting in the scope, it resets to zero even after you temporarily change it. On the side of this Leupold scope is a fast-focus throw lever. All these elements work together to create this great varmint scope.
2. Athlon Optics 4.5-30×56 Ares ETR Riflescope
The Athlon Optics is another great 22-250 scope. This amazing scope has a reticle positioned in the first focal plane. As always, first focal plane scopes are usually exceptional for long range shooting, so this scope will conveniently take on even smaller targets beyond 500 yards range.
The scope is not fit for use with targets that are short-range, however, you can use it for some medium-range shooting. The scope is unquestionably great for coyote shooting.
The reticle of this scope can cover so much ground for a good shot. The reticle is available in three options: two MOA and one MRAD. The tan-colored variant is only available with MOA reticles.
The Athlon Optics reticle is etched onto the glass. Etched reticles are more resistant to strong recoil than wire reticles. However, because the recoil from the .22-250 is so minimal, this makes little impact on the weapon and scope.
You can reset to your genuine zero in the dark even without seeing the turrets, thanks to the zero-stop turrets. The scope has nice elevation and windage adjustment knobs with a total of 110 MOA. The fast focus throw lever of this scope is reliable.
3. Vortex Optics Crossfire II AO 6-24X50
The Vortex Optics brand is known for its high-quality scope, and when it comes to 22-250 rounds, this Vortex scope is very reliable. This scope's glass is not as excellent as that of some of the higher-end scopes, but it does great on the field. When compared to other scopes, you should expect a few minutes shorter shooting time when using it around dusk and dawn.
If you shoot primarily during the day, this is an excellent scope. The rapid focus eyepiece is particularly useful for varmint hunters, especially when looking for prairie dogs, which might appear from a distance.
This Vortex scope comes with a Dead-Hold BDC reticle, and this reticle has hash markings for windage and bullet drop that allows you to make rapid holdover adjustments on the field. Vortex claims, "The Dead-Hold BDC reticle works well with a wide range of firearms, including high-powered rifles, slug shotguns, rimfire rifles, and black powder rifles.
This reticle also includes reference markers for compensating for bullet drift in windy situations or determining range distances." The bullet drop for each hash mark is shown on the spec sheet.
This Vortex scope, like many other scopes with greater prices, comes with a lifetime guarantee. So you are covered even if something goes wrong with the scope. I believe Vortex optics is very durable, and it should be able to withstand any weather condition, recoil impact, or regular wear and tear.
4. Primary Arms SLx 4-14x44mm
Primary Arms manufactures its own optics in addition to selling a wide range of shooting gear. When it comes to shooting with a 22-250 scope, the Primary Arms 4-14x44mm scope is a superb value-for-money optic. This is also a tactical scope, and it has an illuminated reticle.
This Primary Arms scope is built around the 308 round. This may appear to be a disadvantage, but it is not. Every riflescope with fixed reticle markers needs the shooter's knowledge of where the bullet will strike along the glass trees for different shooting ranges. Because of variations in shooting situations, no reticle will completely match any gun or bullet performance.
When loaded lightly, the 308 and 22-250 have comparable ballistic over some distance.
This Primary Arms scope does not have a side-mounted focus knob for parallax adjustment. unlike the other scopes, we have mentioned, this scope does not go as far. It has a maximum magnification of just 14x and an objective lens diameter of 44mm.
5. Vortex Optics Diamondback 4-16×44 Scope
Vortex Diamondback Tactical Riflescope is an excellent fit for a range of 22-250 rifles, including those on the Rem 700 bolt action and AR-15 platforms.
The Vortex Diamondback is an excellent choice for coyote hunting in harsh situations. This scope is completely fog proof and waterproof since it has been O-ring sealed and nitrogen purged. It will even function well in the snow and cold that coyote hunting is frequently done in.
For a crisp and brilliant sight image, Vortex Optics employs low-dispersion glass and completely multi-coated lenses. Some scopes get blurry when you increase the magnification. On this Vortex scope, the reticle will not get fuzzy at any magnification level if you use the side parallax knob and a quick focus eyepiece. The reticle is etched on the first focal plane, and it will keep your eyes on the target at all magnification ranges.
​​​​​6. Nikon X1000
One of the greatest varmint scopes available on the market is the Nikon BLACK. This Nikon Optics is part of the BLACK series riflescopes, which were released in 2017, and it is a great 22-250 riflescope.
This Nikon collection includes variants with X-MOA or X-MRAD tactical-style reticles targeted to long-distance shooters, and it is a wonderful fit for your Remington 22-250 rifle.
All Black X1000 scopes come with a 30mm main tube from aircraft-quality aluminum material. The scope is O-ring sealed to keep moisture out of the interior, and it is nitrogen purged to keep the glass from fogging.
All the air-to-glass surfaces of the scope have comprehensive multi-layer coatings that increase brightness and contrast at any magnification. The reticle of this scope is found on the second focal plane, and they are X-MOA or X-MRAD ballistic reticles.
The Nikon scope is a low-cost, long-range optic that is competitive with other options in its class. The BLACK riflescopes, with its large zoom and spring-loaded rapid zero-reset turrets, may be used for nearly every shooting application.
Whether you want to use an MRAD or MOA, the open-style and tactical-style turrets are easy to track. Each knob has 1/4 MOA or 1MRAD adjustment per click and a total of 90 MOA and 25MRAD.
​​​7. Vortex Viper 2.5-10X44
One intriguing and new scope from the Vortex stable is their Viper (Hunting & Shooting) sight.
The Vortex Viper masquerades as the heir of the classic 3-9X scopes, yet it offers more magnification adaptability with a 4x zoom range.
To avoid internal fogging and offer waterproof performance, the sturdy single-piece tube is argon purged and O-rings sealed. It is built on a 30mm aluminum tube and it has 86 MOA of elevation and windage adjustment.
This exceptionally small device is 12 inches long and weighs around 16oz., it might easily be used for the 22-250 rifle.
Another selling point and characteristic that hunters would like is the 44mm objective lens diameter. Furthermore, for maximum light transmission, the lens is multi-coated with unique Vortex anti-reflective coatings. Also, the Armortek coatings are applied to all outer lens surfaces to protect them.
The sight is outfitted with capped and quick-reset turrets for further protection against unexpected hits during rigorous field operations. The turret knobs increments are indicated in 1/4 MOA per click and correspond to the graduation of the reticles.
The Vortex Viper scope is available in either the Dead-Hold BDC or the V-Plex reticle; both are in the second focal plane and do not have illumination.
​​​​8. Leupold VX – 5HD 2-10x42mm
Another rifle scope in our best 22-250 scope guide is the Leupold VX. Leupold's 22-250 riflescope is part of their new sight series, which debuted in 2017.
While it has a premium Leupold design with a recognized gold ring and a slim profile, this Leupold 5HD is a lighter form of the company's VX-6HD.
The VX-5HD scope from Leupold has high-definition lenses and a Twilight max light control system. That special lens coating enhances light transmission in red and blue wavelengths, giving hunters a noticeable edge at dusk and dawn.
Leupold's Guard-Ion coating is applied to all the external glass of the scope, and it helps to protect from dirt, fingerprint, and water. The windage knob on this VX-5HD series is covered by a cap, meanwhile, the Elevation knob may be cranked without a cap. The turrets feature a 1/4 MOA adjustment per click and a maximum adjustment range of 120 MOA for both adjustment settings.
This Leupold scope comes with a complimentary Custom Ballistic Dial, which is a cleverly built Custom Dial System for your exact load. The Elevation Turret includes ZeroLock 2, which allows you to discover and lock in your zero.
The VX-5HD scope has six versions, and this variant is the only one without illuminated reticles. The Leupold riflescope has 3.8 inches of eye relief at any magnification, which is useful while shouldering the weapon fast.
The core 30mm scope tube is made of 6061-T6 aerospace aluminum and weighs about 16.4 ounces when combined with the simple 42mm objective lens. This big, single-piece tube is properly sealed to make it waterproof, and it is filled with an argon-krypton combination to prevent fogging.
9. Athlon Helos 6-24×50
Athlon Optics is a US-based corporation having manufacturing plants in both China and Japan. Their higher-priced Helos BTR (Bright Tactical Reticle) range is built in Japan and comes in two models: 6-24×50 and 8-34x56mm.
The Helos BTR was introduced to the market in 2017 and quickly drew the attention of long-range shooters.
All riflescopes in the Helos BTR series feature reticles etched in the first focal plane. The scope has a rugged 30mm tube and exposed turrets with a zero-stop function.
The open-style turrets have a 1/4 MOA click value and wind-shift adjustments within 60 MOA.
Athlon BTR scopes are made of tough 6061 T6 aircraft-grade aluminum. The tube of the scope is sealed and filled with Argon to protect it from fog and keep moisture out.
The Athlon BTR has completely multi-coated lenses for improved light transmission, and the exterior glasses have XPL coating for scratch protection and dirt resistance. The scope is a perfect long-range scope.
The 3.3 inches eye relief may be disappointing when shooting high-powered guns, it should not be an issue with your 22-250 rifle.
​​​​​​​​10. Burris XTR II 5-25x50mm
Burris Optics has joined the "Tactical" riflescope market with the XTR II line of scope which was introduced in 2017.
Although the Burris line of riflescopes is intended for competitive and tactical precision shooters, the XTR II model will undoubtedly be an excellent optic for game hunting for Remington 22-250.
The scope has a large 34mm main tube and an objective lens diameter of 50mm that works together to improve the low-light performance, providing varmint hunters with higher contrast and crisp images at dawn and twilight.
The XTR scope housing is made of a thicker tube than the XTR series, and it is nitrogen purged to make it fog proof. The XTR II has a 5-times zoom mechanism, which provides a wider field of vision and improved target acquisition.
The Hi-Lume completely multi-coated lenses are scratch-resistant, and the outer glasses have StormCoat coating that makes water shed off the lenses.
The tactical turrets of the Burris scope are accentuated with the adjustment knob. The adjustment knobs are dimensionally matched and have 100 clicks each rotation for easier and quicker adjustments.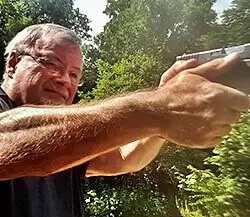 Mike Hardesty is a published freelance gun writer. With dozens of articles and reviews published in Pew Pew Tactical, Snipercountry.com, and TTAG (The Truth About Guns), Mike is considered a firearms expert. His special area of expertise is handguns.
Mike is a long-time shooter. He has been punching paper targets, taking deer and other game and shooting at competitions since about 1975. Other related pursuits include reloading and bullet casting. He currently reloads for over 10 calibers, both handgun and rifle. His reloads, particularly for 9mm, were in great demand during the height of the ammo shortage among family and friends. He donated hundreds of rounds to informal shooting sessions. He was quoted as saying "I do not sell my reloads but I sure will help my guys shoot 'em for free!". He has a few cherished firearms that he has inherited or otherwise procured — those are his favorites.
He earned B.S. and M.S. degrees from Indiana State University in 1974-1975.
He's a firearm experts and is the founder of mhardesty.com.