Do you need a good scope for shooting a .243 rifle? Let's help you find a good one!
Finding a good scope for a 243 rifle can be a daunting task because there are so many alternatives available in the market, with each brand claiming to have the best scope for the money. How can you tell if a scope is excellent or not?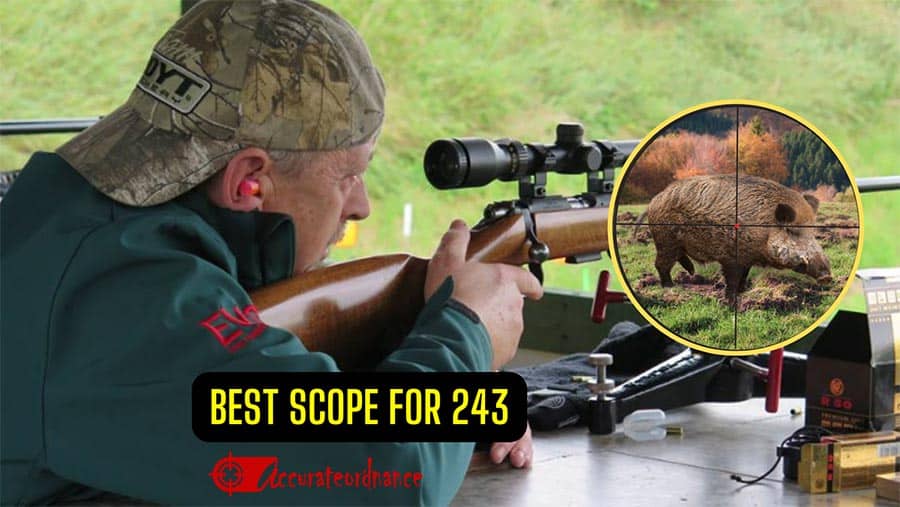 As shooters, we all have our different requirements; as a result, there is no single scope for 243 rifle that would compulsorily suit everyone. Instead of going straight to tell you which scope to buy, this scope review will begin by outlining the fundamentals of the 243 rifle, what makes a scope useful on this rifle, and then we'll go into further depth on how to select a .243 scope that meets your specific requirements.
Then, we'll look at some good scopes to assist you to choose the best one for your rifle.
Essentially, we want to assist you in finding the correct sight for your rifle rather than telling you which ones we believe are generally good scopes.
We'll go through some 243 scopes above to help narrow down your selections. To make purchasing as simple as possible, each scope has a link to stores you can easily buy the scope.
Let's get started!
Here are our top picks for the best rifle scope you can use while shooting a 243 rifle.
Some Background Information on 243
Winchester introduced the .243 cartridge in 1955 for their bolt-action Model 70 rifle and lever-action Model 88 rifle, and it quickly became popular among hunters.
It was initially intended for varmint hunting and target shooting, but bigger bullets, 90 grains and above, are equally effective for deer hunting. However, the big game animal uses are restricted, and it is better reserved for hunting wildlife that is the size of a mule deer or smaller.
Because of its low recoil and superb accuracy, the .243 Winchester is now popular for target shooting, hunting, and silhouette shooting. It's classified as a medium-range cartridge, with a max hunting range of roughly 300 yards.
It has, nonetheless, gained popularity for long-range shooting. For instance, John Widden has won the NRA Long Range Championships numerous times with a .243 Win. That degree of long-distance precision, on the other hand, usually requires a hand-loaded cartridge and so much expertise.
As a result, .243 scopes are either hunting or target scopes; however, there are scopes that can serve both purposes.
What are the Benefits of the Best Scope for 243 Rifle?
The difference between these scopes and a standard scope for your 243 rifle is like comparing day and night. The most crucial advantage is that these scopes are designed from the bottom up to work with a 243 rifle.
In an ideal scenario, all you just need to do is to put a scope on the rifle and fire straight and accurate shots. But that's not the case. Light transmission, weight, magnification, clarity, and other factors must be considered. You should also consider how simple it is to make changes on the fly.
What does all of this mean? Simply said, there are several considerations that a buyer must consider; there will be issues if any of them is not up to standard. If you're planning to buy a scope, be sure it's certified to fit your rifle and shooting needs.
When Choosing a .243 Scope, What Should You Look For?
Now, let's look at what constitutes a good .243 scope and how to pick one that's right for you.
Magnification
When it comes to scope magnification, it is tempting to believe that greater is better. However, too much magnification may obscure your sight image and cause every slightest movement to shift your reticle away from your target.
This is specifically problematic when hunting. If there is too much magnification, the field of view will be smaller, making it difficult for the shooter to track moving targets. It is also difficult to tell the part of the game animal you're aiming at for an ethical shot. Too much magnification will limit your view of the surroundings of the animal.
High-powered optics are also very expensive.
You may have the best of both high magnification and low magnification if you have a variable magnification scope with a big zoom ratio, but that adaptability will come at the expense of weight and cost. Most individuals would select a magnification range that is appropriate for their use.
A min magnification of 2 to 3.5x is recommended for hunting, but target scopes can go a bit higher.
For short-distance hunting, the max magnification should be approximately 9x, while for mid-range hunting, it should be between 12 and 14x. I recommend at least 14x magnification for long-range hunting; you can also take it to 18x. Finally, you'll need to go higher for varmint hunting or target shooting.
Reticle Design
Duplex and crosshairs reticles are the reticles of choice for many hunters. These reticles' basic designs enable quick, uncomplicated sighting without distractions. The duplex reticle includes lines that get thickened away from the center to maintain the reticle visible while without impeding your view.
However, mil dot and BDC (bullet drop compensation) reticles have lately grown in popularity among hunters. Mil dot and BDC reticles were designed for long-range and tactical shooting, and they're still excellent for both.
They contain markers along the crosshairs to assist shooters with ranging, elevation and windage adjustments, especially at long ranges.
Some mil-dot and BDC reticles are even custom-made to fit the ballistics of certain ammunition.
The disadvantage is that these more complicated reticle patterns can be distracting and difficult to see against a cluttered background, such as the woods.
Mil-dot and BDC reticle scopes are excellent for long-range shots, but the markers are unnecessary for close-range shooting. Duplex and Crosshair reticles, on the other hand, are excellent at short ranges and difficult to utilize for elevation and windage correction at longer ranges.
Turret Design
Windage and elevation turrets, like reticles, have long been used for hunting, although target-type turrets have grown increasingly popular.
Capped turrets are very common types of hunting turret. They're protected by caps to prevent inadvertent adjustments caused by bumps. The caps must be removed to modify the elevation and windage settings, although hunters seldom change their settings after they zero in their scope.
Target turrets are exposed, which means there is no cap, and they are usually tall. This makes adjusting target turrets in the field easier.
There are target turrets that require tools for adjustment to prevent unintentional adjustments, although most are finger adjustable. There are finger-adjustable turrets that have a locking mechanism that prevents the turrets from moving while deployed.
Light Transmission
Regardless of the other characteristics of a scope, if it lacks a nice sight image, it is a terrible scope.
The lens of a good scope must be made of quality glass with exceptional clarity and zero distortion to give a clear sight image.
Scope lenses should be fully multicoated as well. This implies that many layers of lens coatings should be applied to the whole surface of the lens. Quality lens coatings provide a clear, bright image with high color accuracy and light transmission.
Light transmission is very crucial when hunting. Hunters frequently find themselves in low-light situations at dawn and twilight. There's significantly less light if you're in a valley, beneath a forest canopy, or both.
It is also critical that your optics has high transmission and light-gathering capabilities so that they can make the most of the light available.
The multicoated lenses we just discussed, as well as a big objective lens, will aid with this. A big exit pupil can also indicate how well a scope transmits light.
Quality Construction
The scope's housing safeguards it from unwanted damage or risk. The scope's housing will not protect the lenses if it isn't durable enough. That is something you do not want to happen. As a result, you should get a scope with a sturdy and long-lasting housing.
Warranty
We prefer to skip this because we believe scopes are immortal or whatever. That is simply not true. They will not outlive you or your weapon. They are machine components that may fail, just like your rifle. When this occurs, a warranty can be very helpful.
Lens
The most crucial component of your scope is its lenses. The magnification and overall interaction with a scope vary depending on how excellent the scope is. You will have difficulty shooting accurately if they aren't obvious.
That is something that no one wants to happen. So, make an informed decision. Even if the superior one is more expensive, spend a little extra.
Weight
You should aim for a scope that weighs less than 16 ounces and preferably less than 12 ounces if possible.
There are a few scopes available in weights less than 12 oz. Combine that sight with a 6.5-pound rifle, and you have a small bolt action scoped rifle. The 243 is a lightweight jewel of a rifle that can be carried all day.
Tube
The majority of the riflescopes that work well with lightweight 243 caliber rifles has a 1inch scope tube rather than a 30mm. A 1inch tube saves you weight and money at ranges under 400 yards.
Best Scope For 243 Detail Reviews
Here is our selection for 243 scopes. You can select one of these scopes or use them as a guide to choosing the scope that best fits your shooting needs.
1. Vortex Optics Viper 6.5-20×50
The Vortex Viper 6.5-20×50 rifle scope is an excellent long-range sight. It is one of the greatest scopes I've seen for the 243 Winchester rifle cartridge.
This Vortex Viper scope has a very clear glass. The huge 50mm objective lens diameter on the scope helps the shooter to see and make the image bright and sharp. Even at maximum magnification, the clarity still remains excellent. This is because the Vortex Viper has fully multi-coated scope lenses with their unique XR coating. These characteristics are ideal for long-range shooting scopes.
When it comes to long-range shooting, the Dead-Hold BDC reticle on this 243 scope works just the way you want it. What's the advantage of having this kind of reticle? It estimates holdover, bullet drop, and windage. That means no more speculating! The reticle is also positioned on the second focal plane.
This implies that as you zoom closer at your target, the reticle does not expand, so it does not obscure your target. Furthermore, because the reticle size remains constant, you may use the holdover lines when aiming from any magnification level. The Dead-Hold BDC reticle is ideal for target shooting and long-distance hunting.
The Vortex Viper has a comfortable eye relief of 3.1-inch. This means there is plenty of space for rifles with a lot of recoils. You may place this Vortex optic on your hunting rifle without fear of a scope bite. The eye box is comfortable and simple to get used to.
However, at maximum magnification, I found the eye box to be tight. That is to be anticipated with any scope.
This scope is extremely long-lasting. The tubes are made of a one-piece aircraft-grade aluminum. This is because a single-piece tube is stronger than a multi-piece tube!
The Vortex Viper scope also comes 100% fog proof and waterproof. As if that weren't enough, Vortex covered the lens of this scope with their Armortek anti-scratch coating, making the glass scratch resistant as well. After utilizing this Viper optics on several hunting expeditions, I've discovered that it can handle almost any situation.
When it comes to the turret adjustments, they make adjustments with loud clicks. The accompanying turret caps fit well. The Precision-Force Spring System ensures that the turrets have perfect repeatability and simplicity of adjustment.
In fact, even with your gloves on, you can easily make changes to this scope in the cold.
The scope has an adjustable magnification. The lowest magnification of this scope is 6.5x, and it can be adjusted to 20x magnification very quickly and smoothly. This optic employs Vortex's Precision-Glide Erector System to provide smooth and constant zooming, and I can tell the difference in the field.
When it comes to range, this Viper optic has a side adjustment parallax knob, so you need not worry about crosshair wobbling when zooming in. While in the firing position, you can also view the range figures on the parallax knob. This is useful when you want to adjust the knobs after sighting a long range target.
The Vortex Viper comes without any scope rings or scope mounts. I recommend utilizing a 30mm High Viper Riflescope Ring. The scope also comes with inexpensive slip-on scope covers. So I'd swap them out for high-quality Flip-up Caps.
Overall, the Vortex Viper scope is a great scope for long range shooting. It is one of the greatest long-distance hunting scopes. It is covered by a lifetime warranty. So, if something goes wrong with the scope, Vortex will fix it free.
2. Leupold VX Freedom 3-9x40mm Rifle scope
Leupold is one of those brands you can run to for the best rifle scope. In the field of optics, the brand's experience is surely not lacking. Leupold created its first scope in 1947. Fast forward to now, they are truly at the forefront of hunting optics.
The VX-Freedom scope is a superb deer hunting weapon that can perfectly sit on a rifle chambered in a 243 Win cartridge. This high-quality scope is made of sturdy 6061-T6 aluminum, and it comes with a black matte finish.
The VX-Freedom optic is 12.39 inches long and weighs only 12.2 ounces. It is waterproof, fog proof, and shockproof, meaning it can withstand any weather or environment you may encounter.
Shooters get magnification ranging from 3x to 9x, with a zoom ratio of 3:1. The scope has an objective lens diameter of 40 mm, and it is made with one-piece material. It has a 1-inch tube. It also has a good selection of non-illuminated reticle alternatives, all of which are housed in the Second Focal Plane.
The scope has an exit pupil of 4.7 mm, and the linear FOV at 100 yards ranges from 33.7 to 13.6 ft. The eye relief is quite comfortable, measuring between 3.7 and 4.2 inches. Windage and elevation have a total of 60 MOA each, and this fingertip MOA adjustment is available in 1/4 MOA click settings.
Leupold's unique Twilight Light Management System is applied to high-quality, scratch-resistant glass. This provides unrivaled brightness and clarity of vision. Light transmission, image contrast, glare reduction, and resolution are all balanced. As a result, images are sharp and clear in all lighting environments.
When hunting in the dark, morning, or in low light, this special feature provides you an advantage, making it to be on top when considering low light scopes for 243 Win.
If you're a serious hunter seeking unrivaled precision and a very dependable riflescope. You've come to the right spot!
3. Vortex Optics Diamondback
The Vortex Optics Diamondback is a great scope for 243 shooting.
This rifle scope has a Dead Hold BDC reticle and a rapid focus eyepiece, both of which helps the quality of the reticle seen by the shooter while aiming for the target. The lenses of this scope are completely multi-coated, and it has the same unique coatings as the Vortex Crossfire II scope.
This Vortex Diamondback scope comes with a 12 inches length and it weighs about 14.6 ounces, making it somewhat longer and also lighter. The main tube diameter on this Vortex Diamondback scope is 1 inch.
The Vortex Diamondback, like other Vortex scopes, is a durable, shockproof one-piece tube composed of aircraft-grade aluminum. It has a matte black anodized finish. This Vortex scope also features nice o-ring seals that prevent water from entering the optic and nitrogen-filled interior, which makes it fog proof.
The capped reset turrets on the scope help protect the adjustment knobs from unintended tuning. The tooless indexing and metal construction ensures longevity and accuracy.
In addition, the Diamondback has Vortex's Precision-Glide Erector System for a seamless transition between the different magnification levels. The scope has an eye relief of 3.1 inches.
4. Burris 3-9x40mm Fullfield II
The Burris Fullfield II scope is another good scope. It is a very affordable scope and can be used for everything from game hunting, like deer hunting, to target shooting. But, in comparison to other 243 rifle scopes, is it worth it? Let us find out!
When I originally started looking for a budget scope, I assumed that in order to save money, I would have to sacrifice clarity and quality. But with this Burris scope, I never did.
It improved the precision of my aim, and I could comfortably shoot 250 yards out.
How?
The scopes multi-coated Hi-Lume lenses are the first features to take note of in this scope. The result of this feature is excellent clarity and light transmission. In low light situations, the clarity is less crisp.
Nevertheless, it works well for daylight hunts and also on non-cloudy days. The plex reticle is a great feature on the scope.
It has a straightforward set of crosshairs with hash markings to compensate for the drop. The most startling aspect was that the ballistic projections were correct! I struck the target at 100 yards. It was still dead on at 200 yards. Everything went as planned.
The reticle of this scope is a perfect size — neither too thick nor too thin— making it simple to see through. I'd also recommend attaching a 1 inch Bubble Level if you plan on hunting at long ranges. This ensures that your rifle is exactly upright or vertical.
It features an eye relief between 3.1 and 3.4inches. That's not bad for a low-cost optic.
The great news is the fact that the eye box is spacious and does not strain the eyes.
The Fullfield II is quite tough. It is totally fog proof, shockproof, and waterproof. It weighs about 13 ounces.
The 1/4 MOA turrets aren't terrible, either. They are comfortable to hold and click precisely. They are, however, spongy. So I applied a tiny layer of silicone oil to the turret to increase its mobility. I had no trouble zeroing; it was quite simple. I got locked in after about 6 to 7 shots. Even after several rounds, the Fullfield II maintained zero.
This scope is adaptable. You can achieve a dead-on shot up to 200 yards with the 3-9x magnification. This makes it ideal for small-game hunting, self-defense, and shooting in tight quarters.
Unfortunately, no manual parallax adjustment is available to correct reticle drift. The good news is that I didn't notice much parallax.
You're also covered by Burris' Forever Warranty. Burris will repair or replace your scope at no cost if your scope is broken. If this optic sounds like it's right for you, go ahead and try it out.
5. Leupold VX 3i 3.5-10x40mm Rifle Scope
Leupold has always been among my favorite brands to recommend to others. They have been producing high-quality goods for many years. Their user base grew over time, as did their reputation.
When it comes to shooting with a 243 Win cartridge, the Leupold VX-3i is another Leupold scope I can recommend for your 243 Winchester rifle. A cost-effective scope designed to last for a long time.
It is built of high-grade aluminum. The same aviation-quality aluminum is found in far more costly products. The anodized black matte finish on the scope is neat and sleek. This gives the scope an elegant and quality appearance. Rest assured, it performs similarly as the premium scopes.
In addition to the fully multi-coated lens in the scope, it comes with Leupold's twilight light control technology. It significantly improves the scope's performance in low-light situations. While it is still insufficient for night hunting, it is excellent for low-light hunting.
Also, the scope is fog proof, shockproof, and waterproof. Whether it's raining or freezing outside, this scope will work as expected during the ups and downs. It's also a fantastic beginner's scope.
This, like all other Leupold products, is created in the United States. It was designed and built in the United States. You will also receive a warranty from them.
The scope does not include any mounting hardware. The accessories are sold separately by Leupold. You should certainly get these when you buy your scope.
6. Bushnell Elite Tactical XRS II Riflescope
Our next selection is a high-end optic developed for long-range shooting, making it ideal for increasing the accuracy of your rifle across larger distances.
The Bushnell Elite Tactical Riflescope is offered in three different colors: gunmetal gray, flat dark earth, and black. The Bushnell Horus H59 reticle or G3 reticle are all available on the Black. The Gunmetal Gray features an illuminated G3 reticle; however, the Flat Dark Earth does not.
These reticles are all mil dot type, and they are all first focal plane reticles. As you alter magnification, the reticle size seems to increase and decrease in accordance with the sight image. This enables holdover points to reflect a constant distance regardless of zoom power.
This mil dot scope features an ED Prime Glass lens. This glass reduces color fringing, an effect caused by the lens not appropriately bending colors, causing the picture to blur and the colors to look wrong, especially around highly lighted and dark regions.
The lenses also include Ultra WideBand Coatings for improved light transmission and reduced lens flare. The massive 50mm objective lens diameter allows in a lot of light. The EXO Barrier repels dust, dirt, water, and oil from your lenses, keeping them clean and scratch-free.
The Bushnell scope is waterproof to IPX7 standards and fog proofed with argon gas. It also comes with the Bushnell Warranty. The parallax adjustment from 75 yards to infinity improves accuracy over the whole range of the sight. The power ring's retractable throw lever allows for easy and quick magnification changes.
The Bushnell Elite features a locking windage turret and a Zero Stop elevation turret, which allows you to easily return to zero after making adjustments. Both turrets are MIL dot and exposed.
This mil dot scope has a 34mm main tube body that makes it more robust and provides for a wider range of elevation and windage adjustment than other Bushnell selections. Elevation may be adjusted to about 30 MIL and windage to about 20 MIL.
The Bushnell scope has a length of 14.5 inches and weighs around 37 ounces, which is fairly heavy; however, considering the larger tube body and high magnification, it is worth the weight.
7. Vortex Optics Crossfire II
A handful of Vortex Optics selections spice up our list. The Vortex Crossfire II is another low-cost choice we will review on this list of best rifle scope for the 243 rifle cartridge.
The Vortex Crossfire II reticle choices include Dead-Hold BDC, V-Plex, and V-Brite. Vortex's version of a duplex reticle is the V-Plex, while the V-Brite is the lighted version of a V-Plex reticle. The Crossfire II scope has its reticles at the second focal plane. The rapid focus eyepiece enables quick and easy reticle focusing.
All the air-to-glass surfaces on the scope are fully multi-coated. Vortex used its unique coatings, including various anti-reflective coatings, to ensure that the scope is protected from scratch and other harmful elements.
The scope's 1-inch main tube diameter is manufactured from a single-piece aircraft-grade aluminum for longevity and rigidity. The scope housing is hard-coat anodized with a matte black finish.
The Crossfire II optics is shockproof due to their durable design. It also has an o-ring seal and nitrogen purge to keep water and fog out. The capped reset turrets enable too-light indexing. They feature 1/4 MOA click values and a maximum adjustment range of 60.
The Crossfire II has a length of 11.86 inches and weighs around 15 ounces. It has a lens cloth and lens coverings that can be removed.
8. Leupold Mark 4 6.5-20x50mm Rifle Scope
The Leupold Mark 4 riflescope is the last scope in our review for the 243 rifle. It is a first focal plane reticle scope.
The Leupold Mark 4 is designed to be extremely versatile for any desired ranges you wish to shoot at. This first focal plane configuration allows you to swiftly target close-range objects or zoom exceptionally far while maintaining a great image utilizing parallax adjustment settings.
It has a high maximum magnification of up to 30X, which allows you to utilize this scope in a competition scenario. However, it also has a wide lens, making the scope ideal for selecting targets during a hunt.
The lenses are high-quality twilight lens designs that provide extraordinarily brilliant images in both normal and low-light conditions. Furthermore, the eye relief is well-designed and should undoubtedly improve your hunting activities.
With a 1/10 MIL click, all turret adjustments on the scope, including elevation and windage, perform smoothly. Furthermore, the construction quality is high due to the one-piece durable tube used, which offers this scope shock resistance.
The only downside to this scope is that some buyers may find the price too high.
FAQ
Is 243 a strong rifle?
The 243 was created as a deer hunting as well as a varmint cartridge rifle. It is in competition with high velocity. 22 weapons and is capable of taking down enormous game animals.
What is 243's effective range?
The 243 is reasonably accurate and has enough energy to reach 1000 yards. A 243 can kill a deer close to 1000 yard if the right ammunition is used.
Is 243 rifle for long range?
Yes, it can be used for both long-range and mid-range shooting.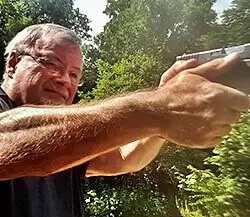 Mike Hardesty is a published freelance gun writer. With dozens of articles and reviews published in Pew Pew Tactical, Snipercountry.com, and TTAG (The Truth About Guns), Mike is considered a firearms expert. His special area of expertise is handguns.
Mike is a long-time shooter. He has been punching paper targets, taking deer and other game and shooting at competitions since about 1975. Other related pursuits include reloading and bullet casting. He currently reloads for over 10 calibers, both handgun and rifle. His reloads, particularly for 9mm, were in great demand during the height of the ammo shortage among family and friends. He donated hundreds of rounds to informal shooting sessions. He was quoted as saying "I do not sell my reloads but I sure will help my guys shoot 'em for free!". He has a few cherished firearms that he has inherited or otherwise procured — those are his favorites.
He earned B.S. and M.S. degrees from Indiana State University in 1974-1975.
He's a firearm experts and is the founder of mhardesty.com.