Choosing the right scope for .270 Winchester is just like deciding on which cutlery to use; once you make your decision, you will likely stick to it for the rest of your life. The .270 is an excellent hunting weapon, but it's not worth the hunt until you couple it with a good scope. 
Where would you begin your hunt for the right scope?
Fortunately, we've decided to do the research for you and provide a list of the most common scopes for 270. Whether you want to go deer hunting or hunt for bigger games, this list will help you decide.
Here are our top picks.
Things to Consider When Choosing A .270 Scope
Before choosing a scope for your 270 round, you must first consider some factors. You have to first consider your shooting conditions and the type of game you want to hunt. These and many other considerations would determine the features to look out for before you purchase a scope for your .270. 
Reticle Style
Duplex reticles and Traditional crosshairs are the most popular hunting reticles. These basic reticles can be easily operated even by a novice; they allow shooters to quickly sight and do not interfere with your target. Although traditional crosshairs could go MIA due to a cluttered background, however, duplex reticles overcome this problem by thickening the lines outward from the center.
Ballistic reticles, such as BDC and mil-dot reticles, are becoming increasingly popular, so if you're a hunter, you should know about them.
These reticles have hash markings that make elevation and windage adjustment easier. However, with the busy background that is commonly present during hunting, these reticles might be difficult to use or become distracting.
There are no strict rules to choosing a reticle. It all depends on the range you're shooting at, so ensure you choose a reticle that is appropriate for your shooting application and your surroundings. If you would be hunting deer at close range, a duplex reticle should suffice. If you are going for other games and you would need to reach out a bit longer, a mil-dot or BDC reticle would be a better option compared to short-range selections.
Eye Relief
Eye relief is the name for the distance between the eye and the scope before a shooter can view a clean image. This distance is measured in inches, and it is important because you need a scope with long eye relief that would prevent the recoil of the scope from hitting your face. This is referred to as a "scope bite." Scope bite is one of the reasons why not every riflescope is suitable for mounting on a centerfire shotgun or rifle. The greater the magnitude of the recoil, the more eye relief you would need.
The recoil on a 270 is commonly classified as "moderate" however; this might just be a rough or wrong estimation. Your own definition of mild, moderate, and strong recoil will be determined by your individual classification of recoil strength.
Consider these two rifles. The first is a Remington 7400 semi-auto 270, while the second is a Remington 700 bolt action rifle. The Remington 700 has greater recoil, in my opinion. This is likely due to the 700's polymer stock, which is 2 pounds lighter in weight compared to the 7400's wood stock. The 7400 recoil is fairly moderate, and the 700 bolt action rifle is at the end of the moderate recoil classification level.  
On a 270, I like a riflescope with at least 3 inches of eye relief (ideally more). For a moderate to strong recoil like the Remington 700, I prefer an eye relief of at least 4 inches. The degree of eye relief each shooter can tolerate may vary; however, I would recommend "more eye relief is preferable" to avoid the painful experience of a scope bite. Don't get beaten by your scope! 
Magnification 
Another factor to consider when choosing a scope for your .270 is the magnification range you desire. Most shooters use a variable magnification scope that has a wide magnification range because it is ideal for multipurpose shooting instead of a fixed power scope.
However, you are rarely going to find a riflescope that functions well at all magnification levels, so select the magnification range depending on your shooting application the majority of the time.
The magnification power of 3-9x is recommended for short or mid-range hunting. When you get a scope with a magnification range between 4-14x, such a scope is ideal for only mid-range hunting. A low magnification of 4x is adequate for close-range shooting, while a higher magnification of 14x is adequate for most hunting distances.
Finally, even greater magnification strengths, approximately 25x on the top end, are required for long range target shooting or hunting. These greater magnification scopes are more expensive, but they allow for longer shots without sacrificing your ability to make close-range shots.
Focal Plane
I'm sure you'll come across references to the first focal plane (FFP) and second focal plane (SFP) scopes as you look at riflescope features. If you're not conversant with this topic, here's a link for further information on FFP vs SFP scope.
Although an FFP scope might be used to hunt, most hunters prefer an SFP scope (most of the scopes we covered are SFP versions). The major advantage of an FFP scope is its long-range shooting ability, and most hunters will not go beyond 500 yards while shooting a .270.
With practice or the use of a BDC reticle, it is easy to responsibly take most large game animals down at 400 to 500-yard range. Obviously, numerous criteria will be considered while selecting whether or not to shoot a game at that distance.
Most hunters shoot at distances less than 500 yards; therefore, an SFP scope will suffice.
Turrets
Another option is to select a windage and elevation adjustment style. As with reticles, there is a more traditional option as well as an emerging alternative.
Capped turrets are the typical or traditional option. As their name implies, these turrets have caps covering them, and these caps protect them from accidental touch that can mess with your zero. This makes field corrections more difficult, but because most hunters zero their scopes ahead, this isn't normally an issue.
A ballistic or tactical turret is an option. These turrets are often uncovered, which means they lack a cap and are huge and simple to adjust. This makes unintentional modifications more occurrent, but it also makes field adjustments easier if you do that often.
Light Transmission
The majority of individuals will most likely be looking to the .270 for hunting; if that's you, you should examine light transmission or the scope's light collecting ability.
Most hunting optics come with multicoated lenses that help in light transmission to reduce the effect of the sun in early-morning or late-afternoon shots, low-light, or shots in poor weather conditions.
Scope Tube 
The scope tube size is the size or diameter of the main tube of the scope, and it is often shown in millimeters or inches.
Today, the most common tube diameters are 30mm and 1-inch. The 1-inch tube diameter is the most traditional tube size; it has been used for decades. 30mm tubes are the newer alternative that has gained popularity in the last decade.
The image brightness or amount of light that enters the scope is not affected by tube size. The total weight is where tube size comes into play. A larger 30mm tube usually weighs more than the 1-inch scopes. There are some exceptions to this rule.
While any tube size will work nicely on a 270, I'd recommend the following:
If weight is an important consideration in your purchase, I'd recommend sticking to 1-inch tubes because they usually weigh less.
If you are on a tight budget, I'd recommend sticking to the 1-inch ones because the bigger 30mm variants are more expensive as well.
If cost or weight is not a concern, 30mm versions often provide a few advantages such as increased windage and elevation adjustment range, and other capabilities.
Personally, I would avoid a bigger 34mm tube scope because they are primarily designed for specialized long-range shooting.
TOP 6 Best Scope for 270
Without further ado, here are our top choices for the best scope for 270 Winchester. Whether you're searching for a nice scope to place on top of a hunting rifle or wanting to create a long-range target setup with a weapon you already own, we've got you covered with this best scope review.
1. Vortex Optics Crossfire II 
My first pick for the best scope for .270 is the Vortex Crossfire II.
One of the Vortex entry-level scopes is the Crossfire II selection. This series of models are available with four distinct magnification levels. The 2-7X32 scope version is the smallest, while the 4-12×44 scope variation is the largest.
There are two types in between, 3-9x40mm and 3-9x50mm. I chose the 3-9×50 Vortex scope for this review. This model, in my opinion, strikes a balance between the magnification, objective lens, and FOV.
There are 3 reticle options for this vortex scope: v-plex, BDC, and v-brite option. The model I'm examining features an illuminated reticle and is called the v-brite. The addition of light is the primary distinction between v-brite and the V-plex reticle. As a result, the V-brite choice is ideal for hunting in low light settings, which is why I chose it above the other reticle options.
Although it has an eye relief that is less than 4 inches. Its 3.8 inches is still long enough for its price range. The field of vision at 100 yards is 32 to 12.9 feet, which puts it far ahead compared to the 4-12×44 variation.
In reality, this model boasts one of the broadest views in its price range and series. And, based on its structure, it can withstand some bumps and knocks. It is composed of aircraft-grade aluminum in terms of structure.
One of the things that surprised me about this scope was its completely multi-coated lenses. There aren't many scopes in this price range that have completely multi-coated lenses. As a result, you may anticipate this model to have improved light transmission and less glare.
It is not the largest, being 12.8 inches in length and weighing 18.04 ounces. The zero-reset function is available on the adjustable turrets. I fitted this scope on a Winchester rifle Model 70 and was delighted with how nicely the turrets maintained zero.
The image quality at a higher magnification did not meet my expectations. As the magnification range is increased, the image quality becomes distorted.
2. Nikon Buckmaster 3-9×40 Riflescope 
As you may have guessed from the name, Nikon Buckmaster 3-9×40 is a result of the collaboration between Buckmaster and Nikon. If you are in search of a good piece of affordable glass, this product could be precisely what you need.
The optics are excellent (for the price), as you'd have expected from Nikon. It has an anti-reflective coating that transmits 92% of the light captured by the lens. It is not as good as 98% found in higher-end versions, but it is so reasonable for the price.
While the visual quality is great, the Buckmaster isn't great in low light. So, if you're looking for something to hunt deer with at night or morning, you might want to pass on this.
Another excellent feature of the Nikon Buckmaster, and probably its main selling point, is its BDC reticle, which lets you estimate, within limits, how a bullet will drop at a given range. The BDC reticle does have a learning curve, and it is not so difficult to use. When it comes to scope mount, Nikon scope uses Cantilever Mounts.
3. Leupold VX-3i 4.5-14x40mm 
When it comes to producing high-quality rifle scopes, the Leupold brand has a superb reputation. The model we'll look at is the VX-3i. Designed with professional shooters and hunters in mind.
The Leupold VX 3i scope is not a low-cost scope. However, for professional shooters, it provides all they require. With a 30mm main scope tube diameter and a superb, non-illuminated SFP duplex reticle, and high-quality construction. This scope will operate under all hunting situations since it is made of tough 6061-T6 aluminum.
You can use the Leupold scope for hunting whitetails across tough terrain. This Leupold scope is guaranteed to be waterproof, fog proof, and shockproof. It also lets a shooter see well over the 4.5-14x magnification range. The high-quality 40mm changeable objective lens offers clear images. Using the Leupold VX 3i increases your chances of bringing home the trophy.
The linear FOV at 100 yards is between 7.3-18.7 feet, and the eye relief is 3.7 – 4.4 inches. This means you won't have to worry about scope bite injuries. It weighs 15.1 ounces and is 12.6 inches long. This optic is MOA adjustable, with click values in 0.25 MOA increments. 
Shooters will get three important advantages while using this scope. For starters, it has the most recent Twilight Management System from the company. This allows for clear, sharp visibility even at sunrise, nightfall, or in dark areas. Then there's the Side Focus function. This allows you to make adjustments without taking your gaze away from the rifle. Finally, the fast focus eyepiece is lockable, allowing for quick target acquisition.
The VX-3i scope is an excellent side focus variable scope with twin bias erector springs. This reduces blowback on high-tech components of the scope. It also includes a Lens cover for further protection. People who are serious about hunting will invest in an optic designed for that purpose.
4. Vortex Optics Viper PST Gen II 
The Vortex Viper PST is a good scope and a mid-range choice from Vortex Optics. It is a tactical scope, which isn't typical but is growing in popularity among hunters.
The Vortex Viper is available in both first focal and second focal plane configurations. The reticle on the SFP version incorporates hash markings for windage and elevation adjustments. The FFP features a similar but more "Christmas Tree" type reticle in MRAD or MOA. Whatever reticle you choose, it is illuminated and etched on the glass. It will also correspond to the turrets for faster and more precise shooting.
The turrets are exposed zero-reset tactical turrets. They are equipped with a fiber optic turret rotation indicator, which shows a visual and tactical turret rotation. The turrets feature a click value of .1 MRAD/¼ MOA, a maximum elevation adjustment of 22 MRAD/75 MOA, and a maximum windage adjustment of 11 MRAD/40 MOA.
For color and resolution, the lenses of this scope are comprised of low dispersion glass. They're completely multicoated for maximum light transmission and work well in low-light situations. It also has a scratch-resistant lens coating applied to the external glass surfaces, with a 3″ sunshade to reduce glare in strong light settings.
The 30mm tube is composed of an aircraft-grade aluminum tube and a matte hard anodized finish. It is shockproof, fog proof, and waterproof. At 100 yards, this scope offers a 41.2 to 8.6 feet FOV, which is greater than the more costly Razor HD Scope.
Finally, the Vortex Viper offers parallax adjustment from 20 yards to infinity, which is controlled by a side focus knob.
5. Vortex Optics Diamondback 4-12×40
If you're looking for a good scope with adaptability, you won't find anything more adaptable than the Vortex Diamondback rifle scope. This scope's 4-12×40 setup provides everything you need for hunting big animals or taking down little varmints.
The scope may also be used on a variety of muzzleloaders and slug shotguns. Whatever your inclination, this unique scope will help you achieve your aim.
When purchasing a scope, you need to get something that will last, and the Vortex Diamondback delivers on that front. The durable one-piece tube is made of tough aircraft-grade aluminum. As a result, you can be confident that this tough scope will withstand a wide range of environmental conditions. With the fog-proof and waterproof build, the overall longevity of this remarkable scope is unrivaled.
The scope comes with a Bullet Drop Compensation reticle, which makes it unique. BDC removes all of the uncertainty from shooting. As a hunter, you will not need to manually change height for long range shooting. Instead, owing to the amazing BDC reticle, all you will do is align your shot with the reticle that corresponds to the distance at which you are firing. Then it's only a matter of pressing the trigger.
When you consider all that the Vortex Diamondback scope has to offer, it's easy to see why more hunters are purchasing this scope.
When you get this scope, you won't have any trouble hunting big game, small animals or protecting against predators. It is one of the greatest AR-10 options as well. When it comes to scope mount, Vortex Diamondback scope uses Cantilever Mounts.
6. Burris Fullfield II Riflescope
We conclude our list of best rifle scope for .270 Winchester with a highly durable Burris model, which is an improved version of the original Fullfield.
Even though the initial Burris rifle scope received positive feedback from shooters, the manufacturer has enhanced the Fullfield II rifle scope with some additional features. The adjustment system of the scope has been repositioned, and the scope build is lighter and more sealed compared to the initial Burris scope.
It has a 1-inch scope main tube diameter, a variable magnification range of 4.5-14x, and a high-quality 42mm objective lens. Other noteworthy characteristics are the steel-on-steel adjustment mechanism and the multi-coatings on the glass lens surfaces. These and other criteria ensure that you can use the scope in any weather or lighting condition.
This optic is 13.8 inches in length and weighs about 18 ounces. It is fog proof, shockproof, and waterproof. It has MOA adjustable click values in 0.25 increments. The linear FOV at 100 yards is around 9 – 23 feet, with eye relief ranging from 3.1 – 3.8 inches. This innovative design provides a more forgiving eye position, resulting in a comfortable shooting experience. Furthermore, the eyepiece and magnification ring are now one single item, requiring just two seals. In contrast to the usual O-rings found in most riflescopes, these seals are unique quad seals.
Magnification adjustment has been made simpler. Simply rotate the whole eyepiece to the proper position, and you're ready to go. The adjustable eyepiece does not need a locking mechanism.
The Ballistic Plex reticle features a low vertical crosshair and tiny ballistic lines. This implies that the scope should automatically compensate for Bullet Drop from a 100 to 500 yards while shooting with regularly used ammunition.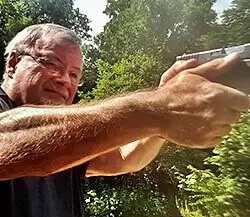 Mike Hardesty is a published freelance gun writer. He also possesses specialized expertise in rifle scopes With dozens of articles and reviews published in Pew Pew Tactical, Snipercountry.com, and TTAG (The Truth About Guns), Mike is considered a firearms expert. His special area of expertise is handguns.
Mike is a long-time shooter. He has been punching paper targets, taking deer and other game and shooting at competitions since about 1975. Other related pursuits include reloading and bullet casting. He currently reloads for over 10 calibers, both handgun and rifle. His reloads, particularly for 9mm, were in great demand during the height of the ammo shortage among family and friends. He donated hundreds of rounds to informal shooting sessions. He was quoted as saying "I do not sell my reloads but I sure will help my guys shoot 'em for free!". He has a few cherished firearms that he has inherited or otherwise procured — those are his favorites.
He earned B.S. and M.S. degrees from Indiana State University in 1974-1975.
He's a firearm experts and is the founder of mhardesty.com.