Finding the best scope for 45-70 Lever Action might be difficult because there are so many 45-70 riflescopes on the market nowadays.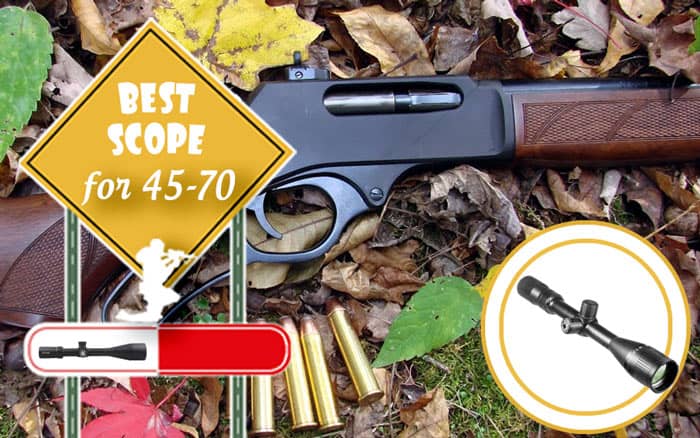 If you are having trouble finding a good scope for your 45-70 Marlin Model Lever gun, we can help you. In today's scope and gun guide, we'll go over some scope suggestions for the 45-70 Marlin model Lever gun.
Here are our top picks and scope suggestions for 45-70 shooting.
A Brief Review Of The .45-70 Rifle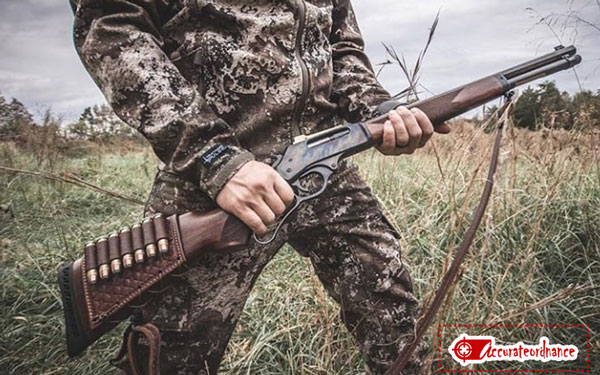 To know where you are going, you must first know where you're coming from. Let us talk about the 45-70 and how it affects our scope options.
When it comes to long-range shooting, the venerable 45-70 rifle does not come to the mind of many people. Those that know firearms history, on the other hand, know that the 45-70 is a great round.
The US Government performed the Sandy Hook Tests in 1879, where they shot 45-70 cartridges at the range, firing the black powder ammo with an iron sight at 2,500 yards and striking the target.
Bear in mind that this was designed to be a drop or volley weapon; thus, it was effectively shot at extreme angles like a mortar. The reasonably targeted firing was only effective for about 200 yards. Projectiles with better ballistic coefficients can go even further with today's new powders, as long as you make use of a good .45-70 scope with a long barrel.
It is impracticable to reach a mile since most current 45-70 rifles have barrels that are less than 20 inches in length. In addition, you must aim roughly 10ft over a target for you to hit the target with your shot.
Although the volley-fire rifle never truly caught the attention of shooters in the United States, the .45-70 did, especially with big-game shooters. Long-range shooting with the 45-70 caliber is not really practical, but it is incredibly fantastic for taking down big animals within 200 yards, including games like buffalo.
Modern 45-70 cartridges loaded with monolithic bullets are more than capable of taking down any kind of game in the world. If you plan to fire big games, make sure you're using a contemporary rifle that can handle it, such as the Marlin 1895 or Henry Rifle.
Older 45-70 rifles, particularly Springfield trapdoors, just cannot manage the pressures caused by the round and will explode in front of you. It is worth noting that most hunters prefer the .45-70 caliber due to its incredible stopping capability. It is great for hunting large game such as bears. It may also be used to hunt birds and smaller varmints.
The US army introduced this 45-70 round in 1873, and it was designed to replace the .50-70-450 round. With consistent practice, you can dependably strike targets at various ranges.
Before we go into the best alternatives on the market, you should realize that the 45-70 caliber is not intended for long-range shooting. Nonetheless, it shines at closer ranges. Furthermore, due to its modest velocity, it does not damage edible flesh on small game animals such as deer. Meaning it can be used for deer hunting.
The 45-70's trajectory is inherently steep. That is why you need to use the best scope to make exact windage, distance, and altitude changes, especially when you're aiming at medium or long-range targets.
Understanding The 45-70 Cartridge
The 45-70 cartridge is ideal for big games. Not only must the guns that fire these rounds be tough as nails, but the sight must also be up to the task. These cartridges have been around since the 1800s. It was the best hunting cartridge at the time.
Why? It has unrivaled power. It is your best bet if you need a cartridge for any major game.
Let us go through the 45-70 cartridge's key features.
Power
If you're searching for a powerful cartridge, 45-70 is the way to go. Why? Because the 45-70 caliber is powerful enough to knock down any large game. That's correct.
Range
The 45-70 round has a restricted range. However, this is not bad. The cartridge was never intended to be a long-range weapon; therefore, it's not out of place for it to lack this potential.

What range does it cover? This cartridge is ideal for close-range shooting. It is effective at a range of 200 yards or less.
Speed
Since the rifle range is only 200 yards away, let's speak about speed. The 45-70 round is a fast round. Are there any speedier alternatives? Yes, but that doesn't overshadow the 45-70's speed. Speed should come with accuracy.

If you still believe you can make long-range shots, the 45-70 is better suited for target shooting instead of hunting.
45-70 Scope Buying Guide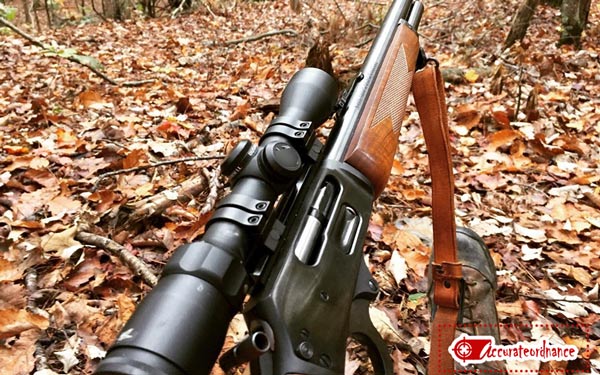 Before purchasing a scope for any 45-70 rifle, a number of factors must be considered in order to make a good decision and achieve the greatest results. If you're willing to get a scope to improve the odds of hitting your targets, you should invest in high-quality scopes that will fulfill the purpose for which you purchased them. Before purchasing the best scope for a 45-70 rifle, consider the following factors.
Accuracy
The most important feature that a good scope must offer is accuracy. And when we talk of accuracy, we cannot ignore magnification levels.
For close-range targets, a magnification of 1-4x should be ideal. This magnification would be ideal for deer hunting. If you want to hunt big game, acquire a scope with a magnification of 3x-9x to put more distance between you and that massive bear.
Scope Mount
A mount is a device that connects a rifle with a scope. A decent mount allows the shooter to focus on the game rather than on the mount. Before purchasing a sight for your 45-70, ensure that the mount will firmly hold the scope. Examine the scope mount to confirm that they are strong enough to maintain a zero. There are scope mounts that can make you miss your target because they do not hold zero for long or after some shots.
To avoid this, search for a good scope mount when purchasing your 45-70 scope. Although there are scopes that come with a mounting ring out of the box, some users worry about their longevity. A scope mount's longevity is determined by the particular shooter and the shooting application.
Durability
A decent scope must be able to withstand whatever is thrown at it for a long time without breaking. When selecting a 45-70 scope, keep characteristics like material in mind. The material details will reveal the scope's durability standard. Check to verify whether the scope is made of steel or aluminum that has been gas purged with nitrogen or other gases.
Hunting with a scope will put a lot of strain on it; therefore, it's crucial to choose one that can withstand wear and tear since tree branches will certainly scratch the scope. Having a scratch-resistant optical surface is appropriate for this type of encounter. A long-lasting scope helps a shooter save money that would have been spent on frequent repairs.
Magnification
Although the 45-70 sight is not intended for long-range shots, it may be used for mid-range shots with decent magnification. To get accurate shots, you need to have experience with magnification scopes is required.
Although some shooters feel comfortable with a fixed power scope like the fixed 4x magnification. The disadvantage of a fixed power scope is that you cannot increase or reduce the magnification if the scope was built at fixed 4x power.
The 45-70 scope is ideally suited for close-range shooting. You're definitely shooting artillery if your shot with this rifle goes beyond 300 yards, and you would only be praying it comes close to hitting your target. At a closer range, however, this is a powerful bullet capable of anchoring big game animals.
Many individuals make use of the 45-70 caliber for big game hunting, ranging from wild pigs to enormous bears or buffalo, and in such cases, a lower magnification is essential for fast target acquisition.
Reticles
We have different reticle designs available for these scopes. Whatever scope you choose, be sure that the reticles are appropriate for your shooting application. A good reticle aids in target acquisition with moving and unstable targets. An unsuitable reticle will waste the shooter's time trying to stay on the target.
It is also critical you select optics with simple-to-interpret reticle markings. This gives the shooter an added advantage. Since the scope may be utilized in a low light setting, an illuminated reticle is perfect. Having an illuminated reticle will make your hunting at dawn or dusk very effective.
The built-in illuminator provides illumination, and a laser dot aids in making accurate targets and increasing the likelihood of returning home with wildlife.
Excellent Coating
A good optical device has high light transmission, which results in a clear visual image. When lenses are properly coated, they absorb light and provide a crisp image of a target. A lens with a poor coating will produce a dark reflection. This weak picture causes the shooter to have poor target acquisition, resulting in a missed or imprecise shot.
Eye Relief
To avoid hurting your face, use a scope that comes with a decent eye relief. After striking a target, certain scopes rebound into the shooter's face. If caution is not exercised, such a sight has the potential to catch the shooter off guard. The shooter is at risk of being injured. Before purchasing a 45-70 riflescope, ensure it has an enormous eye relief distance.
Best Scope for 45-70 Reviews
Finding the correct sight for the.45-70 caliber rifle, on the other hand, might be a difficult endeavor. This is due to the fact that there are several aspects to consider before buying a scope. This guide will help you narrow your search.
1. Vortex Optics Crossfire II
The Vortex Crossfire II rifle scope is classified as a rimfire optic by Vortex Optics, and the three possible reticle options demonstrate why. This Vortex Crossfire II Scout Scope is ideal for shooting with the Henry Rifle or Marlin 1895 rifles.
The crosshairs in the scope are straightforward, and it has holdover markers intended for shooting at distances of about 100 yards. This range is great for a .45-70 cartridge because it has a remarkably comparable trajectory to the .22 long rifle bullet. Some argue that because the crossfire II is a rimfire optic, it will not withstand the recoil of the .45-70 cartridge. Don't pay attention to them. It certainly will. In fact, this scope is highly durable and shockproof.
After sighting in this scope, you can be confident in its ability to maintain zero and remain accurate for a long time. So there is no blaming the scope for your misses.
It has a 1-inch aircraft-grade aluminum main tube, and it is a second focal plane reticle optic. Because it is an SFP scope, the reticle size does not change when the magnification is changed, which is ideal for the basic duplex reticle.
This Vortex scope is designed to make 1/4 MOA increments per click, and it has a total elevation adjustment of 60 MOA. At 100 yards, the field of vision (FOV) is 42 feet. That is not much, but it is huge when you're aiming at a deer from 100 yards out.
The scope's objective lens diameter is a substantial 32mm, which aids light transmission and makes early morning shooting in low light circumstances considerably simpler.
The multicoated lens technology allows the lenses to bounce water or rain off the surface and transmit light effectively. The in-built sunshade allows you to shoot in low-light circumstances even better.
Finally, the crossfire II comes with nitrogen-purged and superb o-rings that make the rifle scope fog-proof and waterproof regardless of the weather. The Crossfire is a good scope, and it would serve you well with your 45-70 cartridge.
2. Leupold VX-Freedom 1.5-4×20
Another good scope we would look at for shooting the 45-70 rifle is the Leupold VX-Freedom scope.
The Leupold VX-Freedom is a fantastic scope that is ideal for lever action rifles. It is the second best scope for 45-70 lever action rifles, in my opinion. I use this scope for different shooting applications. Do you want to know what they are and why I used them? Continue reading…
When it comes to reticle and glass clarity, this Leupold scope has one of the best glass you can expect in a scope, and this glass offers crystal clear, crisp, and bright images. This clear image is due to the lenses being completely multi-coated, which allows for enough light transmission into the scope. This results in better colors and a brighter visual image.
The Leupold's Twilight Light Management System is also included with this optic. This is Leupold's system is used for seeing in low-light circumstances. Like at dawn or dusk, when prey is most abundant.
This scope is made of a Duplex reticle that ensures easy and fast target acquisition. Duplex reticles feature thicker outer and thinner crosshairs, directing your gaze to the target's center. You can even make long-range precise shots with the crosshairs.
And it looks beautiful and clear, unlike some complicated reticles, which just muddle up your vision. I use this scope mostly for my varmint hunting, and the duplex reticle allows me to rapidly detect and shoot my prey.
The scope comes with an eye relief of 3.74- 4.17 inches which is considerably higher than the normal for this sort of scope, so you shouldn't be concerned about not having enough eye relief. It has a large eye box, giving the shooter a wider field of view.
The VX Freedom, like all other Leupold scopes, is made to last. It's incredibly lightweight and small, making it ideal for lever action rifles because it does not add much weight to the rifle.
The lightweight of the scope is a result of its aircraft-grade aluminum, and this material can withstand any battering. I have been careless with handling my scope severally, and I've used it to hit different surfaces, and it still doesn't have a scratch. It is also fog proof, shockproof, and waterproof. It also boasts a scratch-resistant lens surface, making it strong, durable, and trustworthy.
If that isn't enough, Leupold backs this scope with a lifetime warranty. I have experienced the company's outstanding customer service, and I can vouch for them.
The windage and elevation turrets have 1/4 MOA increments per click, and they are extremely accurate. Because the modifications are finger adjustable, they are quite simple to make. Each adjustment gives out an audible click that can be heard or felt by the shooter.
What about the zero? It just took about 15 minutes to accurately zero the scope, so I can say it was quicker and easier than I expected. I have used the scope for a while now, and the zero still remains intact.
This VX-Freedom optic has a magnification range of 1.5x to 4x. However, I wish the magnification had started at the true 1x power. It would have been better for very close-range shots, such as for home/self-defense and close battle. The 1.5x low magnification isn't much of a problem.
This scope's parallax is fixed, and I have not noticed any issues with it. This Leupold scope does not include a scope mount or scope rings, but given the price, I didn't expect mounts.
Scope rings are also not that expensive. I recommend the Leupold QR rings. They perform nicely on a lever action rifle. You can also exchange the sight easily on different rifles.
The Leupold 1.5-4×20 sight is an excellent all-around scope that is ideal for lever action rifles, and it would perform well if you mount it on your 45-70 lever action rifle. You will not regret doing so.
3. Burris Ballistic Plex 2-7×32
Out of all the scopes we'll examine, this one has one of the best clarity, longevity, and accuracy. Do you want to know why? Continue reading…
The glass of the Burris Ballistic Plex is incredibly clear. The scope's index-matched multi-coating is a good way of stating it works well in any condition, whether in low light or minimizing glare in bright light.
With this scope, you are sure of concealing yourself when hunting. This scope also uses higher-quality lenses that have greater objective lens size, which aids in abundant light transmission.
A Ballistic Plex reticle is used in this sight. It's straightforward, sleek, and effective.
The markers are crisp and narrow for precision targeting, with ballistic drop marks for shooting at different distances without the need to adjust elevation and windage knobs..
It also has a second focal plane, which means the reticle's scale remains constant across all magnifications, ensuring that the reticle remains legible regardless of distance.
It is indeed a simple reticle that provides adaptability for medium and short target ranges without losing target acquisition speed by using too many hash marks.
This Burris scope offers an eye relief range of 9.2-12inches. This enables shooting with both eyes open. Also, the scope features a large eye box, and the target is easy to identify for quick shots at 2x. This holds true to about 5x or 6x magnification for precise image alignment.
At a higher magnification of 7x, the scope's eye relief is still very comfortable, but the eye box becomes an issue at this magnification. To see well at a high magnification, you must be precisely positioned behind the reticle as the eye box becomes smaller.
If you move your head slightly off-center, the image will have a hazy look or will completely black out. This will not be a big deal if you use the right strategy. It also aids in ensuring the scope has been correctly mounted with the appropriate relief.
This Burris scope has a tough build that is shockproof, fog proof, waterproof, and durable enough to handle anything that is thrown at it. The exterior tube is made of a single-piece material, which increases its capacity to tolerate vibration and shock from heavy recoil calibers.
Internal assembly of the optic is hand-fitted to ensure a stable point of impact at all magnification levels. Because the scope's body is purged with Nitrogen gas, it has a fog-free capability in the rain, cold, or fluctuating temperatures. You're sure of a clear shot regardless of the weather.
Burris also employs specially designed quad seals to give double protection against leakage. The lightweight and compact design of the scope is also perfect. It is merely 9.7 inches long and 13ounces, making it ideal for field use.
This scope doesn't have so many showy features, but it puts in all the finest elements. The windage and elevation adjustments are made of steel-on-steel turrets with loud clicks.
When shooting with both eyes, the turrets provide a streamlined profile and do not hinder your vision. They have a Posi-lock mechanism that secures your adjustments.
It was simple to zero, and I completed the process with less than 5 rounds when I zeroed at 25 yards. It maintains zero despite all of the stress, vibrations, and recoil that is produced by a 45-70 round.
This optic features a wide magnification range of 2x-7x, making it perfect for close- to mid-range shots. It is most effective around 75yards to 100 yards, but it may be pushed to around 300 yards. The scope's magnification adjustment ring is somewhat difficult to spin but tight is better than loose. The optic does not come with any rings or mounting.
The Burris Ballistic Plex is one of the greatest variable scout scopes due to its clarity, durability, and unrivaled warranty.
It is an excellent optical choice for shooters in need of a reliable riflescope.
4. Primary Arms 1-4x24mm Tactical Scope
It is not necessary to spend a large amount of money if you want to get a good scope. Primary Arms is a reliable optical brand that is committed to producing affordable scopes with good quality. This is a result of years of pursuit of innovation in the optic industry and years of improving their manufacturing quality. This particular scope model is a typical example.
This Primary Arms scope is crafted with tough Aluminum material to resist the rigors of close-range hunting. One critical aspect of large-caliber shooting is quick aiming, which this second focal plane scope allows for.
This reticle is a smart one because it can guarantee instant reaction when you need it the most; you don't want a fumbling adjustment dial. The red dot is visible and easy to find. The scope has 12 brightness levels; you can adjust the brightness of the scope to your needs.
When combined with the other features, the abundant eye relief of 3.5 inches in this scope helps to take the fear out of the fast usage of your rifle. The completely multi-coated lens allows a lot of light while the 30mm main tube provides a wide field of view which is another benefit in low-light settings.
The 1-4x24mm Primary Arms is a tough and effective plinking or hunting scope with great features. This model has a scope mount, flip-up lens covering, and Primary Arms' legendary Lifetime Warranty.
It has a matte black finish, weighs about 17 ounces, and it is 11.75 inches long. The illuminated center dot is powered by a CR2032 battery.
You cannot go wrong using this scope with your 45-70 rifle.
Best Red Dot Sight For 45–70
What would I do with a red dot sight on my lever action rifle? The 45-70 lever carbine begs to be mounted on by a red dot sight. When I say red dot, I'm referring to the reflex sight, not the ones with a tube.
Why is this? Well, you will get a wide field of view with the absence of a tube in your red dot, and you will be able to sight through faster and enjoy a parallax-free shot. You would also receive a lot of eye relief.
The battery is the most significant disadvantage of these scopes. Just replace the battery after each hunting season. You can replace it every two weeks if you make use of it very often. Here is a scope review for the best red dot sight for 45–70
1. Aimpoint PRO
My top pick for red dot sight with a 45-70 rifle is Aimpoint PRO. Most large game hunters use it for close-range shots, which are typical in that type of hunting.
The Aimpoint PRO sight demonstrates that it is worth the buy with its superb optical clarity. This scope has a very transparent glass with a faint blue tint. It is made up of anti-reflex and multi-coated lenses that reduce glare and allows more light transmission for clear-sight image.
This 2 MOA red dot sight is ideal for hunting since it allows for quick target acquisition.
The dot size is changeable, and I love the fact that I can make the dot small at night and larger during the day, making it easier to see my target regardless of the time of the day or the brightest settings. It features 10 brightness settings, six during the day and four at night. It also works with night vision. So, no matter what time it is, you can rely on this sight.
The scope provides enormous eye relief. Meaning you can aim at your target fast without having to worry about the precise head or cheek weld position. You can also aim at your target with both eyes open, which allows for quick target acquisition and excellent situational awareness.
This red dot sight is an excellent option for self-defense or close combat, so it doesn't matter what rifle you use, whether a 45-70 or any other rifle.
Aimpoint produces high-quality devices, and this Aimpoint red dot is not an exception. It is made with hard-anodized and tough aluminum tubes. I left the scope at the back of my pickup, and it still works properly.
It is also waterproof and can be submerged in water up to 150ft.
It also has a high-efficiency power, so you can use it, let's say, for 3 years without worrying about the battery dying. Mine has lasted for nearly two years and has not failed me once. Most times, I leave the brightness level at 7, which is quite bright but can still run for a long time.
It was a breeze to zero. Mine came almost zeroed out of the box. It just took a few shots, and I was able to zero in perfectly. With over 500 rounds shot with this sight, it still maintains its zero without needing to recalibrate. It's also incredibly accurate.
It has a fixed 1x magnification. Unless you install a magnifier, red dot sights have the same 1x magnification. As previously said, I mostly utilize mine for large game hunting, and I normally only target wildlife from 100 yards out. The scope comes parallax-free.
2. Trijicon RMR
Trijicon sights are another favorite when it comes to red dot sights. Despite the massive 6.5 MOA red dot, Trijicon RMR was still able to make the list of best red dot sight for the 45-70 rifle shooting. It made the list due to its longevity and wide range of mounting choices, for example, red dots that mounts ontop of a standard scope.
This kind of mount will provide you with an alternative for those tight situations when you need to quickly switch your sight while also enabling you to go back to the regular scope for long-range shots.
At 100yards, the click value is an enormous 1-inch.
The dot is intended for Close combat shooting, especially on AR rifles and other similar weapons, but if you use the 45-70 rifle for close-range hunting or to defend yourself against a bear with just a short time to aim and shoot, the 6.5 MOA red dot would be ideal for fast shooting.
Mounting the Trijicon RMR on top of your standard scope will provide you with as quick a shot as possible.
Trijicon provides three distinct dot sizes to meet the demands of various shooters.
For extended-range shooting, a 1.0 MOA red dot is the tiniest and most compatible.
A 3.25 MOA red dot combines distance precision with quick sighting.
The 6.5 MOA red dot is ideal for persons who have some visual impairment and/or need to make quick decisions in close range.
This is a really difficult sight at home with a concealed carry rifle same way it works on hunting rifles. It also enables simple switching between automated and manual modes, as well as shutting down for storage. All of the settings have extremely loud clicks, and when set to auto-adjust, the brightness will be tuned to fit the shooting conditions.
FAQ
Mike has been shooting, reloading, and bullet casting for over 40 years. He lives in rural Indiana where he has a backyard target range. Married for almost 40 years, Mike and his wife teach adult education in their home county and have four sons with their families, totaling 10 grandkids.