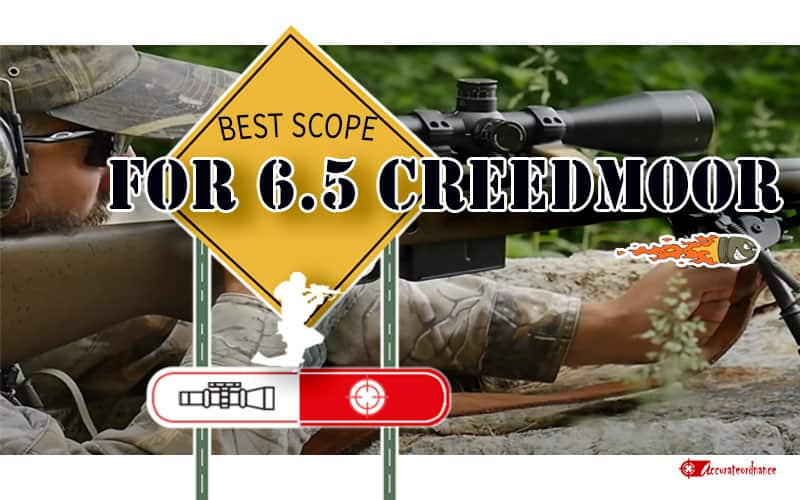 The 6.5 Creedmoor round quickly became popular as soon as it was created. But the popularity didn't come so easily. It came with some opposition. Some people believed that this cartridge was a fad and that it'll not last. But were they right?
After a few years, I believe we can safely conclude that the 6.5 Creedmoor round is no more a fad. These cartridges are available in a number of well-known manufacturers with a wide range of load combinations appropriate for the caliber's flexibility. Gun manufacturers now chamber in semi-auto, single-shot, and bolt-action firearms. All of this indicates the long-term success of the cartridge.
If you have been a fence-sitter and you want to come to the 6.5 Creedmoor side of life, welcome aboard! Once you've decided or chosen the rifle you want to use (there are several rifle options to choose from), it is time to select the best scope for your 6.5 Creedmoor weapon. But where should you even start?
The 6.5 Creedmoor cartridge was designed to strike targets at great distances. This long-range shooting ammo has the ability to take down large games that are located over 500 yards away or strike steel or paper targets miles away. This 6.5 Creedmoor ammo is fast becoming the do-it-all cartridge for long-range shooters.
However, in order to get the best result from these long-range shots, you must have the proper long range scope mounted on your rifle. Whether you're using a deer hunting rifle or you want to go precision shooting, you'll need a high-quality optic with a solid construction and, preferably, a low price.
We offer our top recommendations for the 6.5 Creedmoor scopes, with extra considerations given to maximize not just your cartridge but also your shooting range.
Here are our top picks
The 6.5 Creedmoor and the Need for a scope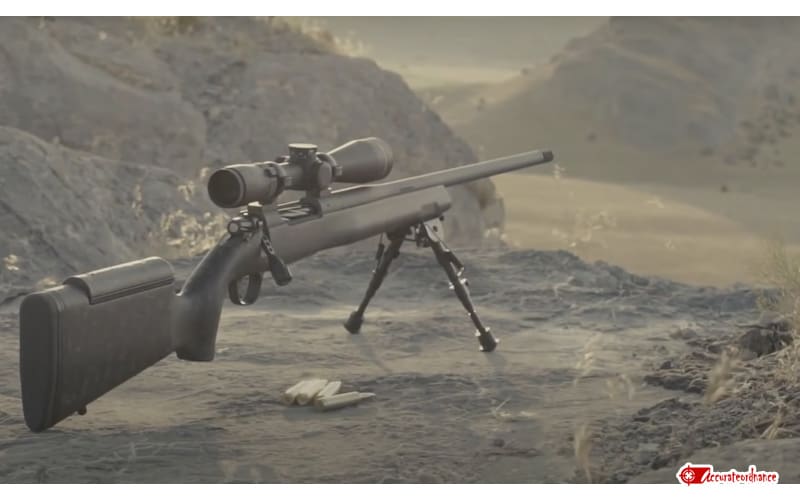 The 6.5 Creedmoor rifle is so effective at long ranges; as a result, it should only be used with high-quality optics. Anything less, and you're not giving the rifle and cartridge the high performance they need.
Two things are required since the 6.5 shoots fairly flat at 1000 yards and will remain supersonic long beyond that specified range. The scope for this ammo must be of high quality in order to draw light and avoid distortion while seeing a target at 1000 yards or beyond. Also, the sight must retain the capability of allowing the shooter to adjust windage and elevation on the go.
The 6.5 Creedmoor almost has no equivalent as it has since taken flight like a rocket and gained acceptability in the shooting world. The point is that this 6.5mm cartridge is a cartridge of choice that should have regarded nearly above all others now on the market in the United States. With an effective range at or near 1400 yards and being fired often in 1000-yard, choosing an optics for this ammo can be a bit of a challenge.
The kind and price range of the optics might vary greatly depending on how you utilize the rifle/cartridge. Also, since the 6.5 Creedmoor rifle is very effective for large game and it is an excellent long-range round, the sight used should be appropriate for the shooter's need. This cartridge is based on the standard 308 cases and employs a 6.5 mm bullet that has become famous among midwestern woods hunters for almost 50 years.
The 6.5 is so fantastic that purchasing as much zoom as possible would not be a bad idea.
Things to Consider Before Buying a Scope for a 6.5 Creedmoor Rifle
Because of the flexibility of the 6.5 Creedmoor ammunition, you'll find a wide range of rifle combinations on the shelves of your local gun shop. You'll also discover a wide range of scopes to pick from, and when you combine the two, the number of possible combinations might be staggering. These are a few things to consider before spending your hard-earned money:
Intended Use
Will you use the rifle and scope combination for competition or hunting? Where and what will you be hunting? What range would you be shooting? Would you need a variable magnification, or would a fixed scope suffice? All these and so many other questions must be answered to understand the intended use of a scope.
Rifle Size
6.5 Creedmoor rifles are available in a range of sizes in terms of stock type and barrel length. Before selecting a rifle scope, keep the overall size of the rifle in mind. A small rifle with a 16-inch barrel, for example, would not balance well with a 6-24×50 optics that is also 16-inches long. A big rifle scope like this may also be difficult to install on smaller rifles.
What Are You Willing To Spend?
Your budget should be considered when purchasing a 6.5 Creedmoor long range scope since it will influence your purchasing decision. Most shooters are so focused on features that they overlook the price range and features they need in a scope.
When it comes to selecting a 6.5 Creedmoor scope, we don't advocate impulsive purchases. To prevent overpaying, we recommend that you first decide your financial capability before picking the top-ranking 6.5 Creedmoor scopes available. There are inexpensive 6.5 Creedmoor scopes available that may provide the qualities you want. You simply need to take the time to check the features, benefits, and downsides of various scopes.
Reticle and Glass Clarity
Another factor to consider is the reticle and glass clarity of the scope since these factors generally influence how strong the magnification would be. Long-range scopes with the finest picture quality deliver a clean, sharp target image and faster target acquisition. We recommend looking for the finest 6.5 Creedmoor scopes with ED or XD glass and completely multi-coated lenses.
We also recommend looking for a decent sight with an FFP reticle that remains true across the whole magnification range of the optic. It ensures that any BDC or range markers stay precise regardless of magnification level.
Eye Relief
It is also a good idea to consider the eye relief on a scope. The scope should be at an acceptable position for a comfortable eye positioning. We recommend that you seek for a good 6.5 Creedmoor scope with plenty of eye relief to keep your eyes safe. Because high-quality rifles often have a lot of recoils, you need to put measures to protect your face.
Durability
It doesn't matter how you want to use a 6.5 Creedmoor scope; you should always consider purchasing a tough scope that can withstand practically any weather situation. If you find yourself in the rain while hunting, would your scope be able to handle the situation? That is why we recommend finding a fog-proof and waterproof sight. We also recommend purchasing a nitrogen or argon-purged scope with an aircraft-grade aluminum body for longer life.
Practicality
When purchasing a scope or other tactical equipment for your guns, functionality is equally critical. Knowing how important a scope is to your shooting application and how practical it is to get the scope based on its characteristics is a good approach.
If you cherish your money, you should always keep in mind that purchasing an additional attachment for your 6.5 Creedmoor rifle is only necessary if you want to use it for important tasks such as long-range hunting or precise target shooting.
Windage and Elevation
We also recommend that all shooters think about the elevation and windage adjustments of the sight they want to purchase. These settings are critical in determining how effectively the bullet will reach the target, especially when firing at distances more than 100 yards.
Magnification
Assume you already know how good the 6.5 Creedmoor is in long range shooting. You'll constantly want to test this strong device's maximum range. The use of a scope will assist you in achieving that aim; therefore, be cautious when selecting the finest sight for your rifle.
The magnification must always be determined by the distance for which the scope is intended to be used. As a result, we recommend that you first decide whether you want to fire at a close, medium, or long range. This way, you'll be able to select the ideal magnification for the 6.5 Creedmoor rifle.
Parallax
Your scope's parallax adjustment is also an important issue to consider when purchasing for a 6.5 rifle since it might cause your target to seem out of focus as you move your eye or head. If you're usually on the run and move a lot when shooting, we recommend that you choose a riflescope with a parallax-free setup.
Mounting
The mounting possibilities of a scope are also important; therefore, it is always wise to assess how adaptable a scope is. Some riflescopes come with mounting systems, while others may be placed on conventional rails such as the Picatinny Mounting Rail and Weaver Mount System. Some scopes, however, require unique mounts that are not found on most rifles; therefore, they cannot be used on any rifle.
Magnification
Despite the fact that the 6.5 Creedmoor is recognized for long range shooting, one may wonder what magnification is best suited to this rifle/cartridge. Here are some pointers to help you make an informed decision when deciding on magnification:
Close-range Shooting (under 300 yards)
If you're a 6.5 Creedmoor shooter, you're undoubtedly aware that it's not a close-range cartridge. This round is regarded as the apex of long range shooting. However, you may still use it to take down a whitetail deer at less than 300 yards. Although the 6.5 Creedmoor can take down everything on sight, we recommend that you pick a scope with 5x – 9x magnification capability.
Medium-range Shooting (300 to 700 yards)
The 6.5 cartridge is an excellent round for medium-range shooting. As a result, if you primarily fire between 300 -700 yards, you'll want a scope that has a magnification range of 9-15x. When aiming at smaller targets, a magnification greater than 15x may be required. This magnification range will allow a shooter clearly see and strike most of the large games in the medium shooting range.
Long Distance (700 yards – upwards)
If you want to go all out with your 6.5 rifles, then this scope range will do. Target shooting at 700 yards and above can be accomplished with the 6.5 Creedmoor. If you want to fire at a range above 1000 yards, you will need a minimum scope magnification of 15x.
Best Scope for 6.5 Creedmoor
Let's take a look at each of the scopes individually. Any of the scopes in this review would be ideal for a 6.5 Creedmoor cartridge, but we must first determine which sight is best for your shooting application. We'll look at some of the pros and cons of each scope, as well as their best features.
1. Vortex Optics Crossfire II
The Vortex scope brand was not a well-known brand. Well, think again because Vortex is now one of the largest scope manufacturers in the market. This firm has expanded by leaps and bounds in the last decade because they provide a good bang for your buck in terms of high-quality glasses that can do the job accurately.
The Vortex Crossfire II series is one of the nice optics produced by this manufacturer. This riflescope is a suitable beginner optics depending on the distance you plan to shoot from.
It is a great optic for a 6.5 Creedmoor cartridge since it can propel the rounds beyond the 400 yards distance when necessary. The scope mount has about 50 MOA elevation and windage turret adjustment in total; if mounted on a 40mm rail, this vortex scope can easily go above 1000 yards without stress.
The turrets feature a zero return setting, so you can recall where you were when you started cranking off the elevation knobs in MOA dots. From experience, I can boldly say that the scope maintains its zero and tracks well when returning to the right zero after turret adjustment knobs have been dialed. My shooting application needs a scope turning at least twice through its zero position and back.
The Vortex brand will stand behind its scope with its warranty, which is priceless. The scope tube of the Vortex Crossfire II is made of a single piece of aluminum, and it is properly sealed to make it watertight and fog-proof.
2. Primary Arms SLX
The Primary Arms optic is a long range scope and one of the best 6.5 Creedmoor scopes with the proprietary ACSS reticle. This ground-breaking hunting reticle remains true over the scope's entire magnification range of 4 to 14x. The Primary Arms optic also has Front Focal Plane ORION, which has rapid ranging and wind holds optimized for coyote and deer-sized targets with rifles chambered in .308, .223, and .30-06.
This scope also has a side-focus parallax knob to maintain a parallax-free reticle and make the image clear even at long ranges. This scope is also resistant to shock, fog, and water. It also has a built-in dead-hold BDC, which allows for fast and accurate shots at greater distances.
The scope's 4x to 14 times magnification can take care of targets that are up to 1000 yards away. Although going beyond this distance, you might need a little more magnification. The scope does not have night vision capabilities. The has a considerably fair eye relief distance of 3.22inches. It is covered by a 3-year warranty from purchase.
3. Vortex Viper
Most deer-hunting is done within the 400 yards distance (of which there are plenty of optics to choose from). The Vortex Viper is the next option if you want to shoot beyond this range. Why? Because the scope was well designed in terms of long-range optical performance.
If you are not going to be performing long-range shots, you can stick with the "06" or 308 Winchester. However, when it comes to steel targets or deer hunting beyond 400-yard, the 6.5 Creedmoor is unrivaled ammo for such a distance.
An optic like the Vortex Viper takes long-range shooting to the next level. Since the Vortex Viper has open turret knobs that are easily accessible, the potential to quickly modify windage and elevation is apparent. The sharp clicks on the scope are clearly an advantage. Vortex calls its scope a "multiple setup tactical shooting and hunting systems," which implies it's a complete system in a single scope. The scope's glass is ideal for hunters who want to practice target shooting at a distance of 1000 yards or more.
The VMR reticle is ideal for precise longer-range holds on games or targets. Although there has been discussion about transferring the 6.5 round into military use, for the time being, the conversation will focus on civilian shootings. However, other sources claim that the cartridge is being tested on sandboxes. I don't have any facts, though.
This scope's glass is multi-coated for light management, even in low-light situations. The lens will provide the shooter with beautiful, sharp colors and high-resolution images.
The open-style Turrets come with complete control access, which adds an important feature to this tactical scope design. After turning the turrets for windage and elevation, the CRS zero stop ensures the turret settings return to exact zero before adjustment. The scope's parallax adjustments are controlled by a single knob on the left side of the turret.
When utilized for testing, the scope has a durable finish and sharp clicks. The Vortex Viper is available in MRAD or MOA sub-tensions. This scope weighs 22.6 ounces and is 15.5 inches in length. The scope's eye relief is set at 4.0inches.
The scope tube is a 30mm single-piece housing manufactured from aircraft-quality aluminum. I would suggest this scope to beginner 6.5 Creedmoor users who want more than just deer hunting.
4. Leupold Mark 5-25x56mm scope
The Leupold Mark 5-25X56mm is great scope specifically designed for hunting. This scope is 100% fog-proof, shockproof and waterproof, and it is manufactured and assembled in the United States. Although it is a pricey optic, the scope's clarity makes it well worth the price. The scope is sufficiently clear, and it allows a shooter to make precise shots at long-range targets. The reticle changes in size with respect to image magnification, providing the shooter with an edge while estimating ranges at different magnifications. The twilight max light management system is included in the scope, which allows for enough illumination.
The lens is scratch-resistant, and the entire scope build is lightweight, with adjustable turrets that have visible and tactile adjustment indicators. It is well-designed for great use and assists shooters with any shooting application.
I recommend using this sight on a rifle for shooters since it is simple to use and produces high-quality images in low-light circumstances. With the elevation and windage adjustments, the sight is designed to outperform most long-range ammo and rifles. It boasts unrivaled low-light performance, providing a shooter with an advantage at night, which is especially useful for shooters that hunt at night. The scope comes out of the box with a lens cap and sunshade.
Because of its suitable lighting system, it reduces glare. It features significant clicks on the dials as well as eye relief. The scope was built to withstand at least 5,000 hits from the Punisher. Furthermore, the large magnification range of 5x to 25x and the reticle create an excellent combination for aiming quickly and precisely at long-distance targets.
The scope's main tube diameter is 35mm. As a result, scope rings of a 35mm diameter are required to attach the scope to a rifle. It is critical that the scope you choose give enough eye relief; this scope offers about 3.6inch -3.8inch of eye relief.
5. Athlon Optics 6-24X50 FFP scope
Are you searching for a dependable 6.5 cartridge scope? If that's the case, this one is for you! It is an FFP scope with a wide range of magnification options. You can improve your shooting accuracy by putting a riflescope on your weapon.
The most appealing feature of the scope is the APMR IR MIL reticle. This reticle contains an illuminated cross and hash marks. As a result of the reticle system, you can rapidly find your target and select the holdover locations.
Additionally, the tube is composed of 6061T6 Aircraft-grade Aluminum, allowing it to withstand any rough or difficult condition. The Argon purge tube is fog proof. Also, the completely multi-coated lenses ensure that enough light is transmitted for better target views. As a result of its dependable construction and precision targeting abilities, the scope is an excellent choice for the 6.5 ammo.
A side parallax knob is included in the scope. Eye relief is critical for long-range riflescopes because it protects your eyes from recoil. This scope has approximately 3.3inches of eye relief. A coin battery is included with the scope. The battery may be easily replaced whenever you wish.
6. Vortex Strike Eagle 4-24×50
The Vortex Strike Eagle is intended for medium-to-long range shots. I have used these optics for different long-range precision shooting and hunting (over 1000 yards), and it has never disappointed me.
So, what makes this scope so adaptable? Everything, beginning with the quality of the glass that gives a clear and bright target image. The bullet path from the 6.5 Creedmoor cartridge as it hits a paper that is 150 yards away clear enough to see. However, with greater magnification (20X), the edges get a little hazy. The MOA EBR-4 reticle is reliable for long-range shooting. It has a 20-MOA second focal plane that calculates holdover and windage adjustments, making it an excellent 6.5 Creedmoor BDC scope. It also has illuminated reticles that allow the shooter to aim effectively in low-light situations.
It comes with an easy-to-turn brightness control with 11 brightness settings. Despite the prolonged battery life, I recommend keeping a backup set of CR2032 batteries in your bag.
The scope provides a comfortable 3.5inches of eye relief. This is somewhat higher than other scopes. The eye box is very forgiving. However, at the greatest magnification, it becomes a little tight. It has an O-ring seal, is nitrogen-purged, and is made of aircraft-grade aluminum. To put it another way, it is entirely fog proof, shockproof, and waterproof. It will not break under any circumstances. But all of this toughness comes at a price, which is the scope's weight.
You can quickly change the elevation and windage knobs and return to zero. A useful feature if you enjoy long-range hunting or shooting, both of which need regular turret adjustments. The turrets are very loud and clear.
Although they are stiff to rotate at first, they soften with use. The 4-24x magnification range allows for a wide shooting range, making it ideal for a variety of shooting applications. Whether at the lowest or highest magnification, the sight stays clear, and it is parallax-free.
Vortex incorporated a side parallax control in case parallax becomes a problem. Remember that the knob is first difficult to operate. But, like the turrets, it will relax with use.
For my 6.5 Creedmoor firearm, I use the 30mm Vortex Cantilever Scope Mount with a 2-inch offset. It is highly durable and simple to put together (tools supplied) and keeps your scope firm.
Are you looking for the finest Vortex scope for your 6.5 Creedmoor rifle? Purchase this Vortex Strike Eagle. It's a reliable, low-cost 6.5 Creedmoor scope that can be used on any rifle, including an AR-15. Not forgetting that it comes with a lifetime warranty from Vortex. So if it breaks, they'll fix it for you.
7. Nightforce ATACR 7-35×56
For long, the Nightforce ATACR has reigned supreme in NRL and PRS, and it is now being used by the military around the world. This scope is a very durable optic, and all the features on the scope are made to last. It has the best set of glasses and adjustment controls.
But, once again, we come into the issue of the ATACR becoming out of date. Although this optics is not the oldest but it is also not the latest scope in the market. But what makes it stand out is its construction.
With this scope, precision is achievable in any medium to long-range shooting distance. The scope has a massive 56mm objective lens diameter that allows abundant light through the optic. The Magnification range from 7x to 35x is adequate for even the most extreme long-range shooting rifle.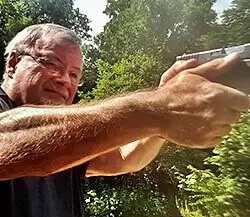 Mike Hardesty is a published freelance gun writer. With dozens of articles and reviews published in Pew Pew Tactical, Snipercountry.com, and TTAG (The Truth About Guns), Mike is considered a firearms expert. His special area of expertise is handguns.
Mike is a long-time shooter. He has been punching paper targets, taking deer and other game and shooting at competitions since about 1975. Other related pursuits include reloading and bullet casting. He currently reloads for over 10 calibers, both handgun and rifle. His reloads, particularly for 9mm, were in great demand during the height of the ammo shortage among family and friends. He donated hundreds of rounds to informal shooting sessions. He was quoted as saying "I do not sell my reloads but I sure will help my guys shoot 'em for free!". He has a few cherished firearms that he has inherited or otherwise procured — those are his favorites.
He earned B.S. and M.S. degrees from Indiana State University in 1974-1975.
He's a firearm experts and is the founder of mhardesty.com.