Trying to find the best scope for 6.5 Grendel? Search no further because that's exactly what we're going to discuss here. Finding a nice scope for a round like the 6.5 Grendel is simpler than you would imagine. In this article, we'll go through a list of the best scope for 6.5 Grendel, but first, we'll look at the cartridge itself, and then we'll dig a little bit into the rifles that use this cartridge.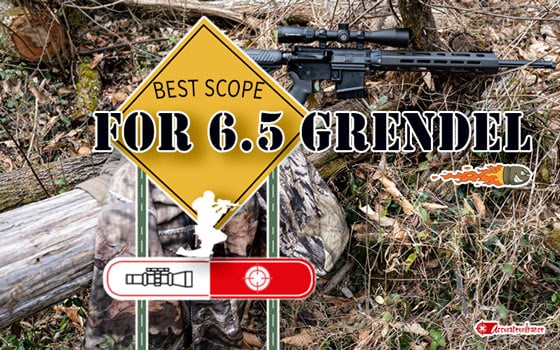 6.5 Grendel vs 6.5 Creedmoor
Most people get confused when they come across the 6.5 Grendel and the 6.5 Creedmoor. It's very easy to mix up these two rounds because merely looking at their names; you would think that they are one and the same. But they are not; they are two worlds apart in characteristics. They were created for different purposes and perform different functions. These two rounds are not compatible with the same rifles. The only other similarity between them is that they can be useful for hunting.
Comparing these 6.5mm cartridges with the .308 Winchester and the .223 Remington rounds might help you understand the differences. The 6.5 Creedmoor cartridge was created to be a superior round for competitive shooting. This cartridge is very accurate, and it has lesser bullet drop compared to a .308 Winchester, making it ideal for shots beyond 300 – 500 yards.
Hornady developed the 6.5 Grendel to feature a few notable benefits above the .223 Remington. The 6.5 Grendel and the .223 Remington are both compatible with an AR-15 platform. The goal was to develop a cartridge that was compact enough to be chambered in an AR-15 and have similar recoil to the .223 Remington but was built to be more powerful than the .223 Remington such that it could be used for big game hunting. The 6.5 Grendel cartridge has the same length as a .223 Remington, but it is fatter and has a larger projectile.
The amazing thing about the 6.5 Grendel design is that it is a more powerful round with recoil that's fairly close to .223 Remington. therefore an AR-15 rifle chambered in the 6.5 Grendel will feel almost the same as one fired in 5.56mm, but this time, its impact would be a little more powerful.
In summary, when you compare the 6.5 Grendel and the 65 Creedmoor, you'll find that the Grendel is a big-sized ammo that has low recoil.
Here are the quick list Scope For 6.5 Grendel if
What Rifles Can Shoot the 6.5 Grendel Round
Many 6.5 Grendel cartridges are used on AR rifle variants. This is a key point to always remember as we progress because it simply reminds us of the kind of firearm we would be putting our scope on. You'll most likely have a flat top on your firearm with a rail (usually Picatinny rail) that you can mount your scope on. Using an AR variant weapon means that you will be making use of a Modern or tactical rifle rather than a more traditional rifle.
The 6.5 Grendel cartridge was built primarily for exceptional accuracy around the 200-800 yards shooting range, giving it a clear edge over the 223 Remington, which normally peaks out at less than 600 yards.
So, if you like the AR platform's design, low recoil, and barrel length but want a cartridge that packs more punch and provides superior accuracy over longer ranges, the 6.5 Grendel cartridge is your best bet.
Best Scope For 6.5 Grendel Reviews
1. Vortex Optics Crossfire II 2-7×32 Rifle Scope
The Vortex Optics Crossfire II is a common hunting rifle scope with a fairly normal magnification range for competitive shooting or hunting. The magnification ranges are from 2x to 7x, and the objective lens diameter is 32mm, resulting in a brilliant image.
There are three reticle choices available for this rifle scope: V-Plex, V-Brite Illuminated reticle, and Dead-Hold BDC.
The magnification range of this scope is adequate for the 6.5 Grendel cartridge. The crossfire II has a second focal plane reticle, making it more effective for short-range shots that correspond to the low magnification range.
The three distinct reticle options, however, make this sight an excellent fit for the 6.5 Grendel. They are V-Plex, V-Brite Illuminated, and Dead-Hold BDC.
The Dead-Hold BDC reticle addresses the issue of bullet drop for your specific ammunition. The Dead-Hold reticle comes with predefined lines and instructions for calculating drop and distance for your cartridge. This implies that with practice, you'll be able to use it for the 6.5 Grendel round just as your .223 round.
The V-Plex reticle is a hunting-style reticle, with a typical duplex reticle at the center and thicker lines as you move out. If you intend to use it for hunting, you might prefer this reticle because most hunting takes place at a shorter range.
The Illuminated V-Brite reticle is identical to the V-Plex, except it has an illuminated red dot in the middle. This can be useful in low-light situations when the V-Plex is difficult to see.
The Crossfire II features .25 MOA turret adjustments. It is waterproof, fog proof, and shockproof, and it has every other thing you would expect in a high-quality scope.
You may also acquire the Crossfire II with multiple magnification settings, so if 2-7x magnification is not the perfect range for you, you can find any other range that matches your need. Vortex Optics Crossfire II boasts a lengthy eye relief and a forgiving eye box, making it an excellent match for your 6.5 Grendel round.
2. Athlon Optics Neos 4-12×40 Side Focus Riflescope
The Athlon Optics Neos is another great scope to consider when you are looking for an optic that can offer a greater accuracy with your 6.5 Grendel round. This Athlon Optics has a magnification range of 4-12x.
You can purchase the Athlon Optics in either non-illuminated or illuminated reticle form. The scope has a 40mm objective lens that ensures there is good light transmission through the optic, and a clear image is delivered.
The introduction of a side focus on the Athlon Neos is worth mentioning. The side focus is an excellent feature when you are aiming at your target from a long distance. It will bring your target into greater focus and remove parallax at that shooting distance.
Parallax is the perception that items near to you move quicker than ones further away. With a riflescope, parallax often refers to the reticle moving faster than your target. You can fine-tune this by using the Athlon Neos's side focus knob to increase your ability to shoot reliably and precisely at an extended range.
Side focus knobs are also known as parallax adjustment knobs. It's a great feature to have on a scope, but you'd be amazed that this feature is not found on all scopes.
If you're in your shooting stance and you move in perfect sync with your rifle, then you won't suffer any parallax, which is what any hunter wants.
However, side focus knobs have a role not just for a novice but also for expert shooters who put their shots at roughly the same distance.
If you routinely fire at approximately the same distance and you need fast target acquisition, then having parallax adjustment would help you lock in your shots faster at that distance.
3. Primary Arms 4-14x44mm Riflescope
Another great scope that can work perfectly with your 6.5 Grendel round is the Primary Arms SLX 4-14x44mm FFP Rifle Scope – MIL-DOT.
Although the specs of the Primary Arms Slx optics appear to be similar to some of the scopes we've reviewed on this list, however, the Primary Arms is an FFP scope (first focal plane). This signifies several things.
The key thing it indicates is that it was built for long range shooting. That doesn't mean it is the best long range shooting scope, but it was meant to be good at it.
Aside from that feature, other things you would find on the scope are almost equivalent to the other optics on our list with a similar scope magnification range. The Primary Arms Slx optics features a 30mm tube diameter that is waterproof, shockproof, and fog proof.
The specifications may appear to be similar, but there are several variances to discuss. The objective lens diameter is 44mm, and it is one of the largest on the list. Another major feature difference is the eye relief, although this is a disadvantage. The scope has a very short eye relief of about 3.22 Inches.
The scope has a mil-dot reticle (rather than the acss reticle), making the Primary Arms scope a unique scope on the list with this much magnification range and a mil-dot reticle, as well as parallax adjustment knobs to maintain its focus no matter how far away you're shooting.
Remember that a mil-dot design will function differently on an FFP reticle than it will on a second focal plane.
When you're aiming with an FFP, the reticle will decrease and enlarge depending on the magnification you're using. This makes the reticle appear to be a part of the picture.
Assume you're adjusting your aiming point on a deer at a close range of, let's say, 100 yards. Your mil dots will appear little at 4x magnification, but as increases magnification to 10x, the mil dots becomes larger and covers the same areas of the deer that they covered when the magnification was 4x. The deer grew in size, and so also did the dots.
It's an excellent method for dealing with long range shots, but you have to get accustomed to it.
4. Viper PST II 5-25×50
The Vortex Viper PST II is one of the best long range hunting for newcomers, offering an excellent blend of features, quality glass, and affordable price.
The Vortex Viper 5-25×50 provides enough scope magnification to see images that are far away while still offering excellent glass clarity and quality.
It has a first focal plane reticle, a zero stop, is lightweight, and is illuminated. The scope has enough of everything you need in a good scope and nothing more.
Although it may not the lightest, clearest, or cheapest for a longer distance shot, it is ideal for someone just getting started with long range hunting.
The Vortex Viper is argon purged and O-ring sealed; therefore, it is waterproof and fog-proof. It is a highly durable scope made of single-piece, aircraft-grade aluminum construction. The scope also has Armortek coatings that protect the lenses from oil, dirt, and scratches.
5. Bushnell Optics 1-4x24mm Drop Zone Reticle Riflescope
This is an excellent scope for close range shooting. This sight was built for the .223 Remington, making it a great scope for the 65 Grendel cartridge.
The only feature that makes it less-than-ideal for a Grendel or other longer distance ammo is that it ends at 4x magnification, meaning you cannot fully exploit the round's qualities.
However, if you're a close range hunter, this sight will perform better than any other we've discussed thus far. If you want to use an AR-15 rifle for home defense but need a round with more power, the 6.5mm Grendel is a good option. Paired with the Bushnell Optics, you'll get the best result possible.
The reticle is calibrated for .223, so it won't be effective for 6.5 Grendel straight out of the box. Checking the bullet drop at various distances and where it hits on the reticle can remedy that problem. This Bushnell scope is made with an aluminum alloy. The scope has capped adjustment turrets and a .1 mil adjustment. Bushnell advises sighting the rifle at 100 yards.
This should accurately align the BDC every 100 yards to about 500 yards. The reticle is placed in the second focal plane position. Therefore, you must use the scope at max magnification to achieve consistent results with the BDC ladder. The combination of this sight and an AR-15 chambered in 6.5 Grendel might result in a perfect weapon.
It is useful for home defense since it reduces to 1x magnification, and it can be used for deer hunting with magnification up to 4x.
BUYERS GUIDE FOR THE 6.5 GRENDEL SCOPE
When searching for a new sight for a 6.5 Grendel round, there is so much to consider, and even experienced shooters may find it difficult to make a quick selection. Aside from that, you don't want to make a hasty selection and purchase something that won't help you get the most out of your gun.
As a result, in this section, I will assist you in better understanding the characteristics that scope should have for it to be effective with a 65 Grendel, as well as how you may pick the alternatives given above that will match your individual needs.
Why Did We Choose These Scopes For 6.5 Grendel?
The AR-15 Platform excels at many things, but when chambered in 5.56 NATO, it can fall short in the long range shooting. That is why the 6.5 Grendel was created. To give the AR-15 platform some advantage with a new bolt, barrel, and magazines. Since the 6.5 Grendel excels at both long range hunting and medium-sized animal, the scopes we reviewed provide a broad cross-section of alternatives to meet all demands.
While 6.5 Grendel is capable of doing a great deal of work, it is helpful to focus on your needs. Whatever your objectives are, properly defining them will help you to select the features that you truly require, thereby saving you money. Knowing what you want to achieve and using it to examine the features and specifications of each scope will help you make the best choice.
What Factors Are Most Important?
After you've decided how you want to shoot with your 6.5 Grendel, choosing a scope becomes easier. All you have to do is evaluate the features that are most important to you. We'll look at the most important specifications to remember and briefly explain why you should consider each of them.
Magnification
Each scope is labeled with its magnification, and it looks like "1-14×50" or "3-18×44." The first two digits indicate the magnification range, which in the samples above are 1-14 and 3-18.
This is essentially how near the target appears to you when viewed through the scope.
In general, a scope's minimum magnification cannot be "too low." While lower magnifications are not commonly used, they may be handy when you are searching for a target.
However, there could be a problem when you have excessive magnification. The majority of hunting is done at a magnification of 12x or less, while the majority of PRS shooting is carried out at 18x magnification or less. A higher magnification than these would make detecting or tracking a target more difficult.
I prefer scopes with a maximum magnification of 16-20x for hunting and 20-30x for PRS shooting.
You'll seldom encounter scopes with maximum magnifications of 40 or more. Those are designed for specialty shooting, such as F-Class, and they're a great disadvantage in every other type of shooting.
Lower magnification results in a lighter scope with higher light transmission, which is important for hunting in low light conditions.
FFP or SFP
The first spec I look for is the FFP or SFP reticle. The "focal plane" on a scope is the area where the reticle is located.

In a second focal plane, your reticle will retain its size when you alter the magnification. The size would never change. This is fantastic because you see your aiming point at lower magnification, but you may not have as sharp a crosshair as you would want.

It also implies that any MOA, MRAD, or bullet drop markers will be inaccurate except at the specific magnification for which they were calibrated – usually the maximum magnification.

The FFP is the inverse; the reticle changes in size as you increase magnification, but the markings in the reticle are always correct. 2 MOA will always be 2 MOA.

This is ideal for long range shooting since having precise marks is critical. At higher magnification, the FFP gives a finer crosshair. The disadvantage is that you won't see all that is needed at low magnification since it becomes much smaller.

Personally, I'm a big fan of FFP; I've been using it for so long.

You can read our article on first vs second focal plane reticles to learn more.
Weight
Lighter bullets and scopes are great for long distance hunting, while a heavier bullet or scope can have more features.

Anything weighing less than 20 oz is termed "lightweight." Anything weighing more than 33-35 oz is considered heavy.
Field of View
How wide you can see through the scope at a certain magnification is referred to as the field of view. Normally, you look at the features f a scope; you will see the FoV at 100 yards for the lowest and highest magnification.

For example, "26ft/5ft" means 26ft at a lower magnification and 5ft at the highest magnification. In general, I don't place a lot of emphasis on FoV. More FOV is always desirable.
Illumination
Both target shooters and hunters need illumination for the same purpose. In low light conditions, it might be difficult to position your reticle on a target located in a dark or bushy spot.

Illumination makes your reticle red (or green) and provides you with something visible.

Most decent scopes have illumination; however, some may not in order to reduce weight or cost.
Elevation Adjustment
This is the amount of adjustment you need to make to your reticle. This adjustment depends on the round and distance you wish to shoot.

However, you should be aware that although the "total elevation adjustment" may be over 100 MOA, you can only access around half of it.
Design of Reticles
To get the most out of your ammunition, use a reticle that allows for long-range shooting. Furthermore, if you're obtaining a sight with a BDC reticle, it'll be simplest if you get one with markings for 6.5 Grendel since they'll be distinct from any other caliber.
What Should You Do Now That You've Purchased a Scope?
Getting the best scope for your 6.5 Grendel is exciting, but it will be useless if it is not mounted on the rifle! You can seek the help of a gunsmith to zero or mount your sight, but these are vital skills that every gun owner should have. Don't worry; they're both really simple!
Check out our how to mount a rifle scope article.
You must zero it once it has been attached. Zeroing is the process of making your aiming point match your point of impact of the bullet at a specific distance — typically 100 yards.
Zeroing is a simple yet crucial procedure that you must be aware of. When you want to zero your scope, I recommend that you start at a close range and work your way out. I usually start at 50 yards and then do a last zero at 100 yards.
You can read the article on how to set a rifle scope at 25 yards.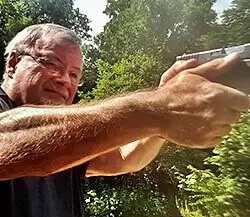 Mike Hardesty is a published freelance gun writer. He also possesses specialized expertise in rifle scopes With dozens of articles and reviews published in Pew Pew Tactical, Snipercountry.com, and TTAG (The Truth About Guns), Mike is considered a firearms expert. His special area of expertise is handguns.
Mike is a long-time shooter. He has been punching paper targets, taking deer and other game and shooting at competitions since about 1975. Other related pursuits include reloading and bullet casting. He currently reloads for over 10 calibers, both handgun and rifle. His reloads, particularly for 9mm, were in great demand during the height of the ammo shortage among family and friends. He donated hundreds of rounds to informal shooting sessions. He was quoted as saying "I do not sell my reloads but I sure will help my guys shoot 'em for free!". He has a few cherished firearms that he has inherited or otherwise procured — those are his favorites.
He earned B.S. and M.S. degrees from Indiana State University in 1974-1975.
He's a firearm experts and is the founder of mhardesty.com.