Whether you like it or not, the M1A is a legendary rifle, and it has been around for a while now. The M1A is the last American regular issue rifle constructed of steel and walnut. The M1A is still a solid rifle platform if you are a fan of old-school tinkering.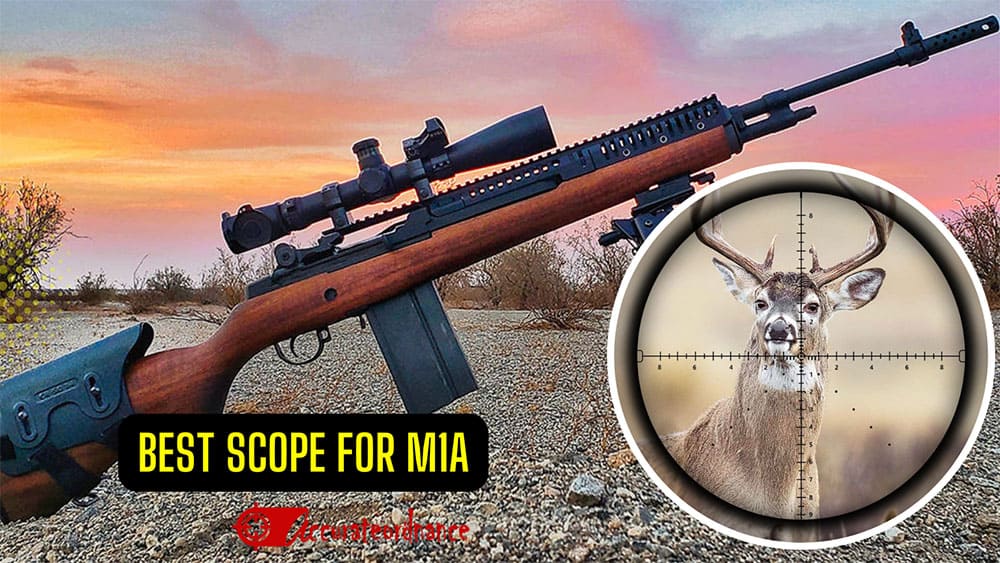 Having known this, you might want to put a scope on the rifle. We can help you narrow your options with our scope review on the best M1A scope for hunting, target shooting, or combat.
Here are our top picks for the best M1A scopes:
The Rifle
If you don't have the M1A rifle yet, there are various civilian variants made by Springfield Armory in 1974. The Springfield Armory M1A rifle is the most common civilian variant of the M14, and the changes between the M14 and M1A rifles are small.
The Springfield Armory M1A rifle is currently used by long-range shooters, including hunters, leisure shooters, and competitive shooters. It shoots a strong cartridge, 7.62 NATO/.308 Win., a great distance which gets me to the reason we are here. The Springfield M1A rifle has a range of about 1,000 yards (although it is more accurate at around 600 yards. With such a range, you would definitely need a good optic to shoot effectively. If you have this rifle, then it is a good decision if you get a scope that can go with it.
Any of them will suffice, as long as it is a long range scope.
The M14 rifle is a well-known military fire rifle. This platform has a distinguished track record of great performance, and it was used throughout the early stages of the Vietnam War. To date, this rifle still finds its use in the hands of Marksmen. Its superb construction and iron sight precision are widely established. Shooters aiming for more precision, on the other hand, should invest in one of the top M1A scopes. But don't get too far ahead of yourself. Where does the M1A rifle come into play?
Because of the M14's design and performance, civilians' equivalents of the rifle were unavoidable. This has been demonstrated by the numerous commercial imitations made throughout the years. Having stated that, let me reemphasize that the Springfield Armory is the company that produces the civilian M1A rifle.
M1A and Their Applications
Springfield Armory has made it its mission to provide a wide range of M1A versions. These are available in both classic and traditional styles. M1A rifle versions excel in terms of application adaptability. There is a variant for everyone, whether you enjoy hunting, competitive shooting, tactical shooting, or home defense.
The Springfield M1A rifle has different ammo options with heavy striking power. We have the 6.5 Creedmoor round, which has acceptable recoil and is becoming increasingly popular among hunters.
The well-known .308 Win round is another option. This legendary cartridge has a lot to offer. It is widely accessible, reasonably priced, and can easily be classified as one of the most powerful centerfire cartridges in the world.
With either of the two cartridges, a shooter should get enough power to hit long-distance targets accurately and efficiently, and take down huge wildlife.
Let's go back to the rifle models that are available.
It is hardly an exaggeration to say that the M1A models have achieved great status among American shooters. To demonstrate this idea, here are a few M1A rifle versions to get your shooting passions flowing:
STANDARD
This is a basic M1A rifle model, as the name implies. It has a 22-inch rifle barrel, and the shooter can choose between a fiberglass and walnut stock.
SCOUT SCOPE
This type includes a muzzle stabilizer and a shortened 18-inch rifle barrel. It provides shooters with quick handling and easy sight acquisition. These are only two common scout-style rifle capabilities.
LOADED
Featuring a thicker 22-inch Match barrel and a match-tuned trigger.
NATIONAL MATCH and SUPER MATCH
The extremely adjustable Super Match includes a Douglas Stainless Steel barrel as well as other fashionable features. The National Match is a simpler model, less adjustable, but still very accurate.
SOCOM
Shooters interested in tactical drills or those searching for a competent self-defense firearm will find the M1A SOCOM to be an excellent choice. The M1A SOCOM has a 16.25-inch barrel and a rebuilt gas system for dependable usage in any scenario. Another feature is the simple mount rail system that allows for the installation of optics.
It is possible to mount a sight to any M1A rifle.
Things To Consider When Choosing A Scope
The best M1A scopes will vary depending on the type of rifle and the shooting application. However, regardless of these considerations, there are some fundamental needs that must be met. Here are some of the most significant ones:
Durability
M1A shooters are well aware that their selected rifle model will kick back every time they take a shot. It is also possible that the rifle would be used in terrain and situations that need toughness. With that in mind, you must opt for scopes made of high-quality aluminum. The scopes should be resistant to shock, fog, and water.
Your selected scope must be operational at all times, and in every circumstance you may find yourself. Examine the construction specifications carefully. A single-piece tube, for example, is significantly more durable and resilient than a double-piece construction.
It is also a good idea to look into the manufacturer's guarantee/warranty. This is because it shows how confident they are about their products. You should expect that lower-priced scopes will not provide as extensive coverage as ones that cost more. However, the idea is to do a comparison of scopes in the same price ranges.
Magnification
This is a significant aspect that shooters go overboard about. Do not automatically assume that higher magnification will amount to a more effective scope. The primary goal of any scope is to ensure your target looks larger, hence narrowing your point of view.
Considering the primary shooting application of your M1A, which is for long range targets, it will undoubtedly assist you in determining what magnification is required. Here are some tips in that regard:
The bulk of regular military riflescopes has a fixed 10x magnification. This capability will let you hit targets that are 500 yards with ease. This implies that variable or fixed magnification of roughly 10-12x will suffice for most shooters. Those who often target short distances and those who fire at longer ranges (600-1,000+ yards) should certainly explore lower/higher power alternatives. Fixed magnification levels are obviously useful if the bulk of your shooting is done at fixed distances. Examples include 4x or 5x power for close-range shots and 20x and above magnification for steady long-range targeting.
However, if you are like the majority and fire at varied distances, variable scopes would come in handy. They provide exceptional versatility over a wide range of aiming distances and can provide the best of both worlds.
You can choose a 4x-15x scope for short-mid and long range shooting, or 6x to 20x if you truly desire mid or much longer range precision shots. The most important thing to remember is not to magnify too much. Determine your ideal shooting ranges and bring a scope with the appropriate magnification range.
Functions and features
Don't make things too complicated. Shooters may easily go overboard with features and functions. This is especially true for inexperienced shooters or those unfamiliar with rifle scopes. It is tempting to believe that you need all the excellent features that some scopes provide, but that's not true. Trying to deal with them and make the most of such a large scope may be a challenge. What you should do is examine what things you truly require. It would be beneficial to create a list of significant, useful features and functions. Sort them into three categories: "must have," "would like to have," and "good to have if can afford."
The list will differ depending on the gun model and your shooting application. Priorities may differ, for example, between Scout scope owners, long-distance hunters, and competition shooters.
The other key feature of the list is the cost. The more functions and features you choose, the higher the price. In many circumstances, you may save a significant amount of money by reducing features and capabilities that are either unnecessary or not often used. Considerations to start your checklist with
There are several features and functions that should be considered to begin this list. A priority must be quality glass that provides clarity of vision. This is true regardless of how far you shoot.
Then consider the sort of reticle that will fit your intended shooting application. Most shooters are probably used to reticles in the Second Focal Plane and have MOA adjustment. Scopes that have First Focal Plane reticles and MIL-RAD adjustment, on the other hand, cannot be ignored.
The reticle increases in size when using an FFP sight. This ensures that you can always acquire an exact range and bullet drop. It is critical to consider your shooting distances and, when applicable, your dependence on BDC, as well as appropriate elevation and windage adjustment. Getting the perfect balance will improve accuracy and precision on the targeting spots. The possible disadvantage is that FFP scopes are often more costly than most of the SFP scopes you'll find. This means that price might play a significant role in your purchasing choice. However, the FFP scopes discussed above provide outstanding value for money at relatively reasonable pricing.
Easy Use
Check your checklist of functions and features and look for scopes that fit your requirements. Following that, consider the simplicity of use of each specified scope. Even if you have the greatest M1A scope that is difficult to operate, it is as good as having a low-quality scope. You need simple access and straightforward functioning.
It is preferable for inexperienced shooters to sight with simpler types. You already have plenty on your plate; you don't need more. What you need is a scope that can be tuned quickly and efficiently.
Price
The greatest scopes for M1A shooters are quite expensive. Good quality, lower-end optics may be purchased for around $300-600. Professional shooters and elite competitive marksmen are willing to spend 8 to 10 times the price. However, optics are accessible at different price ranges in between.
Because of the large price range, having a budget is essential. This should be the price you consider reasonable for a good scope. Finally, keep in mind that the great majority of high-quality scopes for M1A firearms do not contain a scope mount. If the one you pick does, be sure it can withstand the wear and tear and rigorous use you will subject it to. An improperly mounted sight will affect your shooting accuracy rather than enhance it.
There is a good selection of excellent scope mount made expressly for M1A usage on the market. Once again, the problem is one of cost. These range in price from roughly $30 to ten times that much.
Scope Mount
When choosing a scope, you must consider your rifle and check out the best scope mount you can use. Anything short of the best scope mount for your rifle would have a lot of negative effects on your shot accuracy. You can use a GGG scout scope mount. This M1a scope mount has a solid scope mount rail (Picatinny Rail). Apart from this GGG scout scope mount, you can find another M1a scope mount with a steady scope mount rail.
Best Scope for M1A
1. Vortex Crossfire II 2-7×32 Scope – 3 Models
The Vortex Optics Crossfire II is not the only scope we'll review from the Vortex Brand. It is, however, a fantastic place to start and an ideal choice for Socom and Scout rifle owners.
The Vortex brand has worked so much to establish a respectable reputation in the optics industry. Their diverse scopes tend to strike a decent compromise between high quality and reasonable pricing. If anything, the Vortex Crossfire II series delivers the desired quality at a more reasonable price.
This scope is very strong because it is made of aircraft-grade aluminum. It is waterproof and fog resistant, so it can survive any challenging weather conditions you may encounter.
In terms of shockproofing, this optic is intended to sustain shocks in two directions. First and foremost, the scope takes some bumps and knocks on the way, and these may not affect it so much. But, more crucially, the largest caliber bullets' releases a very heavy recoil that must be absorbed by the scope.
This Vortex Crossfire II is available in black, with dimensions of 11.3 long, 3.5 wide, 1.53-inches height, and weighs 14.3 ounces. The Vortex Crossfire II has a variable magnification from 2 to 7x, a 1-inch single-piece tube, and an objective lens of 32 mm.
This feature makes it an excellent option for M1A shooters seeking a competitive advantage at near to medium range. The Vortex Optics Crossfire II scope is an upgraded version of the original, highly regarded Vortex Crossfire model. If user feedback is something to go by, this current design has every bit of good in it. The target vision is very clear owing to the machine-locked and multi-coated lenses, and clarity is made better by a glare-reducing sunshade. This feature combination produces acceptable sights even in low-light settings, such as the crucial dusk and dawn shooting times. The scope does not have a night vision feature.
The capped elevation and windage turret on the scope has a rapid reset to zero capability to keep the scope sighted for longer. The rapid focus eyepiece facilitates target seeing and focusing. It is extremely effective whether your target is stationary or moving across a wide range of distances.
There are 3 Non-illuminated SFP reticles available to shooters. These are the options: V-Plex, Dead-Hold BDC, or V-Plex Rimfire. The V-Plex reticle is regarded as a reliable option for a range of hunting situations. The scope is MOA adjustable, with click values available in 0.25 MOA increments and an adjustment range of 60 MOA. In terms of parallax, this is at 50 yards.
The exit pupil ranges from 4.57 to 16 mm, with a linear field of vision of 12.6 to 42 feet at 100 yards. Because of the high recoil predicted by M1A rifle owners using .308 Win ammunition, eye relief is critical. That problem is solved by using this Crossfire II because it has a very massive eye relief that ranges from 3.9 to 4-7 inches.
Those searching for a low-cost, ring-mounted scope with near to mid-range accuracy are on track with the Crossfire II.
2. Leupold Mark 5HD 5-25x56mm Scope
Leupold is well-known for producing high-quality optics. They provide a large selection of the top optics for M1A rifles. The model we'll look at today is designed for shooters who want to improve their mid-range or long-range accuracy.
The Leupold Mark scope is designed to last for a lifetime. The severe recoil associated with a .308 Win ammunition has been extensively considered. Each sight is subjected to 5,000 hits on Leupold's ' the Punisher,' a recoil simulation equipment used to test durability before the scope is released. Each collision generates three times the force of a .308 Win rifle.
This high-quality optic has an overall length of 15.67 inches. It is crafted from high-quality 6061-T6 aluminum and has a single-piece tube of 35mm. The Leupold Mark also has a wide magnification of 5x to 25x. The outstanding objective lens of 56 mm allows for easy acquisition and precise hitting of mid-range and long-range targets. Because it is completely fog proof and waterproof, you won't have to worry about the weather when shooting. Take this rifle sight into the hardest settings or use it in inclement weather. It will function properly and return for more again and again.
You get a 5:1 zoom ratio as well as scratch-resistant lenses to maintain high-quality glass. Then there's Leupold's Twilight Max HD Light Management System, which definitely provides shooters an advantage. This technology will extend your shooting duration by 30 minutes at sunrise, dusk, or in low light conditions. Clarity of view is achieved by eliminating 90% glare compared to other scopes. As a result, superior edge-to-edge target pictures that are sharp and well-defined are produced.
You get about 3.6 – 3.8 inches of eye relief and a high-speed magnification selector with an integrated throw lever that ensures seamless operation. The focus is improved by the side-adjustment parallax function. The accompanying fast-focus eyepiece also allows for quick acquisition of the reticle. The scope has about 12 First Focal Plane reticle variations, with or without illumination.
All shooters can relax knowing that Leupold has combined clarity, quality, and usefulness in a formidable scope.
3. Athlon Optics Argos 6-24x50mm MOA Scope
Shooters seeking a low-cost First Focal Plane reticle scope might consider this Athlon Optics model.
Do you want to improve your accuracy across greater distances? Are you interested in joining the booming Precision Rifle Series sport? If so, then this reasonably priced FFP rifle scope is ideal for you.
This scope model is part of Athlon's Argos BTR line, and it is 14.1 inches long. It is made of tough aircraft-grade aluminum and has a variable magnification range of 6x – 24x. It comes with a 30 mm scope tube and an objective lens diameter of 50 mm.
Athlon has superior fully-multi coated lenses that provide a sharp, brilliant visual image even in low-light situations. The company's proprietary XPL coating also protects against filth and severe weather. The fog proof, shockproof and waterproof features add to its ability to function in any climate or weather situation. The FFP houses the red LED lighted reticle, which is powered by a CR2032 battery. This scope model has an MOA adjustment.
4. Primary Arms 4-14x44mm Scope
In terms of best optics for M1A rifles, the Primary Arms scope is another good option. Let's find out why this FFP model is a good fit.
The Primary Arms scope brand provides solid and dependable scopes. This scope is waterproof, fog-resistant, and shockproof, and it is made of durable aluminum. It measures 13 inches long and adds 24 ounces of weight to your rifle. A robust 30 mm tube and objective lens of 44 mm are included, as well as variable magnification from 4 to 14x. It has a Red Illumination and is powered by a CR2032 battery. BDC with wind holds is available all the way up to the coveted 1,000-yard mark. It has 3 reticle choices.
Targets that are close-range at 4x magnification or at a distance of 14x will remain accurate.
5. Vortex Optics Viper PST 5-25×50
The Vortex Viper 5-25×50 scope is mounted on a 6.5 Creedmoor chambered precision rifle. This scope is a good M1A riflescope in terms of clarity and price.
At any magnification, the reticle allows for quick elevation and windage adjustments on fixed and moving targets. The lighted reticle has 11 brightness settings to accommodate any lighting situation. The scope's positive click turrets allow for simple adjustment when wearing gloves or in damp conditions.
This range of scopes has incredible visual clarity. The scope includes a 50mm objective diameter that captures a lot of light in low-light situations. It does not have a night vision capability.
This scope is ideal for long-range hunters, target shooters, competitors, and shooting enthusiasts. This scope is a good choice if you are an entry-level scope user and want a long-range scope that has all of the pro-level capabilities without breaking your bank.
This Vortex Optics comes with an unlimited lifetime VIP guarantee that is transferrable.
FAQ
What caliber is the M1A Scout Squad?
The M1A Scout Squad is chambered on the .308 Win.
Is M1 Garand an effective home defense weapon?
The M1 Garand is a popular American rifle during WWII and is still useful as a home-defense weapon today.
How many rounds can an M1A fire?
Any M14 magazine with a capacity of 5, 10, or 20 rounds will fit the weapon.
Mike has been shooting, reloading, and bullet casting for over 40 years. He lives in rural Indiana where he has a backyard target range. Married for almost 40 years, Mike and his wife teach adult education in their home county and have four sons with their families, totaling 10 grandkids.