Do you need a good riflescope for your SCAR 17 rifle shooting? There are so many scopes out there, but only a few can stand up to one of the most powerful combat rifles now in use. As a result, choosing the best scope for SCAR 17 might be difficult.
If you're one of those high-budget shooters that are willing to spend heavily on a scope without worry, then you can ignore this article, but remember that because a scope is very expensive does not mean that it is the best optic for your shooting or rifle. After spending thousands on your precious SCAR 17 rifle that comes with a peppy 7.62×51 kick, you need a befitting optic for such an investment, a scope that can withstand the punishment thrown at it by this rifle.
We'll walk you through all you need to know about selecting a sight for this fantastic rifle, including a thorough review of some of our own choices.
Here are the quick list for top Scope for Scar 17:
What Makes SCAR 17 Optics Unique?
The SCAR 17 is a true powerhouse firearm. The SCAR, which fires 7.62X51mm rounds, is a beast that can handle any circumstance you can think of. This battle rifle was designed as an assault weapon for SOCOM and is suitable for both close-quarter warfare and long-range battles.
The SCAR 17 is the semi-automatic variant that ordinary individuals can get without a tax stamp. Aside from that, it is the same weapon that military troops use.
This rifle isn't bragging when it refers to itself as a "minute of angle gun," it is unbelievably accurate. This firearm can withstand a beating and keep shooting, although there might be complications sometimes.
As a result of the SCAR's status as an optics killer, the military prefers to use a highly durable optic like the ELCANs and others on the deployed SCAR 17s. We're not suggesting that your precious little rifle needs an expensive optics. However, adding a scope that is a good shock absorber will provide adequate protection to withstand the harmonic rebound or recoil.
How Should You Select A Good Scope for Your SCAR 17?
What features do you expect to see in an FN SCAR 17 scope? It all depends on what you want to accomplish with the gun. Will it be used as a self-defense firearm? Do you intend to slaughter wild hogs with it? Do you intend to use it as a marksman for your medium to long range shooting? Or do you want to use it as a battle rifle in modern warfare?
After analyzing the specific application you want to use this rifle for, then you can consider the following.
Magnification
What magnification would you need? A long range scope is required if you intend to fire long range shots. If you're primarily concerned with close-range shooting, then a low-powered optic with a 1x-6x or 1x-8x magnification range may be handier.
With a lesser magnification, you will have to give up some of the advantages of the 7.62×51 bullet, but if you're just concerned with short ranges, adding a large scope on your Picatinny rail won't help you.
If you're looking for a scope that can take care of your long-range shooting, I'll recommend a mil-dot FFP scope with superb glass that provides a brilliant, crisp target image.
Reticle Design
Depending on your requirements, you may choose a more classic duplex reticle, that is, if you're hog hunting, but in general, a BDC would do great on the FN SCAR. Red dots are common on all types of battle rifles.
If you plan on utilizing your rifle in close-range situations or hog hunting in dense places, a red dot sight might be the way to go. Another reason to consider a red dot sight is that it allows you to shoot with both eyes open, giving you a considerably broader field of view.
LPVOs with lighted reticles, whether tritium-powered, fiber optic, or battery-powered, are also worthwhile investments, especially if you can locate one with a BDC that fits with your 7.62×51 load.
Shockproof Build
The recoil of a 308 rifle may be a little harsh. Therefore, you need something that can withstand the recoil without breaking. This usually involves a high-quality aluminum-alloy frame that can take so much beating and an etched reticle that will not move as a result of the impact of recoil.
You can use your SCAR rifle without an optic, but it is a lot simpler to reach far and hit targets when there's an optic on top. And if you can get something with a lifetime guarantee from companies like Primary Arms, Leupold, or Vortex…all the better.
Best Optic For Scar 17 Reviews
1. Primary Arms SLx 5x36mm
The Primary Arms 5x36mm Prism Scope is one of the most adaptable alternatives, making it ideal for close to medium-range battle while still being capable of going long range if necessary.
This optics is pretty quick to zero and retains its zero nicely. It has an adjustment of 1/3 MOA increments. This scope is highly durable because of its anodized aluminum housing. It is also water-resistant, shock-resistant, and fog resistant.
The ACSS reticle is another notable feature. This reticle has a horseshoe and dot, holdovers for bullet drop, and a range finder. That may seem like a lot to take in at once. However, the ACSS is easy to navigate. This scope also has a green or red illuminated reticle that you can choose from. If you have not used an ACSS scope yet, this one is highly recommended.
And, although the SCAR is not cheap, paying a third of the rifle's price on an optic might just be too much. So go grab one of these Primary Arms, and you'll have an optic that works accurately from 30 yards to 800 yards.
2. Aimpoint Pro
The Aimpoint Patrol optic is one of the best optic that you can mount on your SCAR 17 rifle. this scope has been used by numerous law enforcement agents, and there is hardly any complaint about its performance.
The Aimpoint Pro scope comes with a QRP2 Mount, and it is one of the finest tube-type red dot sights on the market. With this scope, you can accurately aim at targets that are about o 200 yards away. This fast target acquisition is because of the 2 MOA dot for the sight. the scope can be mounted with any type of scope mount with different heights as long as you use a 30mm mount.
This red dot sight can last well over 3 years or up to 30 thousand hours, and it is always ready for use anytime. The Aimpoint Pro scope is a highly durable optic because it can survive any harsh combat condition and still maintain its accuracy.
This scope is lightweight, and it has a turret adjustment of 0.6 MOA per click. The lens of the sight can reduce glare and reflection while shooting in direct sunshine. it also has a transparent Flip Cover that can be used to aim at a target in case of an emergency or need for an instant shot, so you can shoot while the lens cover is closed without removing the lens cap.
The scope is a 1X magnification, and it has a 30mm objective lens diameter. Since it is a red dot sight with 1x power, you can expect to have unlimited eye relief. The reticle dot of the scope is 2 MOA, and it has 4 NV modes.
This scope will work perfectly on your Scar 17 rifle without disappointing you.
3. Trijicon ACOG 3.5×35 Scope
If there was ever a scope made exclusively for the SCAR 17 rifle, it must be the Trijicon ACOG scope. It is one of the best scar 17 scopes you can find. Although it is not as inexpensive as some other scopes, but it is also within budget, and it is definitely worth it.
What precisely does it have to offer?
The Trijicon scope was designed to withstand harsh environments. The housing is built of a strong military-quality aluminum alloy. Furthermore, it has an anodized weather-resistant surface. Its durability is one of the reasons it is popular among military shooters.
This kind of scope would be expected to feature battery-powered lighting. But wait, there's something even better. It has a tritium phosphor lamp that illuminates the sight when there's no ambient light. This one-of-a-kind light doesn't need a battery to function. The dual illumination feature is something to behold.
The lighted reticle of this sight is suited for ​​​​.​​​​308 cartridges. You also have a bullet drop compensator that displays holdovers of various ranges. The reticle is available with either green or red illumination.
The scope has an adaptive light collection system. Only a few scopes can adjust to changing lighting conditions in the environment, and this Trijicon scope is one of them. It has a fluorescent fiber light collection system that makes the reticle glow. It generates a detectable fading glow in dim light.
The scope has been tested in battle and boasts a battery-free illuminating system. It is lightweight, weighing only 14 ounces. The outside casing is strong and weather-resistant.
One drawback of the scope is that it is very pricey, but it is well worth it. If you want a good scope for your scar 17 and money isn't an issue, I strongly recommend this Trijicon scope because it has been frequently used in combat.
4. Vortex Optics Viper PST 1-4×24 Rifle Scope
The Vortex Viper PST scope is an excellent second focal plane scope for SCAR 17 shooting. I've always been a fan of vortex scopes. The Vortex Viper PST is one of the best Vortex scopes by the company, and it is a best-sellers scope. It may not be as spectacular or as pricey as the Trijicon or others, but it is worth beyond its price.
The Viper PST scope is somewhat heavy but well-built. In the manufacturing of the scope, Vortex used aviation-grade aluminum. Not only that, but it also features a unique scratch-resistant optical coating called AmorTek. I have not noticed a single scratch since I have been using the scope.
This affordable scar 17 rifle scope has a unique reticle that enables a simple transition from close quarter to long range shooting. This scope functions as a red dot sight thanks to a dot surrounded by an illuminated circle. If you set the scope at 1x magnification, it will work as a red dot sight for fast target acquisition.
Unlike other rifle scopes, the Vortex Viper PST 1x magnification setting is the lowest magnification. This is useful for acquiring targets quickly in close-quarter situations. It has a variable magnification, so you can adjust between 2x to 4x for medium – long range shots.
In low light settings, the illuminated reticle acts as the light source. It runs on a single CR2032 battery and has 10 brightness settings. You shoot your targets in a variety of lighting conditions with these 10 brightness levels.
This scope is less expensive than other comparable riflescopes, well-made with a strong and scratch-resistant exterior body. Extra-low dispersion glass was used for maximum brightness and visibility. It can maintain zero even after many bullets are fired.
One of the major drawbacks is that the turrets of this 1-4x scope are a little too tall.
When you consider the pricing of the Trijicon and other comparable scopes, the Viper PST value becomes clear. It is about half the price of Trijicon and offers nice features.
5. Nikon M 308 4-16X42 BDC Reticle
The Nikon M 308 scope is designed for the .308 cartridge, as the name implies. This proves that it is a great sight designed for heavy-duty firearms like the SCAR 17 rifle. And, like the Vortex Viper PST, it comes at a reasonable price.
The glasses of the Nikon scope are the highest quality you can imagine. The lenses are completely multicoated for exceptional light transmission, allowing you to see your targets clearly even in low light. Furthermore, the lenses have a proprietary ultra-clear coating that is intended to preserve the optics.
The scope has a variable magnification range of 4-16x, which allows you to aim your targets from any distance. The 16x magnification range may be too much for you; therefore, many people keep to the 4x-8x range. This is especially important if you wish to maintain a good exit pupil diameter.
One of the essential elements for any 308 scope is the BDC feature. This scope's BDC reticle performs admirably up to 800 yards. It uses hash marks, dots, and circles to denote holdovers in various ranges.
The scope has Nikon's precise Ballistics Match technology, which can be accessed via a smartphone. This technology helps you to optimize your rifle's settings.
The turrets have been adjusted to match the. caliber 308. It's well-made, with a strong 1-inch tube. It is fog proof, waterproof, and shock resistant. it also offers an enormous eye relief.
When compared to similar scopes, the FOV is a little narrow. The fact that this scope does not have a true 1x magnification might make it a little disadvantageous for fast target acquisition.
There are no perfect scopes, and Nikon is not an exception. Nonetheless, after you get over some of this scope's small flaws, you will enjoy its merits. For starters, it has a bullet drop compensator, which is needed for a .308 caliber.
6. Elcan SpecterDR Scope
Rifle Elcan SpecterDR is another good scope for Scar shooters. This scope was meant for pros. I'm referring to the professionals who use guns to hunt men and not animals. This optic is used by the Green Berets, Navy SEALs, and other special forces. They merge the SCAR 17 with the Elcan SpecterDR to make the gun a precision rifle. The SCAR 17 rifle is a hefty and powerful rifle that can be used for long ranges and close shots.
The Elcan SpecterDR optic is intriguing. The optic has a zoom range of 1x – 4x. This is an unusual design, yet it works well with guns like the SCAR 17. At 1X magnification, you have a great close-quarters scope that allows shooters to easily fire from 1 – 100 yards.
The scope's 4X magnification allows shooters to reach as far as 500 to 600 yards without issue. The Elcan SpecterDR is used by shooters in the world's most elite units or special forces. The scopes system works well and enables fast magnification adjustment for a wide engagement.
7. Vortex Razor Holographic Sight Gen II
How could I not include one of the finest Holographic sights on our list? The Vortex Optics Razor is a good buy.
This scope is made of aircraft-quality aluminum and is quite durable. The combination of coated lenses and "unlimited" eye relief makes it ideal for speedy target acquisition in any lighting or weather condition. With 11 different illumination levels and 4-night vision levels, this scope is ideal for both low light and no-light circumstances.
The 1 MOA red dot is encircled by Vortex's ERB-QCB image, which is a circle divided into quarters. This reticle is sharp, and when paired with eye relief, it makes this scope ideal for any close-range engagement. It feels amazing and elevates the standard red dot.
This parallax-free scope is incredibly clear and a lot of fun to use. It is one of the greatest optics available. It also includes a fast release, which makes switching between numerous rifles simple.
8. EOTech EXPS Holographic Sight
When considering a scope for your SCAR rifle, you probably want something like this on top of it; thus, it's only logical that it appears on our list. The EOTech EXPS Holographic Sight is one of the most recent revisions of the original holo sight, thus, it has to be included. The scope has an enormous eye relief and a 1/2 MOA increment.
The reticle is great for shooting at moving targets. There are several reticle configurations, ranging from a single dot at the center to four dots which allows for BDC. In any case, the reticle is bright and comfortable to use while aiming down range.
This scope is made to last, and it has a distinct polish. A durable, aluminum-housed rock. Along with being submersible up to 10 meters, this optic will not get damaged if dropped in a puddle. It is powered by a 1000-hour lifespan battery, so you don't have to worry about your battery health for a long time.
9. Leupold Mark 6 3-18X44
Why should you buy this Leupold scope? – The Leupold MARK 6 scope is a more compact variant of the Mark 5HD with the right magnification for excellent drop-dead precision shooting. It is ideal for range shooting and night vision use on the SCAR 17.
It is a lightweight scope for the SCAR 17 rifle as a Marksmanship Rifle capable of firing at distances of up to 1000 yards.
The Twilight Lens System allows the shooter to have increased light transmission while still being able to sight targets with the reticle in low light conditions.
The 34mm tube of this Leupold scope provides the shooter with greater click adjustability for shooting targets up to 1000 yards away without the requirement for an elevated MOA mount. It has a magnification ranging from 3-18X, making them highly versatile for any kind of shooting. The 44mm objective lens diameter allows enough light into the scope. It has its reticle etched on the first focal plane, and it makes a 0.25 MOA adjustment per click.
10. NightForce ATACR 4-16X50
Why Do People Purchase this NightForce scope? The NightForce ATACR line of scopes is a high-end device primarily intended for military use. If your SCAR rifle needs to hit between 600 – 800 yards, then this scope should be considered. This is the finest to acquire and to begin learning long range shooting.
The NightForce scope is made of a 7075 T6 hard anodized body that protects the scope's internal components from shock ad recoil, allowing zero to be maintained.
There's no need to get lost trying to count the turret while dialing back to zero because it has a zero return feature. Once the Zero position is established, simply dial until it stops without looking.
The windage adjustment has capped turrets to avoid unintentional modifications in the field. It makes a 0.25 MOA adjustment per click.
It has a very large objective lens diameter of 50mm which enhances the light-gathering ability.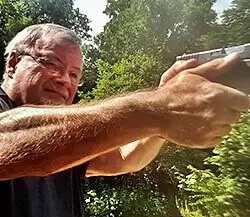 Mike Hardesty is a published freelance gun writer. With dozens of articles and reviews published in Pew Pew Tactical, Snipercountry.com, and TTAG (The Truth About Guns), Mike is considered a firearms expert. His special area of expertise is handguns.
Mike is a long-time shooter. He has been punching paper targets, taking deer and other game and shooting at competitions since about 1975. Other related pursuits include reloading and bullet casting. He currently reloads for over 10 calibers, both handgun and rifle. His reloads, particularly for 9mm, were in great demand during the height of the ammo shortage among family and friends. He donated hundreds of rounds to informal shooting sessions. He was quoted as saying "I do not sell my reloads but I sure will help my guys shoot 'em for free!". He has a few cherished firearms that he has inherited or otherwise procured — those are his favorites.
He earned B.S. and M.S. degrees from Indiana State University in 1974-1975.
He's a firearm experts and is the founder of mhardesty.com.