Are you looking for the best scope rings for mounting a scope on your rifle? Let us help you find a good one!
A Good scope ring is a very important part of the mounting system when setting up or mounting a rifle scope, and this mounting component must be carefully selected. This component is mostly disregarded and seen as unimportant. I have heard of some shooters that prioritize the scope only, and they recommend spending twice as much of the cost of the rifle on a scope, but they don't include the scope rings.
Your expensive scope is totally useless if you do not correctly mount it, and to do this, you need to use high-quality scope rings. You risk compromising the accuracy and performance of your entire rifle and scope set-up if you do not have the best scope rings that can hold the scope firmly when you take a shot.
There are so many low-quality scope ring options on the market that may not properly hold/support the body of your scope tube; the scope ring may not tighten down sufficiently; the heights may not suit the scope and rifle combo, or they may not be constructed to withstand the kind of abuse the cartridge of the rifle will meet out when you take a shot.
So, instead of grabbing the first scope ring you come across on the shelf at the local gun store, think about all the listed criteria mentioned. For these reasons and others, it is critical that you consider what the ideal scope rings should look like for your specific shooting application.
In this article, we will look at the different types of scope ring attachments, the things you should take note of when buying a scope ring, and a review of some rifle scope rings. Finally, we would address some frequently asked questions about scope rings.
Here is a list of the top 10 best rifle scope rings for you:
Different types of Attachments
Rings are often used to link a scope to a base, and there are several methods for doing so. Every firearm has a distinct mounting system, and each sight has its unique dimensions; different attachments solve the various challenges that may arise when attempting to install a scope.
Weaver and Picatinny Rings
These two ring types are sometimes interchangeable; however, there are exceptions.
If there are numerous ring screws in the same plate, do not attempt to install Picatinny rings to a Weaver rail. Picatinny rail grooves are standardized, although Weaver bases are not. Asides from that, you can experiment, although, in this situation, Weaver rings are preferable because they always match Picatinny rails.
Picatinny rails are the gold standard for mounting scope rings, so if you're mounting a ring for the first time, just start with them.
Dovetail Rings
If your rifle already has integrated slots carved into it, you will most likely not need a mounting base, just purchase rings that match the existing dovetail grooves. In general, the grooves are usually 11mm or 9mm apart, and it is critical to have the correct rings or a flexible ring mount.
Although you will save money on rings and will not need to purchase a new mounting base, it is not the best solution. The rings on high-powered rifles can shift during recoil. Locking tabs can break under a modest recoil from a .308.
However, when scoping a pellet or rimfire rifle, a set of dovetail rings may be the best solution. Simple, inexpensive, and efficient.
Red Dot Attachment
One good thing about red dot sights is that they have their own mounting method, so you don't have to go out and buy a separate mounting plate. However, adding a red dot sight on a handgun may require some more labor.
On a rifle, they are often attached to Picatinny rails; however, they can also be used on other mounting schemes. You can acquire a red dot sight for your air rifle and rimfire rifle that will mount to the dovetail.
Specialty Rings
If you're planning to use a certain mounting base, you'll need rings that can match it. There are some rings that are built expressly for non-rail systems, for instance, the Leupold Dovetails.
We also have other conventional types of rings with various mounting patterns. The most popular is a cantilever ring.
Dual-ring attachments have two rings on one base mount. With only one attachment, you'll have everything needed to mount your scope.
Quick Detach
How can we discuss attachments without talking about quick detach? Quick detach rings make use of a lever to secure the rings on the rail instead of using a bolt or screw. To remove your scope once it has been installed on a Picatinny rail, just flick the levers. Isn't it cool and easy?
Scope Rings: Things to Consider Before Buying
The choice of purchasing a scope ring is a matter of preference, and it's always yours to make; however, there are certain aspects that are beyond your control that you must consider. Having a good knowledge of these specifics will save you time and effort in your quest for a good scope ring. Here are some things to consider and double-check before settling on the best scope rings to purchase.
Size of the Scope
All riflescopes are not of the same size, and I don't simply mean in terms of objective diameter and overall length only; there are also other size variables. The circumference of the tube is an example, although it is not necessarily as evident as the other size discrepancies.
Some scope ring brands might not have every tube size. As a result, you must ensure that the rings you desire are available for your scope tube's size.
Attachment Method
There are several methods for attaching rings to a gun, and they are not the same. They are also not interchangeable. Make sure you know if you'll be attaching your scope to a dovetail slot, a Weaver mount, a tapped and drilled receiver, or a Picatinny rail.
Price
You may be tempted to spend more money than necessary on a set of scope rings. If you're assembling high-end or long-range shooting gear, you'll want the finest scope rings, which may cost pretty much. However, if you want to put together a backyard plinker for your child's first gun, you might not need to spend a lot of money on the scope rings; get a ring that can do the job.
Durability
The resilience of a scope ring, like that of the rifle, is critical to the lifespan of your gun system. If the scope ring isn't long-lasting, you'll face the same problems I had on my first hunting trip. The scope rings listed below can withstand the rigors of a hunt in the backwoods. They can withstand rain, snow, and other forms of moisture without disintegrating any quicker than they would ordinarily.
Ring Height
The diameter of the objective lens varies depending on the scope. The Objective lens of your scope will determine the height of the ring you'll need. This is because your scope will need enough space room when mounted on the rifle so that the lens does not rest directly on the top of the rifle.
If the objective lens diameter is less than 40 mm, you can use a low-profile scope ring like Vortex's "low" height. If the tube diameter is between 40 mm and 46 mm, a medium ring should suffice, but if it is greater than 46 mm, then high rings should come in handy.
If you're unsure, you can always use a cantilever mount which provides enough height.
Best Scope Rings
Here are the 10 best rifle scope rings we have reviewed for you
1. Vortex Optics Pro Series Riflescope Rings
I like to install my rifle scopes using highly reliable scope rings, particularly when I'm using a tactical rifle. This Vortex scope ring is the first on our list of best scope rings. These scope rings are tried and true, tough and dependable, and they require some getting used to before you can handle them correctly.
I admire your skill level if you can precisely fit a pair of scope rings on your rifle on your first attempt. Once you've mastered it, you might never want to go back to the one-piece type of mount.
Why should you go for this scope ring? Vortex is a leading manufacturer of gun accessories. They provide remarkable quality, accuracy, and durability at a minimal cost. Furthermore, the warranty that comes with their products is unrivaled. So when I found out about the Pro Series Rings by Vortex, I knew what to expect, and I was ready to give it a try.
These extra-high 30mm scope rings have quickly become the favorite tactical scope rings for many shooters. They are, in my view, one of the greatest AR scope mounts available. Continue reading to see why you should try these Vortex Optics 30mm Scope Rings.
Vortex is well-known for producing high-quality, extremely long-lasting shooting accessories. That is also true of their Pro Series riflescope ring. These scope rings are made of T6 aluminum and are quite sturdy. They are thick and can hold a scope tightly with the four T-25 Torx screws that are used on each ring.
These rings can be mounted to a Weaver rail or a Picatinny Rail. When you put these rings on, they remain on the rifle no matter what happens to them; they will not be twisted, bent, or knocked out of position.
They have a duty to stay put and maintain your zero after sighting in, and that is exactly what they do. Furthermore, they have an anodized finish that provides excellent weather resistance.
The best thing is that, although being formed of a solid block of unbreakable metal, each ring is quite lightweight. This means that you don't have to worry about weight, as many people do when using a one-piece mount.
I installed them on my rifle, and the zero is still intact after over 500 rounds. I have marched through thick brushes, up and down hills, smacked against rocks, scratched through weeds and thorns, and soaked in water, but this scope rings still remain unmoved.
The scope rings have never moved even a centimeter. I'm not always careful with my tools, yet I didn't even see a scratch on them.
To accommodate the most common 30mm scope rings, Vortex provides extra-high, high, medium, and low rings. That means you can adjust your eye relief to get the best fit for your sight and rifle.
My recommendation is to get a ring that is a little higher than you think you'll need. It's far simpler to lift your up eyes than to rub your cheek into your rifle when trying to look through your scope. Furthermore, if you choose rings that are very short for your riflescope, you may have to install them further away.
If you don't know how to mount a scope, this page will teach you how.
Rings need a bit more accuracy to attach than one-piece mounts, but they're still somewhat simple.
One of the finest features of these scope rings is that torque parameters are inscribed on them. So, if you remove them and swap them to another firearm, you'll still what torque to tighten them with. I used about 20 minutes to get the rings on, and this was because I had the torque specs on hand and everything I needed to attach the rings.
They're really easy to use, so don't be frightened. If you encounter any problems, please contact Vortex's excellent customer care.
If you want unrivaled quality and longevity, this weaver mount or Picatinny mount ring will serve you well. They're ideal for scout, air, and long-range rifles because of their amazing longevity. If you're looking for a good air rifle scope, have a look at these options.
Furthermore, because they come in various ring heights, they are ideal for a wider range of scopes. These rings are particularly great for firearms with a lot of recoils since they don't budge.
In addition, they are backed by Vortex's Lifetime VIP warranty. Vortex got you covered regardless of what happens to the scope rings and who you give. They will repair or replace them at no cost.
2. Leupold Rifleman Rifle Scope Rings
The Rifleman scope ring from Leupold is the next best scope ring we would look at. These aluminium scope rings are less expensive options when compared to steel rings. Steel can be replaced with aluminum at a lower cost. The use of aluminum reduces the cost of the ring and also brings down the total weight of the whole system.
It is not unique to Leupold rings since many other brands reviewed in this list are made of aluminum also, but it might be useful for young or inexperienced shooters. These scope rings feature a strong cross-bolt construction and will fit any scope base with a Weaver mount.
So, if you're in need of a good scope base, Leupold has you covered.
The two-piece scope base goes perfectly with the rings. This riflescope ring is a 1-inch mounting device, and it can be used as a rifle scope mount part for scopes with a 1-inch tube diameter.
They are made of steel screws and anodized aluminum and fit a range of shotguns and rifles. They provide long-lasting rigidity for dependable performance in harsh situations. With a great selection of mounting systems available in a wide range of finishes and ring heights, you're sure to discover the right match for your rifle and shooting style.
3. Talley Lightweight Canyon Scope Rings
Are you a hunter that hunts dangerous game animals in harsh terrain? Do you require a scope mounting mechanism that can withstand all the battering while you hunt and still maintain its zero? If you desire a tough-like-tank mounting system for your shooting need, then the Talley mounting system should be seriously considered.
If you've spent so much time handling different weapons, you must have noticed that one of the most tested and trusted methods of installing a scope on a rifle is using a two-piece mounting method. This involves rings that wrap around the riflescope, and these rings are then connected to the base that is fitted into the receiver of the rifle.
In this type of method, the scope rings and scope base are individual or separate parts.
Although there are times when the point where the rings meet the base might be a weak point, in this case, the joint might become loose when it is shaken by the recoil of the rifle. Or the linking point can be damaged when the mounted scope hits different surfaces when trying to search for a prey or take a shooting posture.
This Talley riflescope ring has eliminated all those negative possibilities. Therefore, you're sure that the weak spot or any other unreliable condition in a scope ring has been taken care of.
The rings are machined straight to their bases, so you can screw the mounting system directly to the receiver. No joints at the bottom of the ring connect it to the ring base because it was designed as a one-piece 7000 alloy material.
This one-piece base design provides you with more stability and rigidity as you mount your scope compared to some other mounting solutions available. So, with this Talley Lightweight Scope ring, your scope will always hold zero because the mountings will not shake or lose as a result of recoil. There won't be a need for zeroing multiple times.
The rings are Cerakote-coated, making them resistant to scratches, rust, and scuffs. This mounting ring will not only keep your scope stable but also makes the scope looks admirable. The Talley Lightweight ring is, without a doubt, one of the best scope mount available.
While Talley suggests mounting the rings in a straight line, I discovered that by twisting them around, I could easily alter the distance between the eyepiece and my eye to achieve the ideal eye relief for my scope.
The Talley rings will be installed differently than you are accustomed to. It makes no difference if your rifle has a Picatinny mount or a weaver mount—you won't be needing it. If your rifle has a rail, you must remove it first.
These rings are meant to be screwed into the receiver of your rifle. So, if your receiver does not have any holes to accommodate the installation, you'll have to properly tap and drill it.
After tapping and drilling at the gunsmith, the mounting will be straightforward.
If you don't want the screws to loosen as time goes on, you have to use Locktite Blue 242 to secure them (just a small quantity).
After attaching the bases, you can insert your scope and then the top rings. You can use a level set to keep things straight and a torque wrench to avoid overtightening.
4. Vortex Precision Matched Rings
Vortex provides a Precision Matched scope ring model as a step toward higher quality scope rings and scope bases, and their manufacturing procedures have now advanced to a new level. The materials used for these rings are of the highest quality and are available in 30mm, 34mm, and 35mm tube diameters.
These Vortex scope rings are in the same league as some of the big boys, and they are sold for professional usage as well as for the hunter who wants the finest from the company. These rings are made in pairs, and they are carefully cut and detailed to the shooter's specifications.
As I always tell shooters, don't purchase a very expensive scope and use a subpar scope ring to mount it; you won't get the best results. That is why this scope was added to our list of scope rings. The Vortex Optics Precision Matched Rifle-Scope Rings will not disappoint you if you're looking for quality.
These rings are made of 7075 T6 billet aluminum and have tolerances of less than .0005. These Vortex rings are hand-bead blasted, vibratory tumbled, serialized, and finished with a hard coat anodized. The rings can fit in a weaver mount or Picatinny mount.
5. Warne 1 inch Quick Detach Rings
If you are looking for a mounting solution that can allow you to use many scopes on a single firearm, then the Warne Quick Detach (QD) Scope Ring set is what you need.
You can switch out an optic in less than 20 seconds with QD Rings. Simply pull the lever to release your variable scope. Insert your red dot and tighten the lever to secure it. When you rejoin your optic, these rings will preserve the zero—no need to zero in the scope repeatedly.
If you want to go from a variable scope to a night vision or thermal scope in a split second, then you can count on the Warne 1 inch Quick Detach Rings.
This QD Warne scope mount is made in America. The stainless steel rings are heavy-duty. It is made with an electrostatic powder coating that is quite durable. These rings can withstand a lot of abuse. Despite the fact that my rifle has a lot of recoils, they stay put.
QD Warne Rings are intended to be worn with a weaver-type mount. The eye relief adjustment is restricted to the weaver rail length.
These rings are not intended to be used to install a scope forward. Expect to install your scope within typical eye relief distances while using them. Depending on the specifications of the scope, the eyepiece should be roughly 3 – 4 inches away from your eye.
It was a breeze to attach the Warne Ring to my scope.
These rings are designed for people who want to swap numerous scopes. The Warne QD Rings are extremely simple to detach and reattach. Simply pull the lever, remove the scope, insert another scope, and lock it.
6. Seekins Precision 4 Cap Screw Scope Ring
Seekins Precision rings are an excellent choice for long-distance shooters. Making precise shots at longer ranges gets a lot easier when you have a reliable scope mount.
Seekins rings deliver that assistance and allow you to focus on your shooting rather than worrying about a loose ring. These rings are high quality, have a solid feel, and were made to last long. This is because they are carefully machined from 7075-T6 aluminum.
Seekins rings are a little big, but they won't get in your way or affect your precision shooting, and they are highly durable. The sturdy construction allows them to withstand recoil from any caliber, even the powerful 45-70 can be used for large game hunting with these rings. If you use these rings with a scope of the same tube diameter, you will not need any lapping.
They are also designed particularly for Picatinny rails, making them one of the best scope mount for AR. Because they were designed for Picatinny rails, they are simple to install.
When employing the Seekins rail, the cross bolt fits perfectly in the channel with no movement. Although they come with the T25 keys, I used a T25 Torx screwdriver to make it fit properly. However, once set up, everything was flawless.
The Seekins rings are available in a variety of heights to provide the necessary clearance for your firearm. You may adjust them to provide optimum eye relief when attaching them to Picatinny rails. The tight, robust fit ensures your scope is kept in place firmly so that you'll not lose your zero.
I've fired over 200 rounds with them and never had to modify anything.
7. Vortex Optics Tactical Rings
The next pair of scope rings we will review is the Vortex Optics Tactical ring which is available in both high and low sizes to accommodate a broad range of scopes, bell heights, and others. This is one of the best 30mm scope rings you can find.
So, how can you differentiate a tactical scope ring from a standard ring? A tactical ring differs from regular or general-purpose scope rings in that they may be used by the military or police. Since tactical rifles need more magnification than hunting rifles, they usually cover more distances and would therefore generate heavy recoil.
With that said, you will need a scope ring that is highly durable and can withstand some beating. And that is where these Vortex rings come in handy.
Vortex provides these tactical rings in a variety of heights, but the tube diameter is 30mm. This is due to the fact that this 30mm optic system is suited for snipers and police.
It is not uncommon for Vortex to provide branded rings with its scopes. Most scope manufacturers that sell mid-range to high-end optic encourage shooters to use their rings because they believe in the quality of their product.
The Vortex six-screw system is built to withstand heavy recoil. The rings are also made to accommodate Picatinny-style and other rail mounts, making them simple to install and remove in military or law enforcement applications.
Long-range shooters benefit from this design as well, as Vortex Optics recognized the demands of expert shooters a long time ago.
8. Warne 1 inch Matte Rings
The Warne scope mount manufacturer is another scope ring brand that, in my opinion, needs greater attention. Their goods are long-lasting, strong, and dependable, and they are fully manufactured in the United States.
They have unbelievably amazing value-for-money rings, and you cannot go wrong with these scope rings. Warne rings are quite strong, and once you tighten them, you're sure that your zero will not be distorted.
It is not common to find a set of rings or mount that can withstand heavy recoil like this scope ring.
They are constructed with stainless steel, and they have been shown to be one of the most durable scope rings on the market. Furthermore, they have a non-slip positive recoil surface. That is, they are designed to survive even the most powerful recoil.
This scope ring operates by dispersing the recoil force uniformly throughout the whole system. This way, no one part bears all the strain and thereby making it far gentler on your mounting system.
You can use these rings on scout scopes, shotguns, and ARs with no problems. The level of durability and quality offered by this ring is unheard of for a ring of its price. These scope rings will serve you effectively if you want to go for big game hunting. They are wonderful all-purpose rings for whichever shooting need you want to use them for.
Usually, the eye relief of a scope and rifle setup is determined by the scope itself. The advantage of employing scope rings rather than a one-piece mounting system is that you can have greater control over the position you want them mounted.
Because scope rings are more adaptable, you may fine-tune them for optimal eye relief. Scopes with long eye relief are my personal favorite. I enjoy the amount of wiggle space they provide as well as the freedom to place my eye comfortably at different distances when taking a shot. If you love plenty of eye relief, then these Warne 1-inch rings are ideal for you.
The fundamental distinction between these Warne 1-inch scope rings and others is that they are divided vertically rather than horizontally.
It is possible to remove it and transfer it to another firearm, but you are better off purchasing additional sets of rings. If you're searching for a pair of rings that can withstand a high recoil rifle while also evenly distributing weight, feel free to give these rings a try.
9. Leupold Dual Dovetail Scope Rings
These Leupold scope rings are another reliable and durable mounting ring. The rings are specifically compatible with Leupold Dual Dovetail Mounts.
If you are looking for a very strong mount system that can handle hardest-kicking firearms, these Leupold scope rings should be on your list of considerations. They are made and machined with steel materials.
These scope rings are highly versatile, and they can be used on different kinds of rifles as long as the dovetail rail is available. By twisting and locking the device, a strong connection is ensured between the ring and its base.
These Leupold Scope Rings have a 1-inch circumference, meaning they can easily hold scopes that have a 1-inch main tube diameter. The rings are also high profile, so you are sure that your scope will not rub against the gun after mounting it.
10. Steiner T-Series Rifle Scope Ring
The last scope ring we will review is the Steiner T-series. With its excellent mounting option for your scope, Steiner's T-Series Scope Rings serve as the cornerstone of your aiming system. This scope ring is designed to take a 30mm scope tube.
The rings are made of aluminum alloy, and they are both lightweight and durable, making them the ideal complement for your firearm.
You can rely on these rings, and they easily mount to any Picatinny rail.
Steiner has you covered with a guarantee on this accessory. They will replace or repair damaged items at no cost throughout the duration of the product's warranty. Damage, theft, or loss are not covered by the warranty.
FAQs
How much does a scope ring cost?
Scope rings have a varying prices like other gun accessories; they usually cost from around $20 to $200 or more. The price of the scope ring you want to buy is dependent on what you want to use it for. An entry-level shooter using a .22 caliber rifle would probably not need a scope ring that is more than $200.
Is the scope ring height important?
Yes, the scope ring height is quite important. The ring height is very important because it provides adequate clearance between the rifle and the scope's bell. It also determines the location of your cheek so that you can look through the scope correctly. If the rings are too high, it will look unprofessional, and getting a comfortable cheek weld will be a challenge.
Do scope rings have an effect on shooting accuracy?
Yes, scope rings may have an effect on your shooting accuracy. If the rings are not correctly mounted, the scope will move, and it will not maintain a steady zero, impacting your accuracy. Furthermore, if the scope rings are not correctly matched, misaligned, or overtightened, the alignment of the scope on the rifle will be incorrect, and accuracy will be affected.
What Torque Is Required For Scope Rings?
The torque requirements for various scope rings vary. However, users can fasten most rings with a 35 – 45 inches pounds torque. Cap screws have a reduced suggested torque need of 16 inch pounds, whereas the base screws have a higher recommended torque of 30 inch pounds.
Always follow the manufacturer's torque recommendations. Make sure you have an appropriate uniform torque setting while tightening the base and cap screws.
How would I use a Scope Ring?
A scope ring is used to mount a scope on a rifle. Some rings may be attached to the gun directly, while others require a specific mounting mechanism. Adding scope rings is a simple process. Most manufacturers include a user manual in their scope rings to make installation easier.
Is it necessary to lap a scope ring?
The need for lapping a scope ring is determined by the kind of scope mount. Lapping can improve performance because it can increase the grip between the ring and the scope tube. It is also beneficial when you need the best alignment between rings. Some manufacturers recommend lapping, while others don't. Lapping should be done only if recommended by the manufacturer.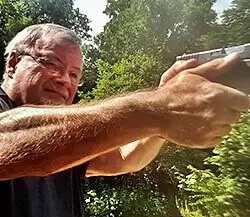 Mike Hardesty is a published freelance gun writer. With dozens of articles and reviews published in Pew Pew Tactical, Snipercountry.com, and TTAG (The Truth About Guns), Mike is considered a firearms expert. His special area of expertise is handguns.
Mike is a long-time shooter. He has been punching paper targets, taking deer and other game and shooting at competitions since about 1975. Other related pursuits include reloading and bullet casting. He currently reloads for over 10 calibers, both handgun and rifle. His reloads, particularly for 9mm, were in great demand during the height of the ammo shortage among family and friends. He donated hundreds of rounds to informal shooting sessions. He was quoted as saying "I do not sell my reloads but I sure will help my guys shoot 'em for free!". He has a few cherished firearms that he has inherited or otherwise procured — those are his favorites.
He earned B.S. and M.S. degrees from Indiana State University in 1974-1975.
He's a firearm experts and is the founder of mhardesty.com.