Whether you're a competitive shooter, an enthusiastic hunter, or just use weapons for home protection, you've probably heard the term "scout scope."
If you've not, this article will help you know more about the origin of scout rifle scopes, how a scout scope works, and other important factors to consider when purchasing one.
Here are our top picks for the best scout scopes
Let's get this party started!
A SUMMARY OF THE SCOUT RIFLE'S HISTORY
Let's take a quick trip back in time to the 1980s. I am pleased to introduce to you a firearms expert Col Jeff Cooper; we can easily attribute the scout rifle innovation.
The late Col Cooper was a very influential person in the hunting, shooting, and self-defense field. Everyone took notice when he began writing about the concept of a multi-purpose, "do-it-all" gun.
He envisioned a weapon that could instantly kill any animal and still be light enough for any hunter to carry on lengthy trips through the bush and still be used as a self-defense weapon at home.
He also came to the conclusion that his "dream rifle" should be a bolt-action rifle that can be chambered in .308 Winchester, .350 Remington, or .243 Winchester.
Cooper soon teamed up with Steyr Mannlicher, and they made the first scout rifle, the Steyr Scout Rifle. Although the rifle did not match every requirement on his initial checklist, it was satisfactory enough to receive his approval.
Top manufacturers such as Steyr, Ruger, and Savage now produce contemporary Steyr scout rifles, Ruger scout rifles, and Savage scout rifles. With the AR-15's supremacy, it is easier for shooters to manufacture their "Scout Rifle" in a variety of calibers.
Whichever way you make a rifle, we all know that every rifle needs a good scope. So, let us discuss the scout scope.
What Exactly Is A Scout Scope?
Scout scopes are rifle scopes that are positioned forward on the barrel of a rifle. Scout scopes are usually lightweight and small, with modest magnification and very large eye relief. All scout scopes are built in a way that they allow shooters to take shots with both eyes open while recovering quickly from recoil with a follow-up shot.
Criteria for Cooper's Scout Rifle
Col. Jeff Cooper, the pioneer of contemporary firearm shooting, set the requirements for his dream weapon in the 1980s.
These requirements are ideal for somebody who needs only one rifle for all his shooting applications. Meaning the scope should satisfy a rifleman for hunting in the wild and for home defense.
A Cooper's Scout rifle is supposed to be the first rifle you grab for any kind of shooting. It should be dependable and tough and must also be lightweight and easy to use.
Col Cooper's list of requirements has become the weapons industry's unattainable goal.
Even today, after more than 40years, when Cooper published his list of criteria for the ultimate weapon, many contemporary rifles come near but fall short of Cooper's stringent standards.
So, what should a Cooper rifle have?
Action
A cooper rifle should be a dependable bolt action rifle. Cooper believed that a bolt action would be lighter and more dependable. He desired a bolt action rifle that was simple to feed with box magazines.
Ammunition
Cooper's Scout rifle should ideally shoot a 308 Win round. He believed that this round would be useful in neutralizing enemies on two legs or four legs with a single shot. Small-frame shooters or those who struggle with .308 might opt for a .243 rifle caliber. Average riflemen should aim for a chambering of at least .308; they can also go as high as .350 caliber.
Size
This scout rifle must be lightweight and portable enough to move about for days while being short enough to avoid snagging in undergrowth and rugged terrains. The perfect Scout rifle should not be longer than 39inches, and the barrel length must not be greater than 19inches. The scope should be between 6.6 lbs and 7.7 lbs weight.
Optics
A low magnification scope with lengthy eye relief must be positioned in front of the rifle. This configuration provides the rifleman with various tactical benefits.
For starters, a low magnification optic will let you acquire targets quickly. The extended eye relief lets you engage your target while keeping both eyes open. Cooper believes that, as a scout, you are on your own without the support of a team. You must be able to keep an eye on yourself when no one else is around.
Secondly, a forward mounted scope allows a shooter to feed the rounds into the chamber effortlessly. Cooper believed that a metal box magazine would be the most efficient means to reload quickly.
Unfortunately, sometimes, even the greatest optics may fail when you need it most, so having a rear sight or iron sight as backup might be helpful. Backup rear sight or iron sight is required for Scout rifles.
Accuracy
Scout rifles should be accurate. To put it simply, you must be able to easily shoot 3-shot groups within a four-inch square from, let's say, 200 yards. This is not difficult to do with contemporary guns. Manufacturing advances in machining technology have enabled manufacturers to produce rifles with more precision than those produced in the 1980s.
Best Scout Scope
Here is a review of the 5 best scope
1. Leupold VX-Freedom 1.5-4×20
If you're searching for the greatest scout scope, search no further than the Leupold VX-Freedom rifle scope. Scout rifle scopes need to meet specific requirements, and this Leupold scope does. This Leupold scope is not only lightweight and small, but it also has the ideal magnification range for both home defense and hunting applications.
So, what other features make the scope so incredible? Continue reading…
The Leupold scope has a crisp glass that provides a very sharp view for the shooter. The lens of the scope is fully multi-coated, and it reduces glare while also decreasing color distortion, resulting in an accurate and a bright sight image.
Leupold's Twilight light control technology is also included. This technology is unique in that it draws in so much light, resulting in an excellent image even after 20 minutes of dusk and dawn.
Although this is not a night vision optic, its low-light characteristics make it ideal for scout rifle hunting and home defense. The Duplex reticle is the finest feature of this sight. With tiny crosshairs and broad outer posts, your gaze is instantly pulled to the center. This allows for quick target acquisition, which is important in close combat and hunting scenarios.
I often use this sight for hog hunting on a daily basis, and I can say for a fact that it allows me to detect and target those critters faster than other riflescopes.
It is also fairly straightforward to use, so you need not worry about getting confused or overwhelmed by marks while you're attempting to sight with the scope.
The Leupold scope provides ample eye relief. It offers a wide range between 3.74 -4.17inches, which is larger than an average scope's eye relief. Maintain a proper cheek weld at all times, and you will never worry about being hit in your eye, especially when you have so much eye relief. The eye box of the scope is spacious, and this scope has a beautiful, broad field of vision.
If you have ever used a Leupold scope, you're aware that the company always produces high-quality. This Leupold VX-Freedom scope is no exception. It is composed of aircraft-grade aluminum, so it is strong and durable. This is also why it is very light and small.
I can personally attest to the fact that the scope is fog proof and waterproof. I dropped mine in a pond, and it still worked as though nothing happened. It also boasts scratch-resistant and tough lenses for extra protection to the optic.
Furthermore, Leupold provides a lifetime guarantee on all items, so any issues that emerge will be easily resolved.
The 1/4 MOA adjustment turrets on this Leupold scope are precise and accurate.
If you're using a good scout rifle or AR-15, be sure that the turrets are not mushy as so many others.
The Leupold Freedom has a firm, sharp click that is simple to feel and tune. The main drawback is that there's no label on the dials, but with solid, loud clicks, this isn't a big deal.
This Leupold scope was simple and quick to zero. I finished it in a few shots. I have shot thousands of rounds through it and yet to tweak it, so it appears to maintain zero properly.
This scope has a variable magnification range of 1.5 to 4x. This is ideal for home defense and close-range hunting. My only complaint is that I would have preferred that the scope started at 1x magnification rather than 1.5x, which still does the job. It also features a 3:1 zoom ratio, making it useful in a variety of circumstances.
The Leupold VX scope has corrected parallax; even if it did, I don't believe I need that because I have not had any issues.
This scout scope does not include rings or mounts, so you must purchase those separately.
To mount the scope, you'll need a 1inch ring, so I purchased a Leupold QR ring. This sight exceeds the requirements I set for my scout rifle.
The Leupold scope is the greatest scout scope money can buy. You will not be let down.
2. Vortex Razor HD 1-6×24 GEN II SCOUT SCOPE
Scout rifles are designed to be reliable when all else fails. The requirements for choosing a scout rifle are stringent, especially when it comes to mounting an optic.
A good scouting scope should be light, and easy to fire with the two eyes open. The Vortex Razor 1-6x24mm: an excellent Vortex scout scope that can be used on scout rifles.
In a nutshell, the scope gives shooters a stunning view. The color accuracy is excellent, in my opinion. There was no blurriness on the edges throughout the scope's whole magnification range. This Vortex scout scope was expertly crafted by the experienced engineers. The ideally indexed lens, HD ultra-low dispersion glass, and the XR lens coatings all contribute to producing one of the clearest sight images I've seen.
The Vortex architecture ensures superb light transmission, clarity, and lens focus. The lighted BDC reticle was appealing to me. The crosshairs were basic and clear, with bullet drop. At maximum magnification, the bullet drop estimation was very accurate for larger loads.
The dot was really bright, and it is visible in any situation.
The variable lighting knob on the scope's left may be locked. You can also put off the illumination between clicks to preserve battery life.
For people that have astigmatism, even at higher light levels, the dot will still be quite obvious for them to see.
The Vortex Razor Gen II has a very large eye box, in my opinion. It also has an extended eye relief of about 4 inches, which gives a shooter plenty of freedom to move behind the scope while maintaining a great vision. This is a critical consideration for people that need to shoot from odd defensive stances.
This optic might easily be used as a red dot for short-range target acquisition. I don't know how Vortex managed to design this scope to make it more durable while still reducing its weight by a fourth. I honestly believe I could put this scope through my truck, and it won't get damaged. I didn't bother putting covers on the lens, and I'm not delicate with this scope. It ends up in my range bag. I load it into the back of my pickup truck. It is beaten and dragged on different surfaces during training.
With all the punishment the scope has gone through, Iit has not damaged the ArmorTek coated lenses.
Even if I manage to damage the scope, I know Vortex's VIP warranty will cover me. If they are unable to repair it, they will send me a replacement at no cost.
The Vortex Razor Gen II is constructed from a single piece of aircraft-quality aluminum. This scout scope was argon-purged to avoid fogging across a wide temperature range. It also features o-rings seals to keep water out.
The turrets are big and low-profile. They're simple to use. In fact, even with gloves on, I had no issue rotating them. Both turrets revolve well. As I made changes, I could feel and hear the clicks.
The metal caps protect the turrets from inadvertent adjustments. At 200 yards, I successfully zeroed the Vortex Razor in three rounds. Despite the fact that I've mistreated my scope, it still maintains its zero like a new optic.
On this Vortex scout scope, I found the 1x power to be extremely close to true. This true scout scope can be used as a red dot sight for short-range tactical circumstances.
I appreciated being able to zoom to 6x and still make precise shots as far as 600 yards.
The additional magnification is useful in close-combat. It allows a shooter to take precise shots on targets or improve target identification during low visibility conditions.
My only complaint with the Vortex scope is the stiff zoom dial. A shooter also has to rotate it about 180 degrees to cover the whole magnification range.
The tube on this optic is 30mm. I have it installed on my scout rifle using Vortex rings, which can be used with either Picatinny rails or a weaver base.
To put a final touch on your scout rifle and scout optic combination, ensure the mount is holding the scope firmly.
I believe the Vortex Razor is well worth the price. If late Col Jeff Cooper was still alive, he'd most likely have this sight on his Scout rifle. This Vortex optic is ideal for anybody involved in close-combat circumstances, whether professionally or competitively.
3. Vortex Optics Crossfire II
The Vortex Crossfire II Scout rifle scope is one of the best scout scopes on the market. As suggested by the name, it is made for scout rifles.
Vortex is constantly looking for ways to make their scopes better based on the demand of shooters, and they got it right in this one.
As previously said, you must ensure you get the SCOUT model of this optic, because they sell other Vortex Crossfire II in conventional scope format.
The magnification ranges from 2x to 7x, and it has a V-Plex reticle and fast-focus eyepiece. Furthermore, the scope has a long eye relief of 9.45inches, which cannot be found in a regular scope.
Vortex's excellent anti-reflective multicoating is applied to the glass.
The anti-reflective coating makes it a great choice for concealed hunting since it will stay disguised until the prey is just in the correct spot.
Finally, the aircraft-quality aluminum tube has a 1inch diameter, making it easier to locate scope mount bases that match. This Vortex Crossfire II Scout rifle scope has turrets that are capped to prevent inadvertent adjustment. The turrets are also finger adjustable, so you won't need a tool to make adjustments to your scout optic. This high-quality scout optic is backed by a lifetime warranty from Vortex.
4. Burris 2-7x Ballistic Plex
The Burris 2-7x Ballistic Plex Scout rifle optic was created from scratch for scout rifles.
With a variable scope magnification of 2x to 7x, the scope is ideal for long-range type of shooting, and the BDC reticle makes compensating for longer-range shots easier. However, the primary objective of this Burris scout rifle scope is quick target acquisition, and this can be achieved even if you open both eyes.
Burris even provides a no-questions-asked warranty that passes to a future owner.
This is true of practically all Burris Scopes.
This Burris scout rifle scope has a multicoated glass and features a big objective lens for the greatest possible sight image. In terms of sight image, this optic features a standard Scout Rifle Reticle.
The Burris scout scope has a standard duplex (does not have fancy mil-dot). You may even acquire one with a Ballistic Plex Reticle to make it simpler to compensate for long-distance shots.
This Burris scout scope has turrets that are precision-fitted, with a push-to-turn action and an audible click. The scope comes with a 1inch main tube that is nitrogen-purged. The scope is waterproof, shockproof, and fog proof (Burris mentions the shockproof is tested with heavy recoil rifles).
This Burris Scout scope is the optic to have for a once-in-a-lifetime hunt, especially if you're hunting species that chase you back.
5. UTG 2-7×44 – Illuminated
The UTG scope is one of the best scout scopes in the market. The magnification range of this variable scope is between 2x to 7x; however, it appears to get hazy as a scope-mounted optic about 4x magnification. This scope is one of the most affordable solutions available on the market.
Since it is a very cheap optic, you won't feel scared about ruining it. You could even wind up with something that both looks and operates great.
The UTG scout scope comes with a large main tube diameter of 30mm; this scope will enable all available light to travel to the shooter's eye, making it ideal for dusk and dawn shooting.
The tube has been nitrogen purged, meaning it is fog proof and waterproof, which is exactly what we want. UTG also includes a True Strength Platform, which contributes to its shockproof performance.
The reticle has the ability to show 36 colors from the Illuminating System. The reticle is made of glass, and it delivers a good image. The illuminated reticle features a one-touch off and on button, so switching off does not require so much stress or having to reduce the brightness setting to preserve battery life.
The scope comes with an extended eye relief that ranges from 9.5inches to 11inches, and most shooters that use this sight say they can easily extend it out to 12inches. This long eye relief is a feature that cannot be found on a regular scope. UTG scope has a sidewheel parallax that can adjust from a distance of 10 yards to infinity.
The target-style elevation and windage turrets come with zero resets and zero lockings, making them an excellent optic for shooting at a variety of ranges. The scopes MOA adjustment is straightforward and easy to use. 
Overall, this scope offers a lot for the money, and the pricing is about right for a tight budget.
After reading through these 5 best scopes, you should be able to find one that suits your rifle and shooting application.
WHAT DEFINES A GOOD SCOUT SCOPE?
Shooting Application
Scout scopes are suitable for shooters who require and expect speed. In response to this requirement, below are 3 highly suitable shooting applications:
Hunting in close quarters
This is for shooters that prefer hunting in dense foliage. They require a low-magnification optic to strike objects that move quickly.
Scout-style scopes are suitable for people who like competing in three-gun or other shooting events. This isn't a new concept, and competitive shooters have been using this scope for a while. Because such competitions are timed, being on target quickly and being able to fire with pinpoint accuracy is critical to success.
Situations involving close quarter battle/home defense
Red dot optics are becoming more popular for CQB and home defense. However, the use of a high-quality scout scope should not be overlooked since the original purpose of a scout scope was to provide shooters an advantage in close-quarters battles.
Things To Look Out For Before Buying A Scout Scope
If you're looking for a good scout scope or simply trying to learn more about them, this is the guide for you!
Magnification
Consider your target range first when selecting the right scope magnification. If you're shooting at near or medium targets between 50 to 350 yards, you'll require magnification ranging from 1x to 6x. If you're shooting 350 yards or more distant, you should go for a magnification of 7x – 9x.
Most shooters prefer a variable magnification of 2-7x.
Eye Relief
Scout scopes are forward mounted scopes, so they will be nearly difficult to operate unless they have plenty of eye relief.
Conventional scopes usually have an eye relief range of 3.5-4 inches. A scout scope should be between 9 and 16 inches long.
Because of the extended eye relief, scout scopes may be shot with both eyes open.
Quality of the Lens
Your objective lens's diameter should be as large as possible. This allows more light to enter the scope, making aiming at targets simpler. An illuminated reticle is beneficial, especially in low-light situations.
Durability
Ensure you select lenses that are multi-coated and can withstand damage, such as continual hard recoil or accidental drops.
In addition, look for a scout scope that is nitrogen-purged and O-ring sealed. This ensures fog proof and waterproof ability.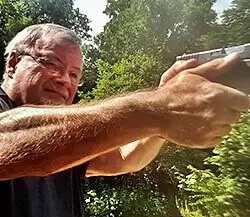 Mike Hardesty is a published freelance gun writer. With dozens of articles and reviews published in Pew Pew Tactical, Snipercountry.com, and TTAG (The Truth About Guns), Mike is considered a firearms expert. His special area of expertise is handguns.
Mike is a long-time shooter. He has been punching paper targets, taking deer and other game and shooting at competitions since about 1975. Other related pursuits include reloading and bullet casting. He currently reloads for over 10 calibers, both handgun and rifle. His reloads, particularly for 9mm, were in great demand during the height of the ammo shortage among family and friends. He donated hundreds of rounds to informal shooting sessions. He was quoted as saying "I do not sell my reloads but I sure will help my guys shoot 'em for free!". He has a few cherished firearms that he has inherited or otherwise procured — those are his favorites.
He earned B.S. and M.S. degrees from Indiana State University in 1974-1975.
He's a firearm experts and is the founder of mhardesty.com.