If you raise the issue of mounting optics on a shotgun, particularly a slug gun, I'm sure you'll receive different responses from different individuals. The idea of adding a scope to a slug gun is frowned upon by some shooters. These people will tell you that scopes should only be used on bolt-action rifles, not slug guns or any other shotgun.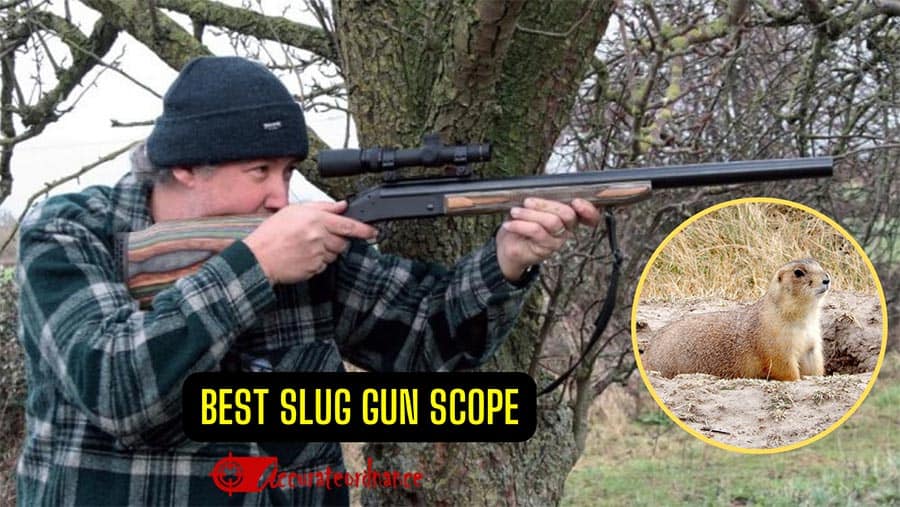 Others believe that mounting a sight on a slug shotgun is entirely appropriate because it improves accuracy at longer ranges. Everyone has the right to their own opinion and choices. However, if you must do anything, do it correctly. Having the best slug gun scope on your firearm is the best thing that can happen to any shooter.
A slug gun or shotgun scope will increase your shooting ability. So, if you want to increase your on-target or pinpoint accuracy at a longer distance, this article is for you! We've chosen to spotlight some of the best scope for slug guns on the market right now.
What Exactly Is a Slug Gun Scope?
A slug gun scope is a shotgun scope used for whitetail deer hunting and bird hunting at close ranges. If you reside In locations where rifle or buckshot ammunition are restricted for whitetail deer hunting, then you'll find that slug guns would be permitted as an alternative. Slug guns are the perfect firearm alternative for deer hunting.
The shotgun scopes have evolved to keep up with contemporary technology, providing the deer hunter with the range precision needed in the firearm. Slug guns of today can give accuracy between 100 yards to 150 yards or more. This is an excellent tool for honing your shooting abilities.
Shotgun scopes also allow the deer hunter to zoom in while maintaining excellent visibility. You can have good aim even if the object you want to shoot is hundreds of yards away. Investing in a sight will help you to get an enjoyable shooting experience.
Base or Scope Mount
One advantage of using a quality scope for a slug gun is that it can withstand the recoil. The majority of high-quality scopes will be unaffected by the massive recoil generated by the firearm.
One critical component of my design, as well as your slug gun set-up that gets your passions flowing in the slug gun realm, will be the scope mount. The kind of scope mount and scope rings you use to attach your shotgun scope to your firearm will determine how stable the shotgun optics will be when you shoot with it.
Here's a link to an article on how to mount a scope.
How Do We Choose A Slug Gun Scope?
There are various factors to consider when searching for the best shotgun scope in the market. Buying the wrong shotgun scope is just a waste of money, but it may also be harmful. If you want to add shotgun optics for your slug shooting, this article will help you figure out what to search for. Let's look at some of the features that should be considered for choosing a slug shooting scope.
Budget
The first step before getting a sight for your shotgun is to determine your budget. Quality slug gun scopes are available at a variety of pricing points. Knowing how much money you have to spend will help you narrow down the shotgun scopes to be compared and evaluated.
Magnification
If you intend to mount a scope on your shotgun, you should be aware of its magnification. What shooting distance does a slug gun cover? Shotguns have a significantly shorter range and need a sight designed for short range. You cannot use a scope with magnification that starts from 5x to 25x magnification. With this kind of scope, you will not be able to aim or shoot short-range targets. A 5x to 25x magnification range scope is not suited for slug hunting because the magnification is too powerful.
Most people who use a slug gun to hunt large animals need the animals to be within 100 yards. Riflescopes designed to target acquisition at distances more than 100 yards will not perform effectively when mounted on a slug shotgun.
Eye Relief
This is the distance between your eye and the ocular lens of your scope in order to view the target clearly. Having your eyes too far away or too close can prevent you from using the scope effectively. The eye relief on most scopes ranges between 3 and 3.5 inches.
This range is adequate for even the largest caliber guns. However, because of the huge recoil produced by a shotgun, this is not acceptable. When you put your eye near to the scope when shooting a shotgun, the recoil might kick the optics back to your face or eye.
As you might guess, this is both hazardous and humiliating. You can prevent this by using a sight designed particularly for a slug shotgun. Shotgun scopes feature more eye relief, which allows you to operate the sight safely and without suffering a scope bite.
Durability
Purchasing a slug gun sight that can withstand the abuse of a shotgun is critical. No matter how wonderful the scope itself is, if you don't mount it correctly, it will not give accuracy. Also, a good scope needs some sort of durability or shockproof; otherwise, it will not last.
Shotgun recoil is no laughing matter. If you don't consider this when shopping for the best sight for your slug shotgun, you will be disappointed. If you want the scope to last, choose a quality scope that has the best mounting gear available.
Brightness
It is very important that you consider the brightness setting of the scope. If you like to go hunting at night, then you might need a slug gun sight that can give illumination in low-light situations. However, if you hunt during the day, you don't have to pay so much for a scope with illumination.
Clarity
This is also a very crucial variable when choosing a scope. You need a scope that can help you focus your target on your eye instead of creating a blurred image. It is also not a suitable option if the scope lacks an appropriate clarity characteristic.
In other words, if your shotgun scope lacks clarity, it will fail to provide you with a clear image. As a result, you will not be able to accurately hit your target.
Best Slug Gun Scope Detail Reviews
1. Vortex Optics Diamondback 1.75-5×32
The Vortex Optics brand screams quality, and you can't go wrong when you choose their scope. This scope has a magnification setting as low as 1.75x and as high as 5x, this slug gun scope is just in its sweet spot.
Everyone knows that Vortex lenses are tough as a tank, but the recoil they test is outstanding. Aside from the ruggedness, superb anodized coatings, and weatherproof capability, the Vortex Diamondback pricing is reasonable.
The Vortex Diamondback scope has a Second Focal Plane Reticle; the size of the crosshairs will remain the same as you increase the magnification.
The scope is a normal scope size, measuring about 14 inches in length, 2 inches broad, and 2 inches high and weighing 1.3 pounds. This sight is designed for use with slug guns and brush guns. If you're unfamiliar with the term "brush gun," it's a powerful rifle such as the 45-70 or .444 Marlin.
The Vortex Diamondback scope has a bullet drop compensator reticle that may be useful for a sabot slug shooter. The turrets on this scope are capped and may be reset to zero after sighting in.
It has completely multicoated lenses that help to increase light transmission through the scope and reduce glare. The turrets are incredible. The main tube diameter is 1 inch. This Vortex scope is argon purged, and O-ring sealed to protect the scope from any environmental concerns.
2. Bushnell Trophy 3-9×40
The Bushnell Trophy scope model was originally made for shotguns and designed exclusively for hunting. This is one of the best scopes you can use with your slug gun.
This Bushnell Trophy Rifle Scope will work perfectly for slug gun precision shooting. This hunting optic is more suited for buckshot shooting, and you can rely on it for striking a single round to a bullseye. One of the excellent features of this scope is the 4-inch eye relief that protects the shooter's eye. The specifications are similar to those of other Bushnell optic.
The reticle is positioned in the Second Focal Plane. The scope has a 1-inch main tube that has been nitrogen-filled to prevent fogging. The scope is also shockproof and waterproof. It also has a fast-focus eyepiece.
This Bushnell scope is a standard rifle scope size, measuring 12 inches in length and weighing about 14.3 ounces. For maximum light transmission, the glass is completely multi-coated. Elevation and windage may be adjusted with the tip of your finger.
3. Burris 3-12×32 Scope
The next scope we would look at is the Burris slug gun scope. This brand is one of the best scope manufacturers on the market, offering specialized scopes with a lifetime guarantee. Although this optic is somewhat expensive, it is well worth the price.
The Burris scope comes in matte black and silver. It is designed to be a full-featured variable magnification scope in a sturdy and compact package. That is a lot of glass in a little container, just about 11 inches in length and weighing 16 ounces.
The turrets of the scope are finely manufactured to fit metal-to-metal and adjust as smoothly as possible, and they are capped like other hunting scopes. The parallax of the objective hood may be adjusted from 25 yards – infinity.
The scope has a main tube diameter of 1-inch that is nitrogen-purged to make it fog resistant. It is also water-resistant and shockproof. The reticle itself is supported by a dual internal spring-tension mechanism that makes it vibration resistant. The scope has a remarkable eye relief of 10 inches or more. The manufacturer claims up to 24 inches of eye relief, which decreases significantly as magnification increases.
Burris' Ballistic Plex reticle can be customized to operate with any gauge or caliber and bullet weight. Burris' Hi-Lume coating is applied to the lenses to maximize light transmission to the eyes.
4. Nikon Prostaff P3
The Nikon Prostaff scope is the next scope on our list. It would be a sad event in the gun industry if a renowned optic manufacturer like Nikon goes out of business. I adore their optics. However, we now have to acquire them as soon as they're available to get one of these crystal clear optical devices at a fantastic price tag.
The Nikon P3 employs Nikon's Predator reticle, which replaces the usual crosshairs with a very tiny circle at the center. Even with that, this scope allows you to see clearly through the circle. The scope has a variable magnification of 3x-9x and an objective lens diameter of 40mm; therefore, it is constructed similarly to a rifle scope but in a compact design.
The P3 is approximately 5 inches long. The turrets are fantastic, with spring-loaded zero stop and finger-rotating turrets. The scope has a main tube diameter that is composed of aviation-quality aluminum that has been nitrogen-purged for fog resistance. The rapid-focus eyepiece is composed of metal rather than plastic. The scope has a fully multi-coated lens for incredible clarity.
5. Bushnell Banner Dusk to Dawn
Bushnell has recently stepped up to take on the industry's major players. Bushnell's precise optics for long-range shots have taken the industry by storm, and they have also been able to get the close range as well. That has nothing to do with the kind of quality scope they make. It is the availability and price.
Some manufacturers only stock or sell at authorized dealers, but you can get a Bushnell almost everywhere. The Bushnell designers created a lens coating known as the Dusk & Dawn Brightness (DDB) complete multi-coating treatment. This is a great scope feature, especially if you're not sure whether you want to shoot at a particular time of the day.
The Circle reticle is seen on the Banner scope. This isn't precisely what you're looking at. It is designed in the duplex style and is thick but becomes thin at the center.
The turrets on the scope are finger adjustable, but they're not in the massive knobby tactical way, which is a plus. The scope tube is made of a single piece, and Bushnell says it is completely waterproof. I'm not going to purchase one and throw it in the lake though.
6. Leupold VX-Freedom 1.5-4x20mm
Leupold has an excellent reputation in the scope industry. Most of the rifle scopes are familiar to me, but I didn't know which one to choose for a slug gun. After weighing my options, I decided on the VX Freedom with 1.5x-4x magnification.
The VX Freedom scope is very light. This initially got me worried because I know the amount of recoil produced by a slug shotgun. Not only did the scope withstand the punishment, but it also exceeded my expectations during testing.
The scope has a 13 Inches length and 2 Inches tube height. It has a 20mm objective lens diameter, and it makes a 1/4 MOA adjustment per click on the turret. This scope has a 3.7 – 4.2 Inches of eye Relief which is good enough for a slug shotgun. It is made with scratch-resistant lenses.
This Leupold scope has a matte black build, and it is both waterproof and shockproof. Whatever the magnification, this VX freedom scope provides a crystal clear image. I was amazed at how fast you can go from high to low magnification and vice versa.
The reticle is intended for hunting and has broad crosshairs that help you concentrate your view on the target. In high-contrast settings, the center of the reticle might become lost. However, the reticle's overall design is excellent.
I was skeptical that such a light slug shotgun sight could withstand the rigors of being installed on a slug gun. This scope really exceeded my expectations. It is simple to use, manufactured of high-quality materials and provides adequate eye relief.
7. TruGlo 4×32 Shotgun
The last scope we would look at is the TruGlo shotgun scope. If you intend to use a shotgun with a smoothbore barrel and a sight to hunt a deer that appears to be very far, this scope may be your solution. This scope is compact and lightweight. After all, you're using a pump rifle and will most likely be stalking rather than ambush hunting.
The fixed magnification renders the BDC reticle obsolete. The quality of the TruGlo may be questionable, so you have to know what you're looking at in terms of quality. The scope is shockproof, so you can expect that it would resist the impact of recoil from a shotgun.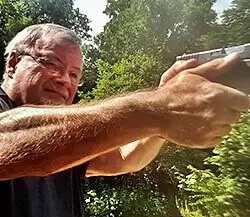 Mike Hardesty is a published freelance gun writer. With dozens of articles and reviews published in Pew Pew Tactical, Snipercountry.com, and TTAG (The Truth About Guns), Mike is considered a firearms expert. His special area of expertise is handguns.
Mike is a long-time shooter. He has been punching paper targets, taking deer and other game and shooting at competitions since about 1975. Other related pursuits include reloading and bullet casting. He currently reloads for over 10 calibers, both handgun and rifle. His reloads, particularly for 9mm, were in great demand during the height of the ammo shortage among family and friends. He donated hundreds of rounds to informal shooting sessions. He was quoted as saying "I do not sell my reloads but I sure will help my guys shoot 'em for free!". He has a few cherished firearms that he has inherited or otherwise procured — those are his favorites.
He earned B.S. and M.S. degrees from Indiana State University in 1974-1975.
He's a firearm experts and is the founder of mhardesty.com.