As an experienced hunter, you should be aware that the best hunting hours are usually around dusk or dawn when there is limited light. This is because varmints and wildlife tend to come out of their hiding during these hours.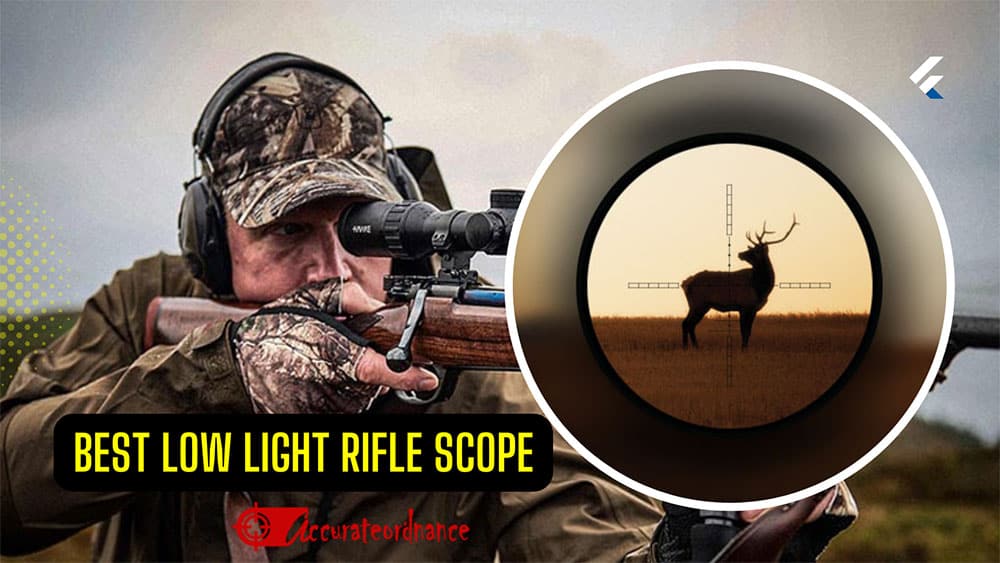 There's only one problem. With a conventional rifle scope, aiming in these situations might be challenging because there would be low visibility. Using a low light sight for target shooting or hunting will provide you with the images you require. Not only at dusk or dawn, but even when there is severe cloud cover and sunlight is greatly reduced.
In this post, we'll look at the top low light scopes on the market. We made certain that only high-quality and renowned scope were included.
Here is our top selection for the best rifle scope for low-light settings.
What exactly is a low-light scope?
Low light rifle scopes are the finest optics for low light hunting because they provide the attributes required for hunting in the dark or early morning.
For any scope to be effective in low light, glass clarity is the first item to consider. The price of a hunting scope is determined by the number of layers of lens coating. The coating reduces glare and increases light transmission, enhancing visual contrast.
In summary, a good low light hunting scope is one that can give a shooter the best visibility possible even in low light, and these scopes always have a fully multi coated lens.
What characteristics distinguish a good low-light scope?
There are several factors that contribute to the performance of a low light hunting scope; these factors are the most important:
Magnification
The images you see via a scope will look brighter if the magnification level is high. Simply said, the higher the scope magnification, the brighter the image. This is not magical in any way; rather, it is a reality that if you move closer to an object physically, you will certainly see it better; nevertheless, in this situation, a greater magnification will take you closer to the target optically, but not physically.
Scope magnification is critical to prevent missing long range shots. As a general guideline, the lowest magnification level that provides a crisp and bright target image is the ideal magnification for your application. Using too much magnification can be a disadvantage. A higher magnification reduces your scope's field of view, making locating targets even more difficult, especially while hunting in low light.
Exit pupil diameter is reduced by high power, which is caused by the excessive magnification. This implies that in low light, the target picture will be less visible than it would be on a regular day.
However, when shooting smaller creatures such as pheasants, geese, rabbits, and ducks, you may wish to use a higher magnification. Just make sure your scope is set at the right magnification level.
If you're unsure if your scope has a variable or fixed magnification, consider this expert tip: Fixed scopes have one magnification power while variable scopes have a magnification range. Variable scopes are better for long range hunting in low light conditions.
As the sun sets, the effective hunting range of high-powered optic decreases. In this instance, you should reduce the magnification to get as much useable light as possible.
The Objective Lens
The objective lens of a rifle scope is the glass that is closer to or points towards the target. Optics with high magnification often have a bigger objective lens. The objective lens is critical in determining how effectively a scope performs in low light circumstances. An objective lens permits light to enter the aiming sight and ensures smooth light transmission.
The objective lens also benefits from several anti-reflective coatings and excellent glass, which influence image quality. The objective lens must be large enough to allow for simple light transmission for better photographs but not so huge that it becomes unwieldy and heavy to carry.
The objective lens in most scopes ranges from 32mm to 44mm, which is useful if you wish to observe most games from a distance, such as a deer. There are also higher objectives lenses up to 56 and even 60mm.
A very big objective lens diameter on a scope can interfere with your mounting position, resulting in poor alignment. To mitigate this impact, use a higher mounting ring to keep the obесjective bell off your rifle barrel.
Image Quality
Check the lens quality on your scope to make sure that you obtain clear images. Despite the fact that having a clear picture is entirely dependent on several aspects, including the glass quality and focal plane, optic quality allows you to acquire a clear vision at night or during daytime shots.
Illuminated Reticle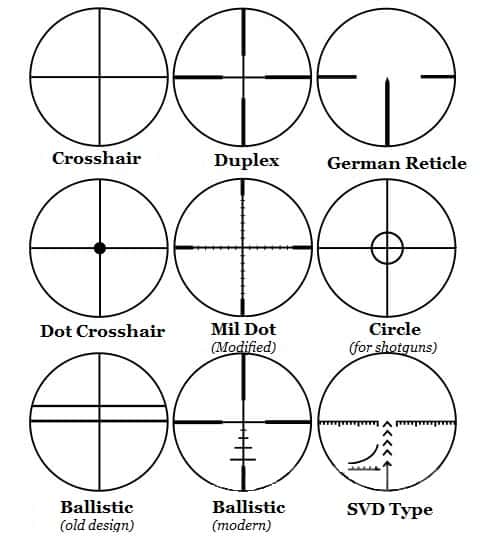 Reticle, often known as a crosshair, serves as a marker on a scope. The reticle you select determines your ability to shoot in low light settings. When shooting in poor light, a brightly illuminated reticle aids in target acquisition. If you need to utilize one with your scope, a lightweight alternative is preferable.
Scopes featuring an illuminated reticle increase safety and confidence in your abilities. For aspiring shooters and hunters, we recommend a scope with an illuminated reticle for your dawn or dusk shooting. Be sure that the scope you select is a good fit, knowing fully well that your reticle affects the outcome. In poor lighting, a complicated reticle will make things more difficult; always aim for basic ones.
Lens Coating
The use of a lens coat, often known as an anti-reflection coating, can make a significant difference in scope brightness. It can increase the brightness of the scope without increasing the weight. It may also improve light transmission.
Many low-light scopes contain several air-to-glass interfaces. With an uncoated lens, more than half of the light entering your scope will be lost. However, extra layers of coating fix the light transmission problem.
Multiple layers of lens coating, according to our specialists, can substantially minimize reflection and light loss to about 0.02%. Some scopes manufacturers claim 85% to 95% anti-reflective coating; however, the variation may be minor. Just inspect the scope lens coating thoroughly.
Battery Capacity
When it comes to scopes, more costly versions, on average, offer higher durability, bigger size, longer battery life, and superior optical clarity than less expensive models.
High-quality scopes with lasting batteries can power your rifle for two hunting seasons.
Take note of the kinds of batteries that were used in your scope. Batteries that are pricey or difficult to find will be an additional cost for you as well as a practical challenge. To minimize battery waste, switch off your sight after each hunting trip.
Price
Scopes are an investment, and they have varying prices. A good and reliable mid-power scope with a good mount can cost anywhere from $500 to $1000.
Durable and simple red dot sights start at roughly $200. Anything less than that, on the other hand, should be designated solely for a toy gun.
Purchasing the best one you can afford is a wise decision. It is also better to choose a well-known brand with a solid reputation.
Long Range Scopes
Cartridges with a range of more than 100 yards have become common on the market. However, in order to get the most out of your firearms, you'll need to arm yourself with a scope that provides a bit more than typical features.
There is no single shooting range that everyone considers to be "long." To establish what long range scope implies for you, you'll need to know the ballistics of your rifle.
While the exact range can vary, in most circumstances, your range (of more than 100 yards) efficacy will be determined by two factors: your selected caliber and the barrel length.
Maximum shooting ranges vary from one scope to the next.
Daylight Situations
This is one aspect that people consistently overlook. They are more concerned with low-light circumstances and tips. It is critical to ensure your scope functions just as well in bright sunlight as it does in low light.
Warranty
A great scope is usually accompanied by a good guarantee. Manufacturers occasionally provide product replacement, lifetime warranty, and repair of damaged parts. Ensure you get a scope that offers a good warranty.
Best Low Light Rifle Scope
1. Zeiss Victory V8 4.8-35×60
The Zeiss Victory V8 4.8-35×60 rifle scope is a quality scope for long range shooting in low light conditions. It has a large objective lens of 60 mm, which is very useful for low light hunting. The Zeiss Victory has a field of view of 8.6m at the lowest magnification and 1.2m at the max magnification. The lenses are composed of HT glass, which stands for high transmission glass.
It has a well-designed eye box that is incredibly pleasant to gaze through and allows you to move your head from the best position without losing the picture.
The entire lighting system is also a fantastic feature.
The lighting system is activated by pressing a button on the device, which is both pleasant and quiet to operate. The red dot's brightness may be adjusted by rotating the ergonomic spherical button to the appropriate level. Zeiss uses optical fiber for their red dot, so it is sharp and clear and not excessively bright in the dark, and it is 3 mm in size on 100 m. It contains a built-in motion sensor that makes it go off when not in use, saving battery life.
It may be purchased with or without a rail. The ballistic turret, which automatically locks after being discharged, is another wonderful feature of this rifle scope. It is simple to use. It features a single turret, meaning it can only be rotated by 100 clicks.
The scope comes with a 36 mm tube diameter and weighs 970 g, which is a little bulky and heavy.
2. Vortex Viper HS 2.5-10×44
The Vortex Viper HS 2.5-10×44 is a fascinating rifle scope if you're searching for a solid, multi-purpose, and low-light optic at a reasonable price.
This Vortex Viper is modest in its objective lens size compared to the larger 56mm low-light champions on the market, but you don't necessarily need a larger scope to get optimum scope brightness. Larger apertures typically imply more power, and more power means faster degradation of image quality.
If you're in the woods or wide plain at low light hours, you need good glass, a large useable exit pupil, and a functional magnification range that allows you to accomplish it all.
The Vortex Viper boasts ED glass, a strong construction, and is lightweight. If you're used to working in the 4-8x magnification range, you'll feel very comfortable using this scope.
The Dead-Hold BDC MOA reticle is straightforward and easy to use, and it comes with bullet drop references. The crosshairs in the center are narrow, while the outlying posts are somewhat thicker but do not prevent full usage. It may be much more effective with an illuminated center dot. Although it's not an eye-catching scope, it does the job.
To begin, let's consider the Vortex Optics Crossfire II Scope.
This Vortex Optics comes with a large front lens of 56 mm. It acts like a black hole, sucking in light and channeling it down through the 30mm main tube. The scope has Multi-coated lenses that reduce the loss of light.
To be honest, at 3x magnification, the Vortex Optics scope delivers a greater amount of light than your eyes can process. There's no need to worry. It won't dazzle you; your eye will just ignore the extra light. Although you may notice a progressive darkening as you increase the magnification. Even someone with a terrible eye will see the changes by the time the magnification is adjusted to 12x. There was much light when we started, and there is still plenty accessible at greater magnification settings for adequate sight.
Vortex labels this Crossfire II scope as the "Hog Hunter" model; this is done specifically for marketing. When it comes to wild hog, some shooters would love to see the "hog" label. And it is true that hogs feed at dusk and midnight, especially when stressed, but there are also other animals like deer that come out during low light conditions.
Aside from the branding, it is a wonderful scope that is o-rings sealed, making it waterproof, and it comes with Vortex's excellent transferable lifetime guarantee.
The Vortex Optics has a red dot at the center. The reticle is located on the second focal plane; the dot size remains constant as you increase the magnification or zoom in. This type of reticle is common among hunters, but it is not required.
3. Vortex Crossfire II 3-12×56 Scope
4. Trijicon AccuPoint 2.5-10×56 
The Trijicon AccuPoint series of scopes contains a number of scopes that are ideal for use in low light conditions. The best scopes low light scopes have bigger objective lenses. In the case of the Trijicon AccuPoint, the objective lens is 56mm. The huge bells are available in green, amber light, and a variety of reticle options.
This scope comes in green and features an MRAD dot. This combination makes the greatest all-around pick for the low light scope family. Tritium is used to light the reticle. This eliminates the requirement for a battery. Tritium decays over time, and when this happens, the brightness becomes less visible.
Instead of an MOA reticle, the Trijicon scope uses millirads. However, once you've sighted in the scope, there won't be a difference.
The scope has a fantastic feature in that the magnification begins at 2.5x and goes up to a magnification of 10x. This gives you enough range and gathers as much light as you reduce the zoom power. The scope has a main tube of 30 mm in diameter and a fully multi-coated glass to optimize light collection.
5. NightForce ATACR 5-25×56 Rifle Scope
The NightForce ATACR is one of the company's most durable and high-quality scopes that can perform excellently in low light.
The scope has a large objective lens of 56mm that is mounted to a rifle with a solid aluminum aircraft-grade tube. When you combine these features with multi-coated lenses on the scope, it's easy to see why the scope excels in low light.
The major reason why this scope is included in this review is because the zoom range is from 5x – 25x magnification. Even with its 34mm main tube, cranking up the magnification to max power will send lesser light into your eye compared to scopes with a smaller zoom range.
Considering the magnification power of this scope, you would notice that it is a long-range optic. There are 35 Mils in the elevation adjustment. It also has a parallax adjustment and a zero stop.
The scope is available in either the first or second focal plane setup. The reticle is illuminated, and it is among the finest available on the market. Windage hash markings span the tube, and elevation marks begin halfway and extend to the end of the reticle.
When you combine the turret adjustment in the scope with the Zero Return feature, you'll discover that this scope is a great sight that can be used by the world's best snipers.
The click value is 1/4 MOA, and the revolution is 30 MOA. This makes it an excellent choice for long range varmint hunting.
This is a very durable scope because it comes with a completely waterproof, fog proof, and shockproof features. It has a forgiving eye box and superb eye relief, making it an outstanding choice for large caliber rifles. This scope is a quality scope, and it would do the job neatly every time you go hunting in low light.
In low-light situations, what magnification do you require?
While most scopes that have a magnification range between 1-12x can handle the majority of the job in 200 yards or less, the optimum combination for low light hunting is a 3-9x40mm. A kind of scope that has a lower magnification of 3x at the low end yet allows for precise shooting in a narrower field of roughly 100 yards. Long range shots benefit from the 9x magnification.
Higher magnification ranges of up to 10x or 12x are recommended for hitting targets beyond 400 yards. Most hunters prefer fixed scopes that have a 3x or 4x magnification since they provide more clarity at a lower cost.
However, because they cannot be modified, they are best suited for specific ranges.
Scopes of 15x magnification are available, although they are suited for long range hunting. For your daytime shooting, you should pick a higher magnification scope with low light features because it will control light transmission. When utilized under low light settings, such as during dusk or dawn, the increased magnification will produce superior results.
Rifle Scopes with Night Vision or Low Light?
The night vision scope is not the same as typical low-light rifle scopes. When it comes to displays, resolution, and even thermal imaging, Night Vision is in a class by itself. If you require the dependability that a Night Vision scope, then you shouldn't be looking for a low light scope.
Night Vision scopes can be used in complete darkness because of the IR illuminator that they have. These scopes can use the minimal light provided by the moon and stars to illuminate your vision for seeing targets that are hundreds of yards away.
However, if you have a great low light scope with you at dawn or dusk, odds are you'll be returning home with a trophy that you caught during the last light of day.
FAQs
What type of scope would be good at 200 yards?
The most used scopes at 200 yards are scopes within the 3-9x magnification range and 4-12x variable magnification. In general, a high-quality 3-9x hunting scope outperforms a low-cost 4-14x scope in terms of accuracy and precision. A cheap scope's increased magnification power may cause the image to blur.
Which is superior, night vision or thermal imaging?
In our perspective, night vision is superior to thermal vision. Because thermal optics cannot see through a glass, excessive cold can degrade the thermal picture quality.
What is the best scope for 500 yards?
The minimal amount of magnification necessary at 500 yards is a 5x power scope. Most hunters, however, consider this amount of magnification to be too small. Therefore, they opt for 10x magnification to take a precise 500 yards shot.
What Is the Best Scope for Low Light Hunting?
Vortex Optics Crossfire II Hog Hunter is the greatest hunting scope for low-light shooters. This low-light scope has a great eye relief, a long-lasting battery, and superb parallax correction.
Is a scope designed to gather or accept light?
A scope can absorb light but not always gather it. Riflescopes can only communicate a portion of the available light; however, a low-light instrument can do more.
Do I need a Low Light Scope?
Yes, you would need a low light scope if you intend to go hunting in low light situations. A low light scope allows you to see clearly and strike your target accurately, just like you would in strong light.
Is an Illuminated Reticle Always Necessary?
No, an illuminated reticle isn't always necessary. However, it's a handy feature to have, especially while hunting in the dark. If your reticle color blends with the target, then you would need an illuminated reticle to aim accurately.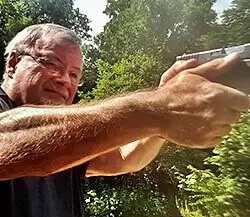 Mike Hardesty is a published freelance gun writer. With dozens of articles and reviews published in Pew Pew Tactical, Snipercountry.com, and TTAG (The Truth About Guns), Mike is considered a firearms expert. His special area of expertise is handguns.
Mike is a long-time shooter. He has been punching paper targets, taking deer and other game and shooting at competitions since about 1975. Other related pursuits include reloading and bullet casting. He currently reloads for over 10 calibers, both handgun and rifle. His reloads, particularly for 9mm, were in great demand during the height of the ammo shortage among family and friends. He donated hundreds of rounds to informal shooting sessions. He was quoted as saying "I do not sell my reloads but I sure will help my guys shoot 'em for free!". He has a few cherished firearms that he has inherited or otherwise procured — those are his favorites.
He earned B.S. and M.S. degrees from Indiana State University in 1974-1975.
He's a firearm experts and is the founder of mhardesty.com.