Are you looking for a good rifle scope for your muzzleloader? Selecting the best muzzleloader sight may be a challenging task, especially if you are new to rifle scopes and muzzleloader hunting.
This is because we have so many types of muzzleloader scopes in the market. Furthermore, it can be difficult to understand some marketing languages that scope manufacturers use to promote their products.
I've tried a variety of muzzleloader scopes for hunting, and I noticed slightly different degrees of success in them. I have always been lucky with my scope selection and never purchased an awful scope. From my experience with muzzleloader scopes, there are a couple of scopes that I would suggest to you. Although you'll find that there are numerous high-quality muzzleloader scopes available today that are moderately priced with superb optics, good zero hold, and tracking remarkably well. But choosing one can be brain-tasking.
In this article, I'll provide my recommendations for the best scope that hunters can use for their muzzleloader. Having the best muzzleloader scopes will not make you the best shooter, but it will give you an advantage when it is most needed.
We'll begin by discussing why you need a muzzleloader scope. Then we'll go through our buying guide, where you'll get all the information you'll need to select the best scope for you. Next, we'll look at our top muzzleloader sight recommendations. Finally, you'll get answers to some frequently asked questions concerning muzzleloader scopes.
Here are our top picks
The Nikon INLINE XR BDC 3-9x40mm muzzleloader scope is our overall favorite. It includes all of the features you'll need in a muzzleloader scope.
Let us now take a deeper look.
Why You Need the Best Muzzleloader Scope Possible
We all know that scopes help to achieve accurate and precise shots. When selecting a scope for muzzleloader hunting, muzzleloader hunters should keep a few factors in mind.
You have to first consider the work the gun will be given the majority of the time. If you use a modern muzzleloader, the glass you choose will be similar to that used in centerfire cartridge rifles. A smaller scope may be the way to go if you're not using a modern muzzleloader.
When it comes to shooting with a long-range muzzle loader, your scope must be able to pull light through the scope tube.
When shooting in harsh weather (when the weather is cloudy or wet outside), you'll need improved light transmission and picture quality if you want to take a good shot of your target in low-light situations.
As an experienced hunter, you must be able to differentiate between a quality scope and a bad one. High-quality scopes will feature multicoated lenses to enhance light transmission and protect your eyes. In terms of firearm impact, muzzleloaders have a lot of kick, thus, the finest muzzleloader scopes must be able to withstand that recoil without losing zero. All the scopes we mentioned on the list are reasonably shockproof and can withstand muzzleloader recoil force.
Furthermore, a wide magnification range is not required here. A muzzle loader scope can have a magnification range of 3x-9x. You have your normal duplex reticles, which are usually fine for muzzleloaders, but you also have some additional possibilities.
Some scopes, such as the Nikon Inline scope (which we'll discuss in a moment), contain BDC reticles that aid in bullet drop.
How to Choose a Muzzleloader Scope
Optics may be an exorbitantly priced addition to your rifle and improve your shooting accuracy. However, you don't just want to mount any random scope on your rifle.
There are several things to think about when purchasing an optic for your muzzleloader, and you should be pickier.
Reticle and Glass Clarity
Glass clarity is the most crucial factor to consider when purchasing a scope. They can only shoot as clearly as you see. So if you do not have a clear image in your new optic, then you've squandered your money.
Higher-end scopes from manufacturers like Leupold and Nikon will feature exceptional glass with a clear image.
Don't expect an excellent glass if you purchase a less expensive scope. Vortex Optics manufactures various scopes that are reasonably priced while providing a fantastically brilliant sight image.
When selecting a scope, look for one that has a completely coated lens. This means all the outside lenses would have a coating that enhances light transmission through the scope to your eye, providing you with a clear image.
A fully multi-coated lens is better because it increases light transmission and reduces glare. The optic will provide you with a clean and bright picture. Furthermore, anti-glare coatings will keep objective lens reflections from revealing your location when you are hiding from your target.
It is entirely up to you which reticle to use. You can choose a BDC reticle to assist you in estimating holdover. Some shooters like a simple and clear duplex crosshair. An illuminated reticle is not actually necessary for a muzzleloader rifle.
Eye Box and Eye Relief
You cannot overlook eye relief if you're using a muzzleloader rifle like centerfire rifle owners. Your scope can hit your brow if it has less than 3 inches of eye relief. That's both unpleasant and humiliating. Make sure you get a scope that has at least 4 inches of eye relief.
You would also need a large eye box with enough area behind your optic. The larger the ocular lens, the better the eye box.
Durability
If the scope you want to purchase does not have an o-ring seal, don't get it. Investing in o-ring sealed optics that are waterproof and rainproof is advisable.
You should also consider purchasing nitrogen or argon-purged scope. This will improve your light transmission and also prevent fogging in bad weather.
Another major concern is the ability of the scope to withstand recoil and shock. Muzzleloaders produce more recoil than most centerfire rifles.
Leupold claims that their scopes can withstand 5,000 rounds on a device called the Punisher that has a recoil three times harder than .308. Vortex also produces indestructible scopes at a lower cost.
Whatever brand you pick, do your research and read reviews of other shooters who have used that scope on a muzzleloader.
Windage and Elevation
Windage and Elevation knobs, often known as turrets, are used to fine-tune your scope.
You use the turrets to zero an optic or tweak it so you can land your shots exactly where you want them.
Your shot will be moved up or down by an elevation turret, while a windage turret will change the direction of your shot horizontally from left to right.
Turrets with audible and tactile clicks are better because you can hear them while making adjustments.
Having lockable turrets that would not be rotated accidentally is a wonderful feature, but it will increase the cost. Capped turrets that have a screw on the cover are found on less expensive scopes.
Magnification and Parallax
The parallax on centerfire rifle scopes is frequently set around 100 yards to 150 yards. On a muzzleloader, the parallax should be set to around 75 yards.
Some more costly scopes include parallax adjustment.
Muzzleloading rifles cannot shoot as rapidly or far as centerfire bullets. You won't be shooting more than a few hundred yards, so don't go overboard with magnification.
A high magnification scope will cause more harm than good by bringing your target closer than you want. If you use high-powered scopes for your deer hunting, you won't be able to spot any animal at all. High magnification scopes have a restricted field of view, making it more difficult to locate your target. Anything greater than 10x is inappropriate.
Many muzzleloading shooters use a fixed or variable magnification between 1x -9x. Smaller magnification is preferable for muzzleloading.
Rings and Mounts
A muzzleloader has a heavy recoil compared to centerfire rifles, which will take its toll on your sight and the scope mount you used to connect it.
You should utilize a sturdy mount and solid rings.
Top 7 Best muzzleloader scope
Muzzleloaders operate differently compared to other rifles; thus, while selecting a muzzleloader scope, you must think differently. We've put together this list of the top muzzleloader sights to make your decision easier.
1. Nikon INLINE XR BDC 300
If you're looking for a real muzzleloader scope that can do the job excellently and withstand whatever is thrown at it, then the Nikon Inline muzzleloader scope should be the first on your list. The Nikon Inline muzzleloader scope is a variable scope, and it has a magnification range of 3x to 9X. The Nikon XR BDC is also composed of high-quality aluminum that has been sealed and purged for water and fog resistance. The high-grade glass has a multicoating for improved image quality.
The Nikon XR BDC scope is very easy to sight in, and it will maintain that position for hundreds of rounds. Furthermore, the Nikon BDC scope is very accurate. For example, when combined with a bullet drop reticle, it improves muzzleloader hunting accuracy.
The Nikon BDC scope is also outfitted with a generous eye relief of about 5 inches, and this abundant eye relief allows for comfortable shooting without fear of a scope bite. The inadequate eye box is a major drawback in this scope. Although the issue of eye box is not a big deal for most hunting distances. However, there could be times when getting a full view from a particular angle is difficult; this is when the eye box becomes most useful.
The bullet drop compensation on the Nikon's BDC reticle is rated for a .50caliber muzzleloader that has 250grain bullets and 150-grain charges. It won't be a problem if you don't use these specific standards. You may use a Nikon Ballistic Calculator to focus on the particular bullet and grain size that you want.
The reticle of this scope is very clear in all the magnification ranges, and the multicoated lenses produce a clean and sharp image always. It also boasts excellent low-light capability, which is ideal for all hunting applications.
The Nikon scope is a heavier and larger scope, measuring slightly more than 11 inches and weighing 14.7 ounces. The scope is tough enough to withstand the high recoil seen in today's inline muzzleloader scopes. The disadvantage is that it will add weight to the weapon and may cause fatigue after long carrying in the field.
2. Vortex Optics Diamondback
The Vortex Diamondback variable scope is made of high-quality aluminum material and can be used with Magnum cartridges, making it a great choice for muzzleloader hunters who use high-grain powder rounds. The scope is anodized, sealed, and purged to offer muzzleloader hunters a rifle scope that can work well and perform in terrible weather.
The Vortex Diamondback does not have a reticle for muzzleloader bullet drop compensation. This feature may be a disadvantage for individuals wanting to improve their accuracy on targets that are spotted at 150 yards or more. Although the reticle of the scope is visible across all its magnification ranges, it can get congested at times.
If you can work around the reticle, you'll find this sight to be precise and consistent. Sight this scope might give you some headache at first, but once you're done, the scope will hold zero, so you won't have to bother about losing that zero unless the scope is severely abused.
The scope weighs a little more than 14 ounces. However, it is a reasonable scope for its capacity to withstand some heavy-hitting shots.
The multi-coated lenses provide a crisp image across the magnification ranges of the scope, and the magnification transition is excellent, with minimum focusing required. It has generous eye relief and a good field of view, ranging from 3 to 9X magnification.
With its coated and 40mm objective lens, the Vortex Diamondback scope provides very liberal light transmission, although it may provide a darker image in low light circumstances than some other muzzleloader scopes on this list. The somewhat poor low light performance, combined with the crowded reticle, might cause some issues.
The Vortex scope is a highly tough and robust scope that can withstand hundreds of muzzleloader shots without incurring damage to lenses or losing its settings.
3. Leupold VX-3i
The Leupold VX-3i 4.5-14X50 scope is a great muzzleloader hunting scope. This scope is an improved version of the previous Leupold VX-2 scope. It comes with a duplex crosshair that is ideal for muzzleloader hunters and a high-grade glass.
This Leupold scope comes with an elevation and windage turret that has a 1/4 MOA adjustment knob. These knobs are exceptionally consistent when examined with a box rotation test. The main tube of the scope is made of aircraft-grade aluminum material that helps to make the scope lightweight while still being durable for muzzleloader hunters.
The Leupold scope has an objective lens of 40mm. The light management technology that is used for low-light shooting conditions is an excellent feature and helps to maintain a clear image of a target while the light is fading quickly. The fast-focus eyepiece is another feature that helps in obtaining a crisp image quickly and effortlessly.
With this Leupold scope, you can spot and identify a deer and fire the bullet clean through the heart. The variable magnification is easy to adjust.
This scope is developed and marketed in the United States, which is a plus. It also comes with a lifetime guarantee, as do all Leupold scopes.
4. Bushnell Banner 3-9×50 Multi-X Riflescope
The Bushnell Banner 3-9×50 scope is our next selection. This scope is an excellent alternative for budget-conscious muzzleloader hunters. It is designed to work with both muzzleloaders and centerfire rifles.
Although it lacks optical clarity like those found in Leupold, it is still quite nice for the price. The lenses on the scope are multi-coated with Bushnell's Dusk and Dawn lens coatings for easy light transmission and clarity, resulting in a bright, HD image.
The fast-focus eyepiece surrounds the optical lens, allowing for faster and simpler target acquisition. The objective lens is 50mm, and it allows a lot of light, resulting in a brighter image and a wide field of vision, which is ideal for muzzleloader hunting.
The Bushnell Riflescope features a duplex-style Multi-X reticle. The reticle lines are thick throughout much of the length to improve reticle visibility but narrow towards the center to avoid blocking the target. With a muzzleloader, the reticle gives dead holds at 200 yards, but it is based on 100-yard zero.
The Bushnell scope comes with an eye relief of 3.8-inch and allows for considerable recoil without endangering your eye. Despite its inexpensive price, the Bushnell Banner scope is quite durable. It is a nitrogen-filled optic and adequate seal that makes it completely waterproof, shockproof, and fog proof.
Although most manufacturers cut corners when making the turret of low-cost scopes, this appears to be the reverse in the case of the Bushnell scope. The turrets on this scope are lovely and sharp, and they're simple to zero. The scope also retains zero very well.
It does not come with a scope mount; thus, you will need to purchase one independently.
The scope has a variable magnification that ranges from 3x to 9x. You may notice some parallax at high magnifications, but the good thing is that you may not need those high magnification settings that much.
The Bushnell Banner Multi-X scope is an excellent value for money. It provides quality that is above what you'd anticipate for its price.
5. Vortex Optics Crossfire II
The Vortex Crossfire II is another excellent scope for Muzzleloader rifles. It is a BDC reticle called "Dead-Hold." With this scope, you can hit steel targets at 300 yards using a Johnson rifle. The Vortex scope has tiny rings that are shown as dots along the reticle's vertical line sub-tension display.
The Vortex Crossfire II scope is a second focal plane scope that comes with a 1-inch tube. It is made of aircraft-grade aluminum materials that make it highly durable and shock resistant. To make the Vortex Crossfire II useful in all weather conditions, it is made with an O-ring sealed and Nitrogen purged glasses to ensure it is waterproof and Fog proof.
The capped turrets of this scope are easy to use. They are finger adjustable and can be reset to zero. The scope comes with a fully multi-coated lens that helps to provide a clear and bright image for muzzleloader rifles.
The Crossfire II scope has a long eye relief and a forgiving eye box. It has a variable magnification of 3x to 9x.
This scope is well-made and has reasonable market pricing. This scope has a lengthy eye relief, a durable coating for rugged fieldwork, and plenty of turret elevation for shots with large bullet weights. While I don't like the BDC reticle on my centerfire rifle, I do enjoy it on muzzleloading rifles.
6. Leupold VX Freedom
The Leupold VX Freedom is a good muzzleloading rifle scope. This scope has been in the market for a long, and it can perform the job excellently well in virtually all circumstances and on any high-powered rifle, even a muzzleloader.
This Leupold scope has a matte black coating and Tri-MOA reticle, as well as an aircraft-grade aluminum tube. The scope is O-ring sealed and gas-purged, making it waterproof and fog-proof.
The glass is constructed with the Twilight Management System that adds about 10 minutes of shooting in low light circumstances in both dawn and dusk.
Overall, it is an easy-to-use scope.
7. Thompson Center Hawken Hunter Scope
The Thompson Center scope is one of the best muzzleloader scopes you can find on the market.
Although it has a fixed magnification of 1x, the scope performs well for close-range shooting. You will be able to sight your game easily and, of course, shoot precise shots. If you're searching for the best muzzleloader scope with a 1x magnification for low light shooting, there's no better scope than this.
This muzzleloader scope also has a unique coating that decreases reflection.
And their main purpose is to collect as much light as possible in order to give you a bright and clear image. The Thompson Center muzzleloader scope settings and adjustments are very simple.
The 1x magnification scope optimizes light gathering for improved performance. Light reflection is effectively handled, and it allows you to take accurate shots in a short amount of time. With its high-quality, objective lens, you can quickly sight a target. The scope mount is very easy to install. This scope is a great choice for hunting at close range.
Some of the downside of this scope is that it has no variable magnification, comes with a short eye relief of about 3.3-inch and has a small lens diameter of 32mm.
If you want to increase your accuracy and speed at a short distance, then this is the best muzzleloader scope for you.
FAQ
What is the best muzzleloader scope?
Overall, the best muzzleloader scope is the Nikon Inline XR BDC scope. It is a 3-9x magnification scope that is highly durable and can withstand the heavy recoil of a muzzleloading rifle like a CVA Wolf.
Is there a distinction between a muzzleloader scope and a rifle scope?
Muzzleloader rifles have more recoil than rifles; hence muzzleloader scopes offer more eye relief than rifle scopes since rifles do not have as much recoil as a muzzleloader.
Is it possible to use a standard rifle scope for a muzzleloader?
Using a regular rifle scope for a muzzleloading rifle like the CVA Wolf might put you at risk of a scope bite. It is better to use a muzzleloader scope, but if you want to use a regular scope, you must use one that has a long eye relief.
Is a muzzleloader scope considered necessary?
A muzzleloader scope must have a lengthy eye relief since these firearms have a lot of recoils and pose a danger of eye injury if you use any other scope.
Is there a distinction between a rifle scope and a shotgun scope?
A shotgun scope is built for the short-range shooting of roughly 100 yards, but rifle scopes are meant for greater ranges over 300 yards. This is the main distinction between them.
How does BDC function on a scope?
A bullet drop compensator is a sight reticle that estimates your bullet drop if you strike a target at a specific range. If your weapon is dialed in at 100 yards, the spots you see beneath the crosshair reticle indicate where your rounds will strike at 200 yards, and so on.
Is there a muzzleloader scope made by Vortex?
Vortex manufactures some of the best muzzleloader scopes too. The Vortex Diamondback and Crossfire II Muzzleloader Scopes are samples.
Do I need a red dot sight for muzzleloader?
There's no harm in using a red dot sight on a muzzleloader. You must, however, note that this type of sight would only be useful for short ranges. If you are deer hunting, then you won't need a red dot sight because you might need to shoot at a longer range. If you need some lights on your scope, then you should consider getting a muzzleloader scope that has illuminated reticles. Most shooters that use a red dot optic on muzzleloaders have a terrible experience or failed shots.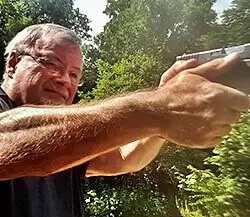 Mike Hardesty is a published freelance gun writer. With dozens of articles and reviews published in Pew Pew Tactical, Snipercountry.com, and TTAG (The Truth About Guns), Mike is considered a firearms expert. His special area of expertise is handguns.
Mike is a long-time shooter. He has been punching paper targets, taking deer and other game and shooting at competitions since about 1975. Other related pursuits include reloading and bullet casting. He currently reloads for over 10 calibers, both handgun and rifle. His reloads, particularly for 9mm, were in great demand during the height of the ammo shortage among family and friends. He donated hundreds of rounds to informal shooting sessions. He was quoted as saying "I do not sell my reloads but I sure will help my guys shoot 'em for free!". He has a few cherished firearms that he has inherited or otherwise procured — those are his favorites.
He earned B.S. and M.S. degrees from Indiana State University in 1974-1975.
He's a firearm experts and is the founder of mhardesty.com.