The Nikon M-308 rifle scope is well known in the shooting community for many, many reasons. Arguably, some might even call it the BEST rifle scope (for the 308 rifle, anyways) that's currently on the market. Well, today, let's put those claims to rest and see what the fuss is all about.
What is the Nikon M 308 Scope?
The Nikon M 308 Scope is a rifle scope that is specifically calibrated for a 308 rifle. Along with the calibration is the integrated Nikon scope technology that makes this rifle scope a top choice when it comes to long range shooting performance. Because of the ballistic match technology, this scope sits at a magnification range of 4-16x. Pair that with the 42mm objective lens and you've got yourself a long range, precision hunting beast.
The scope itself only weighs 19 ounces and measures at 13.5 inches long. That makes this optic ideal for adjusting to any scope mount rails that you might already have on your 308 rifle. In rare cases, to install this item you might have to buy another scope mount system that will fit the optic.
The eye relief on this Nikon riflescope sits at 4 inches. The windage and elevation adjustment knobs max out at 40 MOA, giving you a great scope to use for tons of different hunting and shooting situations.
It also comes equipped with quick focus of the scope. This means that it will be faster for you to zone in on the target, as well as acquire your target and reticle faster and more efficiently with these quick adjustments.
While there are some scope packages out there that come with a specific mount for the M308, it will probably be harder to find since this scope has been discontinued. But, no worries, there's still plenty of options for mounting your trusty scope out there.
What Comes With it?
When you buy the Nikon M 308 scope, you'll of course get the scope, along with a Nikon warranty. The Nikon warranty for the 308 is a limited lifetime warranty that will still be honored by the company even though the scope itself is not being made anymore. Pretty cool right? You get to keep your warranty even though Nikon doesn't even make the Nikon scope anymore!
What Else Do I Need?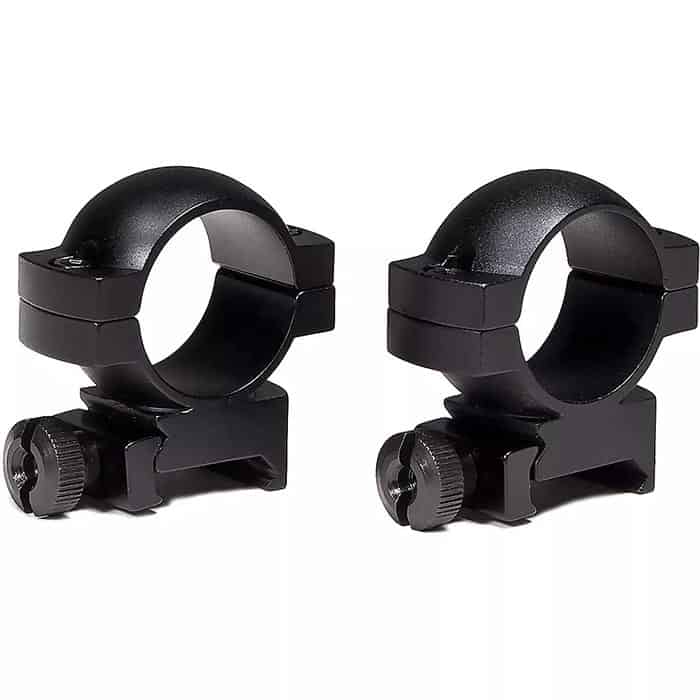 While you might get lucky and purchase a scope that still comes with the special mount, that will most likely not be the case. For this optic, you'll of course need some form of mounting hardware that will attach it to your primary arms of choice. You'll need to make sure that the scope will fit onto the rails that you already have mounted on your rifle.
You'll also want to buy some scope rings. Scope rings are going to do the heavy lifting when it comes to attaching your rifle optic to your rifle. While cheaper scope rings are surely an option, you want to be careful when it comes to deciding which ones to purchase. You don't want to get too cheap of scope rings, or else your optic might come loose or even fall off your rifle. If you're a new shooter, scope rings are plentily available on online shopping websites like Amazon.
When you get your scope rings, it's very important that you remember to adjust them and tighten them correctly. A scope that's been improperly mounted can increase things like bullet drop error and the chance of you missing your shots.
Best Scope Features
Let's take a look at some of the things that set the Nikon M 308 scope apart. While this might not be considered the best scope on the market, there's plenty of features that you'll want to consider before you make your buying choice.
Ballistic Program
One thing that makes the 308 so unique is the exact specification for the .308 caliber rifle. When you use this scope with the right ammunition, you'll get a deadly accurate shot.
If the .308 rifle is your choice of primary arms, then you definitely want to take a look into the ballistic program reticle that the Nikon has to offer. Not only is the entire scope based around your specific rifle, but the reticle itself is a Nikon patented item that is known as the NikoPlex. The NikoPlex reticle is designed for the .308 rifle. It features a bullet drop compensating reticle that calculates the level of bullet drop error off of the trajectory of a .308 rifle shot. Using this reticle with your 308 rifle is a one way ticket to a flawless shot.
The Nikon reticle is designed to be zeroed in at 100 yards. It also has hash marks that give you an estimate of 200-800 yards of distance. This way you'll be able to holdover your target shot up to 800 yards away.
While this reticle is not a direct illuminated reticle, Nikon stated that it's clear large objective lens will give you up to 95% of light transmission through your lens and reticle. That's some seriously insane clarity. Sun up to sun down, you'll be able to use this scope with deadly precision.
Just be aware that this particular scope is not equipped with night vision, making it suitable to use only in the day time.
Instant Zero Turrets
The adjustment turrets on the Nikon M 308 are made to make your life in the field a whole lot easier. The turrets on this scope are equipped with spring-loaded technology. This means that once you get your rifle properly sighted, you just lift the turret knob, place it at your desired zero distance, then use the rapid action turret at your zero distance. That way, you'll always have your scope and your rifle in sync, which will make for quick adjustments and easy to use turrets. This technology is also present in the Vortex Viper rifle scope, which is probably a more well known optics brand. While Nikon isn't exactly known best for their optics work, their products sure do measure up to the big names!
The Nikon also has a parallax knob adjustment turret, which gives you an even better shot of getting the most precise shot.
Since the turrets can be adjusted up to 40 MOA, this means that you have a higher magnification level that will allow you to use your Nikon scope in some more versatile situations. You can use this scope from many different ranges with the higher magnification that is offered.
Security and Durability
The Nikon optic is surprisingly durable. Since this item is made from steel that's aircraft level grade, this scope can stand up to pretty much anything that you throw at it. Whether that's fog, water, or even a shock, this scope will always have your back.
Not only that, but the spring loaded turrets are made to withstand bumps and bruises themselves. Since they are considered a rapid action turret, the springs inside will keep the knobs in their zeroed place once you adjust them. You'll never have to worry about losing your zero when you're out in the field.
And, if something does damage your scope, you'll always have the lifetime Nikon warranty that you can use to cover it and replace any damaged parts. The warranty is limited though, so make sure you check what exactly is covered under it before you cash in on the policy.
Comparisons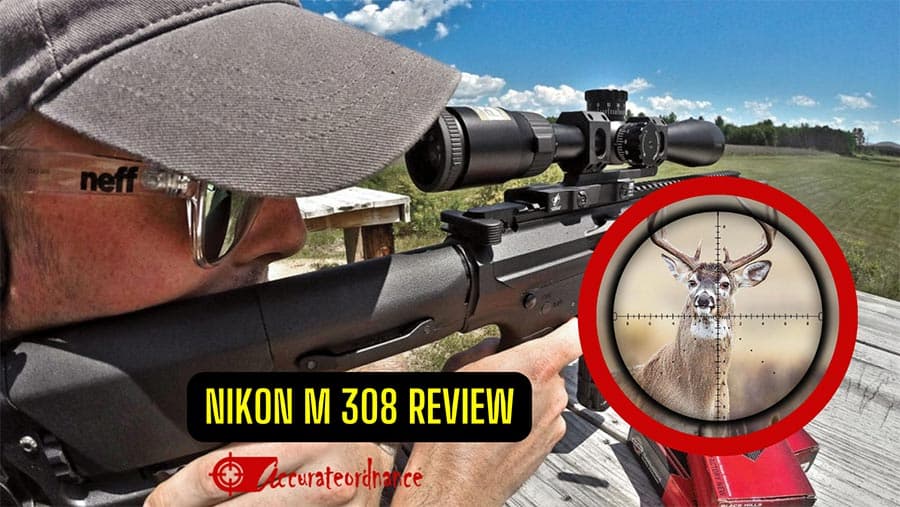 With everything, there are both positives and negatives to this product. The Nikon 308 scope offers a lot of great features that will suit a wide range of .308 caliber rifle users. It's mostly up to you on what you're willing to go without and what you exactly need in an optic as a shooter.
Strengths
The Nikon M 308 is a wonderful optic with a ton of well rounded features. The first positive of the scope is the specific .308 BDC reticle. The bullet drop reticle is made especially for the .308 ammunition, which means that, if that's your primary arms, you're in great hands.
The next best rifle scope feature is the rapid action turret. Not only are they easy and convenient to use, they will hold your zero no matter how far and wide you travel in the field.
It also has a great higher magnification range that you can use in order to hit a variety of targets: anything up to 800 yards is fair game for this scope.
Drawbacks
The first, and probably most obvious negative is that this particular scope has been discontinued by Nikon. Nikon has stopped making optics altogether, but at least the warranty that comes with the scope will still be in effect.
Another drawback is the lack of night vision capability. While not everyone needs a night vision scope, if that is a feature that you just have to have, then this scope isn't for you. But, if you can go without it, then this scope is still a good choice.
Overall Review
Overall, this Nikon scope might be the underdog, but it has great potential for any .308 rifle shooter. From the specific BDC reticle to the quick adjustments, there's something here for everyone. Just be aware that this scope might be hard to find in a new condition or with all of the mounting hardware shipped with it since it has been discontinued. Nonetheless, it offers a ton of great features that are worth checking out if you rely heavily on the .308 rifle. The Nikon M 308 is one of the only scopes that was designed entirely around the .308 caliber.
Mike has been shooting, reloading, and bullet casting for over 40 years. He lives in rural Indiana where he has a backyard target range. Married for almost 40 years, Mike and his wife teach adult education in their home county and have four sons with their families, totaling 10 grandkids.