Are you perplexed by the many prism scope choices available? Perhaps you're not sure what a prismatic scope is. In either case, you've come to the right place. The process of comparing the best prism scopes should not be difficult, and we've decided to help you make it easier with our top selections for the best prism scopes on the market.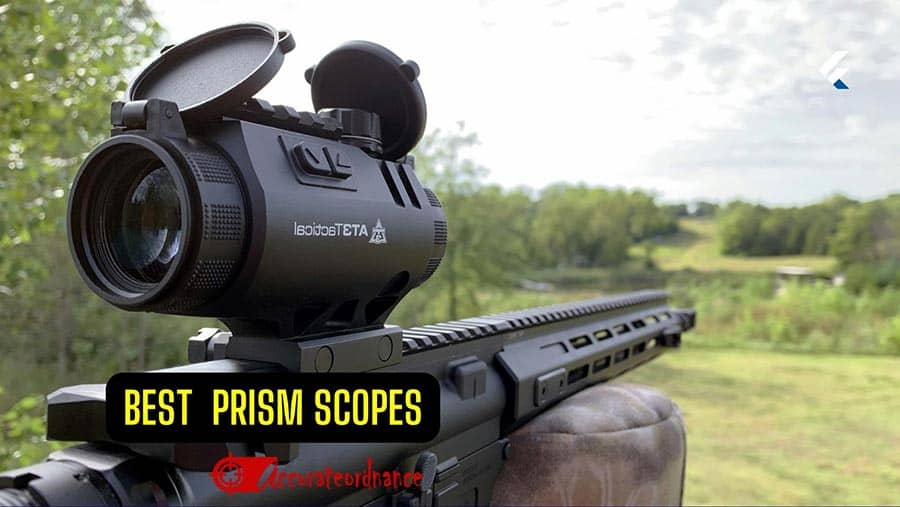 Let's have a look at the various prism scope choices and how they work. We'll also talk about how they function on AR, which will help us to have an idea of how it works on other weapons.
People have tried different ways to improve their shooting accuracy since the invention of firearms. These resulted in a slew of targeting devices. Modern instruments in this category include prism sight, a traditional scope, collimator sight, red dot sight, laser sight, and holographic sight. Mil-dot and red dots are the most common. Let's concentrate on prism sights.
Here are our top picks for the best scope made with a prism:
What exactly is a prism sight? A prism sight is a targeting device with a prismatic design. It'll be wonderful to have this optic in your bag so you can protect yourself better and hunt successfully. A prism sight is similar to a traditional scope that is often seen on rifles. Magnifying glasses are used in these scopes to concentrate the light for a good target acquisition. There are some notable distinctions between prism sights and standard scopes. The major distinction is the underlying principle of prismatic vision. Because prismatic sights have prisms, light is focused on a prism rather than magnifying glasses.
A prism optic is often more compact compared to a standard scope since it lacks refracting system, which would involve a set of lenses, making it larger and heavier. Prismatic scopes have an etched and illuminated reticle. The prism scope construction is quite similar to that of binoculars. These optics are popular alternatives for modern tactical rifles due to their structure and feature, like an etched and illuminated reticle.
What is the significant difference between red dot sights and prism scopes?
A no-magnification reflex sight is a red dot sight. The illuminated red dot in the middle of the optics allows for quick and precise target acquisition. Because of their simplicity of use, red dot sights are popular among gun aficionados. Military, hunters, and police all use red dot sights. It is also a popular option for average individuals looking to purchase weapons for home protection.
These optics are popular because aiming with them is simple. You must point your weapon towards the target with the dot pointing on the spot you want to shoot.
You don't have to close an eye. As a result, a red dot sight is a clear option for tactical rifles. According to firearms experts, this style of sight is ideal for close-quarter warfare.
Why are prism scopes superior?
Prism sights have recently begun to outperform red dots. One significant advantage they do offer is that they can magnify. With a prism scope, you may have magnification, which red dot sight does not have.
Other benefits that allow prism scopes to be better include:
Etched reticle – The battery life won't be an issue. If your batteries run down, you may still aim with the etched reticle. Although aiming with a black etched reticle will be difficult in low light circumstances.
Bright and Broad View- A prism optic will provide you with a bright and broad field of view, resulting in more precise target acquisition.
Astigmatism- Prism scopes include movable ocular rings, making them better for those with eye disorders. Astigmatism, for example, is a difficulty when using high-quality scopes.
It is important to mention;
If you use glasses, prism scopes may not provide acceptable eye relief. Remember that having insufficient eye relief will prevent you from using a scope while wearing your spectacles. Another thing to consider is that brief eye relief is undesirable for large caliber rifles.
Red dots or prism scopes?
When deciding on a sight, consider whether you will be shooting at close or medium ranges or at greater distances. Red dots are excellent for the previously described close and medium distance shooting, which is why they are used for close combat. You can shoot at far targets using a prism scope.
Furthermore, prism sights provide other benefits, such as several color selections and intensity settings for lighted reticles (red or green illumination). This feature improves reticle visibility. The brightness settings allow you to change the level of brightness based on the hour of the day. Some models offer extra features like bullet drop correction, etc.
Most important considerations when selecting a prism scope?
The primary factors to consider while selecting a prismatic optical scope are listed below. Read through them to learn what you need in a high-quality scope.
Purpose
First and foremost, you must determine why you require a scope. This reason will have a significant impact on your final selection. What you must always remember is that prism scopes are not the same as regular scopes that are mounted on any rifle. They are not suitable for long-range shooting.
However, this style of sight is not suitable for quick shots with minimal aiming. If you want to compete in shooting contests and show off your fast shooting skills, reflex sight is the way to go.
Actually, the function of prism optics is found somewhere in the middle. It is not a long-range aiming device, and it is not good for quick target acquisition.
Magnification
On a prism scope, you cannot specify the desired magnification. They just do not function in this manner. If you buy a 3x scope, for example, you will get a magnification of 3x.
You need to know your shooting distance. Is it a close-quarter shooting? If you answered yes, you should choose a 1x or 2x scope. Or do you want to shoot between 200 – 300 yards? A 5x prism scope is your best bet for this task.
Lens coating and optical quality
Asides from the optic magnification, you need a clear scope. Take note of the coating on the lens. This is an important element that not only covers the lens of scope but also improves its quality. Choose a multi-coated lens. These lenses exhibit less chromatic aberrations than cheaper versions. Additionally, check for scopes with anti-reflective features. You will enjoy incredible light transmission and clarity if your optics are high-quality. These would result in superb accuracy and shooting.
Another consideration when selecting a sight is the lens cap, which will protect the lens from damage.
Reticle
Following that are the reticle specs. There are several designs for prism scope reticles; therefore, the options are numerous. It might feature lines or dots, standard crosshair, horseshoe reticle, or something else. BDC reticle markings can be found on some. This marker is useful when you know your target distance.
It's important to understand that some optic models have only one sort of reticle. Even in a low-light setting, an illuminated reticle will allow you to aim accurately. Typically, such reticles feature brightness adjustments. A lit crosshair, on the other hand, requires power to work. Meaning your scope must be powered by batteries. If the batteries fail, you will not have a reticle. As a result, manufacturers prefer to pair lighted and etched reticles.
Eye relief
This is the distance between the lens of a scope that is required for optimum focus and the shooter's eye. One disadvantage of prism vision is the lack of eye relief, which means you must keep your eye closer to the optic while shooting. As an owner of a big caliber rifle, you should avoid purchasing a prism scope since it may strike and harm your eye when you shoot.
Durability
Durability is important since your scope and rifle will be exposed to different environments. This necessitates the use of a heavy-duty scope. Nitrogen-filled scopes are more durable. So keep an eye on such models. Another critical factor is water resistance and fog resistance. You should also pay attention to optics with metal bodies instead of plastic bodies.
Best Prism Scope
1. Vortex Optics Spitfire 1X AR-15 Prism Scope
The Vortex Optics Spitfire 1x Prism Scope is undoubtedly the best prism scope for your AR15 construction. The scope is reasonably priced, and the craftsmanship and quality are excellent.
The Vortex Spitfire ar scope is small, tough, and dependable. I highly recommend you get this scope. Let me explain why…
The Vortex Spitfire ar 1x Prism Scope features an extraordinarily clear and bright sight image because it is created from a single prism rather than a collection of different lenses. The prism of this scope is fully multi-coated; when I first tried to sight with the scope, my vision through the scope was really sharp. No hazing, fuzzing, or smearing occurred.
When compared with a standard 1x scope, the vortex optics clarity makes it easier for a shooter to spot and identify a target.
The reticle is etched on the prism. This etched reticle has several significant advantages over reflex sight. The scope uses an AAA battery, and when the battery dies, the optic is not rendered useless because the reticle is directly on the glass.
You can choose between red and green illumination, and it comes with different brightness levels. When you are on the field, you can choose a color and brightness level that meets your particular shooting circumstance. Lower brightness settings can also be used with night vision. The etched reticle does not seem smeared for persons with astigmatism or any other visual disorders.
The scope has a quick focus eyepiece that allows a shooter to precisely focus the reticle on meeting the shooter's requirements. Some shooters have a contrary opinion on the double circle, but in my opinion, it really helped me to focus my gaze for faster shot placement on targets. Unlike some other red dots that have unlimited eye relief, this scope has around 3.8 inches of eye relief.
When I first installed mine on my AR15 rifle, It seemed like I was sighting with the wrong optic because the image appeared to be smaller in my eyes. After some experimenting, I discovered I was far from the scope. When I moved this scope closer to my eyes, the sight image was perfect, and I had no problems. The Vortex Spitfire ar scope must be mounted far enough backward so you can keep your cheek weld within the eye relief. The eye relief was quite precise, but I noticed that the eye box was quite large. It was easy for me to shoot from odd positions.
Vortex scopes are well-known for their toughness and durability. The Vortex Optics Spitfire Prism is no exception. The hard anodized coating is resistant to scuffing and scratching. It is fog resistant and waterproof because of the o-ring seals and nitrogen purge. I've used this optic for close range and mid-range tactical exercises. It's been battered in different simulations. I've slammed it on the sidewalk and dragged it in the mud, flung it around in my pickup truck, and it still works fine after all of the abuse. I've had no problems with it; it does not lose zero.
If I eventually ruin it, I'm sure that Vortex stands by all of its optics and has one of the finest warranties in the industry. I'm confident they'll replace or fix it.
When it comes to turret adjustment, this prismatic scope differs from a reflex sight and more closely resembles a conventional scope. The scope has a 0.5 MOA click that is both audible and tactile. The adjustment controls are located at the back and are easily accessible. I can also say that they are rather intuitive and simple to handle in a rush.
One of the best features of this Vortex Spitfire scope is the BDC turret for 5.56/.223. The scope is marked for yardage, so once I've zeroed my scope at, let's say, 100 yards, I can move the elevation adjustment knob to suit my target's distance, and it'll update my reticle for the bullet drop.
I'd say it again; this feature is definitely my favorite on this scope since it allows me to stretch my accuracy far more than I could with a conventional reflex red dot sight.
This scope zeroing was very easy. I could hit my target in under 5 shots. When it comes to the issue of parallax, prisms' scopes, like other rifle sights, are meant to be vulnerable to parallax. I'm not sure how Vortex achieved it, but they've almost completely reduced parallax from this scope. My reticle remains on target regardless of how I shift my head.
I did not bother myself when attaching the scope to the rail of my AR15. This scope comes with a base for mounting, and the tools needed to install it are added to the package.
It was simple to accomplish. Just keep the eye relief in mind when positioning the optic.
The Vortex Spitfire Prism Scope was designed from the ground to provide rapid handling both in close range and medium range. This scope has all of the capabilities you could ask for in a good optics.
The large sight picture and accommodating eye box keep you on focus in any situation. Fully multi-coated lenses provide real clarity.
The DRT reticle is engraved on this prism optic and provides a clear aim point whether the power is on or off. Ten degrees of intensity light conditions, and lots more…
2. Primary Arms SLX 1×20
The Primary Arms SLX 1×20 scope was not something I would ordinarily buy. Trying new things has never been one of my strong suits, but I'm pleased I gave it a shot.
The technology in this scope is really amazing, not just for persons who have astigmatism but also for other shooters who want to get a feel of some wow factors in a scope.
The clarity of this Primary Arms optic is remarkable. I've not used a scope like this before; I really love this new technology. This scope has a clear red dot. This implies that instead of the standard lighted red dot, this features an etched reticle that is illuminated.
The technology was designed for astigmatic shooters, but I've been using it even without having astigmatism for some months, and I'm not sure I'll easily go back to other red dots.
The Primary Arms SLX optics comes with an ACSS reticle, which is ideal for my shooting application. The ACSS reticle is neither too busy nor too sparse. The ideal blend of utility and simplicity. The reticle on this optic is great for fast target acquisition.
Furthermore, this scope has performed well in low-light situations. I believe the lighting is more than adequate. The eye relief is very flexible; I believe this is due to the etched pattern.
The sight is comfortable on my mounting rail and creates an excellent image.
This has been an excellent scope for my AR. I don't do long-distance shooting, so this 1x magnification capability is ideal for my shooting purposes.
The Primary Arms SLX is budget-friendly, but the quality is obvious the moment you hold it up.
I'm impressed with the sturdy aluminum build. I am one of those that believe that a scope should be able to withstand everything thrown at it. The Primary Arms optics stand against all odds. The Aluminum build is fog resistant and waterproof.
Furthermore, Primary Arms provides a lifetime guarantee, which is a significant plus. They will replace or fix the sight without questions.
Since I started using this scope, the windage and elevation knobs have been flawless. They might not be the greatest quality knobs, but they function perfectly. The adjustments have a satisfying click which is what I need in a turret. The scope was very easy to zero in, and it holds zero with ease. Nothing changed after shooting hundreds of rounds.
Aside from the windage and elevation knobs, it also has illumination knobs that house the battery. It has performed well enough like the previous turrets and has caused no problems.
I haven't observed any parallax in the few months I used it. Parallax is an annoying feature on low-cost scopes, but these Primary Arms do not have this problem.
The sight offers 1x magnification, exactly what I wanted in an AR sight.
3. Monstrum S330P 3x Prism Scope
The Monstrum S330P is one of the best prism sights on the market. It has 3x magnification. This magnification makes it better for long-range shooting.
One major issue with the 3x fixed magnification is that if you are in a close-quarters battle or your target is more than 12 feet close, this magnification would turn out to be a liability than a benefit.
In self-defense situations, you must consider whether you will need to line your sight, acquire the target, and fire as quickly as possible, particularly if you have a moving target.
The Monstrum S330P weighs about 15 ounces, and it is 5 inches in length, making it equivalent in weight to other scopes on the market, but it is considerably shorter and more portable.
The objective diameter is 30mm, and the reticle is much more standard than the Cyclops, with 1/4 MOA adjustments indicating that this scope is meant for longer-range shooting.
It has an etched and illumination reticle that is fairly common on prism scopes. This prism optic is ideal in an emergency because even when the battery runs down and it no longer illuminates, you would still see the black reticle.
It is less suited for low light shooting, but it provides more alternatives than a red dot sight.
The S330P has received positive feedback from many shooters. It uses a CR2032 battery, which is widely accessible and lasts for a long time.
4. UUQ Prism 4×32 Rifle Scope
This prismatic scope is intended for long-range shooting and is one of the toughest (and least expensive) optics on the list. It is made entirely of metal. The glass is multi-coated, and it is shockproof, rainproof, and fog proof.
With this scope, you'll get a 1/4 MOA elevation and windage adjustment, as well as an objective diameter of 32mm that can take care of medium-range shots.
This sight is intended for close to medium-range shots where 4x magnification is excessive. It's a brilliant answer to the fundamental complaint that shooters have with prism scopes.
The UUQ optics comes complete with a 20mm weaver mount and side rail for attaching other accessories. Overall, the UUQ is rather tactical and does a good job of bridging the gap between high and low magnification settings. I would recommend this optic if you are shooting longer distance shots.
5. Primary Arms SLx 3x32mm Prism Scope
The Primary Arms SLx product line comprises three distinct models, which is not by chance. This SLx scope makes the list of the best prism sight. It has a magnification of 3x and an objective diameter of 32mm.
It has sufficient eye relief that allows a shooter to fire while both eyes are open. The scope squeezes in as much precision as possible at long range. According to Primary Arms, this scope can take 600-yard shots with 5.56 NATO.
Personally, I would say I don't like the reticle design of this particular scope. I started shooting almost entirely with iron sights, so crowded reticles irritate me. Crowded reticles have their own use, and the SLx scopes reticle design makes long-range shots possible, as long as you can memorize the different dots and lines.
With 1/4 MOA adjustments and a total of 60 MOA windage and elevation, you should have plenty of space to zero in. Picatinny is the mount used.
FREQUENTLY ASKED QUESTIONS
Are prism scopes useful?
Prismatic sights are best utilized with tactical rifles since they provide a small magnification (2-5x). The majority of the scope models are well-built and watertight. Reticles come with illumination, which makes it simpler to aim even in low light settings. Prism scopes may be purchased for a reasonable price.
What exactly is a 3x prism sight?
A 3x prism sight comes with a magnification of 3x. This magnification is ideal for shooting at distances ranging from 100 to 300 yards.
Are prism sights long-lasting?
Yes. Most models are fairly long-lasting. Higher-priced sights would feature anodized aluminum bodies, lens covers, nitrogen filling, and multi-layer lenses. They are waterproof, shock resistant, and fog proof.
Can Prism Scopes be Magnified?
Prism scopes lack variable magnification; the magnification cannot be increased or reduced. They usually have a 1x fixed magnification; however, some scopes offer 2x, 3x, 4x, and even 5x magnification.
Because this magnification can't be changed, you must select a scope with the appropriate magnification.
Different conditions will necessitate varying magnification levels. The normal 1x magnification is ideal for self-defense. The lighted reticle makes it simple to aim even at low-light settings. If you intend to use optics for range shooting, then you can get a magnification of 3x to 5x.
How Do Prism Sights Work?
Instead of utilizing a lens, prism sights will concentrate light using a prism. Meaning it uses a considerably smaller optic. Prism sights often include an etched reticle as well as an illuminated reticle. Prism scopes give a large field of view, making them excellent for contemporary tactical rifles. They also have a prism that works to focus and erect the picture, allowing prism optics to be more compact in design.
Furthermore, using lighted reticles in a prism sight makes them comparably better than red dots. Unlike most red dots, certain prism scopes may be amplified up to a whopping 5x magnification.
As a result, prism optics are superior in comparison. Despite the fact that some scopes feature high magnification, they are frequently utilized for close combat.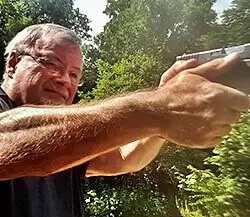 Mike Hardesty is a published freelance gun writer. With dozens of articles and reviews published in Pew Pew Tactical, Snipercountry.com, and TTAG (The Truth About Guns), Mike is considered a firearms expert. His special area of expertise is handguns.
Mike is a long-time shooter. He has been punching paper targets, taking deer and other game and shooting at competitions since about 1975. Other related pursuits include reloading and bullet casting. He currently reloads for over 10 calibers, both handgun and rifle. His reloads, particularly for 9mm, were in great demand during the height of the ammo shortage among family and friends. He donated hundreds of rounds to informal shooting sessions. He was quoted as saying "I do not sell my reloads but I sure will help my guys shoot 'em for free!". He has a few cherished firearms that he has inherited or otherwise procured — those are his favorites.
He earned B.S. and M.S. degrees from Indiana State University in 1974-1975.
He's a firearm experts and is the founder of mhardesty.com.