Are you looking for a good red dot for your turkey hunting? If yes, jump in let's help you on how to prepare for the hunt.
Red dot sights are recognized for a faster target acquisition, and as a turkey hunter, you must move quickly if you want to have a successful hunt.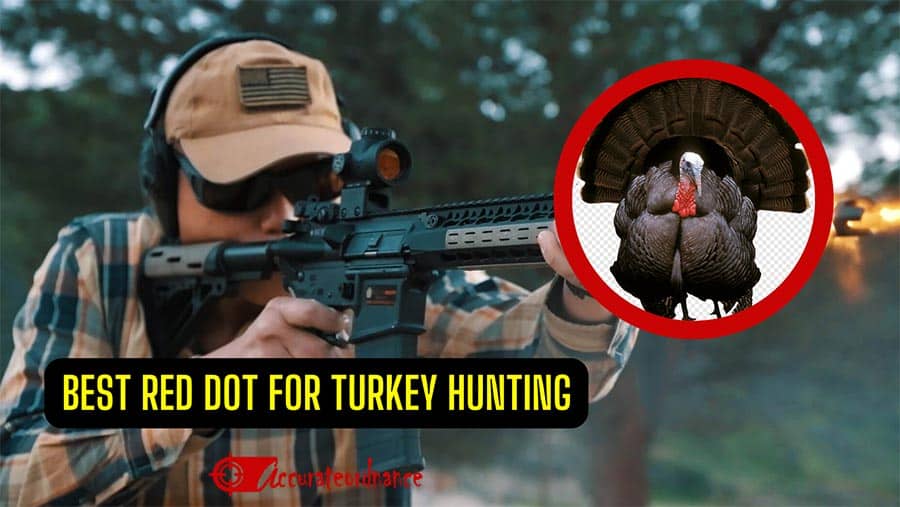 Red dots provide hunters with unlimited eye relief, allowing them to use their peripheral vision. a lighter dot scope designed for turkey hunting in difficult terrain. In general, turkey hunters should utilize a red dot instead of a normal scope.
In this article, we're going to look at a comprehensive list of the best red dot for turkey hunting, why you need a shotgun for your turkey hunting, why you need to mount a red dot on your shotgun, and factors to consider when searching for the best red dot.
Let's get started already!
How do Shotguns make turkey hunting more successful?
Shotguns are the best firearm for turkey hunts for several reasons:
Shotguns offer a variety of shot sizes that may be utilized for turkey hunts, ranging from small pellets during a long-range shot to bigger pellets when taking close shots.
Another reason why you should consider using a shotgun for your turkey hunt is because of its accuracy. Shotguns are simpler to shoot, and they stay accurate all the time.
Shotguns will less likely to frighten turkeys away compared to rifles, making them an excellent choice for taking down these cautious species.
Shotguns may be equipped with a variety of scopes and sights to help you position your shots properly.
Red Dot Sights on Shotguns: Why Do I Need Them?
A loaded shotgun could weigh about 8 lbs. This firearm is a beast of an equipment to carry unsupported for an extended period of time. Some shotguns are designed to also take down waterfowl, so they might be a little longer. You can find a front fiber optic sight on some shotguns and they perform well.
You can also mount a red dot sight to most current shotgun receivers, including the Stoeger. In my years of turkey hunting, I've discovered that there's a reason why hunters choose a shorter and lighter shotgun, especially while hunting in the woods.
However, the advantages of making use of a semi-auto shotgun capable of shooting a 3.5″ magnum bullet outweigh the length and weight disadvantages.
The inclusion of a Red Dot on a shotgun helps shooters to prevent overstressing their arms when holding the shotgun for an extended period of time just to aim a target. A Red Dot is definitely superfluous for pump-action shotguns that are shorter than 49″, but it's quite useful for Enertia-Driven shotguns like the Franchi, Stoeger, and Benelli.
A red dot on your shotgun saves you time that you would have used to be tracking the animal carefully before raising your shotgun. Elevating your shotgun from its sling to your shoulder can startle the birds and make them escape before you take a shot. A Red Dot basically simplifies things, provides you with confidence, and allows you to take quick shots.
Qualities that you should look for in a Turkey Hunting Red Dot
All red dot sights are not the same. Some are made using higher-quality components, while others are developed for a particular function. With that in mind, let us check some of the most important factors when choosing a red dot for your turkey hunt.
Clarity
When it comes to turkey hunting, clarity is everything. The reticle is an important aspect of being able to aim at your target. Some sights have bigger dot reticles, making it difficult to see the whole target. Just ensure that you can see the target clearly from your sight.
Dot Color
Because turkey hunting is done outside, having a green dot option is advantageous. Red dots work well in some situations, but green dots work better outside. It's only a little more pricey.
However, the cost is justified. Green dots stand out more against the background of trees. People with astigmatism may also prefer a green dot instead of a red dot.
Also read: best red dot for astigmatism
Battery
Red dots for turkey hunting require batteries, which must be replaced before they run out and disappoint you. It is preferable to use one with a common type of battery and also a battery that can survive for as long as possible.
Aside from the number of hours of usage, the battery life of your sight can be affected by a variety of things. The brightness level required, for example, can quickly deplete the battery.
Versatility
If you're anything like me, you need only a few firearms in your arsenal. It's always preferable if the red dot you want to buy, such as one from Vortex Optics, can fit some, if not all your firearms. This will save you money while also improving your overall shooting accuracy.
Durability
The 12-gauge shotgun is typically the most common for turkey hunting. That implies there will be considerable recoil every time you press the trigger. Regardless of how well you achieved that, the red dot must also be able to survive repeated recoil. This means that construction durability is essential.
In addition, you must evaluate the sort of situations in which you will be hunting. This frequently entails challenging journeys and rough terrain. Your selected scope must withstand knocks, bumps, drops, and inclement weather.
In terms of the latter, if you're involved in all-weather hunting, the sight must be waterproof and fog proof. With these considerations in mind, it is advised that you choose a scope constructed of a durable material.
Material
The kind of material used to make your hunting red dot sight matters. Examples include aircraft-grade aluminum and similar materials. This will not only withstand the abuse you subject it to, but it will also be lightweight in general.
The material used must be able to withstand the rebound. It is advised that you seek for scopes built of magnesium or aluminum alloy.
Eye Relief and Parallax
Ensure the sight you choose provides limitless eye relief, and it must also be free of parallax. This is because a sight with parallax will not allow you to see your target. Prarallax-free sights will give you accurate images regardless of their position in reference to the line of sight.
Brightness Settings
You should choose optics with a bright reticle. Most shooters have a preferred time of the day when they go for their hunt. However, the best time to catch that prized bird is between the hours of dawn and twilight. Whatever time of the day you want to hunt, you will need a sight with various brightness settings.
This implies that having the flexibility to alter brightness will help you to take advantage of low-light hunting opportunities and also adjust to bright-light situations. A good red dot sight should provide you with a clear view regardless of the lighting circumstances.
Brand
When we talk about choosing optic brands, it does not imply that you should always opt for popular brands that offer very expensive options. Rather, it means you should avoid extremely low-cost brands with minimal or bad consumer feedback.
When it comes to shotgun recoil, purchasing a cheap sight and hoping to get the best result is not a good idea. This is where reputable optic vendors might help. Companies that have worked so hard to build high-quality sights and give good value for the functionality and features they deliver.
Before making your purchase, read honest consumer reviews and speak with other turkey hunters.
Warranty
Another crucial consideration is the type of guarantee provided by the manufacturer. As we discussed above, a reputable brand will put its mouth where its strength is. This means that manufacturers that deliver only high-quality products will be willing to offer long or lifetime warranties. This doesn't mean that s sight without warranty is bad quality.
Price
Red dots, as expected, vary greatly in price, and not all hunters have a massive budget. How much you're willing to spend for a sight will be determined by your budget.
Another factor to consider is shooters who possess many guns. If you want to utilize a single red dot for many weapons, you should invest in a good one. It's better to buy one good sight than a hundred poor quality that will often need replacement. Just ensure the sight you're choosing is compatible with your firearms.
Design
You could come across certain sights with unique designs. Some sights have tube designs, while others have square glass panes. You shouldn't be concerned because it will merely be a matter of personal preference.
We recommend focusing on factors other than design.
Elevation & Windage
You should also think about your sight's elevation and windage modifications. As a shooter, you must aim vertically and horizontally to place your dot directly on your target. The dependability of the turrets typically results in more precision.
Mounting Options
The finest red dots are easy to adjust and attach. Purchase a red dot that is simple to mount on any turkey gun or rifle. You must also ensure that the sight is securely mounted to avoid movement or mishaps that can affect your zero and accuracy.
To learn more read this article on how to mount rifle scope
Best Red Dot For Turkey Hunting Details Reviews
1. Trijicon MRO 2 MOA Red Dot
Trijicon ranks among the leading manufacturer available on the market, and their MRO red dot has become the favorite of many. It is the first on our list of best red dot scope for turkey hunting. It boasts an excellent set of features; however, you will have to pay for every single feature you'll enjoy.
Trijicon designed the MRO to be efficient. I've had no problems with clarity since I've been using this sight. The MRO red dot comes with a multi-coated lens that helps to increase the light transmission and reduce glare through the sight.
I also like how simple it was to use the reticles. The MRO features eight ambidextrous brightness levels, four of which are designed for night turkey hunting. This 2 MOA red dot reticle features a bright dot that you can see in a variety of lighting settings.
Red dot sights generally come with unlimited eye relief, and such sights are ideal for turkey hunting because this kind of hunt is not an extremely long hunting; therefore, you may not need to focus much on looking through the sight. The MRO's unlimited eye relief also gives the shooter enough eye box.
The matte black tube of this sight is made of high-quality aluminum. It is only a little more than 5 ounces, so you can easily carry it on your arms for prolonged turkey hunts. The 2.6 inches length also allows shooters to co-witness with a rifle scope.
The MRO will not move from your rifle once it is mounted correctly, no matter the recoil. This means that it will not shift your zero. This optic from Trijicon is waterproof and incredibly sturdy.
The MRO's adjustable knobs give the shooter a lot of flexibility while attempting to change the settings. The sight move with 1/2 MOA per click, and it has a total windage and elevation range of 70 MOA.
I have no issue reaching the knobs. The elevation adjustment is above the sight, and the windage adjustment can be found on the side.
Because the MRO has no parallax, the dots will not move; you will not have any issues with the red dot. I've had no problems with accuracy or staying on target due to the absence of parallax issues. The sight has a magnification of 1x, which is what is obtainable from most red dots.
Trijicon features a very versatile red dot that can be mounted on majority of the firearms in your arsenal. I've used this sight on different firearms, so it's suitable for use both as a shotgun sight and rifle sight.
Furthermore, the MRO has a quick-release scope mount.
The battery is a standout feature in this MRO sight. I have not replaced the battery for more than 2 years, and according to the manufacturer, it is intended to last 5 years.
I've also had no problems with the highest brightness levels, unlike some sights that get blurry when the brightness is high.
This Trijicon MRO red dot sight is a bit more pricey, but it is one of the nicest red dots you'll find for your turkey hunting.
Trijicon does not offer an unlimited warranty, even with the amount you're paying. The warranty is only valid for three years, requires evidence of purchase, and is non-transferable. Nonetheless, given the endurance, I don't expect a fault or a need to fix or replace any part of the sight anytime soon. It is built to last.
If you desire efficiency without a high price tag, then the Trijicon may not be for you; however, if your budget can take care of the cost, then it is worth the buy. You can go for low-cost sights like the Burris FastFire III. It's somewhat older, but it has some amazing features, such as a 3 MOA red dot reticle for increased accuracy.
2. Aimpoint PRO 2 MOA Red Dot Reflex Sight
Aimpoint is another well-known brand to make the list of best red dot scope needed for turkey hunting. They have the ACO as well as the updated Aimpoint PRO, which I always suggest if you have the budget to fit. The PRO sight is used by the military and law enforcement for a purpose.
This Aimpoint PRO, like the Trijicon we reviewed, comes with a 2 MOA red dot reticle. The lenses of this red dot sight are multi-coated, so you have difficulty shooting or hunting during the day since the lens decreases glare. Multi-coated lenses also increase light transmission when the ambient light is low.
With the kind of image quality that is delivered by this red dot sight, turkey hunting can be easily done from 150 yards or more. Night vision might be difficult with others sights for turkey hunting, but this PRO maintains a clean image even in a dark setting.
With a sight like this Aimpoint PRO, you will get the standard unlimited eye relief that other red dots offer. The sight also gives you a wide field of view, so you can aim with the sight and still watch the environment.
One of the reasons why Aimpoint is among the best optical manufacturers is that they employ high-quality materials in the production of their red dot sight for turkey hunting, therefore, you'll hardly have any durability concerns. The tube of the PRO is composed of aircraft-grade aluminum.
You won't have to worry about rain since the matte-black coating is waterproof. The tube has also been fog-proofed; therefore, humidity would not scare you.
This PRO sight is scratch and shock resistant. I was astonished at how durable it is, considering it weighs just 11.6 ounces.
The Aimpoint PRO's windage and elevation knobs are protected by aluminum covers. The turrets of the sight are secure and simple to modify with the provided tool. You can zero the sight at 100 yards with a click of 1/2 MOA.
The Aimpoint sight has a 1x magnification, and it is parallax-free like most other red dots.
The PRO is attached to a low-profile Picatinny rail. After mounting this sight properly, you do not need to worry about it shifting due to recoil. Furthermore, the low profile gives shooters a wide field of view. You can use this sight with your turkey shotgun for turkey hunting.
The PRO red dot is powered by a 2L76 battery, which is not widely available. Nonetheless, it can operate continuously for about 30,000 hours; as a result, you won't need to replace it for the next three years.
The maximum brightness setting may have an effect on how long you will be able to use the battery. The Aimpoint PRO has ten brightness setting. Six of which are used for shooting during the day.
The remaining four brightness setting are designed exclusively for night vision. Whether or not you're still on a turkey hunt when the sun sets, you can still rely on the sight as long as the battery does not die.
Aimpoint offers a decent warranty.
3. Holosun HS510C Reflex sight
Holosun is a recent brand known for offering nice optics. They have a variety of optics for various applications, and this 510c model by Holosun is an excellent red dot for turkey hunting.
The 510c sight comes with a multi-coated lens that gives a very clear sight image, and the LED reticle enhances the vision when aiming at a target. It has a green or red dot reticle. The green dot is ideal for people who have astigmatism or other vision issues.
The ability to swap reticles is one characteristic that distinguishes the Holosun from others. While I like the 2 MOA dot, it can be converted to a 65 MOA circle. It may also mix the two to create a dot within a circle. Some shooters may see the 65 MOA circle as a distraction, so if you're one of them, just stick to the 2 MOA dot.
A large field of vision and unlimited eye relief is what you'll get from this red dot.
This Holosun 510c model weighs a little more than 8 ounces. The 3.3-inch-long high-quality aluminum tube also fits easily on the rail, and the sight can be co-witnessed. I also like the titanium cover.
Holosun has high-quality components; thus, you won't easily find scratches on your 510c red dot. I have gone on several turkey hunting excursions with no problems. Another juice is that it is waterproof and dust-proof.
The 510c model includes a T10 L key for adjusting the windage and elevation knobs. The turret adjustment is simple enough to perform on the go. The sight has 1/2 MOA clicks that make zeroing a breeze. The total windage and elevation are 50 MOA.
It comes with a magnification of 1x, and it has no parallax beyond 50 yards. Also, the anti-reflective lens coating on the sight aids long-distance shooting.
One disadvantage would be that it does not come with its own mount. It may, however, be fitted as a low-profile mount. It is also simple to mount.
Fortunately, this Holosun model utilizes a CR2032 battery, and the battery is relatively straightforward to change. You won't have to change it frequently because the battery life has up to 50,000 hours.
Not only does the battery survive for long. Holosun has also increased its efficiency with these two incredible features: Solar Failsafe and Shake Awake.
The latter indicates that your sight will come on when it detects motion, while the latter is needed if you're shooting under the sun. The Holosun sight will use the solar power to preserve the battery life.
There are 12 different brightness levels to select from. I prefer to keep the brightness setting at 7 or 8 levels, depending on the time of day. The 11 or 12 brightness setting is excellent for night vision.
Holosun 510c is definitely a good buy. The brand has done its home work before releasing this sight. This 510c model is a high-end red dot sight, and it comes at a high price.
Holosun's red dots come with a 10-year warranty.
4. Vortex Optics Venom 3 MOA Red Dot
If you have a very tight budget, one of the finest brands to consider is Vortex. The Vortex Venom red dot may not be the cheapest on the list, but it is one of the finest quality for your money's worth.
To begin, the Vortex Venom stands out because it features a 3 MOA reticle, and you can switch between Vortex 6 MOA and 3 MOA dots. A bigger red dot size may be preferable for close-range, but if you're dealing with long-range shots, you need a smaller red dot size like the 3 MOA dot.
The Vortex Venom's lenses are multi-coated for a flawless sight picture.
You have infinite eye relief, as expected, so you can see images within and outside your Vortex sight (wide field of view).
The lightness of the Vortex Venom sight is something to behold. The sight is made of aluminum which is a very lightweight and durable material. To prevent humidity or fog, the tube is o-ring sealed.
The ArmorTek covering on the surface of your Venom will provide you with a fog-proof, waterproof, and scratch-resistant sight.
The windage and elevation adjustments are not as exact as those on more costly sights. Another unique thing you'll find about this sight is that it has 1 MOA click, unlike the other sights with 1/2 MOA clicks.
The maximum windage and elevation ranges are 100 MOA and 130 MOA, respectively. You can easily zero the sight, and you will hardly need to readjust after zeroing correctly because it will maintain its zero.
Despite the fact that it has a magnification of 1x and it is parallax-free, you can reliably hit targets that are 150 yards.
The Vortex Venom sight is one of the most adaptable red dot sights available. It is may be mounted on a Picatinny or Weaver rail.
Vortex created this low-cost red dot to make turkey hunting easy. This might be a great red dot for you if you're using a turkey shotgun.
The Venom's battery life is limited to 150 hours when set to the brightest level. The sight uses a CR1632 battery, and it has ten brightness settings.
Although it has a 150 hours performance at peak brightness, you'll receive a constant 30,000 hours when you use the lowest brightness setting. It all depends on your goal and the time you are turkey hunting.
Vortex Venom offers a lot of fantastic features for the price. It is well worth having.
The Vortex guarantee is another excellent value for money. It's transferrable and comes with a lifetime guarantee and no-questions-asked fixing.
5. Burris FastFire III Red Dot
Burris has amassed a sizable fan base among shooters searching for high-quality optics at reasonable pricing.
The best red dot sight for turkey shotgun shooting must be tough, dependable, and precise. That's exactly what Burris FastFire III Red Dot provides. Shooters can choose between a 3 MOA and an 8 MOA dot reticle.
Its flexibility stems from its ease of installation. You can easily mount it on your rifle, pistol, or shotgun using a Weaver or Picatinny mount. This implies that shooters with several firearms can utilize them on various weapons.
This high-quality sight is designed specifically for turkey shotgunners. The sturdy, resilient construction is built to withstand the most powerful shotgun recoil. The sight is also shockproof and waterproof. It will not disappoint you if you're prepared to hunt in any weather condition and difficult terrain.
The inbuilt automatic brightness sensors are another fantastic feature in this regard. These automatically adapt to the hunting circumstances. Hunters may also manually adjust between three light levels.
Excellent target clarity is provided by the brilliant dot and high-quality glass. This is further boosted by the lens's Hi-Lume multi-coating. This provides critical low-light performance as well as glare reduction. If you want a fast target acquisition and simple pointing, this Burris III is the one for you.
The sight is designed to have a top-battery compartment opening and is powered by an integrated CR1632 battery. This eliminates the need to take the optics off while changing batteries. Burris claims that a battery can last for about five years. The sight also has an automated time-out feature of 8 hours.
This FastFire III sight weighs about 0.9 ounces, and it is 1.8 inches in length. It comes with an objective lens of 21 mm that complements the 1x magnification.
While you're getting so many features for your money, the Forever Warranty from Burris is something to spice it up. The brand will repair or fix any issues, and the warranty is transferable.
6. Athlon Optics Midas TSR3
Athlon Optics is the next best red dot sight, it is exceptionally well-designed. It is another great red dot sight for turkey hunting. Asides from turkey hunting, you have the ability to participate in close-range combat.
The TSR line of scopes from Athlon can be used for a wide range of applications. This TSR3 model will undoubtedly fulfill your turkey shotgun shooting requirements. It has a large Field Of View, and the completely multi-coated lens provides exceptional picture quality and fast target acquisition. With this sight you can engage in close-range shooting with both eyes open.
This scope includes a single-piece chassis made of strong 6061-T6 aluminum. The sight is waterproof, fog-resistant, and shock resistant. Mounting this sight on your turkey shotgun means you are adding a weight of 10.6 ounces.
The superb objective lens of 36 mm complements its 1x magnification. It has a reliable battery life of about 50,000 hours (medium illumination), and it is powered by a CR2032 battery. The sight is always ready for use because of the motion sensor activation function, which wakes the scope up whenever movement is detected.
The LED-lighted 2 MOA reticle makes a 0.5 MOA click per adjustment. Hunters have an outstanding 10 daytime brightness levels and 3-night vision brightness settings to choose from.
7. Truglo Gobble-Stopper Dual Color Dot
Truglo has a great collection of low-cost optics to suit a wide range of shooting situations. The Gobble-Stopper model leaves no mistake about its intent!
It has a reticle built specifically for turkey hunting.
The first thing about the sight is the fashionable Realtree APG HD finish. This camo pattern aids in hiding when you approach turkey territory. The specially designed turkey hunting reticle, on the other hand, will help you focus your eyes.
It includes a dual-color (green and red) reticle for maximum contrast against any backdrop or target. The multi-coated lenses transmit more than 95% of the light. It contains an adjustable rheostat for brightness adjustment, as well as quick access to elevation and windage adjustments.
It is powered by an accompanying CR2032 battery and includes a spare battery in the storage box. This dot reticle has an objective lens diameter of 30 mm and the magnification is 1x. The linear FOV at 100 yards is 68 feet, and it has an unlimited eye relief.
This Truglo sight is fog proof, shock resistant, and waterproof, and it is made of machined aircraft-quality aluminum. Truglo's Stopper is 3.8 inches long and weighs just 7.8 ounces.
The sight is simple to install and comes with an integrated Weaver mounting mechanism. In addition, the purchase includes see-through flip-up lens covers with lanyards and a removable sunshade that helps minimize glare on the front lens.
Hunters will also love the lifetime limited warranty on the scope.
8. Sig Sauer Romeo 5 Red Dot
The Romeo 5 red dot by Sig Sauer is a flexible and reasonably priced sight that can be used on practically any firearm platform. If you are going to use a Red Dot on your shotgun, I'd recommend a 2 MOA, although the 4 MOA will suffice. When turkey hunting, keep in mind that you will almost certainly not take shots beyond 60 yards, and most people will not venture beyond 50 yards.
The Romeo 5 sight boasts limitless eye relief, and it is free of parallax, allowing you to keep both eyes open while aiming and quickly acquire targets. It comes with a CR2032 battery, and the battery life is rated 40,000 hours of usage.
One great feature of this sight is the MOTAC function, which turns off the optic when there's no movement around the sight and immediately turns it back on when motion is detected. The NVG capability for pests or predators was the major feature that clinched it for me (apart from the price).
One of the most pressing issues is how long will the MOTAC function extend and how much motion is required to activate it. There are eight daylight settings, as well as two-night vision settings.
9. Sightmark Mini Red Dot
Sightmark Mini sight, like the Sightmark Ultra Shot, is a specialized sight for turkey hunting. It offers four pattern options with reticle illumination in red and green. It includes five brightness settings, an off switch, and a 35m wide field of vision at 100m.
Since it is constructed with aluminum alloy, this sight will last for a long time. It can withstand a high recoil, and it has an IPX4 waterproof certification. It also comes with a low-profile mount.
This device is powered by a CR123A Lithium battery, and the battery may last for about 2000 hours. Like the Sightmark ultra shot, it has a Parallax range of 25 yards. The lens coating delivers a clear and sharp target image.
10. Vortex Strikefire II
The Vortex Strikefire II sight comes next. This scope is constructed like a tank, so it's a little heavier, but not so much. It is commonly seen on rifles, although it also works perfectly on shotguns.
The scope has a tube of 30mm in diameter, and it is manufactured of aluminum alloy. Turrets can be adjusted with a coin or flat screwdriver. The housing (aluminum) is strong enough to withstand even the most severe shotgun recoil.
The 4 MOA reticle may be lit in Green or Red by pressing a button on the sight. The power controls are located on the back of the sight and feature 10 different adjustment levels.
The primary body of the sight is a single piece, and it is O-ring sealed and nitrogen purged so that it can be fog resistant and waterproof.
This optic is shockproof and has a High recoil resistance, according to Vortex. The unrestricted eye relief and completely multi-coated lenses provide a clear field of vision. It also includes low-profile lens covers to protect the lenses from scratching.
The sight comes with a cantilever attachment that allows for the use of a multiplier and night vision, as well as the ability to use iron sights as a backup if necessary. However, it may be less likely to find a turkey hunter with it.
11. Aimpoint Micro T 2
The Aimpoint Micro Red Dot Sight is another wonderful sight on our list. Designed for both eyes aiming, you can use your eye movement to stay focused on moving targets while being aware of the surroundings.
The sight is made with very strong aluminum housing, and the turrets and lens covers are toughly constructed. ACET technology provides 50,000 hours of continuous operation on one battery, and it weighs less than 5 oz., so you'll hardly notice it's attached to your gun.
12. Trijicon RMR Type 2 Red Dot
The Trijicon RMR Red Dot is a mil-spec standards red dot with durable 7075-T6 aluminum housing and updated electronics. This sight provides the utmost in tough reliability and adaptability. In summary, the RMR is incredibly durable and will not fail you while turkey hunting.
The sight has a dot size of 3.25 MOA, which you can use to accurately aim any target. It has a total of 8 brightness settings, of which 2 are night vision compatible, and 1 is for the brightest light. It is powered by a CR2032 Lithium Battery.
One of the advantages of the sight is that t has a long-lasting battery life. One downside is that it requires an extra mounting plate and is highly pricey.
FAQ
Are red dots suitable for any kind of hunting?
It depends on what you're looking for, but I can tell you for sure that they're ideal for turkey hunting. Since Turkeys move quickly and might be difficult to aim, thus quick target acquisition and limitless eye relief are essential.
Even so, a red dot sight might be effective for hunting deer or larger wildlife. They are quicker for deer, and they provide a clean sight image at a respectable distance.
What MOA size do you require?
Generally, it is dependent on the distance you are shooting. A 2 MOA or 3 MOA dot size will take up less room during close or medium-range hunting. However, they are better for more accurate long-distance shots.
At a closer range, the target is bigger, so a bigger dot might be better. You'll get the complete picture faster this way.
Is it a good idea to hunt turkeys with red dots?
Red dots were not designed for turkey hunting, yet they are quite effective. Red dots can achieve a variety of things that a regular bead sight cannot. First and foremost, they provide a better visible sight image in a wide range of circumstances. Second, red dot sights are highly robust and can withstand not just the heavy recoil but also the weather and the field.
Mike has been shooting, reloading, and bullet casting for over 40 years. He lives in rural Indiana where he has a backyard target range. Married for almost 40 years, Mike and his wife teach adult education in their home county and have four sons with their families, totaling 10 grandkids.