Are you trying to find your way around 300 Blackout scopes? Maybe, you're not sure of the one to mount on your rifle.
Luckily, the 300 Blackout scope is not a hard-to-find scope, and it is not difficult to use. In this article, you'll learn all you need to know so you can easily select a 300 Blackout scope.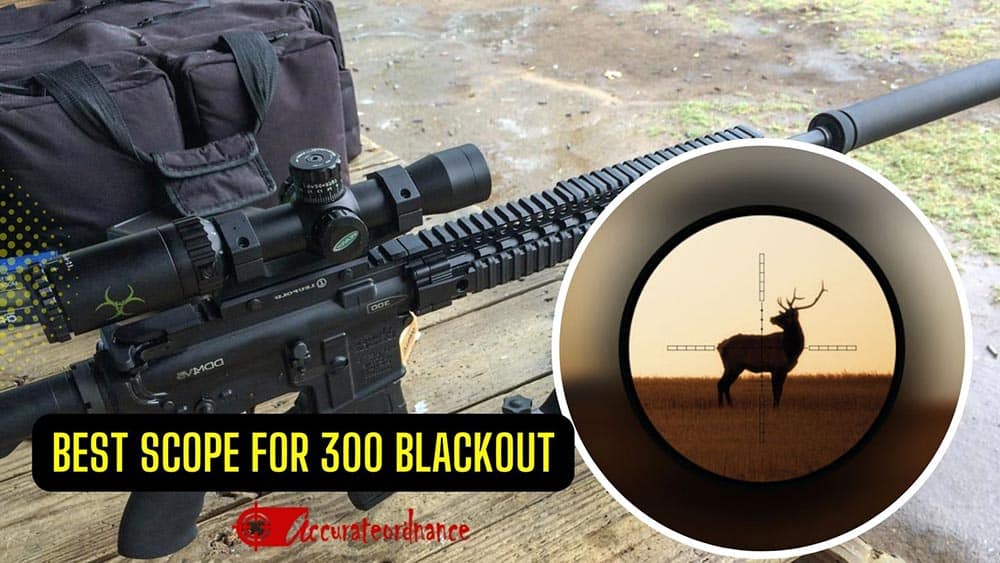 I have used the 300 Blackout for some time, and I agree with you that it's a good cartridge with some interesting possibilities. But no matter how excellent a cartridge is, it would be totally useless if you cannot hit your targets or aim accurately on every shot.
Let us discuss what makes a great scope. But before then, here are our top picks for the best 300 blackout scopes.
What Are 300 Blackout Scopes?
Let's start with the round itself to see what scope would be suitable.
Advanced Armament Corporation (AAC) developed .300 Blackout ammunition for the M4. The cartridge was created by AAC to simulate the 7.62 mm ballistics for the AR-15 platform, replete with the ability to utilize normal AR-15 magazines to maximum capacity. This means you can operate them with a regular 5.56 AR upper swapped out.
No problems with 300 magazines. Simply do not attempt to use a 300 blackout with a 5.56/.223 upper receiver.
However, the whole design process succeeded, and AAC was able to create a powerful yet low-pressure cartridge that could be made as either a subsonic round or a supersonic round.
The 300 Blackout is a great round, and it is great for suppressing noise. The low pressure makes it ideal for 5.56 short-barreled rifles. It burns all of its powder in a 9inch barrel; therefore, you won't get the enormous fireballs that short-barreled 5.56 guns give.
All of these characteristics add up to form a 300 Blackout that is widely used for a variety of reasons. Each of these goals shows characteristics that a good 300 Blackout scope may require.
300 Blackout round is mostly used for hunting, particularly deer and pigs. All these creatures have a tendency to be more active at dusk and dawn. As a result, for a clean, brilliant sight image in low light conditions, a 300 Blackout scope must have good light transmission. An illuminated reticle is also useful for low light hunting conditions. If you have the option, anything that works with night vision or thermal optics may be handy.
Because the 300 Blackout is suitable for SBRs, you may have predicted that it is not for long-range. Yes, you're correct. It's obviously a short-range ammo. With the correct optic, 300 Blackout cartridges may be pushed to medium-range.
For one thing, the round has grown in popularity in 3-Gun competition because ranges are often shorter than other competition types. Having said that, the 300 Blackout is not the ideal choice if the 3-Gun range exceeds 200 yards. Yes, it will strike, but not with precision.
Furthermore, the 300 Blackout is an excellent choice for close-quarter battle or home defense.
A low magnification scope is ideal for both of these applications. In general, I'll recommend a 3-9x magnification scope for this cartridge. For home defense, you need a scope with a 1x magnification as its starting power, which implies no magnification. This guarantees a wider field of view while aiming at near targets.
There are numerous scopes available with reticles designed specifically for 300 Blackout cartridges. These are mil-dot and BDC reticles with holdover markers that are properly positioned for the 300 Blackout cartridge ballistics, making it simple to get your aim point.
These reticles may be really handy, especially if you're firing at the higher end of the 300 blackouts effective range. However, they are not required, and many shooters prefer something simple like a red dot sight or duplex reticle at close quarters.
Because of the short range of the 300 Blackout, scopes for the cartridge often incorporate Second Focal Plane reticles. However, there are some exceptions.
Factors To Consider Before Choosing a 300 Blackout Scope
When it comes to scope selection, the 300 Blackout might be difficult to choose. The decision is frequently based on personal preference rather than performance. The majority of current scope manufacturers create scopes with great performance. The key to getting the appropriate scope is understanding what you need from the scope and rifle combo.
Another consideration is matching the scope to a caliber. When I examined the 300 Blackout, I discovered various distinguishing traits and performance variables that affected my selection. The major ones are;
Intended Uses – I designed my 300 Blackout specifically for hunting feral pigs. The scope had to be compact and lightweight. I wasn't very interested in long-distance shooting.
Gun Configuration – Because my rifle is a short barrel rifle, my shooting ranges are often no more than 150 yards. Most time, the action takes place at distances between 75 and 100 yards; thus, high magnification is not required.
Suppression – A 6-inch suppressor is also included with the weapon. To get the most out of a suppressed 300 Blackout rifle, use subsonic ammo. Magnification is not necessary in the short range.
A Guide to Choosing the Best 300 Blackout Scope
When selecting 300 Blackout scope, take the following factors in mind:
Image Clarity
A scope may have the best reticle, magnification, and other qualities, but if the sight image is hazy, dull, or poor, it's a useless scope.
You need a scope that has clear and high-quality lenses that are free of distortions. The lens of the scope should be fully coated, preferably multicoated, for optimum light transmission and glare-free image. A lens coating that is scratch-resistant is also beneficial for protecting and preserving the lens quality.
Durability
You don't want to waste your money on a scope that would break after a few usage, especially if you're in the middle of a competition or hunt.
You need a scope that is waterproof, shockproof, and fog-proof. O-ring seals, nitrogen, or argon purging all contribute to durability. Housing made of aircraft-grade aluminum is light and tough.
Fixed power scopes have few parts and, as a result, are less likely to break than variable scopes. However, this comes at a significant sacrifice in terms of adaptability, which many shooters do not believe is worthwhile.
Value
Likewise, you want a scope that gives value for money. After all, only a few people can afford just any scope they want.
Before getting carried away with extra fascinating features, be sure the scope has all of the crucial characteristics you want for your objectives. Furthermore, before investing on those features, evaluate how often you'll actually use them.
Look for reputable manufacturers to ensure quality optics at your pricing point. All the brands mentioned in this list provide excellent scopes. I've included optics spanning a wide price range, from $100+ and above, so there are possibilities for nearly any budget.
Diameter of the Objective Lens
The size of image you see in the scope is defined by the objective lens and magnification. Higher magnification optics, in general, need a larger objective lens. Magnification is modest in this scenario; therefore, a lower objective lens, such as 32mm or 24mm, is sufficient.
Lens and Glass Coating
The quality of the lens and glass coatings is what defines a scope. They are, however, not inexpensive. If you have the budget, then a Fully Multi-Coated lens and lenses with ED (Extra Low Dispersion) are great. These features reduce abnormal colors, increase image quality, and extend the scope's life (Scratch-proof and Waterproof).
Reticle
There are three types of reticle patterns.
Simple- Duplex,V-Plex, NikoPlex, Dot, and so on.
MOA, Mil-Dot – Crosshairs
Bullet Drop Compensation tailored to specific rounds.
This is a personal taste since you may use any scope with an intended range of less than 300 yards. The uncluttered look of the simple reticle is enhanced by the BDC, which provides an estimated bullet drop. Due to differences in grains, muzzle length, environment, and other factors, the BDC reticle will provide an "approximation" rather than a precise bullet drop.
MOA and Mil aren't required for short-range, but they're nice to have.
Reticle Illumination
The purpose of illumination on a reticle is to speed up target acquisition. Illumination makes it easier for you to see the reticle, especially in low-light situations. Lighting should also work in bright sunlight. Another factor to consider is battery life.
Turrets
Windage and Elevation turrets for your 300 Blackout is a set-and-forget kind of thing. The main point is that they are simple to zero, hold zero, and do not alter accidentally. Features like Zero resettable, audible and tactile clicks are all desirable attributes.
Best Scope for 300 Blackout Reviews
1. Primary Arms SLx ACSS Raptor Reticle
For some reason, the SLx series of scope is undoubtedly the most popular Primary Arms rifle optic. The entire series is excellent, but the Primary Arms SLx 1-6x24mm sight with an ACSS Raptor reticle is the best scope for 300 Blackout rifles.
The ACSS Raptor 300 Blackout reticle has holdover points that correspond to the ballistics of the ammo for smooth elevation adjustment. It is comparable to Primary Arms' original ACSS, but this one comes with full illumination, and it has a bigger horseshoe for quick target acquisition.
This 300 Blackout reticle scope allows for a range of about 600 yards. It is accurate at all magnification settings because the reticle is first focal plane. This distinguishes this scope from the others on the list.
The scope comes equipped with an illuminated reticle that has 11 brightness levels and is powered by a CR2032 battery and red LED. It includes a spare battery hidden in the windage turret.
The reticle is not the only thing this sight has going for it. It also includes finger adjustable turrets and a .25 MOA click value. The rapid focus eyepiece enables quick target acquisition. The lens of the scope is fully multicoated, and it provides an outstanding light transmission for a crisp, bright sight image.
Furthermore, the construction of the scope is very rugged. It features a single-piece aluminum body with a hard-coat anodized black matte finish. It is shockproof, fog proof, and waterproof. It also includes a lifetime warranty.
This scope can be easily mounted on 300 blackout rifles without stress.
2. Trijicon ACOG Rifle Scope
If you need a fixed power scope for your 300 blackout rifle, then the Trijicon ACOG scope series is a good option. It is available on Amazon in a variety of fixed magnification.
Crosshair reticles designed for specific rounds are available on the higher magnification variants (4×32, 3.5×35, and 3×30). If you want to choose any of these, ensure you pick the best one for your 300 Blackout rifle.
Although, the 2×20, 1.5×24, and 1.5x16S magnification variants feature simpler reticle shapes that may be used on any cartridge.
Every Trijicon ACOG scope features an illuminated reticle, no matter the reticle design or magnification it has. Most reticles have green, red, and amber lighting options.
Furthermore, the lighting on most Trijicon ACOG scopes differs from that of a standard illuminated reticle. The majority of ACOG scopes use tritium and fiber optic lighting enabling always-on illumination without the need for a battery.
With these features, running out of power would not be on your worry list. Another unique thing is that the reticle's brightness changes automatically depending on the light condition in your environment.
The 4x magnification, on the other hand, is available with green and red LED reticles. These are powered by an AA battery and feature six brightness levels.
Trijicon ACOG scopes are also developed for use with Trijicon's Bindon Aiming Concept, which integrates a "both eyes open" style of shooting for improved situational awareness.
Since these scopes have a fixed magnification, they are built with fewer moving components and hence a longer lifespan.
The scopes are also fog-proof, shockproof, and waterproof. They have tough, well-constructed casing for added durability.
Trijicon ACOG, in fact, are a favorite option among military marksmen, and they have been extensively battle-tested in a variety of weather situations.
Finally, the Trijicon ACOG scope contains fully multicoated, high-quality, lenses that provide outstanding light transmission in low-light settings, as well as a wide field of vision.
If you are looking for good scopes that can be easily mounted on 300 blackout rifles, this scope is for you.
3. Vortex Optics Crossfire II
The Vortex Crossfire II series is another excellent optic for the 300 blackout shooting. With over a dozen variants available in different magnification ranges, Vortex Crossfire II is known as one of the most popular rifle optic.
If you need any of this scope for your 300 blackout, I recommend any of the 3-12x, 3-9x,2-7x, and 1-4x magnification options. The Vortex Crossfire II has different reticle styles like the V-Plex, V-Brite, or dead-hold BDC reticle at these different magnification ranges.
Each of the Vortex Crossfire II scope models features a fully multicoated lens that maximizes light transmission while minimizing reflection. They also include a fast-focus eyepiece and reset turrets that may be changed without the need for a tool. The Crossfire II is highly durable. It is fully fog proof, shockproof, and waterproof. The main tube is a single piece of aircraft-grade aluminum with hard-anodized finish.
Adjustable parallax is available on some models, which might be handy for close-range shots.
Crossfire II versions range in price, depending on the objective lens, magnification range, and reticle selection. Ensure you buy the normal model, don't buy the SCOUT model.
4. Trijicon VCOG 1-6×24
This is one of the best 300 blackout scopes available, and it is used by the military.
The Trijicon VCOG comes with a Thumb Screw Mount and Green Segmented Crosshair Reticle. The scope boasts a crystal-clear lens. Unlike some other riflescopes, you can aim with both eyes open at 1X magnification, which can be executed at close range.
The scope has a magnification range between 1x-6x. It also comes as a nitrogen-purged scope, making it fog proof and totally waterproof.
It's made to last. In reality, the scope meets the military's most strict criteria. It will not break. It has a long eye relief of about 4inches, so you can be sure your face is safe.
To top it all off, the Trijicon VCOG reticle is ideal for close-quarter warfare and exceptionally tight shot groups. That is why I included this Trijicon scope in my list of the best scopes. The only disadvantage is the cost. However, in this situation, you truly get what you paid for. It is a first focal plane scope.
Do you want the greatest 300 blackout scope you can find? The Trijicon VCOG is just what you need.
The technology is actually years ahead of other scopes in the market. Some even argue that it is far superior to an ACOG.
Trijicon offers Limited-Lifetime Warranty, so you have nothing to worry about.
5. Sig Sauer Bravo3 Horseshoe Reticle
Sig Sauer's BRAVO series has everything you could desire in a small form factor that is hell-bent on providing the operator with options and combinations that extend far beyond the confines of a single optic. This optic is reflex-friendly, featuring Picatinny rails on the three sides for usage in conjunction with a reflex, red dot, or possibly your favorite accessories such as a laser, IR strobe, flashlight, and so on.
You cannot but notice how wonderfully useful and well-made the scope is despite its little weight. In reality, the entire weight is about 22 ounces, which is done by making the body from magnesium – an extremely robust and lightweight material.
The scopes are also created and designed as part of the Sig Sauer's Stealth ID program, which tries to alter the shape of an optic to increase concealment and reduce light reflection so that your position stays hidden from the adversary. This Stealth design, along with anti-glare coatings, makes the scopes more difficult to notice from a distance.
The BRAVO series was designed with an improved field of vision in mind, primarily for military and law enforcement purposes. They created an optical arrangement for field of view called "MEGAVIEW," which boasts a 40 percent larger FOV.
BRAVO 3 has an insanely wide field of view when compared to the other optics. That Field of view comes at an acceptable 10 degrees with less than 3inches of eye relief, which I believe is fairly decent and absolutely meets their target.
This scope looks fantastic and is light thanks to quality materials, but how does it function in tactical situations? No issue, you'll get a full IPX8 waterproofing certification and a totally sealed platform that is fog resistant. Going a step further for tactical scenarios, the mounting height is 1.535″ off of a regular M1913 Picatinny rail, making it ideal for NV systems. It's apparent that Sig Sauer thought of everything and fine-tuned them for a fast and tactical precision shooting.
Normally, I start by reviewing the optics, but this scope has so much to cover, and I almost forgot. The scope clarity is excellent, just like you'll find on the majority of Sig Sauer optics.
What you're hearing now undoubtedly sounds familiar, and that is because the Sig Sauer BRAVO series uses the same kind of optics that are used in their best scopes. This means you'll receive the sought-after patented low dispersion lenses, as well as the Sig Sauer HDX complete light spectrum, not leaving out the lens coating that is high-resolution. And yes, they considered how to safeguard these exceptional lenses by further coating them with their oleophobic LENSHIELD. This makes the lens waterproof and resists scratches.
Personally, I would choose the BRAVO3 that comes with a 3x magnification because it is cheaper and very efficient for 300 blackout rifles.
6. Sightmark Wolfhound 3×24
The Sightmark Wolfhound optics is considered one of the best 300 Blackout scopes because it is quite versatile and can handle a wide range of shooting applications. As a result, it is useful for target practice, home defense, and long-range hunting.
The multi-coated lenses provide a bright, sharp, and clear image, and the reticle's illumination adjustment throughout five distinct levels is commendable. Whether it's day or night; this sight will function admirably since the reticle adjusts to different lighting situations. Another interesting characteristic is that the lenses are scratch resistant.
The scope is made of high-quality aircraft-grade aluminum, and it has an inbuilt Picatinny rail.
The scope is water-resistant and dust-resistant, having a water resistance rating of about 10 feet. This sight can operate in high temperatures, and its rugged build helps it absorb perceived recoil.
This Sightmark Wolfhound scope model is a suitable choice for 300 Blackouts rifles and is made of high-quality materials. It performs well for a variety of shooting situations.
7. Vortex Optics Strike Eagle
The Vortex Strike Eagle scope is a fantastic scope for the 300 blackout shooting.
The 1x-6X variable magnification is fantastic for 300 BLK. The scope comes with a 24mm objective lens that allows a shooter to strike targets reliably from medium to long-range distances. You can approach point-blank targets even at 1X magnification. You could also choose to scale upwards, but you're sure of incredible adaptability as you change the magnification.
In my opinion, the higher the magnification, the more potential you gain for quick firing since you obtain range cues from the reticle. The lenses on the Vortex Strike Eagle are multi-coated and of excellent quality, and they provide a clear view of images and exceptional performance in low light conditions.
The Strike Eagle comes as a glass-etched and illuminated BDC reticle scope. It has eleven distinct settings and is powered by a CR-2032 battery. This function allows you to easily modify the brightness settings to fit the conditions you're working in. One fascinating feature that shooters like is the rapid focus slider located on the eyepiece of the scope, which always makes the reticle perform at its best.
This scope is made of an aluminum tube that is 30mm in diameter, and it is quite durable. Another great characteristic is that it can tolerate tough situations due to its outstanding fog resistance, shock resistance, and water resistance. Additionally, the scope has an eye relief of 3.50-inch that works nicely, weighs about 18.5 ounces, and has a length of 10.5 inches. One of the downsides of the scope is that it is pretty heavy.
This scope has excellent adaptability, speed, crisp sighting, and weatherproof capabilities. As a result, it is worth the price and suitable for a wide range of shooters.
FAQ
Of what Good Is a 300 Blackout?
The 300 Blackout rounds are excellent for a variety of high-quality guns. They're great for hunting, plinking, home protection, and target shooting, among other things. Because they are made with high-quality ingredients, these rounds may appear a bit pricey. The 300 Blackout is durable and has been tested in a variety of military environments.
What is the 300 blackout shooting range?
The M4's maximum range on a point target is 500 meters. The effective range, however, is 460 meters. The range is also affected by the bullet type.
Is a 300 blackout worth it?
Yes. It is completely worthwhile. It boasts a larger selection of bullets and can be used with two different types of ammo. Subsonic ammunition and supersonic ammunition. It is also a feasible home defense strategy.
Is 300 Blackout more effective in stopping?
Yes. The stopping power of the 300 BLK is greater. The cartridge's primary purpose is to provide higher stopping force even when fired from a short-barreled rifle or an Ar pistol.
What 300 Blackout grain is a subsonic ammunition?
At 220 grains, 300 Blackout is a subsonic ammo, meaning it travels slower than the speed of sound. It is advantageous since it does not generate so much sound by traveling at a supersonic speed. A supersonic ammo has a faster speed than a subsonic load.
What is the optimal magnification for a 300 Blackout scope?
Most hunting takes place within a range of 200 yards or more, and a 4X or 3X magnification should be ideal. If you wish to hunt at greater ranges, you may acquire scopes with more variables that allow higher magnifications.
Is 300 Blackout good for hogs?
These wild hogs were not shot by a 300 Blackout but by its parent case, the 221 Fireball! If a 50-grain Fireball bullet can kill a hog, then the 300 Blackout ammo should have no trouble.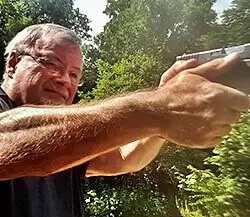 Mike Hardesty is a published freelance gun writer. With dozens of articles and reviews published in Pew Pew Tactical, Snipercountry.com, and TTAG (The Truth About Guns), Mike is considered a firearms expert. His special area of expertise is handguns.
Mike is a long-time shooter. He has been punching paper targets, taking deer and other game and shooting at competitions since about 1975. Other related pursuits include reloading and bullet casting. He currently reloads for over 10 calibers, both handgun and rifle. His reloads, particularly for 9mm, were in great demand during the height of the ammo shortage among family and friends. He donated hundreds of rounds to informal shooting sessions. He was quoted as saying "I do not sell my reloads but I sure will help my guys shoot 'em for free!". He has a few cherished firearms that he has inherited or otherwise procured — those are his favorites.
He earned B.S. and M.S. degrees from Indiana State University in 1974-1975.
He's a firearm experts and is the founder of mhardesty.com.