The 338 Lapua is one of the largest rifles for long range shooting. This weapon can comfortably punch any target at 1,000 yards or beyond.
You'll need a strong optic to use the 338 Lapua's power and range. A scope that is tough enough to withstand the enormous recoil and is still packed with great features is what you need.
THE .338 LAPUA
The .338 Lapua Magnum is a big cartridge that can deliver a perfect blow on your target. This beast is not like one of those weaker bullets that go unnoticed; everyone notices the firing line of the 338 Lapua Magnum when shot.
This weapon is not designed for your typical deer hunting or 100-yard plinking.
To enjoy the full power of this monster, you must shoot at long range. I mean 500 yards at the very least, and a 2,500 yards shot is still within range for the 338 Lapua Magnum.
Although I wouldn't advocate it for ethical reasons, the .338 Lapua may be a great weapon at 1,000 yards on large animals such as moose or elk.
You'll need a good sight to take full advantage of this cartridge's capabilities. Nothing ordinary will do. You need the best scope. Since this cartridge is efficient at long range, you'll need a long range scope.
Why You Need A Good Scope For 338 Lapua
As previously stated, the 338 Lapua is a costly and high-powered cartridge. You need big league optics to execute any shot accurately, whether you're shooting at 2,500 yards or hunting a game around 500 yards.
And, given the exorbitant price of rifles and ammunition for this caliber, if you can afford the cartridge, you should be able to pay for the best scope to match. If not, go for something like the 300 Win Mag.
Every scope in our list is a top-tier scope model. They all have a good track record in competition across several disciplines, and some have proven reputations in combat.
Choosing any of the listed scopes will help you to get the most out of your ammo and rifle.
Testing Your Scope
When comparing scopes for this caliber, keep in mind that there would be a small variation since they are all the best on the market. The term "best" is subjective. Every shooter has a unique perception, and this is especially true when it comes to what we see. We are biologically distinct. Therefore, the best optic, in my opinion, may not feel great for your usage. This is very normal, even anticipated.
Before you spend that $5,000 on a scope, give it a thorough examination and testing. You should get behind them and take some shots at different distances. This is a sure way to determine what suits you and what appears to be most important to you. If you cannot get behind them, then you can see them through other people's eyes, like this review.
What Factors Are Most Important?
Choosing a brand or model might be a little daunting. We would look at the key parameters that I believe are most important when you want to look for a scope that meets your demands.
I know you can't wait to get your scope and go hunting. But getting a precise rifle scope is the most important thing in the world. Before you begin looking for your scope, here are some basic considerations you should look at. These factors, if properly analyzed and measured, would help you determine the best scope for your particular need. Many beginner shooters would buy a scope and try to use it before they discover it doesn't meet their shooting application.
Magnification Range
This is the amount of magnification or zooms the scope provides. It is usually written as "5-25×56." The numbers "5-25x" represent the least and highest magnification. At the most basic level, the "5x" will bring your target 5 times closer. While the "25x" will look 25 times closer to your eyes. If you dial down the scope, it will allow you to see more areas clearly. Note that it is possible to have too much magnification. When magnification is too high, your eye box (the space between the scope and your eyes) becomes very narrow, mirage becomes a major issue at long range, and spotting or tracking a target becomes considerably more difficult.
There are higher magnification scopes that are 40x or higher, but they are typically reserved for special ELR rifles or well-known ranges like the F-Class. Because 338 Lapua is used for Long Range, a sight with 35x-40x magnification may be beneficial. In general, I would recommend a maximum magnification of 30x for 338 Lapua rifle shots at 500 -2,500 yards.
FFP or SFP
The First Focal Plane and Second Focal Plane are basically the places where the reticle is placed on the scope.
When magnification changes, the reticle size will not change since it is in the SFP. The reticle will always be the same at 4x, 8x, or 25x.
An FFP scope is a direct opposite. The reticle's size will vary according to your magnification. Although, your reticle might become quite tiny and difficult to utilize at low magnification. This is somewhat dependent on the scope.
An SFP scope is good for hunting or short range. FFP optics are designed for long range shooting and need you to use a mid-range setting where the reticle is large enough for use. Because the 338 Lapua is a designated long-range cartridge, SFP isn't really good, while FFP offers several benefits.
Click here to read more about FFP versus SFP.
Weight
A 338 Lapua rifle would definitely be a big gun. The scope's weight shouldn't be an issue.
A heavy scope usually has more features and superior glass, while most lighter scopes usually forego some features. Lighter scopes are ideal for hunting or anything else where you'll be moving with the rifle about,
Field of View (FOV)
The Field of View describes how much you can see from side to side in a scope. Isn't it too straightforward?
In general, I don't pay much attention to the advertised FOV of a scope because they are almost always the same. Although a few scopes stand out, they are quite uncommon. I'm not concerned about obtaining the best FoV because I can always adjust it down.
Illumination
It's unusual to find a decent scope without illumination these days, although it's missing in some more affordable scopes. The reticle will light up if it is illuminated. The scope determines the parts of the reticle that is seen when illuminated. Sometimes you'll only see the center of the reticle; other times, the entire thing.
The most popular color is red, however, more scopes are available in red, green, or even both. Because battery life varies considerably, keep a spare battery always and switch it off when not in use.
Why should you care? Illumination may be really useful at times.
Durability
If you're spending a couple of hundred or thousands of dollars on a rifle scope, you want to be sure it can endure and last as long as you want. Cheap scopes are certain to be ruined after just a few shots. The 338 Lapua Magnum needs a scope as powerful as the bullet it fires.
To prevent bumps, scratches, and rips, scopes manufactured of aluminum alloys with anodized exteriors are best. Also, you need a lens that won't be damaged by adverse weather.
Lenses that have been purged with Argon or nitrogen and have O-ring seals are normally dust proof, fog proof, and waterproof. They also have a high level of shock resistance. A lifetime guarantee on a scope might also be a good thing.
Eye Relief
Considering the heavy recoil given by a 338 Laupa, eye relief is critical. You must have at least 3.5 inches of eye relief, ideally more.
If you are shooting from an unusual angle or posture, there's a good chance the scope will touch your eyes when you don't have enough eye relief.
Best Scope for 338 Lapua
Here are our top picks for the 338 Lapua scope.
1. Athlon Optics Argos BTR Riflescope 6-24x50mm Gen 2
Athlon Optics is your go-to scope manufacturer for high-powered and high-quality rifle scopes. This scope is good for long range shooting, and it has completely multicoated lenses, a superb reticle, and a number of other features that makes it a great choice if you want to combine a rifle scope with a 338 Lapua rifle.
Let us take a look at a few other reasons why the Athlon Optics Riflescope is such an excellent choice for this weapon.
To begin, the scope has magnification settings ranging from 6x to 24x. This wide magnification range makes it an excellent optic for a sniper regardless of the weapon with which it is used. It also has a 50 mm outstanding objective lens that gives a very clear image even at the highest magnification levels.
However, it also has a first focal plane reticle that stays true and accurate at whatever magnification level; this type of reticle is the best for experienced snipers when compared to the second focal plane variant. Also, it has a reticle that is etched directly on the glass. The scope is highly durable as a result; it gives the rifle additional support when recoiling, reducing the tendency of a scope bite. This is an excellent point when paired with a high-powered and heavy recoil rifle such as the 338 Lapua.
Also, the Athlon optics has an illuminated reticle that may be lighted for increased visibility at night and morning. The illuminated reticle can be adjusted with a knob that is close to the eyepiece. The lenses are multi-coated for improved light transmission, and the scope is designed to last a lifetime. It is composed of a well-treated aircraft-grade aluminum tube that's been fog-proofed and waterproofed for use in bad weather.
We'd also like to emphasize the elevation and windage adjustment turrets, which provide tactile feedback like the parallax turret on the opposite side.
The Athlon optics scope is a good scope for precision shooting, it is a durable and reliable scope for the 338 Lapua, and that is why it is the first scope on our list.
2. Leupold MARK 5HD 7-35x 35mm Riflescope
Leupold makes a variety of rifle scopes that work well with the 338 Lapua magnum. However, the pricing is the primary problem here. Asides from that, this scope is a good one, and it can help you get the job done neatly. It is great for precision shooting.
I chose the Leupold MARK V rifle scope because I use it for long range shooting in 6.5 Creedmoor Bolt Action Rifle, and a simple switch to the 338 Lapua would not be a problem.
The Leupold MARK scope has a first focal plane mechanism, which is ideal for snipers and sharpshooters. The scope is also useful for target games at great distances or with shorter precision shooting. The M5C3 turret used on this optic is a 1/10 mil per click turret that enables 30 mils of elevation adjustment in 3 turret rotations.
The scope uses Leupold's Twilight Max HD light control system, which adds about 30 minutes of light every day. This optic is manufactured to military specifications (mil-spec) and has a strong, waterproof matte coating on the outside.
The Leupold Mark V was designed and assembled in the United States.
3. Vortex Optics Viper HS-T 6-24x50mm SFP Scope VMR-1 MOA
Bringing together the greatest features of Vortex's extremely popular Viper HS and Viper PST riflescopes. The Vortex Viper HS-T (Hunting Shooting Tactical) scope is another personal favorite for long range shooting when combined with the 338 Lapua Magnum.
So why is this scope so special?
The Vortex Viper scope has a lot of outstanding features that make it one of the best scopes for 338 Lapua. This scope has a magnification range between 6X and 24X, making it a perfect optic for long range shooting. It has a 50mm objective lens that allows a shooter to zoom very far while maintaining a huge, clear image on the lens. The barrel measures around 15 inches in length.
Another feature I love so much is that the hashmark-based SFP reticle is perfect for long-range holds. The markers are excellent for wind and targets that are moving.
This scope's exposed-type turrets are designed for accurate and repetitive finger clicks. A zero-step enables a speedy return to zero following temporary elevation adjustments. This, in conjunction with the side focus parallax adjustment, completely eliminates parallax and allows for optimal focus.
The rapid focus eyepiece and broad field of view allow a shooter to adapt the reticle to the eye position while keeping the target in focus. The scope has a 4-inch eye relief that ensures your eyes are never in danger. The visual quality also distinguishes this scope from the competition. It has extra-low dispersion and multicoated lenses that bring the image to life with stunning resolution and contrast. The XR coatings improve light gathering, whereas the lens is protected by Armortek coating.
4. Vortex Optics Razor HD 3-18×50mm Riflescope
Here is another great optic on the list of the best scope for 338 Lapua.
The Vortex Razor HD is a long range shooting optic, and it is used by law enforcement and the military. The Vortex Razor HD is intended for use by the new breed of long range precision shooters who are now moving to the top of the list of progressing sports shooting competitions.
This scope is available in 12 configurations or models. Everything a shooter needs is present in the 12 configurations.
The scope employs the Vortex L-TEC turret mechanism, which includes a locking device to prevent inadvertent adjustment while in use. The Horus H59 model has an etched reticle crosshair technology that operates with MRAD units rather than MOA graduations. For quick wind/elevation adjustments, the scope incorporates a windage tree in the bottom quadrants.
The superior high-density optical glass used in the APO optical system produces superb image quality. This scope is a high-end scope with high-quality components. Armortek coatings on the lens protect it from scratches, dirt, and oil. The scope is fully multi-coated with an O-ring seal and argon purged for waterproof and fog proof performance.
5. Primary Arms 4-14x44mm Riflescope MIL-DOT
This scope is one of those products usually picked by shooters seeking a low-cost, high-value scope. This rifle scope has a good construction; although it may not be as high-quality as that of more costly scopes, but it is still a suitable match for the 338 Lapua.
The scope is made of a first focal plane Non-illuminated reticle. However, this 338 Lapua rifle scope does not have increased light gathering capabilities, so if you're shooting in low-light conditions, you might have to get an illuminated reticle.
This scope can be used for hunting or in shooting range settings.
This is an excellent product for a shooter that needs a nice scope at a reasonable price. Another reason many shooters like this scope is that it is lightweight and simple to use.
What Should You Do Now That You've Purchased a Scope?
After the stress of spending much money, it's time to have some fun! Mounting or zeroing your scope is a simple technique that every shooter should be familiar with.
If you truly don't want to do it yourself, you can usually pay a random person or a gunsmith at your local range. I strongly advise you learn to do it yourself.
All you just need is to get the right scope mount and scope rings. With the right tools like a torque driver, you can easily do a scope mount with the scope rings. This topic deserves its own post, so I'll leave the specifics out of this article. Check out our how to mount rifle scope article.
The process of setting your scope's aim point to match the bullet's point of impact (POI) at a specific range is known as zeroing (100 yards is a standard).
My recommendation is to start with close-range shots. Setting your aim at 100 yards after hitting 25 and 50 yards on paper will save you time and effort.
Learn how to zero a rifle scope at 100 yards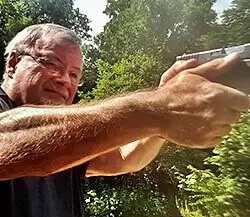 Mike Hardesty is a published freelance gun writer. With dozens of articles and reviews published in Pew Pew Tactical, Snipercountry.com, and TTAG (The Truth About Guns), Mike is considered a firearms expert. His special area of expertise is handguns.
Mike is a long-time shooter. He has been punching paper targets, taking deer and other game and shooting at competitions since about 1975. Other related pursuits include reloading and bullet casting. He currently reloads for over 10 calibers, both handgun and rifle. His reloads, particularly for 9mm, were in great demand during the height of the ammo shortage among family and friends. He donated hundreds of rounds to informal shooting sessions. He was quoted as saying "I do not sell my reloads but I sure will help my guys shoot 'em for free!". He has a few cherished firearms that he has inherited or otherwise procured — those are his favorites.
He earned B.S. and M.S. degrees from Indiana State University in 1974-1975.
He's a firearm experts and is the founder of mhardesty.com.