Are you looking for a high-quality and affordable scope for your 350 Legend cartridge shooting? Your search has come to an end. Continue reading to find out more about this caliber!
With so many rifle scopes on the market, a shooter can become confused when choosing an optic, especially if you do not have a buoyant budget. Every shooter wants a low-cost optic that will match all their shooting needs and last for years. A good scope on your 350 Legend rifle will provide the speed and accuracy you need for fast target acquisition.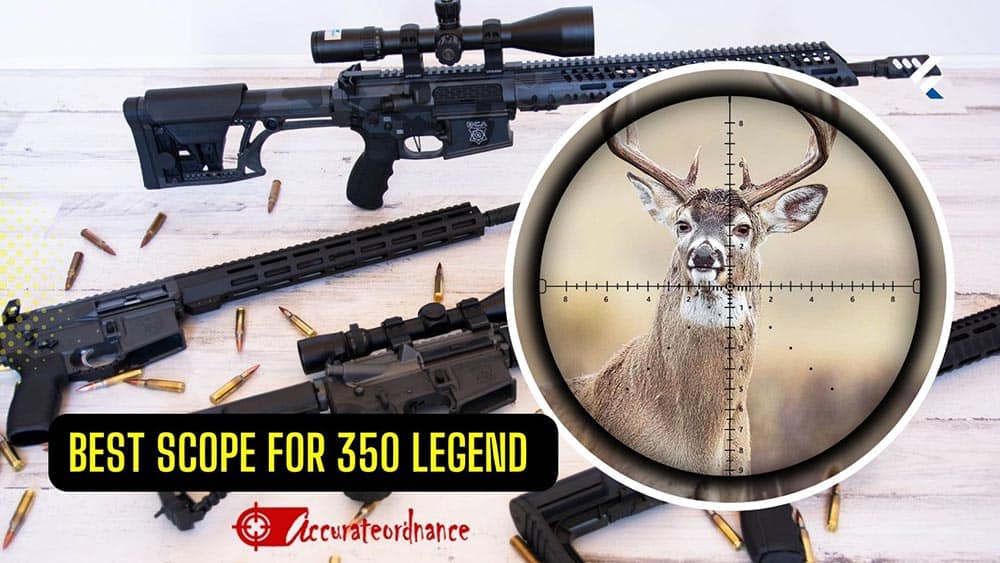 The scope that you would choose must be tough enough to endure the rigorous outdoor conditions as well as the powerful recoil produced by a 350 Legend cartridge. The optic should also have great optical clarity and be fog proof and waterproof.
Here are our top picks 350 Legend Scope :
What Features Define a Good 350 Legend Scope?
The 350 Legend is a straight walled cartridge. The high velocity and unequaled stopping power are some of the few features that have made this round popular among deer hunters.
To fully exploit this round's potential, you'll need a specialized scope that has both high-quality optic as well as a durable construction for excellent performance and longevity. Quality optics are very important in a 350 Legend scope. To enhance light transmission in different lighting circumstances, the scope must be composed of high-quality glass and have several lens coatings.
Another key feature is the strong build. To guarantee consistent and dependable performance, the tube that houses the optics should be composed of materials that can stand the test of time. To ensure the scope is weatherproof, it must have dry gas purging and effective sealing.
This 350 Legend cartridge needs a powerful scope. A magnification range of 3x-9x will let you sight the distance comfortably. The adjustment turrets on the scope will help in covering the distance. Make sure the scope combined with the cartridge tracks well and has dials that are dependable,  audible, and repeatable.
350 LEGEND RIFLE
There are so many rifles that can use the 350 Legend caliber. Let's look at one sample.
SAVAGE ARMS AXIS II XP 
The SAVAGE ARMS AXIS II XP is a bolt action rifle that has been revamped to provide hunters with greater performance at a reasonable price. Apart from the excellent ergonomics, this bolt action rifle includes an adjustable AccuTrigger, factory-mounted and bore-sighted Bushnell 3-9x40mm riflescope. The robust composite stock and the barrel are perfectly balanced. There is no doubt that any or all of the optics mentioned in the scope review would be effective when mounted on this rifle.
Best Scope For 350 legend Detail Reviews
1. Leupold VX-Freedom 3-9x40mm Scope
Leupold is a well-known brand in the world of optics. This scope brand has so many types of high-quality and durable scope, but the VX-Freedom is the best Leupold scope for 350 Legend cartridges. This riflescope has many quality features that give outstanding performance and exceptional value for money, and it can be mounted on the rifle like the savage arms axis xp.
This scope is defined by its unrivaled performance and adaptability. It has a matte black finish and a variable magnification range of 3x to 9x, making it suitable for both short-distance and long-range shooting. It is based on Leupold's sophisticated optical technology, which ensures exceptional image clarity.
The scope also has the finest glare reduction, allowing a shooter to hunt comfortably in direct sunshine.
Furthermore, it has Leupold's CDS dial, which allows you to tune and adjust the dial to the specific ballistic and environment you are shooting in. 
It also has a conventional eyepiece lock that helps a shooter to lock in a comfortable focus setting.
Finally, it is made of aluminum, which increases its strength and durability while staying lightweight. The VX-Freedom is the best Leupold scope for the 350 Legend cartridge.
2. Vortex Crossfire II 3-9x50mm Scope
The vortex optics crossfire II is another excellent rifle scope for deer hunting if you are using a 350 Legend cartridge. The Vortex Crossfire II is Straight Wall BDC Scope that has a lot of fantastic features every hunter needs in the field. The scope has a matte black finish. It is easy to use, and it works well with a 350 Legend rifle.
This Vortex Crossfire II scope has an adjustable magnification range of 3x-9x, making it an excellent optic for deer hunting at different ranges. It has a large field of view for easy target recognition and enormous eye relief for fast target acquisition.
The scope has a fast-focus eyepiece that allows for quick and easy reticle focusing. Also, the lens of the scope is fully multi-coated for a bright and clear view.
This riflescope is made of aircraft-grade aluminum and is well-crafted. It can withstand the tremendous recoil produced by the 350 Legend cartridge; it is also shockproof.
Furthermore, the scope is sealed with O-rings which prevents moisture and dirt from entering, and it is nitrogen purged to avoid fog buildup when the weather is chilly or rainy.
3. Sig-Sauer Whiskey3 3-9x40mm Rifle Scope
This Sig Sauer rifle scope is suitable for close or medium-range hunting. It includes a flexible 3x zoom in the SFP and a variety of reticle configurations.
The big 40mm objective lens produces extraordinarily brilliant images at all zoom levels. It also has low dispersion glass, which delivers excellent optical clarity in low-light conditions.
The scope also has a European-style eyepiece that enables smooth, rapid, and precise adjustment of the reticle for fast target acquisition. When it comes to the build of the Sig Sauer scope, it is composed of high-quality materials to optimize its durability. The scope is waterproof to IPX-7 standards and fog-proof.
4. Vortex Optics Diamondback FFP Scope
Do you need a good scope for the .350 Legend? The Vortex Diamondback is a great scope for deer hunting and precise shooting. This scope has a dual function because you can use it for hunting with a savage axis ii xp rifle and also use it for long-range shooting in another rifle.
The 4-16x magnification scope sits at the crossroads of accuracy and value, offering an excellent set of features.
The Vortex Diamondback has a tactical turret and a parallax knob that provide shooters with easy access to elevation and windage changes in the field. The rapid focus eyepiece facilitates reticle focusing.
Because it is not a BDC reticle built specifically for a particular caliber, it may be used on various rifles. So whether you have a savage axis ii xp rifle or any other rifle that is not built for the 350 Legend caliber, you can still make the best use of this scope.
It is an FFP reticle scope, and the glass-etched reticle maintains subtension accuracy as magnification changes. This scope can survive a fall with its reinforced surface that meets military scratch resistance and lens protection requirements.
Buying Guide For The Best 350 Legend Scope
We have briefly looked at some key feature that is needed in a rifle scope for the 350 Legend shooting. Now let's take a deeper look at these features. What are the most important factors to consider before buying a scope for a 350 Legend cartridge?
You can quickly grab a scope from the above selection if you don't want to bother yourself with the recommended guidelines. However, if you're interested in learning more about the 350 Legend scopes, read this in-depth buyer's guide and select the ideal scope for your deer hunting and other shooting needs.
Objective Lens
When selecting a scope for the 350 Legend, the objective lens diameter is critical because it controls the quantity of light that enters the scope.
The 350 Legend is primarily a hunting cartridge, and because most hunting occurs at dawn or twilight, greater light transmission is needed. Riflescopes with larger objective lenses are appropriate for low-light situations.
Light gathering ability and weight should be balanced in a 350 Legend scope. When the scope is bigger, there would be a need for more distance between the barrel and the scope, leading to a higher mount. A higher scope mount will obstruct eye alignment and visual performance, which will affect your accuracy. Furthermore, big objective lens scopes are more costly.
What is the most appropriate lens diameter for the 350 Legend scope? 
A good deer hunting scope should not be larger than 50mm in diameter. A 42mm or 40mm hunting scope is ideal for all-around use.
Optics
Optics are the foundation of every riflescope. As a hunter, you should invest in the best lens on which you can lay your hands. Riflescopes with ED glasses are ideal for most hunting purposes. The glass reduces chromatic aberrations while increasing light transmission, delivering sharp and clear images.
In your optic selection, ensure you choose a riflescope that has a fully multi-coated lens for improved clarity. The lens coating improves light transmission, resulting in brighter visuals all day. Ensure the scope has high-quality glass and that the external lenses have numerous coatings for optimum image quality.
Quality Construction
Performance and durability are intrinsically linked. A quality-built scope will perform admirably and provide you with years of exceptional sighting. When considering the construction quality of scope, there are various factors to consider.
To begin with, the 350 Legend scope should be made of high-quality material. Aircraft-grade aluminum is commonly used to make optical tubes. It is popular because it is durable while being lightweight. Scopes built of this material are long-lasting and reliable.
The weatherproof ability is the second element that should be included in a 350 Legend scope. Dry gas purging and completely sealing the O-rings will keep moisture out and provide weather-tight performance.
Elevation and windage Turrets
Turrets are the adjustment knobs used to tune the horizontal and vertical settings of the sight. The windage turret adjusts the scope's aiming point from left to right. The elevation knob adjusts the scope's aim from top to bottom.
What is the significance of turrets? Shooters make modifications when zeroing a scope; therefore, they play a significant part in deciding shot accuracy. The turrets in your 350 Legend scope should be dependable, repeatable, and create loud clicks when dialed in order to obtain exceptional performance.
The other significant scope adjustment is parallax. If not rectified, parallax can result in missed shots because the target and reticle do not align on the same plane.
Riflescope features a third knob that aids in the removal of parallax and the maintenance of clear view. Other scopes include a factory-set parallax, which eliminates the need to adjust it when aiming. Although the factory-set parallax is usually for a particular range, if it suits your shooting distance, then you would have no need to adjust these settings. 
Main-tube Sizes
The world has evolved past shooting scopes featuring only 1-inch main tube. Manufacturers are now producing scopes with primary tubes measuring 30mm or 34mm. Larger tubes are preferable because they enhance the range of adjustment by allowing better movement of the reticle. They are also more durable and enable easy flow of light, resulting in brighter pictures.
The only disadvantage of using scopes that have bigger tubes is that the rings used to attach the scopes would be heavier and more expensive. Because of the weight, a riflescope may need a bipod, rendering them useless for hunting.
FFP VS SFP
The reticle on a scope can be located on either the first or second focal plane. The reticle in the FFP scopes is the furthest away from the eye because it is located closer to the objective lens, but the reticle in the SFP scopes is closer to the eye.
The SFP is well-known among deer hunters and shooters. The SFP reticle remains static while the magnification is altered. Because of its great resolution and longevity, many shooters prefer this reticle.
The reticle in the FFP changes in size as the magnification changes. FFP scope is not appropriate for close-range shots because the reticle diminishes as the magnification decreases. This reticle is commonly used for long-range shooting with 10x or higher magnification. 
Frequently Asked Questions
What exactly is BDC Reticle?
Bullet drop compensation is abbreviated as BDC. When shooting long-range shots, the BDC reticle can take care of bullet drop. The hash markings on this reticle are intentionally placed to compensate for bullet drop over a certain distance.
BDC reticles are excellent for hunting and work well with straight walled cartridges like 350 Legend cartridges. BDC reticles thrive in large game hunting with the 350 Legend, and most deer hunters that have recorded a lot of success can attest to this. Set it to the maximum power setting to get the best performance from a BDC scope. Accurate shots are obtained by moving the matching line in accordance with the distance of your target.
Why Do You Require a Scope for the 350 Legend?
A decent scope for 350 Legend has several advantages. First and foremost, having a decent scope will aid your eyesight when hunting in low-light settings. Secondly, a scope can help you bring targets that are far away closer to your eye and also boost your chances of executing a precise shot to kill the wildlife in a more humane manner. If you want to optimize your hunting in dense forests where it is almost impossible to see a target clearly with your naked eyes, you will need a scope.
What Magnification Is Needed for a 300 Yards Shot?
If you want to hit a 300-yard target, you'll need a scope with a magnification of at least 3x. A 3x to 9x scope magnification delivers exceptional visual clarity, which every shooter needs in order to strike their targets successfully.
Is an Illuminated Reticle Required?
It all depends on you. If you intend to hunt in low-light conditions, you will definitely need a rifle scope that has an illuminated reticle. The lighting contributes to the high contrast between the target and the reticle.
This allows you to aim properly even in very low light conditions, increasing the likelihood of striking the target accurately.
What is the .350 Legend Designed For?
With its recoil kick and fatal effects on games at 200 yards, the .350 Legend is ideal for hunting coyotes, deer, and a variety of other games.
The 350 legend caters to a fast-expanding hunting market category known as "Straight Wall Cartridge."
In other words, it permits states that formerly restricted deer hunting to short-range slug or muzzleloader rifles to straight-wall centerfire cartridges.
What is the range and accuracy of a .350 bullet?
The .350 Legend has adequate power to reach an effective range of about 250 yards. As a result, any scope that has a high magnification exceeding 7x – 9x might not be for this shooting.
Is the Savage Axis XP Rifle available in 350 Legend?
Yes, the Savage AXIS XP Rifle comes standard with a bore-sighted and factory-mounted 3-9x40mm scope that ensures the highest precision from the 22-inch button-rifle barrel. It has a box magazine that is removable and has a strong synthetic stock.
What do the ballistics of the 350 Legend look like?
A 350 Legend comes in three weights: 180gr, 160gr, and 150gr. A 150-grain round has a max velocity of about 2,325fps, a 160-grain round has roughly 2,225fps max velocity, and a 180-grain round has a max velocity of 2,100fps.
Because of its high velocity, it is suited for both near and mid-range shooting. With a decent rifle, you can go deer hunting up to 250 yards out with these rounds.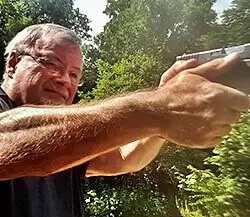 Mike Hardesty is a published freelance gun writer. He also possesses specialized expertise in rifle scopes With dozens of articles and reviews published in Pew Pew Tactical, Snipercountry.com, and TTAG (The Truth About Guns), Mike is considered a firearms expert. His special area of expertise is handguns.
Mike is a long-time shooter. He has been punching paper targets, taking deer and other game and shooting at competitions since about 1975. Other related pursuits include reloading and bullet casting. He currently reloads for over 10 calibers, both handgun and rifle. His reloads, particularly for 9mm, were in great demand during the height of the ammo shortage among family and friends. He donated hundreds of rounds to informal shooting sessions. He was quoted as saying "I do not sell my reloads but I sure will help my guys shoot 'em for free!". He has a few cherished firearms that he has inherited or otherwise procured — those are his favorites.
He earned B.S. and M.S. degrees from Indiana State University in 1974-1975.
He's a firearm experts and is the founder of mhardesty.com.