Despite the thrilling experience most coyote hunters get from predator hunting, it can get a little bit creepy on the field. This is because of the tough and clever nature of these animals. As a result, hunting down those cunning predators can be so gratifying if you eventually pin them down. Coyote hunting necessitates the use of the best rifle for precision shooting. After experimenting with a few rifles, I decided to examine different scopes to determine the best scope for AR-15 coyote hunting.
It is fairly normal for many people to go coyote hunting and come out empty-handed. This failure is not always because the animals were out of sight, but most likely because the coyote hunter went with the wrong weapon. As a coyote hunter, you might begin to have tremendous success after you obtain an accurate hunting rifle scope. You can use the mentions in this review to choose an appropriate scope.
Here are the quick list Scope For AR-15 Coyote Hunting:
What makes the AR-15 great for coyote hunting?
The AR-15 rifle is a popular weapon because it can be modified without the assistance of a gunsmith. A shooter has so many choices of accessories and attachments available to modify the rifle without needing many tools. It's quite simple to tailor an AR-15 rifle to your specific needs.
Most AR rifles, for example, now come with an adjustable stock. It may be adjusted to accommodate any hunter. It will fit whether you're wearing a shirt or a heavy winter coat since you can just stretch the stock to an additional inch or two. Changing your shooting stances can also affect how the rifle comes up. If you're shooting at a low-prone position, a stock usually comes in more handy compared to when you're shooting upright. Having the ability to change things makes a shooter more comfortable and, as a result, more accurate.
AR rifles have extended rails on top where you can connect whatever you want. The first and most important piece of equipment is a red dot sight or a scope. Because they are standardized, you can attach absolutely anything to these rifles.
Various bipods, slings, lights, and other accessories may be connected to the rifle. Set it up based on what you enjoy or what feels comfortable. People choose the AR-15 rifle because they can modify it with whatever they want as time goes on. The pistol grip is another option. ARs with pistol-style grips make shouldering the weapon faster for many users. It is also simple to hold when moving.
Considerations For Best Ar 15 Coyote Hunting Rifle Scope
There are numerous scopes out there for hunting coyote with an Ar 15 rifle, and deciding which one to use might be difficult. It gets even more complicated because these coyotes are cunning. However, while selecting an appropriate AR 15 scope for hunting coyotes, it is important to keep the following considerations in mind.
Magnification
This is probably the most disputed and subjective aspect of selecting a rifle scope, and the debate practically doubles for coyote hunters that want to choose a good coyote hunting scope.
The magnification you require for coyote hunting will vary greatly depending on your location, the rifle you want to use, and even your particular skill level.
To begin, analyze your surroundings. What does the geography of the location look like? What about the terrain? Are you in the woods, marshes, or open plains?
All these factors would determine the magnification range you would be using for coyote hunting. If you live in the South, you might have some of your shots at 300-yard, but most coyote hunters will have them around 150 yards. With this in mind, you would not need a high magnification scope for your Ar 15 rifle. A 3-9x magnifier should be enough for this shooting range. You should avoid closer-range optics such as the Aimpoint.
Those that hunt in the Great Plains may have to take shots that are up to 400 yards and occasionally much more. I've actually taken shots at coyotes from 800 yards out, but only with a gun I understand very well. Personally, I wouldn't feel confident extending out any further.
For longer range shooting, a magnification range between 14x-20x will allow you to notice anything small, such as a coyote, as well as perform an accurate shot. As a result, magnification is critical in identifying the best AR 15 scope for coyote hunting.
Personally, I like a 4-14x adjustable optic. It has a broad enough field of view on the lower end of the magnification setting to make those close-range images clear when the coyote is almost in your lap, but it also has enough magnification to identify coyotes slinking across the grass at 400 yards or more.
Light Transmission
As I previously stated, coyotes seldom cooperate or come out in the open in broad daylight. They have a cunning nature and would prefer to be more active at dawn or dusk.
What difference does it make? A lot, I'll say. If the rifle scope you're using doesn't gather enough light, you won't see the coyote, and you won't even know it's there. A decent Ar 15 scope will be able to gather enough light for at least "20 minutes after dusk," and it may even feature an illuminated reticle to make them even simpler to aim.
So, if you are a coyote hunter that hunts in low light conditions or you live in a place where night hunting is permitted, you will need a rifle scope that can perform much better in this area.
How can one obtain a rifle scope with the best light transmission capabilities? Specifically, choose one with a big objective lens.
A scope's objective lens is the part closest to your target. It's usually measured in millimeter; therefore, when you see a 6-24×40 scope, the last digit in the description shows the objective lens diameter is 40mm.
You also want to make sure you get a high-quality glass that is exceptionally clear and excellent for low light conditions. Personally, I believe that a scope from a reputable brand, such as Vortex, Nikon, or others, is the best AR 15 scope for coyote hunting.
Reticle
There are sophisticated target reticles available that will assist you in estimating distance, automatically judging bullet drop, and correcting for windage and elevation. Do you understand how reticles work? If so, that's fantastic! BDC and Mil Dot scopes are excellent for striking targets at uncertain distances in a variety of settings.
Most coyote hunters are usually content with a basic duplex reticle. Most hunters will benefit more from understanding their rifle, making use of consistent ammo, and practicing elevation and windage holds with a simple crosshair rather than trying to learn how to utilize an MOA, MRAD, or BDC reticle.
If what you want is a reticle tailored to your specific bullet, go for it. Don't let the scope manufacturers convince or entice you with a coyote hunting scope that you are not sure of. Use what you're most comfortable with. I guarantee it will make you a more effective hunter.
Ruggedness
This is the greatest test for any hunting scope. If you are one of those that just walk a hundred yards to a treestand and call out your games, then you don't need to bother about this feature in a scope.
A coyote hunter needs a sturdy scope that won't get scratched or lose its zero. There are so many things that could affect your scope if you're like those of us that have to schlep our rifles many miles, carrying them in and out of the bags or vehicles for shooting at different locations. That is why I propose premium companies with a strong reputation and a good warranty policy.
Nothing is more frustrating than carrying your rifle to shoot at that distant coyote and seeing a large scratch on the lens of the scope, or worse, finding that your zero has changed so much that it's nowhere near your target. The best AR 15 coyote hunting scope must be highly durable!
Visual Clarity
Clarity is another factor to consider before choosing a scope for your Ar 15 coyote hunting. Most times, what you pay for is what you get, and the prospective coyote hunter would be wise to spend a little extra on excellent glass. Coyotes have excellent natural camouflage, making them difficult to notice in their normal environment.
This means you'll need a rifle scope that has good clarity and won't wash out the colors. A scope with high-quality glass, multi-coated, durable, and fog-proof. These are characteristics seen only in more costly scopes. However, optics manufacturer such as Vortex is delivering phenomenally fantastic scopes with these features at extremely low costs.
The focal plane
The focal plane is generally classified as either a first or second focal plane. The first plane allows a shooter to alter the reticle in response to the magnification change.
While the second focal plane has a fixed adjustment; as a result, the reticle does not change with magnification adjustment. The first plane is close to the objective lens, and the second is close to the eyepiece. However, I recommend that you choose the first focal plane since it provides you with enough choices.
Eye Relief
If you don't want a black eye, you must use the proper eye relief. Eye relief is the space between your eyes and the ocular lens; strive to increase it. You need a long eye relief because whenever you take a shot, the recoil forces the scope to move back closer to your eye. The normal and widely accepted eye relief is 4 inches. However, it can be less or more; just use what feels comfortable.
Warranty
A warranty may appear to be unimportant when discussing things to look out for in a rifle scope. However, this is not the case. It plays a crucial role in the choice to purchase an AR 15 scope. An Ar 15 rifle scope might fail due to mistreatment, harsh conditions, or other reasons. The usefulness of a warranty becomes clear at this point.
Popular and reputable brands prioritize this issue and provide an unlimited warranty for their customers. It is easy to trust such brands, and thankfully, I have included some scopes created by some excellent manufacturers with good warranties.
Best Scopes For AR 15 Coyote Hunting
Here are our top picks for coyote hunting AR 15 scopes.
1. Nikon P-Tactical .223 3-9×40 Matte BDC600 AR 15 Scope
If your AR 15 isn't taking down the coyotes, then the problem is not the weapon but the sight. For a successful coyote hunt, you need an excellent scope; let me show you one, the Nikon P-Tactical scope, one of the most durable and reliable scopes I've ever seen. Its performance is both tough and fluid. You'll like its characteristics.
When it comes to lenses in a scope, the Nikon P Tactical scope has a bright lens that is fully multi-coated. Even in the darkest of conditions, this high-tech scope has a one-inch tube that allows enough light transmission. This scope makes lighting conditions beneficial to you, and it has no effects on your eyes.
Nikon P Tactical scope is made of layers of aluminum, providing it with a protective packaging. Even in low light and cloudy circumstances, you can still receive a bright and clear image of the target. This wonderful scope is without a doubt the finest coyote scope for AR 15.
Normally, shooters find it difficult to modify the elevation and windage settings to suit the situation, but with this Nikon P-Tactical .223 scope, you can do it with ease.
The reticle's sharp and clear vision is provided by a smooth revolving ring of aluminum with a sturdy eye protection. This scope's construction improves the shooter's vision and speed. The rapid eye focus function enables the shooter to hit the target in less than a second.
The strong and completely multi-coated aluminum layers are responsible for their resistance to shock, water, and fog. This scope's durability is unrivaled and unbeatable, thanks to its completely multi-coated sheets. It assists the scope in being in the greatest possible condition for usage without the need for any arrangements. When you choose your AR 15 rifle together with this Nikon P Tactical, the lenses are clean and ready to use.
Aren't you a fan of low-cost yet high-quality goods? If you are looking for a scope with the finest features and attributes, and you also want to cut costs, then you are in the right place. You can acquire this Nikon P-Tactical scope at a reasonable price with some fantastic features that would wow you.
The scope has a Magnification range from 3x to 9x. As a seasoned shooter, you must understand the importance of variable magnification settings. If you adjust your magnification to 9x, the picture of the target will be nine times closer. So, you can take advantage of your proximity to the target and make your coyote hunting go as planned.
There are so many good reasons to pick this scope, from the fully multi-coated layers to its quick focus and, obviously, affordable price. It may seem impossible to get all the features in a single scope, yet this beautiful device makes your wishes come true.
2. Vortex Optics Strike Eagle 1-6×24
The Vortex Strike Eagle is another great scope for AR 15. This vortex optic is suitable for target shooting, 3-gun, and even coyote hunting. Are you Interested? Continue reading…
The glass of the Vortex Strike Eagle is crystal clear. This Vortex optic is made of high-quality glass, and the lens is multicoated to optimize light transmission. What were the outcomes? Clear glass with a broad field of vision. That's not all; Vortex understood the importance of a solid AR 15 reticle in creating an unstoppable sight. As a result, they developed an innovative second focal plane reticle. The reticle acts as a red dot and BDC reticle.
The reticle of the Strike Eagle is easy to use. What's the reason? It is because the reticle was etched directly on the glass. That is not all. They have incorporated 11 brightness levels for reticle illumination, so it is easy to see the reticle well, even in low light conditions.
The Strike Eagle has an eye relief of 3.5 inches. Personally, I am okay with the amount of relief, and I think it is ideal for an AR 15. The eye box of the scope is not as forgiving as it is on other scopes. What is the solution? Practice enough with the right cheek weld.
The Strike Eagle is designed to be highly durable. It's entirely water, fog proof, and shock resistant, so you may use it in almost any temperature or weather condition.
The turrets are quite dependable. The scope can easily be zeroed and maintain zero. In fact, it only took me about 5 rounds to zero in on the target, and I didn't even have to boresight the scope.
Most of the top rifle scopes have tactical turrets. Tactical turrets allow hunters to make quick changes while on the go. Tactical turrets, on the other hand, are sometimes unnecessary.
The 1-6X magnification power on the scope is ideal. That is, you should not acquire too much magnification. The 1X magnification lets you easily hit targets that are short-range. The 6X magnification can reach targets that are up to 550 yards away.
What's the finest thing about it all? Whatever the magnification, the scope remains parallax-free and provides a clear image.
The Strike Eagle scope is so excellent. It's practically designed from scratch to fit the AR 15. It has everything a shooter needs for a coyote hunt with an AR-15 rifle: clear glass, low cost, durability, and accuracy.
3. Vortex Optics Crossfire II 1-4X24
If you are looking for an affordable scope that can get the job done when you go for a coyote hunt, this Vortex optic is your best bet.
I've used this scope for coyote hunting; that is why it has made the list in this Ar 15 scope review. I presently have two of these and use them with various guns.
The Crossfire employs an illuminated reticle that augments the aiming dot with a V shape for quick target acquisition in low-light settings. The Vortex Crossfire II is a very handy coyote gear in bushy terrains at dusk.
With the Vortex Crossfire II, you can lock on your target quickly and aim accurately without missing. This Vortex scope has an extended eye relief and a forgiving eye box. This Vortex scope is made of aircraft-grade aluminum tube that helps the optic stay together when being carried around by hunters. It is also built with an O-ring seal and a Nitrogen purge glass that ensures it is waterproof and shockproof. The scope comes with Removable Lens Covers, a CR 2032 Battery, and Lens Cloth for cleaning the glasses.
4. Trijicon ACOG 3.5×35 Riflescope
Many coyote hunters have testified to the efficiency of the Trijicon ACOG. It is an excellent complement to AR 15 rifle. With the Trijicon ACOG scope, you would not need to calculate or adjust settings, making hunting simpler due to rapid target acquisition.
The reticle of this scope is well designed, so you would not have an issue with bullet drop compensation. You would no longer need to search for the traditional red dot in the middle of the scope because it has been replaced with a caret. The Trijicon ACOG is a highly durable scope.
Given the strong materials used, this scope is ideal for hunting, especially for huge wildlife.
One good side of the ACOG scope is that you can use it with both eyes open. It is an excellent scope for short-range shots or close combat situations. With this scope, you don't need a battery because it has an illuminated reticle that adjusts the brightness automatically depending on the light availability. The scope has a small eye relief of about 2.4 inches.
Many people would be surprised that this scope made the list in this scope review. It is one of the top AR-15 scopes because Trijicon is a reputable manufacturer, especially when it comes to hunting scopes.
Is it necessary to use night vision scopes or thermal scopes to kill coyotes?
This is a tough question that many people find difficult to answer. The answer is both yes and no. Hopefully, this has clarified things for you. To explain what I mean, we'll be delving a little deeper into thermal imaging scopes and night vision scopes. Nobody needs a thermal scope to kill coyotes. If we say a thermal scope is compulsory to kill coyotes, it is just like saying every worker needs a Ferrari to go to work. A Ferrari would take you to work just like any other car you have; the only advantage is that it might be more fun.
The preceding scenario is obviously speculative, and there are so many factors that can influence the outcome. I wanted to highlight some of the obvious benefits of using a thermal scope for coyote hunting. Thermal scopes have limits, just like a night vision scope and any other technology. You can read the article on Thermal scope vs Night vision scope to have a better understanding of how they work.
Thermal imaging scopes are just an added tool to your kill. Having thermal scopes in your arsenal is like going into a fight knowing that your opponent has never fought before. One major point that is widely misunderstood is that even the best thermal scope would not increase your coyote kill. However, it removes the disadvantage that hunters have when following a coyote.
A thermal scope provides greater detection, and a night vision scope provides better identification. Several individuals, including myself, use the ATN X-Sight 4K for identification and shooting. Thermal scopes allow for significantly faster follow-up shots, whilst night vision allows for distinct aim locations and precise shots. You just have to figure out which ones best suit your needs.
You can also check out our post on the best night vision scope for coyote hunting.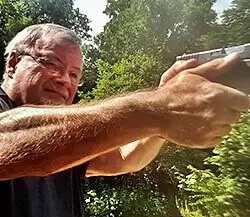 Mike Hardesty is a published freelance gun writer. With dozens of articles and reviews published in Pew Pew Tactical, Snipercountry.com, and TTAG (The Truth About Guns), Mike is considered a firearms expert. His special area of expertise is handguns.
Mike is a long-time shooter. He has been punching paper targets, taking deer and other game and shooting at competitions since about 1975. Other related pursuits include reloading and bullet casting. He currently reloads for over 10 calibers, both handgun and rifle. His reloads, particularly for 9mm, were in great demand during the height of the ammo shortage among family and friends. He donated hundreds of rounds to informal shooting sessions. He was quoted as saying "I do not sell my reloads but I sure will help my guys shoot 'em for free!". He has a few cherished firearms that he has inherited or otherwise procured — those are his favorites.
He earned B.S. and M.S. degrees from Indiana State University in 1974-1975.
He's a firearm experts and is the founder of mhardesty.com.