After purchasing a scope for your rifle, the next thing you want to do is ensure you mount the scope properly. Without a perfectly fitting scope mount, it would be impossible to use the scope on your rifle since you cannot hold the scope with your hands on top of the rifle while shooting.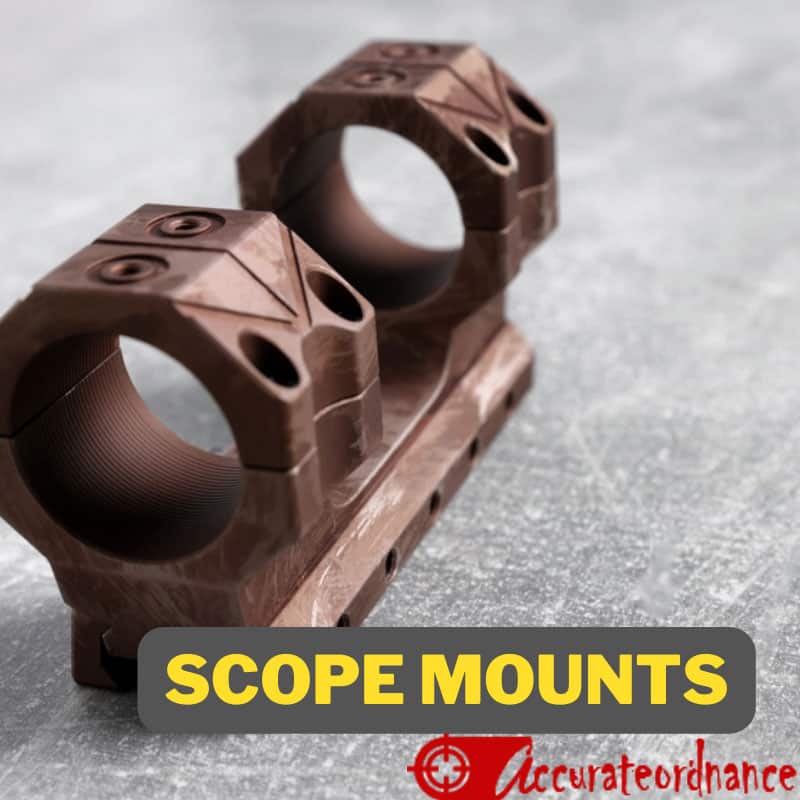 Finding the best scope mounts in the market might be a bit challenging, especially if you are new to the shooting accessories world. In this article, you'll learn about the different types of scope mounts, the factors to consider when choosing a scope mount, and the scope mounting options. After that, we'll take you through a review of some best scope mounts.
Here are our top picks:
Asides from these listed scope mounts, there are also other excellent mounts like the Warne Scope Mount, Primary Arms Deluxe Scope Mount, and Vortex Optics Cantilever Mounts. You can also use the UTG Offset Air rifle Mount if you're using an air rifle.
You can also check one of the best scope rings in the market, like the Seekins Precision scope ring.
Let us start with the scope mount types.
Different Scope Mount Types
Are you looking for a good scope mount but are not sure what type to acquire or how to put it together? This section will help you understand some of the major types of scope mounts and when to use them.
Do you need help on how to mount a rifle scope?
Weaver Mount
A Weaver mount is a cross-slot scope mount with defined specifications for the width of the rail as well as the cross-cut grooves/slots in the base.
The rings have side-to-side grooves/slots where they can be clamped onto the rail's sides. The mounting rings are clamped onto the rail with a bolt at the bottom side; this bolt rests in the groove/slots and is thus securely restrained from moving backward or forward.
A Weaver mount could have a base that is one piece or two pieces, with slots cut uniformly down the length of the rail or only one or two slots at the back or front for ring installation.
Weaver mounts offer a reliable and repetitive mounting system. This rail mount system allows a shooter to position a scope easily and hold it firmly. You can also remove and replace the scope easily if necessary.
When Should You Use A Weaver Mount?
If you desire a cross-slot system, then a Weaver mount generally has a lower weight and is less costly than the Picatinny mount.
Picatinny Mount
A Picatinny mount, like the Weaver mount (described above), is a cross-slot mount with particular dimensions in the width of its rails and the cross-cut grooves/slots at the base.
For military applications, the Picatinny mount is a standard mount type. For instance, we have the Picatinny rail on a Flat-top AR 15 rifle. Picatinny mounts are seen on long range shooting precision rifles, military-style weapons, and any application where consistent durability is necessary.
However, as previously stated, be cautious with this mount. The fact that Picatinny mounts are the strongest mounts does not imply that every single Picatinny mount is strong. So if a mount has a Picatinny dimension, it does not guarantee the quality of that particular product.
A less expensive mount might work for you depending on the application; nevertheless, you should not use such a mount if robustness and precision are important.
Picatinny accessories usually fit on a Weaver rail, although this does not imply that you should use it. Just because a mount matches an accessory does not mean it will fit nicely and be reliable.
When Should You Use A Picatinny Mount?
You can use the Picatinny mount when installing an optic on a target shooting or tactical rifle like the AR 15.
Integral Mount
One of the most recent mount types is the integral mount, which eliminates the use of a base. Instead of making a specific mounting interface to fit a rail and then designing the rail to complement the rifle, integrated rings are built to connect directly to the weapon.
This type of mount is more difficult to build since the rings must not only have a specific height and diameter but must also have the proper hole spacing and form to be mounted on a specific rifle make and model.
When using the integral mounting system, you must purchase the right mounting rings for your optic and rifle. Unlike other mounting platforms where your rings need to fit your optic, and the mounting base needs to fit your rifle (since the base and rings are the same interfaces).
Since they are lightweight, stronger, and simpler, integral rings are suitable for hunting rifles. Adding too much weight to a hunting rifle is not a good idea because it will increase complications.
When Should You Use An Integral Mount?
Integral scope rings are strongly recommended when attaching a sight to a hunting rifle. For any hunter, this is the ideal rifle scope mount.
Dovetail Mount
A dovetail mount is a basic system identical to the cross-slots mounts described above, except that it does not have cross-slots. To be firmly held in place, the mounting rings simply squeeze along the two sides of the Dovetail rail.
Some rifles come with a dovetail rail as the factory mount. The Tikka bolt action rifle, for example, may take any of the interfaces described above, plus it also features a dovetail rail machined to the receiver, allowing dovetail rings to be utilized without needing a base.
The dovetail mount system is also common in a rimfire rifle. The dovetail interface has the advantage of allowing the rings to be installed wherever you want on the rail. The 3/8′′ and 11mm are two of the most popular dovetail rail sizes. Other, less popular, but commercially available dovetail sizes are between 12 and 19mm.
When Should You Use A Dovetail Mount?
If you want simplicity or don't require a lot of strength, you can use a dovetail interface for your rimfire rifle or any other rifle with in-built dovetail rail.
Standard Mount
The "Standard mount or STD interface" can be somewhat confusing (another confusing interface is the "Quick Release or QR " below) since the name is used by Leupold to indicate a mounting interface, and it also has a general meaning.
In this situation, Leupold's "Standard" interface is far from the standard mount (normal/common). This mounting interface is becoming increasingly scarce, and you should avoid it at all costs since it is difficult and it is not easy to use or durable like the other interfaces listed above.
When Should You Use A Standard Mount?
This mount seems to be more old-fashioned. You should only consider using this mount if you want to have a vintage-appearing rifle or if you are attempting to match certain rings to an existing base on your rifle and you do not want to upgrade it to a more efficient interface.
Quick Release
When discussing scope mounts, the phrase "quick release" might be misleading (just like the Standard mount above). This is due to the fact that the word is both a description of how particular scope rings work and a specific interface from Leupold.
In this case, we will be discussing the special interface known as "quick release" rather than referring to a fast working mount. We will discuss mounts or rings that quickly/easily release regardless of their interface in the next section titled SCOPE MOUNTING OPTIONS ( where we will talk about the broad meaning of the word "fast release").
For instance, we can have a Picatinny ring that can be swiftly removed from the rail. These are Quick Release Picatinny rings, and they will not work with this particular Leupold mount model we are discussing.
Leupold's "quick release or QR" bases and rings allow the rings to be freed from the base simply by pushing a lever on the base's side. These were commonly used on safari-type rifles in which the scopes are easily removed when it fails while hunting dangerous wildlife.
Leupold QR bases are only compatible with Leupold QR rings.
When Should You Use A Quick Release Mount?
We don't recommend utilizing QR bases or rings unless you are searching for this particular aesthetic or you are looking for a ring that will match the base that is already on your rifle.
Dual Dovetail Mount
The Dual Dovetail interface is an outgrowth of the above-mentioned standard interface. The identical mechanism from the front ring in the Standard interface is used in the Dual dovetail interface for front and back rings.
This system has certain advantages because it is highly powerful and will not easily fail. This is due to the fact that each ring is inserted and turned 90 degrees and locked into the base before installing the scope body in the rings.
As a result, as long as you leave the scope inside the rings, the rings will not be able to exit the base. The flaw in this mounting system is that the scope must first be removed from the rings before the rings can be detached from the rifle.
When Should You Use Dual Dovetail Mounts?
We don't recommend utilizing a Dual Dovetail base or ring unless you are seeking a particular function on your rifle or are looking for rings to match bases already on your rifle.
SCOPE MOUNTING OPTIONS
There are some words you will come across while deciding on the appropriate solution for mounting a scope on your rifle. These are not distinct interfaces but rather words or options that you may encounter within any of the mount interfaces we discussed above.
For instance, we have a variety of Picatinny Interface like Picatinny rings, Picatinny offset interface, Picatinny quick release rings, Picatinny elevated base, or Picatinny cantilever mount.
Each of them is a one-of-a-kind item. But don't worry, we'll go through each of them here.
These are rings that you can attach or remove from a rail or base without the use of tools. It is typical for a red dot scope or LPVO to use rings with a Picatinny interface however it must have a quick-release mechanism so that you can readily remove the optics when you want to change them.
An offset rifle scope mount is one that is offset from the rifle's centerline. This lets you attach a backup optic to your weapon. Offset rifle scope mounts are commonly employed in tactical rifles when an LPVO is combined with a red dot. A Picatinny offset mount is often positioned at an angle of 45 degrees.
One-piece mounts/rings are usually needed for AR-style rifle scopes. This type of mount has two scope rings combined as one unit, which makes mounting a scope quicker and easier. It also provides an ideal platform for the Quick Release system because there is only one major attachment point for the mount to bind to the rifle.
When using an AR platform, it might be difficult for you to move the sight as forward as you want. This is due to the scope's ability to be attached to a very short receiver. As a result, cantilever mounts with one-piece ring systems were developed, allowing the scope to extend beyond the receiver and provide a couple of inches of space for the shooter. A cantilever mount is ideal for putting a sight on an AR rifle.
Scope mounts: Factors To Consider
Weight and Durability
The material chosen to construct the mount determines its quality. Low-quality aluminum alloy is commonly used to make a cheap mount. If you need high quality, then look for models made of hard-coat anodized aluminum, ideally 6061 aluminum.
Furthermore, a lightweight, strong, and tough design is always a superior alternative because you can use it comfortably on the field.
Diameter
Check that the clamping system fits the diameter of your scope tube. If your scope has a 30mm main tube, for example, ensure that you make use of 30mm scope rings. This might sound unimportant, yet it is worth noting.
Mounting Interface
You will need a mounting system that is appropriate for your weapon. Check the mount types we discussed above.
Picatinny rings will not always function with AR 15 platforms. This is because the handguard and receiver are distinct components; as a result, you should use a cantilever mount. A cantilever mount is more dependable and durable because it is a one-piece mount, and all of the hardware is kept on the rifle's receiver.
Eye Relief
Whatever mounting mechanism you use, be sure you have enough eye relief when shouldering your rifle. Although eye relief is mostly determined by the particular rifle scope, you are using. If you cannot achieve the needed eye relief after your first mount, try moving the scope mount backward or forward on the rail till you have a full, clear, and better view.
Scope Height
The general rule when mounting a scope is to put the scope as low as feasible without interfering with other elements on the gun.
Most AR-15s and flat-top rifles feature a low cheek rest. If your scope is mounted too high, you'll have to elevate your head, and you won't be able to use the cheek rest, which is a very discomforting position.
When mounting a scope, I recommend trying to find a suitable scope height for your rifle and shooting position. Make sure the rifle has a nice cheek rest and that you can gaze through the scope with ease and precision.
When shopping, you may select between low, medium, or high ring heights. Additionally, a riser mount is another option for adjusting scope height.
Best Scope Mounts Reviews
1. American Defense RECON Scope Mount
The first scope mounting device we would review is the AD-RECON mount. I've used at least three different scopes on the range in a single day, and it was easy to switch between them.
The American Defense scope mount is a high-quality mount that is made in America for AR-style rifles, and it features a lot of cool technology. It has the proprietary QD Auto Lock Lever mechanism, which I'll go into later, as well as a cantilever mount that shifts the scope forward for proper eye relief. This mount has 1 inch scope rings and properly fits any 1 inch optics.
Looking at the weight of this mount, I would say that it is not so lightweight, and it is also not too heavy that you would need a sandbag to place the firearm every time you're at the range. The mount weighs about 8.4 oz. when it is not attached to a scope.
The American Defense brand produces high-quality products, and this particular mount is on par when compared with other companies. It is certainly worth the money when compared with lower-quality mounts that have a lower price.
The AD-RECON is not only equipped with cutting-edge technology but it is also designed to withstand heavy firepower. This scope mount is made of a nicely machined aluminum alloy body that is finished in hard-coated Type 3 Mil-Spec anodize, making it highly durable and resistant to scratches. Not to add, how well it sits on my AR 15.
The installation of the AD-Recon is quick and simple. If you attach it to your AR 15, the scopes would be high enough that it would not be affected by the rear Back-up Iron sight and forward to provide abundant eye relief.
Other alternatives are available asides from this particular American Defense scope mount, so check around properly so you can find the best fit in terms of height. And also, ensure you measure based on the scope you intend to mount.
The QD Auto Lock Lever system works with both standard and non-standard rail systems. It permits rail tolerance variation, as well as repeatable installation. The overall design is intended to give a flexible and budge-free mount.
The fast-detach levers are spring-loaded, which makes reinstallation or removal easy and fast. It also won't chew the rails like other mounts. The locking mechanism is simple to operate and secure, thanks to the well-designed levers.
The floating rings of the mount tighten at the top and base for uniform distribution, eliminating the need for fiddling to reach the exact balance. The whole mount remains at zero, even when I removed and replaced it on my rifle.
During installation, I advise keeping the top ring screws open and fastening the bottom ring screws first so that you can have a neat mount. I also propose a dab of Loctite to guarantee that it stays in place during usage and so that the screws will not rattle.
For adjustments, no tools are required. Instead, just release the lever and slowly spin the rear nut until the desired tightness is achieved.
Tension adjustments are quick and simple, with 8 points available. Most times, the rear lever might be tight or difficult to spin out of the box, but it will loosen over time. It is a very simple and straightforward mount for leveling my sight. It just needed one try for my Vortex Strike Eagle scope to be ready for action.
The AD-RECON is a sturdy, adaptable attachment for any AR-style rifle. It's an excellent addition for a shooter that wishes to use several lenses on the same platform.
In conclusion, this mount is far more valuable than you are paying, and you are assured of its longevity. One reason I keep using this mount for my AR 15 rifle is the ease of reinstallation. If you're debating whether the AD-RECON is the right mount for you, I suggest you try it. You will not be let down.
2. Burris Optics P.E.P.R. Riflescope Mount, Picatinny Ring
I have never been one of those shooters that go out to purchase the biggest and most expensive scope mount or shooting accessories on the market just to prove I could afford it. If there is any accessory that can accomplish the same task and is significantly less expensive, I generally choose that one.
There are situations when spending the additional money is justified since the quality would be most likely superior. One of those instances is using the Burris Optics mount.
It makes no difference whether you're hunting pigs or practicing long range target shooting. This mount has 1 inch scope rings and properly fits any 1 inch optics, and keeps it tight throughout your shooting experience.
Continue reading to see why you need this mount for all of your guns.
This Burris scope mount is one of the most sturdy mounts you'll find in the market. It is very heavy with about 9 oz, but this additional weight makes up for its toughness. The finish of the mount is hard-coated and anodized. Once this mount is installed, neither the mount nor the scope will move until you tell it to.
It has three bolts on each side that can be used to tighten it, and it keeps my sight exactly at zero. I've smacked it on rocks, trees, and the floor while climbing uphill, and the mount has never shifted.
Because it is an elevated mount, it provides excellent eye relief and a wide field of view. It maintains the scope height of any rifle. One of the best aspects is that it provides 2 inches of forward placement on your rifle, which provides excellent eye relief.
I thought this mount would be a pain to install because it has six bolts which appear intimidating, and I imagined it would give me a headache while trying to line up the threads or tighten everything properly. But the mount proved to be easier than I expected. In fact, it ended up being one of the easiest ring mountings I have used.
Whether you shoot a centerfire or rimfire rifle, you can trust this scope mount. In long range shooting conditions, it can also withstand recoil without moving. When this mount is installed correctly, the scope attached to it will not affect the iron sights, whether they are rear backups or front backups.
This Burris mount comes with a smooth scope ring on top and Picatinny rails, which may be used to install various accessories. I enjoyed using it while hunting because I could add a flashlight to it. It is not necessary, but it can be quite useful.
Without a doubt, this mount will serve you well if you own an AR rifle or any platform. Aside from that, it also comes with a fantastic Burris Warranty.
If you're searching for the best scope mount for your firearm, this mount with the steady scope rings will hold the scopes firmly during your shooting or hunting activities.
3. Leupold Mark Scope Ring Mount
Another excellent scope mount we would review is the Leupold Mark. Leupold is an American-owned business known for high-quality shooting accessories. The brand has been designing, manufacturing, and assembling shooting instruments and other goods for over a century. This particular product is no exception to their quality items. Leupold's has kept their promise on the commitment to customer satisfaction.
Leupold Mark bases are built to last. This sturdy, reliable, and durable mount comes with 3 lugs and 5 mounting bolts to interface with the top rail so that they can be attached firmly and remain in place. They are finely machined from aircraft-quality aluminum alloy and will give the strength you want while adding no extra weight.
The Leupold scope rings on this scope mount can be relied on if you are shooting a centerfire or a rimfire rifle. It can also withstand the recoil in long range shooting conditions without a movement in the scope. This ar 15 scope mount has a 1 inch ring for holding the scope firmly on the rifle.
If this mount is correctly installed, the scope attached to it will not affect the iron sights, whether it is a rear or front backup iron sight. If you are looking for the best scope mount to install on your rifle, this Leupold mount should come in handy with the nice Leupold scope rings that hold the scopes firmly.
4. Aero Precision Ultralight Scope Mount
Aero Precision takes great pride in the kind of technology that goes into its manufacturing process. This brand has adopted the low-tolerance principles from aviation machining into its procedures for producing scope mounts and receivers. As a result, their scope mount is extremely light and durable.
Let's have a look at the reasons…
The Aero Precision mount is very light. In fact, it has about half of the weight of its competitors. The Aero Precision mount is built with aviation-grade aluminum alloy and without any unnecessary components. I love the straightforward construction of the mount and the extremely rigid materials used.
I discovered that it was made with a hard-coat anodized finish which is difficult to damage and scuff. The lengthened mounting rings extended the position of my scope and made it two inches forward. This would make it easier to sight with an optic that has enormous eye relief.
Aero Precision brand places a premium on product quality control. They designed a very efficient framework for their manufacturing system, and all machining and tooling are done in-house rather than outsourced. The end product is a high-quality and reasonably priced scope mount.
The Aero Precision scope mount is ideally suited for AR systems equipped with Picatinny rails. It won't work on a bolt action rifle because the scope will be too high to maintain a strong cheek weld.
The Aero Precision mount is a base and ring assembly. This one-piece mount comes with everything that is needed to successfully mount your preferred scope on a Picatinny rail. This mount has 30mm scope rings and properly fits any 30mm optics and keeps it tight throughout your shooting experience.
To be honest, the installation was a bit tricky to handle. It is difficult to level the scope since the screws were positioned vertically rather than horizontally, as most people are used to with other manufacturers.
My scope shifted to the right while tightening the screws, so I simply offset to the left while screwing the mount. I visualized what I needed to do to compensate for the rotating scope by using buble levels. And to ensure that when I was done, my scope remained level.
The mounting was difficult, and it took several attempts for me to get my scope really level. I also noted that the torque was not clearly indicated in the mounting instructions. After some research, I discovered that the screws needed to be torqued to about 15 in/lbs.
Be careful not to overtighten; otherwise, the rings will shatter. If you don't already own a torque wrench, I recommend you get one.
When poorly installed, the rings may not shatter immediately. They could start to break after a few usage in the field. Take special caution not to overtighten.
Aero Precision stands by their product, even if it fails due to faulty installation. If there are any issues, please contact them, and they'll offer you a solution. Aero Precision Scope Mounts cost around 2 to 3 times less than the competitors. If you need a forward-mounted optic on your rifle, this is one of the best scope mounts for you.
FAQ
What's the Difference Between Weaver and Picatinny Mounts?
While they look to be the same and serve the same purpose, they are totally distinct mounting techniques. A Picatinny mount features broader, standardized slot sizes for mounting mostly Picatinny accessories, with certain Weaver attachments accepted. Weaver mounts lack specified dimensions, feature smaller slots, and are exclusively made for Weaver accessories.
Can Picatinny and Weaver be used interchangeably?
A Picatinny and a Weaver mount shouldn't be interchangeable. Although, It is possible, but not recommended. Picatinny rails feature broader, standardized, and consistent slots, whereas Weaver rails are narrower.
You can force a Weaver mount to be attached to Picatinny bases because Picatinny bases have wider slots. However, you can't place a Picatinny mount on a Weaver rail because of the narrower slots.
Are Scope Mounts Universal?
Scope mounts are designed to be used either with a Weaver or Picatinny rail. This needs you to know what sort of mount you want, whether it has or does not have specific qualities that will match the scope, as well as what rail is presently on your rifle.
Many scope manufacturers have their own mount criteria that match the design and specs of their scope. As a result, even though they're designed to work with Weaver or Picatinny rail, these optics will only be compatible with a specific mount (manufacturer's mount).
Mike has been shooting, reloading, and bullet casting for over 40 years. He lives in rural Indiana where he has a backyard target range. Married for almost 40 years, Mike and his wife teach adult education in their home county and have four sons with their families, totaling 10 grandkids.