Whether you are planning to go for a hunt or your shooting range to improve your skills, you cannot just carry the firearm from your home and walk into the street with it. Carrying a rifle openly will make everyone else feel threatened. As a result, you must hide your firearm. To do this, you'll need the best soft rifle case to keep everything hidden. These bags may also shield the rifle from the outdoor elements and provide space for storing other gun accessories.
There are practically hundreds of soft rifle case brands and models available nowadays, making it difficult to choose the best one. You must ensure that the bag meets all of your firearm's requirements before you select. Let me provide an outline of the key considerations to bear in mind while looking for a rifle case.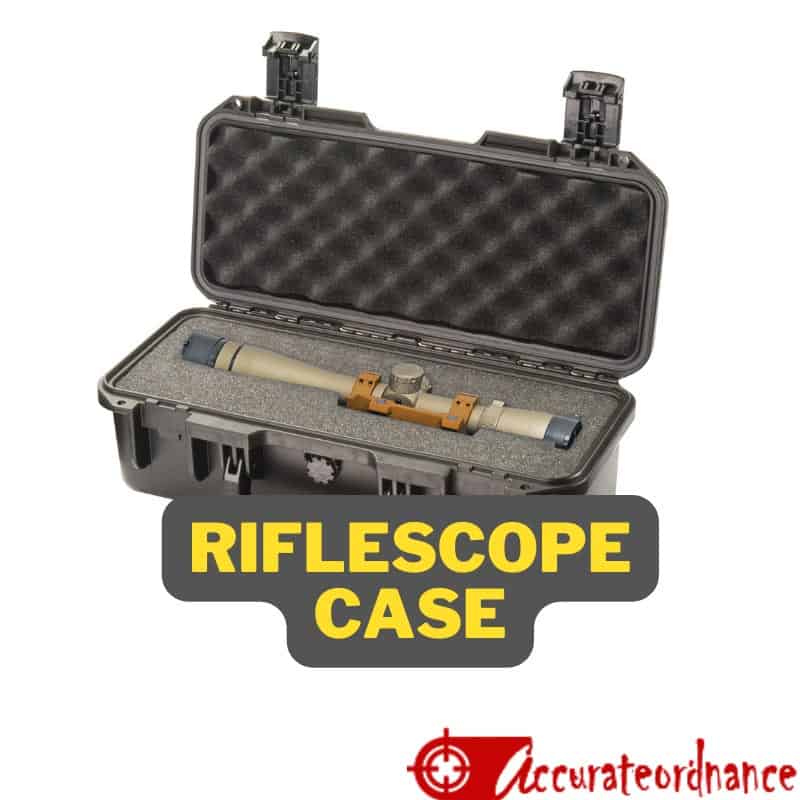 Factors To Consider When Selecting The Best Rifle Cases
MODE OF TRANSPORTATION
One of the key functions of a gun case is to make transportation of your weapon and other shooting accessories easier. Consider the form of transportation you'll most likely use while moving your firearm. Would it be a Plane? Car? ATV? Or by foot? These considerations will assist you in determining if you require a soft case or a hard case for storing your rifle and scope.
In terms of soft rifle cases versus hard rifle cases, one is not intrinsically superior to the other. It is entirely dependent on where and how you want to use the bag. For example, TSA permission for air travel necessitates the use of a hard case, locked weapon container. (This also applies to Amtrak trips.) Hard cases also provide the durability and protection you'll need for your weapon during transit.
Furthermore, while a lighter rifle case will undoubtedly be simpler to carry than a large case, keep in mind that lighter cases may sacrifice inner padding and protection. Go for a decent combination of weight and cushioning.
PROTECTION
Another important use of a rifle case is to safeguard your gun and optics. The best rifle cases feature enough cushioning to keep a rifle and the scope stationary while also providing shock absorption and locking the firearm in the case. This keeps the rifle, optics, and other accessories from bouncing around and potentially changing your scope zero.
As previously said, if you'll be flying with your weapon, you'll need the protection that a hard case offers. In most other circumstances, however, a soft case is far less burdensome, providing enough protection while being less in weight and easier to use.
In terms of security and protection, it's vital to remember that while a gun case is a convenient method to travel with a gun, it is not the greatest place to keep a gun in your house. Although keeping your rifle at home in a lockable, hard-sided container might be safe, it is harmful to your weapon. Since a protected hard case does not have room to breathe, you should keep the case open if you want to store the gun for a long time in your home.
DURABILITY
The finest rifle cases will withstand heavy use in addition to safeguarding the weapons. The durability of your rifle case is determined by what you want to put it through. What type of circumstances will your case face? Assuming you are not restricted to an indoor range, you should select a rifle case that can withstand outside abuse.
The material for soft rifle cases should be strong. The waterproof fabric of the case will not only keep moisture out but also ensures that the case can withstand damp situations.
Straps and stitching are also important for the case's durability. Check that the straps and handles are firmly strengthened and fastened. A shoulder strap (that has a pad you can modify based on how you carry the bag) will make traveling long distances more comfortable. Handles and straps can be made from reinforced nylon or durable leather.
CAPACITY
Check that the case will hold your rifle, optics, and any necessary equipment. To determine the appropriate rifle length, measure the full stretch of the barrel and add about 2 inches. (A decent rule of thumb is to select a case that is longer than your rifle to ensure that it fits comfortably.)
Check that the casing is large enough to fit any optics you want to attach. If you have mounted your scope on the rifle, measure its height along with the sight to ensure it will fit when the case is closed.
Finally, check how much space you'll need for extra equipment and accessories.
There are other criteria you could consider when choosing a rifle case, but the ones mentioned here are some of the most important factors. Let us proceed to some of the best rifle cases.
Best Scope Rifle Case Reviews
1. Savior Equipment Urban Warfare Long Rifle Bag
This Urban Warfare Soft Rifle Case by Savior Equipment is a double-case bag with locking zippers and detachable backpack straps. This model is better than the single rifle case produced by the company because it can accommodate four rifles and scopes with other gun accessories.
This rifle bag is a soft tactical rifle case that has a robust structure that I love so much. Instead of standard nylon found in some others, this model uses the kind of interior used in Urban Warfare composed of 600D nylon fabric for added strength. The lockdown straps and internal foam padding are my favorites since they give adequate protection when carrying or transporting weapons.
The guns are well-protected within the bag, thanks to the retractable inside divider, which allows for a separate compartment for the long rifles. I can quickly remove the divider if I need an extra mat. When you open it, the soft gun case lies flat, making it simple to retrieve the weaponry.
This soft gun case has a lot of space in it. You can keep one or two guns in its main compartment and other tactical equipment in the external pockets. The lockable zipper sliders for both firearm compartments keep everything secure even when you transport them. The device also comes with a lifetime guarantee and unlimited customer assistance.
So the main advantages of the gun bag are; enough space for multiple rifles, a padded divider for protecting the firearm, extra pockets for gear and accessories, 600D nylon fabric that provides a robust feel, lockable zippers that can be locked to keep valuables safe and a lifetime warranty.
When you place your rifle scope in this soft gun case, you are sure that it would be safe for any shooting trip.
2. VooDoo Tactical Padded Gun Case
The next bag we would look at in our list of best scope rifle case is the VooDoo Tactical. With its ample cushioning and robust ballistic fabric structure, VooDoo is one of the most popular 36″ soft gun cases. You can easily add a scoped rifle to this bag, and both the scope and rifle would be safe.
This tactical gun case appears to have received an upgrade in its construction. You will observe that the padding of the bag is a little denser and thicker to give enough protection when transporting firearms. I really love the additional padding found on the adjustable shoulder strap.
A solid crosshatch design on important stress spots appears to make the stitching more stable. There are also many pockets on the outside to hold other items like ammunition, optics, and magazines. You can also add medical kits to this bag.
This plush hunting rifle case may be carried in a variety of ways, including a backpack strap, carry bag, or shoulder bag. I love to carry it as a shoulder bag since it is more comfortable. More significantly, both the large zippered compartment and the smaller handgun portion can be secured to keep my belongings safe.
When utilized as a rifle backpack, the strong wind may knock you over. We suggest that users empty the bag if they intend to carry it on both shoulders.
The ballistic fabric and tight stitching make it extremely durable, and there is enough room to carry four weapons and so many compartments for different accessories.
3. Savior Equipment Double Long Gun Bag
The Savior Equipment double rifle case is a soft gun case with a lot of storage space. These soft gun cases can hold two scoped rifle, pistols, and some extra accessories.
I'm especially pleased by the Molle Grid because adding additional tactical bags can be useful. The zipper is very strong, and the 600D PVC nylon stays durable in all conditions. The stitching is superior to any of the soft gun cases I've ever owned.
This Savior Equipment range bag has a great cushioned divider. It is thick and dense enough to keep both the scope and rifle safe while in transit. It has a well-padded adjustable shoulder strap for additional comfort, and it will not slip from your hands.
There's more space than ever need. I enjoy the extra pockets and the flap hook that is used to securely fasten them.
I found this soft rifle case to be significantly heavier than some other soft gun cases I've handled. For added comfort, we suggest that users utilize this soft pistol case as a backpack. Overall, the Savior Equipment is a solid alternative for an AR-15 gun case. With its heavy-duty zipper design and ultra-durable fabric, this gun bag appears to be built to last.
4. NcSTAR VISM Deluxe Gun Case
NcSTAR is a very affordable soft gun case. I love how this VISM Deluxe case has additional magazine pocket sections. I was happy with the type and quality of the material used when I got this soft bag. The outside shell is made of a tough Cordura nylon material that I believe will last for years. The inside contains enough foam cushioning to keep the guns and scope safe while traveling.
The handle of the bag is comfy, and I appreciate that there is a cushioned velcro wrap to keep them together. A retractable shoulder strap connects to the metal D-ring to give users another option when carrying the bag. The zippers appear to be very strong and simple to open and close.
The bag has a little windowed ID pocket on one side, which is ideal for an ID tag. The other side features five magazine compartments. Because the magazine pouches are restricted to suit only one mag, I believe they are made for any AR or AK-type mags.
My only concern is that the adjustable shoulder strap lacks a lengthy cushion that would have made it more comfortable to carry. As a result, I prefer to carry this rifle backpack in my hand.
5. Condor Double Rifle Case
This Condor double gun case is one of the best-cushioned rifle backpacks available. It's perfect for long hikes because it has a sternum strap to assist relieve the strain on your shoulders.
The best feature of this bag is that the backpack straps can be hidden for a cleaner appearance. The inner lining that separates the two rifles is also sufficiently thick for added protection. Furthermore, there is a large space at the back to carry additional items.
The design appears to be well-thought-out. The front pocket can easily accommodate several 30-round PMAGs, and the other compartment accommodates my two handguns and a small amount of ammo. The main compartment can accommodate two long guns mounted with a rifle scope of about 36 inches in length.
The bag is well-stitched for long-term durability. Another nice feature is that the zippers can be locked to keep the guns and optics inside safe while driving. This double rifle case is an excellent value for money.
Although it has a backpack compartment that is a bit uncomfortable in the back. When wearing this rifle bag in your back, I recommend that purchasers wear a heavy shirt.
Overall, the Condor Rifle Case is a tough and well-designed gun bag. You can use it to transport your scoped rifle anytime.
6. LUXHMOX Long Soft Gun Case
This LUXHMOX soft case rifle bag is one of the best rifle case on the market. The buckles, thick exterior, and aesthetic of the bag show that it is tough and highly dependable.
The material used is 900D PVC nylon, which withstands all weather conditions. When I increased the bag's total capacity, I found no fraying, rips, or tears. There is enough room to keep two long rifles with mounted scopes and two additional handguns.
My ammunition and supplies fit perfectly in the 3 front pouches. They're made with durable Velcro and locking drawstrings to prevent items from falling out while traveling.
I like how the carry handles are both robust and comfy to grasp. If I'm heading to a gun range, the back strap becomes a huge plus. Furthermore, the zippers are smooth, and it comes with a 30-day money-back guarantee as well as a 180-day warranty.
Stitching, on the other hand, is a different issue. If you load the bag over its limit, I believe the stitching will come apart.
The LUXHMOX gun bag seems to be tough, roomy, and adaptable. When I'm out and about with my pistol, I prefer to swap between carry handles, shoulder straps, and back straps.
7. Uncle Mike Tactical Rifle Case
Uncle Mike's tactical rifle case is my go-to hunting bag since it's composed of heavy-duty material and has durable Velcro compartments. There's plenty of room inside for a scoped AR-15 rifle and a couple of magazines in the front pockets.
I enjoy using this rifle case, especially the outer covering, because it can protect your firearm and scope from the rain. Even with my huge weapon loaded inside, the bag seems light. More significantly, there's ample padding inside to protect the optics and firearms when the bag hits any hard surface.
The cushioning isn't normally the standard foam rubber found in most bags. I believe it is a closed-cell plastic substance that gives better protection in a smaller package.
Furthermore, the rifle case can be locked with a small padlock, which gives me some peace of mind when commuting with my firearm.
The shoulder strap also improves the bag's portability. I believe the stitches will last long. I'm happy to have extra pouches for the price.
Overall, the Uncle Mike Gun Case is one of the best rifle case options when money is an issue. This rifle bag is both inexpensive and long-lasting, and it protects the scope and firearm from scratches.
8. VISM by NcSTAR Double Carbine Case
With its wide inside and extra exterior pockets, the VISM bag is an excellent M4 soft case. In the front, this gun bag can hold two carbine-sized guns and lots of other supplies. The rifle bag has a lot of pockets to keep everything you need for your trip.
The outer body is made with a tough PVC, and the zippers are strong enough to withstand constant abuse. I like how the pull cords are linked to the zippers making them easy to reach.
Also, the front pockets buckles and thick padding of the main compartment make both your scope and rifle sit properly secured.
The handles will not flinch even if you carry a lot of things with the bag. The bag is double-stitched, and I'm confident in its longevity.
The only thing I don't like is the absence of padding on the back straps, which would have made the bag more durable and pleasant for a long trek. We recommend using the back straps during short walks and the handles for longer walks.
9. Plano All Weather Tactical Gun Case
The last gun case we would talk about is the Plano All Weather hard case. We have talked about different soft rifle cases, but this is our first mention of a hard case for rifles. Hard rifle cases from their names are tough and more durable than soft cases. These hard rifle cases can be used as a shotgun case or a rifle case.
Plano Molding has been producing hard rifle cases for shooters, hunters, and fishermen since 1952. This All-Weather scoped rifle case is a cozy, safe haven for all your rifles. Your firearm is cradled in pluck-to-fit foam that you may modify to hold your rifle, spare magazines, optics, and even pistol. The Dri Lock seal that runs on the lid keeps dirt and water out and is so good that the case requires a pressure release valve.
Mike has been shooting, reloading, and bullet casting for over 40 years. He lives in rural Indiana where he has a backyard target range. Married for almost 40 years, Mike and his wife teach adult education in their home county and have four sons with their families, totaling 10 grandkids.