Are you looking for the best scope rings for Picatinny rail? If yes, then you are at the right place. In this article, we will help you with a comprehensive review of the best rifle scope rings that you can use to mount your scope on a Picatinny rail.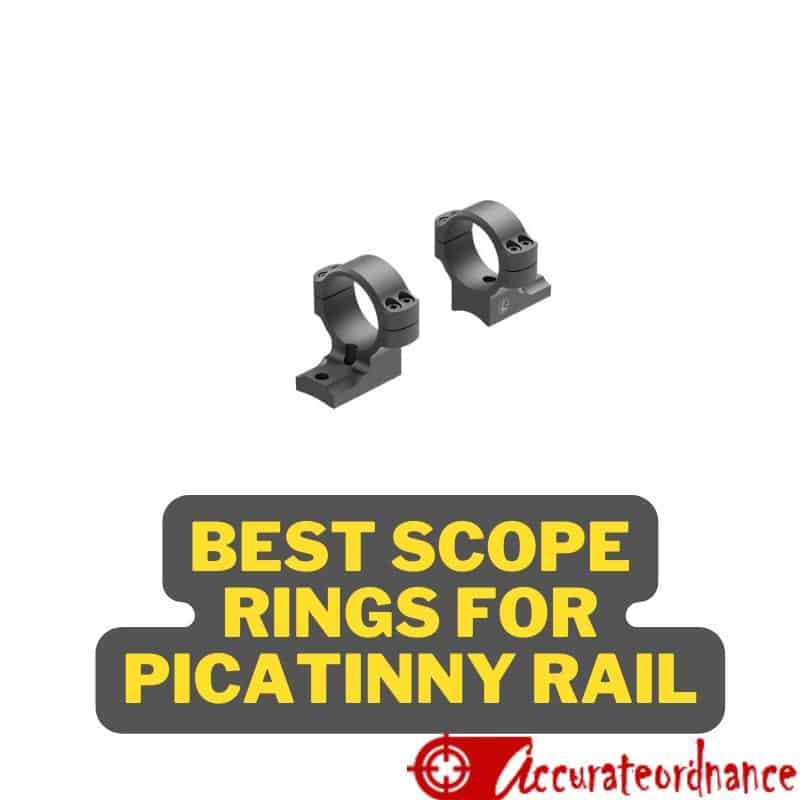 The Picatinny rail is a scope mount base that is used to attach a rifle scope to the firearm. These scope bases serve as the attachment point for your scope mount or scope ring. Without a scope base, you cannot attach a rifle scope to any firearm. As a result, a scope base is very important for the successful mounting of any scope on any rifle platform.
Whether you know this mounting device as Piccadilly rail or pic rail, we all know that you are looking for a mounting interface to install your scope, and you are referring to a Picatinny rail.
Here are our top picks for Picatinny scope rings:
Picatinny rail was named in New Jersey, where it was invented and standardized. This mounting rail was developed as a MIL-STD rail in 1995. We all know that the weaver mounts were the initial bases, but we can say for sure that these Picatinny rails are quite similar in dimension or size to the Weaver rails and bases we knew originally. This new mounting interface lets you add scopes, sights, and other optical accessories easily to your rifle.
Picatinny rails vary from Weaver mount rail or Warne Maxima bases because they include a set of slots deeper vertically from the top to the bottom. They are also longer front and back, as well as multiple alternative scope mounting locations, providing more flexibility in scope or accessory attachment.
A Picatinny rail's constant or consistent ridge and groove size (also known as recoil slot) and placements allow shooters to adapt or have enough room for changing scope position on the base lengths and optimizing the scope position to give the best eye relief for a comfortable shooting posture.
Canted rails allow long-range aficionados to "add" Minute of Angle (MOA) to the mount and "dial" to greater ranges by providing additional vertical motion for the elevation turret of the scope. Most Picatinny rails are available in a 20 MOA variant for this use.
NATO changed the MIL-STD rail to metric format in 2009 and proposed a new interface clamping technique; although the traditional MIL-STD interface clamps at a 45° angle of the rail, the new interface clamping method sit flat.
Significance of Picatinny Rails
Picatinny rails have replaced the traditional iron sight, and you can tell from the construction of most weapons available in the market now. Even those rifles that were not designed to accept this mounting interface now have aftermarket add-on components for most rifle platforms that do not have the Picatinny rail incorporated.
There are also designs for semi-automatic gun grips and frames. When you want to add a Picatinny rail to your action rifle, it is critical to tighten the screws according to the manufacturer's suggested torque to prevent the screws from loosening.
After the Picatinny rail was created, it was used to connect different accessories to a rifle platform, such as tactical lights, iron sight, reflex sight, slings, night vision devices, holographic sights, bipods, laser targeting modules, bayonets, and foregrips. This makes it a very versatile mounting interface because you can use it to attach almost anything to your rifle.
RIFLE SCOPE MOUNT: PICATINNY AND WEAVER
Picatinny mounts and Weaver mounts have almost the same appearance. Both come with a flat top with holes cut right through it. The sides are broader compared to the depth.
The distinction here is that Weaver bases aren't standardized, and they typically have fewer holes cut into the same rail length. The slots are also narrower compared to Picatinny slots.
This implies that a Picatinny mount will not fit into a Weaver rail because the weaver would have fewer spaces available for a bigger slot.
In other words, if your scope ring is specifically built for a Picatinny rail, it will not enter a Weaver rail. But you can use a weaver mount on a Picatinny rail; if you're doing this, ensure that they are inserted as forward as possible inside the slot; otherwise, when you tighten them, they could still shift forward later and alter your zero.
Factor To Consider Before Choosing A Scope Ring
Tube size
The first factor to consider when purchasing a pair of rifle scope ring is if it will fit your optic and gun. That may sound absurdly simple, but do you know that many shooters are ignorant of this? Some shooters may purchase a 1-inch scope ring instead of a 30mm ring, and when they try to install it, that's when they'll know they made the wrong choice. The size of your scope tube is very important when selecting a scope ring.
Ring height
Another factor is the ring height. Who buys a low ring for a scope with a massive 50mm objective lens diameter? Getting a low ring height for a scope that comes with a large objective lens is a bad idea because the scope will rub hard against your gun's barrel and it might not even sit properly. Ensure that you have the right ring height for your scope's objective bell.
Durability
You cannot talk about any item in the firearm industry without taking durability into consideration. Scope rings are supposed to be built like a tank because they are in charge of holding a scope to the rifle. If the scope ring is not strong enough, it will not be able to withstand the recoil that is released from the rifle.
A ring must be made of high-quality materials; otherwise, it will break during a recoil or shift and, later, the zero of your scope. Most of the scope rings we reviewed are built with high-quality aluminum. Although steel is stronger, it can also be weightier. Aluminum, on the other hand, is both durable and lightweight, so you would not have to bother about extra weight on your rifle.
Price
Although the price comes last on the list of factors to consider but for many shooters, this is the first thing they consider. Not everyone that the luxury to purchase any mounting system they want without considering the budget. So if you're on a tight budget, then you have to have a precise range in mind when going in search of a scope ring for your Picatinny rail. If, on the other hand, you have a big budget, then you can focus on other factors on the list.
Best Scope Rings For Picatinny Rail Detail Reviews
As previously stated, a Picatinny rail is different from other bases used for mounting a scope ring. Here is what you need to know about these rings so you can make an informed selection.
1. Burris XTR Picatinny Rail Rifle Scope Ring
Burris Optics is a well-known optical accessories manufacturer in the shooting industry. This brand is not only known for producing great scopes, but they are also renowned for developing other industry standard devices, one of which is this Burris XTR Picatinny Rail Scope Ring.
These Burris riflescope rings are just as reliable and robust as their rifle scopes. When it comes to rugged, this scope ring is number one, and that is why it is on top of our Picatinny scope ring list. One of the major features that make this scope very durable and able to withstand anything thrown at it is the aircraft-grade aluminum that was used to construct it.
Many might argue that aluminum is not a stronger metal compared to steel and so it shouldn't be used for an interface that would be taking a lot of beating from a firearm's recoil. Well, aircraft-quality aluminum is highly durable, and this material is also great as a mounting interface because it is lightweight.
Another special feature of this scope ring is the nylon inserts. They allow for proper scope alignment without adding more stress to your scope tube. There are so many riflescope rings out there that do not have this feature, and what they will do is created marks on your scope tube that will begin to cause damage to the tube body.
These well-made Burris XTR rings lock the scopes properly without leaving a trace on them. Nothing is more annoying than having your nice-looking scope ruined by a scope ring.
The Burris Optics XTR rings come in different ring heights. The most common scope ring height for this model and brand is the 1-inch and 1.25-inch heights. Aside from the ring heights, we also have different scope tube sizes. We have the 30mm scope rings, 1-inch scope rings, and the 34mm scope rings. 30mm scope rings are the most used and most popular rings.
In addition, the 6 screws on the scope ring clamps enable easier tightening without changing the level of the scope compared to the 4 screws on conventional scope rings. You can't go wrong with this scope ring as long as you have a Picatinny rail. It is our best scope mount for this type of base.
2. Vortex Optics Pro Series Ring
The next Picatinny mount we would look at is the Vortex Pro Series. You cannot have a conversation about scopes and other optical accessories without making mention of the vortex brand. Vortex Optics is known for excellent optical devices and mounting interfaces.
The brand has a lot of scope rings that can be used on the Picatinny ring mounting system. But this particular Vortex Picatinny ring model is a reliable mounting system and one of the best scope mount you can find on the market.
This scope ring is made of T6 aluminum. It is a very solid and durable scope ring. When I mounted this scope ring on my hunting rifle, it held my optic firmly without putting a mark on it. This ring was able to withstand everything that was thrown at it. With all the beating and abuse created by my hunting rifle, the ring still maintained zero.
The quality aluminum used in its construction made it both durable and lightweight. With this ring, you will not have to worry about the additional weight that your rifle will have to deal with.
The 30mm scope rings for this model come in 4 different heights which are low height, medium height, high height, and extra high. Meanwhile, the 1-inch tube for this model has just 2 available sizes, which are low and medium height.
You can customize the eye relief of your optic using any of the ring heights. Generally, it is better to get a scope ring with a higher height so that you can have enough room for cheek weld.
3. Seekins Precision Ring
The Seekins Rings are another good scope ring for a Picatinny scope rail. This scope ring is constructed with strength and durability. This durability gives them the ability to withstand heavy recoil. So, you can use this scope ring for your big game hunting trips. The rings are made with 7075-T6 aluminum.
These scope rings also come in different heights, so ensure you choose a ring height that matches your scope objective lens diameter. Scopes with bigger objective lens diameters usually need rings that are higher. This particular model is a 30mm ring, so you can only use it to mount a scope with a 30mm tube diameter.
The Seekins Rings are mid-priced scope rings. Most cheap and affordable scope rings usually cost less than a $100.
4. Vortex Optics Precision Matched Rings
This Precision matched ring is another Vortex Optics mounting device that can be used on a Picatinny scope rail. Another juicy benefit of this ring is that it does not only match a Picatinny mount, but it can also be used on a Weaver mount.
This ring is one of the high-priced rings in the market. The ring is machined from a 7075 T6 billet aluminum, making it very durable and lightweight. They are made in the USA and come with a lifetime warranty from Vortex.
The ring is designed in so many sizes and heights. It has tube sizes like 1 inch, 30mm, and 34mm, and it even has a 35mm scope tube, which is not common. The ring height also varies; we have ring heights ranging from 0.76, 0.87, 0.97, 1.00, 1.10, 1.26, and 1.45 inches. You can choose from any of the tube sizes or heights depending on the scope you want to mount.
Asides from this Vortex ring, there are other Vortex rings that can be used to mount a scope on a tactical rifle.
FAQ
Can all scope rings be mounted on a Picatinny rail?
No, not all scope rings can fit into a Picatinny rail. That is why you have to know the kind of scope base that your rifle platform uses. They are so many other scope mounts, rings, and bases that are totally different from a Picatinny; as a result, a scope ring explicitly designed for a Picatinny rail might not be able to fit on other bases, and vice versa.
Is the height of a scope ring important?
Yes, before getting a scope ring for your Picatinny mount, the ring height is very important. The scope ring height is vital not just to provide clearance between the scope bell and barrel but also to determine the positioning of your cheek near the firearm as you try to look through the scope. It would be difficult to obtain a decent cheek weld if the rings are very high.
Does a scope ring have an effect on accuracy?
Yes, a scope ring can have an impact on the accuracy of your Picatinny mount. If the ring is not correctly adjusted, your scope will shift and will not maintain zero, thereby impacting your shooting accuracy. Furthermore, if the Picatinny scope ring is not accurately matched or properly aligned or even overtightened to the scope tube, the entire setup will not be accurate.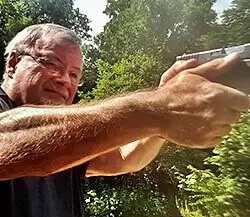 Mike Hardesty is a published freelance gun writer. With dozens of articles and reviews published in Pew Pew Tactical, Snipercountry.com, and TTAG (The Truth About Guns), Mike is considered a firearms expert. His special area of expertise is handguns.
Mike is a long-time shooter. He has been punching paper targets, taking deer and other game and shooting at competitions since about 1975. Other related pursuits include reloading and bullet casting. He currently reloads for over 10 calibers, both handgun and rifle. His reloads, particularly for 9mm, were in great demand during the height of the ammo shortage among family and friends. He donated hundreds of rounds to informal shooting sessions. He was quoted as saying "I do not sell my reloads but I sure will help my guys shoot 'em for free!". He has a few cherished firearms that he has inherited or otherwise procured — those are his favorites.
He earned B.S. and M.S. degrees from Indiana State University in 1974-1975.
He's a firearm experts and is the founder of mhardesty.com.