The optics market is currently flooded with a myriad of miniature red dot sights from a variety of manufacturers. Some of these manufacturers offer different low-cost and high-end solutions that have been stalwarts over the last few decades. Today, we'll be looking at the Romeo 5 red dot sight made by the Sig Sauer brand.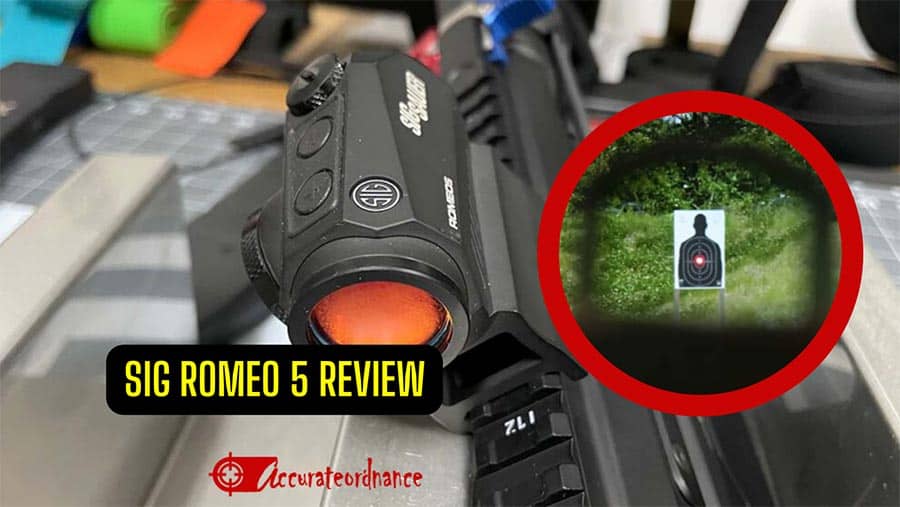 SIG Sauer has been a leading manufacturer of pistols and rifles for almost 100 years, but the last few decades have seen them expand into red dot optics and other tactical gear. The Sig Sauer Romeo5 is one of the brand's numerous optic options, and it looks to be a best-seller from my observations and research. Is this scope worth it? Let's get into the details!
The History of Sig Brand
SIG Sauer is a well-known, long-standing gun manufacturer whose impact is still felt today. Friedrich Peyer Im Hof, together with two other founding partners, started the company in 1853. SIG Sauer, well-known for manufacturing pistols, has had several setbacks in the past. With just 130 people, the company nearly went bankrupt in 2004. SIG Sauer recovered its standing with CEO Ron Cohen's plan to produce AR-15-like guns. Many Americans fell in love with SIG Sauer's firearms and became brand loyalists. Although it offers rifles and other gun accessories, it specializes in pistols.
SIG has established a great reputation in the firearms community. However, this does not imply that their products are faultless. It has also received critical feedback, most of which concerns cost. Most of their products are pricey, making it difficult for many people to get one. Despite the high price, the quality of their items is excellent. If you plan to spend a lot of money on this brand, you'll get a great rifle or shooting accessories.
Even more intriguing is that SIG Sauer does not manufacture Romeo sights itself. Instead, there was a contract between them and a Chinese business Holosun. Even though Holosun creates the scope, Sig has all rights.
The SIG Sauer Romeo5 is a small red dot designed to be mounted on just about anything. It weighs around 5.1 ounces and features a 2 MOA red dot and an objective lens of 20mm. The optic comes with two common industry standard mounting options: a lower mount that can be used on weapons without a riser mount platform and a 1.41-inch scope mount height (absolute co-witness).
The Sig Romeo5 uses CR2032 batteries, which are common in these types of optics. The battery life is stated to be around 40,000 hours, which is comparable to its competitors.
I can't discuss the Sig Romeo5 without mentioning a related compact red dot sight like Aimpoint T. Several other budget red dot optics have seen a rebirth in recent years. Brands like Vortex, Holosun, Primary Arms, and SIG all offer a 2 MOA red dot sight, but at a fraction of the expected price. This isn't an intended price comparison, but the idea of variety is nice.
Who should use the Sig Romeo5?
The Sig Romeo5 is best suited for shooters whose budget is less than $200. The MOTAC feature, its most appealing feature, is the key characteristic that will draw people towards it because it's not commonly seen in inexpensive red dots.
Those interested in experimenting with motion sensor tech in their red dot can turn to the Sig Romeo5. This sight can be used on duty rifles and home defense weapons. However, since it has a 2-minute red dot deactivation, it might not be suitable for hunting purposes.
SIG Romeo 5 – Is it a good device?
The Sig Sauer Romeo has good dot clarity. People have different eye perceptions, and what I will see with my eyes may not be the same as what everyone else sees. The dot was sharp in most settings and just slightly blurred when the brightness was turned all the way up. The dot performed admirably on lower settings in low light conditions, and even when a WML was enabled, it was visible.
The MOTAC function also worked as described. I've never grabbed my gun and had the sight fail me. I placed the rifle and scope on my table so that I could still look through the scope, and waited till it shut down. When it happened, I waited approximately 30 seconds before shaking the table where the gun sat. That tiny jolt was enough to turn the sight back on. This function is nice if the rifle you're using is mostly immobile (like AR home defense weapons), but it may be less useful if you're highly mobile.
Features
Glass Clarity & Reticle
The glass on the Sig Romeo is very clear. Although, as a 2 MOA red dot sight, it is better for precision compared to bigger dots that are effective for quick target acquisition. If you're looking for the green dot model, then Romeo 5 XDR variant is available. The Sig Sauer Romeo has 10 illumination settings: 8 daylight and 2 NV. The sensors of the sight will change the brightness automatically, but you may also decide to adjust it manually.
The – and + buttons on top reduce and increase brightness, respectively. Just hold down any of the buttons to toggle the sight on or off (check the control section for more). It has the Motion Activated Illumination feature, which we'll discuss further later.
I did observe that the motion-sensing feature is quite sensitive; even at the slightest shake, it would wake up. If you're not convenient and would prefer auto-off battery options, you can try Vortex Sparc AR.
The SIG Romeo's reticle is one of the most amazing aspects of this optic in my opinion. It's a lovely, clear, and sharp dot. The 2 MOA dot is adjustable in 1/2 MOA increments. So the dot appeals to me. Any rifle I've put this sight on has proven its pinpoint accuracy, even out of the box.
Eye Relief & Eye Box
The SIG Romeo 5 has unlimited eye relief, meaning that the user can position their eye anywhere in front of the sight and still see the full view. The eye box of the SIG Romeo 5 is also quite forgiving, making it easier for the user to quickly acquire the target and get a clear sight picture. These features make the SIG Romeo 5 well-suited for quick target acquisition and fast-paced shooting scenarios.
Durability and Build Quality
The Sig Romeo sight is a very tough optic. The sight is waterproof, and it can survive when immersed in water that is about 1 meter deep. That's ideal for me because I don't expect any shooter to play with their scope at this water depth. The waterproof ability is enough to survive shooting when caught in the rain. I'm certain that this sight will continue to operate without any water issues.
The fog proof performance is another great feature and it appears to be highly shock resistant too. I've never had any problems with the zero, even when it's been bumped around. That is significant for me since, while I do not misuse my firearms, I also am not as careful with them as I should be.
On a separate note, I've seen several thorough torture tests performed on the Sig Romeo. The sight is rather amazing because it was able to endure some fairly harsh abuse. I heard someone saying that he left his sight outside, and it got frozen due to snow, and it continued to function as normal. I've never subjected mine to such torturous testing, but I am convinced that it's a highly durable optic that can withstand everything thrown at it without issue.
Since I could not try the extreme torture test, I decided to do the rain test. I intended to leave the sight in the rain for only 30 minutes; unfortunately, I lost count of time, and it stayed in the merciless rain for a whole 60 minutes. Every crevice and surface was soaked, but the red dot was still visible through the tube. This was confirmation enough that it could withstand practically everything I threw at it.
Controls
The Romeo 5's controls are very simple to use. The optic has two top buttons, one for brightness increment and one for brightness reduction. Windage and elevation knobs are protected by covers that also serve as flathead zeroing tools. Each click on the turret advances the dot by 0.5 MOA. Overall, the controls operate smoothly and give the right turns and click results.
Power Source
This red dot optic is powered by a CR2032 battery. That's quite common in the red dot industry. A cap covers the right side opening. I love the fact that the sight has tiny and compact, designed not just for the battery container but also for the adjustment turrets. The battery component size will not distract you. This a pretty excellent set-up. The CR2032 is located on the right, as it always has been.
You may remove the battery cap using a screwdriver, a coin, or whatever else you can find. It's waterproofed with a rubber gasket and just requires one battery to run. It's simple to insert and remove; you can unscrew the cover by hand, thanks to some lovely cuts on the cap.
Mount
While the Sig Romeo is excellent, the scope mount is a different matter. What does not appeal to me about the mount? To be honest, the Sig Romeo is considerably superior to its mount.
The mount seems cheap and lacks the credibility that should accompany the optic. SIG's mounting device for Romeo 5 is remarkably similar to those used by Holosun, which feature similarly inexpensive mounts.
The Sig Romeo scope mount is available in two industry standard mounting options. The 1.41 co-witness riser mount is designed for AR-15-style rifles. The Picatinny low mount lets you attach the sight on more conventional stocks. I used the low scope mount on my shotgun, which exactly aligns with the iron sights.
A screwdriver for installation, lens cap, cleaning cloth, battery, and instructional guide are included as extras.
Be cautious: several shooters have reported receiving low-quality mounts. Fakes are prevalent, so be cautious while making a purchase.
Lifetime warranty
The Sig Romeo 5 has a 5-year warranty. A warranty may be considered as a guarantee from the corporation to take care of the sight if things go wrong. Also, it shows how long producers anticipate their items will survive. It should be noted that a good warranty should also come with excellent customer service. In my opinion, 5 years warranty is fair, but a lifetime warranty still reigns supreme.
Motion Activation Sounds Good on Paper
Many folks purchase Sig Romeo5 because of its motion activated illumination function.
There are two advantages to using the motion activated illumination function on a sight.
Battery preservation when idling
With the Sig Romeo5, you can get a battery life of about 50,000 hours if you use it in a low brightness setting. However, a 2,000 to 5,000 hours battery life is a more reasonable expectation. This is opposed to scopes like Primary Arms MD-ADS that offer the same 50,000 hours of battery life in a medium-brightness setting.
Simple activation
Warfare will always be unpredictable. The ability to use a sight on the fly without having to struggle with the On/Off buttons might save a life. The same may be true for a law enforcement officer who must swiftly deploy his rifle during an engagement and a citizen who needs to pull out his home defense pistol for protection. Whether a military serviceman, law enforcement officer or citizen, the red dot must be available even when the owner is least prepared.
Limitations
Non-Adjustable MOTAC
MOTAC activates the Sig 5 when motion is detected and deactivates it after 2 minutes of inactivity. Regrettably, there's no method to compensate for the deactivation period.
The 2-minute time limit had no effect on my range shooting or field testing. The short period will be enough for some recreational activities. It may, however, limit its usage in other shooting applications like hunting.
Handling The Sig Romeo5
Performance Test at the Range
The Sig Sauer Romeo sight was attached to an AR platform for testing. I applied a drop of blue Loctite to the screw threads that hold the top in place. I also left the OEM thread locker that holds the optic and mounts with four screws.
The testing phase lasted close to a month, and around 1,800 rounds were fired with the Romeo5 mounted. The technique of zeroing was straightforward. I fired around 15 shots at 50 yards to get the Romeo5 just where it should be.
The glass is sufficiently clear. I chose targets of 50 yards, 100 yards, and 200 yards for the test. I successfully hit the 200 yards off the bench three out of five times. I was pleased with the scope's performance at that range; hitting a man-sized target would be very easy.
Unboxing
When shipped, most sights come in elegant black or glossy cardboard boxes. However, this is not the case with Sig Romeo5. The sight is packaged in a brown box with the company's emblem printed on the front. Many consumers, like myself, thought the package was unappealing at first glance. Still, the sight is what counts, right?
When you open the package, you'll see all of the extra components inside. The optics, a battery, and an adjustment tool are included. It also includes a cleaning cloth placed in a little resealable bag. Furthermore, the box has a Picatinny interface mount. To my delight, black foam cushioning is used to protect all of the pieces.
Appearance
The Sig optic is a very compact red dot sight. It's small enough to fit in your pocket, with measurements of 62mm x 38mm x 38mm. The scope can fit in the palm of your hand, making it perfect in terms of portability. It weighs about 5.1 ounces and does not contribute to your gun's weight. The sight only comes in a normal all-black configuration.
Ease of Operation
I admire how basic but intricate the components are in their overall design. The lighting buttons are well-defined and sensitive to touch. Furthermore, because the keys are ontop of the scope, it is simple to modify the 10 illumination settings. You can also easily tweak the turrets.
Accuracy
This Romeo 5 sight allows shooters to fire more precise and quicker shots. Furthermore, the red dot remains fixed regardless of the angle at which you zero the sight. As a result, you will have unlimited eye relief when utilizing it. You will still get a precise shot whether you're still or moving.
FAQ
What's the difference between Sig Sauer Romeo 4 and 5?
The main difference between the Sig Sauer Romeo 4 and 5 is that the Romeo 5 is an upgraded version of the Romeo 4 with added features and enhancements. The Romeo 5 has improved battery life, a higher IPX rating for water resistance, and an updated reticle system compared to the Romeo 4. Both are red dot sight systems designed for firearms, but the Romeo 5 offers a more advanced set of features.
What company makes the Romeo 5?
The Sig Sauer Romeo 5 is made by Sig Sauer, Inc., an American firearms manufacturing company based in Newington, New Hampshire. Sig Sauer is known for producing high-quality firearms and shooting accessories, including red dot sight systems such as the Romeo 5.
Can the Sig Romeo 5 be shaken awake?
Yes, the Sig Sauer Romeo 5 has a Shake Awake feature. This feature uses a motion sensor to automatically turn on the sight when it senses movement and turn it off when it's not in use, conserving battery life. The Shake Awake feature is a convenient and practical feature for shooters, making it easy to quickly and easily get the sight up and running when needed.
Are the Romeo 5 and Juliet 3x magnifiers compatible?
Yes, the Sig optic can be used with the Juliet 3x Micro Magnifier. The Juliet 3x Magnifier is designed specifically to be used with Sig Sauer's red dot sights, including the Romeo 5. When paired with the Romeo 5, the Juliet 3x Magnifier provides a 3x magnification, making it easier to acquire and engage targets at longer distances.
The magnifier also has a quick-release mechanism, allowing for quick transitions from close to long-range shooting. The Romeo 5 and Juliet 3x Magnifier is a great combination for shooters looking for a versatile and effective sighting system.
Does Sig Romeo5 Have Night Vision Compatible Reticle?
Yes, the sight has 2 Night vision-compatible illumination settings.
Comparing Sig Romeo5 to the Aimpoint T-2
In terms of price, the Aimpoint T-2 will be slightly more expensive than the Sig Romeo5. The Aimpoint models also offer a night vision capability, while the Sig Romeo5 does not have this feature. However, based on personal experience, the Sig Romeo5 fulfills all my requirements and is a great value for the money.
One aspect I particularly like about the Romeo5 is that it comes with two mount heights, which allows for flexibility in how it is mounted. Although the Aimpoint can also be mounted similarly, this is a positive feature of the Sig Romeo5. Another advantage of the Sig Romeo5 is its excellent warranty, which is hard to beat. However, when it comes to ruggedness, there is a difference between the Sig Romeo5 and the Aimpoint sights. While the Sig Romeo5 performs exceptionally well on firearms like the DDMK18, it may not withstand extreme combat environments as effectively. For example, it may not endure being slammed on the ground, dragged across dirt or mud, or maintain the same level of waterproofing as the Aimpoint sights.
It's important to note that most people won't subject their sights to such extreme conditions, which makes the Sig Romeo5 an excellent choice for a great sight at an affordable price.
Sig Romeo5 In Home Defense
Yes! The Sig Romeo5 is a fantastic red dot optic that can certainly be used for home defense. It's highly regarded and receives top ratings from many users. However, it's important to consider the specific needs of home defense.
In a home invasion scenario, the distance between you and a potential threat is likely to be very close, possibly just a few feet away. In such situations, time is of the essence, and you may not have the luxury of acquiring a precise sight picture using an optic sight or traditional iron sights. To address this, some people prefer using open sights or even a laser sight for home defense purposes. A laser sight allows you to quickly get the laser dot on the target and then follow through with your shot. It can provide an added level of speed and simplicity in high-pressure situations.
That being said, the Romeo5 optic itself is excellent and highly recommended. It offers features like auto on/off, which eliminates the need to fumble with a switch during a critical moment. It also allows you to keep both eyes open, providing a full field of view for enhanced situational awareness.
FAQs
Can the Sig Romeo5 be used on an AK-47?
Absolutely! Many users have reported successfully using the Sig Romeo5 on their AK-47 rifles. To mount it on an AK-47, you may need to get a Picatinny rail, which can easily be attached to the rail of the AK-47. One popular mount option is the SM-13 mount, which securely attaches to the side rail and allows you to remove the receiver cover without dismounting the sight.
The Sig Romeo5 is designed to fit any standard Picatinny rail, so there shouldn't be any issues with mounting it on an AK-47. It's a great red dot sight that can handle the recoil of even a powerful round like a magnum. It comes with two bases: a cowitness base and a low base. These bases ensure that you can easily mount the sight to any AK mount equipped with a Picatinny rail.
What is the battery life of the Sig Romeo5?
The battery life of the Romeo5 is really good. It can last for a long time before you need to replace the battery. You don't have to worry about it running out of power too quickly. Just make sure to keep an eye on the battery and have some spare ones handy, just in case.
Does the Sig Romeo5 come with lens covers?
Yes, the Sig Romeo5 has a lens cover. These covers help protect the lenses of the sight from getting scratched or dirty when you're not using them. It's important to keep the lenses clean and in good condition for the best performance, and the lens covers can help with that.
Can the Sig Romeo5 be mounted on different types of firearms?
Absolutely! The Sig Romeo5 is designed to be versatile and can be mounted on different types of firearms. Whether you have a rifle or shotgun, as long as your firearm has the right rail or mounting system, you can easily attach the Sig Romeo5 to it. It's a convenient option if you want to use the same sight on multiple firearms.
Is the Sig Romeo5 suitable for both close-range and long-range shooting?
No, the Sig Romeo5 is suitable for close-range but not long-range shooting. It's a red dot sight; therefore, it does not have a magnification that can make it aim at long-distance objects.
Which riser does the Sig Romeo5 need on a Springfield Saint AR-15?
The Sig Sauer Romeo5 comes with both low and high-rise mounting options. However, if you're specifically using it on a Springfield Saint AR-15, you will need the high riser section. The high rise is designed to provide optimal height and alignment when mounting the Sig Romeo5 on the Springfield Saint AR-15. It ensures that the sight is positioned at the correct height for comfortable and effective use with your specific firearm.
Can Romeo5 be used directly on the Beretta 1301 tactical rail, and is it still possible to see the iron sights underneath?
Yes, it is possible to use the Romeo5 directly on the Beretta 1301 tactical rail, and you can still see the factory iron sights through the high Picatinny mount. Some users have reported trying this sight on their 1301 for slug testing at 50 and 100 yards. The Sig Romeo5 is highly regarded as a great red dot sight.
However, it's important to note that when mounted on the 1301, the Sig Romeo5 sits quite high above the bore center. This elevated position can affect the sight picture and shooting experience, particularly if you're accustomed to using the factory iron sights. Based on user feedback, some individuals eventually removed the Sig Romeo5 from their Beretta 1301 for general use. However, if you specifically use slugs and require a superior aiming point, the Sig Romeo5 can provide an enhanced aiming experience.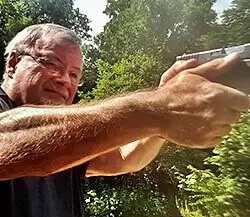 Mike Hardesty is a published freelance gun writer. With dozens of articles and reviews published in Pew Pew Tactical, Snipercountry.com, and TTAG (The Truth About Guns), Mike is considered a firearms expert. His special area of expertise is handguns.
Mike is a long-time shooter. He has been punching paper targets, taking deer and other game and shooting at competitions since about 1975. Other related pursuits include reloading and bullet casting. He currently reloads for over 10 calibers, both handgun and rifle. His reloads, particularly for 9mm, were in great demand during the height of the ammo shortage among family and friends. He donated hundreds of rounds to informal shooting sessions. He was quoted as saying "I do not sell my reloads but I sure will help my guys shoot 'em for free!". He has a few cherished firearms that he has inherited or otherwise procured — those are his favorites.
He earned B.S. and M.S. degrees from Indiana State University in 1974-1975.
He's a firearm experts and is the founder of mhardesty.com.