When talking about a sniper scope, the first thing we need to do is understand how a sniper rifle works. Then we can go ahead to consider what is required in this kind of scope, the scope brands, and models that will match your weapon. Sniper scopes are not designed like the typical deer hunting firearms but rather for man hunting, so the first consideration for these scopes is quality, both inside and out.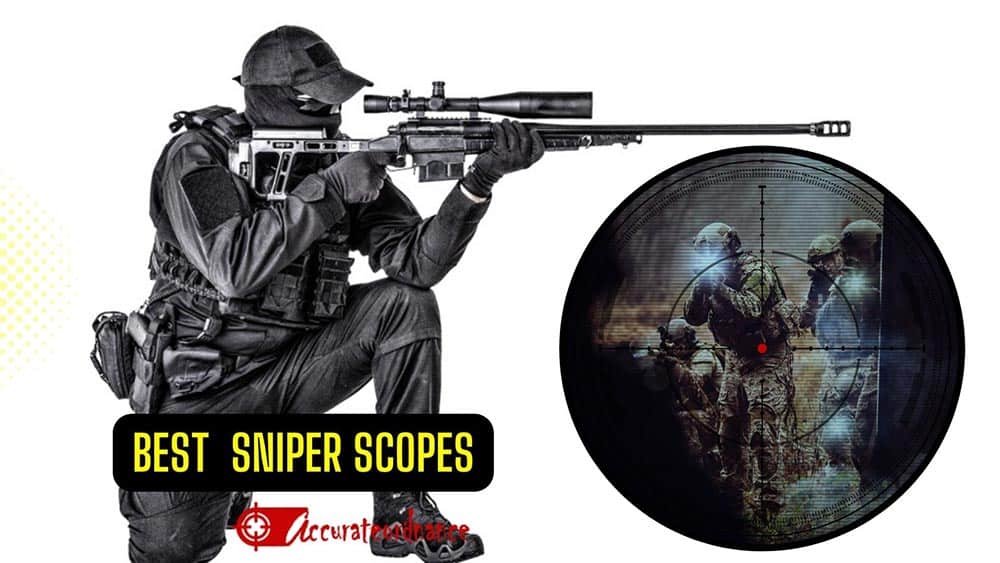 Sniper scopes are expensive shooting accessories because they make use of the best glasses available. These optics are housed in the best scope body, and as such, they can accomplish things that a traditional riflescope of the highest grade cannot achieve. 
A sniper rifle is a war instrument; it has a special position in the shooting optics world.
Snipers are long-range shooters, and a sniper needs to see his or her target as clearly as possible from the aiming distance; therefore, glass quality is critical in this situation. In a tactical attack, snipers are usually responsible for taking the first shot that would get the ball rolling for other members. They do this at a very long distance and must not miss because the first shot would determine the overall outcome of the attack. So, let's get back to our scope discussion.
As the requirements for long range shooting increase, so also should the features. Sniper scopes must have quick-moving turret adjustment mechanisms to adjust the windage and elevation quickly. We'll look at other features that a good sniper scope should have below.
Top Sniper Scope on the market:
Things To Consider When Buying A Sniper Scope
Many scope brands, particularly budget-conscious ones, may use marketing to entice you when you want to buy their items. Even though some statements are true, chances are that a scope brand will exaggerate just to sell. You might easily make mistakes if you're not familiar with the vocabulary of a sniper scope and what counts. We'll go through everything necessary, beginning with the most critical – objective lens, magnification – and then moving on to a few others.
Magnification: Variable Or fixed power scope
Whatever type of sniper scope you need, it must have a certain magnification. The greater the magnification, the closer you will "be" to the target. You would see your target clearly and take precise shots when you zoom in closer.
How can you determine magnification before purchasing? When searching for a scope, the magnification is the number on the scope that looks like this 3-9×42. The magnification is indicated by the first number (or group of digits) in this example; it is 3-9. The second factor is an objective lens.
When it comes to magnification, they are divided into two types: variable magnification and a fixed power scope. In the preceding example, we have a scope that has a variable magnification ranging from 3 to 9x. Depending on your shooting need, you can opt for anywhere between 3x and 9x. There are also fixed scopes, like 10×42, that only have a single fixed power. It is a personal preference and convenience issue.
Diameter of the objective lens
The objective lens diameter is another crucial aspect that has a significant influence on optical performance. It's also very straightforward here; a bigger objective lens permits more light transmission through the scope's tube. As a result, you receive higher clarity, sharpness, and contrast, as well as a better image.
However, the adage "bigger is better" is not applicable here as well. A bigger objective lens results in a larger and heavier scope. A heavy scope would be a burden, especially if you want to carry your gun for lengthy periods.
The ideal option is to decide on magnification first and then check what type of objective lens allows enough light transmission while not being too heavy. After you've decided on that, you can look through our selection scopes to choose one that best meets your needs.
The significance of lens coatings
While magnification and objective lenses are important factors in deciding how useful a sniper scope can be, lens coatings may also break or make the whole experience. There are different types of lens coating.
The simplest anti-glare coatings will gather light from the environment and reduce reflections and image distortion.
Some scopes also have Rainguard coating, a water-repellant coating that reduces fogging and results in a much clearer vision even when it is raining.
When it comes to coatings, the terms you need to be aware of, from good to the worst, include:
Fully multicoated lenses feature several coating layers on the air-to-glass interfaces.
A multicoated lens has more than one coating on one of the surfaces.
Fully coated lenses have a single layer.
Coated lenses feature only a single coating on one surface of the lens.
If you can buy it, we recommend getting fully multicoated or multicoated lenses. 
Turrets and tube diameter
Another element to consider is the scope's tube. With a bigger tube, you may now have a more versatile scope. However, this leads to a heavier scope, which may be difficult to transport. Then there's the possibility that a bigger tube will be harder to obtain mounts for. We recommend using a tube with a diameter of 30mm to 35mm.
The turrets will be used to hold elevation and windage. This is where many inexpensive brands prefer to make shortcuts. Every scope needs turrets for adjustments. And many shooters want a scope with a turret that clicks so they can simply keep track. A good turret should be capped and also feature a locking mechanism in case it collides with something.
Weather resistance and build quality
Last but not least, we have the sniper scope's construction quality and weather resistance. Sniper scopes are designed to be used outside; therefore, they must be durable. Anything less would mean that you would have to buy scopes often as they get damaged. A durable scope would save you stress.
A single-piece construction is typically an indication of a high-quality scope, as are features like lens covers and rubber contact surfaces. The rubberized surface prevents the scope from slipping from your hands. And when it does fall to the ground, the rubber serves as a shock absorber. Another important benefit is that the lens caps protect scratches from the lens's surface when not in use.
The final component of a scope's durability is weather resistance. A scope that is totally O-rings sealed has no possibility of water seeping inside. Also, you will need some sort of purging. you can choose between nitrogen and argon purging. This will prevent fogging.
Best Sniper Scope
1. Primary Arms 
Primary Arms manufactures a large number of scopes for close range, medium-range, and long range shooting. But when it comes to scopes that are specifically "Sniper Grade," Primary Arms does not have such. This scope model is the best among the long-range scopes that this brand makes.
This scope has an illuminated reticle, superior lens, and a huge 34mm main tube built from a high-quality turret and lens pieces. This scope is powered by a CR2032 battery, and it has a click value of 1/4 MOA on the turret. 
The Primary Arms scope is compatible with night vision and has a huge 56mm objective lens diameter. This sight is a light-grabbing optic that performs admirably in low-light circumstances. Subtensions in MOA graduations are also shown. The turret housing raises missing MOA bases to 95 MOA and corrects windage to 45 MOA. The overall weight of the scope is about 38.2 oz.
The Primary Arms scope has side focus knobs that are easily accessible. There is no military mil-specification for this scope. Most buyers appear to be pleased with the performance of this scope.
2. Swarovski Z5 5-25×52 BT
This scope is one of the best long-range scopes by this manufacturer. It is created as a state-of-the-art long-range shooting optic with a magnification range that is between 5x to 25x. One of the great features of this scope is that the turret settings are pre-set to four separate range zeros at the same time. This means that you can shoot with already zeroed distances or manually change the zero to any range that you want.
The Swarovski Z5 scope has a large main tube bell that is 52mm. The scope is engineered such that it gives the best possible image even at long ranges. I have used this scope to shoot in different ranges, and I can affirm that it is a deadly accurate long distance killing device.
One feature I appreciate in this brand is that they provide spotting scopes that are set up to precisely match the rifle scope subtension. That is, the spotter sees the same visual and range numbers as the shooter through the scope. This allows for easy communication about range modifications.
The Swarovski Z5 scope is a lightweight and highly durable scope. It has an eye relief of 3.74inch. With a ballistic turret plus a third parallax turret, this scope is a very precise instrument at any range. The Swarovski Scope is built to last and comes with a limited lifetime guarantee.
3. Steiner T5Xi Tactical Sniper Scope
This is my mainline long range scope. It is tested and trusted. I have used this scope in different rifles configured as long-range sniper rifles, and it has never disappointed me when it comes to hitting targets dead on. In fact, with a glass of this quality, you can see any target that is miles away clearly. I've taught so many shooters to shoot accurately using this particular scope.
The Steiner T5Xi Tactical scope is available in the FFP configuration, with a 5x to 25x magnification range. The scope also comes with a 24mm objective lens diameter and a 34mm main tube size. The turret on the scope is very large, and it has indicator numbers for easy MRADS adjustments.
The scope comes with a lifetime warranty, meaning you can repair /replace the scope if you have an issue. But this warranty does not cover theft or damage.
If you are looking for a sniper scope that can get the job done accurately, then the Steiner T5Xi Tactical scope should be on your list of best sniper scope.
4. Leupold Mark 5HD 7-35x56mm Riflescope
A sniper scope is a type of rifle sight that is used specifically for very long range shooting. I'm familiar with this glass scope. I use it on the Browning Bolt long-range 6.5 Creedmoor rifle. 
This is a huge scope with a very large objective lens diameter of 56mm. This 56mm objective lens, together with the high-quality glass used by Leupold, helps the shooter to maximize light well enough even up to the last daylight. Leupold is the only manufacturer I'm aware of that manually sets the objective lens rather than gluing it to the tube. 
Leupold does actually provide that degree of excellence in the manually crafted lens fitting.
The scope, when set up in FFP, and fitted with sub tensions intended, can make a sniper look through the lens and achieve needed elevation clicks by using the H59 hash marks rather than spinning turret clicks. My sight uses the MRADS, and it can quickly go out far beyond 1000 yards with a few simple clicks made on the scope's elevation turret.
This long range scope weighs about 20 ounces which is less than many scopes in its class. 
It is a military-grade optic that is completely shock-resistant and waterproof and fits the demands of military snipers and law enforcement.
5. Vortex Optics Razor Gen II 4.5-27×56 Scope- FFP
Vortex Optics is a top-scope brand that is well-known in the marksman world for producing high-quality scopes, as seen in this model. This Vortex Optics Razor scope has a magnification setting ranging from 4.5x to 27x. This magnification range makes it suitable for both close range and long range shooting. This long range scope has a first focal plane reticle, which ensures that the holdover point is precise no matter how much you zoom.
This scope has a particular APO optical system that may offer high-quality sight images thanks to its extra-low dispersion lenses. This scope also comes with lenses that are multicoated to decrease reflection and increase the clarity of the scope image. The illuminated reticle can be adjusted at 11 brightness intensities, allowing you to utilize this sight even in low-light situations.
The elevation and windage adjustment turrets on this scope are particularly noteworthy. The turret adjustments are not just sensitive and tactile, but they may also be locked to prevent a shooter from mistakenly adjusting those settings as the scope is moved from one place to another. It's a fantastic feature, especially when combined with the parallax adjustment turret on the scope's side.
This is an excellent pick for snipers. Its lockable adjustable turrets are incredibly user-friendly and provide accurate control, which any sniper would enjoy. The glasses and other parts of the scope are equally of good quality, giving it an exceptional value for snipers.
6. Burris Optics 8-40×50 Rifle Scope – Tactical Shooting
This long-range rifle sight has magnification settings ranging from 8x to 40x. Even for seasoned marksmen, this is an incredible range. Fortunately, the glass offered for this scope is of exceptional quality, providing a clear sight image even in low light settings. This Burris Optic has an illuminated reticle to enhance the accuracy of the shooter during night or morning. It also has FFP reticle.
This scope is built with a sturdy frame that will survive for long. It is fog proof and waterproof, so you can make use of the scope in any weather condition. The magnification settings of the scope may be changed using a control ring that reacts fast and smoothly to human input.
This sniper sight has superb knobs for elevation, windage, and parallax adjustments. Each increment moved produces a pleasing click, making it simple to adjust while looking through the scope. All the turrets are excellent for long distance shooting, guaranteeing that your shots will always hit the right spot.
One downside of the scope is that the turrets are quite bulky.
Overall, this efficient long-range scope boasts of the best reticle for dawn and dusk shooting and a tough casing that preserves the outstanding lenses that produce an excellent image. The zero-click stop knobs are also fantastic, providing excellent user control during long-distance sightings.
7. Vortex Optics Diamondback FFP Tactical Rifle Scope
Vortex is a well-known maker of riflescopes with a great reputation in the scope industry. They have excellent popularity among gun aficionados for providing high-quality products at reasonable costs.
This Vortex Diamondback sniper scope is a first focal plane scope that is available in MRAD and MOA configurations. The objective lens diameter of this scope is 44mm, and it comes with a magnification range of 4-16x.
Built to resist the rigors of normal use. It is made of a 30mm shockproof tubing. This tough design will endure predicted recoil as well as the impacts that come with field use.
This scope was constructed with good O-ring seals to provide constant operation under different field circumstances. Furthermore, it is a nitrogen-purged optics. These features ensure that the scope is fog and water-resistant.
You will enjoy the clear and brilliant images produced by this scope. The lenses have extra-low dispersion, and they are multi-coated to give a sharp and brilliant view.
The FFP glass-etched reticle helps to maintain subtensions in all the magnification ranges. The glide erector system was constructed with high-quality components. This guarantees seamless magnification transition and clarity in the most difficult hunting situations.
It's one thing to capture long-range objects. Another thing is to hit them! The Vortex Diamondback riflescope really helps with both.
It incorporates tactical turrets, side parallax knobs, and a quick-focus eyepiece for quick and easy focusing of the reticle.
8. Trijicon TR23 AccuPoint 5-20×50 Riflescope
This is an optic device that deserves to be listed among the greatest sniper scopes available. Designed to endure the harshest environments. The aircraft-grade aluminum body is tough and designed to perform in all weather situations. It features a 1.18-inch tube diameter, and it is waterproof.
With a big 50mm objective lens diameter and a magnification range of 5-20x, you are sure of getting a clearly zoomed image. The scope has a Second Focal Plane Reticle that remains constant when magnification increases. As a result, the targeting point is more precise at higher magnifications.
The eye relief is between 3.8-4.1 inches, and the scope measures 13.6inches in length and weighs 26.9 ounces.
This durable construction will allow a hunter to go hunting regardless of the weather. 
For most shooters, being in the field for lengthy periods of time is the ultimate goal. Many people like hunting at dawn or dusk. These times are ideal for spotting and catching prey. Low light is a challenge that must be handled during these periods or during dense cloud cover. The Trijicon AccuPoint riflescope contributes to resolving this issue.
Its high-quality multi-coated lenses and illumination enable long shooting sessions. They are intended to provide greater clarity as well as zero distortion light collecting capabilities. This design also has the added benefit of speeding up target acquisition.
Combining the improved clarity and fast target acquisition with an increase in shooting hours, you've got yourself a winning optic.
Here's additional information on the lighting capabilities of this scope…
Trijicon's design incorporates modern fiber optics and tritium illumination. The dual-illumination technology works to your advantage by automatically altering brightness according to the ambient lighting. There is, however, a manual brightness adjustment. This feature enables shooters to easily alter and customize the reticle to taste.
The illumination requires no batteries and operates in low light and no light circumstances.
Forget about battery charging or replacement. The Trijicon scope was designed with battery-free lighting in mind.
It is worth emphasizing how the integrated fiber-optic technology operates via automated adjustment. It accomplishes this by changing the contrast and brightness of the reticle to the available lighting conditions. When utilized in low light situations, the reticle is illuminated by a tritium phosphor lamp. The objective lens does not reflect any illumination onto the illuminated reticle.
9. Schmidt-Bender 3-20×50 PM II
Schmidt & Bender is a good sniper scope designed in Germany.  I have checked most of the scopes provided by this manufacturer, and they are excellent. This optical device is rated top-tier in terms of providing snipers with good long-range glass.
The scope brand understands how to produce only the best optics using the best materials available on the market. Schmidt & Bender optics on a sniper rifle is nothing short of world-class.
They only have one reticle option: the H2CMR MOA. It is military grade. The user must be able to weaponize mathematics, gauge distance, and handle complex range equipment. 
This scope features a 50mm objective lens. It has a tube diameter of 34mm that houses all the sophisticated turret pieces required for achieving long-range capabilities.
The scope is red-illuminated and has an eye relief of 90mm. The turret has 84 adjustable clicks and a 0.25 MOA difference between complete one-minute clicks.
All aspects of this military-grade equipment make it, without a doubt, one of the greatest in the world.
Frequently Asked Questions
How do sniper scopes work?
A sniper scope is a special shooting gadget made up of components that set an aiming reticule over an enlarged picture. Snipers use a scope to view a target and track the point of impact. Simply said, sometimes, where you aim from a 600 yards distance might not be the spot the bullet will hit. The bullet is susceptible to a multitude of factors throughout its long travel to the target. A sniper needs to have the same aim point and impact point. They make minor changes to the scope after taking into account range and windage.
Do you Need So Much Magnification?
Most people feel that the greater the magnification, the better. This is not always correct. Too much magnification will limit you in some ways. Your view is limited when you use a scope at the highest magnification. As a result, it would be difficult to locate a target. The best scope, in my definition, is one that delivers a good image at lower magnifications.
What should I pay?
We're all probably aware that cheaper cannot be better, so if you get a very low-priced scope, you'll end up with a poor-quality scope that will fail after a few shots. If you are on a tight budget, getting a cheaper one will save you money and might not give the best result. It doesn't have to be too expensive; a mid-price rifle scope will work for a start.
As you progress, a little additional investment might help. You can start with scopes less than  $300 and gradually increase to $600 and above.
What is the optimal magnification for a sniper scope?
There is no hard rule. It all depends on the shooting distance. While target shooting requires a greater magnification level depending on the range, hunting usually requires a lesser magnification because of the shorter distance and smaller target size.
A reasonable hunting distance is around 200 to 400 yards, although it might be considerably further. The lower the magnification, the quicker you can find targets with the scope.
For target or competition shooting, your highest magnification is very handy. You won't need a wide field of view, neither would you have to look for the target, since you already know where they are.
Which is the finest sniper scope brand?
There are hundreds of brands; the list would be endless. But what sets one scope apart from another? It is the glass, materials, features, and quality.
The scope manufacturer you choose is very important because some have spent years studying and manufacturing rifle optics. With each model comes improvements based on prior design and consumer input.
There is no finest brand; rather, we have only intelligent purchasers because everyone's desires and needs differ. And most brands have almost anything you require.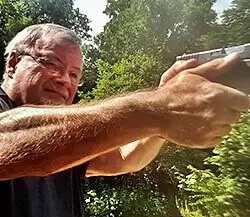 Mike Hardesty is a published freelance gun writer. He also possesses specialized expertise in rifle scopes With dozens of articles and reviews published in Pew Pew Tactical, Snipercountry.com, and TTAG (The Truth About Guns), Mike is considered a firearms expert. His special area of expertise is handguns.
Mike is a long-time shooter. He has been punching paper targets, taking deer and other game and shooting at competitions since about 1975. Other related pursuits include reloading and bullet casting. He currently reloads for over 10 calibers, both handgun and rifle. His reloads, particularly for 9mm, were in great demand during the height of the ammo shortage among family and friends. He donated hundreds of rounds to informal shooting sessions. He was quoted as saying "I do not sell my reloads but I sure will help my guys shoot 'em for free!". He has a few cherished firearms that he has inherited or otherwise procured — those are his favorites.
He earned B.S. and M.S. degrees from Indiana State University in 1974-1975.
He's a firearm experts and is the founder of mhardesty.com.