As an avid firearms enthusiast, you should understand the importance of having a reliable and high-performing optic to enhance your shooting accuracy and precision. However, we cannot deny the fact that finding the right red dot sight can be a daunting task, with countless brands and models on the market. In recent years, Trijicon RMR has emerged as a popular choice among shooters, and for a good reason.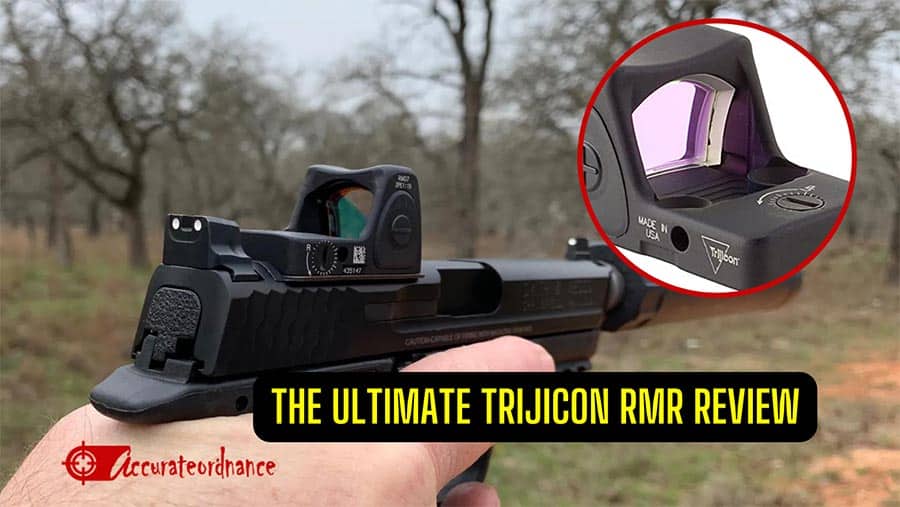 In this article, I'll share my experience using the Trijicon RMR optic and provide an overview of its features, benefits, models, and every other thing you need to know about this sight. Whether you're a seasoned shooter or a beginner looking to upgrade your gear, this article will give you the insight you need to decide whether the Trijicon RMR is the right optic for you. So sit back, and let's dive into the world of Trijicon!
Trijicon RMR
The RMR in the name stands for "Ruggedized Miniature Reflex." This red dot sight has won the hearts of many shooting enthusiasts over the years. The Trijicon sight is a reflex sight that is designed to be mounted on handguns, rifles, and shotguns, providing a red dot reticle that enables quick and precise target acquisition.
But why has Trijicon RMR become so popular among shooters? Well, it is the because of the compact and lightweight design which makes the optic easy to carry around and mount on different firearms without adding extra weight for the shooter. This makes it a perfect sight for those who need to move quickly and quietly, such as hunters and military personnel.
One thing I love about the Trijicon RMR, apart from being a sight with red dots, is its versatility. With different models and variations, you can choose the one that best suits your needs. So, whether you're looking for a smaller or larger reticle, a brighter or dimmer illumination, or a battery-free or battery-powered option, there is a Trijicon RMR that fits the bill.
Before we move on to the next section, let me share my personal experience with Trijicon RMR. As a firearm expert and longtime shooter, I have had the pleasure of using Trijicon RMR several times. This red dot sight is truly a game-changer. I remember the first time I mounted it on my handgun and went to the range to test it out. It was the first Trijicon sight I got my hands on, although I had used other red dot sights before, and I was eager to see how it would perform.
After I purchased the Trijicon RMR Type 2 with a 3.25 MOA dot and mounted it on my Glock 19. I was impressed with how easy it was to acquire targets, even at longer distances. The red dot reticle was bright and clear, and I love its ability to adjust the illumination. The compact size of the optic made it easy to carry and maneuver my handgun. The Trijicon RMR exceeded my expectations in every way. Zeroing the sight was incredibly easy, and I was able to do it quickly and accurately with about 5 shots at a range of 25 yards. 
The red dot reticle was easy to see and allowed me to acquire my targets quickly. I was consistently hitting my targets with pinpoint accuracy after zeroing, and the sight held zero even after hundreds of rounds. The red dot reticle was so clear that I could easily pick up my targets even in low light conditions.
Another thing that impressed me about the Trijicon RMR was its durability. I'm not one to baby a firearm or scope, so I've put the sight through some tough conditions. I've used it in the rain, snow, and extreme heat, and it has held up without fail. I was extremely impressed with the Trijicon RMR, and it is one of my go-to reflex sights which is why I always recommend it to other shooters looking for a reliable red dot sight.
In fact, as a gun writer, I've also had the opportunity to review and compare various red dot sights on the market, and Trijicon RMR consistently stands out as a top performer. 
Different Models of Trijicon RMR
Trijicon offers a variety of models for their RMR sight, each with its own unique features and specifications. Here are some popular models:
Trijicon RMR Type 1
This was the first model of the RMR, and it features a LED illuminated reticle that provides excellent visibility in any lighting conditions. The Type 1 is available with a 3.25 MOA or 6.5 MOA dot size.
Trijicon RMR Type 2
Type 2 has the same LED illuminated reticle as Type 1 but with some improvements, such as upgraded electronics that make it more durable and resistant to shock. It is also available in different MOA dot sizes.
Trijicon RMRcc
The Trijicon RMRcc is a compact version of the RMR that is designed to fit on concealed carry or IWB holsters. It features a thinner and more streamlined profile than the other RMR models.
Aside from these popular models, there are also other special features in some Trijicon RMR models, like the Dual Illuminated ones. Dual Illuminated sights feature a battery-free reticle that is illuminated by fiber optic during the day and tritium at night. We also have adjustable models. Each of these models has its own strengths and benefits, so you should consider your preferences when choosing.
When Can You Use Trijicon RMR?
As a firearm expert, I can attest to the versatility of the Trijicon RMR across different firearms. One of the most popular applications of the Trijicon RMR is on handguns. Whether you're using it for self-defense or competitive shooting, the Trijicon RMR can improve your shooting experience. I've used it on several handguns, and I can say that it's useful in low-light situations where an iron sight may be difficult to see. When mounting a red dot sight on a pistol or handgun, I recommend going for the bigger dot size, like the 6.5 MOA, which perfectly balances fast target acquisition and accuracy. Also, handguns are mostly meant for short-distance shooting rather than long range shooting.
The Trijicon RMR is also a great choice for rifles, providing quick target acquisition. If you're an avid hunter, this optic can make a big difference, especially when you're after fast-moving targets. With the right setup, it can also improve accuracy at longer distances. From personal experience, I recommend zeroing it at a range of 50 yards for the best accuracy.
The sight can also be a game-changer for shotguns. Whether you're hunting, competitive shooting, or using it for home defense, the red dot reticle allows for quick and easy target acquisition, making it ideal for close-quarters situations. When mounting a scope on a shotgun, I recommend going for the 6.5 MOA dot size for faster target acquisition.
Trijicon Rmr Reviews
For the purpose of this article, I would briefly review the Trijicon RMR Type 2 because it is the most popular among the RMR line of scope.
Trijicon RMR Type 2 3.25 MOA Adjustable LED Red Dot Sight
One of the standout features of this sight is its adjustable LED, which allows you to choose between eight different brightness settings to suit your needs. Whether you're shooting in bright daylight or low light conditions, this feature ensures you can always acquire your target quickly. If you do not want to use the manual brightness setting, you can make use of the Auto brightness.
The RMR sight also features a 3.25 MOA red dot reticle, which gives shooters a precise aiming point. The dot is crisp and clear, and I found it easy to see even in challenging lighting conditions. The sight is easy to adjust because it comes with a tool-free windage and elevation adjustment knob that allows you to zero in quickly. And with its long battery life, you won't have to worry about constantly replacing batteries. The CR2032 battery can last up to 4 years of continuous use at a brightness setting 4 of 8, which is quite impressive.
Another notable feature is the RMR's durable construction. It is made from 7075-T6 forged aluminum, which is the same material used in aircraft construction. This means the sight is lightweight yet extremely durable and can withstand heavy recoil and other tough conditions.  It's also waterproof up to 20 meters, making it a great outdoor weapon.
Features To Look Out For
When choosing the right Trijicon RMR for your needs, there are several factors to consider. Let's take a look at some of the most important features to consider when choosing a Trijicon RMR.
Durability
The RMR sight is designed to be rugged and durable, with features such as shock-resistant construction and waterproofing. However, some models may be more durable than others, so you should consider the intended use of the sight and choose a model that can withstand the conditions it will be subjected to.
Battery Life
The battery life of a Trijicon RMR sight can range from a few months to several years, depending on the model and usage. It's important to consider the battery life when choosing a sight, especially if you plan on using it for extended periods of time. Some models also have a battery-saving feature that automatically adjusts the brightness of the reticle based on ambient light conditions.
Mounting Options
The sight can be mounted using various methods, including direct mount, adapter plate, and co-witness mount. When choosing a mounting option, check the compatibility with your firearm and any other accessories you may be using, as well as the overall height of the sight relative to the bore axis.
Illumination settings
Trijicon has adjustable illumination settings, allowing you to customize the dot's brightness. Consider how often you will be shooting in low-light conditions and choose a model with enough illumination settings to suit your needs. Most of the recent Trijicon sights have auto-brightness, so you can check on that as well.
Price
The price of a Trijicon sight can vary widely depending on the model and features. Setting a budget and choosing a model that fits your price range while still meeting your needs is important. Remember that a more expensive model may have additional features and better performance but may not be necessary for your intended use.
Comparison with other popular red dot sights 
The Trijicon RMR Type 2 is one of the most popular red dot sights on the market, but it faces competition from other popular sights like the Vortex Razor, Burris Fastfire, Vortex Venom, and Sig Sauer.
Compared to the Vortex Venom, the Trijicon RMR has a smaller window size, but it is more durable and can withstand extreme conditions. The Vortex Venom is more affordable and has a longer battery life.
The Vortex Razor is another popular red dot sight that competes with the Trijicon RMR, but it is heavier than the RMR.
The Burris Fastfire is a smaller, more affordable red dot sight that is often compared to the Trijicon RMR. While the Fastfire is more compact, the RMR is more durable and has a wider range of brightness settings.
Finally, the Sig Sauer is another popular red dot sight that competes with the Trijicon. The Romeo has a larger window size and a longer battery life, but it is less durable than RMR and has a more limited range of brightness settings.
Trijicon RMR Accessories and Upgrades
Mounting plates and adapters for different firearm models
These are additional pieces that allow you to attach the optic to different types of firearms. They ensure a secure and proper fit, so you can use the sight on various guns without any compatibility issues.
Aftermarket sights and suppressor height sights for co-witnessing
Co-witnessing refers to aligning the RMR sight with other iron sights on your firearm. Aftermarket sights and suppressor height sights are additional sight options that allow you to maintain this alignment while using the RMR optic. They help you have a clear sight picture and aim accurately.
FAQs
How does the Trijicon RMR improve accuracy?
The RMR improves accuracy by providing a red dot reticle that helps you aim at your target. When you look through the optic, you'll see a bright dot that you can place on your desired point of impact. This allows for accurate target acquisition, especially in dynamic shooting situations. 
Can the Trijicon RMR withstand rough handling during outdoor activities?
Yes, it is designed to withstand rough handling during outdoor activities. It is built with durability in mind, using materials such as forged aluminum that are lightweight yet extremely tough. The optic is constructed to handle heavy recoil, impacts, and other challenging conditions. It is also waterproof, meaning it can be submerged in water up to a certain depth without being damaged.
Which reticle pattern is most suitable for fast target acquisition?
For fast target acquisition, a smaller reticle pattern is generally more suitable. Trijicon offers different dot sizes, usually measured in MOA (minutes of angle). A smaller dot size, such as 3.25 MOA, allows for precise aiming without obstructing the target. However, the ideal reticle pattern for fast target acquisition is usually a bigger dot.
Does the Trijicon RMR work well in low-light conditions?
Yes, the RMR works well in low-light conditions. The optic is equipped with adjustable illumination settings, allowing you to customize the brightness of the red dot reticle. This feature ensures that the dot remains visible and easy to acquire even in low-light environments. Additionally, some Trijicon RMR models may have auto-brightness functionality, which automatically adjusts the dot's brightness based on ambient light conditions. 
Is the Trijicon RMR compatible with pistols and rifles?
Yes, it is compatible with both pistols and rifles. It is designed to be mounted on various firearms, including handguns, rifles, and shotguns. The RMR can be easily attached using different mounting options, such as direct mounts, adapter plates, or co-witness mounts. It offers versatility and flexibility, allowing shooters to enhance their aiming capabilities on different firearms. However, it's important to check the specific model's compatibility and ensure proper installation to achieve optimal performance and accuracy.
What are the battery-saving features of the RMR sight?
One common feature is the automatic brightness adjustment. This means that the sight can automatically adjust the brightness of the red dot reticle based on the ambient lighting conditions. It ensures that the dot is not too bright in well-lit environments or too dim in darker conditions, thus conserving battery power.
Can the Trijicon RMR hold zero consistently over time?
Yes, the RMR sight is designed to hold zero for a long time. When properly mounted and zeroed, the optic maintains its alignment and does not shift or lose zero even after repeated recoil or rough handling. Trijicon sights are known for durability and reliability, allowing shooters to trust that their point of aim remains accurate and consistent throughout their shooting sessions.
How does the RMR compare to other popular reflex sights?
The RMR red dot is widely regarded as one of the top performers among reflex sights. It offers excellent build quality, durability, and reliability. When compared to other popular reflex sights, the Trijicon RMR stands out with its rugged construction, clear and crisp red dot reticle, and versatility in various shooting scenarios.
What is the average battery life of the RMR?
The average battery life of the Trijicon RMR can vary depending on the model and usage. However, many RMR models are known for their long battery life. For example, with a typical brightness setting of 4 out of 8, the CR2032 battery in some models can last up to approximately four years of continuous use. This provides shooters with extended use before needing to replace the battery.
How easy is it to install and zero the Trijicon RMR on different firearms?
Installing and zeroing the Trijicon sight is relatively straightforward on different firearms. The sight typically comes with mounting options or adapter plates that allow for easy attachment to various firearms. The process may involve securing the sight to the firearm using provided screws or tools. Zeroing the sight involves adjusting the elevation and windage settings to align the red dot reticle with the point of impact.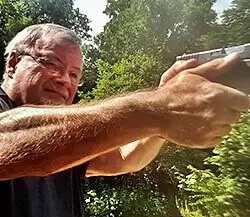 Mike Hardesty is a published freelance gun writer. He also possesses specialized expertise in rifle scopes With dozens of articles and reviews published in Pew Pew Tactical, Snipercountry.com, and TTAG (The Truth About Guns), Mike is considered a firearms expert. His special area of expertise is handguns.
Mike is a long-time shooter. He has been punching paper targets, taking deer and other game and shooting at competitions since about 1975. Other related pursuits include reloading and bullet casting. He currently reloads for over 10 calibers, both handgun and rifle. His reloads, particularly for 9mm, were in great demand during the height of the ammo shortage among family and friends. He donated hundreds of rounds to informal shooting sessions. He was quoted as saying "I do not sell my reloads but I sure will help my guys shoot 'em for free!". He has a few cherished firearms that he has inherited or otherwise procured — those are his favorites.
He earned B.S. and M.S. degrees from Indiana State University in 1974-1975.
He's a firearm experts and is the founder of mhardesty.com.