Today there are scopes for any shooting style and any pocket. If you do a bit of serious research and scratch below the surface of the immense scope world, you will realize two different approaches.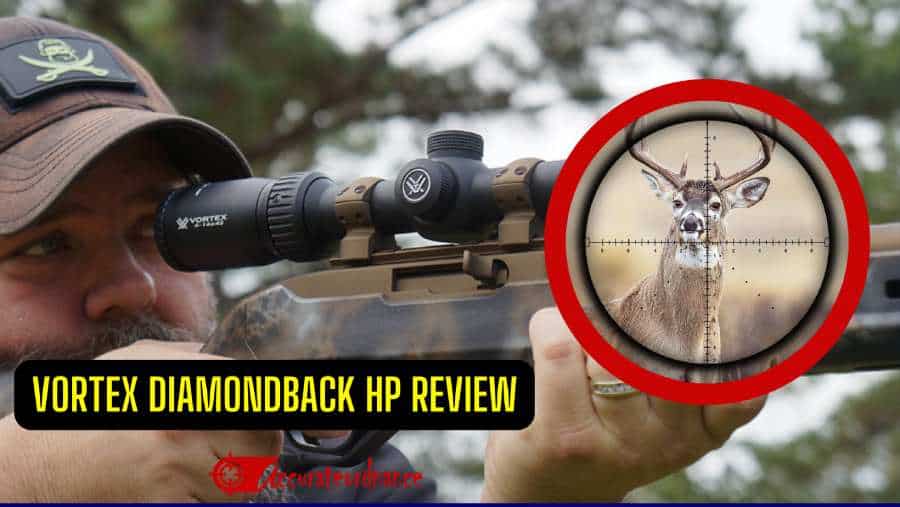 From the early 80s of the last century and the absolute explosion of modern riflescopes, hunters across the pond have been using the industry's four or five biggest optics brands to take the most valuable trophies for years.
Whereas these European premium high-end riflescopes usually cost arms and legs, most well-known names here in the States have designed and offered their scopes classified in several price levels.
The trend of more affordable but quality scopes was mainly spurred when manufacturing and technological advancements filled the rifle market with budget bolt guns. As these affordable rifles could reach out and touch something at pretty impressive distances, the optic manufacturers raised the specs of what an "entry" level scope needs to be able to do.
This category is one of the fastest-growing segments of hunting and target optics in the world. Vortex Optics company from Wisconsin, USA, is the prime example of how to design the finest rugged outdoor optics in the industry that won't break the bank.
Although the Vortex's most affordable optics typically cost $300 and less, the somewhat pricier Diamondback series is a step up in size and ruggedness, offering performance worthy of the more expensive Viper line scopes.
As a top-budget rifle scope, the Vortex Diamondback HP 4-16×42 is a successor to the famous Vortex Diamondback line discontinued in 2014. Although the basic Vortex Diamondback lineup shares similar qualities with Diamondback HP, there are a number of different features and specifications.
As the next generation of Vortex Diamondback riflescopes, the Diamondback HP (High Performance) riflescope offers better optical quality with a noticeably brighter and more clear picture, particularly at higher magnifications.
Glass quality
The upgraded model also has advanced features such as Vortex's patented XR proprietary coatings with Extra-low Dispersion (XD) glass lens. These glass elements feature fluorite crystals that enhance resolution and decrease chromatic aberration resulting in true color fidelity and sharp image quality.
Glass coatings
Along with anti-reflective coatings and ArmorTek coating to prevent scratches, the Vortex Diamondback HP scope features an Argon gas purging to prevent internal fogging over a wide range of temperatures. The Diamondback is built of single piece aircraft grade aluminum tube and sealed tightly with O-rings, making it watertight and shockproof.
Scope dimensions
The early Vortex Diamondback scope series model comes with a 4-12x magnification range, while the HP gives you 16x zoom.
While both scopes have a 1-inch main body, the standard model sports a 40mm objective lens diameter, and the Vortex Diamondback HP boasts a 42mm objective bell.
With a 1" main tube, this HP rifle scope keeps a trim profile, but it is longer and heavier than its older cousin. The High Performance (HP) 4-16×42 is 12.5 inches long and tips the scale at 18 ounces, almost 4 ounces more than the 4-12×40 model. Anyway, the Diamondback HP is not bulky or overweight scope as it keeps the golden middle among the competitive scopes of other brands.
Scope turrets
Like the older model, the Diamondback 4-16×42 riflescope features medium-height turrets with caps for extra protection while on the move. Both scopes have ¼ MOA adjustment graduation turrets that are firm yet easy to operate with fingers. The turrets are resettable and will allow you to re-index the knob to zero after the sighting.
Although both rifle scopes are similarly designed, there are a lot of differences. The noticeable difference between the Diamondback Classic and the Diamondback HP is the maximum windage and elevation adjustment. The basic Diamondback allows you to adjust only to 60 MOA, while the new generation Diamondback allows you to make a maximum adjustment of 80 MOA.
As you will expect from a renowned company like Vortex, their turrets and reticles have reference marks in the same measures – minutes of angle (MOA), allowing shooters to make impromptu corrections easily instead of running the turrets.
Parallax control
Since Diamondback HP is a 4-16X scope, it has parallax correction, but not on objective as many budget scopes (AO) but on the left side of the body. The focus turret allows you to adjust parallax from 30 yards to infinity.
Field of view
Speaking of situational awareness, with 23.8 – 6.1 feet/100 yards, the new Diamondback HP 4-16×42 has a pristine field of view. However, it is almost 30% less than the previous model, which offers a wide field of view of 32.4 – 11.3 feet/100 yards.
Eye relief
On the other hand, the eye relief on the standard Diamondback model is only 3.1 inches compared to the HP scope, which gives you a full 4 inches. The generous eye relief of this sub-$400 scope makes it quite suitable for mounting on high powered hunting rifles with a considerable kick.
Deadhold BDC reticle
The Vortex Diamondback HP 4-16×42 is available with two reticle variants, a Deadhold BDC or V-Plex reticle. Both reticles are simple and plain and designed for hunters who are not very demanding but want to make an impromptu adjustment while in the field.
For this article, we choose a Diamondback HP model DBK-10019 equipped with a Vortex's Dead-Hold BDC reticle. The Dead-Hold BDC reticle is designed with 3 hash marks etched on the vertical line and 3 marks on the reticle's horizontal line.
Like the rest in the Diamondback HP (High Performance) line, the 4-16×42 optic uses a second focal plane (SFP) reticle configuration. The reticle is glass etched to enhance durability while maintaining the same ideally-sized appearance throughout the 4x zoom range. The glass-etched reticle keeps subtensions accurate and keeps the same dimensions on all magnifications.
The Bullet Drop Compensator (BDC) reticle is perfect for those who need to accurately estimate hold-over and help the shooters to adjust for windage and bullet drop.
Fortunately, the Dead-Hold BDC reticle isn't made as caliber specific reticle, so it can be adapted to any rifle caliber you are shooting.
The combination of clear glass, large 16x magnification, fine crosshairs and a friendly BDC system makes this Vortex HP optic great for medium-range and longer-range engagements.
Scope disadvantages
Although the Diamondback HP 4-16x is a highly versatile rifle scope due to its excellent magnification range, it is somewhat limited by its light-gathering ability. The Diamondback HP 4-16×42 is made with hunting and shooting in daylight in mind. Since the Diamondback HP comes without illuminated crosshairs or a central dot, it could be a better scope to use in low light. If a sportsman enjoys those dawn or dusk hunts, you might look at another Vortex hunting scope series with larger objectives and illuminated reticles.
Scope application
With its traditional one-inch tube, modest measures, and very clean lines, the Vortex Diamondback HP 4-16×42 can be mounted on various firearms, such as bolt action and semi-automatic centerfire rifles, rimfire rifles, muzzleloader, and slug shotguns.
Diamondback Tactical series
Diamondback HP 4-16×42 is geared more toward hunting and recreational shooting, but another recently released Vortex improved series is designed with tactical applications in mind. Vortex Diamondback Tactical features all Diamondback performance with the addition of exposed tactical turrets and reticles placed in the first focal plane (FFP).
Unlike Diamondback HP scopes built for general shooting with an optimal range of up to 200 yards, this newest Diamondback series is designed for tactical-based shooting and long-range shooting.
Vortex VIP Unconditional Lifetime Warranty
Like all rifle scopes, the Vortex company shipped the Diamondback HP 4-16×42 with an unlimited lifetime warranty which is the best in the industry. The scope package includes a 4″ medium-sized sunshade, owner's manual, and lens cloth.
Final thought
If you surpassed the entry-level scopes like the Vortex Crossfire II lineup, a natural step up would be the Diamondback series.
The 3×9 power variable scopes were the traditional choice for American big game hunters for decades, but today there are a number of great, affordable scopes on the market with 4x and even 5x zoom range.
Compared to low-budget scopes, the Diamondback HP series offers a clearer and sharper image, rugged construction, versatile 4x zoom factor and customized dot design.
However, choosing the rifle scope is a personal preference and largely depends on your shooting style and hunting fields.
FAQs
What are the key features of the Vortex Diamondback HP 4-16×42 scope?
The Vortex Diamondback HP 4-16×42 scope has several important features:
The lens of the scope has special coatings and high-quality glass, which provides a bright and clear view, especially at higher magnifications. The Diamondback is also made of strong aluminum and sealed with rings to make it resistant to water and fog. You can choose between Dead-Hold BDC or V-Plex reticles, which help with hunting and making quick adjustments. The scope has a parallax adjustment on the side and offers 4 inches of eye relief for comfortable use. Vortex also offers a lifetime warranty for this scope.
Is the Vortex Diamondback HP 4-16×42 scope waterproof and fog-proof?
Yes, the Vortex Diamondback HP 4-16×42 scope is waterproof and fog-proof. It is sealed tightly to keep water out, making it safe to use in different weather conditions. It is also filled with nitrogen gas to prevent fogging inside the scope, even in varying temperatures.
Can the Vortex Diamondback HP 4-16×42 scope be used for long-range shooting?
Yes, the Vortex Diamondback HP scope can be used for medium to long-range shooting. However, it cannot be used for extreme long-range shooting like 2000 yards and beyond. It can magnify the target up to 16 times, allowing accurate aiming at distant targets. The scope also has a reticle that helps estimate bullet drop and compensate for windage, making it a good choice for medium-range engagements.
How do the windage and elevation adjustments work on the Vortex Diamondback HP?
The Diamondback HP has turrets on the top and side. These turrets can be adjusted to change the windage (horizontal) and elevation (vertical) settings. Each click of the turret corresponds to a ¼ inch change in the point of impact at 100 yards. The turrets can be easily reset to zero after sighting, making it convenient for shooters to make adjustments as needed.
What is the difference between MOA and MRAD measurements?
MOA (Minute of Angle) and MRAD (Milliradian) are angular measurements used in rifle scopes to adjust the point of impact. 1 MOA is approximately equal to 1 inch at 100 yards. So, if you adjust the scope by 1 MOA, the point of impact will change by 1 inch at 100 yards. MOA is commonly used in the United States.
Meanwhile, 1 MRAD is approximately equal to 3.6 inches at 100 yards. It provides finer adjustments compared to MOA, making it more popular in military and long-range shooting applications worldwide.
Is the Diamondback HP scope easy to install and mount?
Yes, the Vortex Diamondback HP scope is designed to be user-friendly and easy to install. It typically comes with clear instructions that guide you through the mounting process. With basic tools and some knowledge, you should be able to attach the scope securely to your firearm.
How customizable are the reticle options on the Vortex Diamondback HP scope?
The Diamondback HP does not have as many customizable options as most Vortex Optics. You can only choose between the Dead-Hold BDC or V-Plex reticles, which majorly suit those who seek to carry out simple shooting activities. While you cannot change the physical appearance of the reticle, the reticle itself provides features like bullet drop compensation and quick adjustment references, allowing you to adapt to various shooting conditions.
What are the advantages of Diamondback HP compared to its competitors?
The Diamondback HP scope offers several advantages over its competitors: Firstly, it uses high-quality glass and proprietary coatings to deliver clear and bright images. The scope was also made with durable materials like aircraft-grade aluminum, ensuring long-lasting performance even in rugged conditions. Aside from the scope's build, another exceptional advantage it has over its competition is the unlimited lifetime warranty.
Are there any potential drawbacks or limitations of the Vortex Diamondback HP 4-16×42 scope?
While the Vortex Diamondback HP is highly regarded, it's important to consider a couple of potential limitations: Firstly, some users find the scope slightly heavier compared to other models, which could affect the overall balance of the firearm. Also, the scope does not come with an illuminated reticle; as a result, it could be challenging to use the scope in an environment with low light.
What is the price range of the Vortex Diamondback HP scope, and is it worth the investment?
The price range of the Vortex Diamondback HP 4-16×42 scope can vary, but it typically falls into the mid-range category of scopes, around $300 to $500. While it may not be the cheapest option on the market, it offers excellent value for its price. With its high-quality optics, durability, and reliable performance, the Diamondback scope is considered a worthwhile investment by many shooters. It provides features and performance comparable to more expensive scopes, making it a cost-effective choice for both beginners and experienced shooters. This scope is a step above basic scopes and below the more advanced scopes.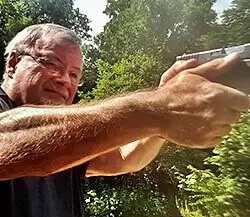 Mike Hardesty is a published freelance gun writer. With dozens of articles and reviews published in Pew Pew Tactical, Snipercountry.com, and TTAG (The Truth About Guns), Mike is considered a firearms expert. His special area of expertise is handguns.
Mike is a long-time shooter. He has been punching paper targets, taking deer and other game and shooting at competitions since about 1975. Other related pursuits include reloading and bullet casting. He currently reloads for over 10 calibers, both handgun and rifle. His reloads, particularly for 9mm, were in great demand during the height of the ammo shortage among family and friends. He donated hundreds of rounds to informal shooting sessions. He was quoted as saying "I do not sell my reloads but I sure will help my guys shoot 'em for free!". He has a few cherished firearms that he has inherited or otherwise procured — those are his favorites.
He earned B.S. and M.S. degrees from Indiana State University in 1974-1975.
He's a firearm experts and is the founder of mhardesty.com.