Before we get into a more detailed comparison, here's a quick side-by-side table comparison of each of the scope series:
| | | |
| --- | --- | --- |
| | Vortex Viper HST 6-24×50 mm | Vortex Viper PST Gen II 5-25×56 mm |
| Magnification | 6 -24 x | 5 – 25 x |
| Objective Lens Diameter | 50 mm | 56 mm |
| Maintube Diameter | 30 mm | 30 mm |
| Field of View@ 100 yd | 6x:17.8 / 24x: 5.1 | 5x: 24.1′ / 25x: 4.8′ |
| Eye Relief | 4.0 in | 3.4 in |
| Reticle Type | VMR-1 (MOA or MRAD) | EBR-4 or EBR-7C (MOA or MRAD) |
| Reticle Details | SFP, Non-Illuminated | SFP or FFP, Illuminated |
| Turret detail | Exposed Tactical MOA / MRAD Adjustments | Exposed Tactical MOA / MRAD Adjustments |
| Windage Adjustment | 65 MOA | 70 MOA |
| Elevation Adjustment | 65 MOA | 35 MOA |
| Parallax Correction | Yes, 50 yds to Infinity | Yes, 20 yds to Infinity |
| Length | 15.41 in | 15.79 in |
| Weight | 22.6 oz | 31.2 oz |
Comparing riflescopes from the same manufacturer is particularly difficult in this series of scope comparisons. Moreover, comparing two scopes from two very close and related product lines makes life even harder.
Like all industrial products, most riflescopes manufactured by the same company are divided into several quality and price classes. As one of the major brands in the sporting optics market, Vortex Optics offers a wide choice of riflescopes classified at all popular price points.
Vortex HST vs. PST Comparison
For this overview, we choose two of the most advanced series from the famous Vortex Viper family of scopes, Vortex Viper HST and Vortex Viper PST II Gen. Translated to Vortex specifically, from a hierarchy standpoint, the Vortex HST scope series is a level below the PST Gen II series.
Both Viper HST and PST belong to the Vortex's higher-end optics, and though similar in design and features, these scopes are designed for different tasks and applications. However, the differences in overall performance are more perceptual than objective.
Yet to understand the primary difference, the answer is hiding in their names.
The HST is an acronym for a Hunting Shooting Tactical, whereas the PST is an acronym for Precision Shooting Tactical. It means that Vortex Viper Hunting Shooting Tactical (HST) is a better hunting rifle choice but can also be used ideally for long-range shooting.
On the other hand, the Vortex Precision Shooting Tactical, as its name says, is a tactical rifle scope series designed for shooting at various distances.
Both rifle scope series is feature-rich, presenting top-end scopes in their price range.
Both Vortex lines have a solid construction based on one piece 6061 aluminum alloy tube of diameter of 30 mm, which offers a much more comprehensive range of windage and elevation adjustments than the smaller 1" tube.
When comparing the other basics between these Viper scope lines, we will see that HST comes in 2 different magnification ranges, and the PST Gen II series is currently available in 4 configurations. Of course, these figures are bigger by combining different reticles and focal planes.
The Vortex Viper HST scopes series features 4 times zoom range while the Vortex Viper PST models feature a more versatile 5x zoom, except the 1-6×24 model designed for CQB and close-range target shooting.
Finally, both Vortex Viper series are made in the Philippines. They are covered under Vortex's Lifetime Warranty Program (VIP), one of the best optical warranties in the business.
The first condition for objectively comparing riflescopes is to avoid an apple-to-lemon comparison but find two models with similar magnification power ranges.
We selected the Vortex Viper HST 6-24x50mm and Vortex Viper PST Gen II 5-25x56mm for this overview. Aside from an approximate zoom and magnification range, these two Vortex scopes boast many differences.
Vortex Viper HST 6-24x50mm
Vortex Viper HST 6-24x50mm is variable magnification rifle scope designed for sports shooters and hunters, but also it offers long-range performance suitable for military applications. With a lighter overall weight and somewhat shorter body than Vortex PST II Gen, the Viper HST may be used to mount AR-style rifles.
Combining the best features of its predecessor hunting line, known as a Viper HS, and the best features of the tactical line, the Vortex Viper PST, the HST can withstand a lot of recoil, adverse weather conditions and hunting adventures than their counterparts.
Built on an ultra-strong 30mm one-piece aluminum tube and featuring a 4-inch eye relief, Viper HST 6-24x50mm can work for almost any caliber, including high-recoiling ones.
While the outside of the housing is hard anodized, the interior is purged with Argon gas for fog-free efficiency. As standard, it comes with integrated O-rings to ensure a waterproof performance at all times.
The HST comes equipped with Vortex's extra-low dispersion glass, which is fully multi-coated using XR technology to increase resolution, light transmission and color fidelity. The outer lens has an additional coating named ArmorTek, to protect the lenses from scratches, oil, and dirt.
The model has a 50mm lens and exposed tactical turrets with repeatable finger-adjustable clicks. Unlike the more reliable PST's Zero Stop system, the HST uses a CRS Zero Stop, an acronym for Custom Rotation Stop. While the Viper PST Gen II models use a mechanical zero stop, the HST Zero Stop system can be adjusted with shims.
The HST 6-24×50 scope is available with an unlimited VMR-1 SFP reticle, which can be ordered in MRAD or MOA. In contrast, the Viper PST Gen II is offered with the first focal plane (FFP) and the second focal plane reticles, which are illuminated and perfect for shooting in low-light conditions.
Vortex PST Gen II
The Vortex PST Gen II 5-25×56 is purpose-built for medium and long-range target and tactical shooting and hunting. That said, the PST scope, like HST features, exposed tactical turrets to allow shooters to change the elevation and windage quickly without taking off the caps.
The PST II Gen scopes have a robust mechanical stop system known as the RZR Zero Stop. Since this setup is more geared toward long-range shooting and tactical applications, you can opt for the ranging or the "Christmas tree" type reticle. These reticles are illuminated and can be placed in a second or first focal plane. With the PST Gen II models, you can choose the EBR-4 or the EBR-7C reticle in an MOA or MRAD configuration.
Although the PST Gen II models come equipped with the same premium, XR fully multi-coated, extra-low dispersion lenses, the glass quality is on the PST side.
All Viper PST and HST rifle scopes have an adjustable parallax knob on the left side of the rifle scope.
While the 3.2″ to 3.4″ range in eye relief may not seem as generous as the HST model, it is still enough eye relief for comfortable viewing and most any caliber.
The Viper PST 5-25×56 is also built of an aluminum alloy 30mm tube, but PST offers a much wider range of windage and elevation adjustments compared to the HST gliding system.
Final Thought
Released a decade ago, these Vortex rifle scopes have found a liking among different shooters and gun enthusiasts. Which is the better option depending on your planned applications and shooting style?
Both are versatile scopes that work in multiple settings and can be used for hunting or long-range tactical shooting.
At the end of the day, everything really boils down to your budget and your applications.
So it would be best to decide whether you are happy with the standard unilluminated reticle or need a more accurate target sighting. The answers will come quickly.
FAQs
What are the key differences between Vortex HST and PST scopes?
The Vortex HST (Hunting Shooting Tactical) and PST (Precision Shooting Tactical) scopes are both high-quality offerings from Vortex Optics, but they have some key differences. The primary difference lies in their intended applications. The Vortex HST scope is designed primarily for hunting but can also be used for long-range shooting. On the other hand, the Vortex PST scope is specifically designed for precision shooting and tactical applications at various distances.
The HST scopes typically feature the VMR-1 SFP reticle, while the PST scopes offer both FFP and SFP reticles, with illumination for low-light conditions. The HST scopes use a CRS Zero Stop system, whereas the PST scopes use the more reliable RZR Zero Stop system.
Is the Vortex HST scope suitable for long-range shooting?
Yes, the Vortex HST scope can be used for long-range shooting. While it is primarily designed for hunting which usually takes place in short range, the HST scope's features and capabilities give it the ability to survive long-range shooting.
How does the Vortex PST scope perform under low-light conditions?
The Vortex PST scope performs exceptionally well under low-light conditions. Equipped with premium, fully multi-coated, extra-low dispersion lenses, the PST scopes offer excellent light transmission, maximizing brightness and clarity in challenging lighting situations. The illuminated reticles available in the PST series enhance visibility and target acquisition in low-light environments, ensuring shooters can maintain accuracy and precision even in dimly lit conditions.
In what scenarios is the Vortex HST scope generally preferred?
The HST scope is generally preferred in scenarios where hunting is the primary objective. Its design and features cater to the needs of hunters who require a scope that excels in various hunting conditions.
In what scenarios is the Vortex PST scope generally preferred?
The Vortex PST scope is generally preferred in scenarios that demand precision shooting and tactical applications. With its precise windage and elevation adjustments, tactical turrets, and the availability of ranging or "Christmas tree" type reticles, the PST scope is well-suited for precision shooters, long-range shooters, and tactical professionals.
How does the pricing of Vortex HST compare with PST?
The pricing of Vortex HST and PST scopes can vary depending on the specific model and retailer. However, in general, the PST series tends to be priced higher than the HST series. This is primarily due to the PST scopes offering additional features such as a wider zoom range, illuminated reticles, and the more advanced zero stop system.
What are some user reviews for Vortex HST scopes?
User reviews for Vortex HST scopes have been generally positive. Many users appreciate the HST scopes for their solid construction, excellent optical performance, and versatility. They often highlight the clear and sharp image quality, ease of use, and the scope's ability to withstand recoil and adverse weather conditions. Some users specifically mention the VMR-1 reticle as being well-designed and useful for a variety of shooting applications.
Which scope would you recommend for a beginner: Vortex HST or PST?
Both the Vortex HST and PST scopes offer excellent performance and features, but the choice between them for a beginner would depend on the specific shooting needs. The HST series is generally recommended for hunting and sports shooting, while the PST series is more suited for precision shooting and tactical applications. If the beginner intends to engage in a wide range of shooting activities, including hunting and long-range shooting, the HST scope might be a more versatile choice. However, if the focus is primarily on precision shooting, the PST scope, with its additional features like illuminated reticles and the RZR Zero Stop system could be a suitable option.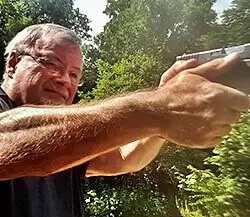 Mike Hardesty is a published freelance gun writer. With dozens of articles and reviews published in Pew Pew Tactical, Snipercountry.com, and TTAG (The Truth About Guns), Mike is considered a firearms expert. His special area of expertise is handguns.
Mike is a long-time shooter. He has been punching paper targets, taking deer and other game and shooting at competitions since about 1975. Other related pursuits include reloading and bullet casting. He currently reloads for over 10 calibers, both handgun and rifle. His reloads, particularly for 9mm, were in great demand during the height of the ammo shortage among family and friends. He donated hundreds of rounds to informal shooting sessions. He was quoted as saying "I do not sell my reloads but I sure will help my guys shoot 'em for free!". He has a few cherished firearms that he has inherited or otherwise procured — those are his favorites.
He earned B.S. and M.S. degrees from Indiana State University in 1974-1975.
He's a firearm experts and is the founder of mhardesty.com.