The Vortex StrikeFire II scope is a great optic, but is it worth being a top-rated red dot? Most red dot sights are usually not effective beyond 100 yards or thereabout, and this StrikeFire 2 is no different. However, it does not mean that it can't be used to take shots up to 200 yards.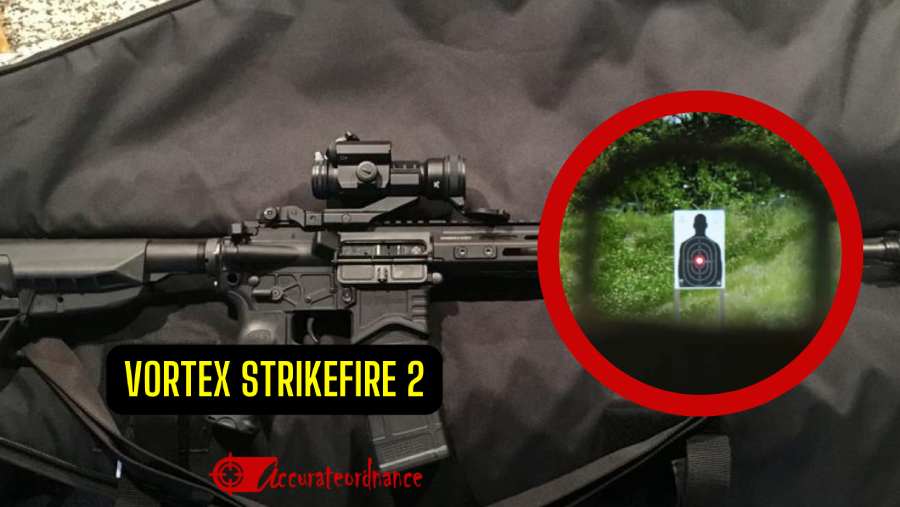 In this post, we'll check out the major features of this scope. At the end of this article, you'll leave with more understanding of what to look for when purchasing this red dot.
Quick Overview: Vortex Strikefire 2 review
The Vortex StrikeFire 2 is a red dot sight that has been designed for use with firearms such as rifles and shotguns. It is popular for hunters, target shooters, and tactical shooters. The StrikeFire 2 features a bright red dot reticle that is easy to see even in low-light conditions, making it a great option for shooting at moving targets. The reticle is adjustable, allowing the user to use the 4 MOA dot effectively.
This Vortex optic is built to last and is recoil resistant, waterproof, and fog-proof, making it suitable for use in any weather condition. This single piece chassis optic also features a durable rubber armor housing that provides a secure grip and helps protect the sight from impacts and scratches.
The StrikeFire 2 is quick and easy to mount on a variety of firearms, thanks to its standard 30mm mount. It can be mounted on a Picatinny or Weaver rail, making it a versatile option for many different types of guns. The sight is also compatible with many different magnifiers, which can be added to enhance its capabilities.
One of the standout features of the StrikeFire 2 is its low price point, making it a budget-friendly option for those looking to upgrade their shooting gear. Despite its low cost, the sight is of high quality and performs well in real-world conditions.
Complete Scope Review: Vortex Strikefire II
Features
Scope Build and Durability
Red dots are categorized into two major types: tube style and reflex style (which I believe is actually called an "open" style). Most shooters often mount this Vortex red dot on their pistols and home protection firearms; as a result, they most likely might not feel comfortable with a tube red dot. Tube red dots are generally better when you want to use them at the range or while hunting.
In terms of quality, this red dot is not a bad one. You'll find out when we discuss the scope's other excellent features. The best optics often use a single piece chassis for maximum robustness and endurance. This is how the Strikefire II construction was made. The scope is also more suited to persons with astigmatism because of its holographic sight traits.
Also Read : Best red dot for astigmatism
However, one of the most significant features of the scope is its toughness and reliable performance. Does that mean that you should slam it against a rock? No, however, it can withstand drops, bumps, tumbles, and other types of impacts as compared to many other red dot sights on the market.
Vortex knew what they were doing when designing this sight, and they put so much time and effort into crafting the StrikeFire's design. It comes with a cantilever mount, allowing you to align it with an external magnifier while also co-witnessing it with the iron sights on your weapon.
The inside of the scope is nitrogen-purged to make it resistant to fog, and it also has an O ring seal that prevents moisture from entering the tube. The optic is made with single piece chassis and has a hard anodized finish outside. This hard anodized finish ensures extra durability. Overall, it can withstand any normal use.
Size
With regards to size, this Strikefire scope is not a small optic; this is generally expected from tube-style red dots. When mounted, the scope is approximately six inches in length and about three inches in height. The only juice about the scope size is that it makes you feel like you have a regular scope on your weapon, and you might feel like swapping on your rifle or other weapons.
What is the significance of this size and height? If the size and heights of your scopes are different, you'll need to modify the cheek weld, as well as the angle and position of your head, while switching between them. The more frequently you transition between optics, the more difficult it is to create muscle memory and acquire your sight.
Is this significant? Maybe not; if you're not going to be switching between scopes or rifles, you need not worry about the size.
Glass and Dot Color
The sights co-witness level is lower 1/3; it is not a preferred setting for many shooters, but it works well just like absolute because you normally would need a co-witness for backup purposes when your red dot is not working for whatever reason.
The reticle is a basic dot, as expected, and it comes with exceptionally clear and brilliant glass. You may choose between only a red color version that has 11 different brightness levels and a red/green version with 10 different brightness adjustments. You'll get superb daytime performance whether you use the green or crank up the red dot's brightness.
Having the option to switch between red and green dots can be useful for some shooters because different colors are more visible in different lighting conditions. For example, a green dot may be easier to see in bright, sunny conditions, while a red dot may be easier to see in low-light conditions. By offering the option to switch between colors, the red/green dot version of the StrikeFire II provides the shooter with more versatility and flexibility when it comes to choosing a reticle that works best for their specific shooting needs.
In addition to the color of the reticle, the red/green dot version of the StrikeFire II may have a slightly higher price point compared to the red dot version. Overall, the choice between the red dot and red/green dot versions of the StrikeFire II will depend on the shooter's personal preference and shooting needs.
Increasing the brightness clearly has an impact on the battery life, and this StrikeFire's CR2 battery is not so cheap. Nonetheless, this sight has an auto-off mechanism that turns it off if you forget to put it off. I haven't tried this feature, but Vortex claims that it was designed to go off automatically after 12 hours.
Reticle
It has a 4-MOA dot, which I think is a good compromise for most red dots on the market. It is more typical to find two, three, or six MOA choices.
A 4 MOA (Minute of Angle) red dot is a type of red dot sight that has a reticle, or dot, with a diameter of 4 minutes of angle. Minute of angle (MOA) is a unit of measurement that represents the size of an object as it appears at a certain distance. One MOA is equal to 1.047 inches at 100 yards, so a 4 MOA reticle is approximately 4.188 inches in diameter at 100 yards.
The size of the reticle in a red dot sight is an important consideration because it affects how quickly and accurately the shooter can acquire a target. A smaller reticle, such as a 2 MOA dot, provides more precision for long-range shooting but can be more difficult to see at a glance. A larger reticle, such as a 6 MOA dot, is easier to see and quicker to acquire but may not be as precise for long-range shooting.
A 4 MOA red dot is a good middle ground between precision and rapid target acquisition. It is small enough for accurate shots at moderate distances but large enough to be easily seen and quickly acquired. This makes a 4 MOA red dot a popular choice for a wide range of shooting applications, including hunting, tactical shooting, and sport shooting.
This might not sound pleasant to you, but if I wanted to shoot a target 100 yards or farther, I would not select this StrikeFire II sight (or any red dot). Can the StrikeFire shoot far? Of course, however, if that is your primary goal, several scopes are far better equipped for that.
The 4MOA dot is ideal for most applications requiring less than 100 yards of range.
Compatibility with low-light and night vision
The StrikeFire II will thrive in most circumstances 50 yards or nearer. It is an excellent choice for duty weapons, not only because of the ease of acquisition but also because of its robustness and longevity.
If you're planning to invest in a competent night vision equipment, this red dot has two low brightness levels that are highly compatible with night vision; you can use the sight without adding a flashlight which will reveal your location. You can utilize the sight with night vision devices in low-light situations.
As a general rule, if you're shooting at close range and don't require more accuracy, the StrikeFire II is an excellent pick.
Warranty
I'd like to take a minute to discuss the Vortex warranty, which applies to this StrikeFire and all other Vortex scopes. Vortex has an outstanding lifetime guarantee, and if you doubt whether the firm honors its warranty promise, just read customer reviews anywhere. Vortex does an excellent job of managing its lifetime warranty.
The optics industry is flooded with knock-off and fly-by-night firms who create goods that perform perfectly until something goes wrong, at which point you have to get a brand new one. Vortex takes the opposite approach: their optics are built to last, and if they don't, they'll replace them.
The guarantee alone is a compelling argument to remain with Vortex products; there are other brands that have reliable warranties too.
Reliability
Studies like this scope review can't verify the long-term reliable performance of any sight since doing so would need me to test the scop practically for about 10 years. At that time, the review might no longer be useful because of the increasing number of scopes and upgrades. Despite many journeys and a handful of unintended bangs, the sight has maintained its zero wonderfully thus far.
Benefits
Easy to Use
In general, red dots are simple sights that should be easy to operate. This Vortex Strikefire II is little more than that. I discovered that the brightness adjustment offered a very simple user experience when I got to use the sight at the range.
While I indicated that you'd need a tool or coin for adjustments, you can still make things easier by utilizing the provided turret caps. The protrusions on these caps match the coin-slot-type turrets. It's that simple.
If you're used to changing reticles, smaller dot sizes, or finger-adjustable turrets, you'll be disappointed. What you'll get is a dependable, Vortex-standard durable red dot that can't be simpler to operate than illustrated.
Best red dot for pistol
Battery Life
Vortex red dot is powered by a CR2 battery. The battery compartment is positioned near the top of the optics toward the ocular lens end. At level six brightness, Vortex claims the battery would last for about 80,000 hours. It should be noted that the mentioned battery rating is only for the red dot variant.
The battery life of the red/green variant ranges from 300 to 5000 hours, depending on how you use it and the brightness level. You may save battery life by manually turning off the Strikefire scope. Using dim brightness settings will give you a very extended battery life.
Cantilever Mount
Vortex Strikefire II comes with a Cantilever Mount. The Cantilever Mount can fit 30mm scope rings. The scope mount is compatible with both Weaver rail and Picatinny rail; however, you must ensure that the base is properly attached to the rail.
The provided mount places the sight in the lower 1/3 co-witness range for flat-top rifles, so it's not necessary that you use the mount if you own a different scope mount that is more suited for your planned usage. It comes in handy if you utilize other attachments with it, such as magnification or a clip-on sight.
Disadvantage
Glare and light transmission
There are also disadvantages to this sight. Because of lenses, there may be some loss of light, resulting in a somewhat darker image while gazing through the optic. This does not happen all the time. I haven't had any problems; other users have had this issue and continue to have them. Glare or light reflection from the objective lens is also possible. If your aim is to remain hidden, it will be defeated because the light reflection or angle will reveal your position.
Putting It Together
Setting up the scope on our gun is as simple as anything else, especially if you're not new to mounting a scope.
Vortex continued to take the top spot on the market and streamlined its optic design to save money. As a result, the scope is beautifully basic. The scope is designed to suit any 30mm scope ring. It also includes a high-rise mount for flat-top rifles. I've never used it; however, it might be really useful if you want to utilize two scopes on your weapon.
Also read
Adjusting the mount takes some simple equipment; if you have a set of scope mounting tools, that's fantastic, but a coin will suffice (just ensure you don't wrench too hard as you mount the scope).
Since most of us are used to scopes without using tools, this Stirkefire felt a little awkward to use, but that's not a problem.
It is as simple to zero the optic as it is to mount it. One benefit of the basic optical design utilized here was that no multiple reticles must be lined up. Instead, you're just tweaking one. The MOA adjustment feels smooth to use.
Testing The Scope
With everything in place, we put the Vortex StrikeFire II to the test. I placed a target far away, raised the rifle scope to look through, and instantly ran into difficulty. It wasn't a big deal, though; the problem was that I couldn't easily get the reticle dot color button to function when I tried to switch between red and green. After some use, I could do the switch without shifting my gaze away from the scope.
Aside from that minor issue, the weapon performed admirably with the scope. The first thing you need to know is that when using this Vortex scope, you have to aim with both eyes because it has unlimited eye relief. Vortex claims that the unlimited eye relief gives the user a wider field of vision and hence rapid target acquisition. As much as I know, this is correct. You can have a far broader range with both eyes than with smaller scopes. The issue here is the light transmission is subpar.
Taking my gaze away from the sight for a moment, I looked through again; seeing through the scope seemed like wearing sunglasses because it was a bit dim. While this might not be a problem in direct sunlight, if you're hunting in the late evening, this low light might reduce the scope's effectiveness.
Aside from that, it looked impressive. Other controls are perfectly positioned except for the mechanism for toggling the reticle color. The button for toggling between night vision and regular modes is conveniently positioned for right-hand shooters. It is a very excellent addition.
Should You Make Use of This Sight?
The Vortex sight is a great optic; I would suggest this rifle scope to a wide range of people. While it lacks the bells and whistles of more costly scopes, it does provide a number of functions that are unique for an optic of such price.
This Vortex Optic is especially suggested for new shooters because of its simple design and lightweight, which helps newbies focus on what truly counts – refining their skills – rather than fiddling with a bunch of expensive optics.
Having said that, I wouldn't hesitate to suggest this sight to even the most accomplished marksmen. If you're used to fully-featured sights, the StrikeFire II might feel like some steps back, but as an experienced shooter who wants to go for a hunt, you will appreciate it because you won't need all the fancy features that come with those expensive scopes.
Can you recommend a magnifier for the Vortex Strikefire 2?
Vortex offers a few magnifier options that can be used with the StrikeFire 2 red dot sight, including the Vortex VMX-3T and the Vortex Optics VMX-3T Magnifier with Flip Mount.
The Vortex VMX-3T is a 3x magnifier that attaches to the StrikeFire 2 red dot sight to provide a more powerful magnification for longer-range shooting. The magnifier can be quickly and easily flipped out of the way when not in use, allowing the shooter to use the StrikeFire 2 as a traditional red dot sight for close-range shooting.
The Vortex VMX-3T Magnifier with Flip Mount combines the magnifier with a flip mount, making it a convenient and easy-to-use solution for those who want to use a magnifier with the StrikeFire 2. The flip mount allows the shooter to quickly transition between close-range and long-range shooting, making it a versatile and practical choice.
Both of these magnifier options are compatible with the StrikeFire 2 and can be used to enhance the sight's performance for longer-range shooting. The choice between the two will depend on the shooter's personal preference and specific shooting needs.
FAQ
Is the Strikefire 2 Waterproof?
Yes, the Vortex StrikeFire 2 is waterproof. It is rated to be waterproof to IPX7 standards, which means it can be submerged in water up to 1 meter for up to 30 minutes without being damaged. This makes the StrikeFire 2 a great choice for shooters who need a sight that can handle challenging weather conditions and still perform reliably. The waterproof design also helps to protect the sight's electronics, ensuring that it will continue to function properly even after being exposed to moisture.
What is the maximum brightness setting or adjustable dot intensity of Strikefire II?
The Vortex StrikeFire 2 has a maximum brightness setting 11. This allows the shooter to fine-tune the brightness of the dot to match their shooting conditions, whether it's a bright, sunny day or a low-light shooting scenario. The sight's adjustable dot intensity makes it a versatile option for a wide range of shooting applications, allowing the shooter to quickly and easily adjust the brightness of the dot.
What is the Difference Between the Vortex Strikefire II Red Dot and Red/Green Dot?
The main difference is the dot color of the reticle. The red dot version has a single red dot reticle, while the red/green dot version has a red or green dot reticle that can be switched depending on the shooter's preference or shooting conditions.
Is Strikefire II parallax free?
According to the manufacturers, the sight is free of parallax.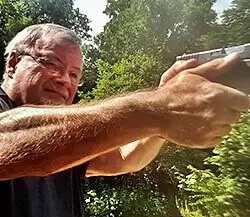 Mike Hardesty is a published freelance gun writer. With dozens of articles and reviews published in Pew Pew Tactical, Snipercountry.com, and TTAG (The Truth About Guns), Mike is considered a firearms expert. His special area of expertise is handguns.
Mike is a long-time shooter. He has been punching paper targets, taking deer and other game and shooting at competitions since about 1975. Other related pursuits include reloading and bullet casting. He currently reloads for over 10 calibers, both handgun and rifle. His reloads, particularly for 9mm, were in great demand during the height of the ammo shortage among family and friends. He donated hundreds of rounds to informal shooting sessions. He was quoted as saying "I do not sell my reloads but I sure will help my guys shoot 'em for free!". He has a few cherished firearms that he has inherited or otherwise procured — those are his favorites.
He earned B.S. and M.S. degrees from Indiana State University in 1974-1975.
He's a firearm experts and is the founder of mhardesty.com.