Everyone would like to know where their food, water, and even clothing comes from, right? Knowing where our food came from is a peace of mind knowing that it's safe to eat. Just like it is with clothes too, we wouldn't want our clothes to come from a non-reputable source. So, the same goes for your optics. Ever wondering where your Vortex scope was made? Today, we'll go over some of the popular brand's most well-known products and discuss where they are made and what that means for the quality and trust you should have in it.
First Things First
Vortex Optics Riflescopes are an American based rifle scope company. Their headquarters are located in Barnevald, Wisconsin. According to Vortex, every single Vortex product has been manufactured either in the USA, Japan, China, or the Philippines. This information has been verified by Vortex themselves. So, let's break down a Vortex optic list of products and features, and discuss where they were all made. Each of these different scopes is unique. Typically, different groups of optics that share similar features will be made in the same place.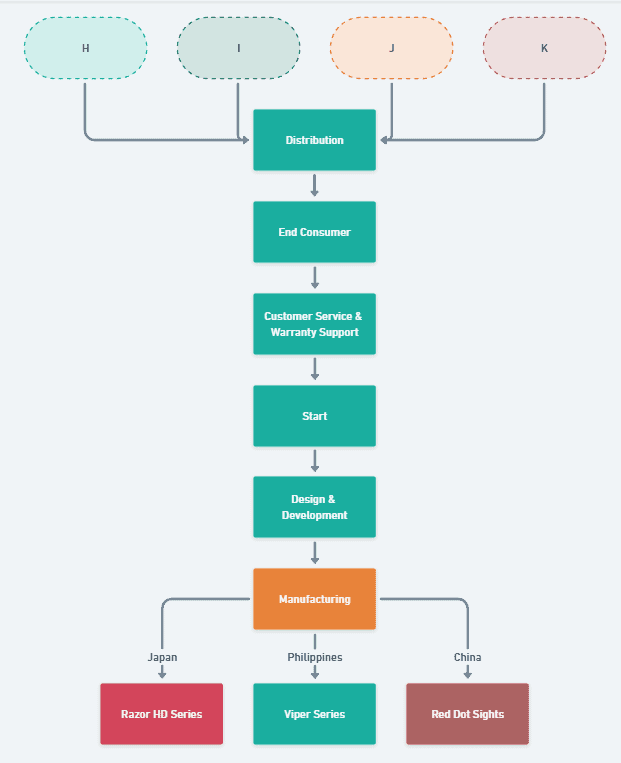 Vortex Optics Quality Assurance Process
Vortex Razor HD AMG
This is the rifle scope that is made by Vortex in the USA. As a matter of fact, AMG stands for American Made Glass. This optic is specific to the American manufacturing team and is not produced anywhere else. This scope is a first focal plane scope that is made from high-grade aluminum with laser sharp precision… literally! The Razor HD AMG is machined with a laser cutting technique that gives sharp edges and optical performance from the manufacturing department. This Vortex product is assembled at the facility in Wisconsin.
Vortex Razor
The rest of the Vortex Razor products are manufactured in Japan.
Vortex Razor is a group of the best scope products that Vortex has to offer. The Vortex Razor UHD, along with other Razor HD scopes are made in Japan. The reason being is that Japan is known in the market for manufacturing high quality glass for a variety of products. When you purchase a Razor riflescope, that reputation upheld by the country's factories is proven by optical performance and Vortex product quality.
For reference, a Leupold scope is another reputable product that is made in Japan.
Vortex Viper
The Vortex Viper group is another lineup of riflescope products. Where Razor is the best scope Vortex offers, Vortex Viper optics are a tier under that. They still present awesome features and quality, but tend to be a bit more affordable for the average tactical shooting enthusiast.
The Viper lineup includes the Viper HS, Viper HD, Viper HS LR, and the Viper HST. Between a holographic sight, along with the Vortex Diamondback scope, these scopes are known for durability. The reticle will stand up to any damage that you might throw at it. These beasts are manufactured at a facility in the Phillippines.
While this country is not well known for their optics manufacturing, Vortex has assigned some members of their Japanese team to help out at the Philippines facility. Some quality issues were known at the beginning of their operations in the Philippines, but Vortex has gotten the situation under control. Professional optics engineers from the Japanese operation oversee this process and ensure that it lives up to the Vortex Optics name.
Red Dot Sight Scopes
Most of Vortex's red dot sights are manufactured in China. This includes the Viper red-dot, which is a little bit odd considering that the rest of the Vipers are made in the Philippines. But, Vortex actually makes all of their red dot sights in China.
Now, I know what you're thinking. You're imagining that "Made in China" sticker on the side of your riflescope and thinking horrible things. While I know where you're coming from, just keep an open mind. There's a lot of quality manufacturing facilities, teams, and companies in China that make great products with no sacrifice to the quality.
While China might not be known for their riflescope production either, Vortex made sure that some more professionals from the Japanese team are there to supervise and help out their Chinese colleagues. These engineers make sure the process runs smoothly, just like they do in the Philippines facility.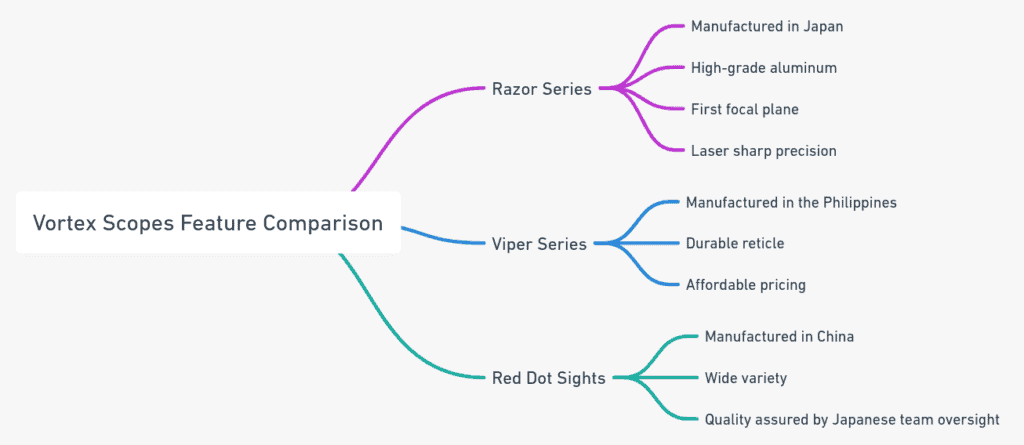 Vortex Scopes Feature Comparison
Other Vortex Products
We can't go over every single Vortex product today, but it's good to know that whatever else you don't see on this list is most likely made in China. Again, don't just throw these optics under the bus because of that label. Vortex has a diverse team of professionals at every manufacturing facility making sure their scopes are up to their high standards.
Other scopes that are manufactured in China include the Crossfire II, second focal plane scopes, and the Vortex Strike Eagle. The Vortex Crossfire II is part of another line of optics produced by Vortex that is solely made in China. The Golden Eagle goes along with the Strike Eagle as well. The Eagle Optics line is specific to Chinese manufacturing.
If you still don't see that product you're eyeing on here, it was still most likely made in China. Vortex bases much of their manufacturing operations in China, which includes most of their other accessories as well. Things like a spotting scope, or Vortex binoculars will most likely be manufactured at this facility. Prism scopes, scope mount kits, night vision, and anything else you can find in their product catalog will be made in China unless specifically stated otherwise.
If the location of your item's manufacturing is a concern to you, just remember one thing: warranty. All products purchased from Vortex are covered under an unlimited lifetime warranty. If something is wrong or not quality on your optic, you can send it back and get a new one in return. The best part about it, the warranty comes with the product for free! That way, you can rest easy that your product will be of quality, and if something happens to it, you'll be covered to fix or replace it.
Anything you can think of on your scope, magnification is off, eye relief is not the length it should be, or anything else that was an error on the part of the manufacturer will be fully refunded or replaced, depending on which option you go for. So, rest assured, no matter where your scope came from, it will always live up to the Vortex Optics standard.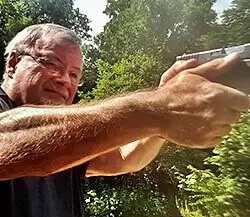 Mike Hardesty is a published freelance gun writer. He also possesses specialized expertise in rifle scopes With dozens of articles and reviews published in Pew Pew Tactical, Snipercountry.com, and TTAG (The Truth About Guns), Mike is considered a firearms expert. His special area of expertise is handguns.
Mike is a long-time shooter. He has been punching paper targets, taking deer and other game and shooting at competitions since about 1975. Other related pursuits include reloading and bullet casting. He currently reloads for over 10 calibers, both handgun and rifle. His reloads, particularly for 9mm, were in great demand during the height of the ammo shortage among family and friends. He donated hundreds of rounds to informal shooting sessions. He was quoted as saying "I do not sell my reloads but I sure will help my guys shoot 'em for free!". He has a few cherished firearms that he has inherited or otherwise procured — those are his favorites.
He earned B.S. and M.S. degrees from Indiana State University in 1974-1975.
He's a firearm experts and is the founder of mhardesty.com.