Predators operate in complete darkness. The most challenging aspect of coyote hunting has always been the issue of seeing in the dark. Because of technological advancements, predator hunters can now purchase a good night vision scope to tackle this difficulty, but how do you know which sight is best for you? Let's take a look at some of the reasons why you need night vision scopes.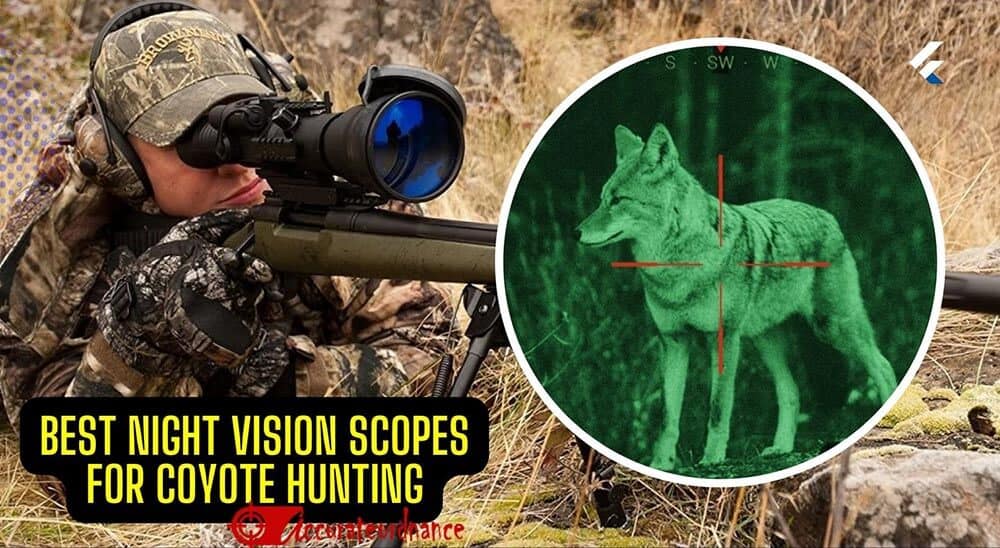 Why Should I Get A Night Vision Scope?
A night vision optic allows predator hunters to see clearly at night for a few hundred yards using an infrared illuminator, which is a significant improvement compared to hunting using a spotlight. Hunters can now approach night hunting stands quietly without alerting predators of their presence. Night vision scopes increase hunters' chances of encountering coyotes. Since the whole animal is visible via the scope, the chances of getting a better shot are far greater than when aiming at glowing eyeballs under red light.
Here are the quick list Night Vision Scope For Coyote Hunting:
Factors To Consider In Choosing The Best Scope For Coyote Hunting?
There are several factors that a coyote hunter must consider when purchasing a night vision scope. These scopes are pricey, and you don't want to suffer from buyer's regret because you didn't do your homework before pulling the trigger on your purchase.
First, determine how the scope will be utilized. Is it exclusively for coyote night hunting, or will it be used during the day as well? A night vision rifle scope might work great at night but lack essential capabilities that you would desire in a full light setting in the daytime.
Will you want to use your sight on only one rifle? Will it be used on a variety of rifles? What season would you be hunting? Having the right answers to these questions will put you in the direction as you choose a scope that is simple to zero in.
The budget must also be taken into account. With so many night vision riflescopes on the market, how much money are you willing to spend on a night vision device for your rifle? Some of these scopes have technical aspects, and some will certainly become obsolete in a few years. It is good that you have that in mind while you research.
Video hunting is now popular! The ability to capture and Livestream your hunting is now standard on the majority of the night vision scope available. Is it something you'd like to see in your new optic? If this is the case, it will substantially impact your budget. Would it eventually pay off as you make posts through social media or other video posting platforms?
These are all the things you need to think about before choosing a scope.
Why Do You Go Coyote Hunting At Night?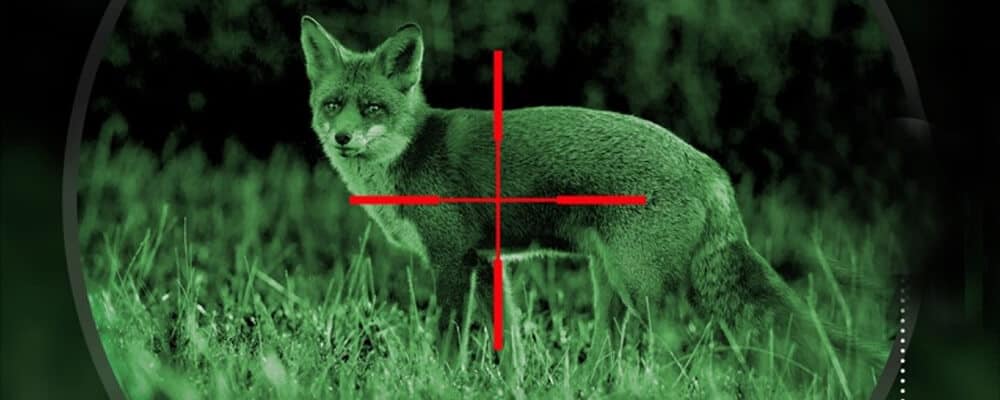 To start with, coyotes are discreet. They are difficult to hunt since they have excellent eyesight and a keen sense of smell. They are predators present in nearly every state. This demonstrates the versatility and tenacity of these little varmints. Coyotes travel long distances every day in the quest for their next meal, feeding on nearly anything, whether dead or living.
The best time to hunt these animals is late at night or early morning. Coyote hunting has been existing for a long time to keep predator populations in check due to the harm they do to the livestock populations across the country. Coyotes are the worst nightmare of big game hunters because they decrease herds of deer by feeding on one fawn per day throughout the summer and spring months.
What Is The Best Night Vision Scope For Coyote Hunting?
Here is our list of Best Night Vision Scope For Coyote Hunting.
1. ATN X-Sight 4K Pro Smart Day/Night Hunting Scope
This scope offers everything you could desire in a good night vision scope and more! The X-Sight 4k is a high-end night vision scope for a good reason. It can hunt during the day or at night, capture 4K video, and zoom by turning the dial. One-shot zero is another feature that would astound any shooter.
Okay, now that we've gotten the fact that this riflescope has practically endless possibilities, let's look at the most significant ones and why they'd make a predator hunter want to break their bank on this specific scope. They're right here.
Night Vision
This ATN scope has an Ultra HD sensor that provides high-definition night vision, resulting in an extremely sharp and clear view. You may adjust the scope brightness or focus so that your target is not obscured. The field of vision capabilities vary depending on the scope size you select, however, the 3X – 9X version provides about 460ft FOV. The scope also has an infrared illuminator, which significantly expands the FOV in the dark.
Magnification
The regular version has a digital zoom range of three to nine powers. This is readily changed throughout the day or night using a little knob on the scope casing, similar to the knob on a regular daylight scope.
Durability
Like any other gadget, a night vision scope can only withstand so much abuse, wetness, or temperature change. The X-Sight 4K is water-resistant and works in temperatures ranging from -20 to about +120 Fahrenheit, so it should be enough for your hunting.
Because utilizing any type of technological gadget involves some risk, the scope's dependability and reputation are critical considerations. ATN is always developing software to reduce problems and malfunctions. This makes it the most dependable scope on the market.
Battery Life and Firmware
The X-Sight promises "ultra-low" energy usage, with about 18 hours of battery life. This may be feasible under ideal conditions, but if the atmosphere is chilly or your scope brightness levels are high for daytime use, expect the battery life to be less than specified.
Firmware updates are available over the internet. The scope is readily modified, providing you with the best possible performance. Unlike other digital night vision scopes, updates keep the scope functioning years after the purchase.
Video
The X-Sight 4K scope is named by its capacity to record video at 4K resolution quality. This scope can record video to an internal SD card or broadcast it directly to your smartphone over Bluetooth. Another fantastic feature of the X-Sight 4K is its "Recoil Activated Technology," which allows the scope to automatically save videos when the rifle is fired. This function allows you to concentrate on the shot rather than filming.
Zero in One-Shot
I personally feel like this is the best feature of this scope. One-shot zero allows you to fire a single shot from 100 yards and then use the scope's d-pad to zero the crosshairs on your point of impact. The scope would automatically adjust, and you will find that your next shot will have the same impact point.
Extra Feature
The ability to compute ballistics with this sight is a wonderful added feature. Simply enter the caliber and round specs you want to use into the scope program, and the software will modify it to increase accuracy. This scope has a long eye relief.
2. Sightmark Wraith Digital Night Vision Riflescope
When talking about the best scope for coyote hunting, the Wraith HD scope is the number one budget-friendly night vision scope. This sight offers practically all the features found in most high-end scopes, and it's worth half the cost. The Sightmark Wraith HD has so much improvement compared to previous versions while maintaining the Sightmark brand's dependability and quality.
Night Vision
The Sightmark Wraith HD has an Ultra HD Sensor for increased night vision capabilities. The Wraith HD scope allows users to choose between sharp, white, and black imagery or standard green-scale night vision imaging. Green seems a bit cooler to me than black and white. This riflescope also has an infrared illuminator.
Magnification
This scope begins with a magnification of 4 times. The 8-power zoom provides hunters with a good view for shooting at targets far and near.
Durability
This scope is quite dependable. There is little or no possibility of having a software malfunction while in operation; therefore, there is less potential for failure. Because ordinary batteries are used, the problem of recharging is eliminated. If you accidentally leave the power on and it runs out of battery, simply load fresh batteries, and you're back to hunting.
The Wraith is resistant to water and shock. While we recommend taking additional precautions with any digital or night vision scope, this one is remarkably robust.
Battery Life
The Wraith HD night vision scope is powered by four AA batteries. The battery lifespan is 8 hours of continuous usage, although cold temperatures or lesser battery manufacturers may cause this to fall short. I prefer the conventional battery path because you might not always have access to charging capabilities in the field. It is far more convenient to carry a few additional batteries and switch them as needed.
Video
Although the Wraith HD does not provide video streaming to smartphones, it does support 1080p digital recording. These films may be stored directly on the SD card for ease of use and transferred to a computer or any other device.
Extra Features
The Sightmark Wraith HD scope has the ability to alter crosshair reticles from 10 distinct options! It also has a Weaver mounting rail that is universal. This allows hunters to put it on nearly any rifle. Finally, you can save about eight distinct rifle zeros with this scope, which means you may sight it in for each of your guns and save the zero settings for each. When hunting, you may select your weapon and mount your scope without sighting it in again. It has an objective lens diameter of 50mm.
3. Night Owl Optics NightShot Rifle Scope
The Night Owl Optics NightShot Rifle Scope is a Digital Night Vision Riflescope that has an IR illuminator, high resolution, weatherproof, and day and night vision.
The Nightshot riflescope is an excellent coyote hunting scope. This night scope is a generation 1 scope, which means it lacks the most advanced HD characteristics found in higher-end models. It has the essential capabilities you'd expect from a typical night vision scope. Although it has its own built-in infrared illuminator, this night scope is compatible with most external IR illuminators. Generally, it is a good optic and will work well with your predator rifle.
Night Vision
The Generation 1 technology is not the finest as there are other better high-end scopes. However, when shooting at distances of 100 yards or less, this scope will suffice.
The only option available for this scopes imagery is black and white. The Nightshot scope has an in-built infrared illuminator, but it can also be linked with external illuminators for enhanced night vision at an extended range.
Magnification
The Nightshot comes with a standard three-power zoom lens. It is not intended for shooting at distances more than 100 yards; a 3 times magnification is enough for this purpose.
Durability
Since it is a basic model, it is trustworthy. This scope requires no firmware or further setup procedures and is ready to use right away! The Nightshot isn't the toughest scope on the list.
Although it is regarded as "weatherproof," there are no details on how resistant, waterproof or shockproof it is.
Battery Life
This riflescope is powered by four AA batteries, giving it a battery lifespan of 4-5 hours. The battery life can be affected by the intensity of the infrared illuminator. The batteries must be inserted from the bottom of the housing, which is inconvenient. This means the scope must be removed from the weapon anytime you want to change the battery.
Video
The Nightshot doesn't support video recording to an SD card or a connected smartphone. It is only a night vision scope, making it cheap for those not interested in recording videos.
Extra Feature
The ability to select reticles again is a wonderful added feature here. This may not appear to be a game changer, but it is really useful when you are accustomed to one reticle and want to maintain your sights across numerous platforms.
4. ATN X-Sight LTV Ultra Light Day & Night Vision Rifle Scope
Our list of best scope would not be complete without this. The X-Sight LTV shares many of the same features as its older sibling, the 4k. Aside from the video quality, the scope is pretty much identical. It does, however, provide certain extra benefits which are not found in the 4k. This scope allows you to cycle among color palettes instead of only the day or night vision options. If you don't require 4k quality video, this is a good investment.
Night Vision
This scope will provide you with high-resolution night vision. It has a FOV of over 1000 yards, and it works with infrared illuminators, even though it does not have an in-built IR illuminator.
Magnification
This scope's 3 to 14 adjustable magnification allows coyote shooters to engage targets both far and near. The magnification is digital, making it smooth and sharp, and there is no need to change the eye relief between levels, making it very convenient.
Durability
The manufacturer emphasizes the dependability of this scope as one of its primary selling advantages. The scope is water resistant.
Customers were having problems in this aspect, according to the feedback. This sight is not designed to shoot large-caliber bullets with a lot of recoils. This might result in irreversible internal harm. High recoil will also cause your scope to de-zero. When purchasing, get advice on these points.
Battery Life and Firmware
The battery life is another area where the 4k has improved. This scope model has a substantially lower battery life of only 6 hours. ATN sells a battery pack separately (optional), which improves battery life to around 12 hours.
Firmware updates are also required for this ATN version. The upgrades may be downloaded into a flash drive and then transferred to the scope through a USB connection. ATN 4k scope also uses the same method. The upgrades are useful because ATN may take consumer feedback into consideration and enhance the scope as frequently as they wish to provide customers with the clearest and most user-friendly experience.
Video
The Ultra HD video recording can be stored on an SD card. This scope model also has recoil sensing automatic recording capability that we explained in the 4K scope above.
Zero in One-Shot
My mind is blown by this ATN scope. It has the ability to zero in just one shot. Given the current cost of ammo, this feature should be seen as a price reduction.
Extra Feature
It has an in-built range finder. This appears to be cheating, but it saves you the stress of switching from scope to rangefinder while the coyote is dashing across a field. 
Understanding Night Vision Scopes
Night vision scopes have revolutionized low-light and nighttime hunting, providing hunters with enhanced visibility and target detection capabilities. To fully grasp the technology behind night vision scopes, it's important to understand how they work and the different types available.
How Night Vision Scopes Work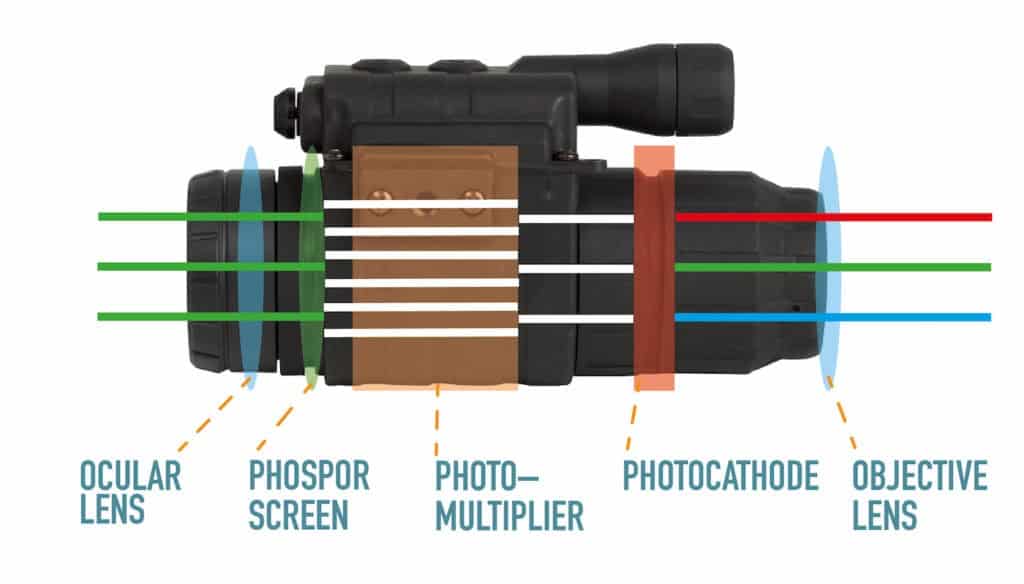 Night vision scopes work based on the principles of amplifying available light, often from the moon, stars, or other ambient sources, to create a visible image in low-light conditions.
Here's a simplified breakdown of the process:
Image Capture: The objective lens at the front of the scope captures available ambient light or infrared light emitted by an infrared illuminator.
Light Amplification: The captured light passes through a photocathode, which converts photons (particles of light) into electrons using a photoelectric effect. This creates an "electron cloud."
Electron Amplification: The electrons are accelerated and directed towards a phosphor screen using an electric field. As the electrons hit the phosphor screen, they cause it to emit visible light.
Visible Image: The emitted visible light forms an image that is visible through the eyepiece. This image is typically in shades of green due to the choice of phosphor material, which is more sensitive to green light.
Types of Night Vision Scopes
Night vision scopes come in various generations and types, each offering different levels of technology and performance. The most common types of night vision scopes include:
Generation 1 (Gen 1): This is the entry-level and most affordable type of night vision technology. Gen 1 scopes provide a noticeable improvement in low-light conditions, making them suitable for basic night hunting. However, their range, clarity, and image quality may be limited compared to higher generations.
Generation 2 (Gen 2): Gen 2 scopes offer improved performance over Gen 1, with enhanced image quality, range, and clarity. They typically have better light amplification and reduced distortion.
Generation 3 (Gen 3): Gen 3 scopes represent a significant leap in technology, providing exceptional low-light performance and extended range. They often feature a higher signal-to-noise ratio, resulting in clearer images with less noise or graininess.
Digital Night Vision: Unlike traditional image intensifier tubes used in Gen 1-3, digital night vision uses a digital sensor to capture and amplify light. Digital night vision scopes can offer versatility, with features like built-in recording and image capture, as well as the ability to display color images.
Thermal Imaging Scopes: While not traditional night vision, thermal scopes detect heat signatures emitted by living organisms, including animals. These scopes are effective in complete darkness and can "see" through obstacles and camouflage. Thermal scopes provide excellent target detection but may lack fine image detail compared to high-end night vision scopes.
Advantages of Night Vision Scopes for Coyote Hunting
Improved Visibility
The primary advantage of using night vision scopes for coyote hunting is the significant improvement in visibility during low-light and complete darkness. These scopes amplify available light, including moonlight and starlight, allowing hunters to see targets that would otherwise be difficult or impossible to detect with the naked eye.
Reduced Disturbance
Night vision scopes enable hunters to approach their hunting stands more stealthily. Unlike traditional spotlights that can spook coyotes, NV scopes emit minimal visible light and reduce the risk of alerting predators to the hunter's presence. This stealthy approach increases the chances of getting closer to coyotes without causing them to flee.
Increased Accuracy
NV scopes provide clear and sharp images, enabling hunters to make more accurate shots even in challenging lighting conditions. This increased accuracy translates to more humane and ethical kills, minimizing the chance of wounded animals escaping and suffering.
Enhanced Shooting Range
Night vision scopes extend the effective shooting range during low-light situations. Hunters can engage targets at greater distances with confidence, improving their overall success rate.
Versatility
Many modern night vision scopes offer a range of features, including adjustable magnification, reticle options, and even video recording capabilities. This versatility allows hunters to adapt to various hunting scenarios and capture memorable moments in the field.
Limitations
Limited Range in Certain Conditions
While NV scopes greatly improve visibility, their effective range can be limited in extremely dark conditions or dense cover. Long-range shots may become challenging, and targets may be harder to spot beyond a certain distance.
Battery Drain
Night vision scopes need power to operate, and extended use can lead to battery drain. Hunters must carry spare batteries and manage their usage to avoid sudden power loss during a hunt.
Additional Equipment
In some situations, additional equipment like infrared illuminators may be necessary to enhance the performance of NV scopes. This can add weight and complexity to the hunting setup.
Cost
High-quality NV scopes can be relatively expensive, especially those with advanced features and capabilities. The initial investment may be a barrier for some hunters.
Sensitive to Light Sources
Night vision scopes can be sensitive to bright light sources, including headlights or flashlights. Sudden exposure to intense light can temporarily impair the scope's performance and require time to readjust.
How Is Thermal Scope Better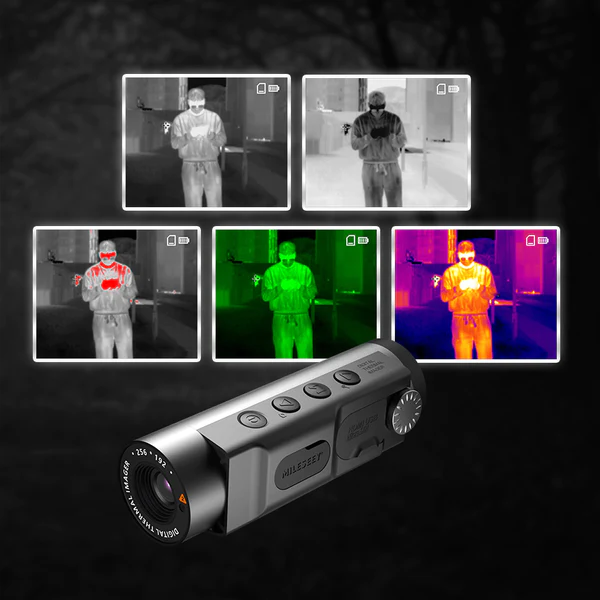 Night vision and thermal scopes are two distinct technologies that have revolutionized the way hunters approach nighttime hunting. Each technology offers unique advantages, and understanding their differences is crucial for making an informed decision when selecting the right tool for your coyote hunting expeditions.
Thermal scopes utilize advanced thermal imaging technology to detect and display heat signatures emitted by living organisms. This technology provides several key advantages for coyote hunting:
Detection of Heat Signatures
Thermal scopes excel at detecting heat sources, including animals, regardless of lighting conditions. This is especially beneficial for locating coyotes hiding in dense vegetation, behind obstacles, or in total darkness.
Unaffected by Ambient Light
Unlike night vision scopes, thermal scopes do not require any ambient light to function effectively. They can provide clear images even in complete darkness, making them invaluable for hunting during moonless nights or in heavily wooded areas.
Distinguishing Animals from Surroundings
Thermal imaging allows hunters to distinguish animals from their surroundings based on differences in temperature. This capability helps eliminate false positives and ensures accurate target identification.
Tracking Wounded Animals
Thermal scopes are particularly useful for tracking wounded animals by following their heat signatures, blood trails, or footprints, even if they attempt to hide.
Minimal Disturbance
Since thermal scopes rely on heat emissions rather than visible light, they are less likely to startle or disturb animals, making them ideal for stealthy hunting.
When to Choose Night Vision vs. Thermal
Choose a night vision scope when
Hunting in environments with some ambient light, such as moonlit nights.
Your budget is a primary concern, as night vision scopes are generally more affordable than high-end thermal scopes.
You prefer capturing detailed, high-resolution images.
Opt for a thermal scope when
Hunting in complete darkness, moonless nights, or heavily wooded areas with dense vegetation.
Searching for hidden or camouflaged animals, such as coyotes, in thick underbrush.
Budget allows for a higher investment in advanced thermal technology.
You prioritize heat signature detection and target identification.
How to Properly Set Up and Use a Night Vision Scope for Coyote Hunting
Using a night vision scope for coyote hunting requires proper setup and adjustment to ensure optimal performance and accuracy. Here's a step-by-step guide to help you mount, zero, and adjust your night vision scope for successful coyote hunting:
Mounting and Zeroing
Select the Right Mount: Choose a suitable mount that securely attaches the NV scope to your rifle's rail system. Ensure the mount is compatible with both your rifle and the scope.
Mount the Scope: Carefully attach the scope to the mount and ensure it's securely tightened. Follow the manufacturer's instructions for proper installation.
Bore Sight: Before heading to the field, bore sight your rifle using a laser bore sighting tool or by visually aligning the scope's crosshairs with a distant target. This initial alignment will save time when you start zeroing.
Initial Zeroing: Start at a relatively short distance, such as 25 yards, and fire a series of shots while aiming at the center of the target. Adjust the scope's windage and elevation as needed to bring your shots to the point of aim.
Fine-Tuning Zero: Move to a longer distance, such as 100 yards, and make further adjustments to zero the scope precisely. Take your time and shoot multiple rounds to ensure accuracy.
Adjusting Settings
Focus Adjustment: Use the focus or diopter adjustment to achieve a clear and sharp image.
Magnification: If your night vision scope has variable magnification, choose the appropriate level based on the distance to your target and the field of view you need. Higher magnification is usually blurry in most digital NV scopes, while lower magnification appears sharper due to resolution.
Save Settings: Once you've adjusted the settings to your liking, consider marking or recording the specific settings that work best for different scenarios. This will help you quickly configure the scope for future hunts.
Remember that practice is key to mastering the use of a night vision scope. Spend time at the shooting range and in simulated hunting scenarios to familiarize yourself with the scope's operation and settings. Regular practice will improve your proficiency and confidence when using the night vision scope for coyote hunting.
FAQ
What Did Coyote Hunters Use Before We Had Night Vision Scopes?
For many years, the greatest chance you had of seeing and properly dispatching a coyote, or any other night animal, was to equip your rifle with a spotlight having a red lens attached. These lights were big and heavy, but they illuminated predators' reflecting eyes, allowing you to see them. The red lens was chosen because the wavelength that is emitted by a red light is not so visible to predators.
While hunting using lights is still an excellent technique to find predators on the move, new technology has lately enabled hunters to gain an advantage in the dark. In recent years, night vision optics have nearly become a need for ardent coyote hunters.
Why Do Hunters Kill Coyotes?
Hunters do not sell their fur on the open market. Because firearms destroy pelts, these coyotes are killed more as a nuisance than as a source of money. Hunters carry shotguns for close-range confrontations, although small caliber rifles are more common. More night vision scopes are being installed on these rifles.
Are Coyote Pelts Expensive?
Coyotes have also been towards the top of fur dealers' most-wanted lists. For almost two centuries, the thick, high-quality fur obtained from coyotes has been a mainstay of fashion and fabrics. Despite the fact that the fur trade has been declining, coyote pelts may still be spotted at auctions. They make excellent blankets, and they are still purchased by winter jacket manufacturers for the hood lining.
Can Coyotes Detect Infrared Illuminator?
Coyotes, like humans, cannot detect infrared night light. The little red dot on IR units is something to think about when purchasing night vision equipment. If you're able to see it, you can bet a coyote can as well. No, not in terms of an IR night light beam sent onto a field.
When is the ideal time to go coyote hunting?
Dawn and dusk. Coyote activity increase in the nighttime and early hours of the morning as they look for food and assert new territories. You can actually spend all day hunting coyotes if you want. They are much more active throughout the day in the winter compared to other seasons. It's more difficult in the afternoons. However, coyotes are smart, and if they find an easy meal is around, they will respond to it at any time of the day.
Which is better for coyote night hunting: thermal scope or night vision?
It all depends on how much money you're ready to pay and the hunting circumstances. Many people choose to use thermal optics to detect their target during predator hunting, and they use night vision scope to identify and shoot. Thermal optics are better for detecting during predator hunting because they can easily pick up any living thing that emits heat. That is why you must have a thermal sight with you.
If it's really dark outside and you're having trouble getting range with the night vision scope, you may switch to a thermal riflescope designed for coyote hunting. If you have a big budget and you can afford both a thermal riflescope and a night vision scope, get both.
Is it legal to use night vision for hunting coyote?
It is lawful to hunt coyotes with a night vision device, but whether you can use a night vision scope or thermal imaging scope depends on where you live. Check out the state and local rules and restrictions covering the use of artificial light sources, night vision equipment, and the types of weapons and calibers permitted. While hunting coyote is legal throughout the year, always double-check the restrictions before you go.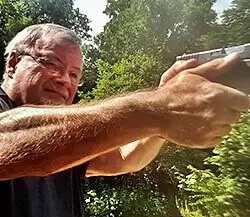 Mike Hardesty is a published freelance gun writer. With dozens of articles and reviews published in Pew Pew Tactical, Snipercountry.com, and TTAG (The Truth About Guns), Mike is considered a firearms expert. His special area of expertise is handguns.
Mike is a long-time shooter. He has been punching paper targets, taking deer and other game and shooting at competitions since about 1975. Other related pursuits include reloading and bullet casting. He currently reloads for over 10 calibers, both handgun and rifle. His reloads, particularly for 9mm, were in great demand during the height of the ammo shortage among family and friends. He donated hundreds of rounds to informal shooting sessions. He was quoted as saying "I do not sell my reloads but I sure will help my guys shoot 'em for free!". He has a few cherished firearms that he has inherited or otherwise procured — those are his favorites.
He earned B.S. and M.S. degrees from Indiana State University in 1974-1975.
He's a firearm experts and is the founder of mhardesty.com.