First Focal Plane riflescopes are an amazing class of optics, and they have gradually grown to dominate the variable power scope in the shooting industry. FFP scopes are now readily available at all price points and from different brands.
If you're mostly involved in long range shooting or want to improve your long distance shooting skills, you must make use of an FFP scope. FFP optics with the appropriate reticle style allows a shooter to make precise windage adjustments and correctly compensate for bullet drop.
Rifle scopes are excellent pieces of equipment, but they differ widely. Even scopes from the same brand and series might differ in features. One of the most noticeable distinctive features is between the FFP and SFP scopes. FFP scopes are the newest craze in precision shooting and tactical shooting.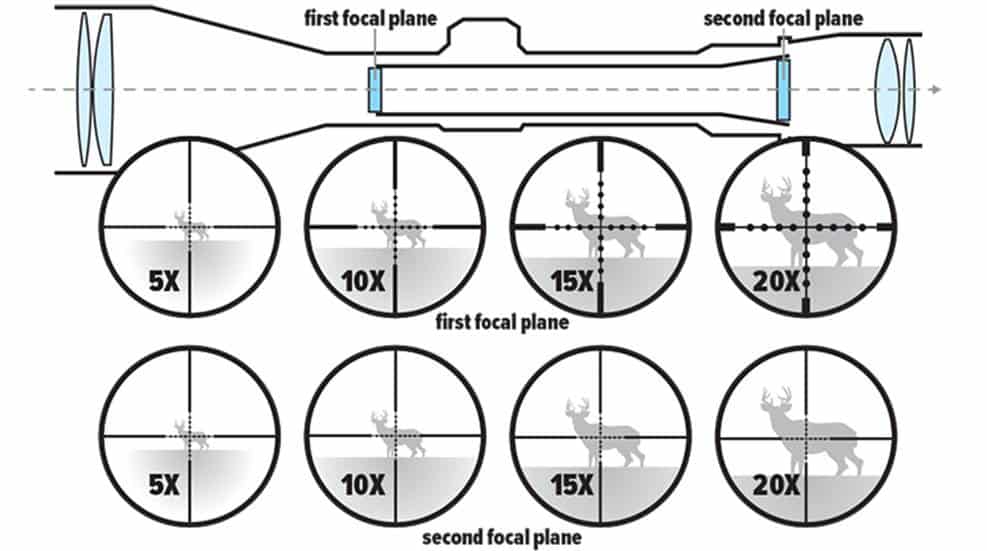 A first focal plane riflescope serves a straightforward function. It makes the reticle to remain precise regardless of magnification. As magnification is altered, the reticle expands and contracts. This ensures that all holdover is correct and consistent at all magnification levels.
This makes FFP scopes important for long-range shooters, particularly those who compete. FFP sights are fantastic for long-distance or precision shooting. They've exploded in popularity and are now readily available.
We've found our favorites as well as some of the greatest FFP scopes. Let us assist you in determining the one that would be the best scope for you.
Here are our top picks:
First Focal Plane Vs Second Focal Plane Scope
There is a lot of misinformation floating around these days regarding the true perks or distinctions between the two types of reticle positions. Here is some clarity on the matter.
Reticles in the first focal plane are etched at the front of an optic. Similarly, a second focal plane scope has its reticle located at the back. Therefore, the name of the two scopes shows the reticle position rather than other elements.
What effect does reticle positioning have? The technical explanation is a little complicated. To simplify this, we can say that a first focal plane changes the reticle size when the magnification setting is increased or decreased; meanwhile, a second focal plane scope does not change its reticle size.
When a target is far away to see it clearly on your scope, you have to zoom in. as you zoom in, the first focal plane reticle size becomes bigger, and it becomes smaller when you zoom out. This characteristic helps to ensure that the estimation holdover points for elevation and windage remain correct regardless of the amount of magnification used. 
A first focal plane optic is ideal for taking important shots in which you need to consider several factors before pulling the trigger. Many users find it difficult to successfully use or adjust to the changing reticle size.
While an FFP reticle is important for some shooters, others prefer a second focal plane reticle because it does not change size in relation to magnification change. The holdover points of these reticles are precise only at a single magnification level which is determined by the construction of the SFP scope.
Why Use an FFP Scope?
So, since a first focal plane reticle might be difficult to operate, why do people use them?
The ability of an FPR reticle to maintain the same viewpoint relative to your target makes it easier to land far shots and utilize windage and elevation holdover points. FFP reticles are preferable in some situations, especially if you need to take challenging shots with a lot of confusing elements or variables that might cause your accuracy to drop.
This is in contrast with the all-purpose precision of an SFP reticle which is great for hunters who don't switch between magnification settings frequently and like a stable reticle.
FFP reticles are ideal if you often switch between magnification settings or switch from high magnification to low magnification to shoot targets at varying distances.
FFP scopes are good for what ranges?
One major advantage of an FFP scope is its effectiveness at nearly any range. This scope can be used for shots at distances ranging from 100 to 1000 yards while still providing excellent accuracy.
Because there is no one perfect range for an FFP scope, we compiled a list of fantastic first focal plane scopes with various magnification settings. One of the FFP scopes on the list is a 1x to 4x magnification, so there's no small or large magnification for an FFP scope. It all depends on the distance of the target you want to shoot. An FFP scope can be used at any distance for target shooting or hunting.
Things To Consider When Choosing An FFP Scope
When it comes to selecting a good FFP scope, your options are unlimited. The truth is that there is a plethora of options available, so you have to know about the different brands and features they possess. This will help to narrow down your options; here are some important aspects to consider…
Lens Coating and Lens Quality
Having great glass in an FFP scope is essential, but this feature must be paired with a solid lens coating. This is because lens coating has an impact on light transmission. If you want a clean and clear image, then these two features must be side by side because they determine the amount of light that would enter the scope.
Examine the lens coating on any scope you're considering. Some FFP scopes have special coatings to boost light transmission. They may also protect your lenses from debris, dust, and scratches.
Durability
Durability is an important feature for an FFP scope regardless of the shooting applications. When going on a hunting trip, you should expect challenging circumstances and rugged terrain. If your scope is not durable, it will not be able to survive the harsh conditions it is subjected to on the field. 
When it comes to optics, go for ones constructed of high-quality aluminum. The scope should also have a single-piece tube that is waterproof,  shockproof, and fog proof. The shockproof ability is very important when you're using high-caliber ammunition.
Magnification
Those who are new to the optics world have the propensity to choose top-of-the-line variable magnification scope that is far too high for their shooting application. If your goal is to specialize in long-distance shooting, then you can go for high magnification, otherwise, you should ask yourself questions like: What is my typical shooting range? What are my expectations in terms of distance?
Most new shooters that have been educated usually start with a short to mid-range magnification, which is sensible. So they go for scopes with a variable magnification of 3x-9x. Of course, expert shooters may choose to extend their reach further. 
Weight 
As a bench rest shooter, you may not need to bother yourself about the weight of an FFP scope before mounting it on your rifle. Hunters and people on the go, must check this feature. Every ounce you take with you when you are stalking a game will tell on your muscles. 
Note that the larger the objective lens of your scope, the heavier the total weight of the scope.
Price
Not every shooter has an unlimited budget. If you fall into this group, I am 100% behind you! Set a reasonable upper limit price from the start of your search. 
Setting a price limit will not only help, but it will also limit your options to the higher price range. Make no mistake: the cost of FFP scopes varies greatly. Models for under $300 are available at the low end. Top-tier solutions often cost 10 times that amount or more! However, with prices ranging from low to high, there's an FFP optics out there for you.
Reticle Illuminated
Some people prefer having an FFP scope with illumination; an FFP reticle might appear thin at a low power. When aiming at a target that is darkened by a shadow or backdrop, illumination can provide contrast. As a result, identifying a dark-colored animal standing in a field may be difficult if you do not have an illuminated reticle.
However, an FFP scope with reticle illumination is not necessarily the best scope. It still relies on other requirements and the conditions under which you generally shoot. Some versions also include single, double-color, or triple-color illumination systems. You should think about the brightness intensities you want since some scopes have as much as 11 brightness levels.
Turrets
Turrets are external scope devices that help a shooter take accurate shots. You can rapidly and accurately adjust your target with its rotatable knob. Turrets for first focal plane scopes come in a variety of styles.
If you want quicker turret dialing, then you should consider getting an exposed turret for easy windage and elevation adjustment. 
Usage Ease
The best scope for an FFP shooter would be determined by the simplicity or ease of use. Many shooters believe that a standard duplex reticle is ideal for novices. The disadvantage is that it has only one visible aiming point.
When selecting a scope, be sure you'll feel comfortable using it. You're set to go if the scope does not prevent you from accurately locking your target and taking your shot.
Eye Relief
You will avoid hitting your face if you have enough eye relief, which is determined by the distance between your eye and the ocular lens. As a general rule, the greater your firearm's recoil, the more eye relief you'll need.
Furthermore, higher magnification equals less eye relief. Most experts advocate at least 3 to 3.5 inches. However, certain versions, such as the G2, provide up to 4.5 inches of eye relief.
Best First Focal Plane Scopes Detail Reviews
1. Vortex Optics Viper PST
Vortex optic lines are sometimes named after popular poisonous snakes. This is far more convenient than simply using numbers for their series and models. One of the most affordable premium quality lenses from this brand is the Viper line of scopes.
The Vortex Viper PST series is a nice scope that has its reticle etched at the first focal plane position. This scope was designed for accurate shooting in tactical and competitive situations. The Vortex Viper PST has a minimum magnification of 6x, which is great for mid-range shooting, and a maximum magnification of 24x, which allows a shooter to see targets that are far away. 
In practically every weather situation, the combination of a high magnification in this Vortex Viper scope and a large objective lens diameter of 50mm produces a vivid, clear image. The secret to the optical clarity of this scope is its high-quality glass that has a great resolution, vivid color accuracy, and exceptional low-light performance.
The multicoated lenses on this Vortex scope boost light transmission through the scope.
Vortex Viper PST is available in a variety of reticle configurations, but the FFP design is most suited for tactical shooting. Amongst the reticle styles, I recommend the EBR-2C. The EBR-2C, also known as Enhanced Battle Reticle, is ideal for tactical long-range shooting. This reticle has multiple holdovers, which include wind and drop subtensions.
The EBR-2C reticle is ideal for tracking moving targets and easily compensating for windage and bullet drop. The Viper scope is an excellent FFP optic for long-range tactical shooting and hunting.
2. Athlon Optics Argos BTR 6-24x50mm Gen II
The next scope we would be reviewing for FFP scopes is Athlon Optics. Athlon has established a great reputation in the scope industry over the years. This was accomplished by the use of high-quality optical materials for reasonably priced scopes. This Athlon Optics Argos BTR model is a good example. This scope is a good option for people who are new to the FFP scope world.
The Athlon Optics Argos is a great scope intended for anyone interested in Precision Rifle Series competition or long-distance hunting.
There are several variants available from Athlon's Argos range of scopes. This model we are reviewing is their Gen II model, which has a variable magnification.  The minimum magnification is 6x, and the maximum magnification is 24x. The scope also has a massive objective lens diameter of 50mm which allows enough light through the scope.
The heat-treated single-piece 30mm main tube is made of 6061-T6 aircraft-quality aluminum. This sturdy construction will keep your scope safe in any situation. If you need more proof of durability, consider the fact that it is fog resistant and waterproof.
Then evaluate its shockproof capabilities. This optic is extremely durable, thanks to specifically constructed mechanical components on the control system and erector system. It has been proven to survive and provide exceptional recoil resistance.
This Athlon scope is about 14.1 inches long and weighs around 30.3 ounces. It has a black matte finish. The exit pupil measures between 8.2mm and 2.1mm. 
The scope has a Mil Rad turret with a 0.1 Mil Rad click value per turn. The range of adjustment is a total of 6 Mil Rad. The eye relief of the scope is 3.3 inches. This eye relief, in my opinion, is not enough for a long range shooting scope because most long range optics have a heavy kicking recoil.
The APMR IR MIL reticle is super fine. It features a floaty center dot and delicate lines. This was created specifically for bench rest shooting or long range and more challenging hunting shots.
In such cases, the target usually has a smaller size, and a bigger reticle will obstruct it. An integrated CR2032 battery powers the red LED lighting function. This improves vision during those crucial dusk, dawn, or low-light sessions.
Clarity of vision is critical when aiming with a scope. Clarity is enhanced by Athlon's superior, completely multi-coated lenses. This feature also helps to increase light transmission and reduce reflected light. As a result, you will get a brighter image compared with standard single-coated lenses.
The Argos Gen II optic excellent features do not end there. The scope comes with a Precision Zero Stop System. This helps you to secure your zero position. With this, you may crank back to your zero mark easily. Because of the ease of use, this function may be used even when you are shooting in complete darkness.
3. NightForce ATACR 5-25x56mm
Nightforce offers one of the greatest high-end FFP scopes available. ATACR stands for Advanced Tactical Riflescope.
This is exactly what you'll get with this top-of-the-line FFP scope. It should be noted that this outstanding sight is primarily intended for snipers and long-range shooters. If this is you, expect longevity, quality, a plethora of features, and pinpoint accuracy.
Nightforce provides six distinct reticle options. Five of these choices are red and green DigIllum lighting. This scope offers a lower magnification of 5x, and it has a high magnification of 25x. It also has a very large objective lens diameter which measures 56mm, and a main tube diameter 1.34 inches.
It measures 15.4 inches in total length and 5.9 inches in mounting length. When you mount this scope on your rifle, it adds 37.6 ounces to the weight of your firearm. Click values are available in .1 MRAD or .250 MOA increments, and parallax adjustment spans from 45 yards – infinity. 
At 100 yards, the field of vision is between 4.9 feet and 18.7 feet, while the exit pupil ranges from 2.3mm an 8.3 mm. An experienced shooter should have no trouble with the 3.5-inch eye relief.
The NightForce ATACR scope has numerous fantastic features, as one would expect from a high-end riflescope.  It also includes capped windage turrets and indicated parallax adjustments.
Quality imaging is possible in any setting or light circumstances because of the multi-coated ED lenses. The elevation and windage ranges are sure to impress those looking for long-distance precision. It has a total of  120MOA or 35MRAD elevation adjustment and a total of 80MOA or 24MRAD windage adjustment.
You will receive a selection of accessories like flip-up covers, Cleaning Cloth, and others in addition to the FFP scope.
4. Leupold Mark 5HD 5-25X56 Rifle scope
The next FFP scope is the Mark 5HD which is a beast of a machine from Leupold. It is not a cheap scope and also not for the fainthearted. With about 35 MILS of long-range elevation travel and a massive 35mm main tube, this FFP reticle is most shooters' dream scope for hitting steel at previously unattainable ranges.
With a brief glance at its specifications, you'll notice that it is a heavy scope designed for extremely long ranges. targets at 1000 yards or more is a piece of cake for this long-range machine.
The presence of a reticle in the FFP position is one factor contributing to its high price, although high-end scopes have other features like some of those found on his Mark 5.
It has been tested with the Punisher, a machine used by Leupold to prepare their scope for the most severe recoil. According to Leupold, it can withstand 5,000 rounds of recoil, three times that of 308 rounds. It is entirely fog proof and waterproof, as you'd expect from a scope of this caliber. It has a 35mm main tube, so you'll get a spacious erector tube that allows up to 34.9 MILS of elevation. 
The Throw lever, Zero Lock dial, and 0.1 mil click value are some features that add to the design and high performance of this scope.
5. Primary Arms 4-14X44 
With all of the many reticles produced by Primary Arms, the basic mil dot has proven to be a reliable alternative. The SLx scope is well-known in the industry, and it is one of the most reasonably priced FFP scopes.
The windage knob on this Primary Arms SLx appears to have some play and isn't as tactful as the adjustments on the elevation turret.
The scope has a 30mm main tube, and you'll get a total of 17.5 mils each for windage and elevation travel. The adjustment knobs are designed as 0.1 mil increments. The elevation turret is accessible and may be adjusted or reset to zero easily. It has a straightforward reticle and a non-illuminated mil-dot reticle.
The scope has a low magnification of 4x and a high magnification of 14x. The lower magnification is quite reliable, and there are no complaints about it. The higher magnification is not super high either. 
This SLx scope has an eye relief range between 3.22-3.14 inches, which is comfortable for most shooters, but the weight appears to be a concern for some shooters. Overall, given the high cost of acquiring an FFP scope, this Primary Arms scope is a good budget choice for long range shooters.
6. Vortex Razor 4.5-27x56mm Gen II
The Razor Gen II scope from Vortex Optics is yet another high-quality FFP riflescope. It has a wide magnification setting ranging from 4.5x ( which is ideal for most hunting conditions) to a stunning 27x. The magnification range of this scope is a perfect fit for shooting long range stationary targets or in target shooting tournaments. You can use any magnification setting on this scope, and you'll get same clear target acquisition.
This Razor scope has a glass-etched reticle and 11 illumination levels, allowing a shooter to maximize the reticle even in low-light situations. This scope also has multicoated lenses and an anti-reflective coating, which increases light transmission and decreases visual distortion. It offers one of the greatest sight images available.
The elevation, windage, and parallax knobs on this scope all have a locking mechanism that can prevent accidental adjustment. The turrets also shift easily, providing consistent adjustment and excellent performance without taking your eyes off the scope.
This Razor scope is a simple first focal plane reticle scope that offers excellent value for money to shooters. Its lenses and image quality are among the best available, and its turret mechanism is very user-friendly. Overall, it's an excellent pick for FFP reticle enthusiasts or hunters with different engagement ranges.
7. Monstrum G2 1-4×24
The G2 model from Monstrum surprisingly made our list and is our last optics for this scope review. This sight has a lower magnification setting compared to all other FFP scopes we have looked at, but it is still a good option for hunters who want the adaptability of this type of reticle.
The scope has an eye relief that ranges from 4 inches to 4.5 inches, depending on the magnification selected. The scope has a minimum of 1x and a maximum of 4x magnification. 
This scope is composed of aircraft-quality aluminum and is waterproof and fog proof. Even with its cheap price, the value you'll get is even higher than you may imagine because it comes with removable sun shades, lens covers, Picatinny scope rings for installation, carrying bags, cleaning clothes, and a battery for reticle illumination.
The reticle of this sight may be lighted in green or red and at various brightness levels. This is ideal for operating the scope at night or low light circumstances. The reticle also includes rangefinder data that is consistent and independent of magnification. When light is scarce, it is a good alternative for information gathering. To make matters even better, the reticle incorporates a BDC that includes holdover points for your convenience.
This outstanding sight is a wonderful alternative for FFP fans who enjoy shooting at close range. It boasts one of the sharpest reticles on the market and a sturdy build that will endure for years. The accompanying accessories and rings are also a nice addition.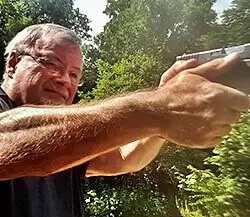 Mike Hardesty is a published freelance gun writer. He also possesses specialized expertise in rifle scopes With dozens of articles and reviews published in Pew Pew Tactical, Snipercountry.com, and TTAG (The Truth About Guns), Mike is considered a firearms expert. His special area of expertise is handguns.
Mike is a long-time shooter. He has been punching paper targets, taking deer and other game and shooting at competitions since about 1975. Other related pursuits include reloading and bullet casting. He currently reloads for over 10 calibers, both handgun and rifle. His reloads, particularly for 9mm, were in great demand during the height of the ammo shortage among family and friends. He donated hundreds of rounds to informal shooting sessions. He was quoted as saying "I do not sell my reloads but I sure will help my guys shoot 'em for free!". He has a few cherished firearms that he has inherited or otherwise procured — those are his favorites.
He earned B.S. and M.S. degrees from Indiana State University in 1974-1975.
He's a firearm experts and is the founder of mhardesty.com.