Are you looking for a good scope for your 17 HMR rifles like the Ruger Precision Rimfire rifle and CZ USA 457 American Combo? We've got you covered, but before we review the best scopes for 17 HMR, we have to first do a quick summary on the 17 Hornady magnum rimfire rifle since these characteristics would play a major role in the scope selection.
The 17 HMR Rifle
The origin of the 17 HMR rifle may be traced back to rimfire caliber enthusiasts that needed a rimfire rifle cartridge that looked like the 5mm Remington Magnum. The 5mm Remington Magnum (also known as 5mm RFM) is a bottleneck rimfire cartridge released in 1969 by Remington Arms. The ammunition company Hornady produced the .17 Hornady Magnum Rimfire. This caliber was created by necking down a .22 Win Mag Rimfire (popularly known as 22 WMR) cartridge to take a 17 caliber bullet.
When 17 HMR was initially launched, the ammo was solely polymer-tipped bullets with a velocity of roughly 2600 FPS. The ammo was only accessible as a .17 grain bullet; however, 15.5, 17, and even 20 grain bullet alternatives are now available. Furthermore, some of the modern 17 HMR ammunition combos produce speeds of roughly 2700 – 2800 FPS.
Remember that we're talking about the 17 HMR rounds, which is commonly confused with 2 other .17 rounds: 17 Hornady Mach II and 17 Win Super Magnum, also called the 17 WSM.
The 17HM2 caliber was released in 2004.  The 17 Hornady magnum rimfire was effective for kills; however, there were several concerns that it was extremely damaging to smaller game species such as rabbits and gray squirrels. The 17 Hornady magnum rimfire can remove a bulk of the useable meat.
Hornady proposed the 17 HM2 as an answer to this problem because its velocity is 2200 FPS, and it has a less lethal impact on smaller games. While 17 HM2 gained popularity among small game shooters, it never achieved the same level of success as 17 Hornady magnum rimfire.
17 HMR versus 17 WSM versus 17HM2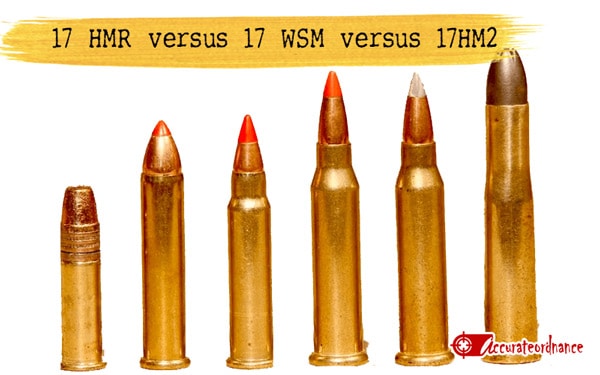 I have some 17 HM2 rifles and believe they are excellent squirrel weapons. They are most useful when leaves have fallen and when the potential shots at a squirrel begin to exceed 75 yards. If this caliber is zeroed at 50 yards, it'll be 1-inch low at 100 yards. 
Winchester launched the 17 Win Super Mag in 2012, and it is now the most powerful and quickest rimfire commercially made. The caliber velocity is 3000 FPS. This cartridge is similar to 17 HMR, and it was designed as an alternative for varmint hunting in areas where centerfire calibers are restricted, as well as those who desired a rimfire shooting 200 yards targets accurately. The 17 WSM is obviously less influenced by wind than the 17 HMR, but it is also much noisier and more costly.
The 17 HMR is great for small or medium-sized animals, around 150 yards. After 150 yards, the bullet begins to fall and loses a substantial amount of velocity. This makes hunting beyond 150 yards problematic. Having said that, it is possible for shooters to successfully take down prairie dogs at distances ranging from 200 – 250 yards when there is no wind.
Here is our list of top scopes for shooting with the 17 Hornady magnum rimfire:
Choosing the Best Scope for 17 HMR
It is difficult to choose a perfect scope for 17 HMR from the large selection found on the market and offered by different brands. Every scope has a unique set of qualities; some are visually appealing, while others provide extensive magnification and other amazing features.
So, how do you pick a scope with the most helpful features for your 17 HMR shooting needs? Let's go through some steps below; if you follow these procedures, you'll better understand the most important features to look out for in a scope. 
Turret Design
When you get a new scope, you'll find knobs on it that can be used to modify the elevation and windage. These knobs are found close to the center, especially on the top and side of the scope. The elevation adjustment allows a shooter to control the vertical view of the scope, while windage adjustment allows the shooter to adjust the view horizontally. The windage adjustment knob is mostly on the scope's right-hand side, while the elevation adjustment is on top. The good news is that you can easily adjust the windage and the elevation with your fingertips and get a better sight of the target in seconds.
Every shooter wants to have a scope with a suitable turret design, so watch out for this while selecting a scope.
Magnification
Magnification is defined as the process of increasing the closeness of a target with a scope such that it appears closer to your eyes. If you see a 3x -15x magnification, that suggests you can see an image 3 times to 15 times closer than with the naked eyes. Magnification allows a shooter to easily spot and aim targets from great distances. Magnification would help you strike the bullet exactly where you want it. Depending on the shooting distance, most hunters use a magnification between 2x to 10x. If you are a long range shooter and your targets are beyond 500 yards, then you might need a little more magnification to clearly see your target.
Eye Relief Distance
Eye Relief is the distance from the shooter's eye to the starting point of the scope. Every rifle produces some amount of recoil immediately you pull the trigger, which can cause severe eye damage if the scope is too close to your eyes. To avoid these dangerous events, you need to use a scope that has a large and sufficient eye relief.
The Diameter of Objective Lens
The lens is responsible for collecting light into the scope. When the diameter of the lens is bigger, it will allow more light from the image to enter the scope and then to the eyes. However, this doesn't imply that you should get an extra-large size lens because you want more light transmission. A bigger lens diameter would have a significant influence on the weight of your scope.
To stay within the acceptable weight limits, pick a scope that has an objective lens diameter ranging from 30mm to 42mm. It has a good enough diameter for adequate light gathering and transmission.
Material for Construction
The construction material is determined by the purpose, style, and environment you want to hunt or shoot at. If you want to hunt in the highlands or in harsh weather, always choose strong aluminum construction. However, if you want a scope for self-defense at home, the plastic and steel materials are good enough since you would not use the weapon in harsh conditions. However, due to its popularity and acceptance among professional shooters, military, and hunters, the aluminum build is currently used in the majority of scopes.
Coating Type
The glass coating is the most important factor when it comes to scope clarity. The coating on a lens must be water-resistant, fog-resistant, and non-reflective for it to deliver an excellent image to the shooter. It is possible to get a scope with a single layer coating that protects the optic from damaging external factors. There are also other scopes that have fully multi-coated lenses. The completely multi-coated lenses are better than single-layer coating in every way. 
So when you want to get a scope for your 17 hmr, ensure you get one that has numerous coating layers on the optics to protect the device's delicate parts.
Price and Quality
Getting a quality scope at an affordable price is something that everyone looks for when purchasing an optic. However, in order to enjoy one feature, you must abandon another. As a result, it is difficult to locate optical devices that provide all the features you need. You would have to do a thorough search to get a scope with all the features within your budget or pricing range.
To make your task easier, I've included several amazing scopes in this post, which are really liberal, delivering the greatest price and quality. You can get anyone that makes you feel comfortable with shooting your 17 HMR rifle. There are no rules to choosing a scope for 17 HMR; just go for what you like.
Best Scope For 17 Hornady Magnum Rimfire Rifle
Now its time to look at the best scopes for 17 HMR and the features that make them unique.
1. Hawke Sport Optics Vantage 4-12×40 
The Hawke Sport Optics Vantage rifle scope makes hunting easier by providing greater elevation and windage adjustability. Hawke Vantage has world-class engineers that understand what shooters want and the characteristics that turn a conventional scope into an exceptional one.
With the Hawke Vantage line of scopes, you can keep up with the level of scope that you need. So if you are looking for something that provides quality and comes at a reasonable price, you can try using these optics. You would get the best budget-to-quality pair from this scope brand.
Currently, the two main types of material are popular for creating an exceptional rifle scope. Meaning the majority of scopes are made of aluminum or steel. This stunning scope is made of high-grade aircraft aluminum. The construction of the scope is critical to its performance. The Hawke 4-12×40 scope is quite strong and durable. Furthermore, the scope's structure is unaffected by rain, fog, dampness, or any harsh condition that you may subject it to.
The Hawke Vantage comes with turrets that are Low Profile and No Snags. It's actually amazing to see a company that finally offers a low-profile and no-snag turret on their scope. This feature allows a shooter to fine-tune the elevation and windage to meet the shooting situation. Without a doubt, this improves shooting accuracy and allows the shooter to hit every single target without missing one.
If you want to push your shooting talents to new heights and experience accurate and faultless shooting, make a sound selection when purchasing a scope that would match your rifle and caliber. The unique qualities of the Hawke Vantage scope make it the ideal scope for shooters that use the 17 HMR.
These great functions are usually seen in rifle scopes that cost more than $1000 dollars. However, the Hawke Vantage scope is the most affordable option. Fully multi-coated lenses are essential for shooting in challenging situations, and this scope has this feature.
To avoid problems with light transmission, get a scope that has a completely multi-coated lens. These coated lenses usually have many layers that ensure their efficiency.
This Hawke Sport Optics Vantage scope has a remarkable 4x -12x magnification for zooming in and out on the target image. With this zoom range, a shooter can easily obtain a clean and clear image from a long distance. Whether you're hunting in the rain, fog, or in low light conditions, this scope is good enough for you, and the magnification range will assist you in any circumstance.
If a scope has a lot of features, it will definitely cost you a lot of money. Hawke Vantage is a well-known brand that has been creating some of the greatest scopes for many years. Most importantly, it constantly maintains the cost at the lowest possible.
The Hawke Vantage scope is a great scope known for its unwavering performance at the lowest price on the market. The Hawke Vantage is an excellent option if you are searching for a low-cost scope with some outstanding features. This scope may not be the finest, but it is among the best scopes within its price range.
It provides you with high magnification; you can hit your target from medium to long distances. Furthermore, the no-snag turrets make it an appealing optic that everyone wants for 17 HMR.
2. Vortex Optics Diamondback HP 4-16×42 BDC
The Vortex Diamondback 4-16×42 Scope is a great scope that gives shooters good value for their money. When we consider the lens clarity and longevity of the design, this might just be the riflescope you've been searching for. The scope has a V-Plex reticle that is very clean and popular among shooters due to its versatility.
The Vortex Diamondback scope is able to deliver an image that is sharp and clear because of the extra-low dispersion glass. This 17 Hornady magnum rimfire scope comes with nitrogen purging and o-ring seals that make it waterproof and fog proof. It is also extremely durable, and it is designed to withstand shock.
The magnification range on the lower end starts from 4x, and this variable magnification scope goes up to 16x zoom. Aside from that, the scope has a side focus knob that is entirely accessible from your shooting position, allowing for easy image focusing. These knobs are all flexible enough to be readily manipulated, yet they are tight enough to stay in place. The scope also has a parallax knob that removes parallax. There's also a rapid focus eyepiece to focus the scope's reticle quickly and effortlessly.
With the capped finger-adjustable reset turrets, you can easily reset to zero. The turrets are completely functional for the price; however, they have tracking issues. 
3. Bushnell Banner Dusk & Dawn 17 HMR, 3.5-10X 36mm
The Bushnell Banner scope is a great scope to choose if you're looking for a dependable scope for dusk and dawn hunting. Bushnell created this sight specifically for the .22 rifle and the .17 HMR rifle. The objective lens of this Bushnell scope measures 36mm in diameter, and it has a pretty small magnification range of 3.5 to 10x. The maximum magnification of 10x can take care of medium range shooting. The total weight of the scope is 465 grams (16.4 ounces).
This optic has amazing characteristics such as fog proof, shockproof and waterproof construction. This durable build, combined with HD clarity, makes the scope a top pick. Even when submerged in water, the O-ring seal helps the optic to remain dry. The multi-coated lenses provide clarity in low-light situations. The Bushnell riflescope has Multi-X reticles (with bigger lines on the outside and thinner lines on the inside) and a quick-focus eyepiece. 
At 100 yards, the FOV is about 30ft when it is in the 3.5 power magnification and 10.4ft at 10 magnification.
Aside from being stunningly clear in low light, the scope focuses quickly and shields your forehead from recoil with an eye relief of about 3.3 inches. Another feature worth mentioning is the parallax adjustment that allows a shooter to align the focus point without diverting your gaze away from the target.
4. Burris Optics Fullfield E1 
The Burris Fullfield scope has unique and outstanding features that make it a great scope for 17 Hornady magnum rimfire shooting. This scope informs you of the exact location of your target, and no matter the weather condition, the Burris Fullfield will help you hit your target.
This scope's high magnification improves long range shooting accuracy. You can effortlessly and precisely shoot a target as the scope brings the image 14 times closer to your eyes when you use the magnification knob.
When choosing a scope for your 17 HMR shooting, you must consider the magnification range of the scope. This perfect magnification is determined by the distance you would be shooting at. You can always get the best magnification for your budget.
In windy conditions, trajectory correction technology can help a shooter overcome environmental alterations.  When the trajectory technology is combined with cascading dots, it provides an unshakeable image of your target as the wind blows.  This excellent 17 HMR scope would help you bring the trophy home even in windy conditions. The trajectory compensation is a valuable feature. 
When choosing a scope for your 17 hmr, you should not be too focused on weight. The more you focus on weight, the more likely it is that the scope will lose its strength and integrity. An Increase in the scope's weight would result in decreased shot stability and balance.
So, choose a moderate scope that is neither too light nor too heavy. The Burris scope is a great 17 hornady magnum rimfire scope that is lightweight while maintaining a high level of integrity and robustness for durable performance.
This scope's design allows for excellent hunting, tactical, and military applications. The unique magnifier and easy-to-use elevation and windage adjustment all combine to make it a great optical equipment that everyone wants to have. If you want to buy a scope that has all these functionalities, then you can go for the Burris Fulfilled.
Everyone enjoys saving. Are you looking for a scope that meets all of your demands and expectations while staying within your budget? Nothing beats this lovely scope. The Burris E1 scope comes with high-quality lenses that offer clear and bright images, and it does not cost much.
If you're looking for an optic that can serve numerous functions while saving you money, this scope is for you. I've been using this Burris scope for a while, and it's without a doubt one of my most-used budget scopes.
5. Nikon Buckmasters II 3-9×40 BDC
The Nikon brand is well-known for its cameras. But this company also makes high-quality scopes using the knowledge of their lens production. The Nikon Buckmasters II is a low-cost choice for those who need something a little more affordable.
The lens and glass coating are both good. The scope allows adequate light transmission in daylight. The image quality degrades at the maximum magnification, which is 9x, but it is still usable. When it comes to scope performance in low light conditions, the Nikon Buckmaster performs poorly in low light, which is expected in a low-priced scope like this.
BDC reticle, in conjunction with Nikon App, a feature that displays bullet trajectory for a variety of calibers, including .17 HMR, is a very handy combination for mid-range shooting.
The eye relief is adequate at 3.6inches. The turrets on the scope are finger adjustable, with a maximum internal adjustment range of 80 MOA, but the downside is that the clicks are not effectively tracked and are not repeatable.
The Nikon Buckmaster scope will readily hold zero for the .17 HMR caliber; however, it isn't highly durable on the field. But the good news is that Nikon provides a lifetime warranty that is usually honored.
6. Vortex Optics Crossfire II SFP
At first sight, the Vortex Crossfire II appears like an ordinary scope with no special features. This is expected, given that the Crossfire series of scope is Vortex's entry-level optic. This particular entry-level scope, on the other hand, is well suited for long range shooting. The scope has a V-plex type duplex reticle that facilitates target acquisition from long distances.
The Crossfire II has a 44mm objective lens that gathers enough light to allow you to aim at an object from a distance. The objective lens is coupled with a variable magnification range of 4x to 12X. This magnification is best suited for medium to long-range shooting.
Although the lens is not fully multicoated, I found its multicoated lenses to be adequate for the price. The lens coating prevents glare and excessive light and ensures a crisp image quality in all lighting conditions.
It boasts of large eye relief and a great fast-focus eyepiece. Both features are needed for small game hunting because these animals move quickly. With this scope, you can swiftly focus your target as it moves. 
We're all aware of the time and effort that Vortex has put into its glasses to provide precise and crisp images. The Vortex Optics Crossfire II can deliver remarkably clear and bright views thanks to its multicoated lens. It has a maximum elevation adjustment of 60 MOA.
If your Varmint hunting is done at a long distance or at close range, the Dead-Hold BDC reticle will come in handy. In addition, the Vortex Optics has a Second Focal Plane reticle.
FAQ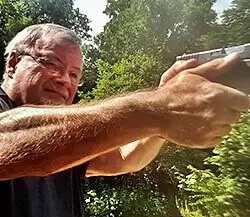 Mike Hardesty is a published freelance gun writer. He also possesses specialized expertise in rifle scopes With dozens of articles and reviews published in Pew Pew Tactical, Snipercountry.com, and TTAG (The Truth About Guns), Mike is considered a firearms expert. His special area of expertise is handguns.
Mike is a long-time shooter. He has been punching paper targets, taking deer and other game and shooting at competitions since about 1975. Other related pursuits include reloading and bullet casting. He currently reloads for over 10 calibers, both handgun and rifle. His reloads, particularly for 9mm, were in great demand during the height of the ammo shortage among family and friends. He donated hundreds of rounds to informal shooting sessions. He was quoted as saying "I do not sell my reloads but I sure will help my guys shoot 'em for free!". He has a few cherished firearms that he has inherited or otherwise procured — those are his favorites.
He earned B.S. and M.S. degrees from Indiana State University in 1974-1975.
He's a firearm experts and is the founder of mhardesty.com.