Imagine laying down in a prone position with your favorite rifle mounted on a bipod in front of you. You look downrange at the undulating green landscape with hills and valleys of grasses. You notice a small sparkle made by the sun's rays in the distance, an unusual geometric object standing out against the beautiful landscape surrounding it. Yes, that is your target!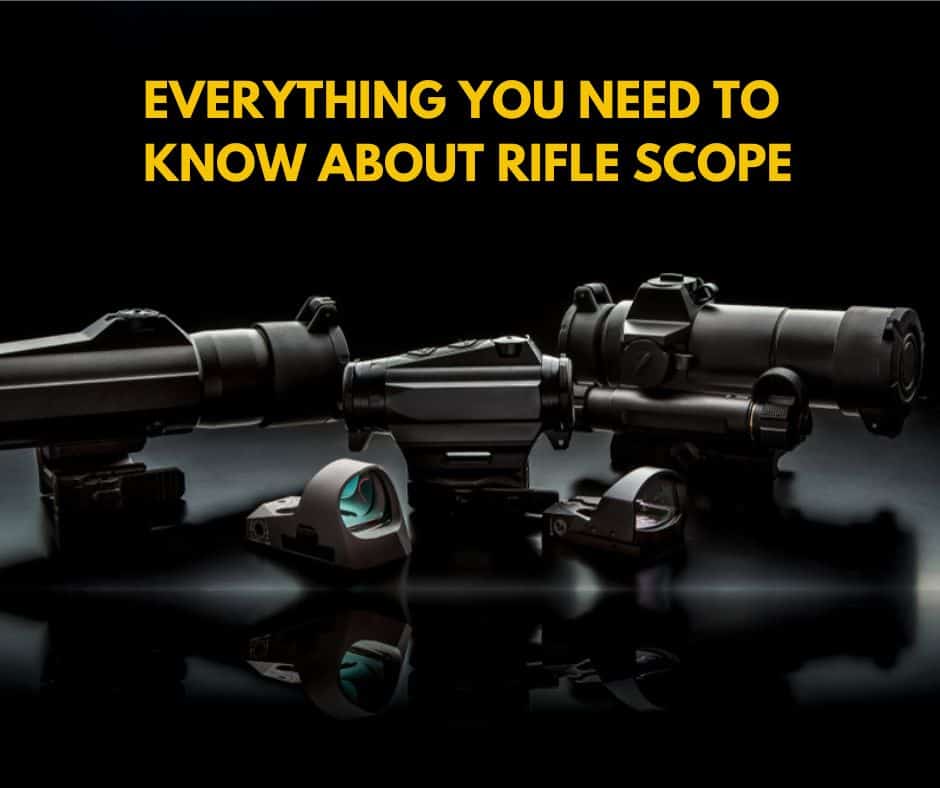 You are a long-range shooter that needs to strike a round or square steel target with your shot, but the issue is that it appears too small, like a postage stamp sticking out in the middle of a grassland. At this point, you need an accessory that can make you see your target, and it's called a rifle scope. You saddle up to your weapon and stare through the scope attached to the top of your weapon.
What do you see? A set of crosshairs in the middle of your view and an enlarged target. You control your breathing, slip your finger lightly inside the trigger guard, and effortlessly apply backward pressure. The gun fires and you hear a "pang" sound as your bullet strikes the target. Bravo!!!
Thanks to a rifle scope, you were able to hit your target without wasteful shots. Now imagine you want to repeat the same shooting procedure without a rifle scope. Your guess is as good as mine; you'll have to shoot hundreds of shots to hit a target that is as far as 1,300 yards away. While all your training and execution would contribute to a perfect long-range shot, the riflescope did most of the work by locating and acquiring the target. This brings us to the importance of rifle scope in hunting, competition shooting, or tactical shooting.
Fundamentals of a Rifle Scope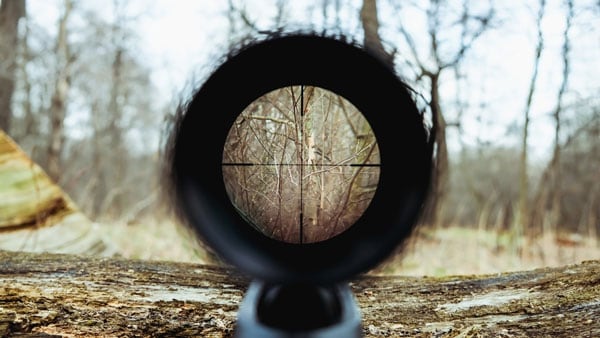 In simple terms, a riflescope is a device with several lenses for the magnification of an image and a reticle that serves as an aiming tool for marking the point your bullet should strike on the target. Think about the telescope you used as a child to observe Venus and place a crosshair on it; that's what a rifle scope looks like.
Rifle scopes are available in different setups, styles, sizes, construction, and pricing ranges. Competition shooters may dispute endlessly over which scope manufacturer, scope magnification, or reticle is ideal for the job, but we'll skip the debate and look at the fundamentals of a rifle scope and how it works.
How Does Rifle Scope Work?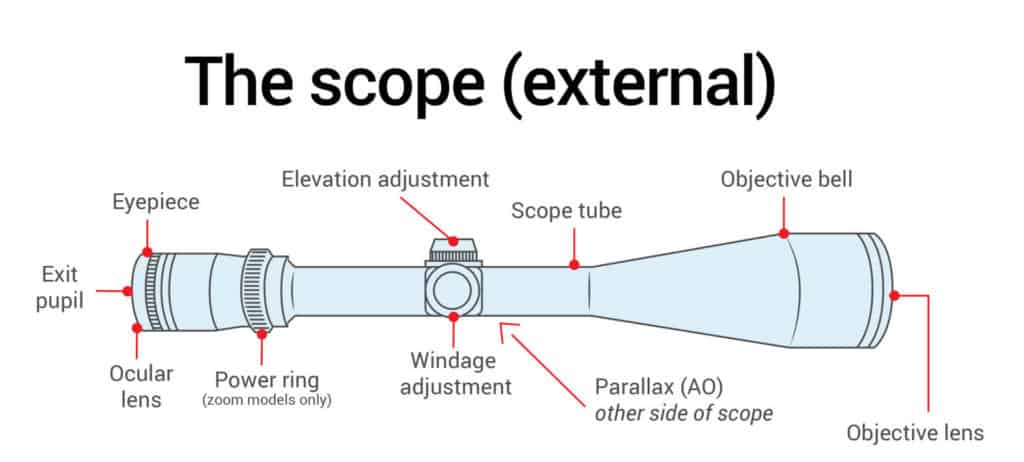 Riflescopes work almost the same way as the telescope. Light travels through the objective lens to the scope's focal point. The image that is received at the focal point is then inverted by the erector lens, also known as the "picture reversal component." This lens rotates the image and delivers it to the magnifying lens to ensure that it is properly oriented. When magnification of a rifle scope increases, the magnifying lens advances or moves closer to the objective lens, and when magnification decreases, the lens travels backward to the ocular lens. The image seen via the eyepiece is a result of the light captured by the ocular lens.
The Lenses
The objective, magnifying, erector, and ocular lenses are the most significant parts of a riflescope. The objective lens is located in the tube; it is the lens that is farther from the shooter. This lens receives light and then transmits it to the erector lens, which flips the image. The flipped image is sent to a magnifying lens that makes it bigger. The light then passes to the ocular lens, which is closest to the shooter's eye. The objective bell is the part of the scope that houses the objective lens, the magnifying lenses and the erector are housed in the scope tube, while the ocular lens is housed in the eyepiece.
Eye Relief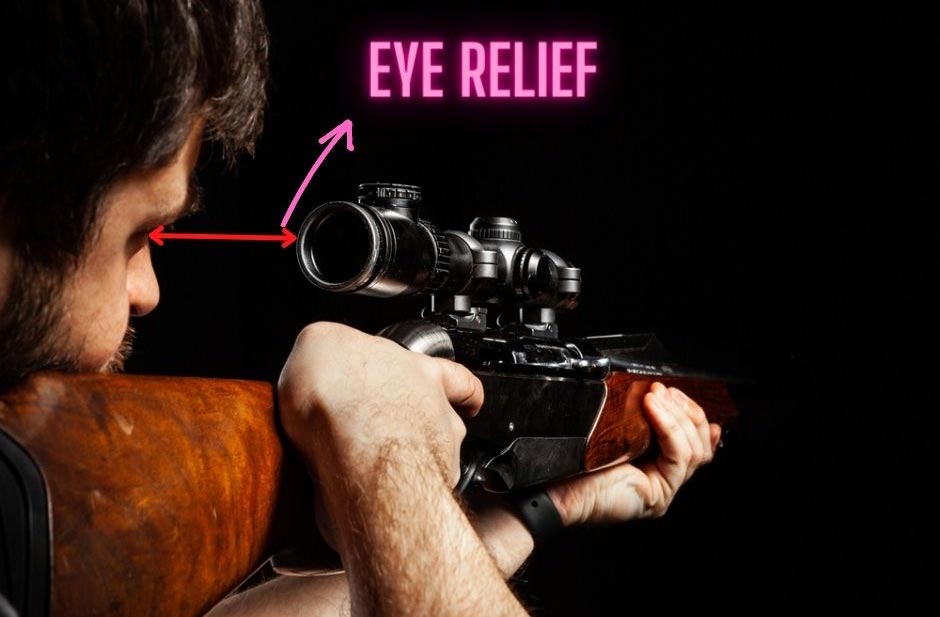 The "eye relief" of a rifle scope is the distance between the eyepiece and the shooter's eye; in other words, the point from where the shooter can place his eyes to see the whole view to the eyepiece. When a scope has a short eye relief, it means the scope is closer to the gun's stock and the shooter's face. A long eye relief rifle scope, like the ones used on scout rifles, provides for more space between the eyes and the eyepiece, allowing them to be positioned further along the rifle. Here is a guide on how to determine eye relief on a rifle scope.
Waterproof and Fogproof
Most rifle scope lenses are fog and water-proof, which is important given the different shooting conditions that hunters or competition shooters may need to shoot from. The manufacturers of rifle scopes cover any gap between the lens and the housing to make the optical instrument waterproof. To waterproof a riflescope, the manufacturer must use O-rings and gasses.
O-rings seal and prevent liquid or dust from entering the rifle scope tube. While waterproofing is useful for preventing water from entering the optics chamber, it does not prevent fogging or condensation, which can affect the lenses when you move from one extreme temperature to another, for example, moving from a warm hunting house into a snowy field. Engineers who design riflescopes solve this problem by removing air from the scope tube and replacing the air with a gas like argon, nitrogen, or other combinations. These gasses do not contain moisture; they prevent condensation and fog on the lenses.
Magnification
The scope's magnification power indicates the number of times the image in the field of view would be bigger than the naked eye. We have different types of riflescope magnification power.
Fixed Scope
Fixed power scope means the magnification cannot be adjusted. An example of a fixed scope is the TRUGLO 4x32mm Compact Rimfire riflescope that enlarges your field of view by four times compared to the naked eye and has a 32-millimeter objective lens.
Variable Scope
An example of a variable power scope is Leupold Mark 4-12x40mm Riflescope. This scope has a 40-millimeter objective lens and allows the shooter to adjust the picture four to twelve times the size of the naked eye view. The higher the magnification power, the higher the price of a scope.
Reticle
The reticle, which is often a crosshair design, is usually etched onto the glass plate. Reticle types differ, and they include crosshair, duplex, special purpose reticle (SPR), mil-dot, bullet drop compensator (BDC), and others. They have different designs and are made for different purposes.
A rifle scope reticle can be etched in front or behind the scope magnifying lens. If you "zoom in" with a front etched reticle on a variable magnification scope, the size of the crosshairs will change. When the reticle is positioned at the back of the magnifying lens, the crosshairs will not increase with the object.
What Do the Numbers Mean on a Rifle Scope?
The 2 in a 2-8×34 scope stands for two power, or 2x. This implies that the picture you view through the scope is two times closer (2x) than with the naked eye. The number 8 represents eight power, or eight times (8x) closer than it seems to the human sight. The objective lens diameter in millimeters is thirty-four (34). This scope is variable, and you can change the magnification from two to eight. This scope is described as "two to eight by thirty-four." You can learn more about what do the numbers mean on a rifle scope.
How To Zero A Rifle Scope
The reticle is one of the major parts of the scope, and it is used for zeroing a scope. A shooter can zero a riflescope by adjusting the windage and elevation using "turrets" to center their intended target on the reticle. To avoid altering the scope's zero, BDC, mil-dot, and other reticles are constructed with markings so that a shooter can estimate where the shots will hit at varying distances greater than the zeroed distance. You can learn more about how to zero a rifle scope.
How To Mount A Rifle Scope
When buying a riflescope, make sure you know how to mount it properly on your rifle. It is also important that you know the size of scope rings required for effectively mounting a scope. Many contemporary rifles include scope bases, such as an incorporated Picatinny rail or dovetail mount, where scope rings are attached. Scope rings are available in two separate sections or as a single-piece cantilever device. Rifle scope tubes are made in the United States in either 30-millimeter or 1-inch tube sizes. Depending on your shooting application and time, you could also choose between mounting a thermal scope vs a night vision scope.
Furthermore, depending on a variety of criteria such as the eye relief, height of cheek weld, objective lens diameter size, and so on, you will need a scope ring that is a perfect fit in terms of height. A lower ring usually mounts the scope closer to the rifle, meaning the shooter has to sight the scope at a lower position to see the target. Meanwhile, a higher scope ring elevates the scope from the rifle, providing room for a bigger objective lens diameter to sit on the rifle.
Sounds too simple so far, right? This article was intended as an introduction to how riflescopes are manufactured, how they operate, and the additional equipment required to use them effectively for any application. Riflescopes are available at a variety of prices, with versions ranging from five-figure high-end scopes to those less than $100.
Most times, new rifle owners would buy a high-end rifle and fail to mount a complementary optics. You must note that even the best rifle scope and rifle collection may not necessarily do all the job; you still have to play your part by training and improving your abilities to become a great shooter. The best rifle scope in the world will not compensate for poor shooting ability.
Let's look at some of the top rifle scope brands.
Best Rifle Scope Brands
There are a lot of companies out there that provide quality rifle scopes. Identifying some of the leading rifle scope manufacturers isn't easy, even for rifle scope experts. This section makes it easier for you to identify some of the top rifle scope brands.
Over the years, I have had the opportunity to test at least one or two scopes from each of the brands listed, and I can tell you that it's not easy to compare or find the difference between most of them. This is because you could only judge based on your experience or usage of a particular scope model from a brand. Remember that every brand has so many other rifle scope models that you might not be able to lay your hands on (both High-end and affordable ones). Except you want to buy all the scope in the market!
In this section, I'll show you some of the best rifle scope brands to help you narrow down your search for the perfect optic for your particular shooting style.
Let's go over some of them!
VORTEX OPTICS
This brand was probably one that you were anticipating to see on the list, right? Yes, it's on top of the list! Vortex Optics is an American company that was founded in 1986. It is a family-owned and veteran-operated company based in the South. They have different kinds of optics that are designed for different shooting applications such as hunting, wildlife watching, bird watching, outdoor leisure activities, and law enforcement.
Vortex produces rifle scopes, binoculars, spotting scopes, and a wide range of optical accessories. Vortex Strike Eagle, Vortex Razor HD, Vortex Viper, and Vortex Optics Crossfire II series scopes are well-known all over the world. Vortex ensures complete client satisfaction by providing an Unlimited VIP Warranty. They will repair or replace your scope, ensuring that your money is well-spent.
If you have an issue with a Vortex Optics scope, simply email them, and they will handle it immediately. I had reticle issues with my scope when it fell from my hands, I contacted Vortex, who advised me to mail it to them, and they got it back to me as soon as possible. There was no fuss, no worry, and no cost.
If you want a fantastic scope at a reasonable price, you should consider Vortex Optics. Also, if you don't need all of the extras that other scopes have, get Vortex Optics; they focus on the basic but essential aspects, such as having clear glass, solid structure, and precise adjustments.
Some examples are Vortex Optics Crossfire II Second Focal Plane Riflescope, Vortex Optics Diamondback Second Focal Plane Riflescopes, and Vortex Strike Eagle Riflescopes.
LEUPOLD
Another great rifle scope brand is the Leupold Scope brand. Leupold has been in the business of designing and producing high-quality rifle scopes since 1907. They have a collection of high-quality products ranging from long range hunting scopes to very powerful tactical scopes. An example of a Leupold scope is the Leupold VX-3HD 4.5-14x50mm scope and the Leupold Mark 3HD 4-12x40mm scope.
The Leupold scope has been put to use by the Navy SEALs, US Army snipers, and Secret Service personnel. To crown it all, Leupold offers a Lifetime Warranty that covers repairs if your rifle scope becomes damaged or starts malfunctioning. Most hunters and competition shooters love this scope brand and have it as their top recommendation for target shooting.
NIGHTFORCE OPTICS
Anyone that is interested in optics should be familiar with this extraordinary optics brand. NightForce has a good reputation for its high-quality tactical and long range hunting scopes. All of their optics are strong, tough, and highly long-lasting. These key qualities set NightForce Optics' products apart from the competition. An example is the NIGHTFORCE SHV 4-14x50mm Hunting Scope.
BUSHNELL
Bushnell is well-known for producing an excellent selection of optics. They produce different types of optics like monoculars, hunting rangefinders, hunting binoculars, and golf rangefinders. If you're looking for a new scope and come across a Bushnell scope, you can check out the Trophy Extreme X30 6-2450 Riflescope or Bushnell Banner Dusk & Dawn Multi-X Reticle Riflescope with 3.3-Inch Eye Relief. They'll help you appreciate the Bushnell scope excellence.
TRIJICON
Trijicon is one of the market leaders in the production of optical systems for rifles and weapons. This brand is preferred by law enforcement, the US military, hunters, and shooting enthusiasts because of its unequaled durability, unique clarity, broad field of view, and rapid target acquisition. Competition shooters love this scope brand and use it for target shooting. An example is the Trijicon ACOG 1-6×24 Rifle Scope.
ATHLON OPTICS
Although Athlon Optics is a newcomer to the sector. Nonetheless, they are already well-known for providing a diverse selection of high-quality items, such as hunting scopes, long-range optics, red dot sight, and different sports optics. You can't be disappointed in an Athlon Optics Scope since it has smooth eyecups, crystal clear glass, and superior construction. An example of the Athlon scope is Athlon Optics Argos First Focal Plane Riflescope.
BURRIS OPTICS
Burris Optics is a brand that is loved by hunters and professional shooters because it produces high-quality scopes and also has the most talented engineers.
Burris Optics is also well-known for producing scopes with greater lens diameters compared to most other rivals. Their unique HiLume lens coating provides exceptional light transmission while maintaining a clear picture. Burris will not disappoint, whether you engage in wildlife hunting or long range shooting in a competition. An example is Burris Optics E1 Riflescope 4.5-14x42mm.
SIG SAUER
Sig Sauer has a fantastic collection of hunting and tactical riflescopes that are noted for their unrivaled accuracy. In the United States, many law enforcement agencies deploy their high-performance weapons with optics. That should tell you how much their products are used. Their military scope designs, technically sophisticated electro-optics, and excellent HD-glass are just a few reasons why they are popular among hunters and shooters alike. An example is the Sig Sauer Tango4 Riflescope.
ATN
ATN scope is the rifle scope for Tech-savvy shooters that like optics with the newest technologies. This brand is a world-leading producer of high-quality night thermal scopes, night vision scopes, digital scopes, and other sights. Whether you want to hunt in the day or at night, explore rough terrain, or work as a law enforcement agent, ATN has a rifle scope for you. An example is ATN Thor 4, Thermal Rifle Scope with Full HD Video rec, GPS, WiFi, and Smartphone Controlling.
PRIMARY ARMS
Primary Arms' scopes are generally of high quality. This is one of those brands that people rely on for high-quality optics. You can always anticipate an excellent optical performance at an affordable price. They also sell scope mounts, cleaning tools, lasers, shooting equipment, and a variety of other items. An example is the Primary Arms 1-6×24 SFP Rifle Scope.
NIKON
Nikon is renowned for producing high-quality scopes that are also inexpensive and user-friendly. The company's main strengths are its devotion to innovation and quality. Canon, a competitor manufacturer, once recruited them to build lenses for some of its early photography equipment. Rifle owners can rely on Nikon's expertise in camera optics for manufacturing cutting-edge lenses for their scopes. Known for its high-performance long range hunting rifle scopes, this brand is a household name in the optics market.
SIMMONS
It's usually difficult to locate scopes with a plethora of remarkable features at an affordable price. On the other hand, Simmons has spent a significant amount of time (over 25 years of production) and effort to discover the ideal mix of features for a wide range of purposes without breaking the budget. An example of the Simmons scope is the Simmons 3-9x32mm Riflescope. You can also check out their Simmons Binoculars and Simmons Red Dot Sight.
SIGHTMARK
SightMark has a collection of rifle scopes that are tough, dependable, and infinitely adaptable. This brand produces night vision equipment, hunting scopes, and other home defense items. Sightmark guarantees the durability of their scopes, particularly their best-selling Citadel, Core, Latitude, and Pinnacle models. An example is the Sightmark Digital Night Vision Riflescope.
SWAROVSKI OPTIK
An Austrian company that is known for its light-capturing clear optics. The firm was established in 1895 to make jewelry. They started creating and manufacturing binoculars in 1953. They provide some of the best-performing, most user-friendly, and most precise rifle scopes on the market. You can trust that their scopes are made with the same high-quality glass used in all of their products. An example is the Swarovski 3.5-18×44 Ballistic Turret Plex Reticle Riflescope.
Things To Consider Before Buying a Rifle Scope
There are a lot of factors to consider as a hunter or competitive shooter when you want to buy a rifle scope. While weighing your options, you must consider the purpose of shooting, your budget, and the terrain you would be using the scope. So many other considerations won't be covered here, but let's look at a few of them.
Your budget
The first thing you want to consider before you purchase a rifle scope is your budget and the cost of the scope. Although it might sound funny, the fact is that some high-quality scopes are far more expensive than most rifles. Nonetheless, you can get some quality scopes for less than $500. Your pricing range or budget is tied to the kind of scope performance you want. There are so many factors that affect the price of a scope. Price is affected by the glass quality, repeatability of turrets, construction quality, magnification dial, and other moving parts. You may not need a $5,000 rifle scope if you would be shooting within 200 yards. However, if you're shooting at around 1,300 yards and want the best low light performance scope, then you'll need a more costly scope.
Magnification
Another factor to consider is magnification. Magnification is the ability of your scope to zoom in on your target and make it look bigger while you're trying to shoot. Most riflescopes have magnification powers ranging from 3X to more than 30X. This implies that what you view through the lens will look three to thirty times larger than what you could see with your naked eye. For riflescopes, there are two primary forms of magnification.
You can decide to get a fixed magnification or variable magnification scope. You could get a fixed magnification scope if you only use the scope for one activity, particularly at short or medium shooting ranges. On the other hand, a variable magnification riflescope might come in handy if you engage in long range shooting. These scopes are more costly and generally heavier than the fixed scopes, and they are best suited for professional shooters. Hunters will substantially benefit from a variable magnification scope because of its ability to view targets at medium or long ranges.
Reticle Type
The reticle is the heart of every rifle scope that helps shooters to position their shots. When it comes to choosing a rifle scope based on reticle type, the initial decision is whether to use the first or second focal plane. Although first focal plane reticles provide the same subtensions (area of scope covered by reticle) regardless of the magnification. Some hunters dislike them because the reticle grows larger with magnification, potentially concealing tiny, distant targets. Second focal plane reticles, on the other hand, remain the same regardless of magnification, implying that those subtensions vary with magnification. As a result, you should think about how you'll use your scope. Second focal reticles are preferred by hunters, whereas first focal plane reticles are preferred by precision shooters.
Warranty
Finally, think about the warranty. A rifle scope has a lot of features and moving parts like the turret, parallax and illumination settings, and variable magnification dial. Furthermore, these parts are subjected to the impact of shooting and other field conditions. You should ensure that your scope is completely backed by a good warranty in case of damage or fault. Fortunately, most optics now have completely transferable lifetime warranties, which means you're covered whether you bought the scope new or used.
Best Rifle Scopes on The Market
Whether you are a hunter or a competitive shooter, you need to understand the basic features that make a rifle scope durable and reliable for your shooting application. Rifle scopes are built for different reasons and work best in certain conditions. In this section, we will look at the best rifle scopes in the market and why you should consider them.
Best Rifle Scope for Hunting
Leupold VX-Freedom 3-9x50mm Duplex Reticle Riflescope
When it comes to rifle scope for deer hunting, the Leupold 3-9x50mm scope should be top on your list for consideration. Although I have used this scope for both target shooting and backcountry hunting, it works as great as other high-end scopes.
Let's find out the stuff that this scope is made of.
Reticle and Glass Clarity
In terms of glass clarity, I can say this scope is clear and bright. This Leupold rifle scope has a duplex and second focal plane reticle, meaning that the size of the reticle remains the same when you increase or decrease the scope magnification. The drawback of this scope is its tiny crosshairs.
Eye Box and Eye Relief
The Leupold VX scope has 4.2-3.7 inches of eye relief; this means you are protected from a scope bite if you use this scope. The scope offers a large eye box making it easier for you to have a decent field of view without the need for a perfect eye alignment.
Durability and Weight
The VX-Freedom is very sturdy, thanks to its O-ring sealed, gas-purged, and aircraft-grade aluminum construction. It can withstand the same punishing treatment as high-end scopes. The Leupold VX is shockproof, waterproof, and fogproof ensuring that this scope performs admirably in all situations.
Windage and Elevation Knobs
The elevation adjustment and windage adjustments are pretty durable. The clicks aren't as loud as on other scopes, and some shooters feel they are missing out on that pleasant sound. But for me, I feel comfortable hunting with this scope with its quiet adjustments. It was easy zeroing the scope, and it also maintains zero even with heavy recoil or unintentional drops.
The turrets are great and proven to be dependable.
Magnification and Parallax
The Leupold VX is a variable magnification scope with a 50mm objective lens diameter that is ideal for medium to long range shooting. You can use the power selector effortlessly in the rain, snow, and with or without wearing gloves. The bigger diameter also helped me to spot moving objects easily.
Shooting with this scope around 100-200 yards with precision was a breeze for me, and I'm convinced that it would function well beyond that range.
Scope Mount and Rings
I would definitely recommend the Leupold Dual Dovetail 1″ scope rings for mounting the scope. The rings would stay tightly when mounted properly.
Features
Affordable Price
Clear glass
Second Focal Plane
3-9x Variable Magnification
Long eye-relief
Waterproof, shockproof, and fog-proof build
This scope is definitely worth it and would do great for deer hunting.
Best Long Range Rifle Scope
Vortex Optics Strike Eagle 1-8×24 Second Focal Plane Riflescopes
When it comes to long-range optics, some of the major considerations are durability, versatility, and ease of use. That is why I am a fan of this Vortex scope. It has all of these features and more. I believe it is the best scope available for long range shooting.
Reticle and Glass Clarity
The Strike Eagle's glass is amazing. Even in low-light settings, the image is extremely clear and sharp. Vortex thoroughly coated the lenses on both sides for maximum light transmission. Long-range shooting requires a clean image, and that's what you'll get with this scope. You can easily see the details on your targets at 600 yards.
Let us now discuss Strike Eagle's outstanding features.
It has an illuminated reticle. The top-ranging lines remove the uncertainty from measuring your target distance, and the windage lines allow you to adjust wind conditions on the go, which is a big plus. Furthermore, the center dot is lighted, and this pulls your attention to the center. The scope has 11 different brightness levels to pick from. You can choose the ideal settings for both daylight and nighttime shooting. It also works with night vision.
Eye Box and Eye Relief
Eye relief on this scope is 3.5 inches, and it is enough space to avoid a scope bite.
The eye box is also generous.
Durability
It is a general rule that fancy products always end up being fragile; however, this is not the case with this scope. Despite its flashy features, it is made to last. The scope has a strong and lightweight tube since it is manufactured from aircraft-grade aluminum. It weighs about 17.6 ounces, which is light for a long-range scope. Furthermore, the tube is o-ring sealed and nitrogen purged, making it fog and waterproof.
Windage and Elevation Knobs
The Vortex Optics Strike Eagle's turrets are simple to use and dependable. The turrets are capped and manually adjustable, and they produce solid clicks. You can dial in the exact zero for long range shooting because they change with ½ MOA every click.
Magnification and Parallax
This Vortex scope has a configuration of 1-8x magnification. This magnification range is quite adaptable. The low setting is a real 1x, allowing a shooter to use the scope at close range like a typical red dot scope. At 8x magnification, you can easily hit targets at 600 yards and beyond. This makes it an excellent sight for multiple applications, including hunting, target shooting, and home defense. Furthermore, the parallax adjustment knob on the side allows you to fix any scope wobbling.
Scope Mount and Rings
This optics does not come with any rings or scope mounts. The Vortex Optics 30mm Riflescope Rings are my recommendation. They properly fit the tube.
Features
Clear glass
Magnification 1-8x
Adjustable turrets
Illuminated reticle
Parallax adjustment knob
11 brightness settings
If you're searching for a high-quality long-range shooting scope, the Vortex Optics Strike Eagle is the way to go.
Best Scout Scope
Leupold VX-Freedom 1.5-4x20mm, Duplex Reticle, Scope
If you're searching for the greatest scout scope, search no further than this Leupold scope. Scout rifles require scopes that meet specific criteria, and this Leupold scope does. It is not only lightweight and small, but it also has the ideal magnification for both home defense and hunting.
Why is this scope the best scout scope? Continue reading…
Reticle and Glass Clarity
The glass is sharp and provides a clear view. The lens is completely multi-coated, which reduces glare while also decreasing color distortion, resulting in a bright and accurate sight image.
Leupold scope has Twilight light control technology. This technology is unique in that it draws enough light, giving you an additional 20 minutes of vision during dusk and dawn. While it is not a night vision scope, its low light characteristics make it ideal for scout rifle hunting. The Duplex reticle is the finest feature of this sight. With tiny crosshairs and broad outer posts, your gaze is instantly pulled to the center. This allows for quick target acquisition, which is important in close combat scenarios and hunting.
You can use this sight for hog hunting because it can allow you to detect and target them faster than other rifle scopes. It is also easy to use, so you wouldn't have to worry about confusing marks while you're attempting to shoot.
.
Eye Box and Eye Relief
This Leupold scope provides a long eye relief.
It offers a range of 4.17-3.74 inches of eye relief which is larger than normal for this type of scope. Maintain a proper cheek weld at all times, and you will not be hit in the eye. The eye box is spacious, and this scope has a beautiful, broad field of view.
Durability
If you've used a Leupold scope, you'll know that the company's name is synonymous with quality. It's composed of aircraft-grade aluminum, so it's durable. I can personally confirm it's fog and waterproof. It also boasts scratch-resistant lenses for extra security. Furthermore, Leupold provides a lifetime guarantee on all of their items, so any issues that emerge will be readily resolved.
Windage and Elevation Knobs
The ¼ MOA adjustment turrets on this scope are precise and accurate. If you're using a scout rifle, ensure the turrets are not mushy. The Leupold scope has firm, sharp clicks that are simple to feel and tune.
The main drawback is that there is no adjustment labeling, but with solid, loud clicks, this isn't a big deal. This scope was easy to zero. I did mine in a few shots. I've shot so many rounds and still haven't tweaked it, so it appears to maintain zero properly.
Magnification and Parallax
This scope has a variable magnification range of 1.5-4x.
This is ideal for home defense and close-range hunting. The only drawback is that it should have started at 1x rather than 1.5x. It also features a 3:1 zoom ratio, making it useful in a variety of circumstances.
Scope Mount and Rings
This scope does not include rings or scope mounts, so you must buy them separately.
You need a 1″ ring that fits the tube, so you can get the Leupold Quick Release (QR) Scope Rings attachment mechanism.
Features:
Clear glass
Lifetime warranty
Duplex reticle
Compact and lightweight
¼ MOA finger click
Twilight Light Control System
The Leupold VX-Freedom scope is the greatest scout scope you can buy. Give it a try!
Best Scope for 3 gun
Vortex Optics Razor HD Gen II-E 1-6×24 Second Focal Plane Riflescopes
To begin, this Vortex Razor scope is the ultimate 3 gun scope. I can say this boldly because I have tested the accuracy, clarity, and resolution.
Do you want to know why it is the best 3-gun scope? Continue reading…
Reticle and Glass Clarity
The glass of the Vortex Razor HD scope is among the cleanest I've seen. It produces high-quality images because of the optically indexed lenses, plasma technology, and HD lens elements. Let me explain what I mean.
Its Premium HD extra-low dispersion glass provides the scope's brilliant clarity, which also provides genuine 1x imaging. And this sharpness extends from one end to the other without distortion. The optically indexed lenses improve visual brightness and sharpness, and the cutting-edge plasma technology is used as a lens coating for better performance. These scopes are often one size fits all, although we all have different eyes. The rapid focus eye ring on the scope aids in focusing the reticle to your eye, providing clarity regardless of prescription or astigmatism.
There are three reticle configurations available with this scope: the VMR-2 MOA, VMR-2 MRAD, and JM-1 BDC. All the reticles are a second focal point, which means the reticle remains the same size regardless of magnification. It allows for quick target acquisition.
Finally, we have the lighting feature of the scope. A side adjustment turret houses the 11 brightness settings, with its off positions in the middle. Whenever an optic has 10 or more illumination adjustments, it becomes less interesting to me.
Eye Box and Eye Relief
This scope has a large eye relief of 4 inches and a good eye box. They work together to enhance quick target acquisition while maintaining excellent surveillance of the area.
Durability
This sight is designed to survive intense recoil and harsh weather conditions.
It is completely argon purged, and O-ring sealed to keep it fog and waterproof regardless of the weather. The aircraft-grade aluminum tube is tough enough to resist everything you throw at it. An Armortek lens coating protects your exterior lenses from oils, scratches, and debris. I recommend using the provided lens cap.
Windage and Elevation Knobs
The windage and elevation adjustment have extremely distinct and loud clicks. They provide a 50 MOA (20 MRAD) adjustment in one turn. It simply took a couple of shots to get to zero, which the scope readily maintained.
Magnification and Parallax
The Gen II-E has a flexible range of 1-6x without losing clarity.
As previously said, it is a true 1x, which implies quick acquisition for close shots. When adjusting to 6x magnification, the optic retains its clarity while also assisting the shooter in recognizing targets and engaging more accurately. The magnification ring is usually stiff at first, but it would loosen over time. It still requires a strong grip to adjust; a throw lever might make your adjustments easier.
Scope Mount and Rings
This scope does not include a mount and rings. It has a 30 mm tube with a wide range of ring alternatives, but your mount options are determined by your weapon. I prefer the AD-RECON STD Riflescope Optic Mount.
Features
Premium HD Lens
11 Brightness level
Quick-Focus Eyepiece
Unlimited Lifetime Warranty
I always recommend this specific scope for short and mid-range shooting because of the flawless glass clarity.
Best AR-15 Scope
The Vortex Viper PST 1-4×24 is the choice scope for your AR-15.
This rifle scope is not as expensive as others and can be used for short and mid-range shooting.
Doubt it?
Keep reading to learn more…
Reticle and Glass Clarity
The clarity of the glass is excellent. It has good color and resolution because of the extra-low dispersion glasses. The anti-reflective coating on the glass would make you receive a clearer image and more light transmission.
Let's look at the reticle.
The reticle is a TMCQ in the Second Focal Plane; as a result, the reticle stays the same size at any magnification. Furthermore, it employs MOA subtension lines for range, holdover, and windage adjustments. It can also be illuminated with a variety of brightness levels, making it ideal for low light situations. The reticle is permanently engraved onto the glass. So even if your batteries fail, you can still utilize the reticle.
Eye Box and Eye Relief
The scope's eye relief is a comfortable 4 inches, facilitating split-second shootings. You can view close items and also zoom in on other prospective targets far away.
Durability
This sight has a strong, anodized coating that makes it very durable. It also features a low-glare matte coating, which is ideal for concealing the location of your weapon.
Windage and Elevation Knobs
It has tall turrets without caps. As a result, range computation and adjustments are faster. When adjusted, they also generate audible clicking sounds.
How simple is it to zero? Very simple.
The zero stayed at 50 and 100 yards when I tried it because it has a Customizable Rotational Stop. After dialing, this restores the scope to zero.
Magnification and Parallax
The scope magnification is 1-4x, which is ideal for large game hunting. You can engage with any game or practice target with ease. The zoom ring is very rigid to twist; I recommend purchasing a throw lever to resolve this issue. This scope is factory focused at exactly 100 yards range.
Scope Mount and Rings
Mounts and rings are not included. However, the scope comes with a battery and lens cloth. I suggest the 30mm Vortex Optics Cantilever Scope Mount with a 2-inch offset for mounting. It's strong, light, and works with most guns.
Combine the mount with a Vortex Optics Hunter Scope Rings. They are ideal for basic hunting setups.
Given my concerns regarding the scope's durability, I believe a lens cap would be necessary for added protection. You can use Vortex Defender Flip Cap.
Features:
Illuminated reticle
Extra-low dispersion lenses
Long eye relief
Lifetime warranty
Customizable Rotational Stop
If you're looking for the perfect AR-15 scope for deer hunting or any other shooting purpose, try the Vortex Viper 1-4×24.
Best .308 scope
Leupold VX-3i 3.5-10x50mm Riflescope
If you get the Leupold VX-3i scope now, I'm almost certain you won't need any other .308 rifle scope again. This rifle scope beats other .308 tactical scopes because of its low light condition usability. Leupold VX-3i scope is my favorite for .308 scope category.
I can show you why.
Reticle and Glass Clarity
The first thing you'll most likely notice when you get this scope is the glass clarity. It also has an edge-blackened lens that helps to reduce glare and a DiamondCoat 2 that helps to increase light transmission. The Twilight light management system is designed to give shooters a clear and bright image in dim light, meaning you would be able to easily spot your prey even in poor light conditions. The heavy Duplex reticle on the scope also makes it easier for you to see a target in low light conditions.
Eye Box and Eye Relief
The Leupold VX scope has a generous eye relief. The eye relief is about 4.4 inches for low magnification and about 3.6 inches for high magnification. This long eye relief allows you to enjoy a more comfortable and natural head position while looking through the scope.
The large field of view gotten from the scope eye box makes it ideal for open area hunting. If you hunt with an AR-15 rifle, then the Leupold VX is the best scope for you.
Durability
Before getting a .308 rifle scope for your shooting need, you want to make sure it's durable and would serve the purpose you need it for. This scope would meet your needs and even perform beyond your expectation.
Leupold runs every scope they produce through the Punisher, a recoil simulation machine with three times the power of .308 recoils. The Leupold scope is also made of high-quality aluminum, and it is fog proof, waterproof, and shockproof. Furthermore, the light design of the scope distributes the recoil energy, making it easier and more comfortable to carry around. The recoil distribution also helps to avoid internal damage and prevent distortion of your zero.
Windage and Elevation Knobs
The windage and elevation turrets are very reliable. It has easy-to-use and accurate ¼ MOA click adjustment turrets. Zeroing on the scope wasn't so difficult, and it retains its zero better than other scopes. The turrets do not have a reset or stop function, making long-range shots a little more difficult.
Magnification and Parallax
The magnification range for this scope is 3.5 to 10x, meaning you can use it for short -medium-range shooting, although it can be used for some long range shooting as well.
With this .308 scope, medium-range shooting at 150 – 300 yards would yield great accuracy. In this range, you would need to use between 6-9x magnification.
If you enjoy target shooting, it also accommodates short range. The focus is fast and precise, so you can see the holes on your target at 100 yards.
The magnification rotates effortlessly, allowing you to swiftly adjust to diverse terrain, and you would not need to lift your head to check the power level.
Scope Mount and Rings
This scope does not include a mount or rings. As a result, I'd suggest utilizing 1inch Leupold Scope Ring that comes with a lens cover.
Feature
Lightweight
Durability
Low light visibility
Great glass clarity
Lifetime warranty
Reliable turrets
Variable magnification range (3.5-10x)
The Leupold VX is perfectly suited for any shooting application you would use in your .308. Whether you are hunting in dense vegetation or open area, you would still get a clear image with this scope. You can use this affordable .308 scope without sacrificing quality. The lifetime warranty ensures that you are always satisfied with the functionality.
Best Night Vision Scope
ATN X-Sight II 5-20X
ATN is an excellent pick for anybody fascinated by night vision scopes. If you want a quality night vision scope for your hunting, then the ATN X-Sight is the one to get.
Reticle and Glass Clarity
The glass clarity of a scope is always the first consideration for me since the quality of the vision is everything. The X-Sight has a big 40mm objective lens with a nicely etched grid. The reticle is lighted off-axis, making it ideal for use in complete darkness. The reticle has 5 power magnifications and a nice crosshair that covers around 45 percent of your field of view. The markings on the reticle are easy to see and clearly defined, providing enough clarity on your target without relying on the scope display's center dot.
Eye Box and Eye Relief
The scope has good eye relief. The eye box is more than enough, as you can see your target well from roughly 45 degrees on the sides of the scope, providing you a very broad field of view.
Night Vision and Adjustments
The ATN X-Sight is amazing and works wonderfully at different distances, whether you are gazing at stars or on pitch black evenings. The scope adjustments are easy to use, but they do need a bit of power to ensure that your visual image remains consistent.
If I could modify anything on this scope, it would be the scope brightness. This isn't a big deal, but if you're going to use this scope in the open, then you'll need an IR illuminator like the ATN IR850 Long-Infrared Illuminator to boost its brightness. You can change the night vision capabilities, but it takes time and adds to the degree of complication when using the scope.
Durability
This scope is nearly indestructible; I've been using mine for years, and it has never given me an issue. It can resist harsh conditions.
Windage and Elevation Knobs
The windage and elevation adjustment is simple enough to operate, so you can make modifications as you like. Just keep in mind that it is not an automatic adjustment scope like other scopes; thus, you must give it some time until the movement stops.
Parallax and magnification
Parallax can be adjusted for targets between 25 and 50 yards distance. The magnification is easy to adjust even during a cold weather hunt.
Scope Mount and Rings
The ATN 5-20x scope includes rings for most rifles and pistols. It is simple to mount. The scope also features a laser pointing capability that may be used to confirm where you're aiming before effectively locking that direction.
Features
Durability
Great glass clarity
Night vision
Lifetime warranty
Recoil Activated Video (RAV)
Reliable turrets
Variable magnification range (5-20x)


Best Thermal scope
Pulsar Trail XP50 1.6-12.8×42 Thermal Riflescope
The Pulsar Trail thermal scope is a one-of-a-kind scope. Many thermal scopes may easily wreck the bank, leaving you to choose between your sparkling new optic or that luxury item. But don't worry, you can get an affordable thermal scope.
Continue reading to find out more.
Reticle and Glass Clarity
The clarity of the glass is superb.
I was skeptical about the glass clarity because the price of the scope was lower than usual. However, I was pleased with what I got after purchase. The night vision video quality was okay even when the weather wasn't ideal; I could easily see the games I was after.
This thermal scope has an electronic reticle at the Second Focal Plane position. That is, as the magnification varies, the reticle size remains constant.
This scope also comes with 13 preset reticles. You may also use its Picture-in-Picture capability to display a second enlarged picture on the screen while watching your bigger field of view.
Eye Box and Eye Relief
The scope has an eye relief of 50mm. It can detect heat from 2,000 yards away. As a result, you can see clearly and very far on the field.
Durability
The scope is designed to withstand tough outdoor conditions. It is completely waterproof and can withstand a 3-foot submersion for 30 minutes.
It is also fogproof and shockproof. It can withstand great shock resistance and powerful recoil up to.375-caliber.
Windage and Elevation Knobs
It has a 1-click turret that works well. My major issue with the scope is that the digital scope's sighting is not as accurate as a standard scope. You must be tech-savvy to get the most of it.
Parallax and magnification
The magnification ranges from 1.2 to 9.6x. The digital zoom range for the Picture-in-Picture function is 2x-4x.
The magnification power is useful, especially because it gives you a wider field of vision. Things can get complicated when it comes to zeroing in the scope.
This scope has a one-shot zero and a freeze feature. That is, it is designed to withstand three zero saves.
However, the zero does not hold most of the time. It might be the fault of technology, but be mindful that zero can get messy.
Scope Mount and Rings
The Trail XP38 package includes an IPS5 battery, charger, USB cable, carrying bag, lens cloth, user manual, and a warranty card. You can use the Pulsar Locking QD mount. It easily attaches and detaches, making switching it up a breeze.
Features
13 preloaded reticles
Digital zoom
Heat detection up to 2,000 yards
Fully waterproof
Shock resistant
If your scope is damaged, you have a 3-year warranty.
If you're a dedicated nocturnal hunter, the Pulsar Trail XP38 is a must-have. You'll have the greatest night view with the night vision and incredible magnification capabilities.
Best Reflex Sight
Aimpoint PRO Reflex Sight with QRP2 Mount
The Aimpoint PRO reflex sight is one of the greatest AR-15 reflex sights I have ever used. It has a 2 MOA red dot for precise target engagement, and it comes with a plastic lens cover for the front and rear lenses. This optic is well-known for its amazing features and low price. It is commonly used by law enforcement, the military, and armed authorities.
Reticle and Glass Clarity
The glass on the Aimpoint Pro is sharp and clear. It has a faint blue tint for improved contrast, and there is no distortion whatsoever, so no complaints there. It has an opening in the front lens that lets you screw an additional anti-reflective device. The scope also has a 2 MOA dot and 10 brightness settings: 6 for daytime and 4 for nighttime. This red dot sight works with night vision systems. With all its excellent features, this red dot sight may be less than ideal for people with astigmatism. You should choose an holographic sight.
Eye Box and Eye Relief
The Aimpoint Pro features an unlimited amount of eye relief. The eye box is slightly smaller than those of other sights, yet it offers a large field of view. This sight can be used in conjunction with iron sights, and it comes with an additional spacer. The red dot was exactly aligned with the iron sight on my rifle.
Durability and Weight
The Aimpoint Pro is very durable. It can survive heavy rain and fog because it is waterproof. Furthermore, the CR2032 battery can survive 30,000 hours (almost 3 years) of continuous operation. I can attest to that because I have used mine for about 2 years, and I'm yet to replace the batteries.
This sight stands at a height of 3.2 inches, measures 5.4 inches in length, and weighs around 12.7 ounces with the spacer. This sight is heavier than other red dots, and it works well on rifles.
Windage and Elevation Knobs
The windage and elevation knobs are solid and responsive; you can easily loosen or tighten them. They also feature audible clicks.
Magnification and parallax
The Aimpoint sight has a magnification of 1x. It is easy to aim at your target with both eyes open.
This sight may also be used with any magnification you choose. I recommend the Aimpoint's 3X Magnifier.
Scope mount and Rings
The sight comes with a normal (removable) AR-15 riser and a QRP2 mount. You can install the sight in about 15 minutes. The package also includes lens coverings that have a solid front cover and a translucent back cover.
Features
Clear lens
Pinpoint accuracy
30,000-hour battery life
Easy installation
Excellent durability
Finally, this reflex sight is backed by Aimpoint Pro's 10-year warranty. If anything breaks, their superb customer service will fix or replace it.
Best Prism scope
Vortex Optics Spitfire 1x Prism Scope – DRT Reticle (MOA)
Vortex's Spitfire prism sight was designed from the bottom up to enhance the fast performance of rifles, and it combines outstanding optical quality and super-fast functionality in a compact and lightweight body. The spacious, parallax-free sight image and accommodating eye box get on target – even in tense situations.
The spitfire prism scope is a very reliable and impeccable scope. Designed for fast performance in a close or medium range shooting application.
Keep reading to find out more about this scope.
Reticle and Glass Clarity
Unlike other prism scopes I have used, this one has excellent clarity.
This prism scope has a rapid focus eyepiece that provides a finely focused reticle quickly and effortlessly. This vortex prism scope is absolutely clear, with no blurring, bursting, shading, or anything else. Even without using glasses, it's just amazing.
Eye Box and Eye Relief
It has a forgiving eye box and a 3.8 Inches eye relief.
Durability
This scope was made to last. The Spitfire is built to endure everything you throw at it, and o-ring seals and nitrogen purging assure waterproof and fogproof performance.
The Spitfire includes pushbutton lighting settings rather than a rigid dial knob, uses AAA batteries with a power saver, and has a decent battery life compared to CR2032. After 8 hours, the brightness is reduced to medium. It will switch off after another 12 hours.
Windage and Elevation Knobs
. I appreciate that the elevation knob is adjustable for the 5.56/.223. Windage adjustment is a typical MOA click when the cap covers are unscrewed (you can reset to zero after you have been sighted in). You may maintain the conventional MOA or change it to 5.56/.223 marked up knob.
Magnification and Parallax
It has a fixed 1x magnification.
Features
Clarity and brightness
Fully multi-coated lenses
Fogproof and waterproof
AAA battery
Illuminated reticle.
The Vortex Optics Spitfire prism scope is a great choice if you have astigmatism.
Best Holographic Sight
EOTECH EXPS3 Holographic Weapon Sight
You can use the EOTECH EXPS3 for everything from dawn to dusk hunting, as well as recreational to competitive shooting. This scope is one of those I could call a TRUE holographic sight. It is one of the greatest sights for quick target acquisition in close-quarters circumstances.
You will know if this sight is right for you after this review.
Let's get this party started!
Reticle and Glass Clarity
The EXPS3 has a visibly clean and precise 1 MOA red dot reticle. The glass sticks out from the crowd since it is the only one with no hues. It's quite brilliant on its own. It has 20 reticle brightness options that range from fairly visible to excessively bright, with level 12 designated as "standard." It also has 10 more settings that are compatible with Gen I night vision systems.
One tiny hiccup: The reticle is a little hazy, but that's to be expected with holographic sights. What is the solution? Just try to adjust the brightness with one eye closed.
You might also notice a "grainy effect" if this is the first time you're using holographic weapon sight. This is due to the fact that the reticle picture is created using hundreds of small red dots.
This sight has an automated shut-down feature that alerts you when the battery is low.
Eye Box and Eye Relief
The holographic EXPS3 has unlimited eye relief. With this sight, you can still use your iron sights. It features a big eye box and a broad field of view. This allowed me to fire targets faster, even with my two eyes open. It was easy to zero, and it kept zero well.
Durability and Weight
EOTECH EXPS holographic sights are noted for their excellent durability and toughness. The EXPS3 is made of aircraft-grade aluminum. The nitrogen-purged O-rings make it weather and shockproof. The EXPS3 holds its CR123 battery in the transverse configuration, something previous EOTECH sights did not have.
Windage and Elevation
The EOTech EXPS3 has 40 MOA with 0.5 MOA increments for windage and elevation. The button is mushy and difficult to push, especially with gloves on. There is a click, but it is scarcely audible.
Parallax and Magnification
The EXPS3 has a fixed magnification of 1x. I've been using this sight for a while now, and I don't recall ever having parallax issues.
Features
Unlimited eye relief
Bright optics
A broad field of view
Durable and Lightweight
20 brightness settings
Other Scopes Reviews you can Check

Tips for Maximizing Rifle Scope Performance
Zeroing and Sighting-In Process
The zeroing and sighting-in process is crucial for maximizing rifle scope performance. Properly zeroing your scope ensures that the point of impact aligns with the reticle's point of aim at a specific distance. Here are some tips to achieve an accurate zero:
Use a stable shooting platform
When zeroing your scope, use a solid rest or shooting bench to minimize human error. This will help you focus solely on the rifle's performance and eliminate unnecessary movement.
Start at a reasonable distance
Begin zeroing at a distance that allows you to hit the target consistently. For most rifles, a distance of 25 or 50 yards/meters is ideal as it makes it easier to make adjustments.
Follow a systematic approach
Shoot a group of rounds (3-5 shots) and identify the center of the group. Adjust the scope's windage and elevation turrets to move the point of impact to match the desired point of aim.
Be patient
Zeroing a riflescope can take time, so be patient and make incremental adjustments. Avoid making large changes to the scope settings between shots as this may hinder the zeroing process.
Shooting Techniques for Precision Accuracy
Once your scope is properly zeroed, it's essential to employ shooting techniques that enhance precision and accuracy. Here are some tips:
Proper body positioning
Maintain a stable and comfortable shooting position. Keep your body aligned with the rifle and the target to reduce movement during shooting.
Consistent grip and cheek weld
Maintain a consistent grip on the rifle, and ensure your cheek weld on the stock is the same for every shot. This helps maintain a consistent eye position relative to the scope.
Smooth trigger control
Develop a smooth and controlled trigger pull. Jerking or slapping the trigger can cause the rifle to move off target, affecting accuracy.
Breath control
Practice controlling your breathing. Take a deep breath and ensure you exhale halfway, then hold your breath while taking the shot. This helps stabilize your body and maintain sight alignment.
Follow-through
After taking the shot, maintain your position and sight picture for a moment. This ensures you don't disrupt the rifle's alignment until the bullet has left the barrel.
Adapting to Different Lighting Conditions
Low-Light Conditions
Choose the right scope: When shooting in low-light conditions, selecting the right scope is essential. Opt for a scope with a larger objective lens diameter, usually 40mm or more. A larger objective lens allows more light to enter the scope, improving visibility during dimly lit situations. This increased light gathering capability enhances the image brightness and clarity, making it easier to spot targets in low-light environments.
Adjust brightness settings: Many modern riflescopes come equipped with illuminated reticles. These illuminated reticles have adjustable brightness settings that allow you to tailor the reticle's illumination level to match the ambient light conditions. During low-light shooting, dialing up the reticle's brightness helps maintain contrast between the reticle and the target, making it easier to acquire and track targets in challenging lighting situations.
Use a flashlight: When legal and safe, employing a handheld flashlight or a weapon-mounted light or laser can be beneficial during low-light shooting.
Daylight Conditions
Adjust parallax: In daylight shooting scenarios, proper parallax adjustment is essential for achieving a clear and precise sight picture. Many high-end scopes feature parallax adjustment turrets that allow you to fine-tune the focus and eliminate parallax errors at different distances. Parallax occurs when the reticle and the target image are not on the same focal plane, causing the point of impact to shift when the shooter moves their eye. Correcting parallax ensures that the reticle remains on target, providing a sharp and accurate image.
Consider anti-reflective coatings: To maximize clarity and reduce glare in bright daylight conditions, consider using scopes with anti-reflective coatings on the lenses. These coatings help minimize the amount of light that is lost due to reflection on the lens surfaces. As a result, more light is transmitted through the scope, leading to improved image brightness and reduced distortion. Anti-reflective coatings enhance the scope's optical performance, making it easier to see targets and details even in challenging lighting situations.
Use lens caps: When not actively shooting, it's essential to protect your scope's lenses from dust, debris, and scratches. Utilizing lens caps when the rifle is not in use helps maintain the scope's optical quality. Dust and debris can negatively impact image clarity and reduce the scope's overall performance. Additionally, scratches on the lenses can cause glare and distortion, affecting your ability to aim accurately.
FAQ
Is an Illuminated Reticle Necessary in a Rifle Scope?
While having an illuminated reticle makes it easier to view your target, it isn't required. The major advantage of having one is that it may be used in low-light situations. If you're not one of those that aim at a target in low-light conditions, you don't need an illuminated reticle. There are so many scopes out there that do not have a lighted reticle, yet they are very effective.
What Exactly Is Eye Relief, and How Much Is Needed?
When selecting a scope, one of the major considerations is the distance from your eye that you have to hold the scope to see your target well. The Eye Relief specifies where the scope should be positioned for the best viewing experience. The most typical eye relief varies from 3 to 6 inches. Most individuals require around 3-4 inches of Eye Relief to view the target well.
What Should You Spend To Get A Scope?
The reality is: It all depends. You can pay anything from $50 to $1,000 or more. There is no such thing as an 'ideal' amount to spend when searching for a good scope. Why? It depends on your firearm, caliber, and intended use.
What Rifle Scope Coating Should You Get?
The majority of scopes today are completely multi-coated. In reality, more than 90% of the scopes I have seen are completely multi-coated. And don't worry if it's not totally multi-coated – coatings can't compensate for bad glass quality. The major types of rifle scope coating are Coated, Fully-coated, Multi-coated, and Fully Multi-coated.
Why Is An Objective Lens Necessary?
Simply put, the wider your objective lens, the brighter and clearer your scope will appear. A bigger objective lens would mean having a smaller scope ring and heavier scope. Also, the reflection of the sunlight on a bigger lens could reveal your location. So be cautious.
How Do You Know A Scope Magnification?
It is generally the first range of numbers you'll see on a scope. For instance, if a scope says 2×40…, the first number ('2') represents the magnification. If the scope reads 2-7×32, the range (2-7) is the magnification range. In other words, you may select a magnification ranging from 2 times to 7 times. As a result, there are two sorts of scopes:
What is the ideal magnification for a riflescope?
Riflescopes are available in a number of magnifications, and some feature variable magnification, allowing you to modify the power depending on the amount of magnification you desire.
Generally, low power scopes are suitable for shooting or hunting moving targets at close range. Medium scopes are great for big game hunting like deer. High-power scopes are good for shooting still targets, vermin, and animals.
Variable vs Fixed Scope; Which should I use?
Rifle scopes are available with variable magnification or fixed magnification. Each scope has advantages and disadvantages, and whether you pick a variable or fixed magnification scope will be primarily determined by your intended use and personal preferences.
Variable scopes are far more adaptable than fixed scopes since they have a maximum and minimum magnification and they can shoot at any magnification in between. Because of their flexibility, they may be used for short to long range shooting.
Despite the advantages of variable scopes, most shooters, particularly beginners or those who constantly shoot at a fixed distance, prefer a fixed magnification. This is because they are easier to use, and they do not need adjustments.
If you need a scope that is easy to operate at a specific distance, choose a fixed magnification. A variable scope is an excellent choice if you intend to fire at varying distances.
What exactly is parallax?
When examining distant objects, the reticle on your scope may appear to shift slightly. This is known as parallax. When your eye is not aligned with the reticle, which is literally on a lens inside your scope, you have parallax.
Most scopes are programmed to guarantee that at specific firing distances, the cross-hair on the reticle would align with the target you're looking at, preventing parallax (mostly 100yards). If you use a factory-set riflescope to aim and shoot at a distance that it was not designed for, parallax can occur if your eye is not properly centered in the scope.
Most hunters don't worry about parallax since the error is so small, but long range hunters and target shooters (more than 500 yards) often solve the parallax issue by purchasing a scope with a side parallax focus or adjustable objective lens that you can dial in for the range you are shooting.
What exactly are fiber optics sights?
A Fiber-optic sight is a sight that uses brilliantly colored inserts of fiber optic material to make the sights brighter when used on a rifle. Most of the time, we see fiber optics only on the front sight, while other times, both front and rear sights have fiber optics to improve sight alignment. Sights that employ fiber optics are extremely beneficial since the brilliant sights are significantly easier to see in low light than traditional sights. Remember to look after your fiber optic sight because the plastic inserts might be delicate.
What scope rings size and height do I require?
Rifle scope rings are available in a range of styles and heights. Different scope ring heights allow you to mount various sizes of rilfescopes securely and comfortably. When attaching a scope to your rifle, attempt to put it as low as possible without allowing the scope to come into contact with the barrel.
Some riflescopes need larger rings to provide a greater clearance space for scopes that have larger objective lenses.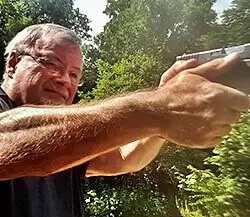 Mike Hardesty is a published freelance gun writer. He also possesses specialized expertise in rifle scopes With dozens of articles and reviews published in Pew Pew Tactical, Snipercountry.com, and TTAG (The Truth About Guns), Mike is considered a firearms expert. His special area of expertise is handguns.
Mike is a long-time shooter. He has been punching paper targets, taking deer and other game and shooting at competitions since about 1975. Other related pursuits include reloading and bullet casting. He currently reloads for over 10 calibers, both handgun and rifle. His reloads, particularly for 9mm, were in great demand during the height of the ammo shortage among family and friends. He donated hundreds of rounds to informal shooting sessions. He was quoted as saying "I do not sell my reloads but I sure will help my guys shoot 'em for free!". He has a few cherished firearms that he has inherited or otherwise procured — those are his favorites.
He earned B.S. and M.S. degrees from Indiana State University in 1974-1975.
He's a firearm experts and is the founder of mhardesty.com.