Making a good choice when searching for the best 1-8x scope might be a difficult task because there are several scope options to consider. Among these considerations is the scope's magnification range. The most common variable scopes today are 1-4X and 3-9X. These scopes might not be able to cover the magnification range that you want to shoot, and this is usually a result of the caliber or rifle you are using.
To compensate for this shortcoming in the most common scopes, many shooters use scopes with a 1-8x magnification range. Asides from the 1-8x scopes, we also have a closely related option which is the 1-6x, and they are called low power variable optic. The 1-8x magnification range allows shooters to fire at close to medium ranges while still having enough magnification to reach the limitations of their weapon and ammo. 
There are various high-quality optics on the market with magnifications ranging from 1 to 8X. We examined these scopes and selected some scopes that met our scope standards. We recognize that selecting an optic is a personal decision. However, this scope review will open your eyes to the features that meet your wants and expectations.
Here are our top picks for 1-8x scope :
Benefits of a Good 1-8x Power Scope
A 1-8x power scope is available in a variety of brands or manufacturers. It is a handy device that can help to make your shooting accuracy better. This device must be durable and built of high-quality materials. Asides from that, many other factors must be considered when purchasing this type of device. If you buy a scope without first checking its benefits to you, then you will be disappointed when you learn about other possibilities.
Some 1-8x power scopes have several advantages, while others feature only a few. The advantages are frequently straightforward, but many purchasers may be unaware of all of them. So, here are some benefits you'll get if you purchase a good 1-8x scope;
Easy and Accurate Shooting
A good 1-8x scope will make your life easier. You would not have to strain your eyes just to get better or pinpoint aiming at your target. These scopes are usually easy to use, and they won't complicate your life.
Durable and Affordable
A properly built 1-8x scope is a long-lasting device, so you'll get a long time of usage. The scope is adaptable, so you can utilize it in a variety of ways or for different shooting applications.
If you get a high-quality scope that is durable is a wise investment. You can always purchase one for yourself at a reasonable price without the need to break the bank. And you are also sure of getting value for money. Repairs or replacements are usually inexpensive.
A good scope will free up your time so you can focus on other aspects of your life. If you don't have a scope at all or you don't have a good one, you will always be worried about your shot accuracy when hunting or during other activities. A good 1-8x scope is built of high-quality materials, so you can rely on it. It is safe and will not harm you or anybody else who uses it.
Things You Should Consider Before Buying 1-8x Scope
Nothing compares to the excitement of purchasing something you have long desired. When a new optic is released, the anticipation and excitement, mixed with the sensation of ownership, may be tremendously satisfying. So it makes sense that you think twice before making any purchase. You don't need to always make a large purchase; you have to think about some things upfront to guarantee you'll enjoy your buy and avoid regretting later.
Here are some things to look out for;
Features
The features a scope has to offer are always the first thing to consider. Some 1-8x power scopes offer better features than others, but you should make sure your 1-8x scope includes the features that are most important to you.
The more features a 1-8x scope has, the higher the price. So, if you are searching for a basic scope version, you could go with one that lacks some features but has the major features you need. If you want a 1-8x scope that can handle everything. You will have to pay extra. 
Value
If you want to get the most bang for your buck, look for a couple of similar scopes, for instance, scopes with 1-8x magnification, and compare their pricing before determining which one best meets your demands. You can also read customer feedback online to discover what others think about each scope.
Quality
Another crucial consideration when deciding between different items is quality. Some 1-8x power scopes are of higher quality than others, meaning they perform better and last longer than their less expensive counterparts. Before purchasing a 1-8x power scope, do some web research to determine the quality you should be expecting from each model.
Brand Reputation 
When purchasing a 1-8x scope, brand reputation is definitely another crucial factor to consider. Asking around is the greatest approach to determining how popular a brand is. You might ask your friends which brand they trust and why. You may also look for online reviews if there are any.
Best 1-8x Scope Reviews
We have selected 7 good scopes for your 1-8x shooting need. Follow the guides we have provided from this scope review to help you make the best-informed decision.
1. Vortex Optics Strike Eagle 
The first scope we would look at in this scope review of the best 1 8x scope is the Vortex Strike Eagle. It is a high-quality scope for sport or combat. The Strike Eagle 1-8X24mm scope is an excellent choice as an LPVO (low power variable optic). When installed on a squad-level rifle, the sight shows its multifunctional capabilities. It can be used by law enforcement agents or by a 3-gun competitive shooter.
Having a 1x lowest magnification level offers the shooter a significant advantage on moving or close range targets that are approaching quickly. Meaning you are sure of achieving a fast target acquisition with this magnification.
If you change the magnification setting to the highest on the range, which is 8x, it means you're prepared for high-precision long range shooting. The scope's lens surfaces are fully coated to produce crisp pictures, and the reticle is etched on the second focal plane. This optical system also has a fully illuminated reticle for low light shooting in dark alleyways.
How did I find out all of this? Because I have spent years training with the scope. This scope brand is a good place to start.
The diameter of the main tube is 30mm. Because of its superior structure, it is always ready for use in competition or combat. The scope's objective lens has a 24mm diameter, and the reticle is an AR-BDC2 MOA. 
The Vortex Strike Eagle scope has 3.5 inches of eye relief. MOA graduations are available for the elevation and windage turret adjustments. The scope has a click value of 0.5 MOA, and the field of view is 111.6ft at 100yards. Range focus extends from 100yards to infinity.
This waterproof scope has a hard anodized finish on its aerospace-grade aluminum tube body. The Vortex optic comes with a cantilever mount that can match the 30 mm tube with a 2inches offset.
2. Primary Arms SLX 1-8x24mm SFP Scope
The Primary Arms scope is another reliable scope we would consider in our list of best 1-8 scope. This wonderful scope has all the features you would expect from this type of scope, and it is compact and lightweight. I was captivated after my first shot with the scope. Do you want to know the reason? Continue reading…
The glass quality on this Primary Arms scope is exceptional for the price. I was shocked by the kind of clarity I found on the scope, the type you find in high-end scopes that cost twice as much. The lenses are completely multi-coated, which attracts more light and reduces glare to ensure a brighter, clearer sight image.
It also has an ACSS reticle that is etched at the second focal plane of the scope, and this reticle is exceptionally accurate at all magnifications. It is also specifically developed for AR, AK, and M4 rifles.
The amazing thing about this SFP reticle scope is that at 1x magnification, it works like a little red dot that allows for incredibly fast target acquisition, which is essential in close-quarters combats.
At a higher magnification, you will get the full ACSS feature (Advanced Combat Sighting System), allowing you to make precise shots up to about 600 yards, which some shooters would classify as long range shooting.
Furthermore, it includes 11 lighting options, some of which work excellently in the brightest hours of the day. All of this is powered by a single CR2032 battery included in the scope box. It also comes with an extra or spare battery.
The Primary Arms 1-8×24 SFP scope has ultra-forgiving eye relief. The eye relief measures 3.2 – 3.3 inches, so you wouldn't have to worry about a scope bite, especially if your rifle has a nice cheek weld. This scope also includes a rapid focus eyepiece, which allows the shooter to get on the targets faster.
Primary Arms is recognized for producing high-quality items, and this SLx model is no exception. It is lightweight and ideal for any setting.
It's also fog proof and waterproof, so it will work in any weather condition. I can attest to the durability of the scope because I have dropped mine severally in the water while hunting, and it worked exactly the same way as before.
This scope also comes with a lifetime guarantee, so if you have an issue, Primary Arms will assist you in resolving it.
The windage and elevation knobs have a click value of 1/4 MOA. The turret on the scope is finger adjustable, and each adjustment is accompanied by an audible and a tactile click. It also comes with a capped turret that prevents accidental adjustment.
What about a zero? It is quick and simple to zero. I was able to zero in at 100 yards with about 6 shots. It has held zero until now. 
The scope has a magnification range of 1-8x, which is the ideal range for near or mid-range shots. Essentially, it is ideal for close-quarters shots. The maximum magnification of 8x can be used for long range shooting. The 1-8x range is arguably one of the most common rifle sight magnification ranges since it covers the majority of the ground.
This scope does not come with a mount, so you will need to buy one separately; nevertheless, given the quality and low price, you should not expect a scope mount. This high-quality 1-8x scope comes at a reasonable price when compared to other competitors. 
3. Athlon Optics Argos BTR 1-8×24
I purchased and tested this scope to verify whether the promises were accurate, and they were. Do you need proof? Everything is put down below.
The exceptional glass quality is the first attraction to this scope, and it produced an image with no visible distortion or blurring, simply a clear and sharp target image. The glass is completely multi-coated and excellent at absorbing ambient light, resulting in a considerably brighter image. The anti-reflective glass helps to reduce light reflection, and it helps the shooter to stay in a concealed position.
The horseshoe-shaped reticle is ideal for shooting silhouettes. It rapidly focuses my attention on the target and is beneficial even at the maximum magnification range. 
The illuminated reticle amazed me. Even at sunrise and twilight, aiming was a breeze due to the multi-coatings ability to capture ambient light. It is a second focal plane scope.
The eye relief of the Athlon Optics is a substantial 3.4inches, and it is safe to shoot at maximum magnification or range. I didn't have eye fatigue after hours of looking through the scope because the glasses were crystal clear, which I expected after seeing how good the glass was. The Eye box is not an issue. I was able to effortlessly center my image without having to go into an awkward posture.
The Athlon BTR Gen2 was built to last as long as possible. While testing this scope, I dropped it, slammed it about, and immersed it completely in water. The abusive usage didn't even scratch the scope's external surface, let alone harm the internal. It also kept my zero without fail during the tests.
The aircraft-quality aluminum used to make this scope can withstand almost anything. It has XPL coatings that keep dirt and oil from harming the glass and avoid scratches. It is also totally waterproof and argon-purged. Even in the most difficult terrain, you can use the scope without fear of fogging or water damage.
The capped turret on the scope is of the highest quality. Each adjustment produced clear audible clicks, as excellent turrets should. Regardless of the recoil produced by your rifle, the turrets would not be affected, which is an important characteristic of the scope.
It took a couple of shots to zero in the scope, and it stayed there for more than 300 rounds. The parallax is set at 100 yards, and it works perfectly even when switching magnifications.
The magnification ranges from 1-8x. The Athlon Optics is capable of long-range shots, but its true strength lies in close range to mid-range shots. It works best in close-quarters situations, hunting, or target shooting.
The Athlon Optics does not include any mounting hardware or rings.
It is a reasonably priced scope for the quality it has, and I'm surprised the price was not higher than it cost. If you're seeking a scope with excellent glass quality, fantastic durability, and unrivaled adaptability, go no further than the Athlon Argos.
4. Vortex Razor HD 1.5-8×32 SFP
The Vortex Razor is another great scope on our list of best 1-8 scope. The glass of the Vortex Razor scope is incredibly clear. It is crisp and brilliant, with edge-to-edge clarity.
This Vortex optic has a lens that is fully multi-coated. The XR Plus anti-reflective coating ensures that it does not reveal your position when you want to be concealed.
HD Elements such as extra-low dispersion glass are used in the lenses. This provides the best color and clarity. It has a BDC reticle that is incredibly clean, flexible, and sharp. Even in low light, your attention would be drawn to the tiny dot in the middle.
The G4 BDC has five hash markers and a straightforward sight image. It is a feasible alternative for varmint rifles, normal calibers, and even muzzleloaders. The eye relief on the scope is 3.8 inches, and it has an eye box that is highly accommodating. It is a good distance for almost any application. 
The Vortex Razor boasts a tough build with shockproof, waterproof, fog proof capabilities that is ready to withstand anything thrown at it. Furthermore, it comes with a lifetime warranty that makes buyers not to be scared during purchase. It is completely waterproof because the O-ring seal ensures that it keeps dust, debris, and moisture out of the scope.
The one-piece tube assures waterproofing while also improving durability. The Argon-purging prevents fogging across a wide range of temperatures. Whether it's snow, rain, or sun, you're sure to have a clean shot.
Scopes must withstand a great deal on the field. The ArmorTek coatings and aircraft-quality aluminum structure of the scope make it ready to take any abuse. This optic is exceptionally light, weighing only 13.4 oz. I don't like dragging hefty scopes around all day on my hunting trips, so this scope serves me well.
The windage and elevation turrets are nearly perfect. Because of their big diameter, the adjustments are easier to read, more precise, and faster. It also comes with a capped turret that provides exterior covering and protects the knob from sudden adjustments.  
The adjustment knobs offer a gentle feel and no forceful click. Despite the squishy sensation, they track correctly. 
Magnification levels vary from 1.5x to 8x. Why did Vortex start the magnification from 1.5x? Does this make any difference? Well, Vortex would have the best answer to this question, but I think there isn't much difference between the 1.5x and 1x magnification. 
The scope can also be used for extended range when adjusted to a higher magnification. The parallax is set at 100 yards and has served me well thus far. Because of its small size, this optic works well on a small action rifle. The Vortex Razor 1.5-8×32 is a fantastic optic that combines exceptional durability with clear glass in a lightweight, compact design.
5. Leupold Mark 1 – 8 x 24mm FFP Scope
The Leupold Mark scope is a nice tactical scope that has a first focal plane reticle suited for both close-quarter and long-range applications. This tactical scope was designed for law enforcement, the military, and competition.
It has a magnification range of 1-8x. In practice, most snipers used the scope at roughly 1-6x magnification even though the scope had a maximum magnification of 8x.
This Leupold scope has 8 brightness levels to accommodate varying lighting situations. All of the light settings work with night vision gear. 
For changes in bullet drop parameters, the scope employs rapid BDC reticle adjustments. It also preserves about 40 milliradians of elevation fluctuation. The click adjustment of the turret is 1/10 mil, and the parallax adjustment is excellent. On long shots, they give exceptionally precise target acquisition.
This scope was designed, manufactured, and assembled in the United States. It is built to withstand anything that is thrown at it. The Leupold optic is waterproof, shockproof, and fog proof. 
6. Primary Arms Plx 1-8 x 24
Almost all scope prices represent the quality of the product. However, I have used some extremely low-cost scopes over the years, and the glass has kept up well over time. In this profession, I believe you should never say never to a scope until you have used it.
In any case, this rifle scope was included because, like other excellent companies, the guys at Primary Arms did not abandon glass quality.
The scope has a first focal plane reticle system that is accurate at whatever range is chosen. You save time doing rapid target acquisition because you don't have to predict bullet impact points with power adjustments. The turret adjustment used in this scope is exposed, meaning it would be quicker to alter or change your turret settings. 
This Primary Arms Plx is waterproof and fog proof. In terms of combat powers, it is shockproof. The multi-coated lens provides protection as well as quality control of the light transmission.
7. Bushnell AR Optic 1-8x24mm Illuminated Reticle Riflescope
The Bushnell AR Optic is our last scope on the list of best 1 8x scope. It is an exceptional and high-quality scope. It's reassuring to see the Bushnell Warranty offered on such a low-cost optical. Bushnell also pays for the cost of returning the device if it doesn't perform as expected, and the guarantee is good for 30 years.
The scope has a 1-8x variable magnification range, and it can take care of short to medium-range targets. The objective lens diameter is 24mm, and the scope is about 10.2 inches in length. It has an eye relief of about 3.6 inches which is enough for any shooting range. The parallax is fixed at 100yards.
When you purchase this rifle scope, here are some of the added features you will find in the box. Long throw lever, Scope covers, Short throw lever, lens cloth, and Instruction sheet
This rifle scope has an illuminated BDC reticle, and it is a second focal plane reticle scope. It has a 30mm main tube that is nitrogen purged to prevent fogging. The IPX 7 waterproof feature means that you can immerse the scope in 3ft of water, and it will remain dry on the inside.
FAQ
How far can 8X scope shoot?
It will take care of 300-1000yards.
When considering a magnification setting for your scope, purchasing a scope that does not exceed 8X is possible because you can use it for a wide range of shooting.
To begin with, remember that some snipers work in the 7-10x magnification range. As a result, the 8x magnification fits neatly into most shooting ranges.
When hunting big games, the 2-7x range is quite effective. I've conducted target shooting at distances ranging from 300 – 1000 yards, and I've had success while using this scope magnification range. The image quality will be determined by the glass used in the scope you choose in the 8x range. 
Which is preferable, FFP or SFP?
Both reticle designs will do the job perfectly since the magnification is not so high.
In terms of focal planes, a riflescope that has a first focal plane reticle design allows a shooter to adjust the crosshair size with the 8x setting. Normally, we would argue that an FFP reticle will increase in size at higher magnification and thereby obstruct the image, but since the 8x range is not so high, the increase in reticle size will not be so obvious.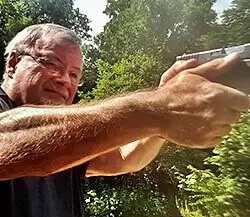 Mike Hardesty is a published freelance gun writer. He also possesses specialized expertise in rifle scopes With dozens of articles and reviews published in Pew Pew Tactical, Snipercountry.com, and TTAG (The Truth About Guns), Mike is considered a firearms expert. His special area of expertise is handguns.
Mike is a long-time shooter. He has been punching paper targets, taking deer and other game and shooting at competitions since about 1975. Other related pursuits include reloading and bullet casting. He currently reloads for over 10 calibers, both handgun and rifle. His reloads, particularly for 9mm, were in great demand during the height of the ammo shortage among family and friends. He donated hundreds of rounds to informal shooting sessions. He was quoted as saying "I do not sell my reloads but I sure will help my guys shoot 'em for free!". He has a few cherished firearms that he has inherited or otherwise procured — those are his favorites.
He earned B.S. and M.S. degrees from Indiana State University in 1974-1975.
He's a firearm experts and is the founder of mhardesty.com.