Who wouldn't adore a good pellet gun? People like these weapons because they are a wonderful survival gear, environmentally friendly, and run on air – what better feature could you have asked for to make your pellet gun shooting a memorable experience every time? Of course, it is finding the best scope for your pellet gun.
That is why we are here to assist you by providing you with the greatest information, products, and advice. As a result, you'll find some pointers and recommendations on the features of an excellent pellet gun scope. Then we'll walk you through some of the top-rated scopes we've examined that match these criteria. 
But before we go in-depth, let me ask you, do you truly require a scope for your pellet gun? Pellet guns aren't as strong as their bullet-spitting brothers, but they still throw a good punch. Furthermore, the installation of a scope will significantly boost the precision of your pellet gun. Is there, however, anything like the best pellet gun scope or, as you'll find out shortly, the best air rifle scope?
The fact is that a pellet gun or air rifle scope has varied advantages and disadvantages. We'll go through some of the things that make up a decent air rifle scope. In addition, I have chosen 10 airgun scopes that I feel merit the title of the best air gun sight. But first, let us consider the confusion many people would already be having by now. You must have noticed that I have used the term air gun scope or air rifle scope and pellet gun scope interchangeably. Are they the same or different? Let's find out.   
Here are our top picks
Is An Airgun The Same As A Pellet Gun?
There is always this confusion about air rifles and pellet guns. Are they the same or different? In my opinion, it all boils down to the way each individual interprets them. The term "rifle" refers to long guns (not pistols) with a rifled barrel. Rifling refers to the spiraled grooves that run along the inner wall of the barrel and are meant to make the bullet spin in order to enhance flight stability. An "air gun or air rifle" is, therefore, a long gun that propels projectiles with compressed air.
What this means is that a pellet gun is an air rifle that shoots pellets of any type, whether the barrel is rifled or smoothbore. While these names technically represent quite distinct products, they are mostly used interchangeably.
Let's look at how these phrases are most commonly used, separate from their technical meanings since most people use ammunition as the differentiating feature. So we can say that an air rifle is either shot as a BB gun or pellet. While the majority of air rifles discharge pellets, there are some exceptions that solely shoot BBs. We also have the hybrid option, which can fire both BBs and pellets. The best ammo between these two is dependent on the gun model and desired shooting activity, so think about it carefully before going to the range for airgun hunting or shooting.
It's likely that you already have so many questions running through your mind as a newbie to the airgun hunting and shooting world. There is so much confusion about what makes up a pellet gun, particularly when discussing air rifles in general.
Let's take a moment to answer the question. Is an air rifle the same as a pellet gun? In most circumstances, yes, because air rifles normally fire pellets. The distinction between a BB and a pellet is based on their composition and shape. A BB has a round shape of precisely ground steel shot that has been copper or zinc coated to prevent rusting. On the other hand, a pellet is a "bullet" shaped ammo with a pointy, hollow point, or flat head, then a small waist, and an expanded skirt. The function of the skirt is similar to the fletching of an arrow to promote flight stability. 
Furthermore, pellets are often composed of lead or lead alloy rather than hard steel in BBs. The main conclusion is that the majority of air rifles are intended to shoot pellets.
When can we then say an air rifle isn't a pellet gun?
Since an air gun that shoots a pellet is automatically called a "pellet gun," an air gun that exclusively fires BBs is known as a "bb gun." Aside from the ammo, the main difference between the two guns is that virtually all BB weapons use smoothbore barrels as opposed to rifled barrels. A good example is the Daisy Airguns. Daisy makes a whole series of air guns that use BB ammunition rather than pellets.
Daisy is still a classic brand with a traditional BB gun appearance. Daisy caters to younger shooters who are just starting their air rifle shooting. This is because BBs are far less costly, shoot at a lower velocity, and are often safer for newbie shooters. Other companies, such as Crosman and Umarex, offer models that are solely BB Guns or both BBs and Pellets.
Is this to say that all air rifles are simply pellet guns? As we've seen throughout the discussion, the answer is no. Most air guns are built to utilize pellets by default, certain models are meant to use BBs, and others are designed to allow shooters to use both safely.
The appeal of just using BBs is understandable given their low cost in comparison to pellets. So, before loading them and firing downrange, be sure your airgun is designed to shoot BBs. If not, shooting BBs in an airgun meant specifically for pellet ammunition might significantly harm your rifle.
Pellet Guns Vs BB guns
So we now know that any air rifle that fires pellets is a pellet gun, and hybrids can shoot both BBs and pellets. This raises the question of whether any of the two guns are superior in terms of ammo or operation. If your air rifle is a hybrid, the best ammo will be determined by the activity.
BB gun Shooting Application
BBs are excellent for target practice, teaching shooters gun handling, safety, and shooting methods. They are fairly affordable, making them excellent for learning shooting fundamentals. Many people don't believe that BBs can be precise. The Daisy Avanti 499 is a very accurate bb airgun, and it is where most shooters begin.  BBs are also fantastic for plinking but bear in mind that because they are generally composed of steel, they have a higher potential to ricochet or bounce. So avoid shooting BBs at targets that are hard.
Pellet gun Shooting Application
Pellets are suited for a wide range of shooting, like target practice, plinking, and hunting. Because they can be fired at larger distances with higher accuracy, shooters may practice key shooting methods that are applicable to other rifles beyond airguns. Pellet guns are also more effective for pest management and hunting. If hunting is your major reason for using an airgun, pellets are the best choice due to the lead composition, greater weight, and alternatives such as hollow or pointed tips.
What to Look For When Purchasing a High-Quality Pellet Gun Scope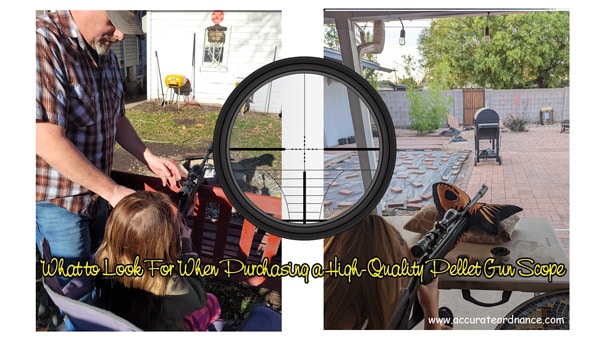 I've used air guns and regular rifles for different shooting, and they don't make use of the same sights. Attaching a riflescope to an airgun is not a good idea. The reason for this is that adding a rifle sight to an airgun may cause the scope to shatter. Let's look at some things you need to have in a pellet gun scope.
What Magnification Is Best For Pellet Gun?
Magnification can range between 1x and 12x. Air guns are not long-range weapons, so you won't need higher magnification. If you want to shoot targets less than 80 yards away, a 2-8x magnification would be sufficient. The appropriate magnification will be determined by the distance at which you intend to shoot. Most airguns have a maximum range of roughly 100 yards. 
Variable Vs Fixed Magnification: Which One Works Best With an Air Rifle?
The magnification of a pellet gun scope might be fixed or variable. Fixed provides a magnification level that can't be adjusted. A variable provides a magnification range that may be adjusted, for example, from 3 to 9x. Fixed magnifications are advantageous since they need little changes. Fixed magnification scopes are preferable for competition air rifle shooting. 
Parallax 
Parallax adjustment is available on some of the top pellet gun scopes. So, what precisely is this, and why is it significant? When the reticle and target are not on the same plane, you will experience parallax. If the scope's reticle moves as you shift your face or eyes, then parallax needs to be corrected.
Reticle 
The finest sight for pellet guns, like regular rifle scopes, might include a mil-dot or duplex reticle. Each style of reticle has advantages. 
Objective Lens 
Linking the Scope Objective Lens to the Brightness; The size of the objective lens impacts how brilliant a scope image would be. A large objective lens does not automatically imply a good scope. A medium large lens is ideal for competition air rifle shooting. In reality, the average airgun scope objective lens should have a diameter of 30 to 40mm. Anything larger than this will make your gun heavier. 
Durability
As previously stated, mounting a riflescope to an airgun might cause it to break. Air rifles, unlike standard guns, have more recoil. The spring compression force causes recoil in an air gun. That is, two recoils are produced, the first of which occurs when the spring is released. The second recoil occurs when the spring collides with and stops against the chamber wall. Because of the twofold recoil, air rifle sights must be extremely robust.
Best Pellet Gun Scope
Making a list of the best airgun scopes was far more challenging than I expected. The difficulty comes from the fact that an air gun scope is not the same as a rifle scope. And when choosing a list of the best, you have to consider a lot of factors like features, price, and others. Here is the scope review for our top 10 best airgun scopes.
1. Hawke Vantage 3-9X40
The Hawke Vantage air rifle scope is the first on our list of best pellet gun scope. There are so many contenders for this top spot, but the Hawke Vantage was able to take the top spot because of its top performance, nice profile, clear reticle, and low price. 
The Hawke Vantage has a reasonable variable magnification power between the 3x to 9x range. The scope is a 12.7 inches long scope, and it adds an additional weight of about 17 ounces to your air rifle. It is made up of a 1-tube scope body built with a durable aluminum material, so you have to get scope rings that can snug perfectly on the tube size. This Hawke Vantage pellet gun scope comes with a 40mm objective lens that has an adjustable objective. The turret adjustment on the scope is 1/4 MOA per click, and it has a total of 100 MOA windage and elevation adjustment. It has a reliable quick-focus eyepiece, and the zoom ring is easily-adjustable.
The Hawke Vantage series of scope excels beyond its price point. The scopes glass is of high quality, and it produces the best image you can desire in a scope. The large objective lens also ensures that there is enough light transmission to give a bright sight image. This scope does not have night vision features.
Hawke's Vantage series of scopes is a low-cost option that includes a wide choice of scopes for various calibers and sports. There are different tube sizes for this scope, we have the 1-inch tube and 30 mm tube variants, and an FFP model has been introduced recently. Although this particular scope review is for the second focal plane model made with a 1-inch tube. The capped turrets on the scope are sensitive, easy to set and maintain zero all the time.
This scope is one of those few situations in the optics field when the performance exceeds the price tag. This well-built scope will serve you well for a long time, and I doubt you'll find a  better optics for its price. 
Note: The scope is not rated for a spring-piston airgun but for gas-piston rifles only.
2. UTG BugBuster 3-9X32 Scope
This compact BugBuster optic from Leapers UTG is a very common scope among air rifle shooters. I decided to pick up this scope to find out why many air rifle shooters love it. By just looking at the scope's body, you would already perceive that it is well-built. It is made up of a 1-inch aluminum tube body that is highly durable and long-lasting. 
The BugBuster Leaper UTG scope has a variable magnification power in the range of 3x – 9x. If you look through the scope at the 3x to 7x magnification, you will get a crystal clear image of your target. However, when you go beyond the 7x magnification, you might begin to notice little blurs. Although the blur you will notice will not be enough to affect your target view. The UTG BugBuster has multi-coated lenses that ensure enough light transmission through the scope. It also comes with an illuminated reticle and a 32mm objective lens.
Furthermore, the multi-coating gives a distinct green tint to the material. Another significant feature for me was the greenish shine, which helped to keep the shooter's eyes relaxed. However, it does not have night vision features. The option to reset to 'zero' was not something I expected from a low-cost air rifle sight. As a result, I was astonished to learn that this BugBuster scope offers this capability. The turrets are fingertip adjustable, and they are also nice to touch. It was simple to rotate and move the turrets with or without a glove. The turrets are also lockable, so you can prevent accidental adjustment when on the field.
Another feature I appreciated about the scope was its adjustable objective lens. The lens has a focus range of 3 yards, which is outstanding. When you buy this scope, it comes with its own scope mount items like the scope rings. 
With all the great features you would find on this scope, it also has a few downsides. Because of its compactness, the UTG scope has a small eye relief. When I twisted the control knob, the battery door would come unscrewed. The scope's compact form makes it an excellent choice for novices, and it is the perfect scope for a 177-air rifle. However, because it is one of the top cheap air rifle scopes, it is not limited to novices. It is an excellent alternative for target practice, particularly for holdovers.
3. Crosman Centerpoint Air gun Scope
The Crosman Centerpoint air rifle is another great scope for shooting pellets. This well-built 1-inch metal tube optics has been thoroughly tested for both rifle and airgun shooting applications. One of the features that make the scope durable and last long is the flip-up lens covers then ensure the multi-coated lenses are protected from rain, snow, dust, and other inclement conditions.
The scope mount is very easy, and it can be done with 1-inch Picatinny scope rings. The extensive scope magnification range of 4-16x provides enough power for a variety of shooting applications. The adjustable objectives provide a parallax-free image without adjusting the effect point. This means that if your objective changes, your extension will change as well, with no regard for separation. It has illuminated reticles that provide a crisp image even on close or fast-moving targets.
The windage and elevation adjustment of the scope is very easy to tune. The scope is nitrogen filled, meaning it is designed to be fog proof, water proof, and shockproof. Crosman also offers its scopes users a Limited Lifetime Warranty. 
4. Hawke Airmax 3-9X40 Adjustable Objective
Hawke Airmax scopes are available in a variety of setups with different variable magnifications, tube diameters (30mm and 1 inch), and scope lengths. All of them are good springer-rated airgun scopes. However, I picked the 1-inch version since it is substantially less expensive than the 30mm models, and I believe that the benefit of additional elevation control is insignificant for springers. However, if I were to buy a scope for PCP, then a 30mm tube would be a better choice. As I stated above, the reason for choosing the 1-inch version is because of its elevation control and price. 
The AMX and AMX IR etched glass reticles are used in the Hawke Airmax scope. This reticle has many aim points, and it is ideal for regulating the pellet trajectory encountered while shooting a spring-piston air gun with bigger calibers. It may come as a surprise that tough scopes made for magnum centerfires cannot withstand the recoil in spring-piston rifles. As a result, the bidirectional recoil in a spring-piston scope can degrade a high-priced sight. I have used my Hawke Airmax for some years now, and it has received some beating over the years without breaking.
The scope has a variable magnification of 3 to 9X. It is 12 inches long and weighs about 18.3 ounces. The Hawke Airmax has an objective lens diameter of 40mm. The scope turrets have a 1/4 MOA click adjustment.
5. Hammers  3-9×4 Airgun Scope
Specific features: 3-9 x 40 mm; MilDot reticle; fits 3/8 inches dovetailed rifles; adjustable objective; finger adjustable windage and elevation; 65 – 90 mm eye relief; 12.6 – 34.6 feet at 100 yards FOV; one piece mount; internal reinforcement
The Hammers Airgun Scope is an excellent scope for short-to-medium range shooting both indoors and outdoors. It features a magnification range of 3-9x and comes with a 40 mm objective lens diameter that performs well in low light situations. Furthermore, the MilDot reticle on the scope allows a shooter to see well at night.
This scope may be mounted on 3/8 inch dovetailed rifles with a 35mm mount center height. The adjustable objective works nicely and significantly decreases parallax.
Elevation and windage are both finger adjustable. However, we are not fans of this system because the adjustment knobs may fall out with continuous usage. At 100 yards, the field of vision is adequate, ranging from 12.6 to 34.6 feet. The internal reinforcement, which withstands any shock or recoil from a piston-type air gun, is its strongest point.
This scope includes a one-piece mount that is held together by three clamping screws included in the kit, as well as a stop pin that is built in and can be removed. However, the provided mounting rings make no allowance for barrel droop. Because the screw set is slightly angled, the entire system appears frail.
6. Hawke Sport Optics 2-7×32 Scope 
What I love most about this scope is that it offers a lot of value for its low-cost package. The scope isn't only simple to mount on the weaver mount style, but it has a surprisingly rapid zero time. The Hawke Sport Optics has a magnification range of 2-7x and an objective lens diameter of 32mm. It has 11 layers of a fully multicoated lens.
Hawke optics are one of the best lenses on the market, with excellent clarity and a wide field of vision. Aside from the simplicity of assembly, this is a pretty tough scope. So, if you're looking for a good optic for pellet shooting, you can be sure this scope will not disappoint.
7. Winchester Daisy Adjustable Objective Scope
Because of its limited magnification range, the Winchester Daisy Scope is an excellent choice for bush hunting with pellet guns. With a 2-7x magnification, you would not be able to see very far, making it unsuitable for target shooting or any form of long range pellet shooting. The scope has an objective lens diameter of 32 mm that performs excellently in daylight and also works well in low light settings at close range. The objective of the scope is easily adjustable, and so also is the windage and elevation adjustments. This Daisy scope allows a pellet shooter to take accurate shots with unrivaled precision. The crosshairs on the reticle add to the precision. This sight is compatible with a 3/8 dovetail mount.
 It is color adjusted for clean visuals, shockproof, so there is no rebound, and fog proof. The only issue is that it does not have lens covers; therefore, the scope is not designed to be dustproof. When you add a good lens cover and scope mount that fits the scope on the given rail, the price jumps quite a little. So you could be better suited starting with a more costly scope with a higher magnification and possibly a Mil-dot reticle.
8. CVLIFE Tactical Scope
Another low-cost scope for pellet guns is the CVLIFE Tactical Scope. It has a 3-9x variable magnification range, which is ideal for close-range shooting. When it comes to shooting in low light, The 40 mm objective lens diameter is advantageous since it allows for improved light transmission; therefore, it is a great optic for low light shooting.
The lens's completely multicoated surfaces are responsible for the excellent light transmission and clean, brilliant image produced. Even though the glass is completely multicoated, the external lenses have their own scratch-resistant coating layer. The weight of the scope is on the lower side. The scope's tube is composed of durable, lightweight machined aluminum and nitrogen filled to keep it waterproof and fog-proof.
We like how this scope was built since it allows for a good connection between the interior and exterior structures.  The scope also allows shooters to easily adjust windage and elevation. It is shock resistant.
This scope includes lens coverings and mounts. The cross-hair reticle, on the other hand, is not the greatest on the market since the line in the middle is too tiny for correct alignment with the bulls eyes. Furthermore, the image is unclear at maximum magnification, and it has a small eye relief.
9. Vortex Diamondback 4-12×40 
The Vortex Diamondback is a popular choice for hunters and shooters looking for a good scope. What distinguishes it from other extensions is its price range and the fact that it has a 4-12x magnification, which means you can easily target whatever you're shooting a few hundred yards away and still get a clear and bright image.
There are several exceptional components and particular requirements that deserve special mention. Like the massive 4-12x magnification, combined with the "accuracy float erector" that provides clear vision even in extreme weather conditions like rain and haze.
10. SWFA SS 10X42 
I was searching for a decent sight construction; I stumbled on the SS series. I put the sight on an airgun for fun one day, and since then, I've excitedly acquired six of these scopes in different magnification settings. They're nearly perfect for airguns because they have the excellent Mil-Quad reticle and are absolutely shockproof (which is safe for a springer), and they feature high-quality glasses.
This fixed scope also has a very distinct method of regulating parallax. Because the SS has fixed power, it replaced the magnification adjustment with parallax adjustment. You might have to take a number of shots before you get familiar with the scope. The mil-quad reticle is excellent, with an incredibly small crosshair that allows for accurate shot placement. The Mil-quad reticle uses see-through dashes and squares rather than mil-dots, which might obscure your target. The SWFA is the only fixed scope on our list of best pellet guns.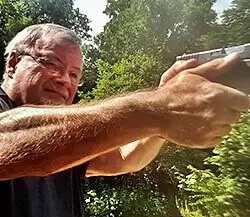 Mike Hardesty is a published freelance gun writer. He also possesses specialized expertise in rifle scopes With dozens of articles and reviews published in Pew Pew Tactical, Snipercountry.com, and TTAG (The Truth About Guns), Mike is considered a firearms expert. His special area of expertise is handguns.
Mike is a long-time shooter. He has been punching paper targets, taking deer and other game and shooting at competitions since about 1975. Other related pursuits include reloading and bullet casting. He currently reloads for over 10 calibers, both handgun and rifle. His reloads, particularly for 9mm, were in great demand during the height of the ammo shortage among family and friends. He donated hundreds of rounds to informal shooting sessions. He was quoted as saying "I do not sell my reloads but I sure will help my guys shoot 'em for free!". He has a few cherished firearms that he has inherited or otherwise procured — those are his favorites.
He earned B.S. and M.S. degrees from Indiana State University in 1974-1975.
He's a firearm experts and is the founder of mhardesty.com.