Are you searching for a high-quality scope for 300 win mag? Let's help you make a choice.
The 300 Win Mag, often known as the 300 Winchester Magnum, is a popular ammunition that is used by big game animal hunters, target shooters, the military, and law enforcement.
These high-powered cartridges are often used in sniper rifles.
Why should you use a scope to fire the 300 win mag? You need a scope because the recoil from a hard-hitting belted Magnum bullet like this would wreck entry-level sights in only a few rounds. Also, It would be lovely to have a high-quality optic on your rifle that you can use with these cartridges for long-range shooting.
That's why we've compiled a list of seven excellent 300-win mag optics that will complement your weapon and shooting abilities.
Choosing the Best 300 Winchester Magnum Scope
Best is often subjective, but when it comes to rifle scopes, there are a number of objective criteria that can be used, especially when you're dealing with a cartridge with this type of bullet weight.
Choosing the best 300 win mag scope is, therefore, a process of elimination that begins with your shooting style, then moves on to the type of rifle you use, and finally, your budget. Everybody wants to have a high-end sniper rifle and scope, but they are highly special scopes that are out of reach for many people's wallets. However, since the 300 win mag is popular, there are scopes and rifles for every budget.
The Ideal Rifle
Imagine that you have all the money in the world. What type of firearm would you purchase or construct? Well, I could guess you'll go for not just the best but one that meets all your needs. You'd probably start with the best action you could find, then coupled with a barrel meticulously built by experts, and finally with a custom-made stock that seemed as though it was molded by angels to suit your needs. Then you'd look for the type of scope that you've always dreamed of. Your rifle is then mounted with a great optic. Well, that's for the dreamer! In reality, you would have to get a rifle within your budget that is good enough to fire the 300-win mag.
Other Considerations For Selecting 300 Win Mag optics
So now that you've chosen a rifle let's go through other critical factors to consider while selecting a scope.
The shooting range
You can't go hunting without having an idea of the range you'll be shooting at. As a result, this is the first item you should think about. A scope that has 1-4x magnification is sufficient for close range shooting up to 200 yards, whereas any optic with a 10x magnification or more is required for greater distances like 400 yards and above.
Shooting time
As you hunt, you might have the need to shoot at hours of the day when it is not bright. A good scope should give you a clear and bright image in all lighting conditions. To avoid visual difficulties, examine all options and scenarios while selecting a scope. The scope you choose must have high-quality optics that function at any time of day.
Durability
If you don't want to damage your scope after a few shots, you would need a long-lasting and high-quality scope. A cheap scope will not only offer a terrible vision but also puts you in danger of injuring yourself. Your scope should be able to withstand the extreme recoil of a 300 Win Mag rifle.
The reticle pattern
The reticle is simply for guidance when shooting; however, if you intend to shoot great distances, we recommend getting the one that has a measurement instrument. There are three types of reticle patterns: simple, MOA or mil-dot (crosshairs), and BDC (Bullet Drop Compensation for specific rounds). While simple kinds such as Duplex, dot, and V-plex are appropriate for short-range, MOA and BDC appear to be the best candidates for shooting a big game animal at long range.
Magnification
Magnification is important when shooting, especially when hunting a big game animal from a long distance. As a result, the greater the range of options, the better. A typical hunting magnification ranges from 1.5-5x to 2-7x. There are scopes that go as high as 16x, but they cost a fortune, and you will hardly need such a scope.
To summarize, a scope within the 3 – 15x magnification range is optimal for long range shooting with your 300 Win Mag, while a scope with 2 – 7x is appropriate for close-range shooting.
Objective Lens Diameter
An objective lens is a lens on a scope that collects light to provide you with an image. The intensity of light that enters the scope is determined by the lens diameter. To choose an appropriate one, use a bigger objective lens for higher magnifications and a smaller objective lens for low magnification.
Coatings for glass and lenses
High-quality optic lenses need good lens and glass coating, particularly in any scope with a broad range of magnification. This will decide the image's quality. Consider Extra Low Dispersion, High-Density, or Multi Coated lenses if you can afford them. These can lessen the internal reflection.
Size of the tube
Elevation, windage, and parallax are three parameters that influence an accurate shot during long-range shooting. This displays as turrets on your scope, and the larger the scope, the more modification you may make. If you intend to shoot at great distances, any tube size between 30mm and 34mm will suffice. Larger tubes, on the other hand, are typically heavier and more expensive.
Value
Scopes may be pricey, especially when it comes to long range shooting for 300 Win Mag ammunition. Before buying a scope, make sure it includes all of the crucial characteristics we've outlined above to ensure you're getting value for your money. And be certain that it is not just a nice scope but also an appropriate scope for you.
Choosing a scope with a solid guarantee, preferably a lifetime warranty, can also help safeguard your investment. Even if you do not choose one of these scopes, selecting a scope from these brands assures that you are obtaining an excellent quality scope.
Best Scope For 300 Win Mag
1. Athlon Optics Argos BTR Riflescope 6-24x50mm
The Athlon Optics 6-24x optic is one of the best riflescopes you can find in the market for your 300 win mag. The scope is a fantastic sniper-quality rifle sight that can accurately hit targets in long range shooting or hunting. It has a 50 mm objective lens, and the reticle on the scope is in the first focal plane position. We all know that an FFP reticle is especially useful for long distance shooters who want the reticle to change with their magnification level. No matter how much you zoom into the scope, holdover points will remain correct.
The Athlon Optics scope also has multicoated lenses for increased light transmission and better optical quality, even when zoomed to 24x magnification. The scope has a pair of elevation and windage turrets that can be adjusted with your fingers instead of a tool. You may also correct for parallax by using the adjustment turret on the other side of the elevation turret.
Furthermore, the scope is built of a very high-quality material such as aircraft-grade aluminum. This allows you to enjoy exceptional mechanical integrity and good scope strength, at the same time ensuring that the scope is not too weighty for easy carrying: the scope weighs around 15.8 ounces altogether. For further adaptability, the scope operates in any conditions, including rain and fog.
Another great feature of this scope is its illuminated reticle which is etched on the glass.
The glass etching strengthens the reticle and prevents it from shaking when you take a shot with high-powered cartridges like the 300 Win Mag. The illuminated reticle allows a shooter to make use of his rifle's stopping power even in low light situations. You may change the lighting setting by turning the knob near your eyepiece. This is a fantastic feature that tactical marksmen and hunters will find useful.
Finally, this sight is a high-quality piece of equipment composed of high-quality materials with various features that will complement long range shooting and big game hunting.
The Athlon optic would make great scope for any hunting situation; just sight your scope correctly in your preferred shooting range.
2. Vortex Optics Viper HS-T 6-24×50mm RifleScope
When talking of the best scopes in the market, we cannot overlook the Vortex Optics brand. They offer high-quality scopes for any shooting or hunting situation. If you are looking for a good scope to use for your 300 Win Mag, then the Vortex Optics Viper scope is ideal for you. This scope has a high magnification range. The lower magnification is 6x, and the higher magnification is 24x. This magnification range allows hunters to strike a target that is far away with superb precision. This scope has a precise glide erector mechanism that makes magnification changes such that they are always smooth.
The scope comes with an objective lens of 50 mm that can collect sufficient light to offer smooth light transmission at full magnification. Also, the multi-coated lenses and extra-low dispersion ensure good visuals. Not to forget the scope resilience to prevent damages, even after continuous usage, this scope allows superb images.
The Vortex Viper is 15.5 inches in length and is crafted of military-grade aluminum for increased durability and performance without being too heavy.
This scope operates in all weather conditions, making it an excellent choice for lengthy and difficult hunts in the woods.
Even at high magnification levels, the hash markings can help you strike distant targets with accuracy. The scope has a second focal plane reticle style that assists in swiftly compensating for animals or things that move closer at quicker speeds.
The Vortex Viper comes with a target-style turret. These turrets are designed to be used repeatedly with only your fingertips and to provide clicking sounds every time you adjust the setting. This Vortex Optics scope has a zero-stop feature that ensures a speedy return to zero after an adjustment.
At larger distances, a parallax turret compensates for this impact. Additionally, rotation markers are included in each of the turrets, allowing you to see how far you've moved at any time.
The Vortex Optics Viper is a great scope for 300 Win Mag because of its unique turret design and outstanding precision. Furthermore, its toughness implies that it can survive any type of adverse weather or climate.
3. Burris 6-24×50 Fullfield IV Rifle Scope
Are you willing to pay a bit more for a scope that can meet your shooting needs with a 300 Win Mag? Hop in; this scope is the perfect fit for you. The Burris Fullfield is a great Illuminated MOA rifle scope. This expensive scope comes with long eye relief and a wide eye box. The Burris Fullfield is one of the finest scopes for long range shooting with a 300 win mag.
The Burris 6-24×50 Riflescope is a dependable and lightweight big game hunting companion. This scope has a wide magnification range with a lower magnification of 6x and a higher magnification of 24x. It has quality multi-coated lenses that ensure 100% clarity and a massive 50mm objective lens for low light shooting.
This scope has a 30mm nitrogen-filled main tube and is entirely waterproof, fog proof, and shockproof.
This incredible sight can withstand high recoil, even with the 300 Win Mag. The turret setting allows for smooth finger adjustments. This Burris scope is backed by a Lifetime Warranty, which is unbeatable by any measure.
The scope has an illuminated reticle, quick windage and elevation adjustment, and about 11 brightness settings for visibility in all lighting situations. This scope is great for long-distance shooting. The scope lacks enough eye relief and has a tight eye box which may not be pleasing to some hunters.
Because of its distinctive design and exact adjustment turrets, the Burris scope is a high-end sight for any rifle, particularly 300 Win Mag guns. The scope has excellent lens clarity.
4. Vortex Optics Crossfire II 2-7×32
If you're on a tight budget, the Vortex Crossfire II is a viable solution until you can afford a better scope.
The glass and lens coating on the scope is not as nice as those of the other scopes we've mentioned. It is substantially less clear and fuzzy at 6x-7x magnification. The picture in low light is also subpar. Having said that, image quality is okay at lesser magnification levels. The nice spot for excellent image quality is difficult to identify; the eye box is fairly tiny.
The scope's advantages include its large field of vision and its ability to hold zero. The turrets are finger adjustable and may be reset to zero.
You can use the V-Plex reticle. The Bullet Drop Compensator reticle is great for long range, although the V-Plex provides an unobstructed vision. Vortex Crossfire II comes with a Vortex Lifetime guarantee.
5. Leupold VX-5HD 2-10×42, Firedot Duplex CDS
This is one of the best 300 Win Mag scopes if your budget permits. Even though it is an expensive scope, it has a Firedot reticle, excellent glass, and a CDS dial that makes up for the price.
The glass quality of the Leupold VX-5HD is astoundingly clear and brilliant at all magnifications. The image you'll see in this scope is clearer than any you would see with your naked eye. Furthermore. When I compared it with the VX-6HD, I could not tell the difference. Although the VX-6HD performs better in low light conditions, with such a significant price increase for a tiny improvement, I would recommend the VX-5HD instead.
In my perspective, 2-10×42 should be adequate for most hunts. If you want a greater magnification, consider the Leupold VX-5HD 3-15×44 scope.
The combination of a Firedot duplex reticle with CDS turrets on this Leupold scope provides a non-clutter reticle with extended range capabilities. For those who are unfamiliar with Leupold's CDS, it is a custom dial system that is calibrated just for your round, rifle, and surroundings and that you can quickly switch on/off your elevation turret. It's incredibly easy to use, and I can easily achieve a precise shot at 400 yards or even 600-yards with this technique.
The use of firedot illumination aids in directing your attention to the center of the reticle. It is quite useful, especially in low light. The battery lasts more than 1 year; therefore, battery life should not be an issue.
This is most likely because it just illuminates one spot and switches to a 5-minute deactivation timer when it does not detect any motion. It's also worth noting that the black reticle functions even when the battery is dead.
Turrets were formerly a source of worry in earlier Leupold scopes. This is no longer the case with this Leupold scope.
Ruggedly made with a solid guarantee, one concern is that the warranty covers electronics for only two years.
6. Primary Arms SLX 4-14x44mm FFP Rifle Scope
The Primary Arms scope takes us all the way down the pricing scale. It is one of the greatest scopes on the market for 300 Win mag shooters on a low budget.
The Primary Arms SLX rifle scope provides excellent value to shooters. It has been designed to survive harsh settings and weather conditions by being shockproof, fog proof, and waterproof.
The scope comes with a 44mm objective lens, as well as variable magnification ranging from 4 to 14x. The inbuilt FFP ACSS Orion reticle is one of its unique features.
It is made of a durable 30mm main tube and an exit pupil range of 11.20 to 3.3mm. The field of vision at 100 yards is between 27.20ft and 7.85ft, and the eye relief is between 3.22 – 3.14 inches.
This Primary Arms ACSS-Orion reticle remains true across the whole magnification range of 4-14x. It includes a built-in BDC function that allows for rapid close-range aiming and extremely accurate long-range shots. The parallax adjustment knob is mounted on the side, and it guarantees that your reticle will be parallax-free. Clear visuals are guaranteed even at greater target ranges.
The SLX rifle scope is an excellent choice for Coyote or deer hunting. Another noteworthy feature is the rapid focus eyepiece, which provides shooters with a sharp and clear target view. While this model we're looking at isn't illuminated, Primary Arms does sell illuminated versions.
The Primary Arms FFP scope comes with a 3-year guarantee.
7. Burris Optics 4.5-14x42mm Fullfield E1 Rifle scope
We conclude our examination of the top high-quality scopes for 300 Win mag shooters using a Burris Scope.
Burris has an excellent reputation among gun users for producing high-quality optics at reasonable prices. This model is an excellent example. It contains a 1 inch tube, and the objective lens is 42mm. It has a variable magnification ranging from 4.5 to 14x. The lenses provide a broad FOV, and shooters will feel comfortable using them for hunting or competition.
The Burris scope is 12.6 inches long and weighs around 15.3 ounces. The eye relief is not so enormous; it is between 3.1 – 3.8 inches, with an exit pupil of 3 to 9mm.
The linear field of vision (at 100 yards) varies between 7.5 and 22 feet.
When it comes to hunting, you can count on it to be tough and long-lasting. This optic is made of 1 inch high-quality aluminum and lenses that are shockproof, waterproof, and fog-proof. It is capable of operating on tough terrains and in all weather conditions.
In this scope model, Burris incorporates a non-illuminated reticle. The reticle is located in the Second Focal Plane region and provides precision all through the 4.5 – 14x magnification range. The multi-coated lenses are good for reducing glare. This means you'll have more clarity and precision during low-light sessions.
Parallax adjustment is accomplished using a side-adjustable function that is easily accessible. The capped turrets are finger adjustable, and there is also a zero-reset option.
This rifle scope is worth considering for your 300 Winchester magnum.
Will This Scope Be The Best Option For Me?
There is no such thing as ideal scope for a weapon. Rather, you can get the best optic for your specific weapon or shooting style. Even that is very subjective, as some individuals have emotional attachments to specific brands or passionately held ideas about what makes the finest rifle sight for them. We looked at seven really excellent optics, ranging from the outrageously pricey to the reasonably priced. These scopes were chosen expressly for their compatibility with the 300 win mag.
You'll see that the scopes have two unique realms. Those that shoot far and others.
Frequently Asked Questions
What is the maximum size scope that can be mounted on a. 300 Win Mag?
It all depends on the size that you think you can handle. If we're talking about the main tube diameter, I believe you may use a 30mm or 1 inch diameter. You only need to use the proper mounting ring.
If the size you are referring to is that of the objective lens, the response will be dependent on your source. However, if you intend to go for long range shooting, choose a scope with a large objective lens so that there would be enough light transmission.
What Scope Is Ideal For 300 Win Mag?
There are no right or wrong scopes for 300 Winchester Magnum, so long you know how you want to use your rifle.
If you want to hunt a big game animal, it is preferable to use a fog-proof, waterproof scope because you will be spending time in the humid conditions waiting for your prey; you don't want a clouded scope.
What Is the Purpose of a 300 Win Mag?
The 300 Winchester Magnum is a popular bottlenecked, belted magnum rifle cartridge among shooters. These cartridges are purchased and used for range practice and game hunting.
Is it simple to mount a scope on a 300 Winchester Magnum rifle?
You can attach a scope yourself without fear of ruining your equipment. Mounting a scope is straightforward and just takes a few steps. Follow our steps on how to mount a scope.
Is the Parallax adjustment important while shooting a 300 Win Mag?
If you're only shooting out to around 300 yards, you don't have to worry about parallax. However, if you're shooting beyond 400 yards, your finest 300 win mag scope should preferably feature parallax adjustment.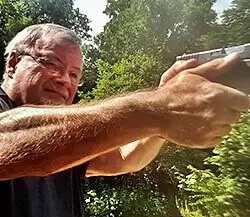 Mike Hardesty is a published freelance gun writer. With dozens of articles and reviews published in Pew Pew Tactical, Snipercountry.com, and TTAG (The Truth About Guns), Mike is considered a firearms expert. His special area of expertise is handguns.
Mike is a long-time shooter. He has been punching paper targets, taking deer and other game and shooting at competitions since about 1975. Other related pursuits include reloading and bullet casting. He currently reloads for over 10 calibers, both handgun and rifle. His reloads, particularly for 9mm, were in great demand during the height of the ammo shortage among family and friends. He donated hundreds of rounds to informal shooting sessions. He was quoted as saying "I do not sell my reloads but I sure will help my guys shoot 'em for free!". He has a few cherished firearms that he has inherited or otherwise procured — those are his favorites.
He earned B.S. and M.S. degrees from Indiana State University in 1974-1975.
He's a firearm experts and is the founder of mhardesty.com.