Choosing a new holographic weapon sight may seem like an insurmountable task. However, as long as you know what to look for and how it works, then you'll easy navigate the huge market and find the best of the best holographic sights that the firearm community has to offer.
When you search for a holographic sight, often times you'll get results that return for a red dot optic or even a reflex sight, which can be super confusing. That's because a holographic sight is a type of red dot sight, along with a prism sight and a reflex sight. All three of these are great categories to explore in the red dot market, but today we'll be focusing on the holographic sights.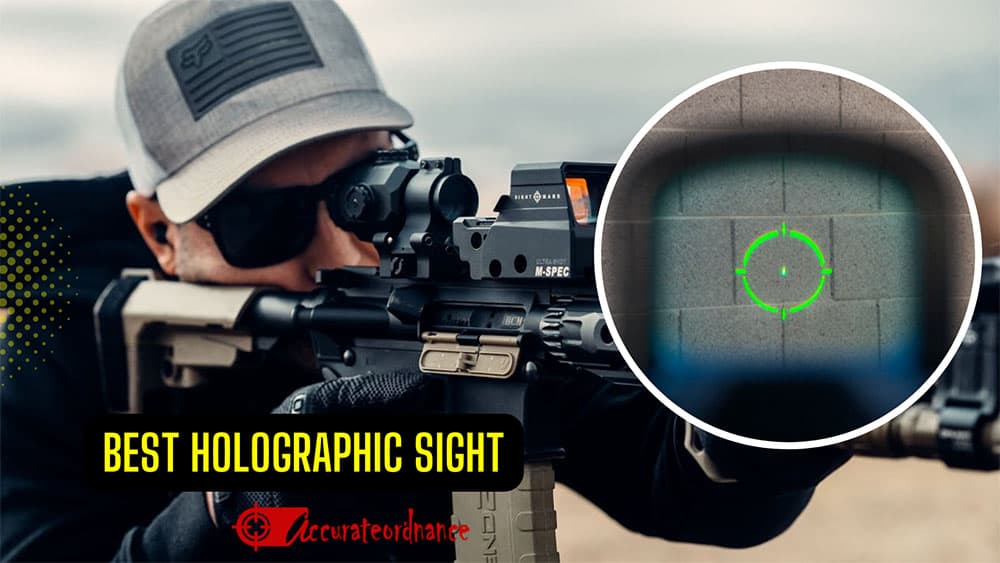 A holographic sight is probably a lesser known category of the red dot optics. Everyone knows what a red dot sight looks like, whether from personal experience or movies and video games. Red dot sights utilize a red, or sometimes green, dot or shape that is reflected back to you on your target, which you then use to aim your firearm. Red dots are becoming more widely popular, especially now that models are available for concealed carry and other pistol owners.
Let's talk about what separates a holographic sight from its other red dot counterparts and some great products that you should look into to start your search for one.
What is a Holographic Sight?
A holographic optic is a more modern technology. The holo sight is composed of a laser diode, a couple of reflectors, and a reticle lens. The laser points a reticle shape, like crosshairs or a circle, at the reticle lens on an angle, hits a reflector, and is then reflected back onto the reflector lens to where the shooter can see it. While it might seem like it, the red dot never actually hits your target physically. In fact, the sight picture is only able to be seen by the person who is looking through the sight; remember, the dot is pretty much just a mirror trick.
The holographic sight originated from the technology of collimator sights, which were used in aircraft and other military aviation applications. In the more recent years, this technology was developed even further, which now allows almost anyone to mount a collimator sight to their primary arms. Now, the collimator sights that are rifle mounted are known as the holo sights that we are familiar with today.
Holographic sights allow for fast target acquisition and accurate aiming. Unlike traditional iron sights, a holographic optic won't physically block any view of your target, leaving you with the most chance to make your shot. A true holographic sight will give you a wide field of view and allow you to aim and shoot with both eyes open, giving you better situational awareness around your target.
Not only that, but the reticle on a holo sight is designed with the human vision in mind, flaws and all. The reticle picture is large, clear, and will not overlap or block any view of your target. It will also stay dead center no matter what angle you look at it from and will remain visible through any light conditions or environment colors. It's comfortable to look at, which is where a traditional rifle scope typically falls short, and won't be distracting when you look through the optic.
Holographic sights are also free from parallax. Parallax is the offset that occurs when you move your head or angle of the scope. This is common with a typical rifle scope and will cause you to be inaccurate when you fire. Holo sights are free from parallax and will remain accurate no matter how you move around.
How Does It Work?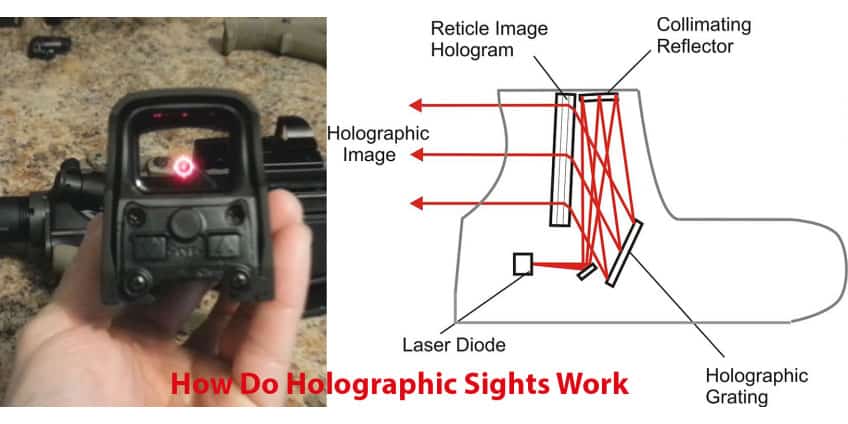 Holographic sights differ from other other typical kinds of red dots because they use a laser diode to project the holographic reticle rather an an LED light. Here, a reticle picture is shone through a glass lens which acts as an output screen for the user. Because of the type of lenses that are built into this type of red dot sight, your target won't have any color distortion or physical distortion.
The laser diode is located in the front of the output lens. This is what creates the reflected beam that you'll come to know as the reticle, whatever the shape may be. The laser output reticle will be visible in all conditions and will always remain centered and clear on target.
A good majority of the holographic scopes out there will include the option to adjust the brightness of the reticle picture as well. Most of the time you can adjust them manually to fit your needs and your environment. The brightness settings can make the picture brighter for certain daylight applications and dimmer for nighttime so it doesn't overtake your target. Some of the more high-end scopes will even include an automated feature, where the scope will automatically adjust the reticle brightness for you.
Another common feature of the holo sights is the battery system. Often times, the sight will give you a constant battery status located somewhere on the reticle screen. This way, you can keep track of the life of your sight and when you'll need to charge it or change the batteries. You'll be able to prevent the tricky situation of the optic randomly going dead on you.
The reticle of the holo sight itself can come in many sizes. The sizes are measured in MOA, which you can learn about in some of our other articles. There's sizes that include a 1 MOA dot or 2 MOA, all the way up to 6 MOA. This is the most common size range of red dots. 1 MOA will be very small and precise, but also hard to see and have fast target acquisition. 6 MOA is much larger; this is the standard size for professionals like military and police officers, as you can acquire a fast target and still be accurate at a self defense distance and standpoint.
While the dot can vary in size, all of the dots will be somewhat transparent, so they won't block your target in any way. The output window of the optic is flat which will reduce the glare of the target and give you an immense field of view. The flat design of the lens will also prevent any targets from noticing the reflection off of the glass, which would give away your position.
A holographic optic is known as an open sight, which means that you can shoot with both of your eyes open and still retain unlimited eye relief. There's no requirement of how close or how far your eye has to be from the scope to use it properly. This gives every shooter the ability to shoot in their preferred manor.
Advantages of a Holographic Gun Sight
The holographic sight is an advanced piece of technology that will provide immense advantages to anyone who purchases one. Let's take a look at some of the major wins that you'll get from using one:
The reticle can come in many different shapes and sizes.
The glass lenses won't distort the target or colors of the field of view.
The sight picture will project infinitely onto your target.
It is free from parallax and will remain centered no matter the angle of view.
The sight picture is clearly visible in pretty much any light or environment conditions.
The lens is flat which won't give you away with a reflection.
It's weatherproof.
It's smaller than a typical rifle scope.
It usually has brightness options.
Drawbacks of a Holographic Gun Sight
Like all, the holo sight still has its drawbacks. These are things you should know before you think about whether or not you want a holographic optic:
They're expensive.
Looking at the holographic reticle can lead to stratification.
It's prone to overheating.
What to Look For
Now that you understand the basic workings of a holographic sight, let's talk about some features to keep in mind while you look for one to buy. There's plenty of features that are offered on today's market and many of them are typically up to the shooter's preference. A lot of the features that you want will come down to your shooting style, the intended use, and your personal preferences.
Price
When it comes to holographic sights, this is where many people fall off of the decision to buy one. Unlike red dots, which you can snag for a pretty decent price, holographic sights tend to run in the upper hundreds. This is mainly because there is only 2 companies who currently manufacture holo sights: EOTech and Vortex Optics. This makes the market for holographic sights pretty limited on the price range. So, make sure this is a device that you really need or want, and be prepared to shell out some dough for it.
There's tons of companies that manufacture red dots if you need something on the cheaper end. Both of these companies also offer other cheaper types of red dot sights that can better suit your needs if a holo is too expensive. There's plenty of other well-known brands for red dots as well, while EOTech and Vortex remain the two for holo sights.
Size
This one will mainly come down to what you prefer. Depending on what you're using it for, whether it's a hunting rifle or even a concealed carry pistol, there's a size range for holographic gun sights that you need to be aware of. Typically, holographic sights are more geared towards rifles. That's because the complex technology that needs to be packed into it can't be compressed as much as another type of red dot. A holographic sight is not going to be outlandishly huge, but there's no way it's going to fit on your pocket pistol.
If you need something that will fit on a handgun, a reflex sight or a prism sight will work much better for you. Just be aware that holographic sights are only able to be properly mounted onto larger firearms. Maybe in the future, we'll have some pistol options. As for right now, just stick it to the rifles.
Durability
What you get in terms of durability will depend on the amount of money you're willing to pay. If you're able and willing to pay top dollar, you can get yourself a sight that's military grade and will survive literally anything. Water submersion, extreme temperatures, fog, shocks, and even the force of a bomb! If you can pay for it, you can count on it.
Even if you don't buy the highest quality product that these companies offer, there's still plenty of durability for the other options. All of the holographic sights are made to be durable and field ready, so you won't have to worry about weather fogging up your lenses or it shorting out if it gets wet from the rain. With a holo sight, you'll be ready for just about anything.
In fact, holographic sights don't need the entire front lens to be clear. If part of it is damaged or obstructed, the sight will still work as long as you can partially see out of it. Holographic sights are built to last and won't let you down in any situation.
Battery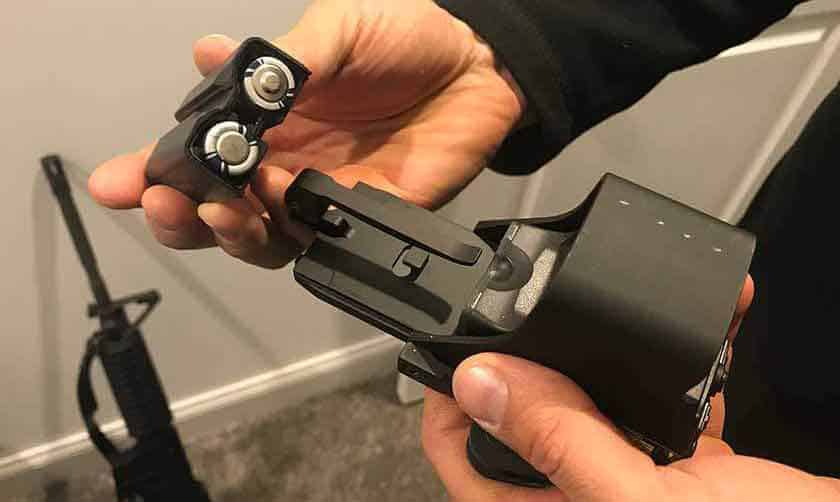 Unlike other red dots, holographic sights use a high-powered laser diode in order to create the sight picture. Red dots on the other hand, use an LED light, which will save a lot of power and battery life. The battery life of a typical red dot is about 50,000 hours. The holographic sight needs a laser to constantly reflect the sight picture, which means that it uses a lot more battery in the process. The lifespan of a holographic battery tends to be closer to the 1000 hours range.
This is something to consider if you need a long-lasting optic. If you're in a situation where you need an optic where you won't have to worry about the battery dying, you might want to check out a red dot sight before you look into a holo. Holographic sights are an amazing piece of technology, but that comes at a high power price.
Reticle Colors & Patterns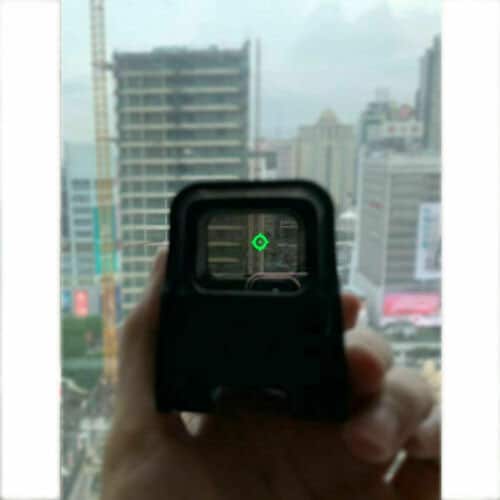 Most red dots, hence the name, are red. The color red when illuminated is very easy for the human eye to pick up out of the surroundings, so that makes it an obvious color choice when it comes to optics. The red reticle on a holo sight will be easily picked up, especially when you're moving from different light conditions and environments. The red dot will be easy to see and will stand out amongst the surroundings and the target.
However, a lot more green reticles are being offered, and here's why. The green reticle is actually less harsh to look at and is easier to see. Green light is easier on your eyes and still provides an extremely clear picture when aiming. However, the green reticle still has its drawbacks. If you're moving from different conditions, like light or environment, the green dot won't be as easy to spot quickly as the red will. Green doesn't contrast as strongly with its surroundings like red does, and it might be hard to smoothly transition from one environment to the other efficiently. Green light is best for competition shooting. This color of reticle is ideal for consistent and stable light conditions.
Just like red dots, the reticle is also offered in many different shapes. The most favored holographic reticle pattern is the circle with a dot in the middle. The ring around the red dot is not just there for show; it actually will help you to adjust to the range of your target. The smaller the target looks in comparison to the outer reticle ring, the further away it is.
Holographic sights are the only red dot sights that offer a 1 MOA size, which gives insane accuracy and bullet drop compensation. Red dot sights are typically only made to go down to the 2 MOA size.
Night Vision Compatibility
Just like other red dots, the holographic sights are also outfitted with night vision compatibility. Holographic sights that are compatible with night vision will offer dimmer reticle brightness settings that won't damage the night vision device and will allow you to see the reticle through it.
Not only that, but holographic sights can help with astigmatism too. If you suffer from this condition, then normal red dot sights are blurry and hard to use. If that's you, then a holographic sight will help you out. While it won't be a complete cure for it, the holo sight will greatly reduce the flare of the dot and allow you to aim accurately without much struggle.
Magnification Compatibility
Just like with night vision, the holographic optic allows for a red dot magnifier to be used in front of it. A holographic gun sight significantly out performs a normal red dot in terms of magnification; it can nearly double the amount that is possible with a typical red dot optic. How?
Well, it's quite simple actually. Take a normal 2 MOA red dot. When you place a magnifier in front of it, the dot will increase in size and will cover more of the target, rather than just zooming in on it. This creates an accuracy problem. With a holographic optic, the magnifier only magnifies the target. The reticle will stay the exact same size, which just gives you a better view of your target rather than taking up more of it with the red dot.
Field of View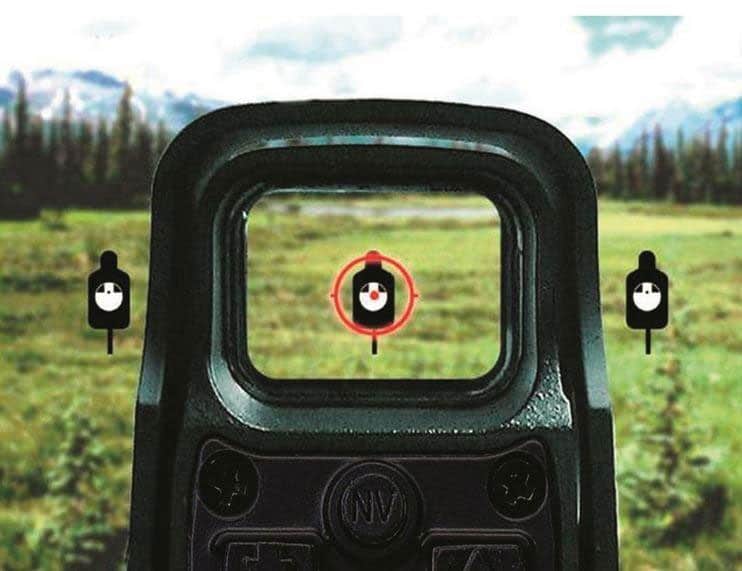 When it comes to the field of view, most people just think they are limited to the rounded tube of a traditional red dot or rifle scope. However, holographic sights have changed the way shooters experience field of view.
Unlike the traditional optic style, a holographic sight has a rectangular viewing window, which covers a much larger area than a circular tube will. This means that using a holographic optic will give you a huge advantage when it comes to seeing your target and everything that surrounds it; you'll be aware of everything that's going on.
While some red dots still offer a great field of view, nothing can beat the level of the holo sight.
Target Acquisition
When it comes to fast target acquisition, red dots have been the reigning champ for several years now. The style of a holographic sight allows you to draw, find your target, aim, and fire very quickly and efficiently. This is where a holographic sight differs from the other types of red dots.
Red dots typically focus adjust to your eyes, which means that the focal distance remains where the sight is. It takes you a minute to find your target and focus on it since the human eye can only focus on one thing at once. You'll be struggling to find your perfect aim as you focus on the dot, then back to the target, then back to the dot… you get it. This will slow you down immensely.
Holographic sights on the other hand, place the focal point in front of the optic, which means that it will instantly focus on your target as soon as you look through it, eliminating the need to try and struggle with the focus. Your holographic sight picture will remain on the same focal plane as your target, eliminating the need to switch your focus between the reticle and the target.
This issue will also apply to traditional rifle scopes and iron sight. Trying to line up the front sights with the rear iron sights has been a pain known to man for almost a century. You won't have to ever worry about that once you get your new holo sight up and running. There's no front or rear sight, just you, your rifle, and the target.
Best Holographic Sight
Now, let's get into it, shall we? Here's some of the top rated holographic sights that are currently available on the market. I've gone through all the products available and found a versatile list that can get anyone started on the search for the best scope for them. These products have a wide range of features and will have something to satisfy every gun owner.
1. EOTech XPS3 Holographic Weapon Sight
The EXPS3 is a very versatile sight that can be used in many applications like hunting, self defense, or competitive shooting. It's a little on the expensive side, but offers great features for the price. Whatever you need it for, the EOTech has got your back. This particular model has been described as one of the few true holographic sights that exists from many users, which means you'll get exactly what you expect when you purchase it.
This optic grants you lightning speed target acquisition when shooting at both long and close distances, making it ideal for any situation. If you're in a situation where you need to fire in a pinch, you can rely on the EXPS3 to give you that rapid target acquisition that you need.
The reticle picture is a dot ring style, which features a 1 MOA sized dot with a 68 MOA ring circling it. This gives you versatility in the way you can aim your weapon, including precision with the 1 MOA, but also ranging and bullet drop compensation with the ring.
The glass is super clear and is the only holo sight on the market that doesn't have any tint. You'll be able to see out of the lenses clearly and adjust them to your needs with the 20 available brightness settings. These settings allow the scope to be compatible with Gen I, Gen II, and Gen III night vision devices.
However, the reticle is a little blurry, which is common with holo. You can try to adjust for it by closing one eye or adjusting the brightness. It can also appear to be a grainy picture because of how the red dot is reflected and created.
This reticle also doesn't have an always on feature or automatic on sensor. This means that the optic takes a few seconds to boot up, which might cost you valuable time when you need it most. It does come equipped with a low battery warning and an automatic shut off feature, however.
The battery life isn't too great either. This sight can run for 600 hours before needing a new battery, which is nothing compared to other red dots.
This sight comes equipped with unlimited eye relief so you can shoot from whatever distance you are comfortable and with both of your eyes open. It also has a wide box for a field of view which is great for seeing all of your surroundings while making your shot.
This optic is durable and weatherproof, and is built to last. You won't have to worry about bumps and knicks damaging the sight or any other part of the optic.
It's relatively small and allows for other accessories to be mounted to the same rail on your rifle. It won't add crazy weight to your firearm either.
The adjustment buttons are a little hard to press because they are recessed into the optic, and they don't provide super audible or crisp clicks.
Advantages
It has a wide field of view.
It has unlimited eye relief.
It's lightweight.
It's durable.
It has 20 day brightness options.
It has 10 night brightness options.
Drawbacks
The reticle is a little blurry.
It won't stay always on.
The battery life is only 600 hours.
The adjustment buttons are hard to use.
2. EOTech XPS2 Holographic Weapon Sight
The XPS2 is more on the cheaper side but still grants you great features and quality.
The glass lenses are clear and easy to see through. However, the holographic reticle itself is not as clear. You might have some trouble getting the perfect sight because the reticle is fuzzy. The hologram is definitely visible, but just not as bright as some of the other scopes.
This optic will still function even if the front sight is damaged or partially obscured. As long as there is a small window for you to look through, the sight will still work. This means that even if you end up in a tough situation, your optic will still be reliable no matter what.
This optic also has 20 brightness options that you can choose from. You'll be ready for any light conditions and won't be struggling with trying to balance the brightness of your sight picture from just 1 or 2 settings.
The eye relief is unlimited, which offers more comfort for you, and also allows you to shoot with both eyes open. This grants you the ability to enjoy the holo sight's wide field of view while still aiming at a single target.
This sight is built to handle anything you throw at it. From weather conditions, to physical damage, you won't have to worry about this optic failing you in a tight spot.
The adjustment knobs are kind of small, but still easy to locate and use. In order to adjust them though, you'll need something flat like a coin, which is something that might be easy to forget. Not that you'll really have to worry about needing to adjust it much in the field, because this optic will hold a zero accurately for a long time. You won't have to worry about the zero dropping or having to adjust it all the time.
This sight is also shipped with mounting hardware, and even has a special rail that you can mount to almost any rifle. This way, you can be more concerned with the features of the holo sight rather than buying a firearm that will fit your holographic. You'll buy the sight that fits your weapon, and not the other way around.
Advantages
It has a wide field of view.
It's affordable.
It's great for close quarters shooting.
You can aim with both eyes open.
It's durable.
It has 20 brightness options.
Drawbacks
The reticle is fuzzy and not as bright.
The adjustment knobs require a tool or coin to use.
This holo sight is lower in price but still high in quality. It offers many great features that you'll want to check out.
This optic is actually the top sight for military and police officers. The glasses lenses are incredibly clear and provide clarity through any conditions.
It offers 20 different daytime brightness options to choose from and an additional 10 for night vision. This way, no matter the light or time of day, you'll always be able to see out of your holographic optic with perfect clarity.
This one also has a ring and dot style reticle, with the dot being 1 MOA and the ring being 68 MOA. You can be extremely accurate with the small red dot, but also compensate for range, bullet drop, and other factors with the ring.
This optic also offers unlimited eye relief and double eye shooting. You'll have an excellent field of view while aiming and won't lose any accuracy when you shoot from your comfort eye distance. You won't have to worry about the angle of your head as there is no parallax when you use it.
The viewing window itself is also square, which affords you the highest possible field of view when aiming. You'll be aware of all your surroundings and be able to pick up other movements, all while aiming at a single target.
This scope is durable against physical damage, harsh weather, and is even waterproof. It will still function even if the lens is partially cracked, giving you extreme protection and reliability in those tough situations. The only con to that is the chunkiness of the sight. Because it's so heavily constructed, it's a little heavier and bulkier than a typical red dot, which might be a problem for some shooters.
The adjustment knobs are pretty similar to most other holographic sights and will require some kind of tool or coin to adjust. This may be inconvenient, but it will remain accurate no matter how much it gets tossed around or banged up. So, it's just up to your preferences on that one.
This model is compatible with a lot of mounts, but doesn't come with one itself. This might be another huge inconvenience because you'll have to purchase a separate mount that's compatible with both your firearm and the scope.
Advantages
It's affordable.
It's extremely durable.
It has a wide field of view.
You can shoot with both eyes open.
It has 20 day brightness options.
It has 10 night brightness options.
Drawbacks
It's bulkier than the average dot sight.
It's not as lightweight.
The adjustment knobs require a tool or coin.
It doesn't come with a mount.
4. EOTech 512 Holographic Weapon Sight
This EOTech 512 comes equipped with extremely clear glass that won't allow and light bleed. It also doesn't have any tints like the majority of the other holo sights.
The viewing window is large and gives a large field of view. This feature also assists with fast target acquisition, and is ideally if that is your priority.
The reticle itself is the dot and ring style, with a 1 MOA dot and a 68 MOA ring around it. This way, you can size up your target and hit it too. The 1 MOA dots provides extreme accuracy, and won't be hard to find because of the ring that is around it. It also won't obscure the target because of size.
This scope comes with 20 different brightness options. However, none of these options are equipped for night vision. None of the settings are made to be seen during the dark hours. As long as you can see your target, you'll be able to see the dot too.
The reticle tends to have a little deviation though. While you can still see it from any angle, when you look at it from the hard left or the hard right it can deviate from the zero about 3-4 MOA. This can be a hard workaround if you're a hunter that's in tricky situations.
There is also unlimited eye relief and the ability to shoot with both eyes open. This way, you can be extremely accurate and still be aware of the surrounding area and your target.
This scope is durable to physical damage, waterproof, and fogproof. It was built to last and lives up to the EOTech durability legacy. It also works in extreme temperatures, so you can take it literally anywhere.
The scope itself is a little bit on the larger side because of the batteries. The batteries don't last too long, only 1000 hours, but are extremely easy to change. The sight will even alert you when they are low and will turn off automatically after 4 hours of use to conserve battery life.
The adjustment knobs are pretty easy to adjust but will require a screwdriver, coin, or other tool of some sort. The sight only also has parallax at a close distance of 3-4 feet, but will vanish at any suitable shooting distance.
It also has a built in mount that is compatible with a lot of rails and firearms. The scope is very versatile, and you won't have to worry about trying to scramble for hardware.
Advantages
It comes with a built in mount.
It's affordable.
It's durable and weatherproof.
It has 20 brightness options.
Drawbacks
It doesn't have night vision brightness options.
It has deviation from some angles.
The battery life is only 1000 hours.
The adjustment knobs require a tool.
This reticle is extremely durable and well made. It can stand up to anything you through at it. Although, its durable construction adds a bit of weight; this sight is a little heavier than a typical holo sight. It's waterproof and fogproof too.
Not only that, but all of the important electronic components are tucked away in the base of the sight, effectively protecting them further. This way, if you take a hit to it, there's less of a chance that something electrical will get damaged in the incident, which will save you tons of money in the long run.
The reticle itself has some great features. It has the 1 MOA dot with a ring around it, as well as hash marks that extend from the reticle and a triangle at the bottom of the ring. The dot and the ring are used for zeroing at 25-400 yards, while the triangle is aimed towards close combat up to 10 yards. This reticle will give you exactly what you need to aim and sight your weapon at any distance.
The glass is clear and anti-reflective; this way you won't get any distracting glare while you're trying to shoot.
The optic comes with a pretty decent battery that will automatically power down after 14 hours to conserve more battery life. There's also the option to upgrade to a rechargeable battery, along with a USB charging port on the side. Not only that, but the USB port is waterproof even if you forget to flip the cover back over. Unfortunately, the rechargeable batteries must be purchased separately.
The optic is easy to adjust. The adjustments come in smaller increments that will allow you to get the perfect zero.
However, this optic is definitely on the more expensive side. But, you will get what you pay for.
It's also compatible with standard common rails. You won't have to struggle to find something that's compatible to house this sight.
Advantages
Offers rechargeable option.
The reticle is versatile.
The electronics are extra protected.
It's easy to adjust.
Drawbacks
It's expensive.
It's heavier and bulkier than most sights.
It doesn't come with the rechargeable batteries.
Other Recommendations
Today's recommendation list is pretty short and that's because of the limited market. However, these options are all versatile and offer different features that appeal to all kinds of shooters. Just remember, there's not much else out there for you to look through, since there's only 2 holographic sight manufacturers.
If you've looked through these few products and just aren't satisfied, here's a list of other possibilities that you might like to look into:
EOTech HHS I Holographic Hybrid Sight
Vortex AMG
Vortex Gen II Holographic Sight
If holo sights just aren't your thing, that's okay too. There's some great brands and other types of red dots for you to check out if holographic sights aren't your style:
Trijicon RMR
Burris Fastfire III
Crimson Trace
Holosun 510c
Mike has been shooting, reloading, and bullet casting for over 40 years. He lives in rural Indiana where he has a backyard target range. Married for almost 40 years, Mike and his wife teach adult education in their home county and have four sons with their families, totaling 10 grandkids.