AR15 and Red Dot combo are popular among shooters who use these weapons in hunting activities, combat-related shooting, or in law enforcement and military activity.
An AR-15 firearm has lots of benefits for shooters. It also has several design aspects that are ineffective in certain firing scenarios. However, everything's not lost. Most difficulties can be avoided thanks to advanced optic technologies.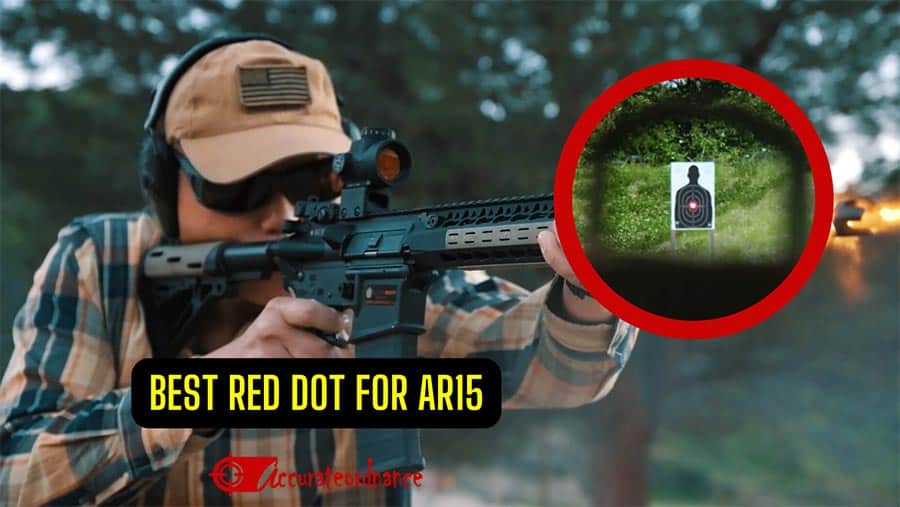 There are several excellent red dot sights available today on the market that are compatible with the AR 15 rifle. There are so many that it might be difficult to choose the ideal one for your particular shooting situation. Scrolling through all of the optics on online stores like (Amazon) for these AR15 optics might be downright terrifying.
But, not to worry, we're here to assist you.
We've reviewed so much reflex sight and red dot sight so that we can filter out the terrible ones and compile the best ones that will give you the greatest value for your money:
While compiling this list we took note of certain criteria that an AR15 needs to have generally and also highlighted scenarios specific to certain shooters. 
Let's get to it already!
THE BEST RED DOTS FOR AR-15 RIFLES: A BUYER'S GUIDE
There are many excellent red dot optics on the market now, and the majority of them are of high quality and perform well. However, there are several little characteristics and qualities that might break or make your specific target acquisition or shooting scenario.
If you are using your AR-15  rifle for mid-range shooting, then a red dot sight will provide you an advantage in terms of precision. Other types of scopes are acceptable, but a red dot optic is the de facto norm.
However, please avoid looking for a cheap AR 15 red dot sight. I wouldn't advocate red dot solutions that are too cheap unless you're shooting a weapon with little recoil.
Here are some crucial features that you need to look out for when purchasing an appropriate red dot sight for an AR 15 platform.
If you're not using a rifle for your shooting, then you can read more about AR pistols on this article that talks about the best red dot for ar pistol.
Field Of View
It's critical to decide the type of red dot you need for your shooting. If you need a tube-sized scope or one with a broader field of vision. When choosing a sight, ensure that your field of vision spans a 100-yard area, and keep in mind that magnification is also directly proportional to FOV.
A decent rifle scope is required for a great AR 15 rifle red dot sight, allowing you to effectively acquire a target whether it is very close or a little distant. The larger the magnification, in most circumstances, the better the aim.
Magnification
There are two kinds of optics: fixed magnification and variable magnification scopes.
There aren't many choices for adjusting a fixed magnification scope because there are no power ring controls. On the other hand, variable magnification has adjustments to zoom in and out on your target. Always watch out for the amount of magnification a scope offers because it will determine how far you can shoot.
A good red dot sight should be able to adapt to every requirement irrespective of the weather or time.
Size and Weight
Always search for a red dot sight that is compact and lightweight, except the seller would allow you to test them out first to see if they are too heavy or adequate for your shooting technique. Although the weight will not significantly impede the accuracy of your AR 15 rifle, it may be an annoyance or a burden for some shooters.
Reflex red dot sights, such as the Holosun are hefty, yet many use them without issue, so it all depends on you. Remember that lightweight choices are usually a smart idea, and you most likely may not need all the bells and whistles added o your sight in real-life situations. Accessories like solar panels, lens caps, and knobs would add to the overall weight of your red dot optic.
Durability
When we talk of durability, we are talking about how long a red dot will survive rather than how abused it seems. I  think the scrapes and nicks are something to behold on a sight, and they show that the optics have received a lot of battering. 
However, when it comes to choosing a sight, nobody wants optics that will easily have battle scars after only a few shootings. So you must consider a scratch-resistant red dot sight so that your AR 15 rifle/optic setup will look appealing.
On the lens, I recommend looking for hard-anodized aluminum or titanium alloys. You should also check if the surface of the lens is multi-coated or has scratchproof coatings. These features on a red dot sight make it to cost more, but you can bet that you'll be using the red dot for years to come.
Other features you need to consider are the issue of waterproofing, fog proofing, and shockproofing. If you're shooting or hunting in a very humid environment with regular rain, be sure your riflescope is completely weather-resistant. Weather-resistant optics are usually properly sealed and gas-filled to prevent fog and water intrusion.
Glass Quality
The quality of the glass in a red dot for an AR 15 is very important. As previously mentioned, the lens surface must be resistant to scratches and must be clear enough to give the shooter the best image quality whenever they look into the sight. One of the easy ways to check for a high-quality glass is to look at the brand reputation.
Brand Reputation
There are so many gun accessories companies out there that manufacture different shooting accessories for hunters, competitive shooters, and law enforcement. Most brands are known for producing only high-quality products; as a result, it would be difficult to find that their optics have issues like poor glass quality and others. 
Although some brands are less popular and still manufacture good quality sights, there are also others that are high-end manufacturers with expensive and high-quality optics. The choice is yours to make. There is a general rule that more expensive brands always produce the best optics, but it is not absolute.
Warranty
Another thing you need to check in a red dot sight or from a manufacturer is the warranty they offer. A rifle scope manufacturer that gives a lifetime warranty is telling the buyers that they can trust the quality of our product and we are willing to help if any problem arises. 
Mounting Option
One thing you should know about mounting options is that not every red dot is created equal. There are different types of mounting options available for AR 15 rifles. You need to ensure that the mounting option of your optics and rifle are in sync; otherwise, you will not be able to attach the sight to your rifle.
If you need a good mounting device for your sights you can check this article on the best ar scope mount.
Best Red Dot For AR15 Detail Reviews
1. Sig Sauer Romeo 5 
Our top choice of optics for the best red dot sight for an AR 15 platform is the Sig Sauer Romeo sight. To be honest, I believe it is the best AR 15 optics you can get when it comes to red dots that are affordable, have good quality, and are packed with so many features.
To begin, the housing of this Sig sight is composed of high-quality aluminum, making it extremely durable. and the adjusting knobs are tucked away inside the optic housing.
As a result, if they are unintentionally hit, they will not snap off. Additionally, the Sig Romeo sight is waterproof, so you can take your sight out even in rainy conditions or damp circumstances, and it will not have an issue.
The Sig Romeo 5 optics has adjustment clicks that are positive and tactile, so you can be confident when making adjustments on the windage and elevation of the sight. The sight makes a 0.5 MOA move per click, which is ideal for adjusting and setting up a red dot scope.
The lens of the Romeo red dot scope is crystal clear. It has no green or blue tint like some other sights, and it comes with a simple and plain 2 MOA dot reticle. It has unlimited eye relief.
A 2 MOA dot size is an excellent reticle for red dots since it is easy to pick up while taking aim from your sight, but it is also tiny enough for precise shots at far targets.
There are eight daylight settings on this sight and two night vision settings from which you can select, meaning the sight has a total of 10 brightness adjustment levels. 
The Sig Romeo red dot is powered by a CR2032 battery, and this battery can endure for about 50,000 hours.
In addition to the ultra-lasting battery life, the Sig Romeo has a MOTAC feature (Motion Activated Illumination), meaning that the optic will be turned off after some period of inactivity and automatically come on when it detects motion.
I love the MOTAC feature so much that you will not have to struggle with buttons in the case of an emergency when you want to take a quick shot.
Talking about quick optical actions, you can check this article on the best qd scope mount for quick detach mounting devices.
Finally, the Sig Sauer Romeo optics comes with a small lens cover that is a nice fit for the sight well. It also comes with as two mounts out of the box.
The first scope mount is a high mount that will provide shooters with an absolute co-witness on their AR-15 rifle with the factory-installed backup iron sights on the rifle.
The second mount is a low mount, making it ideal for taking shots with a pistol-caliber carbine or shotgun.
Overall, the Sig Romeo is durable, has a long battery life, a good reticle, and is reasonably priced.
2. Bushnell Trophy TRS 25 
The next best AR 15 optics is the Bushnell TRS 25. It is one of the best red dot sight you can find on the market with a 3 MOA dot and matte black finish. This reflex sight has a solid build that fits regular Picatinny rails.
You can check this great article on the best scope rings for Picatinny rail.
The Bushell TRS 25 reflex sight is an excellent low-cost alternative compared to the more costly models. While it lacks some of the finer features in the more expensive scopes (and may require you to purchase a mount riser), it is a highly durable and reliable red dot that will perform excellently every time you need it to. Let's look at some of the perks of this sight.
To begin, you should be aware that this sight will almost certainly need to be placed on a riser (for clearance) on most AR rifles. If you have a riser, that's fantastic. If not, then you should do your calculations to determine if the money you're saving by getting this affordable red dot is worth it or if it will cost you less to get another red dot in which you would not have to buy a separate mount riser.
After that, you are sure of the usability of your sight on any AR rifle. The build quality isn't as good as some other red dots, but it is still a nice piece of gear. It has O-ring sealed lenses and is both fog proof and waterproof. 
The sight also comes with some weight, but it shouldn't be a problem if you are using it on an AR rifle. The Bushnell TRS is easily adjustable when you want to zero the sight using the adjustment screws to tighten the sight. 
The glass isn't the best you'll find on the market, but you'll be able to see clearly through it under normal conditions. The reticle on the Bushnell is also quite bright and simple to see, and it has 11 brightness levels that you may change to your liking.
The biggest issue with the Bushnell TRS is that it has a somewhat short lifespan, although it is quite durable. Recoil will ultimately affect the sight, and any of the lenses may most likely fall off. This might not happen immediately — but you shouldn't expect this sight to last forever.
The features offered by sight are more than adequate for the price; however, if you can afford to invest a few additional bucks, you'll get far superior quality.
Is a mount riser included with this sight? No. While the sight is functional as it comes, if you have a sub-2000 gen II rifle, you should definitely acquire a 0.8-inch mount riser to use the scope. So, do your searches properly because a red dot without a mount riser on an AR might be difficult to use. 
As previously stated, the mount riser helps to provide some clearance so that the iron sights will not obstruct the red dot. With a mount riser, you can also co-witness the red dot with your rifle's iron sight.
The batteries were designed by the manufacturers to last for 3,000 hours. Even if that isn't the precise amount in real life, you are sure that the batteries will still last a long time. It never hurts to have an extra battery on hand, though.
As we've mentioned in our previous posts, it is difficult to prevent parallax when you're using a reflex sight. Some optics suffer substantially from parallax, while others do not. This Bushnell sight has some parallax as well; however, it is not as noticeable if you maintain the reticle at the center of the glass.
Perhaps there might be a little bit of starburst when you use the highest brightness settings, but it is scarcely noticeable. If you notice a starburst on this red dot when it is not in the highest brightness settings, you most likely have astigmatism and should see your doctor.
If you have astigmatism, then you should go for one of these red dots: the best red dot for astigmatism.
3. Holosun HS510c
The Holosun 510c sight is the next best red dot sight on the list. It is a wonderful open-reflex sight with a huge viewing area.
I like the broad view area since it does not make shooters feel like they're staring through a very narrow tube like other red dots. It has unlimited eye relief.
The lens of the optics is super clear and has no green or blue color tint to it. The sights reticle is also clear, and Holosun features what is known as an (MRS) Multiple Reticle System.
This feature means that you may choose between three reticle options:
2 MOA dot 
65 MOA circle
2 MOA dot surrounded by a 65 MOA circle (Circle Dot)
Circle Dot is my favorite because you can quickly use it at very close ranges and still have the 2 MOA dot for precision or fast target acquisition.
You can, however, switch between any of the three types of reticles to customize the sight to your liking, which I find interesting.
This optics boasts of a long battery span of 50,000 hours (using a single CR2032). The sight has 10 daylight brightness (which goes incredibly bright) and 2 NV compatible settings in addition to the reticle selection.
This optic also contains a solar panel as well as a long-lasting battery life, so you won't need to use a battery to power it if there is sun.
Holosun also has a feature known as the "Shake Awake" that automatically turns the sight off when you're not using it and brings it back on when there is motion around the sight.
As I previously stated, I appreciate this function since it ensures that your red dot is always ready for action in case you need to fire your rifle urgently in a home defense situation or anything similar.
The Holosun dot is a tough sight. It is built with a highly durable aluminum housing and titanium cover to protect the lens.
It is also waterproof when immersed in a water body up to 1 meter deep and can withstand wet situations.
Finally, this optic comes as a fast detachable sight. The mount is fairly high-quality and puts the optics up for absolute co-witnessing with the factory-made iron sights on your AR 15 rifle. 
As I indicated at the outset, one of this sight's major assets is its expansive viewing area, but the lengthy battery life, shake awake function, solar power, and numerous reticles also contribute significantly to the optics value. The pricing is quite reasonable too!
4. Trijicon MRO
Trijicon red dots are recognized for their extraordinary durability, and this MRO model is no exception. The housing of this sight is built of 7075 aircraft-quality aluminum, and it has a unique Trijicon finish.
The optic is waterproof when immersed in water to about 100 feet, and it is an amazingly powerful red dot scope. It also features a 25 mm objective lens, which is unusual for a tiny red dot.
This provides a very wide field of view and makes the sight extremely simple to operate. The reticle of this sight has a 2 MOA red dot, which is a respectable size for precision shooting.
It has eight brightness levels, two of which are designed for night vision purposes. Five of them are meant for various daytime brightness levels, and one is for extremely bright situations.
You can follow through with this article to learn more about the best low light rifle scope.
The Trijicon sight is powered by a single CR2032 battery, and it can last for about 5 years if you use the optic in level 3 brightness.
I love the long-lasting battery life since it simply means you can use sight the sight for a long time and even leave it on for emergencies. It also has rapid detachment, which is a feature I look for in a mount.
To summarize, the Trijicon MRO is a powerful sight for AR 15 with a large field of view that comes with a reliable factory mount. And, given that it is a high-quality optic, the pricing isn't too high.
5. Aimpoint Patrol Rifle Optic
The Aimpoint Pro is another tested and trusted red dot for your AR 15.  Aimpoint is a household name, and the brand is known for producing one of the best scopes in the industry.
They produce some of the roughest and highest-quality sights available, and this Aimpoint Pro model inherits both toughness and excellence.
It was designed for law enforcement patrol uses on shotguns, rifles, and pistol-caliber carbines. As the name suggests, it is a nice patrol sight.
The Aimpoint Pro is a powerful optic built with a high-strength aluminum housing that's waterproof to about 150 feet deep when in water.
It is powered by a single 3v lithium battery that can last between 3 – 5 years. The sight has four-night vision settings, six daylight brightness levels, and one extremely bright option, making a total of eleven brightness settings.
The glass is clean and clear, and it has a 2 MOA reticle dot, making it an excellent choice for precision shooting with red dots.
Furthermore, the objective lens of the sight is 38mm in diameter, meaning you would have an enormous field of view when you look through the sight.
Finally, the Aimpoint Pro includes a rapid detach mount. It is known as the QRP2 mount by Aimpoint, and I've found it to be of extremely excellent quality. The Aimpoint sight is a rugged red dot with high-quality mounts; plus, unlike other Aimpoints, it won't cost you too much. 
6. Holosun HS503CU
We have yet another Holosun Optics on the list, and this time it is the HS503cu model. To be honest, it is pretty similar to the first one I described previously.
The main distinction is that it incorporates all of those same functions into a smaller sight.
The housing of the Holsun 503cu is composed of high-quality aluminum, which extends over the elevation and windage knobs, providing additional protection on the turret adjustments.
It is also rated as a waterproof sight, and it can survive up to 1 meter deep in water, and it is quite durable. Like the 510c model, it is powered by a single CR2032 battery, and it lasts about 50,000 hours. 
It also offers 10 daytime brightness settings and two night vision modes, as well as a Multiple Reticle System that allows you to choose between the three types of reticles. 
As previously mentioned, I prefer the Circle Dot reticle. However, whether you like a 2 MOA or 65 MOA ring, you may modify the sight as you like.
This 503cu model also features the Shake Awake function, which means it will switch off automatically and turn on when motion is detected. Furthermore, it includes a solar panel top, so you may use this sight without a battery or convert it to solar to conserve the battery life.
Finally, the 503cu comes with two mounts. A high and low mount for AR-15 shooting.
Here is a comprehensive article on the best scope mounts
The Holosun pricing is always reasonable.
7. Trijicon RMR Type 2
The Trijicon Type 2 is an AR 15 optic and it has a 3.25 MOA LED dot. This adjustable sight has an automated brightness model as well as simple sight modifications that can be changed with the touch of a button.
There are two night vision levels and one extra bright level in the brightness settings. This compensates for the effects of background light and weather on your target.
The sight employs a highly well-constructed electrical architecture, which incorporates unique heavy-duty battery connectors designed to withstand extreme field conditions.
The housing of the Type 2 sight is made of aviation-grade aluminum, and it is forged throughout the production process. This sight has a particular function that allows the battery to automatically change power to take into account changing environmental light conditions.
It would be a great buy for your AR 15 shooting.
8. Aimpoint Micro H-2
The Aimpoint is a standard rifle optic. It's pricey but can last up to 50,000 hours on a single battery and is completely waterproof. It is resistant to fog and other harsh weather conditions.
The Micro H1 model is what I use on my normal AK, where the optic rests squarely on top of the hot gas block. After hundreds of rounds,  it's still as strong as it came. With this Aimpoint, you would not be afraid to venture into unknown terrains. It has two reticle sizes to choose from… 2 or 4 MOA.
If you're putting it on an AR-15, I will go with the 2 MOA because it offers more precision in the event that you add a magnifier to the sight.
9. Vortex Optic SPARC AR II
The SPARC AR offers all of Vortex's advantages: stability, precision, and sharpness. The AR2 model is an improvement on the well-known and highly rated SPARC AR1. You are sure of a fast target acquisition with this red dot.
If you neglect or forget to shut down your sight, it will go off itself after 12 hours. Although this is incredibly useful for individuals who do not use their ARs frequently, it may be inconvenient for some. The inability to stop auto-off is a drawback; however, with its improved battery life of about 50,000 hours, there should not be a problem. 
This AR sight is parallax-free, and it comes with a 2 MOA reticle dot that is large enough for both close-range shooting and medium-range precision shooting. It features ten different brightness levels. The lowest two levels are suitable for night vision.
The Vortex sight is adaptable due to its multiple height mounting possibilities. It includes a built-in mount that is intended to be positioned for lower co-witness. 
how to measure scope ring height
The SPARC AR sight is waterproof, shockproof, and fog proof. We've all heard about how unbreakable Vortex sights are – this one is no exception.
10. EOTECH 512 Sight
EOTECH specializes in very popular holographic sight that is ideal for AR 15 optic lineup. EOTECH is a well-known rifle optic brand among experts, and they are recognized to be much more expensive than ordinary reflex sight. This 512 version is an ideal place to start because it is one of their best-selling sights.
Holographic sights are power hogs, and this one is no exception. It requires two AA batteries, which adds some weight to the sight, and it cannot last beyond 600 to 1,000 hours, depending on whether you use alkaline or lithium batteries.
You can adjust the light to power down automatically after 4 – 8 hours to conserve part of that valuable battery life.
Despite having 20 brightness levels, this 512 Holographic sight version lacks the Night Vision Device feature.
The 68 MOA circle is suited for close-range and quick-fire conditions, with a 1 MOA dot in the middle. It has three useable aiming sites.
Built to meet the demands of tactical experts, it is tough (fog and water-resistant), has superior glass and lens coatings, and is simple to use.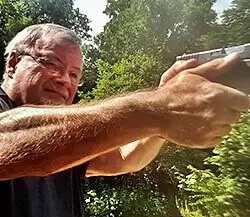 Mike Hardesty is a published freelance gun writer. He also possesses specialized expertise in rifle scopes With dozens of articles and reviews published in Pew Pew Tactical, Snipercountry.com, and TTAG (The Truth About Guns), Mike is considered a firearms expert. His special area of expertise is handguns.
Mike is a long-time shooter. He has been punching paper targets, taking deer and other game and shooting at competitions since about 1975. Other related pursuits include reloading and bullet casting. He currently reloads for over 10 calibers, both handgun and rifle. His reloads, particularly for 9mm, were in great demand during the height of the ammo shortage among family and friends. He donated hundreds of rounds to informal shooting sessions. He was quoted as saying "I do not sell my reloads but I sure will help my guys shoot 'em for free!". He has a few cherished firearms that he has inherited or otherwise procured — those are his favorites.
He earned B.S. and M.S. degrees from Indiana State University in 1974-1975.
He's a firearm experts and is the founder of mhardesty.com.